Chicken Parmesan is a classic dish featuring a deliciously crispy coating of breadcrumbs and spices, topped with a simple marinara sauce and melty cheese. This delicious meal is perfect for the whole family! Serve this Chicken Parm recipe over a bed of pasta, with a simple side salad, alongside breadsticks or garlic knots, and so much more! This easy recipe takes less than an hour to cook and makes 4 servings.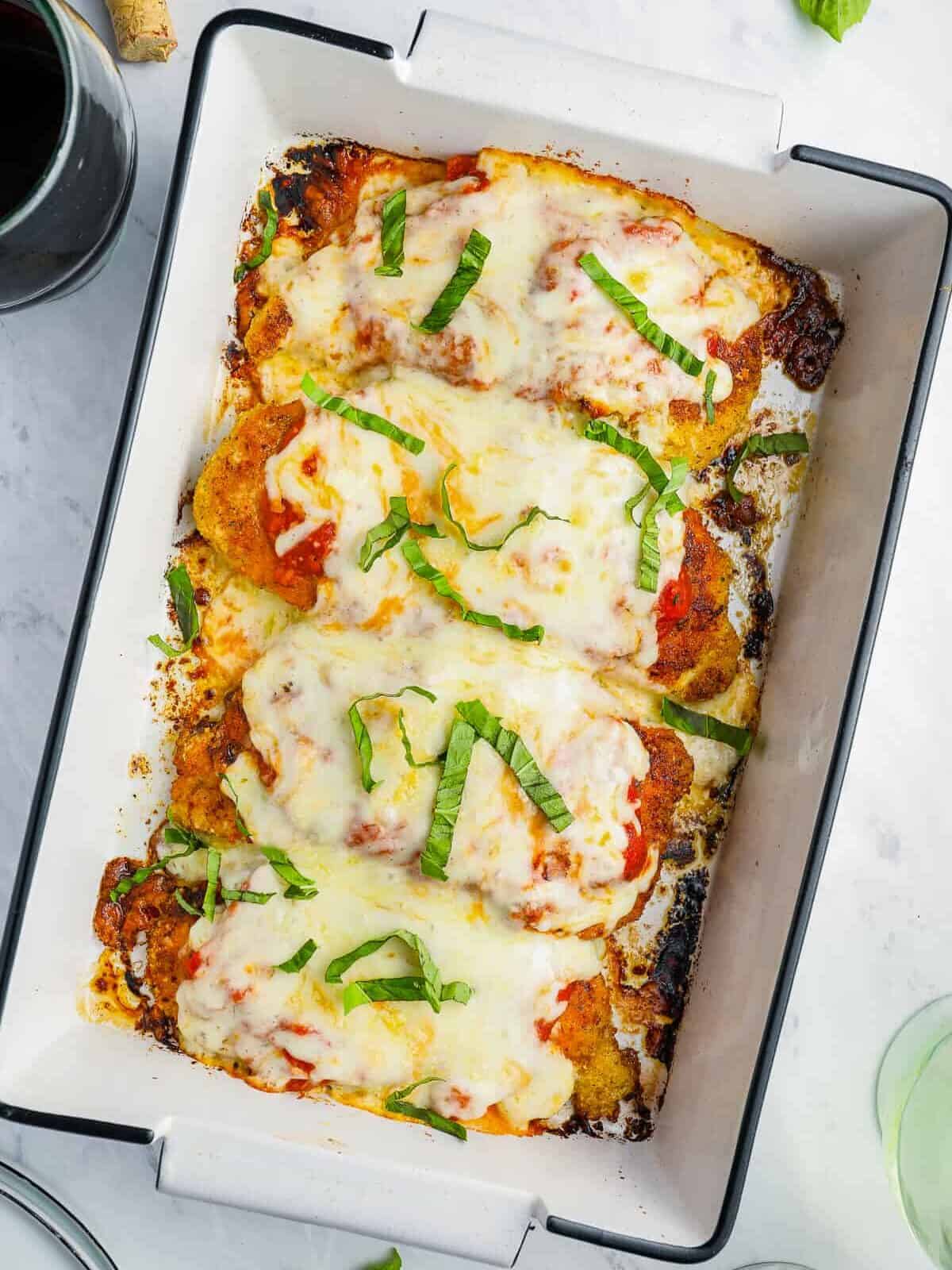 What's in Chicken Parm?
This recipe has been developed to include only necessary ingredients for maximum flavor and ease of cooking. If you like this recipe, be sure to also check out our Fried Chicken Parmesan!
Chicken: Chicken is a necessary ingredient within this recipe and is the main ingredient in making Chicken Parm.
Flour: All-purpose flour is essential to help create the breading and crust on the Chicken Parm.
Eggs: The eggs in this recipe are used to create an egg wash and act as a binder between the chicken cutlets and the Italian breadcrumbs mixture.
Breadcrumbs: The breadcrumb mixture adds texture to the outside of the chicken and makes up part of the crust.
Cheese: This recipe uses mozzarella cheese and parmesan cheese to add to the overall flavor of this dish and compliment the marinara sauce.
Seasonings: This recipe uses the basic spices of Italian seasoning, salt, black pepper, and garlic powder to maximize the flavor.
Oil: Olive oil is used in this recipe to help create a breaded crispy chicken exterior and a golden brown crust.
Marinara Sauce: This ingredient is essential in any parmesan chicken recipe. For this dish, you can use homemade marinara sauce or store-bought sauce.
Basil: A little bit of fresh basil adds a lot of flavor to this classic dish.
Vegan Chicken Parmesan
To make this recipe vegan, swap the chicken for seitan chicken or vegan chicken fillets (like Quorn or Beyond), swap the eggs for vegan eggs (like Just Egg or Simply Eggless) or plant-based milk, and swap the cheeses for vegan cheese (like Chao, Kite Hill, or Miyoko's)! For a vegetarian version, simply swap the chicken breasts for thinly-sliced eggplant!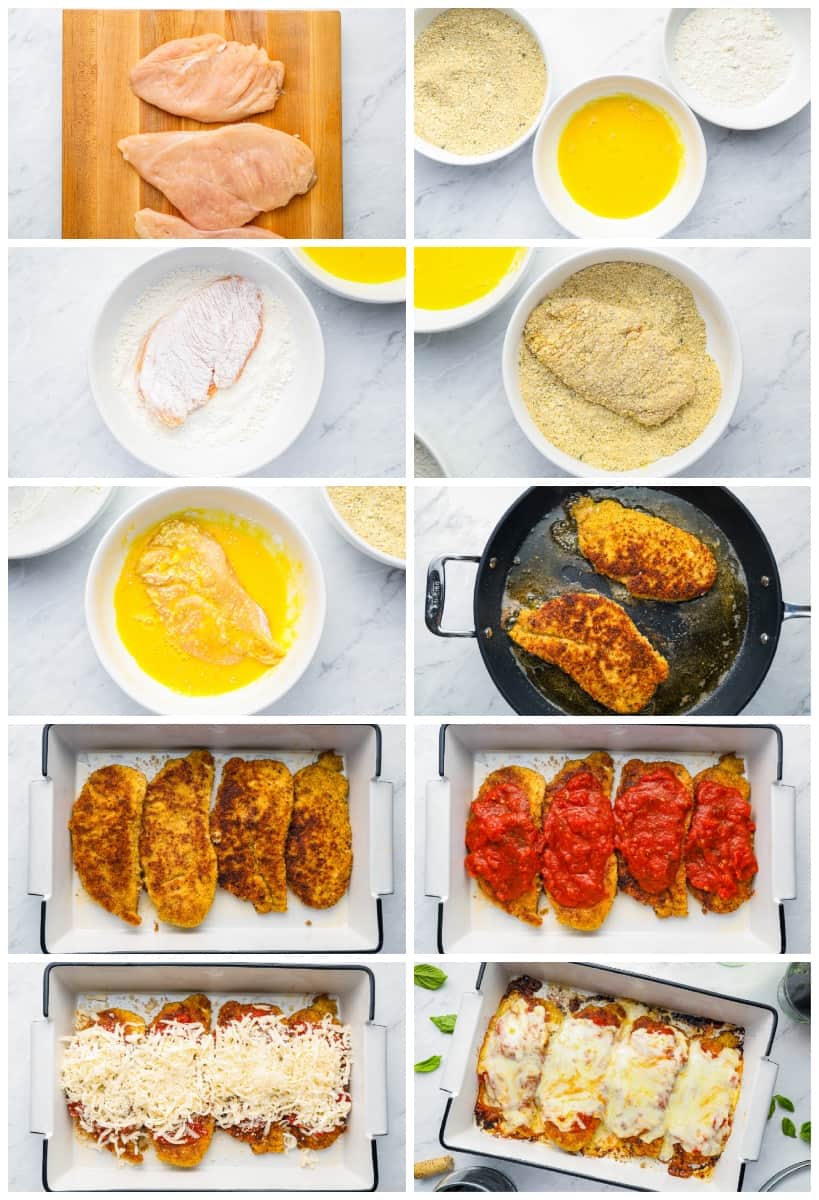 Is chicken parmesan gluten-free?
Unfortunately, this recipe is not naturally gluten-free. To make chicken parmesan gluten-free, use a gluten-free 1:1 baking flour and gluten-free breadcrumbs.
How many calories are in chicken parmesan?
A single serving of this chicken parmesan has approximately 633 calories. This number will vary based on the ingredients used and the size of your chicken breasts.
Can I make chicken parmesan with chicken thighs instead of breasts?
While I recommend using boneless, skinless chicken breasts of equal size for the most even results, you can also make this recipe with boneless, skinless chicken thighs. Thighs may take a bit longer to cook, though, so monitor with an instant-read thermometer.
How do I get the breading to stick to chicken parmesan?
I always pat my chicken dry before breading. Properly dredging the chicken in flour, then eggs, then breadcrumbs will help the breading to stick to the chicken pieces no matter how you cook them.
How can I tell when chicken parmesan is cooked through?
The easiest way to tell when your chicken is cooked through is to use an instant-read thermometer to check the temperature in the thickest part. Properly cooked chicken should be 165°F internally.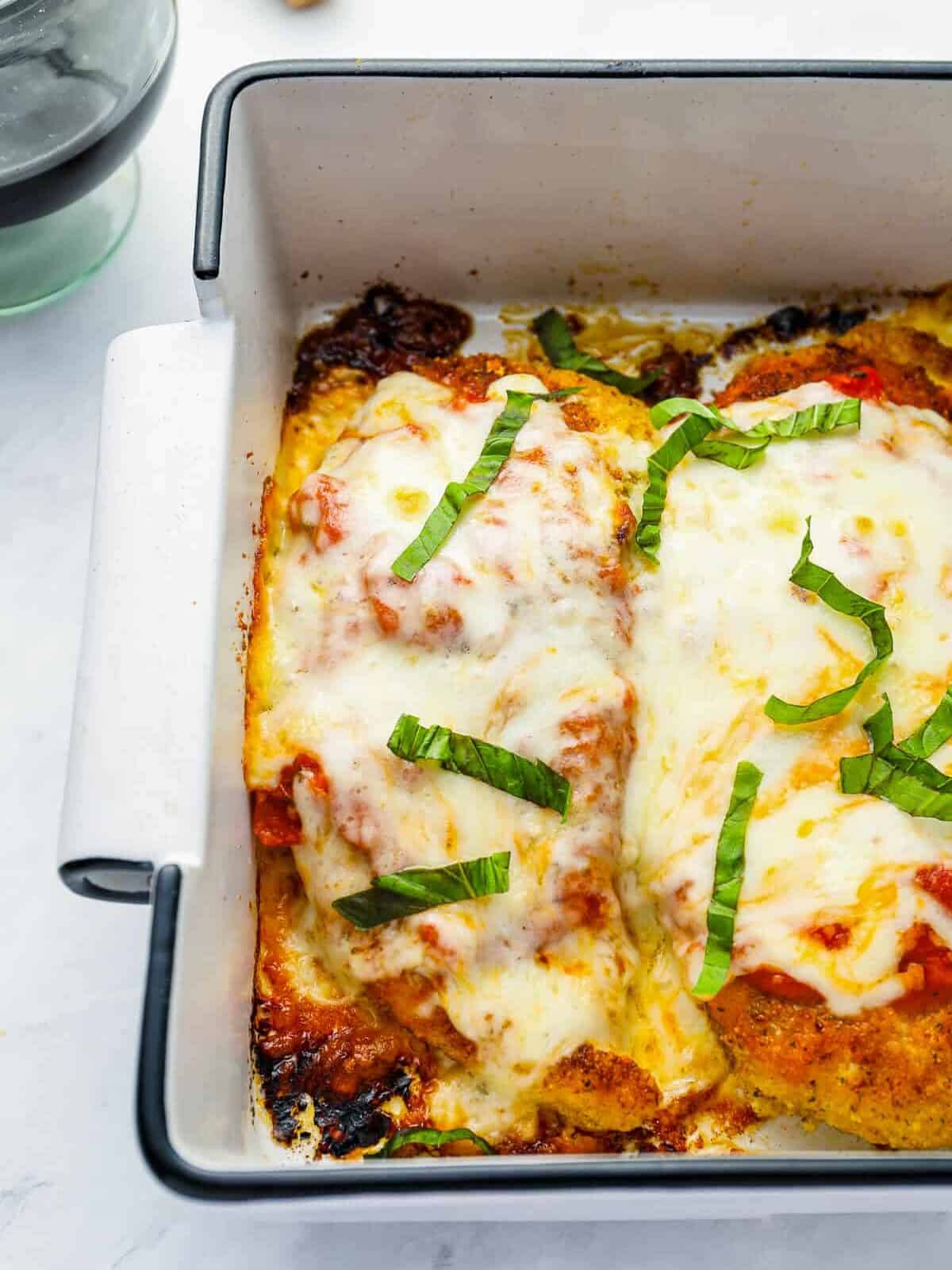 How to Store and Reheat Easy Chicken Parmesan
Store leftovers in an airtight container in the refrigerator for up to 3 days. Reheat in a 325°F oven for 12-15 minutes, until the chicken is warmed through and the cheese is bubbly. For the crispiest chicken parm, I recommend keeping the breaded chicken breasts separate from the sauce and cheese and assembling the dish just before reheating.
How to Freeze Homemade Chicken Parmesan
Freeze the chicken parm in a single layer on a lined baking sheet until solid, about 1-2 hours. Transfer the frozen chicken breasts to an airtight container or Ziplock bag to store for up to 3 months. Let thaw overnight in the refrigerator before reheating.
What to Serve with Chicken Parmesan
I like to serve this dish with homemade pasta or instant pot spaghetti for an easy weeknight meal.
It's also delicious with veggie sides like roasted broccoli, grilled asparagus, or baked tomatoes and a starch, like mashed potatoes, potato wedges, garlic bread, or focaccia!
For some easy all-in-one sides, try oven-baked risotto, Italian pasta salad, or caprese farro salad.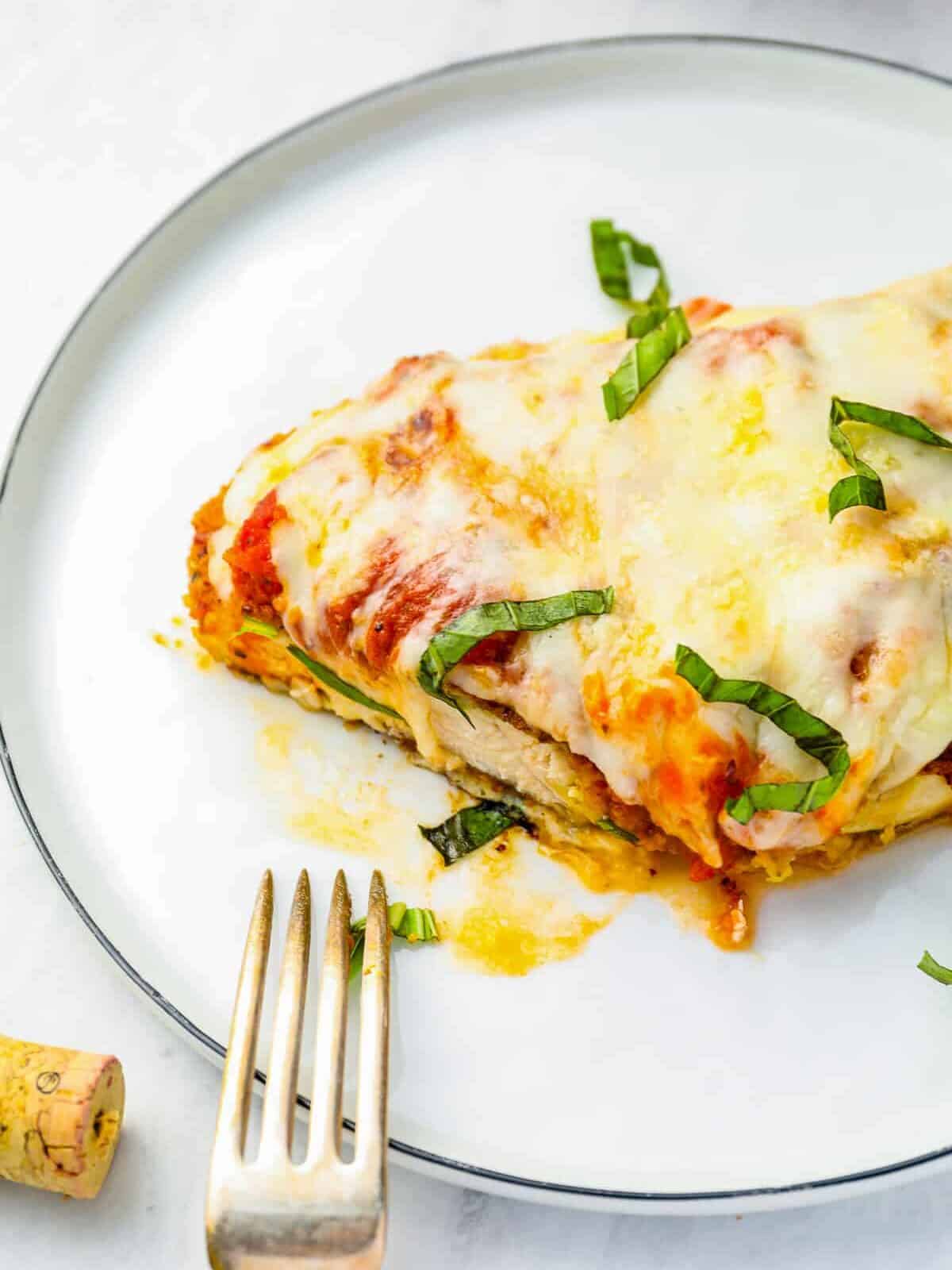 More Chicken Parmesan Recipes We Love