Chocolate Pot de Creme is the perfect holiday dessert. It's simple, it's delicious, and it's so cute. These little pots de creme are rich and chocolatey, with the most amazing texture. I love these as Christmas and holiday desserts!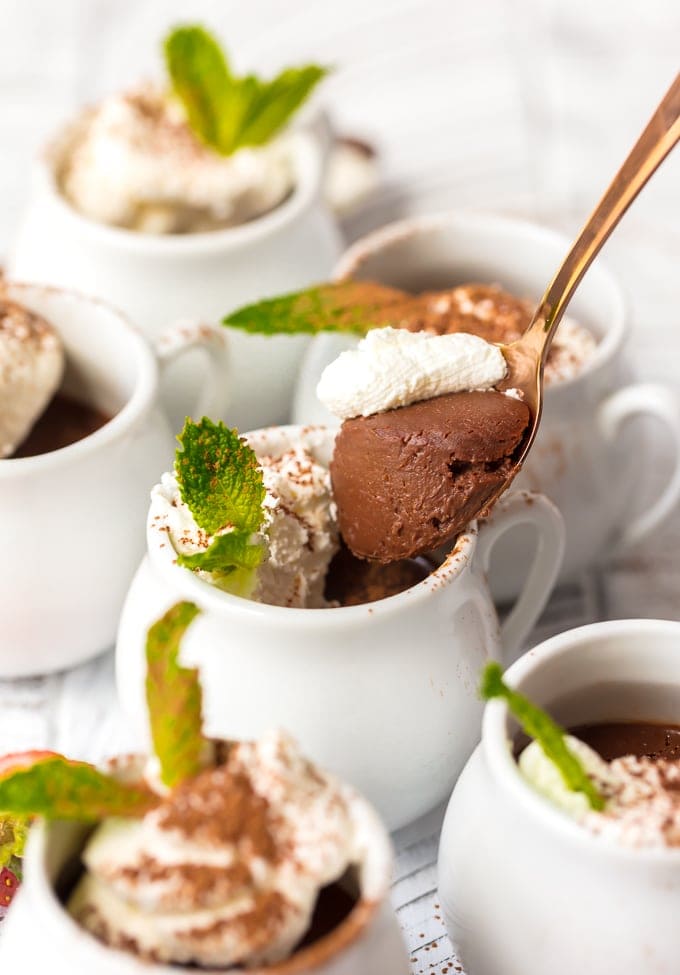 Chocolate Pot de Creme
Pots de Creme are such a simple and traditional dessert. They're not over the top, they're not complicated, but the flavor is enough to impress anyone and everyone. Plus they are so beautiful and look real classy in those little pots! Sometimes presentation counts, and these definitely pass the pretty test.
This Chocolate Pot de Creme recipe is really rich, so you don't need much. The texture is somewhere between pudding, mousse, and custard. It's thicker than pudding, not quite as fluffy as mousse, but just as creamy as custard. It's really amazing, and makes for an easy dessert that everyone will love.
I love the idea of serving these Chocolate Pots de Creme as a Christmas dessert (or on Christmas Eve). I'd eat them any time, for any reason (or for no reason), but they are perfect for holidays. Serve them on New Year's Eve, serve them on Valentine's Day, or serve them for a special occasion.
These Chocolate Pots de Creme are so simple yet so delicious. Serve them for any holiday or occasion!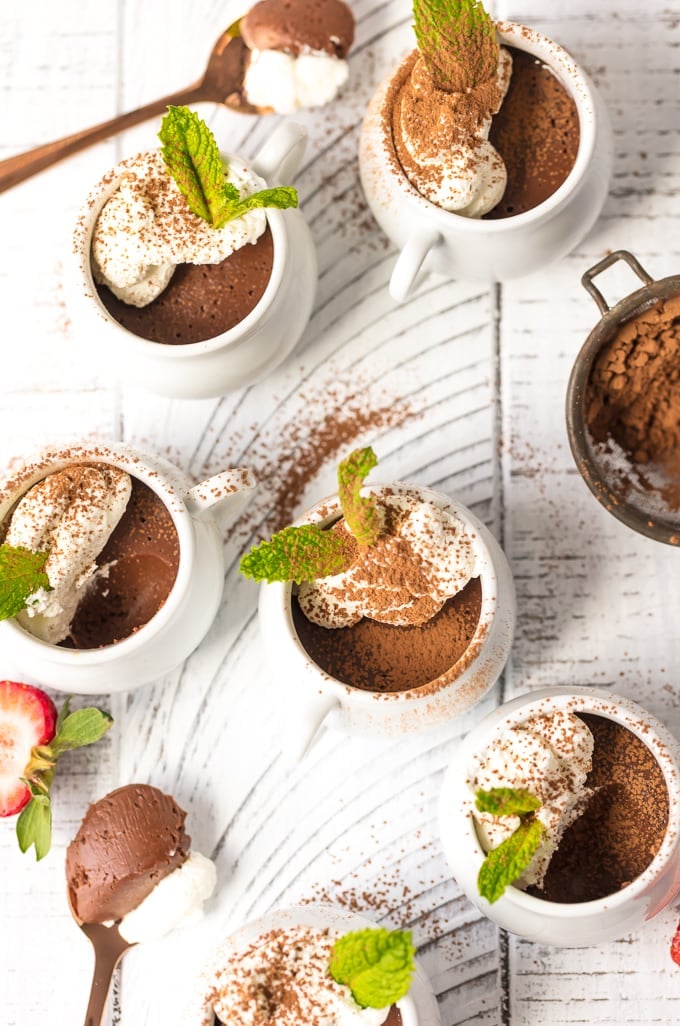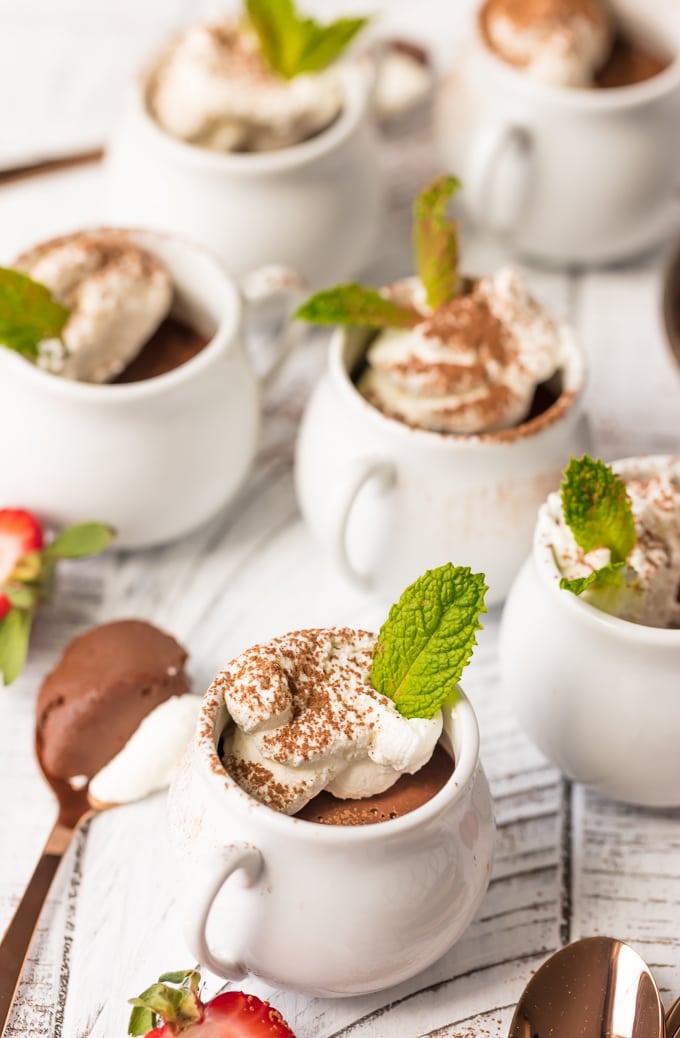 Easy Pots de Creme
Pot de creme is a tasty pudding-like dessert. It's a french dessert that literally translates to "pot of cream" or "pot of custard". This is a super simple no bake dessert and it tastes amazing. The texture is thicker than pudding but not quite as thick as your typical custards, so it's got a style all its own. It's light and chocolatey and oh so delicious!
Chocolate Pots de Creme Ingredients:
Semisweet chocolate chips
Ultra fine sugar
Egg
Heavy cream
Vanilla extract
Espresso powder (optional)
Kosher salt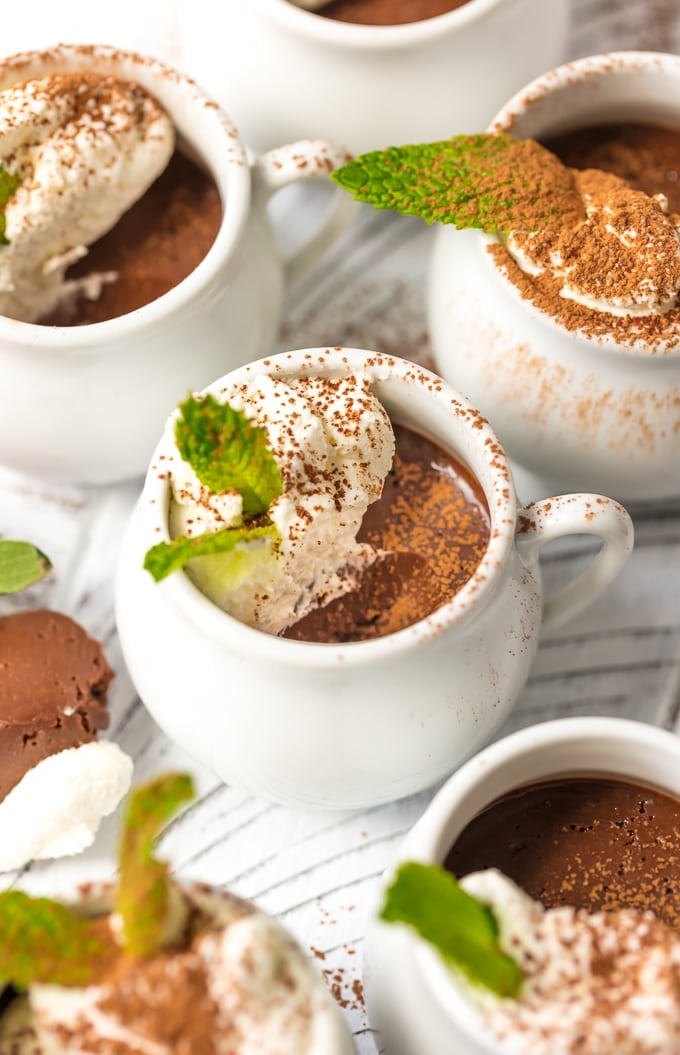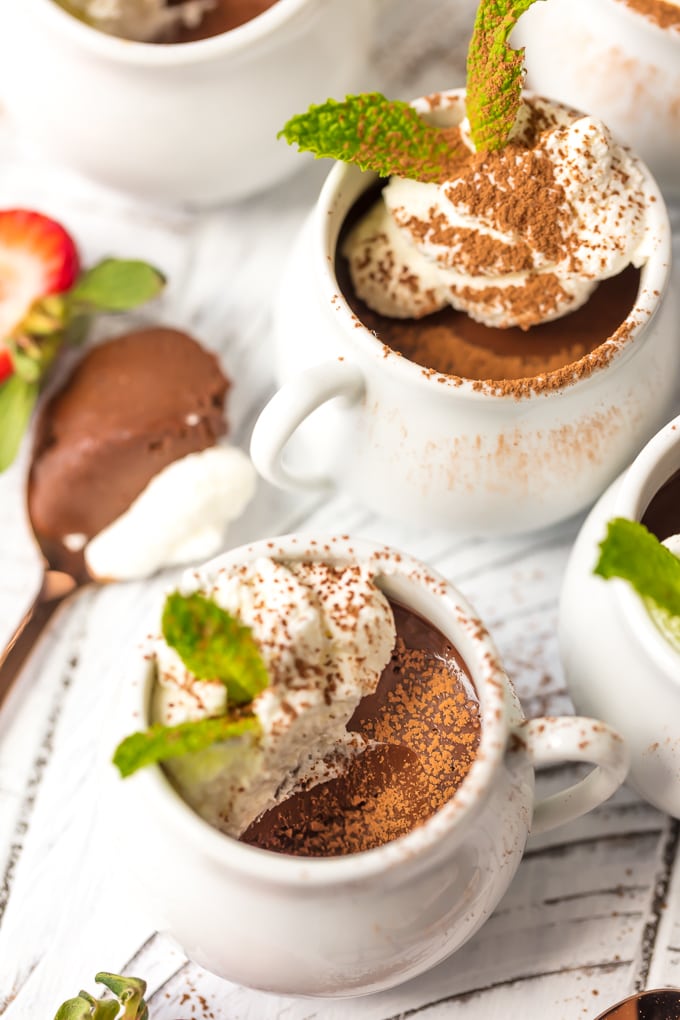 How to Make Chocolate Pot de Creme
I love no bake desserts like this chocolate pot de creme because it's extra easy. No need to turn the oven on, just mix and refrigerate!
Mix chocolate chips, sugar, salt, and espresso powder (if using) in a food processor or blender. You want to grind it into a fine mixture.
Whisk the egg and add it into the food processor with the chocolate mixture, then pulse just until smooth.
Heat the heavy cream in the microwave until it starts to bubble and boil.
Switch the food processor to low, then slowly pour in the cream and blend.
Add in the vanilla extract and continue mixing.
Pour the chocolate into small pots or ramekins (this recipe makes 6 servings, but you can make the portions larger or smaller if desired).
Cover the pots with plastic wrap and refrigerate for at least 2 hours to let the chocolate firm.
Recommended Products to make this recipe




Can you make pot de creme ahead of time?
Pot de creme is easy to make ahead of time. They need to be stored in the refrigerator for at least 2 hours to set, but they can sit in the fridge for up to 3 days. So these are a great dessert to prepare in advance for Christmas or any holiday. They're also easy to store if you have extras.
How to Serve Chocolate Pots de Creme
I think preparing chocolate pots de creme for serving is one of the funnest parts. The little pots are essentially a part of the recipe, so they're already super cute and presentable for a nice dessert. I would generally recommend taking them out of the refrigerator about 30 minutes before serving so that they aren't too cold, but they taste just as good straight out of the fridge.
Garnishing these little guys is the fun part. You can get creative and serve them however you like, so feel free to get fancy or just keep it simple. I used a bit of whipped cream on top and a sprinkle of cocoa powder with mint leaves for mine.
Here are a few more garnishing ideas for you:
Top with cream or serve without
Sprinkle on confectioner's sugar, cocoa powder, powdered sugar, or espresso powder
Add a sprig of mint for a refreshing twist
Top with bits of fresh berries or citrus
It's already quite rich, but you can throw a couple chocolate chips on top for presentation
Drizzle caramel over top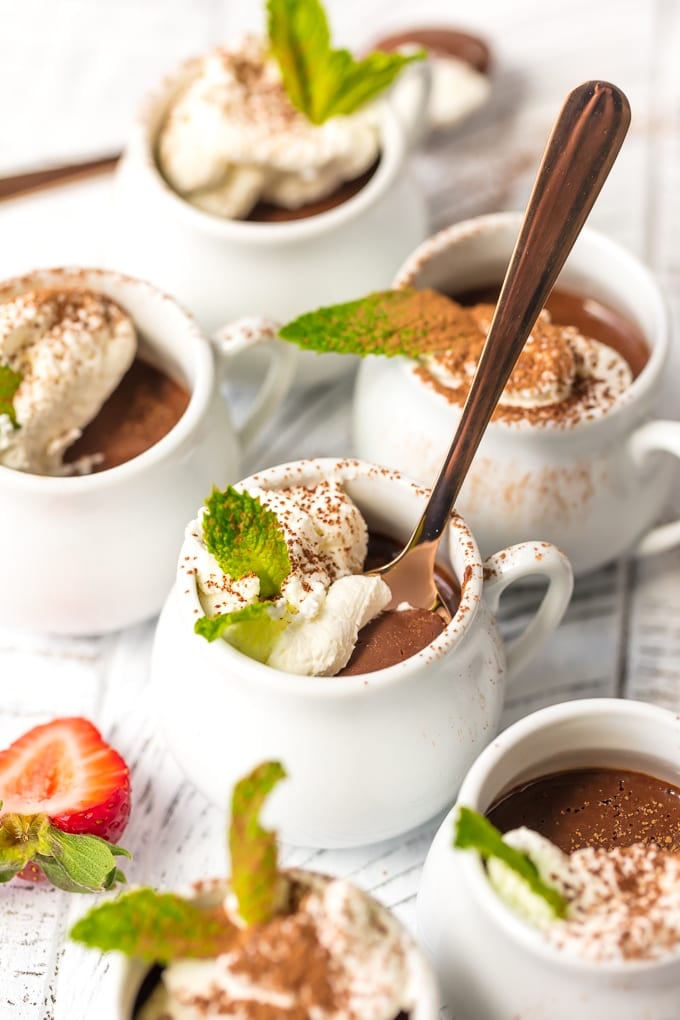 Chocolate Pot de Creme is the perfect Christmas dessert, so put these on the list this holiday season! If you like chocolate (who doesn't?), these are going to be a new favorite.
See the recipe card below for details on how to make Chocolate Pot de Creme. Enjoy!
If you like this recipe, you'll love these other delicious dessert recipes: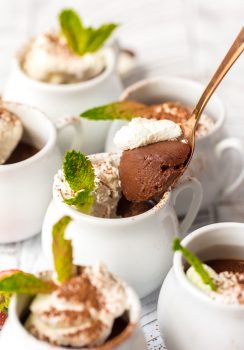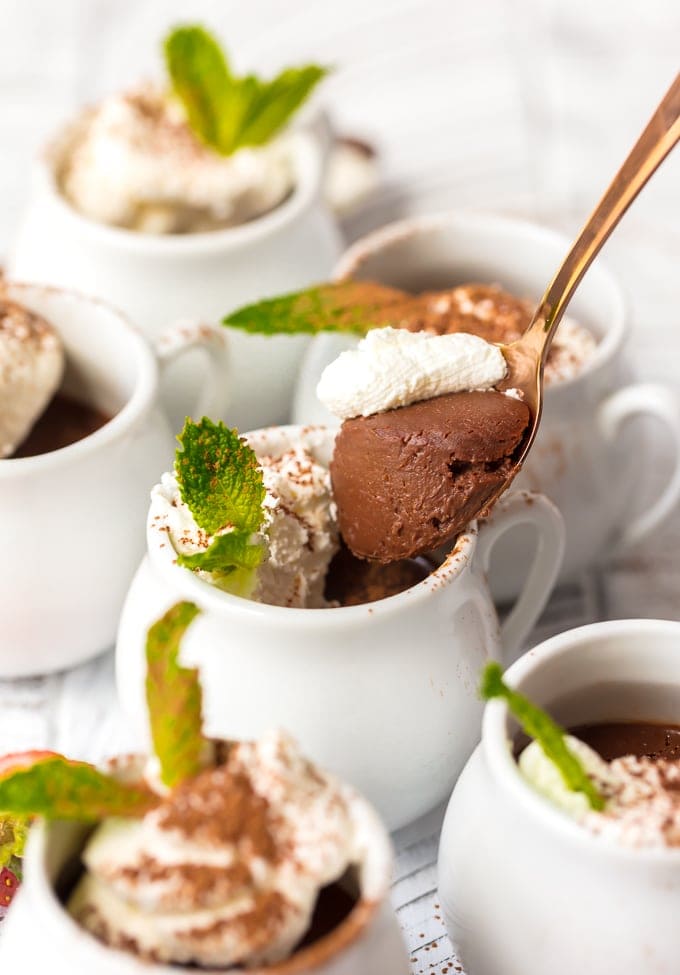 Chocolate Pot de Creme Recipe
Chocolate Pot de Creme is the perfect holiday dessert. It's simple, it's delicious, and it's so cute. These little pots de creme are rich and chocolatey, with the most amazing texture. I love these as Christmas and holiday desserts!
Keyword:
chocolate, chocolate cream, chocolate pots de creme
Ingredients
1

cup

semisweet chocolate chips

Guittard or Ghirardelli work well.

1/8

teaspoon

fine sea salt or kosher salt

2

tablespoons

ultra fine sugar

½

teaspoon

espresso powder

optional

1

large egg

room temperature

¾

cup

heavy cream

1

teaspoon

vanilla extract or 1-2 tablespoons liqueur
Garnishes:
Cocoa powder

Confectioner's sugar

Whipped cream

Mint leaves

Fresh strawberries

raspberries, orange slices, etc.
Instructions
Place the chocolate chips, salt, sugar, espresso powder in a food processor or blender. Mix until finely ground.

In a small bowl, slightly whisk the egg and add it to the chocolate mixture – pulse just until smooth.

In a microwave-safe bowl, bring the cream to a low boil.

With the blender or food processor on LOW, slowly add the hot cream and pulse to blend. Scrape down the sides as needed.

Add the vanilla extract or favorite flavoring and mix well.

Pour the chocolate mixture into 6 pots de crème pots or small ramekins. The chocolate mixture is very rich, so small portions are ideal.

Cover with plastic wrap and refrigerate at least 2 hours or until firm.

Pots de Crème can be made up to 3 days in advance.

It is recommended to remove the Pots de Crème from the refrigerator 30 minutes before serving. I have served them straight from the fridge and after letting them sit at room temperature for 30 minutes and love them both ways.

Garnishes:

When ready to serve, add some of these garnishes: a dollop of whipped cream, fresh fruit, a mint leaf, a sprinkling of cocoa powder or confectioner's sugar.
Recipe Video
Nutrition Facts
Chocolate Pot de Creme Recipe
Amount Per Serving
Calories 456
Calories from Fat 306
% Daily Value*
Total Fat 34g 52%
Cholesterol 104mg 35%
Sodium 109mg 5%
Potassium 303mg 9%
Total Carbohydrates 31g 10%
Protein 5g 10%
* Percent Daily Values are based on a 2000 calorie diet.