This Pumpkin Mousse recipe is easy, creamy, and perfect for fall holidays. The fluffy mousse is infused with cheesecake flavor, brown sugar, pumpkin puree, and pumpkin pie spice for the most delicious flavor. You only need a few ingredients to make this delightful dessert, and no baking required!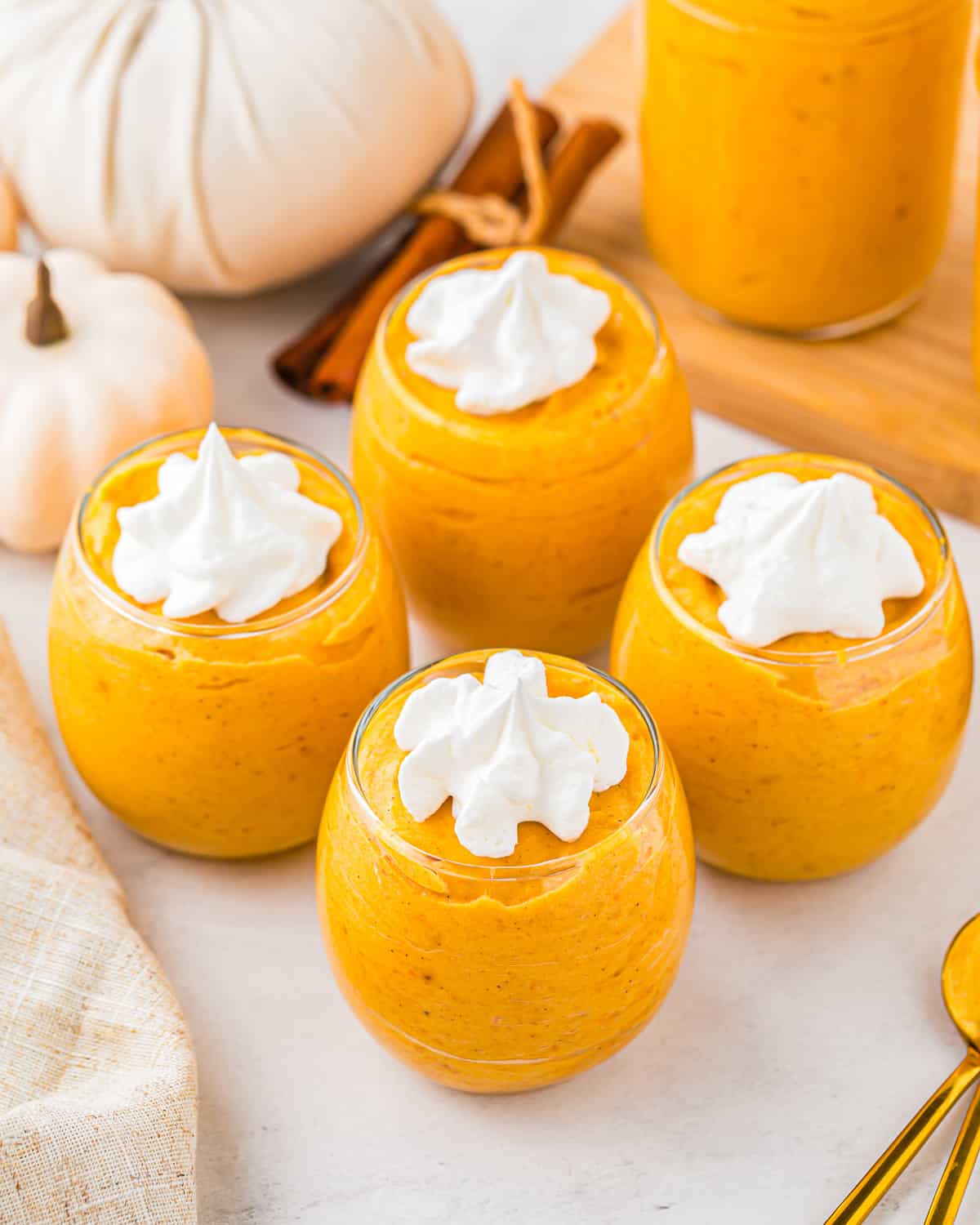 What's in this Pumpkin Mousse Recipe?
This quick and easy pumpkin mousse will wow your guests with its rich pumpkin flavor and incredibly light texture!
Cheesecake Instant Pudding Mix: Use this ingredient dry–do not prepare it according to the instructions on the box. Vanilla or white chocolate instant pudding mix will also work, but will be less tangy.
Brown Sugar: Sweetens the mousse.
Pumpkin Pie Spice: Adds a warm pumpkin pie flavor.
Half-and-Half: Adds moisture to help dissolve the pudding mix. You can substitute whole milk for a softer mousse, or heavy cream for a thicker one.
Pumpkin Puree: Adds rich and earthy pumpkin flavor.
Whipped Topping: Makes the mousse light and fluffy. Be sure to thaw if frozen before using.
Pro Tip: Make sure to use 100% pure pumpkin, not pumpkin pie filling. Pumpkin pie filling already includes sugar and spices and will make the pudding too sweet.
Variations on Pumpkin Pie Mousse
There are so many ways to change up this pumpkin mousse. Try adding some cocoa powder or melted chocolate to create a chocolate pumpkin mousse, or swap some of the brown sugar for maple syrup for a maple pumpkin mousse. And add a splash of rum or bourbon for a boozy take!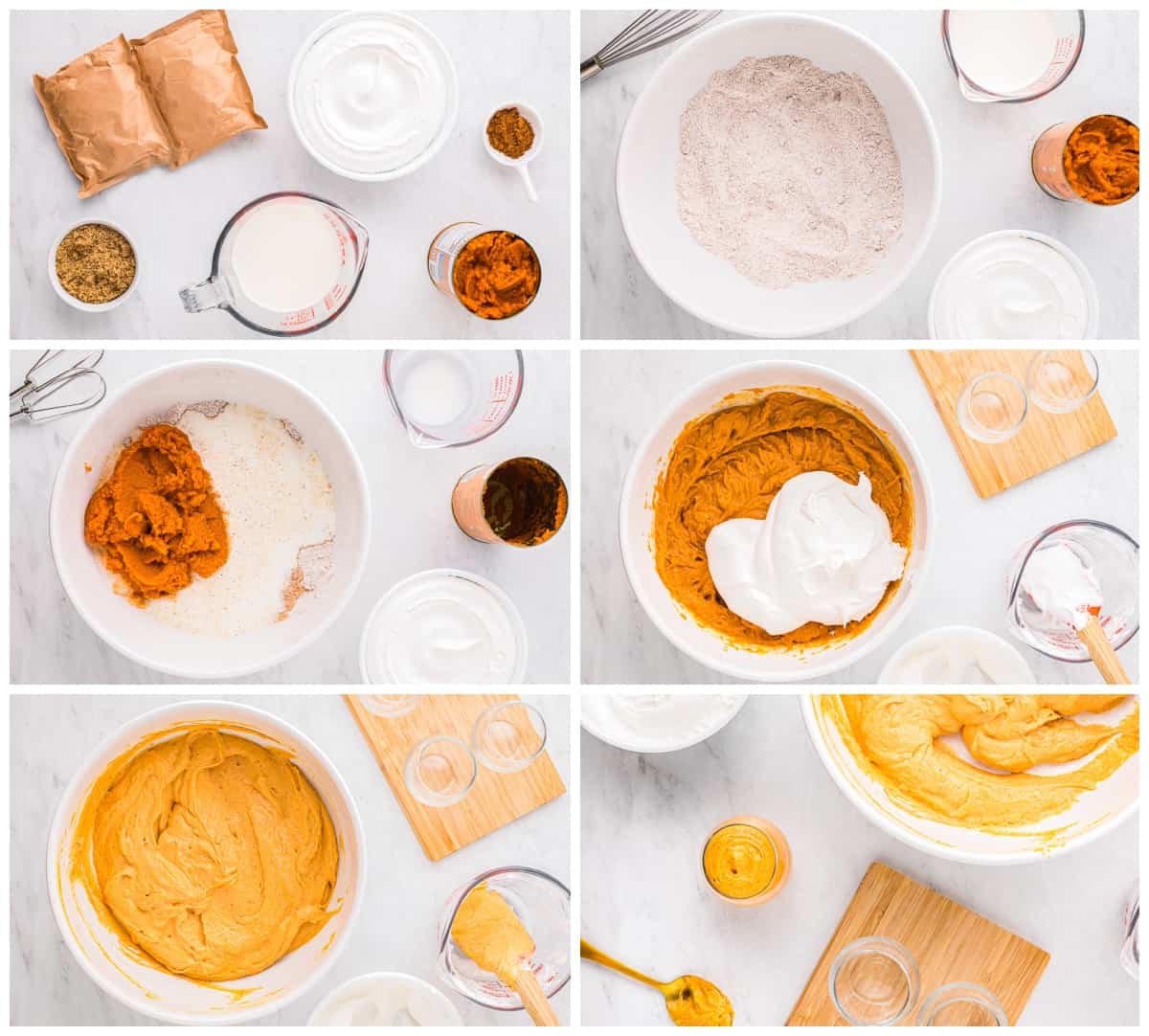 What is pumpkin mousse made of?
This mousse is made from pantry staples, like cheesecake pudding mix, brown sugar, pie spice, and canned pumpkin puree. Add some fresh half-and-half and whipped topping, and you've got one tasty mousse!
Is mousse just whipped pudding?
Nope! Unlike pudding, mousse is not cooked and is served chilled.
Can I use cream cheese instead of pudding mix?
Yes, but you will need more sugar! Whip 8 ounces (1 brick) of cream cheese with 1 cup of brown sugar and the pumpkin pie spice until light and fluffy, then add the pumpkin puree and fold in the whipped topping.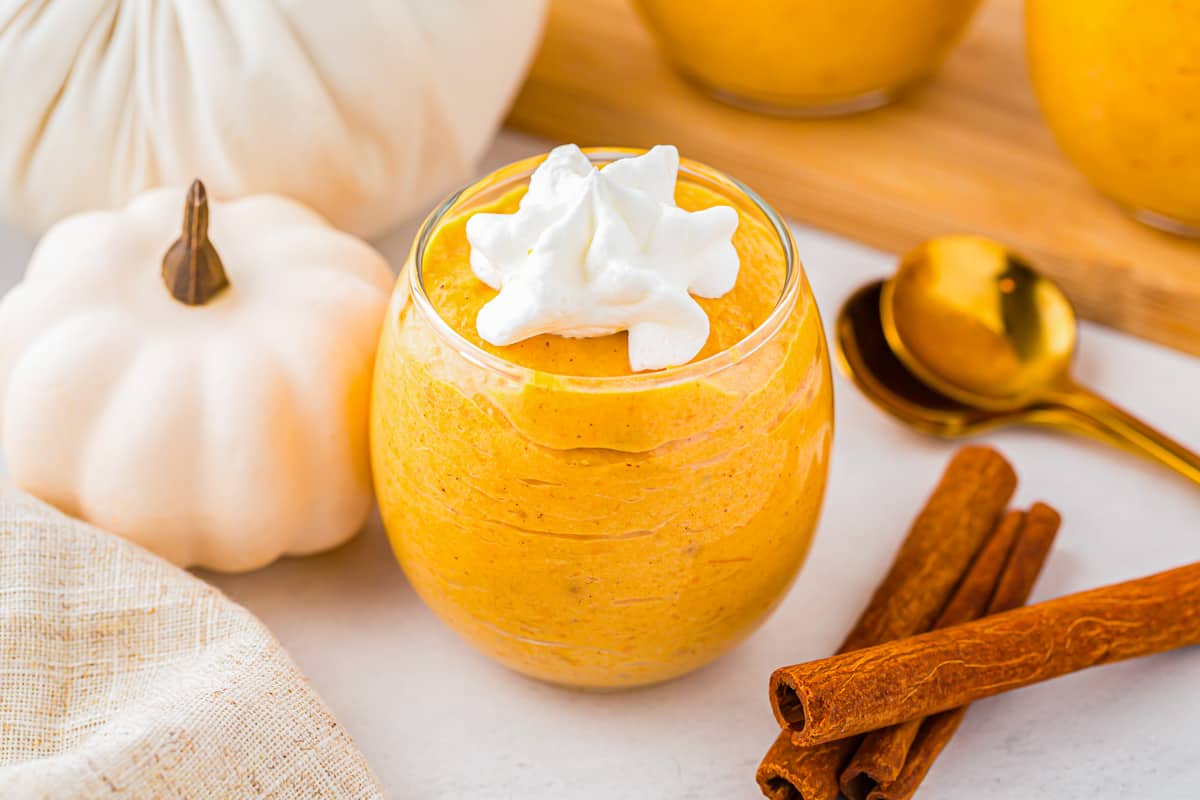 How to Store
To store pumpkin pie mousse, spoon it into individual glass serving dishes or a large serving bowl, and cover it tightly with plastic wrap or an airtight lid. Keep it refrigerated for 2-3 days to maintain its freshness.
Freezing is not recommended as it will likely affect the texture negatively.
Serving Suggestions
Top this tasty pumpkin mousse with whipped cream (or pumpkin spice whipped cream!) and baked pie crust pieces, crumbled graham crackers or gingersnaps, crushed nuts, or chocolate chips! Add a drizzle of chocolate syrup or caramel sauce to take it to the next level.
You can also turn this mousse into a parfait by layering with pie pieces or cookies, or spoon it into a prepared pie crust to create a mousse pie.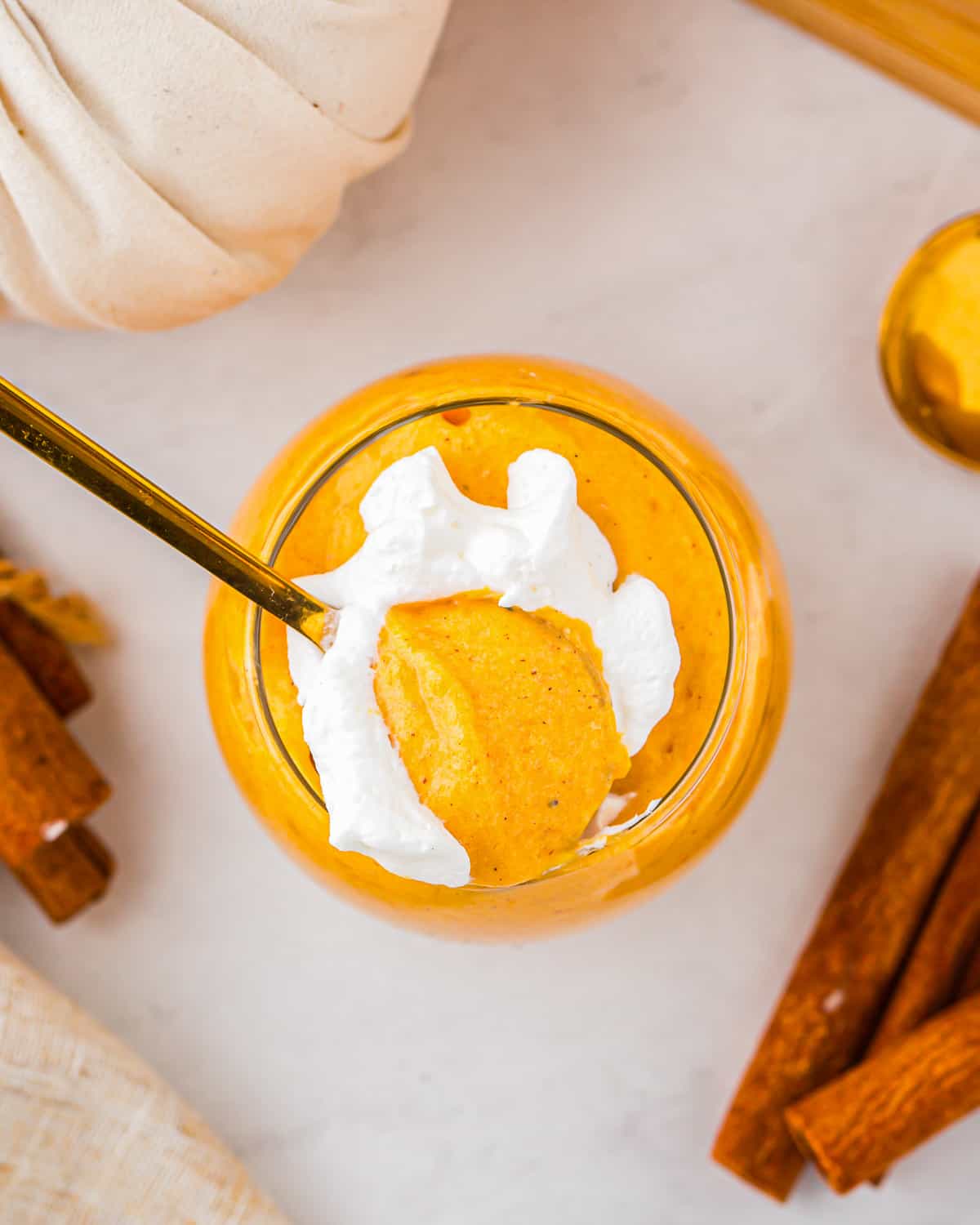 More Pumpkin Dessert Recipes We Love