This creamy Chicken Caesar Pasta Salad recipe is the perfect combination of two simple dishes. Cold pasta is mixed with cubes of chicken, fresh Romaine, and crunchy croutons, then tossed with a homemade Caesar dressing. It makes an easy lunch or side dish that's ready in just 20 minutes!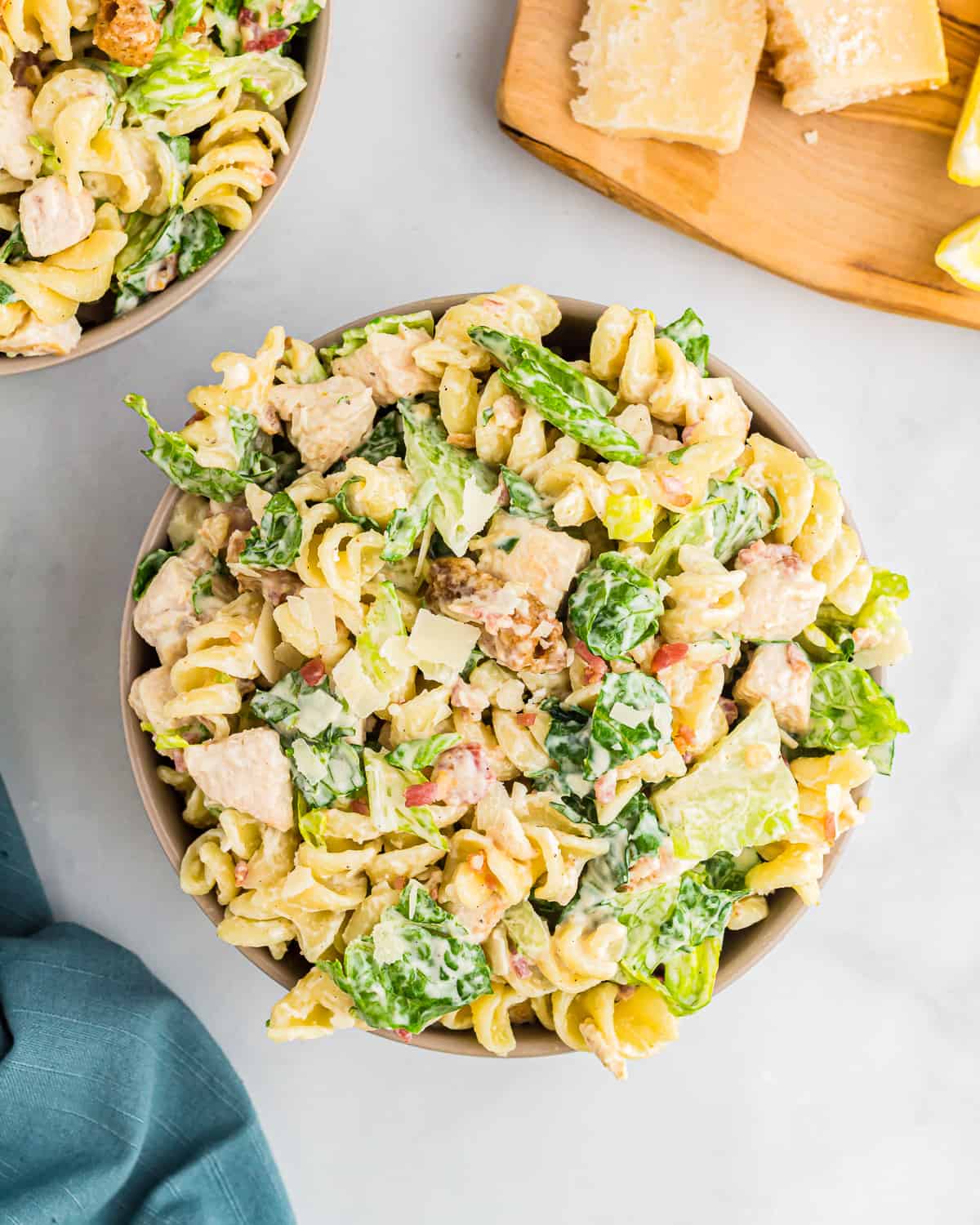 What's in Pasta Caesar Salad with Chicken?
I don't know about you, but I love chicken Caesar salad and macaroni salad! So putting both together in one dish was a no-brainer, and it's mind-blowingly good!
Pasta: I used rotini, but any short shape will work. Be sure to cook it al dente so it holds its shape.
Romaine Lettuce: The quintessential lettuce of choice for Caesar salad.
Cooked Chicken: This is a great use for those leftovers you've got hanging around. Otherwise, cook up my favorite pan seared chicken breast, cool in the fridge, and chop into cubes.
Croutons: Add a great crunch to the salad.
Cooked Bacon Crumbles: Add a salty and umami element.
Parmigiano Reggiano Cheese: Use freshly shredded cheese from a block for the best flavor.
Mayonnaise: Makes the dressing creamy!
Lemon Juice: Adds a touch of acidity to the dressing.
Garlic: Adds an earthy flavor.
Dijon Mustard: Adds a bit of spice.
Worcestershire Sauce: Adds a salty, umami flavor.
Anchovy Paste: Adds a depth of flavor and saltiness that is essential to this Caesar pasta salad dressing.
Salt + Pepper: Enhances the flavor of the salad.
Pro Tip: If you can't find anchovy paste, you can mash up whole anchovy fillets instead!
Variations on Chicken Pasta Caesar Salad
While chicken is the classic choice, you can also make this pasta salad with pan-seared ribeye, grilled shrimp, or Caesar grilled salmon!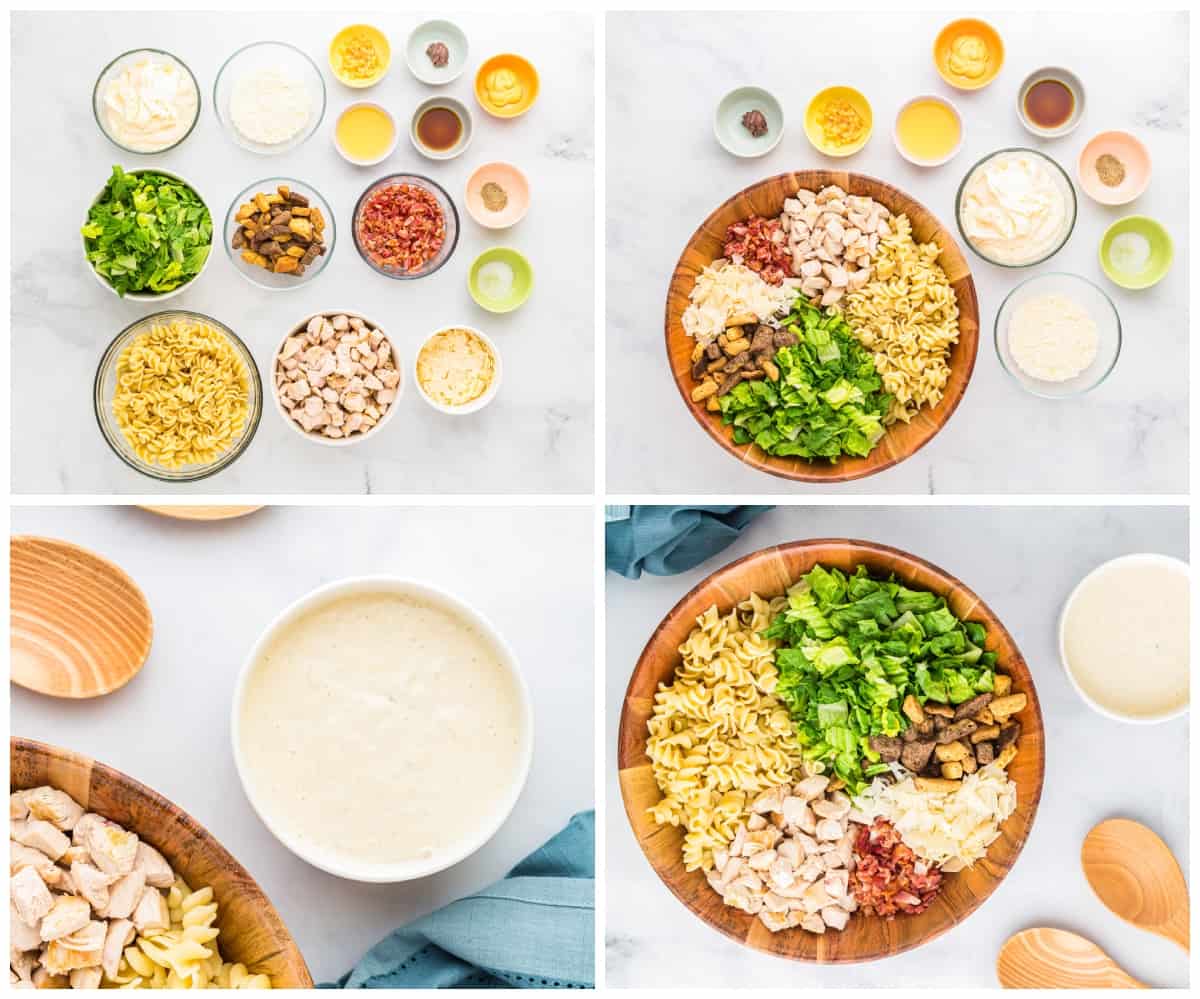 Does all Caesar dressing have anchovies?
Anchovies are a traditional ingredient in this dressing, so most of the time when making, eating, or ordering Caesar salad/dressing, you should expect anchovies. While you can leave them out, the flavor just won't be the same!
Where can I find anchovy paste?
Anchovy paste is usually in the condiments section of the grocery store, but it can also sometimes be found in the canned goods section with the tinned fish.
Can I add other vegetables to Caesar pasta salad?
Absolutely! Add your favorite veggies and toppings, such as chopped cucumbers, cherry tomatoes, or shredded kale.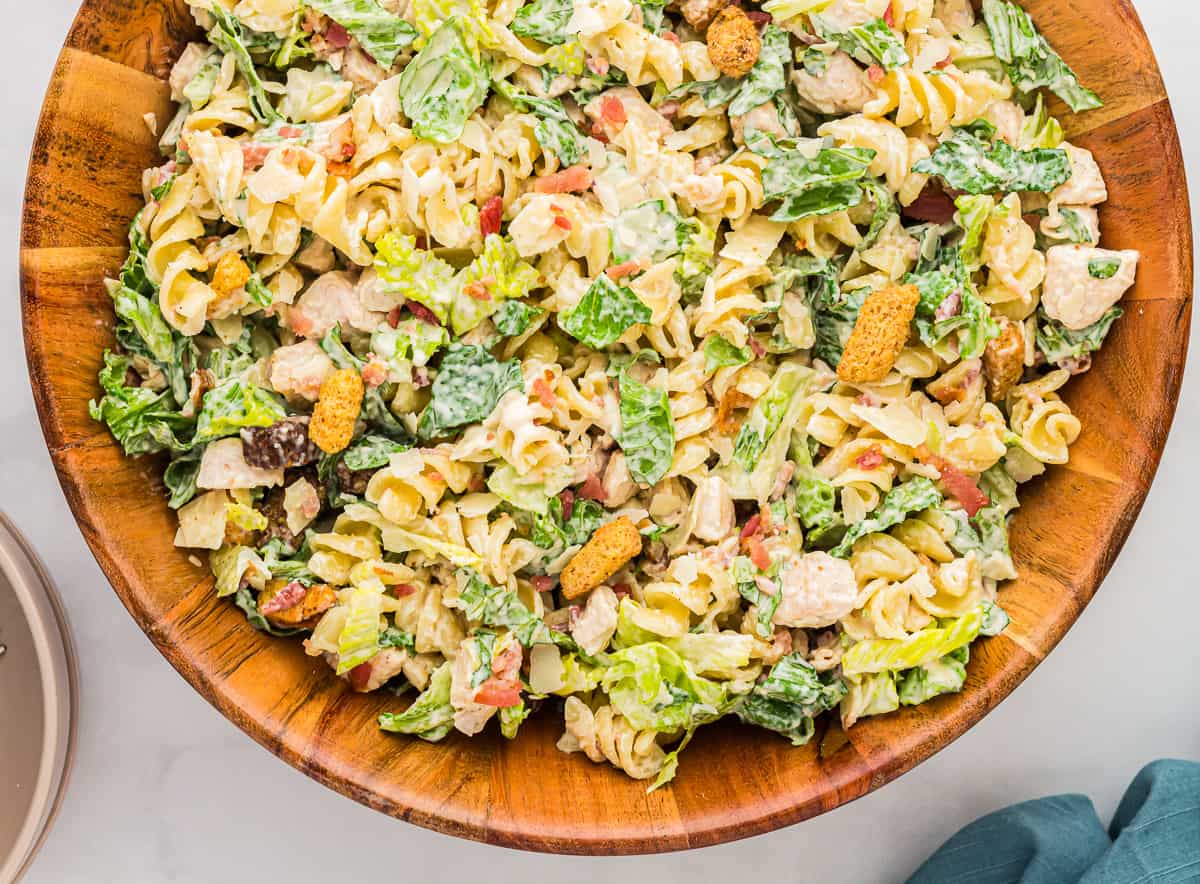 How to Store
Store leftover chicken Caesar pasta salad in an airtight container in the refrigerator for up to 3 days. Toss well before serving chilled.
I do not recommend freezing this dish, as both the lettuce and the pasta don't freeze well.
Serving Suggestions
This pasta with Caesar salad can be a meal all on its own served with some garlic bread or Olive Garden breadsticks. Or serve it as a side with a veggie-forward main, like white pizza, mushroom soup, or gazpacho.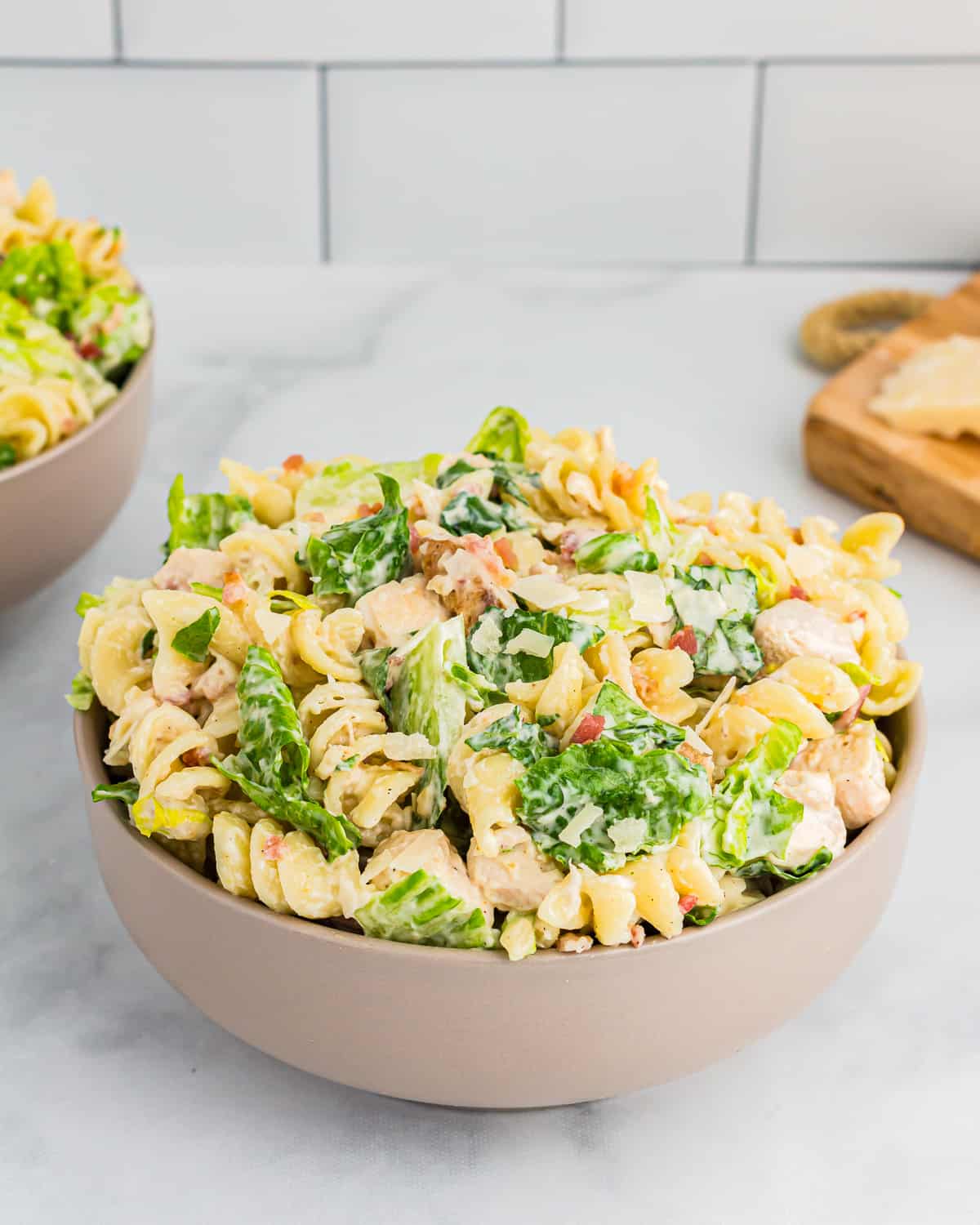 More Pasta Salad Recipes We Love