These cheesy Fondue Mashed Potatoes, also known as Pommes Aligot, are super creamy with a silky smooth texture, and a cheese pull that's just to die for! Potatoes are blended with heavy cream, butter, white wine, garlic, and seasonings, then mixed with cheese. These delectable mashed potatoes will be your new go-to for every holiday meal!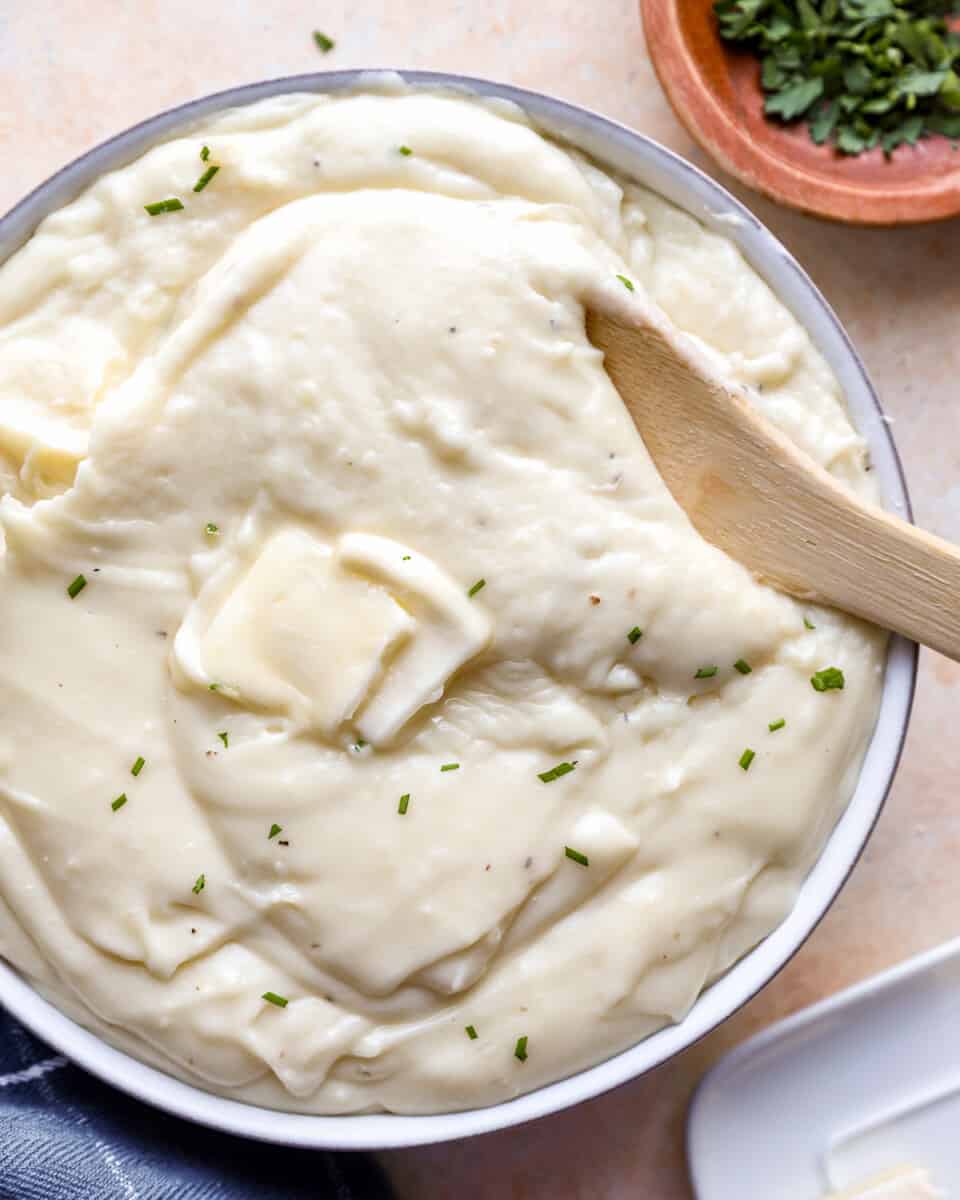 Why We Love This Fondue Mashed Potatoes Recipe
When I found out about pommes aligot, I just about lost my mind. I love cheese fondue, and I also love mashed potatoes, so combining the two seemed like a no-brainer. This dish is creamy, cheesy, and so delicious!
Variations on Pommes Aligot
If Swiss isn't your thing, you can make these mashed potatoes with gouda, fontina, gruyere, comté, emmental, raclette, vacherin, or cheddar cheese. Mix multiple kinds of cheese together and play with the proportions to get the perfect mix for your tastes. Just be sure to use 8 ounces total.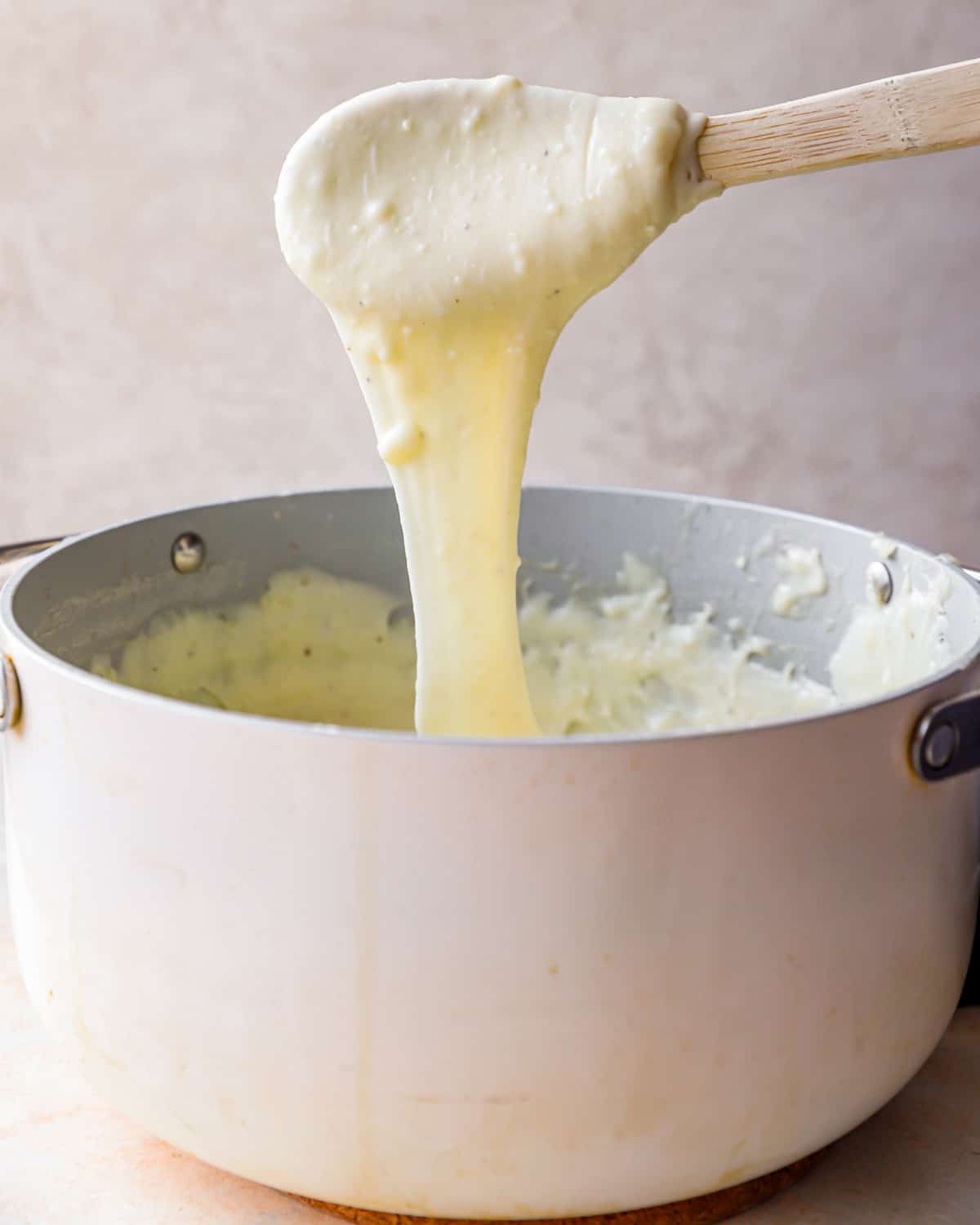 How to Store and Reheat
Store leftover fondue mashed potatoes in an airtight container in the refrigerator for up to 4 days. Reheat in a Dutch oven over medium-low heat, or in the microwave on high for 1 minute.
How to Freeze
Scoop 1-cup mounds of these cheesy mashed potatoes onto a lined baking sheet and freeze uncovered until solid, about 1-2 hours. Transfer to an airtight container or Ziplock bag to store for up to 2 months. Let thaw overnight in the refrigerator before reheating.
Serving Suggestions
Serve these cheesy pommes aligot at the holiday table alongside your Thanksgiving turkey or Christmas ham. Or serve them with other meats, such as rack of lamb, grilled pork chops, or simple baked chicken breasts. Add some sautéed green beans for a rounded meal.
What is the meaning of aligot?
Aligot refers to a dish made from cheese blended into mashed potatoes. It's the French name for this dish, although the French version is typically made with Tomme de Laguiole (Tomme fraîche) or Tomme d'Auvergne cheese (both of which are only available in France).
What kind of cheese do you put in mashed potatoes?
I went with Swiss for that traditional fondue taste, but you can really put any melting cheese into mashed potatoes, so go crazy!
What is the texture of aligot?
The texture of this dish is creamy, smooth, and stretchy! It has almost an elastic quality to it that is quite unique!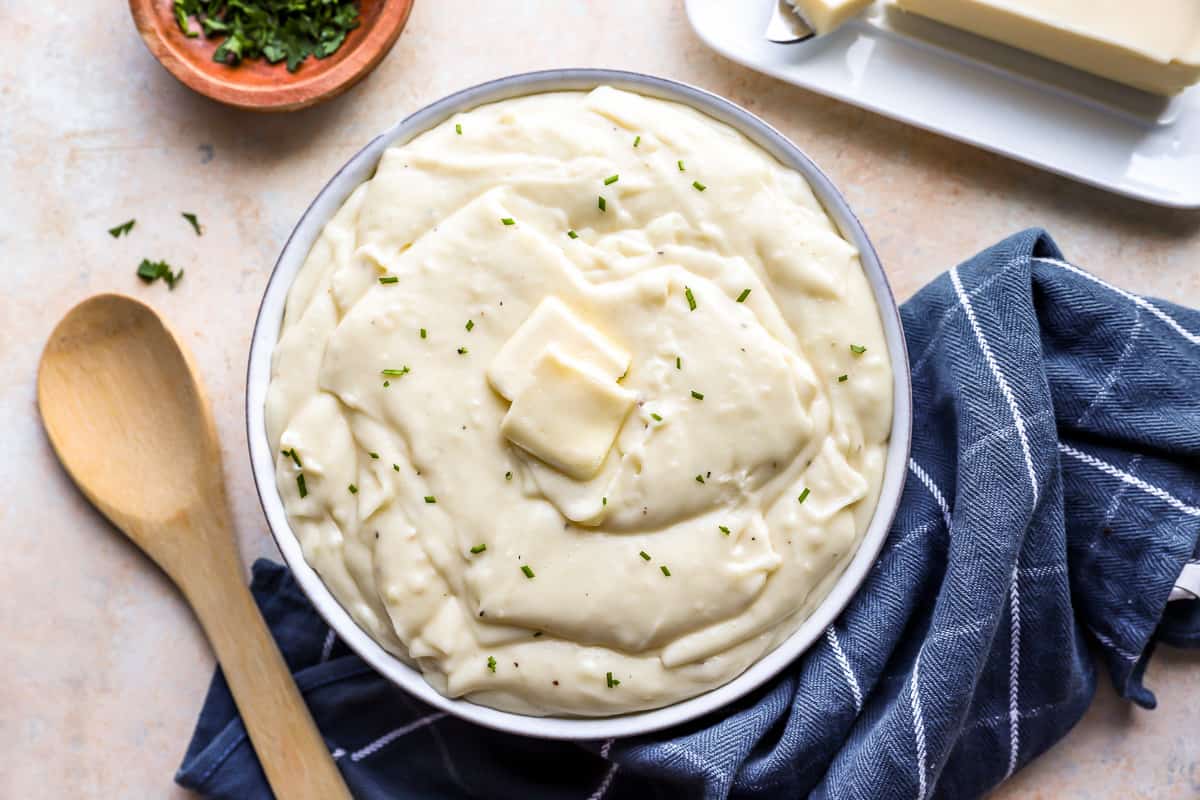 More Mashed Potato Recipes To Try
How to Make Fondue Mashed Potatoes Step by Step
Boil the Potatoes: Place 3 pounds of peeled and quartered Russet potatoes in a large pot covered in water. Boil the potatoes until fork tender, about 15-20 minutes. Drain the potatoes. Keep the pot handy.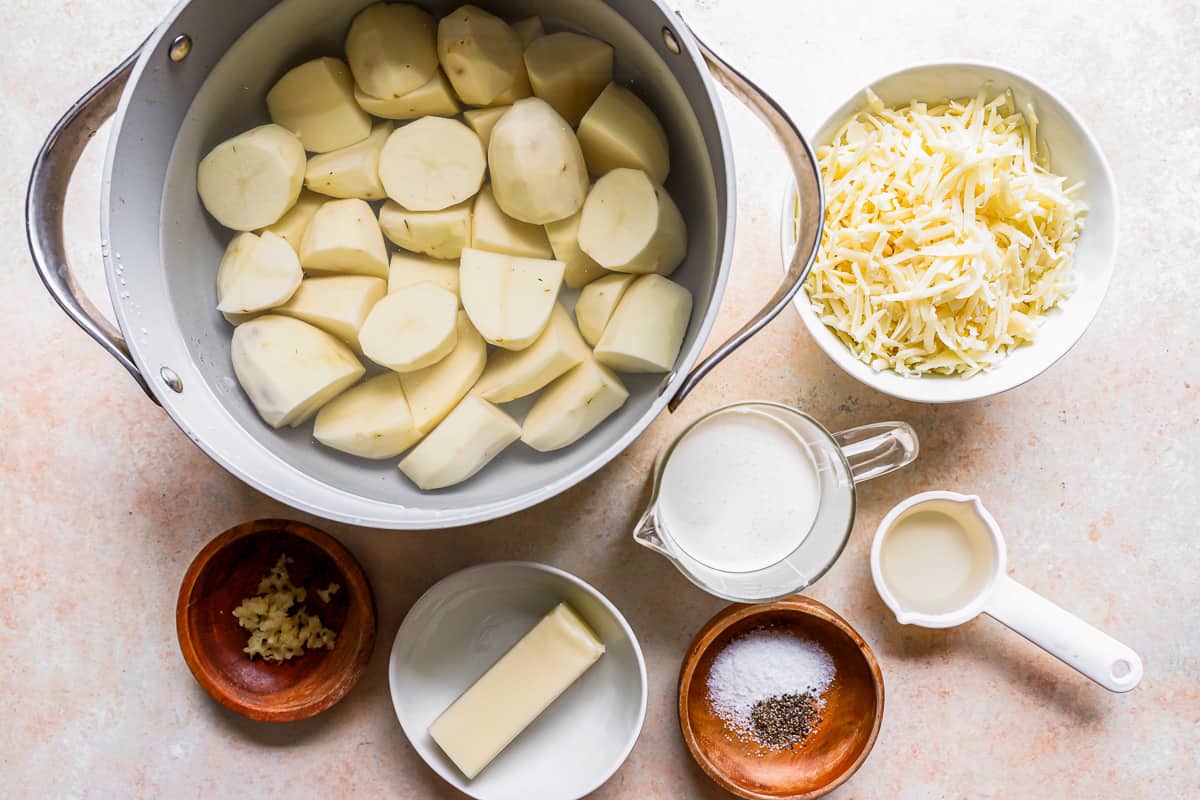 Blend the Potatoes: Add the potatoes, 1 cup of heavy cream, 6 tablespoons of unsalted butter, 2 cloves of garlic, ¼ cup of dry white wine, 1 teaspoon of kosher salt, ¼ teaspoon of ground black pepper, and ⅛ teaspoon of nutmeg to a food processor. Blend until mostly smooth.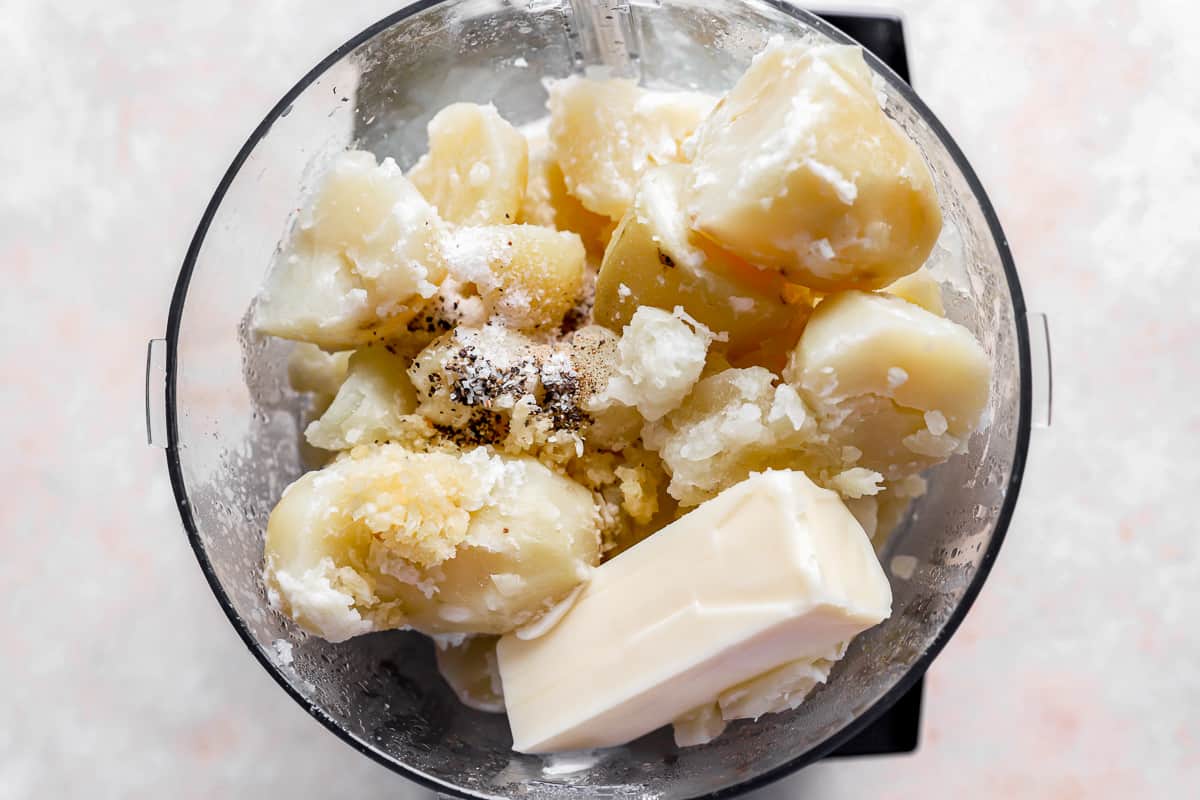 Add the Cheese: Transfer the potatoes back to the pot, add in 8 ounces of shredded Swiss cheese, and stir until it's melted and incorporated.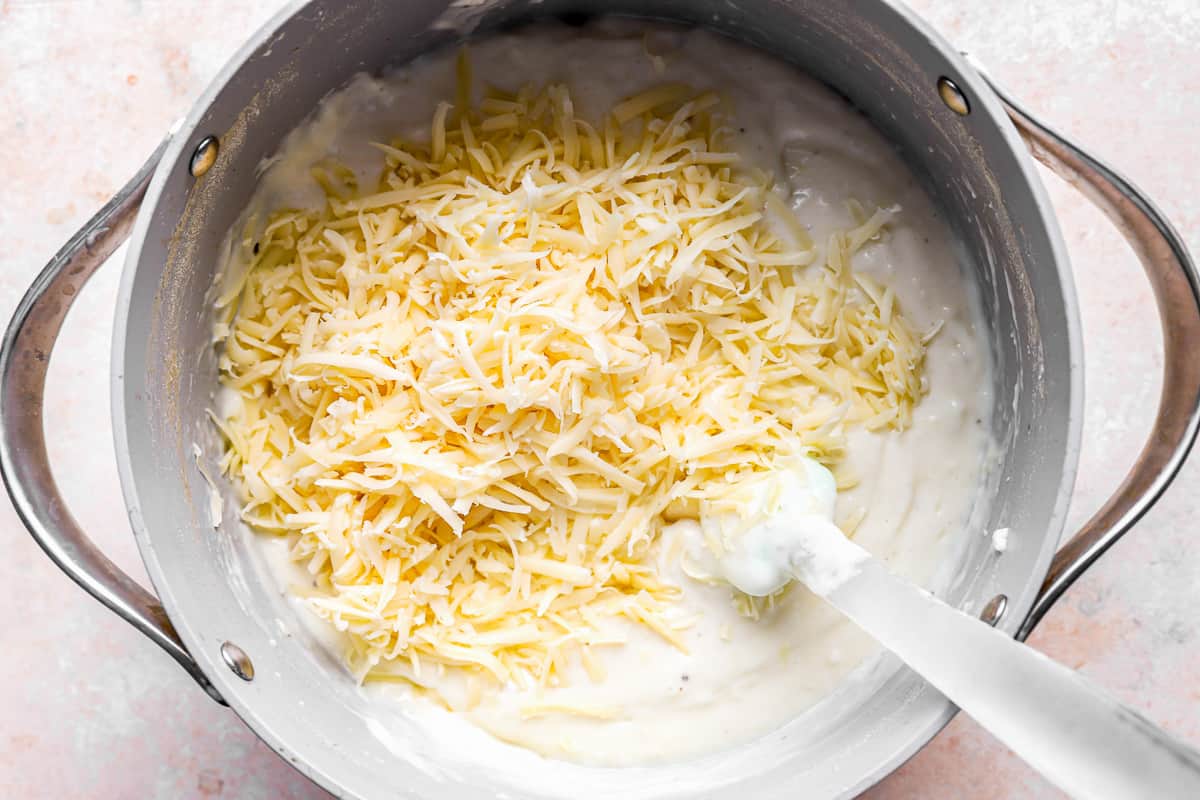 Taste and Adjust: Taste, and add more salt and pepper if needed.