This homemade Cranberry Pie recipe is made from scratch, and it's filled with all the coziness you need for a holiday dessert! A perfectly-sweet cranberry and orange filling is baked into a simple pie crust, and topped with adorable fall-themed pie crust pieces.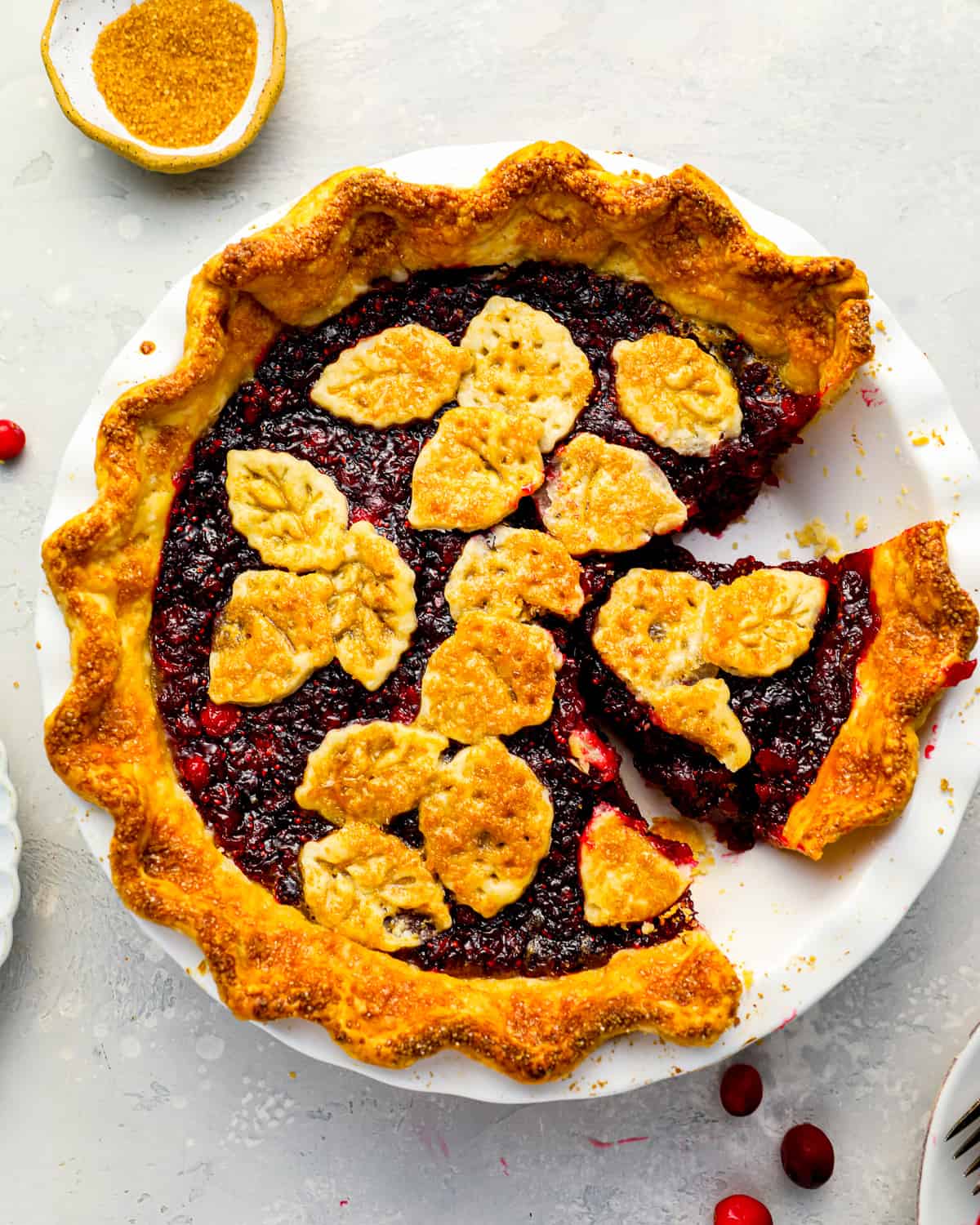 What's in this Cranberry Pie Recipe?
Tart, juicy cranberries are tempered with orange juice and plenty of sugar to create a balanced and fruity pie that makes a great contrast to a heavy Thanksgiving meal!
All-Purpose Flour: Forms the base of the pie crust, giving it structure.
Granulated Sugar: Sweetens the pie crust and the cranberry filling.
Kosher Salt: Enhances the natural flavor of the crust and filling.
Unsalted Butter: Helps create delicate, flaky layers in the crust.
Vegetable Shortening: Has a higher melting point than butter, allowing the crust to bake more evenly.
Ice Water: Adds moisture to the crust while keeping it cold so that the butter doesn't melt.
Cranberries: You can use fresh or frozen cranberries in this recipe.
Orange Juice: Balances the intense tartness of the cranberries. I prefer to use freshly squeezed orange juice from real oranges for a more prominent citrus flavor.
Cornstarch: Helps thicken the filling so it doesn't ooze out of the crust when cut.
Vanilla Extract: Enhances the sweetness of the pie.
Egg: Helps the crust bake up shiny in the oven.
Pro Tip: Sprinkle the egg-washed crust with coarse sugar for a bit of sparkle and crunch!
Variations on Cranberry Orange Pie
I love this tart and tasty pie! But if you're worried about it being too tart for your liking, try mixing it with some sliced apples, pears, blueberries, or raspberries to temper the flavor. You can also mix in chopped pecans or walnuts for a delightful crunch!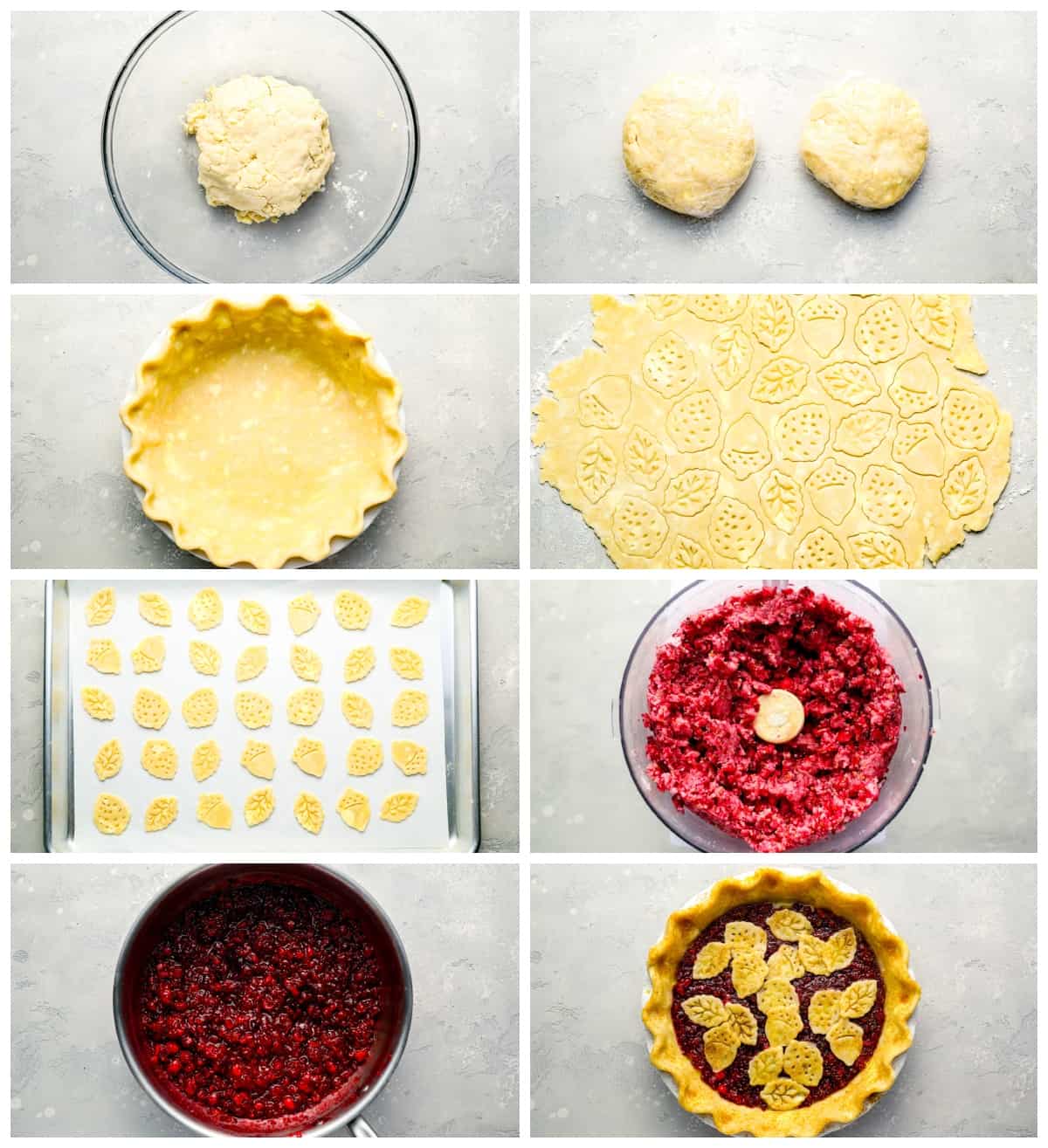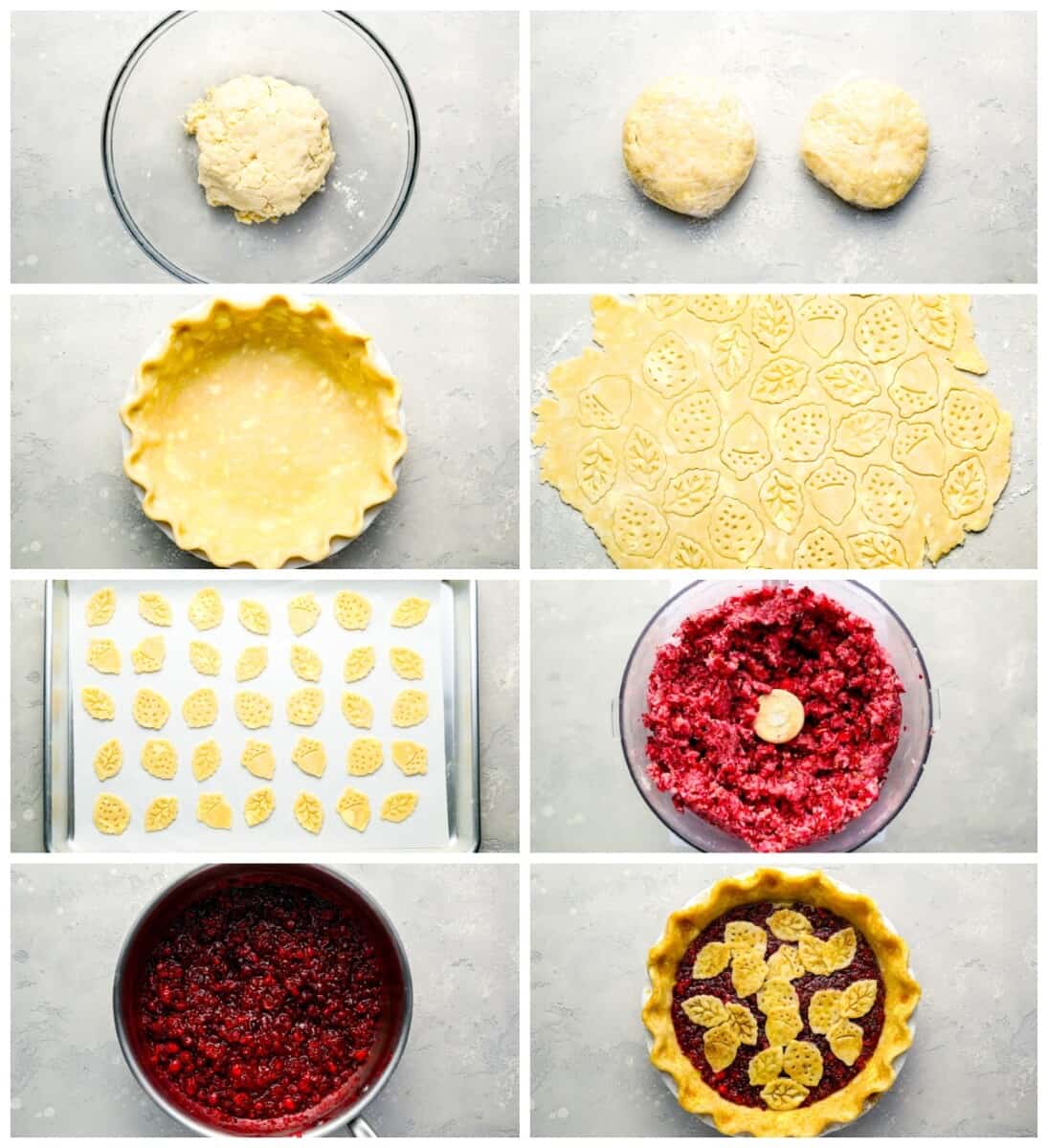 Is cranberry pie tart?
Cranberries are notorious for their tart flavor, but this pie balances that out with orange juice and plenty of sugar!
How do I keep the dough from sticking as I roll it out?
The secret to keeping the dough from sticking is the flour. Dust the surface, dust the rolling pin, dust your hands, and dust the dough with flour as you proceed through the steps. Flour keeps the dough from sticking, but make sure not to overdo it, or it'll get too dry.
Is it better to bake with fresh or frozen cranberries?
In truth, both fresh and frozen cranberries work equally well for this pie, so use whatever you can find!
Should you chop cranberries before baking?
I prefer to use a food processor to break up these cranberries so that they release more of their juices and thicken up more easily once cooked into a filling.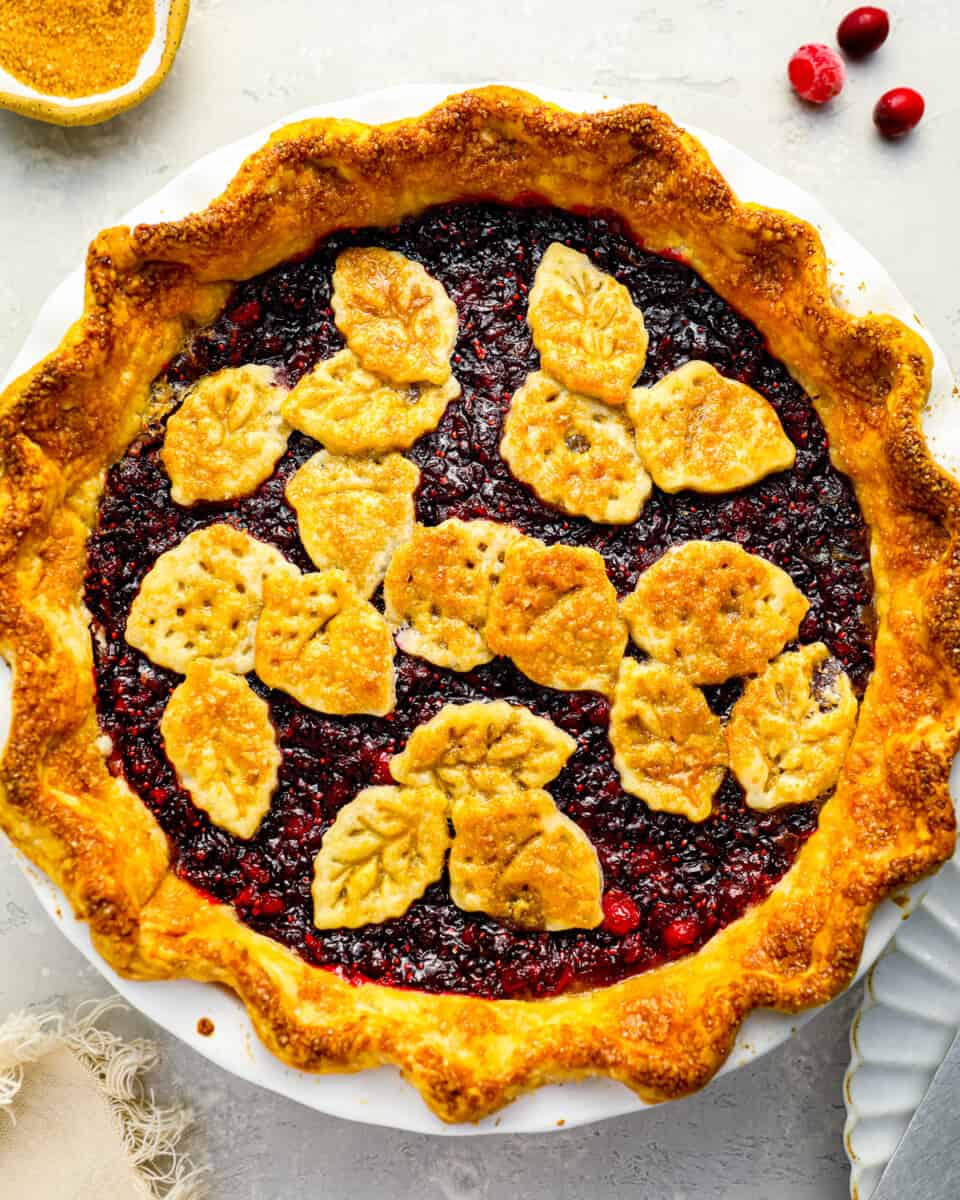 How to Store
Store leftover cranberry pie in an airtight container at room temperature for up to 2 days or in the refrigerator for up to 4 days.
How to Freeze
Freeze cranberry pie whole or cut into individual slices tightly wrapped in 2 layers of plastic wrap and 1 layer of aluminum foil for up to 4 months. Let thaw overnight in the refrigerator before enjoying.
Serving Suggestions
Decorate this juicy cranberry orange pie with sugared cranberries and dried orange slices, and serve it with pumpkin ice cream! This recipe is definitely one to add to your Thanksgiving pie options.
More Fruit Pie Recipes We Love