There's nothing better than a tasty homemade cherry pie, and this really is the best recipe! This easy sweet pie is packed full of cherries and is best served with a generous helping of ice cream. This recipe uses canned canned cherries, so you can skip the tedious pitting!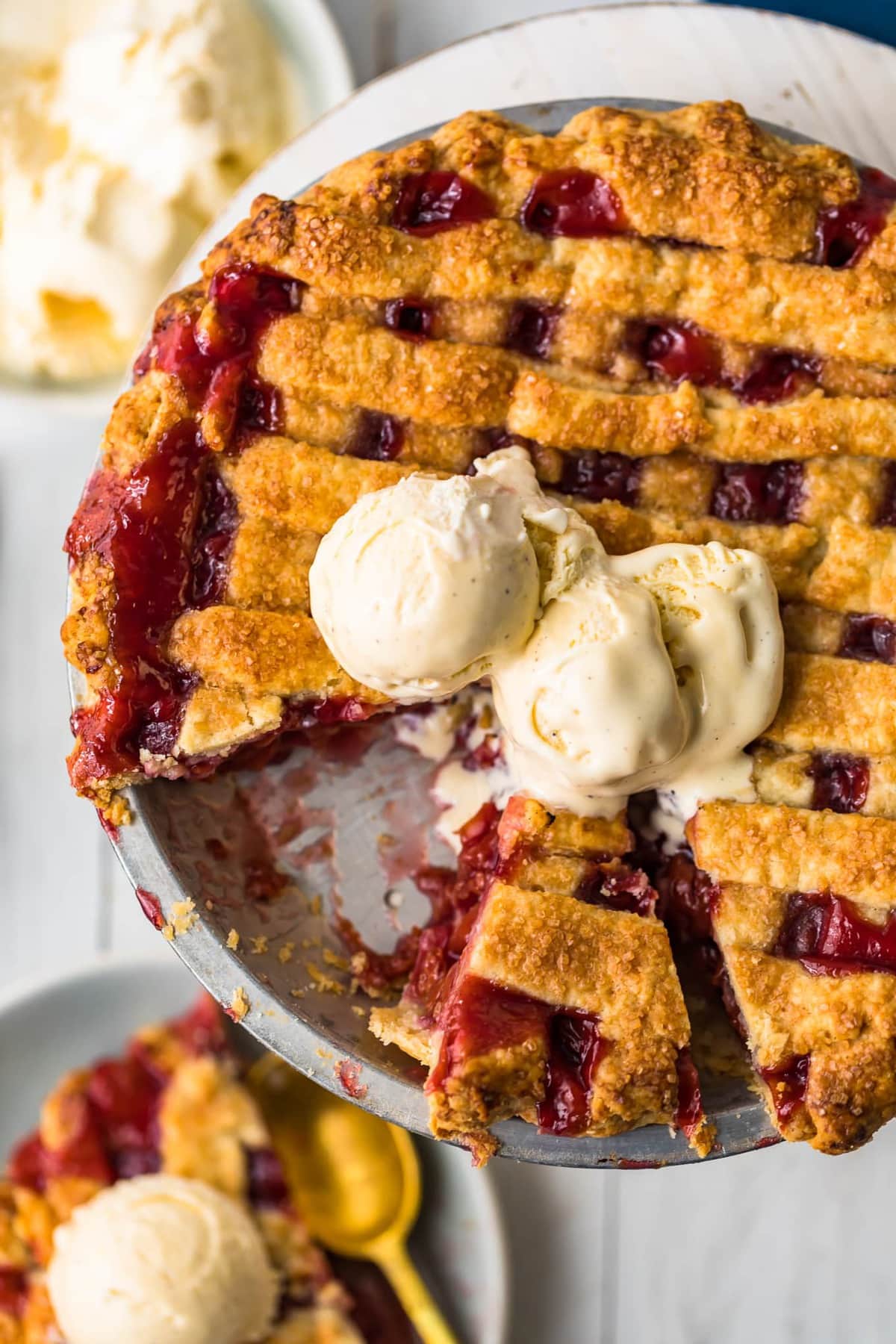 Cherry pie is one of my favorite pies, they are so full of flavor and are perfect to serve all year round. The best thing about this recipe, is that with a few shortcuts, it only takes 15 minutes to prep, so it's easy to satisfy that sweet craving in a hurry! It's one of the best summer dessert ideas because it's fruity, simple, and delicious!
How to make The Best Homemade Cherry Pie
For the Cherry Pie Filling
Heat oven to 425°F and arrange the bottom pie dough into the pie pan. Use a small fork to prick holes in the dough; set aside until ready to fill.

Drain the cherries reserving 1 cup of cherry juice.

In a medium saucepan, set over medium heat, whisk together sugar and cornstarch. Slowly, while still whisking, add reserved cherry juice. Stir until smooth. Add salt and cinnamon, stirring constantly until mixture comes to a low boil. Simmer the mixture, stirring often, about 7-9 minutes or until it has thickened.

Remove the mixture from the heat and add the butter, almond extract, lemon zest and lemon juice. Stir well. Pour the mixture into a medium bowl and allow the mixture to cool slightly.
For The Homemade Cherry Pie
Pour the cooled pie filling into the prepared pie crust and cover the filling with a vented or lattice top crust. Use a pastry brush to brush the crust with milk. Sprinkle liberally with coarse sugar.

Bake at 425°F for 20 minutes, reduce the temperature to 375°F and bake another 35-45 minutes (covering the edges when needed with aluminum foil or a pie crust shield).

Bake until the crust is a beautiful caramel brown and the juices bubble up through the lattice top.

Serve with a scoop of vanilla ice cream and…

Enjoy!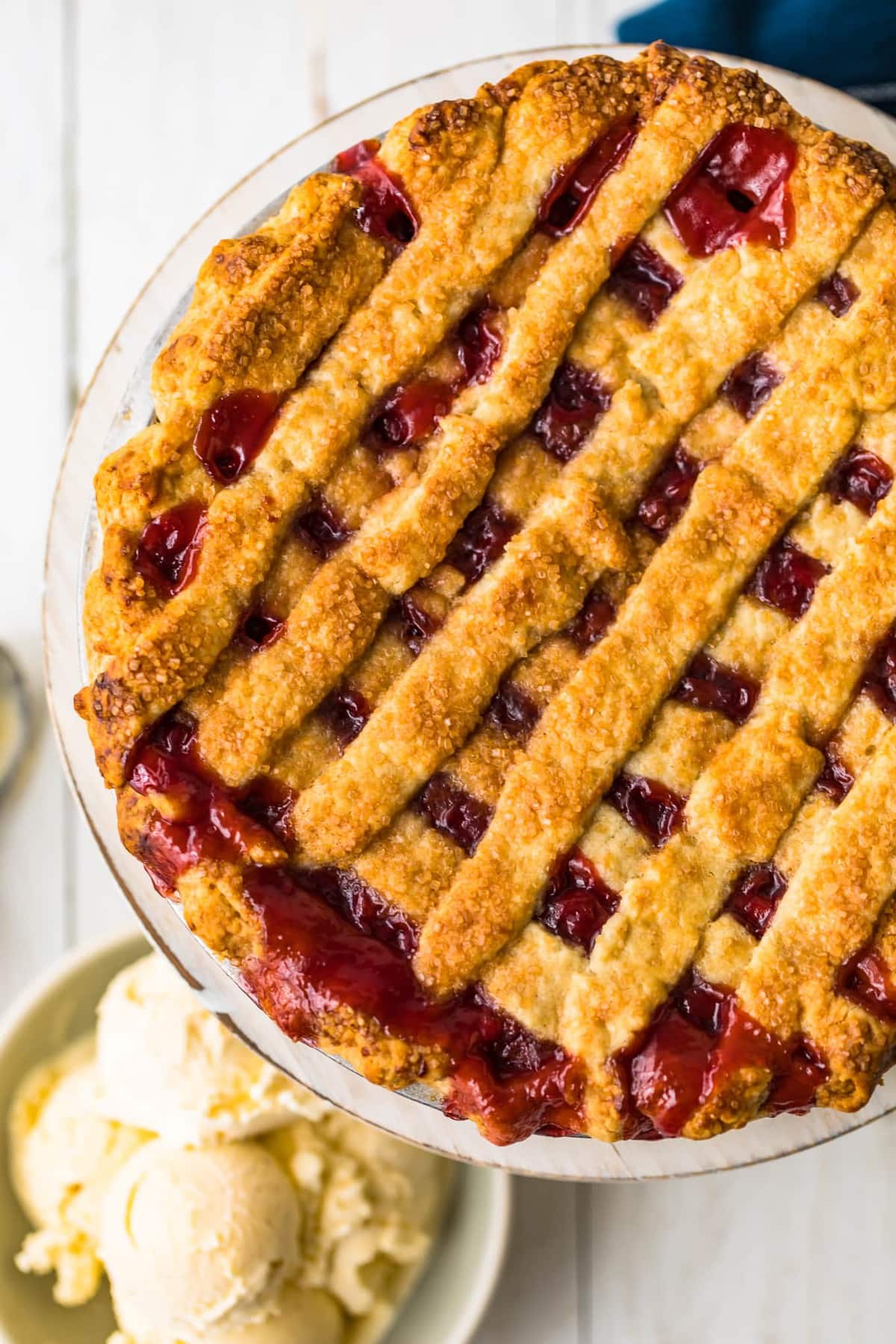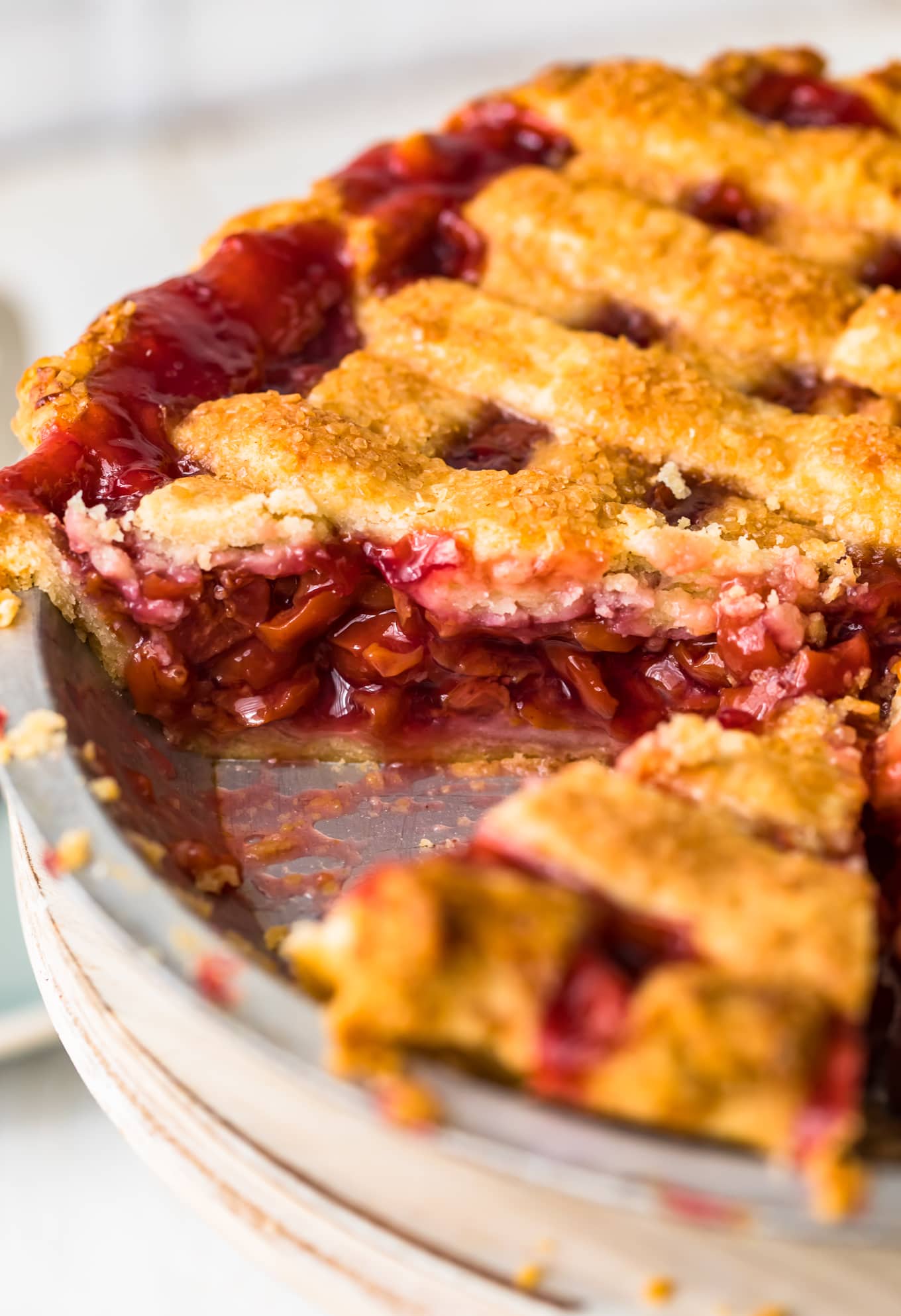 Is This Pie Served Hot or Cold?
I love serving this homemade cherry pie straight out of the oven with a scoop of ice cream that slowly melts around it – pure heaven on a plate! You can also serve this warm, at room temperature, or even cold. Hot cherry pie is perfect for the winter months, but maybe in summer it's best to opt for a cold dessert.
Can you freeze Homemade Cherry Pie?
This pie freezes really well. To freeze a baked pie, simply let the baked pie cool to room temperature and wrap it with foil or plastic wrap and place in a large freezer bag. You can also freeze the unbaked pie, which can be a better option, you can then cook the pie from frozen.
This cherry pie will also keep covered in the fridge for about 4-5 days.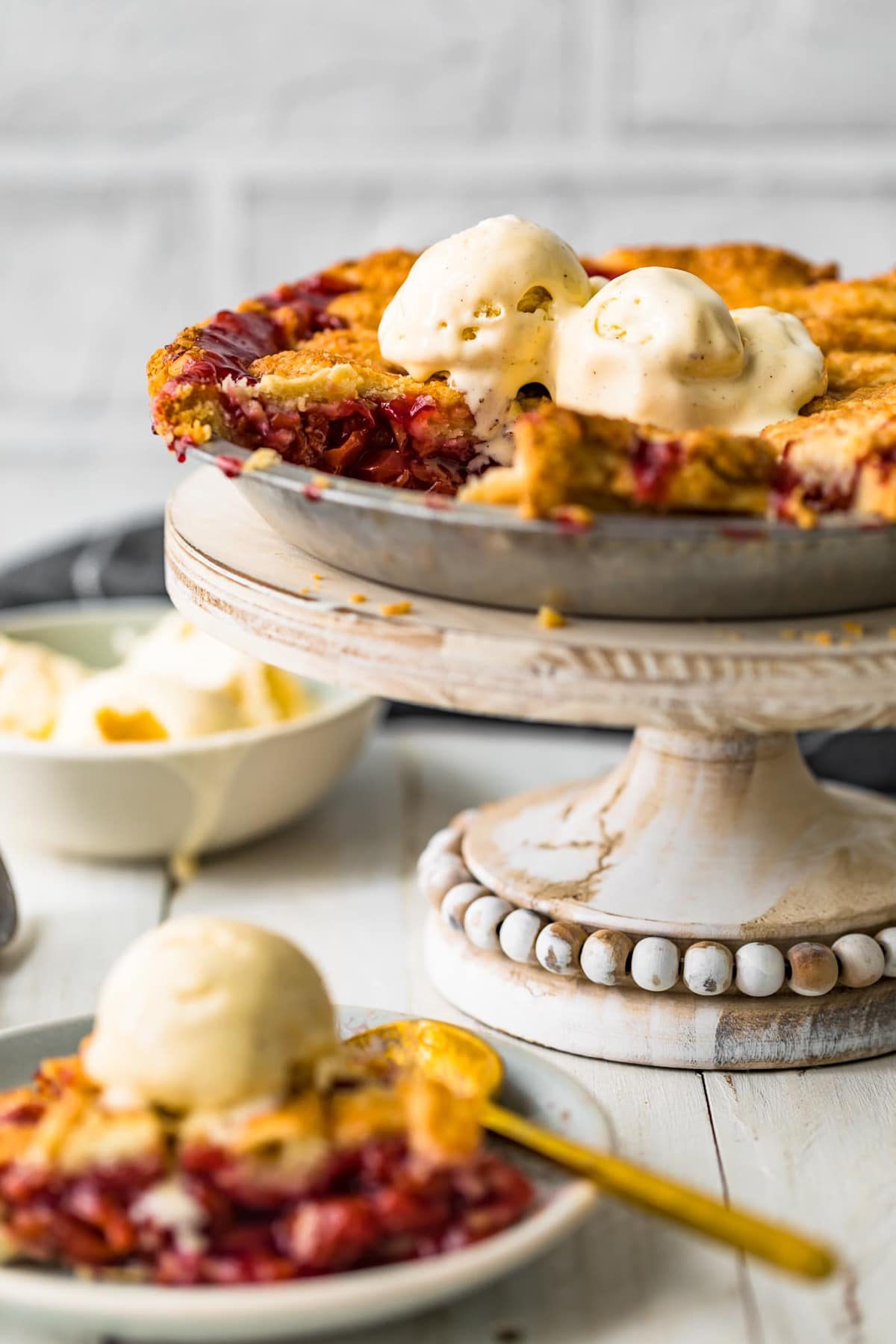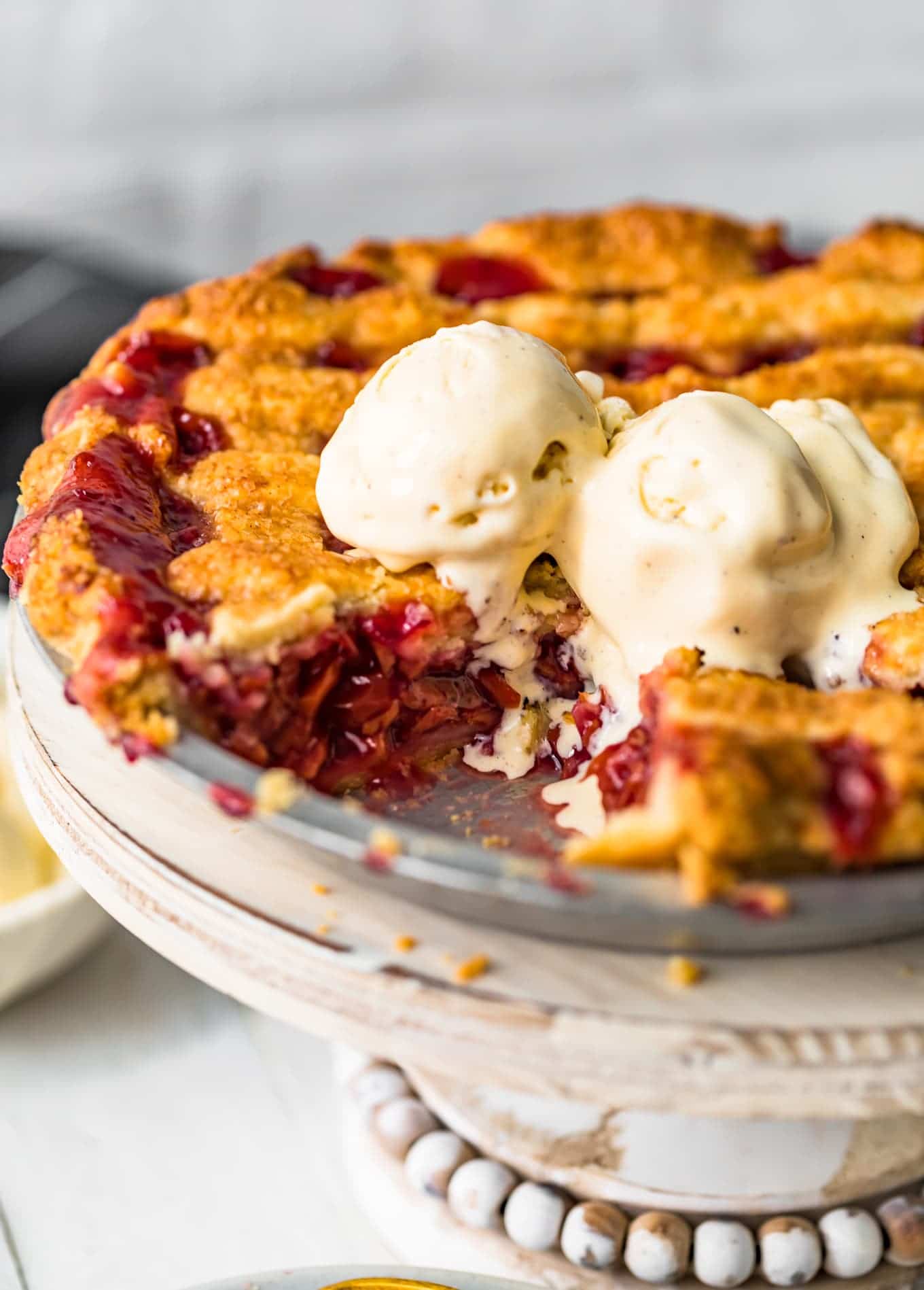 Shortcuts to making a cherry pie
This recipe is perfect if you don't have a tonne of time to spend in the kitchen pitting cherries and waiting for pie dough to rise. The result is still a tasty fruit pie, but in no time at all!
Use canned cherries for the filling – Oregon Fruit canned Tart Red Cherries in water or Trader Joe's Pitted Dark Morello Cherries in Light Syrup (stems removed) work well.
Use a prepared pie crust – you can chose a gluten-free one if anyone is sensitive.
A pre-made lattice crust delivers a pretty pie which make it look like you've spent hours slaving on it!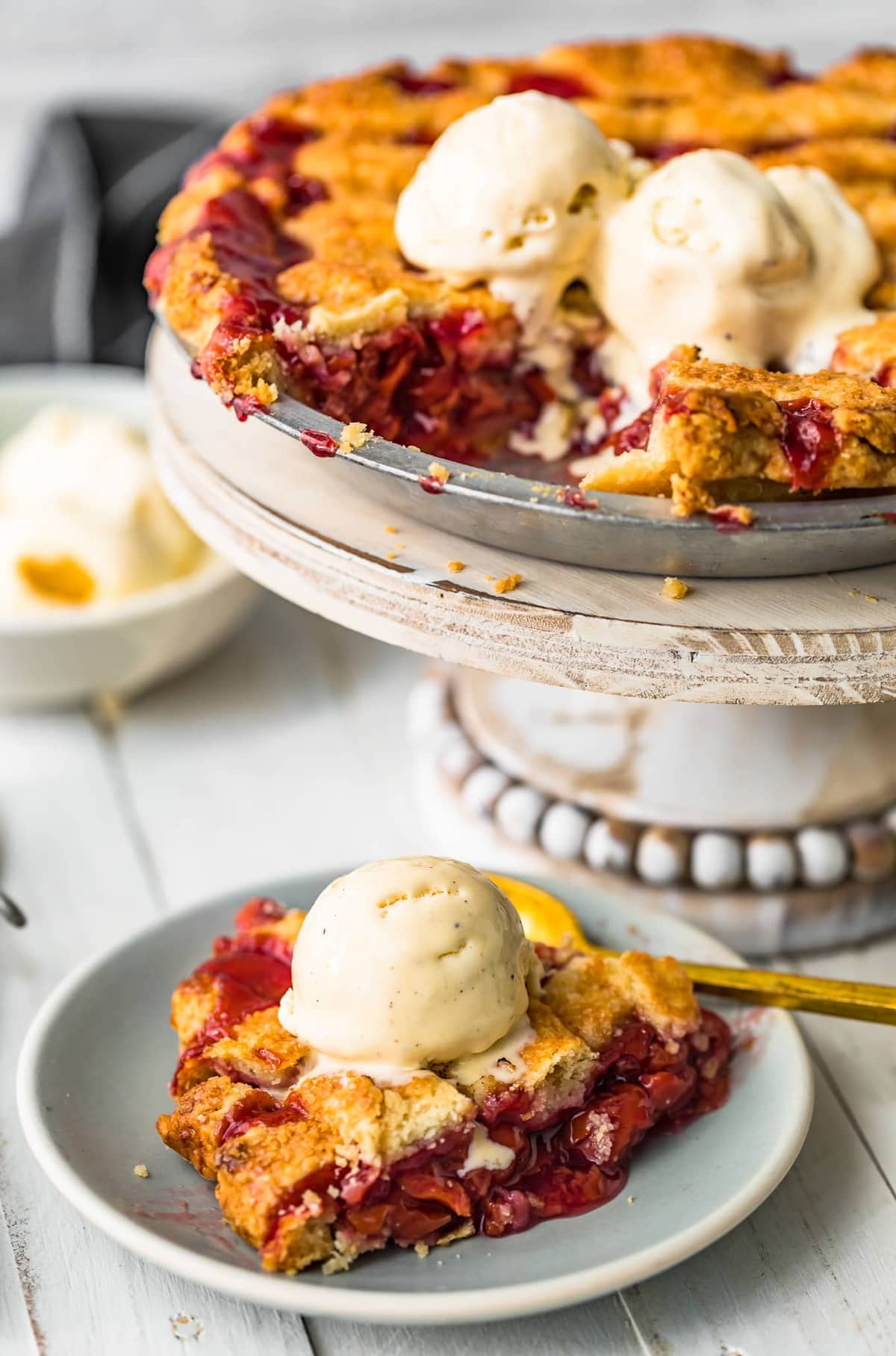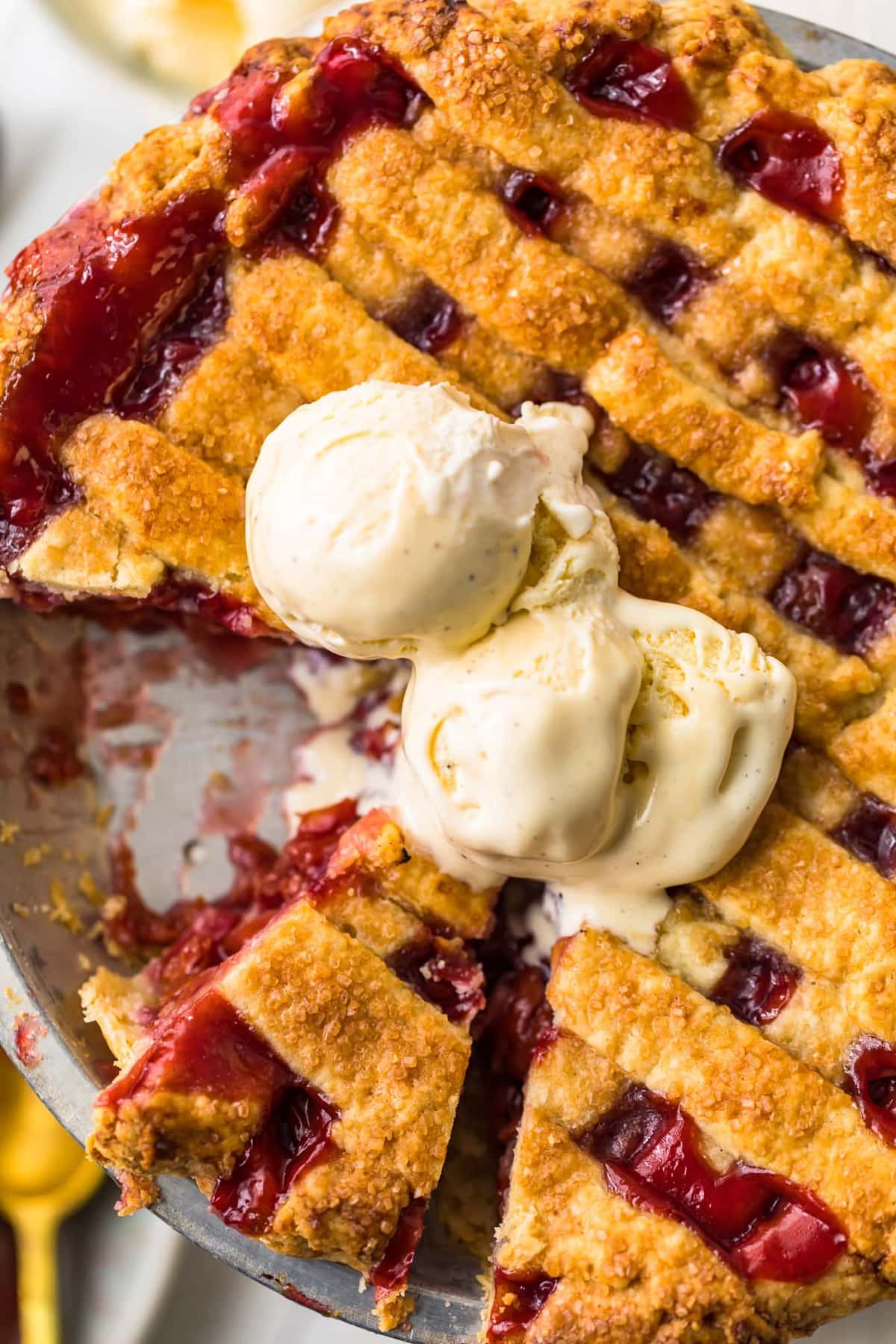 Top tips for making The Best Homemade Cherry Pies
If you have time to make your own pie crust, give this recipe a go!
When you cook the pie, make sure your oven is pre-heated.
Keep any leftovers covered in the fridge for an easy to grab dessert later in the week.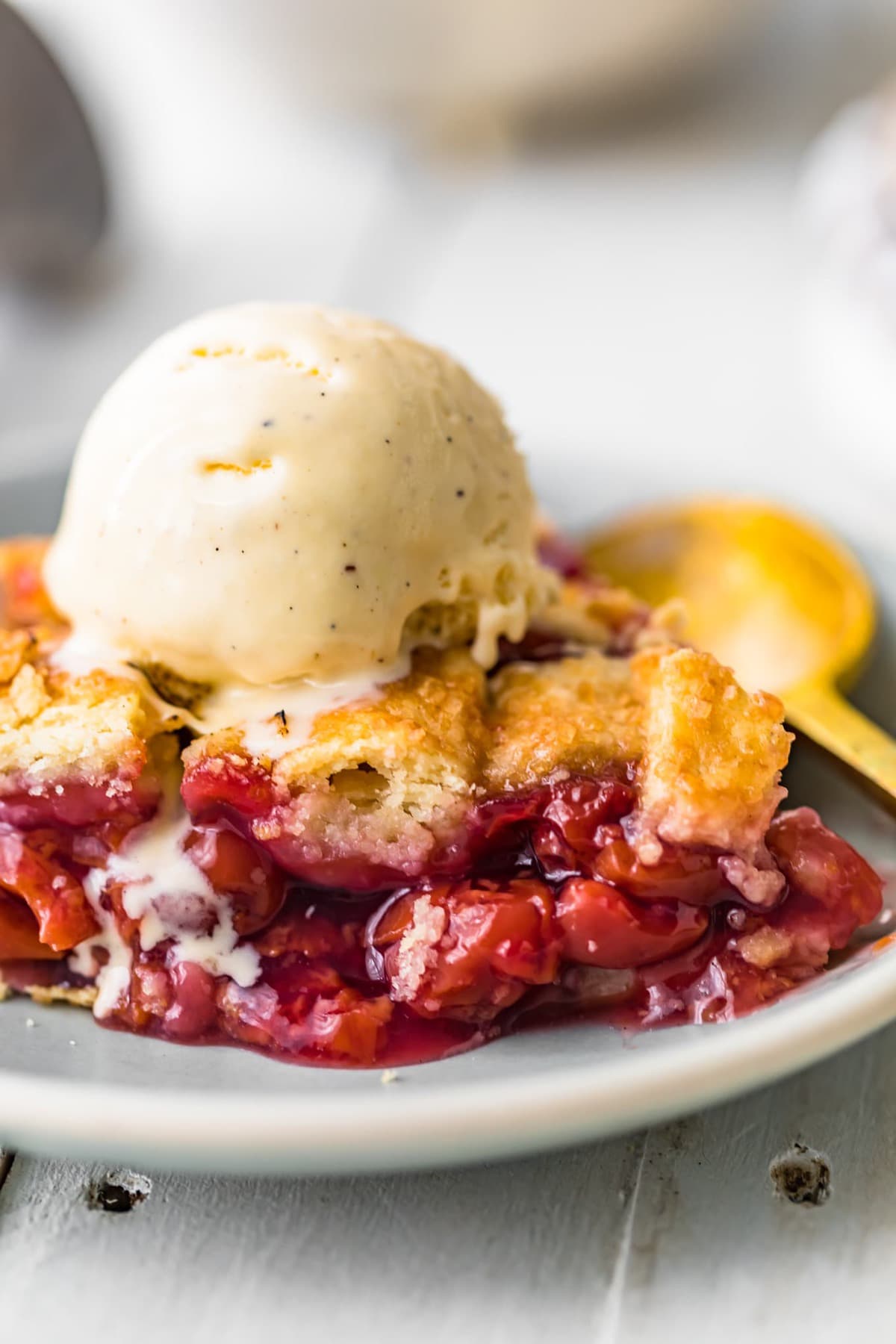 Be sure to check out these other easy and tasty pie recipes!