This spiced Pear Pie recipe swaps out apples for fresh pears, but gives you the same cozy and warm fall flavor. Juicy pears are coated in brown sugar and cinnamon, then baked into a flaky pie crust for a dessert that's sure to satisfy!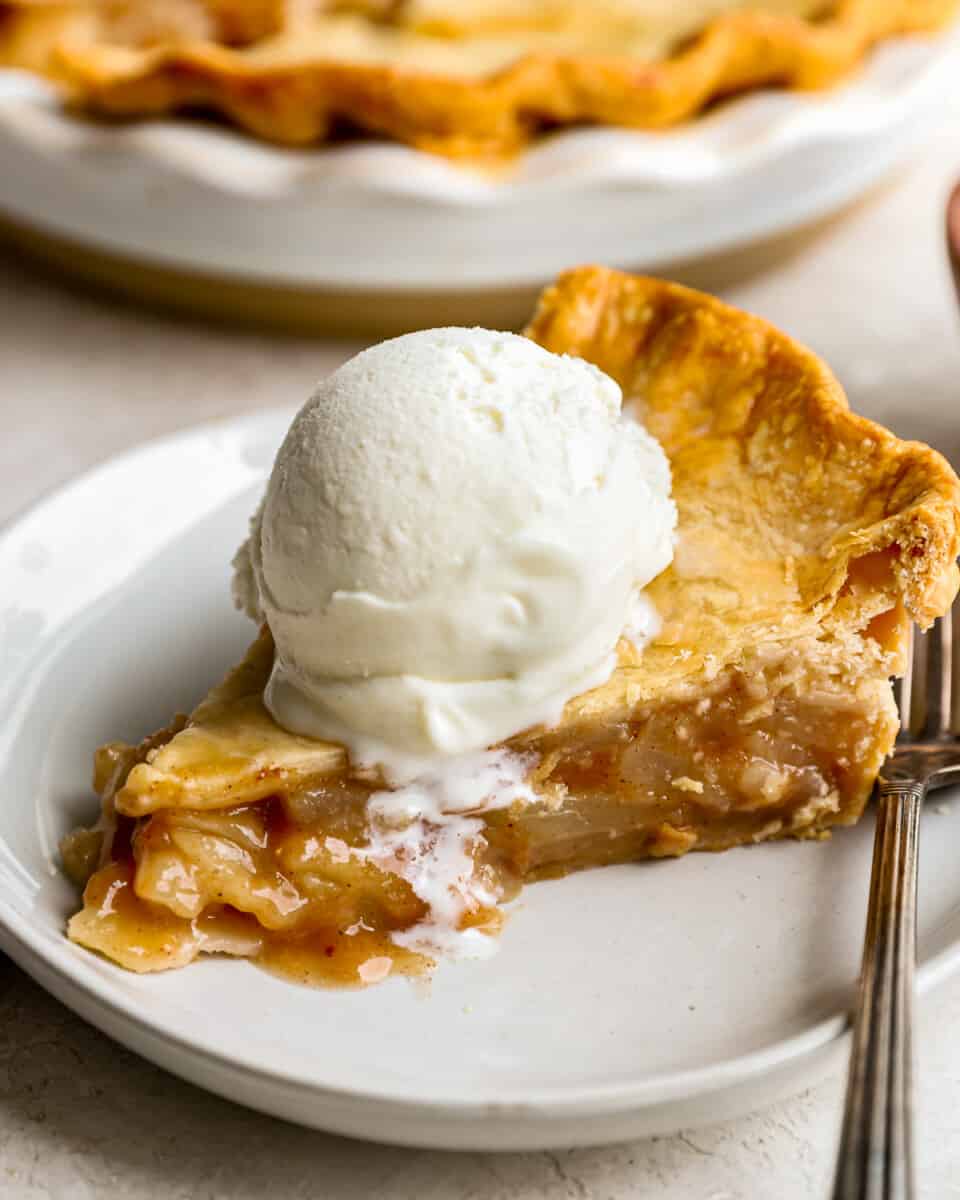 Why We Love This Pear Pie Recipe
Looking for a new take on classic apple pie? Look no further than this easy pear pie recipe! It incorporates all of the classic flavors you love with a twist–sweet and crisp pears instead of apples!
Variations on Spiced Pear Pie
There are many ways you can jazz up this simple yet delicious pear pie. Try adding some fresh or ground ginger for a zesty and slightly spicy flavor, or some bourbon for a rich kick. For a nutty pie, fold in some slivered almonds or chopped walnuts.
Add a pop of tartness by mixing in fresh or dried blueberries or cranberries, or make this pie sweeter by drizzling some caramel sauce over the filling.
And if you're feeling really adventurous, try adding some chopped fresh rosemary to the filling for a balance of sweet and savory.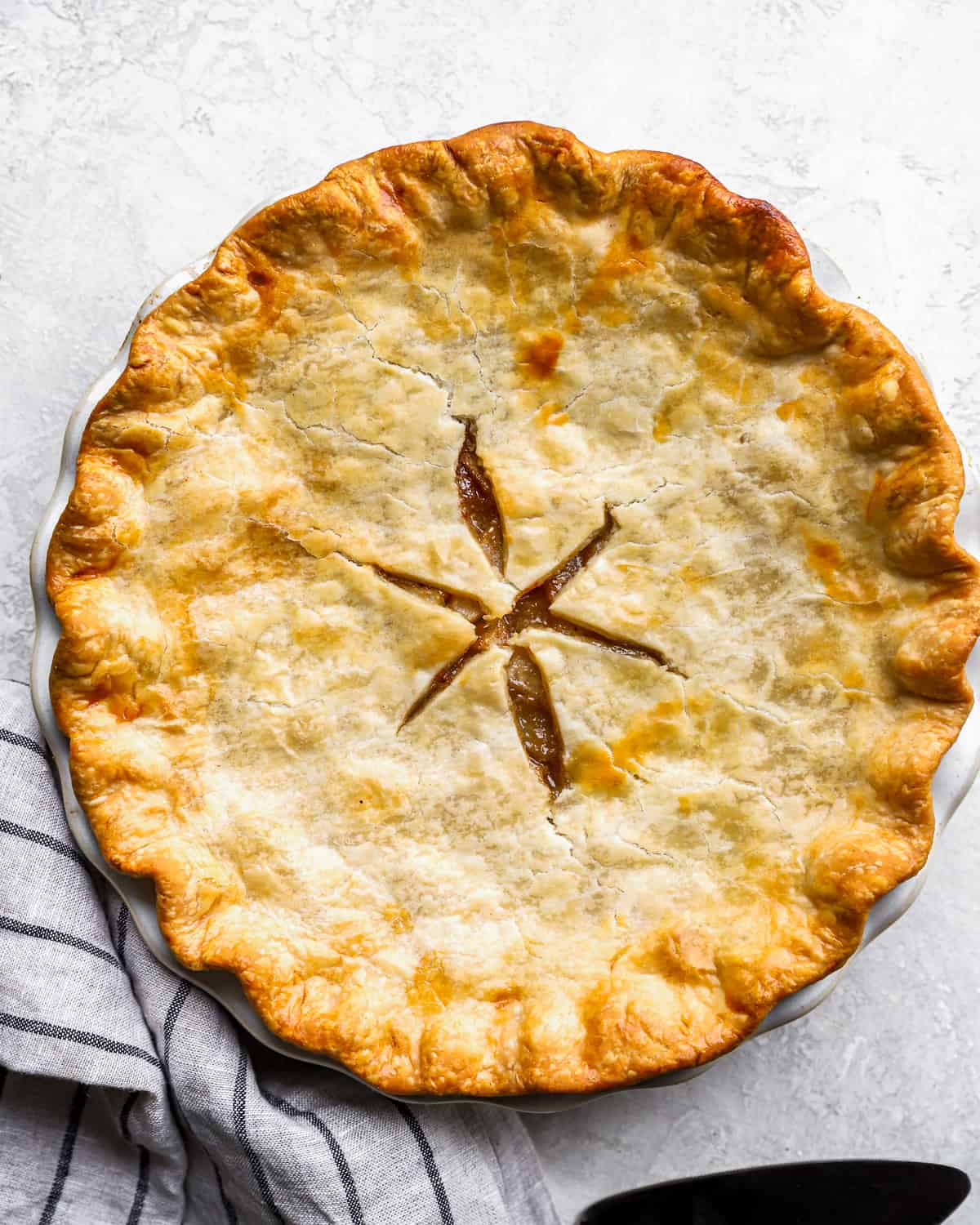 How to Store and Reheat
Store leftover pear pie covered with plastic wrap or aluminum foil at room temperature for up to 2 days, or in the refrigerator for up to 4 days. Enjoy cold, at room temperature, or gently warmed in the microwave.
How to Freeze
Freeze pear pie whole or cut into individual slices tightly wrapped in 2 layers of plastic wrap and 1 layer of aluminum foil for up to 3 months. Let thaw overnight in the refrigerator before reheating.
Serving Suggestions
Serve this spiced pear pie with a scoop of vanilla or pumpkin pie cream and a dollop of whipped cream (or try pumpkin spice whipped cream!). For a sweet-and-savory take, melt a slice of cheddar cheese on top. And wash it all down with some spiced pear cider!
What are the best pears to use for a pie?
The best pears for baking are ripe Bartlett or Anjou pears. Bosc will also work, but avoid Comice pears, as they can turn mushy.
Should pears be peeled before baking?
While it's not technically necessary to peel pears before baking them, I like to peel mine, as the skin doesn't soften up as easily as with apples.
How do you thicken pear pie filling?
We used flour to thicken our filling, but you could also use cornstarch if you prefer.
How do you keep pear pie from getting soggy?
To keep this pie from turning soggy, make sure you have used enough flour to soak up excess moisture from the pears. You can also brush the bottom crust with beaten egg white to create a moisture barrier.
Does pear pie need to be refrigerated?
You can store this pie at room temperature for up to 2 days. After that, it will need to be kept in the refrigerator to maintain its freshness.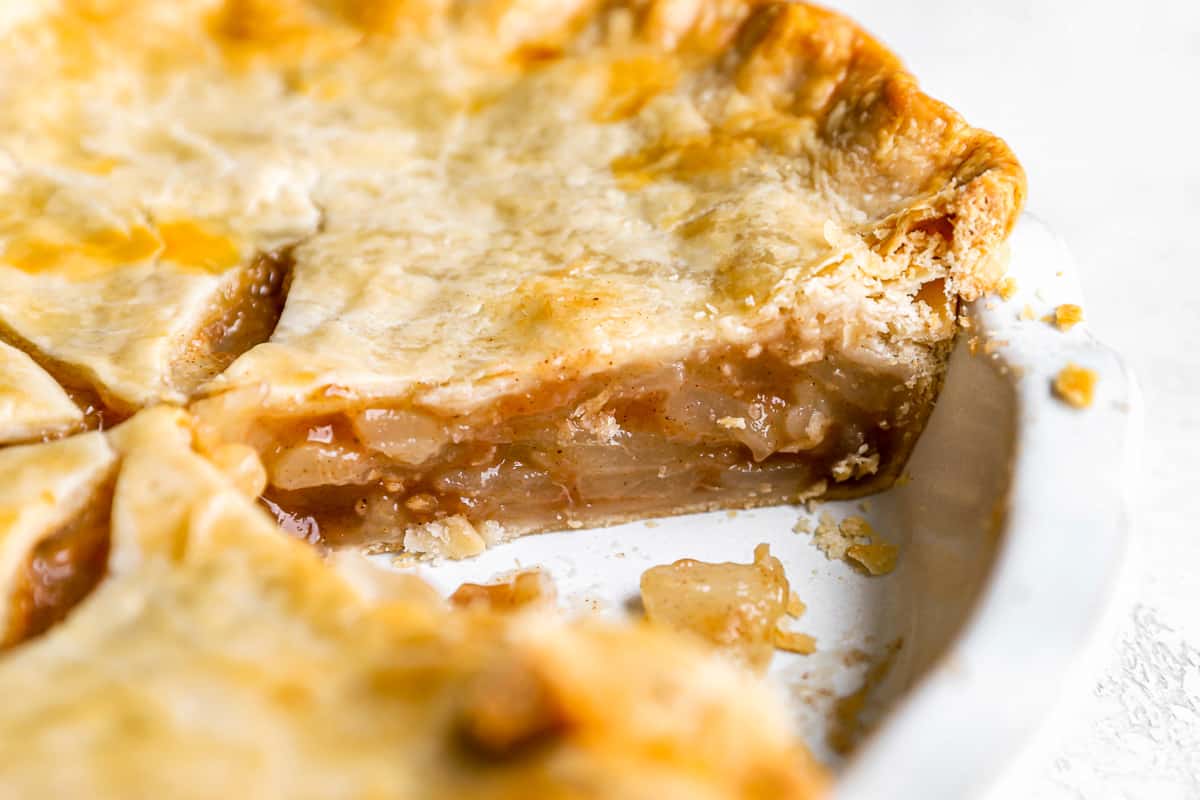 More Fruit Pie Recipes To Try
How to Make Pear Pie Step by Step
Prep: Preheat your oven to 450°F.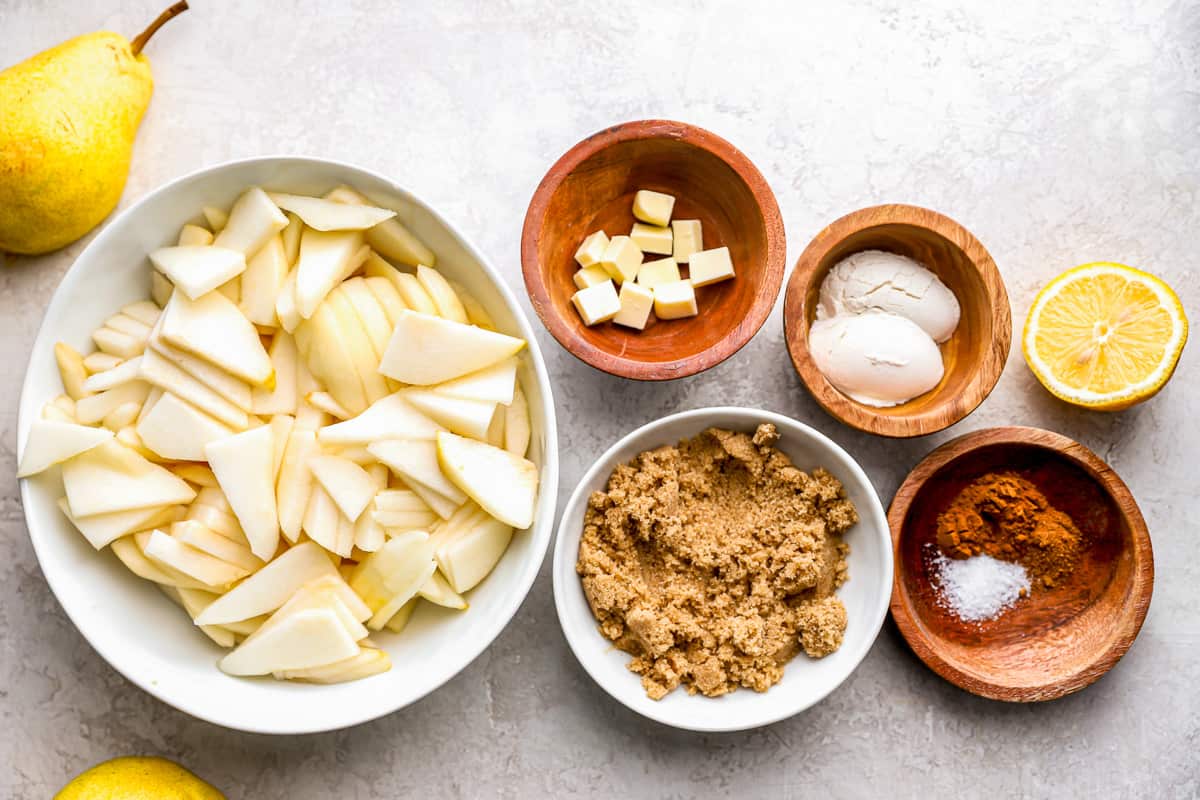 Toss the Pears: Toss the 5 cups of peeled and sliced pears with ½ cup of brown sugar, 2 tablespoons of all-purpose flour, 1 tablespoon of lemon juice, 1 teaspoon of ground cinnamon, ¼ teaspoon of ground nutmeg, and ¼ teaspoon of kosher salt.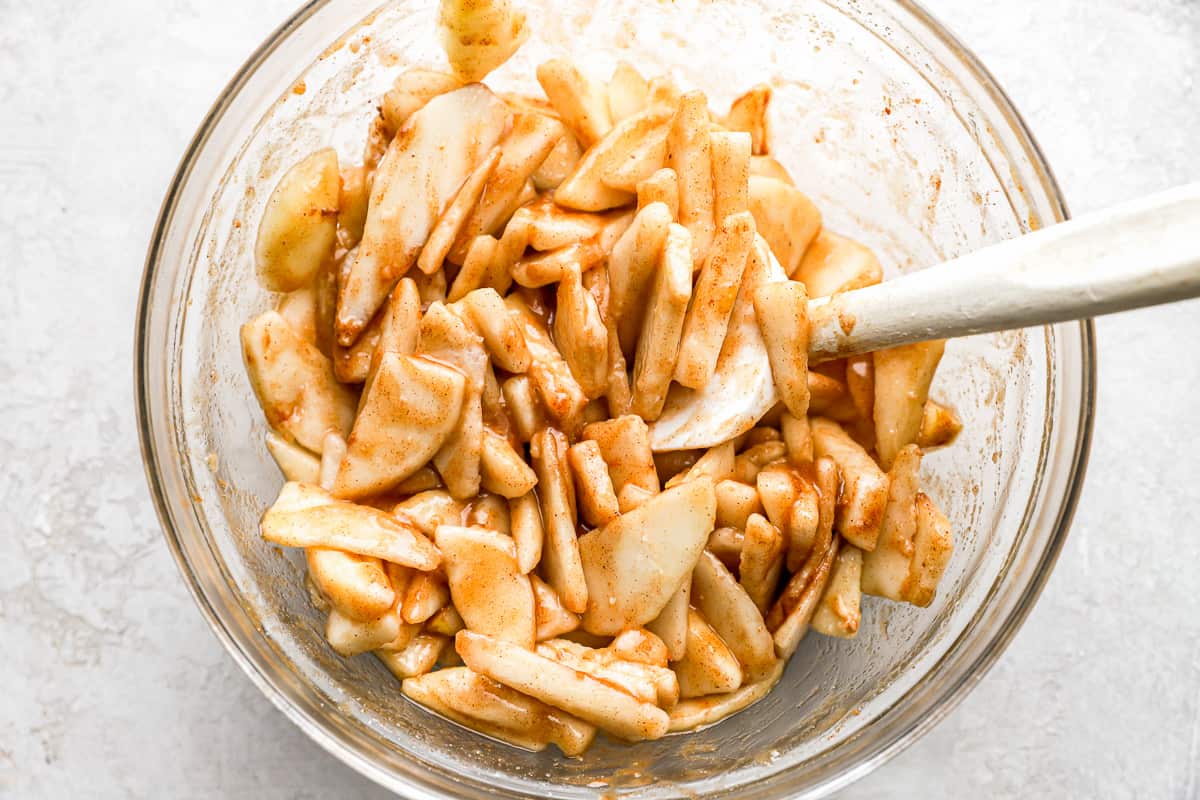 Fill the Pie: Line a 9-inch pie pan with a 9-inch refrigerated pie crust, cutting away any excess dough from the edges. Transfer the pears to the pie crust. Arrange 1 tablespoon of small pieces of unsalted butter over the pears.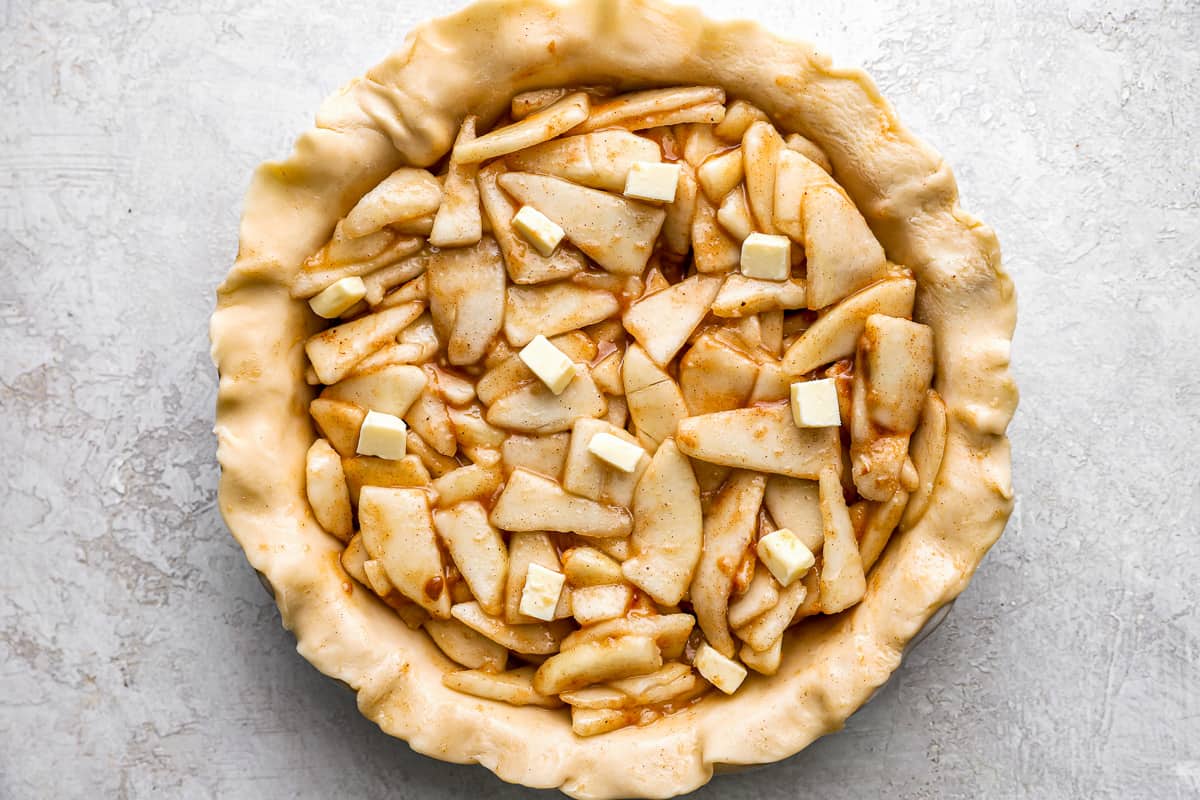 Top the Pie: Cover the pie with the second crust, trimming the excess dough, and pinching the edges of the 2 crusts together.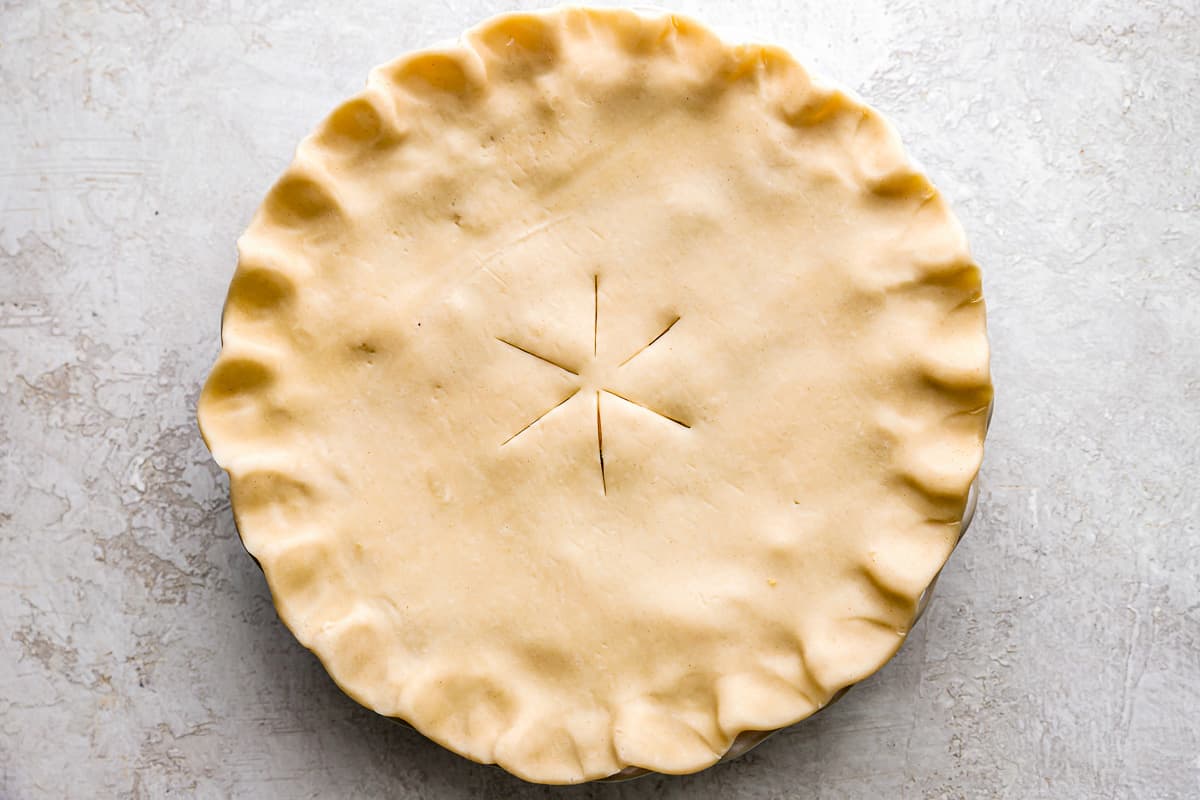 Brush and Bake: Beat 1 large egg and a splash of water in a small dish. Brush the egg wash over the crust. Cut a few slits in the top crust for venting. Bake for 10 minutes. After 10 minutes, reduce the oven temperature to 350°F. Bake for another 30-35 minutes. Check the pie halfway through and cover with aluminum foil if the crust is becoming too browned.