Prosciutto Wrapped Chicken with Sherry Cream Sauce is our favorite easy and quick dinner! There's so much flavor in this skillet chicken recipe, and it's made in under 30 minutes. Plus I just love this mouth-watering cream sauce for chicken!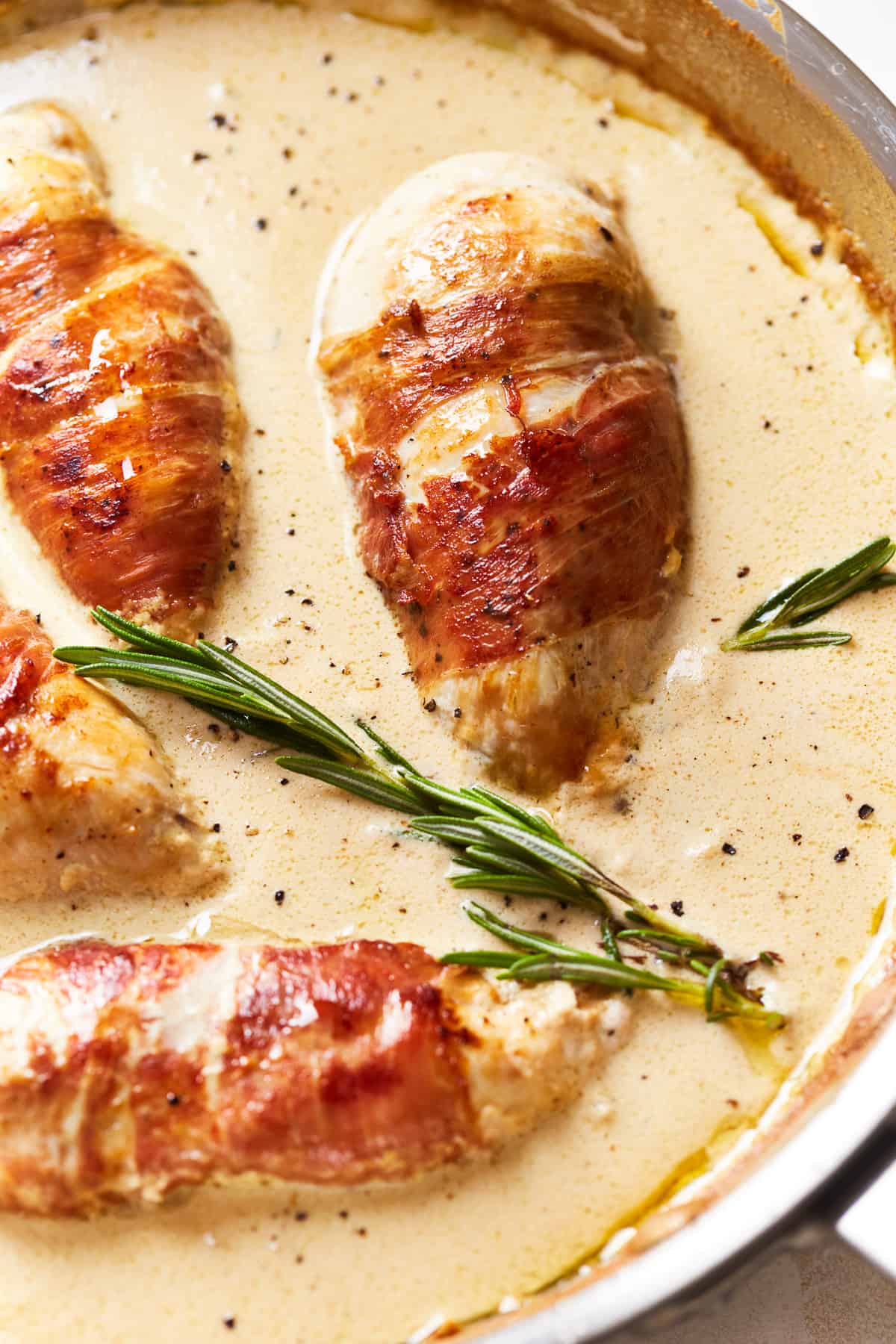 What's in Prosciutto Wrapped Chicken?
Chicken breast is wrapped in thin slices of prosciutto, then cooked in the most delicious sauce and baked to perfection. It's filled with garlic and rosemary for a nice savory flavor, then topped with parmesan to finish it off.
Chicken: Use large boneless, skinless chicken breasts for this recipe.
Prosciutto: You'll want large slices that wrap most of the way around the chicken, but you can overlap multiple slices if needed.
Sherry: Use a dry or medium-dry cooking sherry for the sauce. You can substitute a dry white wine if needed.
Sour Cream: This is what makes the sauce extra creamy. I like using a low-fat version, but you can use full-fat if you like.
Garlic: Use 3 cloves, minced (or more if you love garlic).
Rosemary: Rosemary has an intense, fragrant taste that adds great flavor to this dish.
Salted Butter
Olive Oil
Salt & Pepper
Pro Tip: You can wrap your chicken in other cured meats, such as speck, ham, or bacon!
Variations on Chicken Wrapped in Prosciutto
This prosciutto wrapped chicken in sherry cream sauce is a simple, classic recipe. You can change it up in quite a few ways. Feel free to swap the prosciutto for a different cured meat or swap the chicken breasts for chicken thighs.
You could also substitute the sour cream for Greek yogurt for a lighter, tangier flavor. Swap the rosemary for your favorite herb, such as sage, basil, or thyme, for a slightly different take. Make this dish spicier by adding a bit of crushed red pepper flakes to the sauce.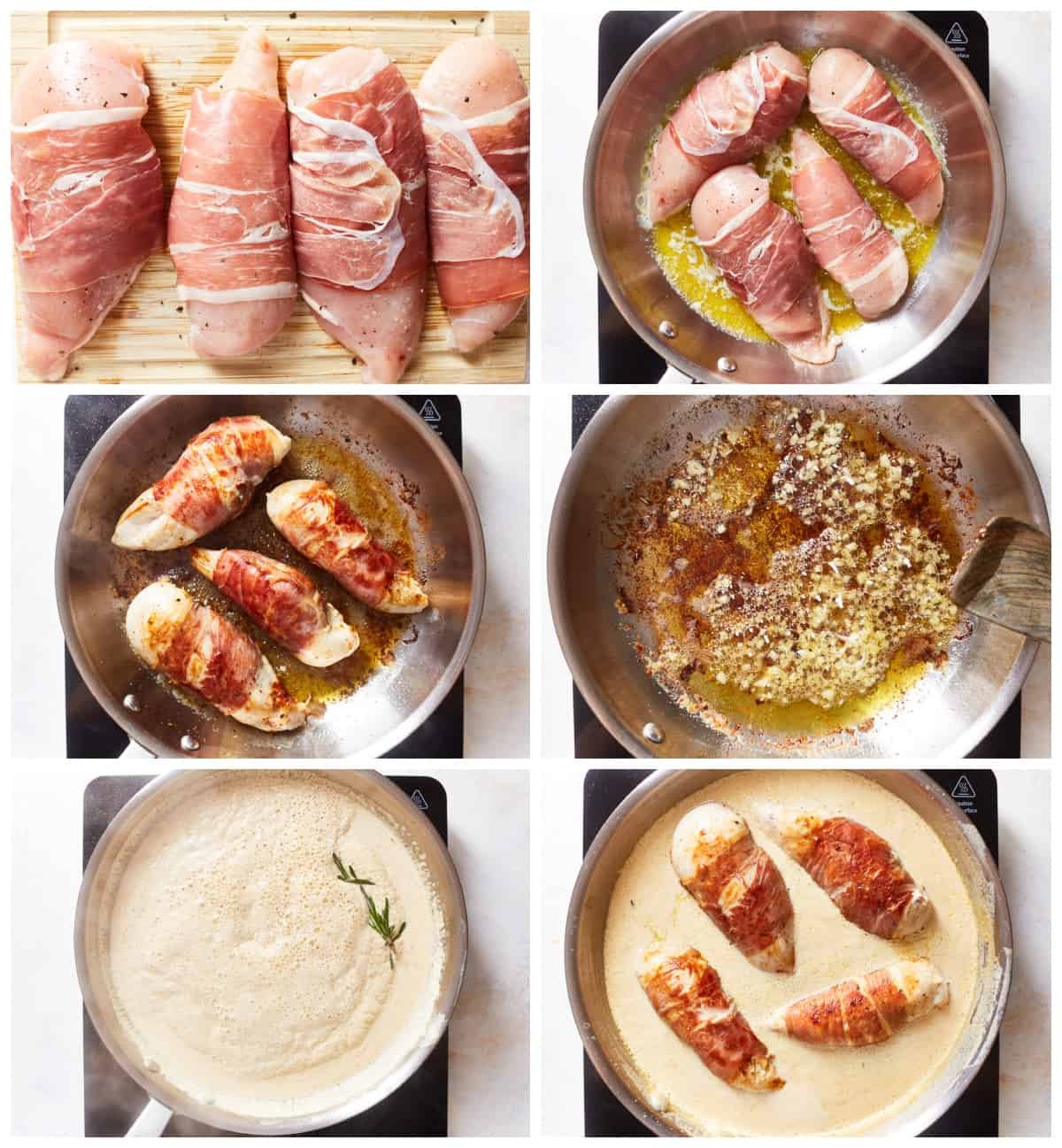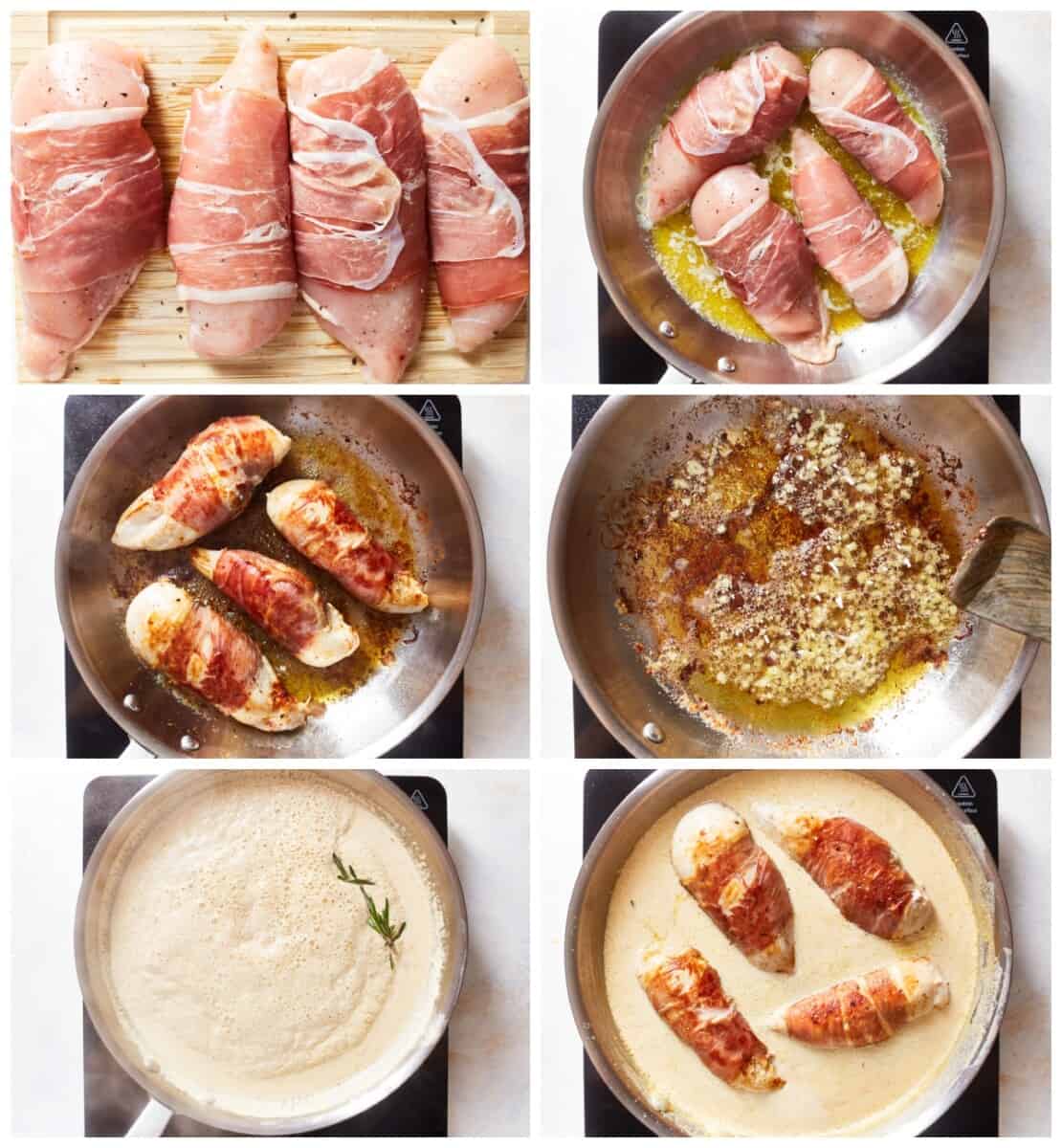 What kind of wine should I serve with dinner?
This chicken goes so well with a glass of wine at dinnertime. I recommend a dry white wine, like sauvignon blanc, to complement the flavors of the prosciutto and creamy sherry sauce.
What is prosciutto?
Prosciutto is a type of dry-cured Italian ham that is served in very thin slices. While it's often eaten uncooked, it does get cooked in this recipe while baking.
What type of pan should I use to cook this chicken?
I love using a cast iron skillet because it goes from the stove to the oven without issue. But you can use any oven-safe skillet.
Can I use thighs to make prosciutto-wrapped chicken?
Yes, you can substitute chicken thighs for this recipe if you prefer. Use boneless, skinless thighs. Follow the same steps in the recipe card, but you will need to increase the cooking time slightly. Bake a few extra minutes, until the internal temp reaches 165°F.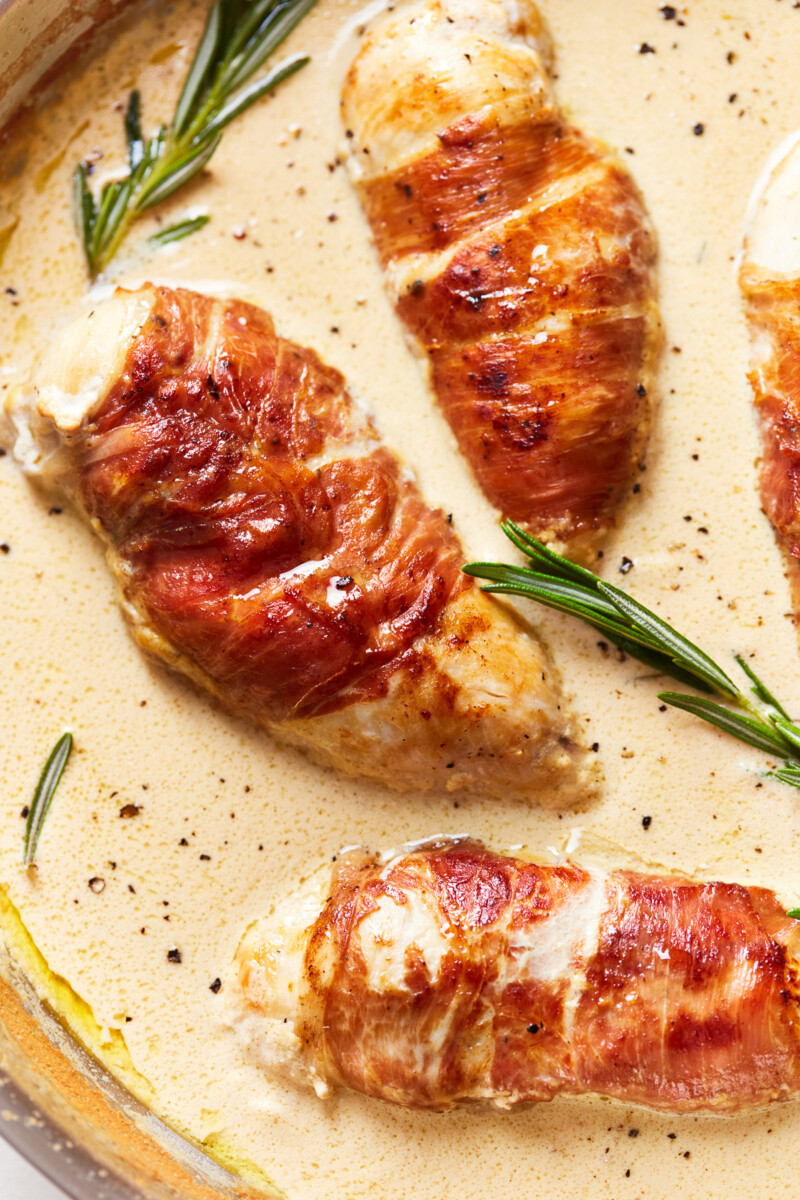 How to Store and Reheat Chicken Breast Wrapped with Prosciutto
Store leftover prosciutto wrapped chicken in an airtight container in the refrigerator for up to 3 days. Reheat in a 350°F oven for 15-20 minutes or on the stovetop set over medium-low heat until warmed through.
How to Freeze Prosciutto Wrapped Chicken Breast
Freeze prosciutto wrapped chicken in an airtight container or Ziplock bag for up to 3 months. Let thaw overnight in the refrigerator before reheating. I do not recommend freezing the sherry cream sauce, as it will turn grainy and separate as it thaws.
What to Serve with Chicken Wrapped with Prosciutto
Serve this delicious, flavorful, and easy chicken recipe with rice, over pasta, or by itself. You can't go wrong! The sherry cream sauce melts into anything you serve it with and turns it into the most delicious side dish.
I'd eat this sauce over a bed of rice and be happy! It's great with Bacon & Goat Cheese Mashed Potatoes, Creamy Garlic Mushrooms, Focaccia Bread, or Roasted Melting Potatoes!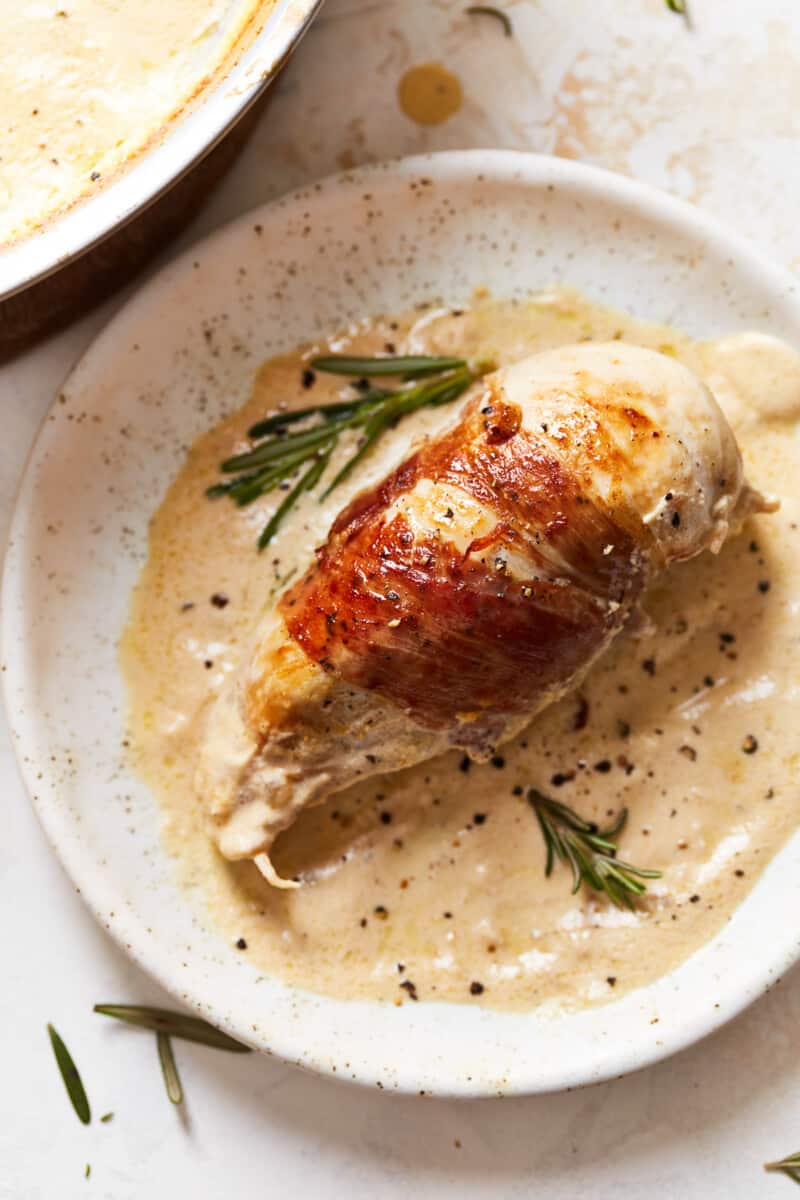 More Creamy Chicken Recipes We Love