Prosciutto Wrapped Chicken with Sherry Cream Sauce is our favorite EASY and quick dinner! There's so much flavor in this skillet chicken recipe, and it's made in under 30 minutes. Plus I just love this cream sauce for chicken!
Prosciutto Wrapped Chicken
This prosciutto wrapped chicken skillet recipe is one of my favorite things to make for a simple yet romantic dinner at home. That sherry cream sauce is to die for!
You know those recipes that you think about over and over? You're laying in bed and find yourself craving a very specific dosh, and you just want to keep making it over and over again? Typically, I feel that way about an amazing steak at an amazing restaurant. But right now I feel that way about this Prosciutto Wrapped Chicken Skillet.
When I say it's one of my all-time favorites, I mean it! (As I was cleaning the skillet, I actually took my finger and licked the remaining sauce…sorry not sorry.)
It's super easy to make, all made in one pan, and ready in about 30 minutes. That alone makes it a favorite recipe for dinner, but once you try this sherry cream sauce, you'll really get it! It is, as I mentioned above, truly finger-lickin' good.
You're gonna LOVE this sherry cream sauce for chicken! It adds so much flavor to the prosciutto wrapped chicken.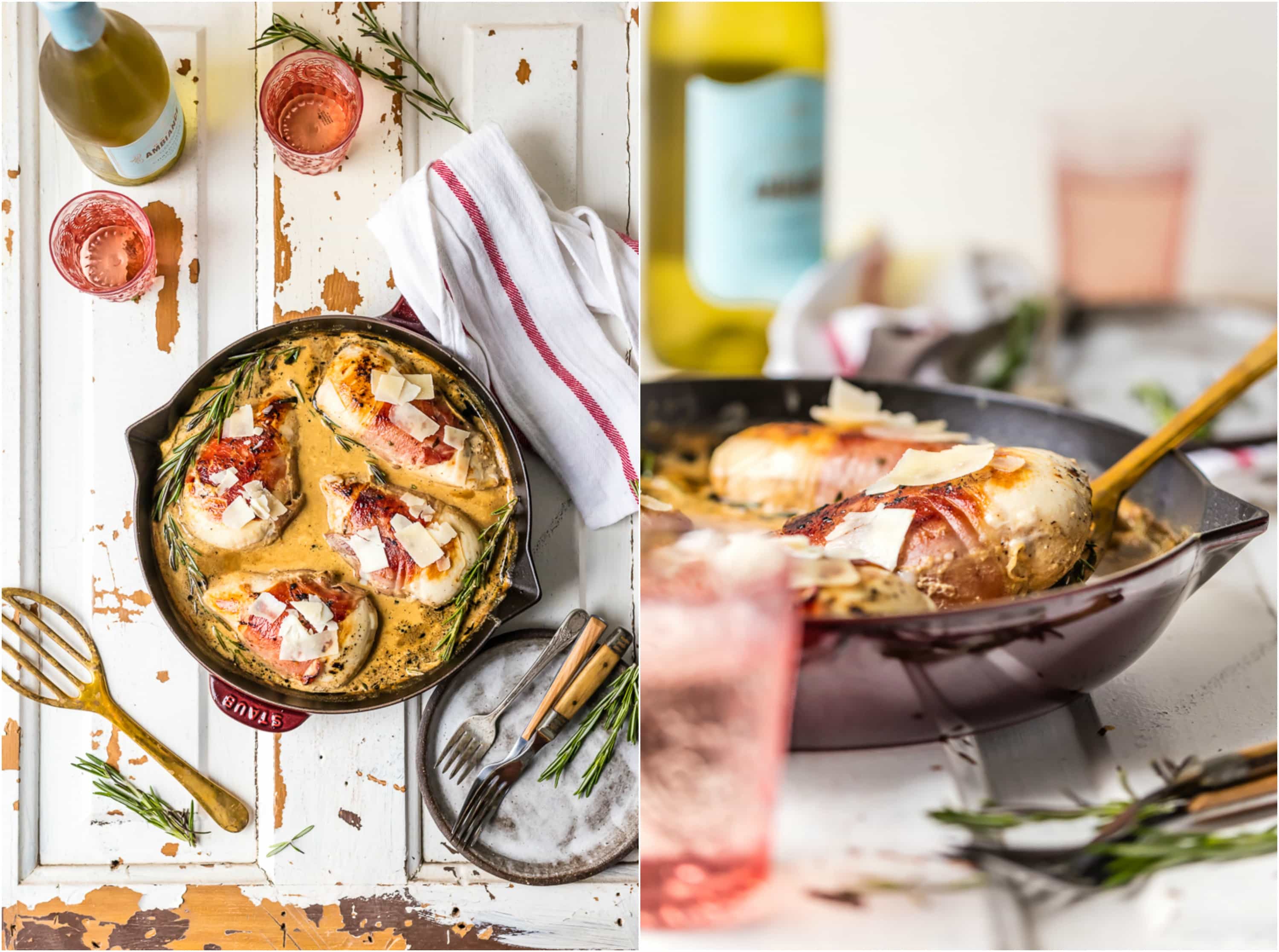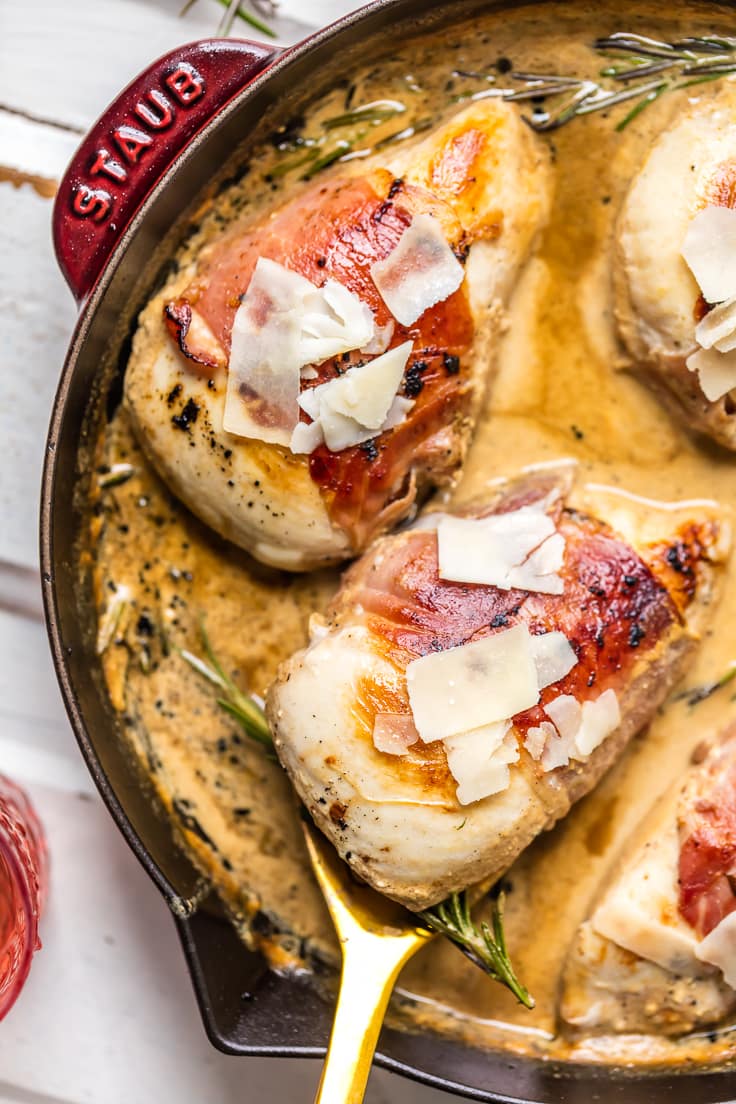 Chicken with Sherry Cream Sauce
Chicken breast wrapped in prosciutto and cooked in a creamy sauce with rosemary, garlic, and topped with Parmesan…my mouth waters every time I think about it. It's the best combination of flavors! So savory, rich, and delicious.
This Sherry Cream Sauce is perfect for chicken and adds so much flavor. This entire meal is so easy to make, because it all happens in one skillet. Cook the chicken, make that sherry sauce, then add the chicken back in and bake it all together. From the stove to the oven and to your table in one dish!
What's in the Cream Sauce?
Dry Cooking Sherry
Sour Cream
Garlic
Rosemary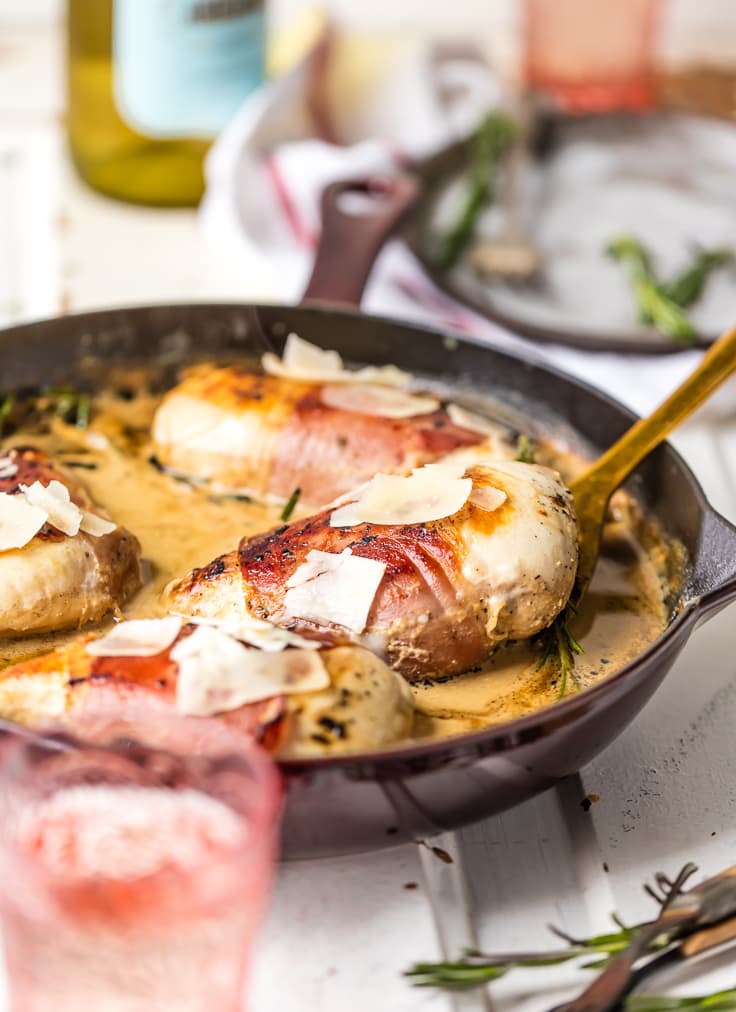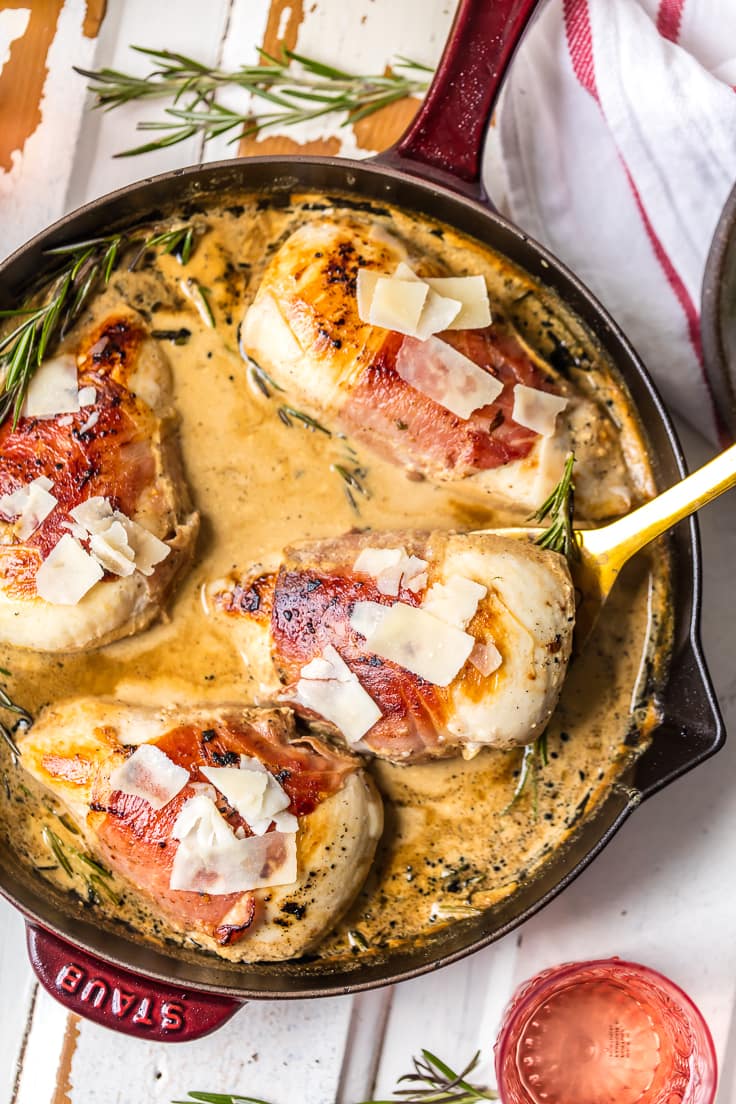 How to Make Prosciutto Wrapped Chicken
Preheat oven to 375°F.

Season the chicken breasts with salt and pepper to taste. Wrap each piece of chicken with a slice of prosciutto, pushing down the edges to adhere.

Heat the butter and 1/2 tablespoon oil in a 10″ skillet over medium high heat. Swirl the mixture around in order to coat the entire base of the skillet.

Add the chicken breasts to the skillet and cook for 3-4 minutes on each side, depending on thickness. You want the chicken to be browned on both sides and nearly cooked through. Remove from the skillet and set aside.

Add the remaining olive oil to the skillet and saute the garlic for 2-3 minutes or until fragrant and translucent. Scrape the brown bits in the pan to the center as you cook, that's where all the flavor lives!

Add the cooking sherry to the skillet and bring to a boil. Reduce to a simmer and whisk in the sour cream 1 cup at a time, until the cream sauce forms. Lay the rosemary into the skillet. Let simmer for 10 minutes.

Place the chicken back into the skillet, nestled in the sauce.

Bake, uncovered, for 5-10 minutes or until chicken is fully cooked and heated through.
Be sure to watch the video to see the step by step process!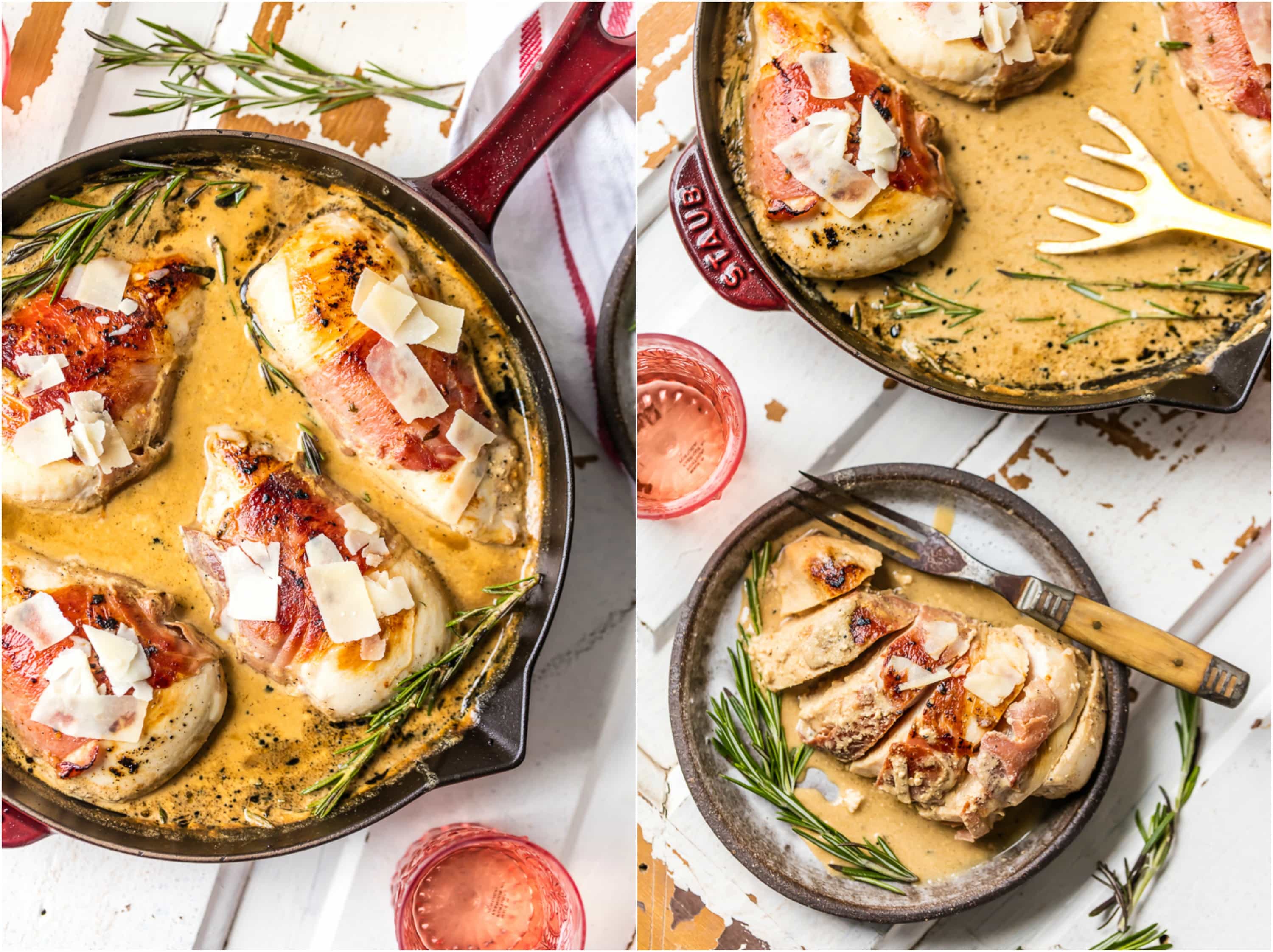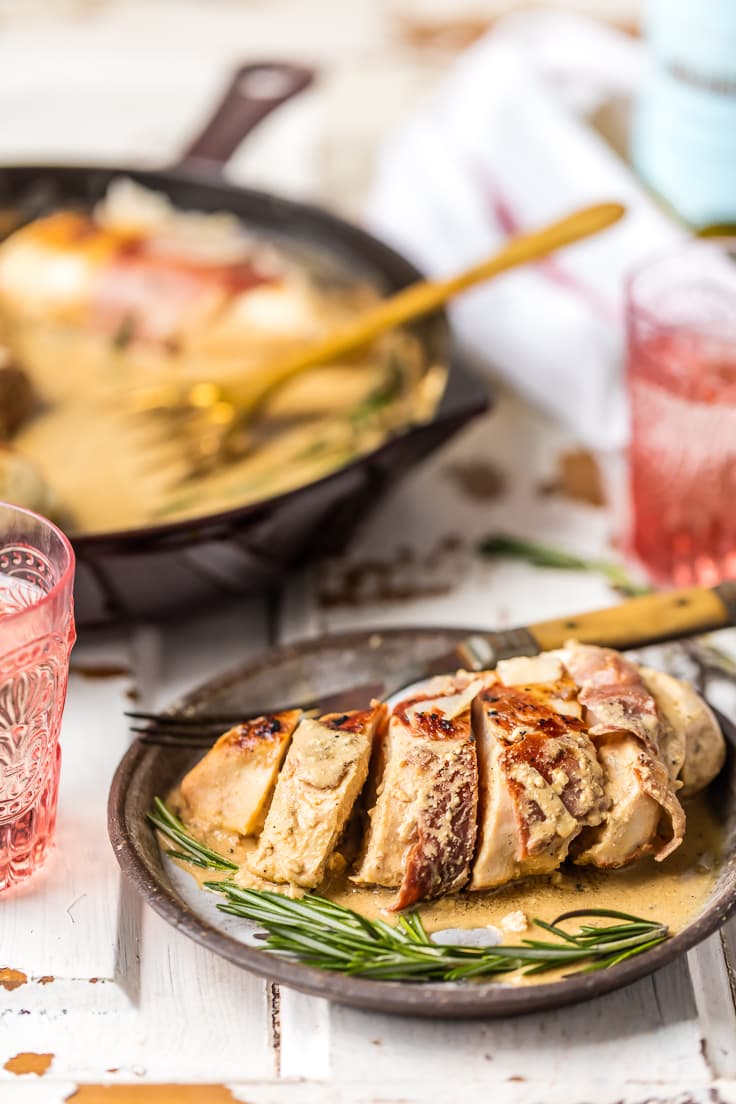 Sherry Cream Chicken Skillet
I gotta admit, I'm pretty proud of this recipe. The flavors have been done before in plenty of different ways, but it tastes SO good. I'll make this Prosciutto Wrapped Chicken Skillet again and again, long after I'm done blogging.
You can make it at home just for yourself, or have friends over and feel like a chef extraordinaire as they praise you for your prowess in the kitchen. They don't have to know how easy it is!
I'm just so grateful for one pan recipes like this!
What to Serve with Prosciutto Wrapped Chicken
Serve this delicious, flavorful, and EASY chicken recipe with rice, over pasta, or by itself. You can't go wrong! The sherry cream sauce melts into anything you serve it with and turns it into the most delicious side dish. I'd eat this sauce over a bed of rice and be happy!
Some side dishes you should try:
Word of advice: try not to pour the sauce into a cup and drink it (even though you'll want to). I recommend serving it with wine instead.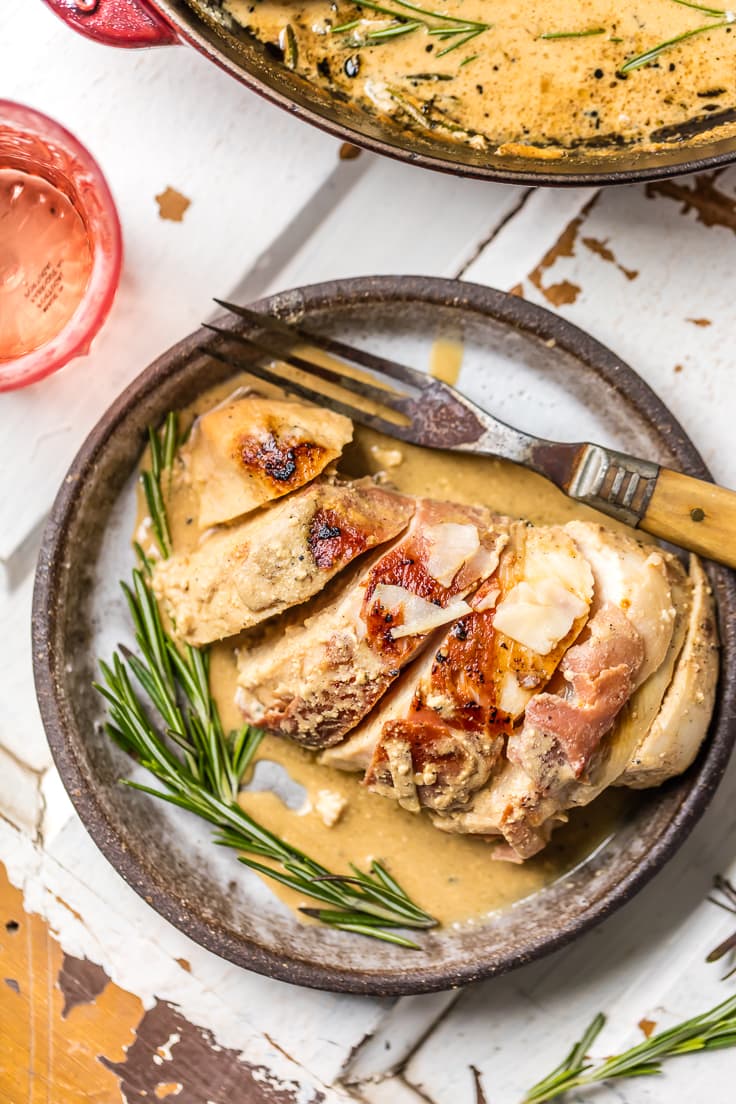 I can't wait for you guys to try this Creamy Chicken Skillet! You'll fall in love with the cream sauce instantly, guaranteed.
Watch the video and see the recipe card for details on how to make Prosciutto Wrapped Chicken with Sherry Cream Sauce. Enjoy!
Other Chicken Recipes we LOVE: