Prosciutto Wrapped Chicken with Sherry Cream Sauce is our favorite EASY and quick dinner! There's so much flavor in this skillet chicken recipe, and it's made in under 30 minutes. Plus I just love this mouth-watering cream sauce for chicken!
Prosciutto Wrapped Chicken
This prosciutto wrapped chicken is one of my favorite things to make for a simple yet romantic dinner at home. And that sherry cream sauce is to die for!
Chicken breast is wrapped in thin slices of prosciutto, then cooked in the most delicious sauce and baked to perfection. It's filled with garlic and rosemary for a nice savory flavor, then topped with parmesan to finish it off.
Why You'll Love this Chicken Prosciutto Skillet Recipe:
ONE PAN RECIPE: This recipe can go from the stove to the oven to the table in one skillet, which means less dishes to lean up!
RICH FLAVOR: The sherry cream sauce, prosciutto, garlic, and rosemary all make for one delicious chicken recipe.
30 MINUTE DINNER: Make a beautiful dinner and have it on the table in just 30 minutes!
This chicken prosciutto recipe is super easy to make, made all in one pan, and ready in about 30 minutes. That alone makes it a favorite recipe for dinner, but once you try this cream sauce, you'll really get it. Add a nice glass of wine, and enjoy your meal!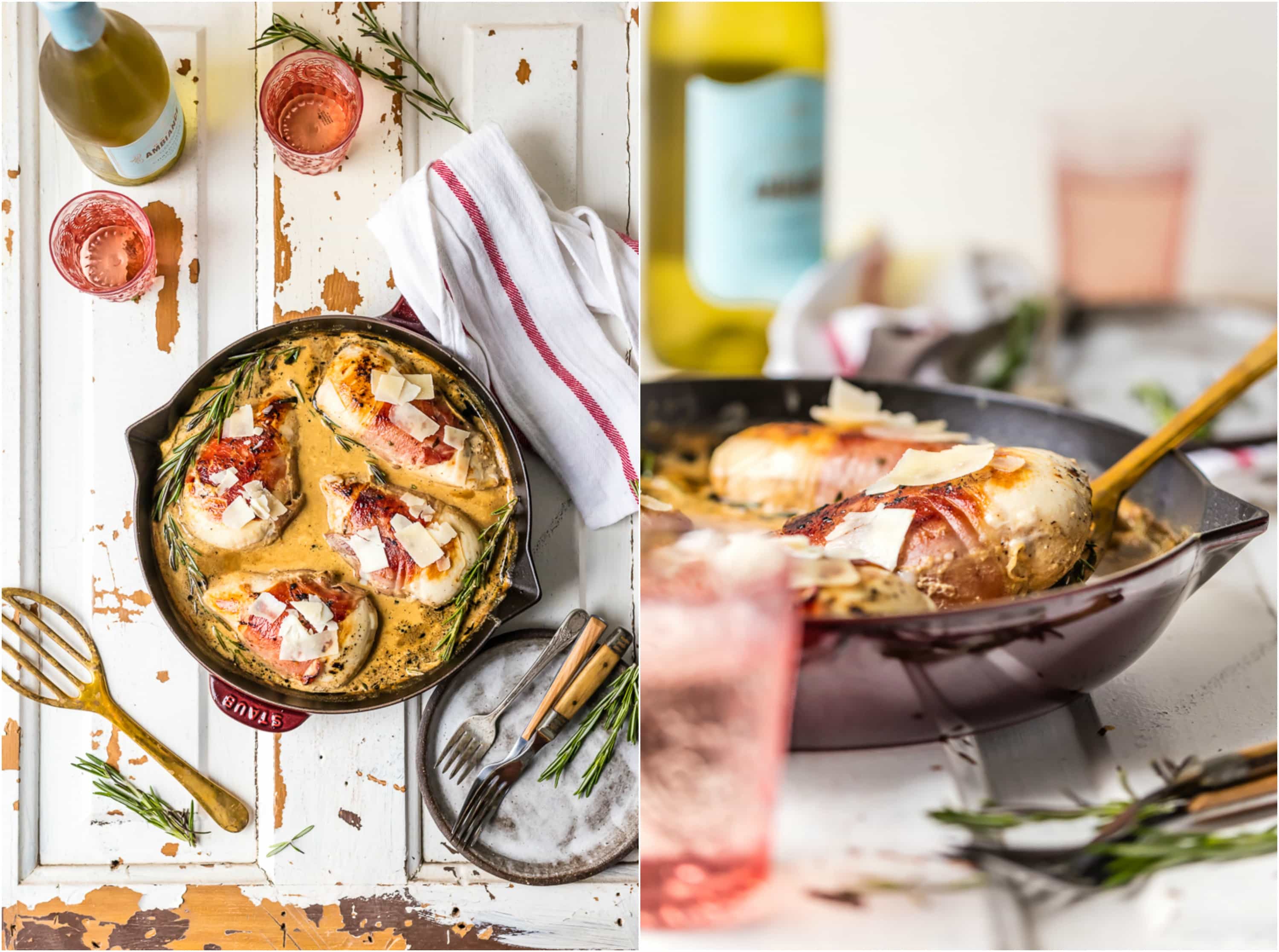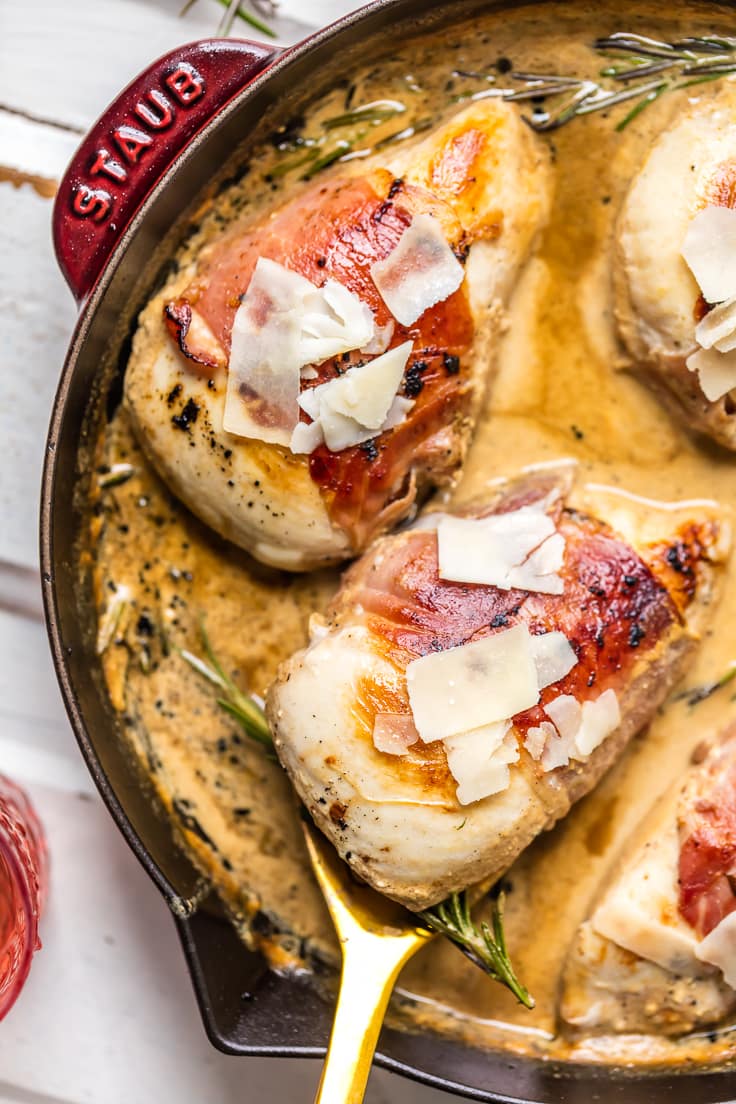 Sherry Cream Sauce for Chicken
My mouth waters every time I think about this prosciutto wrapped chicken recipe. It's the best combination of flavors! So savory, rich, and just amazing.
This sherry cream sauce is the star of the show. It's perfect for chicken and helps keep it deliciously juicy. The texture is beautifully creamy, and it adds so much flavor.
Ingredients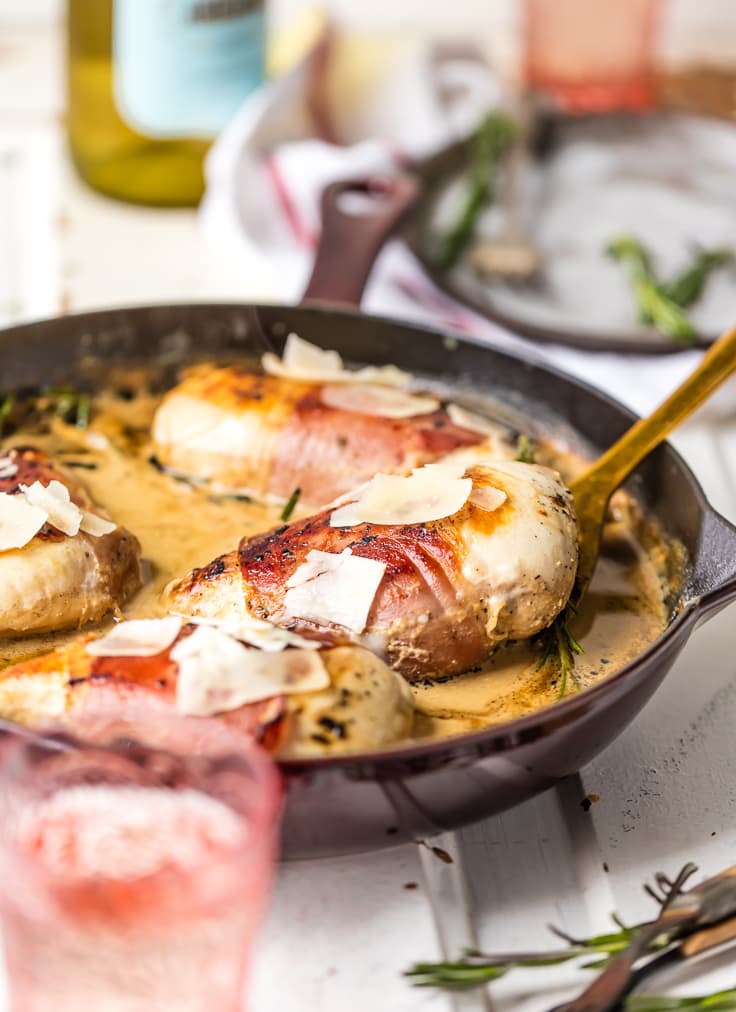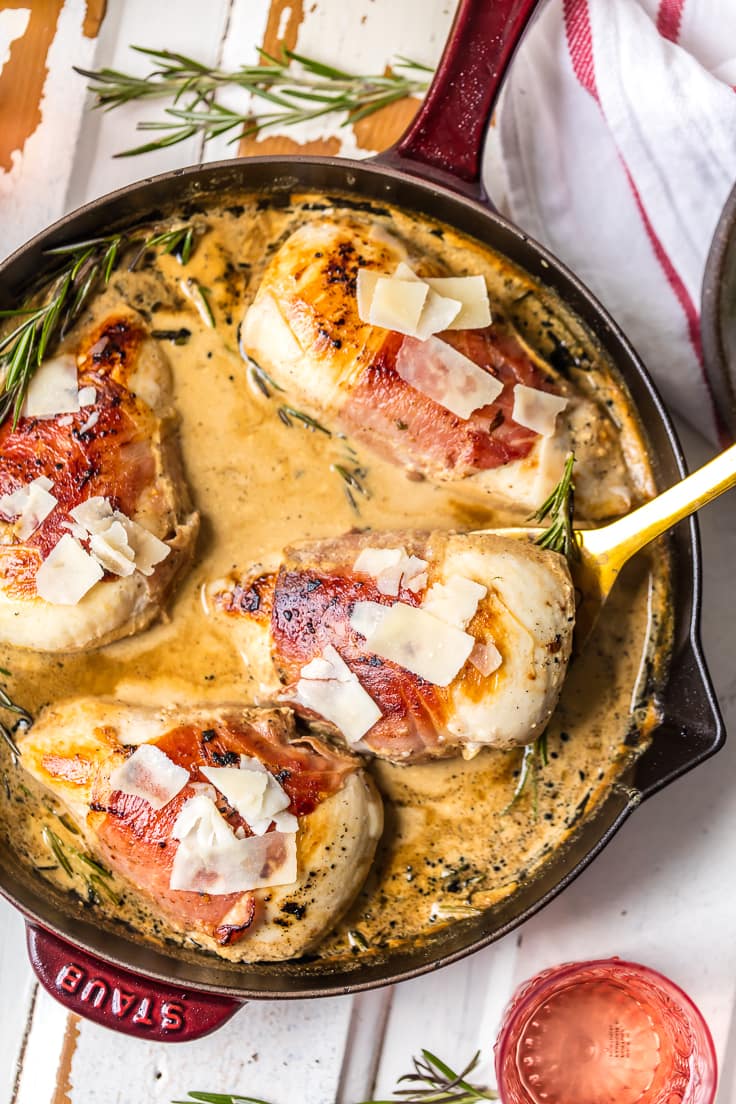 How to Make Prosciutto Wrapped Chicken
Season the chicken and wrap in prosciutto.
Heat oil and butter in the skillet, then par-cook the chicken, just until browned. Set it aside.
Saute the garlic and add ingredients to make the sherry cream sauce. Let it simmer.
Place the chicken in the skillet with the sauce. Then bake in the pre-heated oven until fully cooked (5-10 minutes).
Serve hot and enjoy!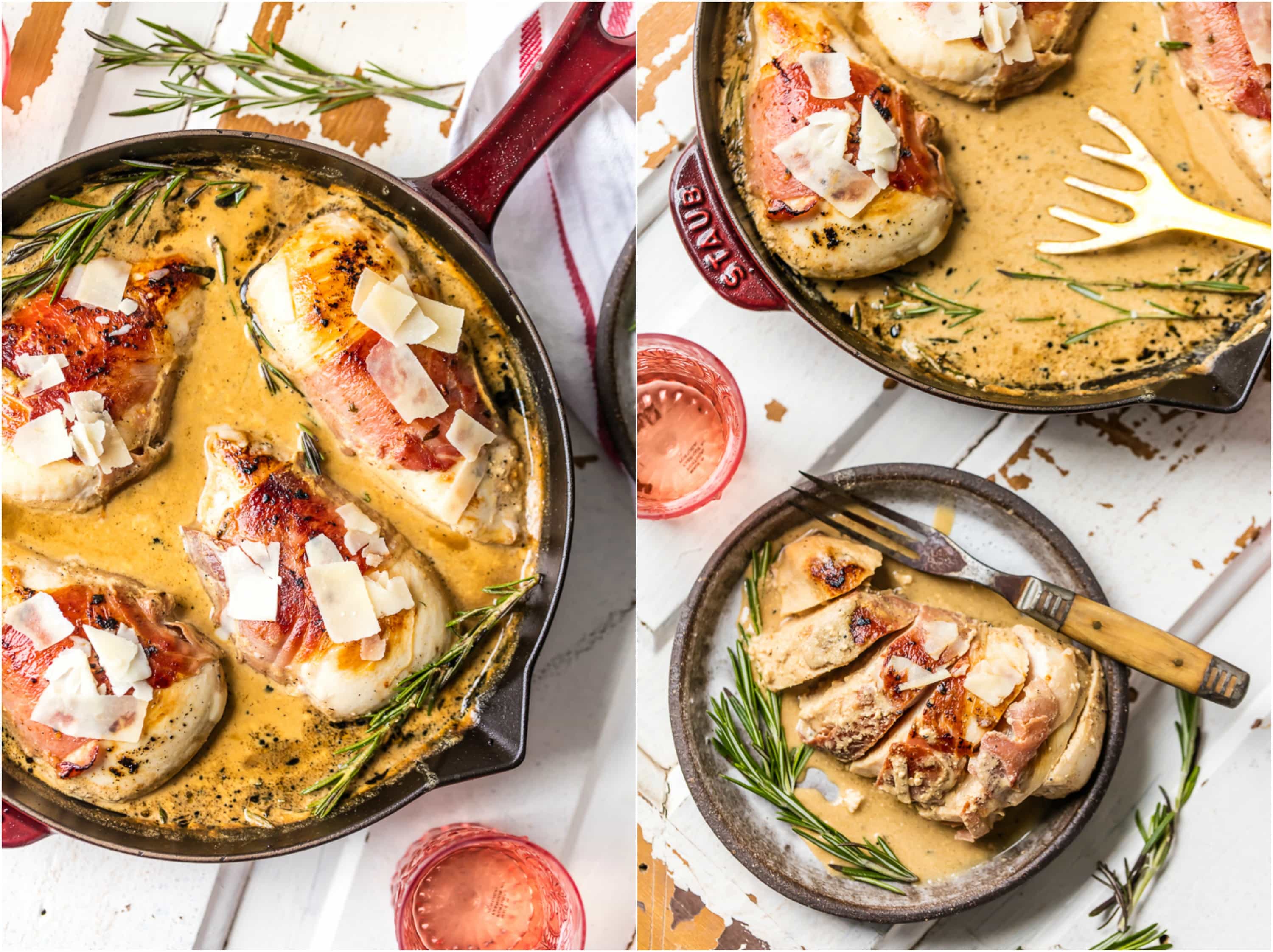 What to Serve with Prosciutto Wrapped Chicken
Serve this delicious, flavorful, and EASY chicken recipe with rice, over pasta, or by itself. You can't go wrong! The sherry cream sauce melts into anything you serve it with and turns it into the most delicious side dish. I'd eat this sauce over a bed of rice and be happy!
What kind of wine should I serve with dinner?
This chicken goes so well with a glass of wine at dinner time. I recommend a dry white wine, like sauvignon blanc, to complement the flavors of the prosciutto and creamy sherry sauce.
What is prosciutto?
Prosciutto is a type of dry-cured Italian ham that is served in very thin slices. While it's often eaten uncooked, it does get cooked in this recipe while baking.
What type of pan should I use to cook this chicken?
I love using a cast iron skillet because it goes from the stove to the oven without issue. But you can use any oven-safe skillet.
I just love that you can take this prosciutto wrapped chicken from the stove to the oven, then straight to the table, all in one skillet! Dinner will be ready in no time and clean up will be a breeze!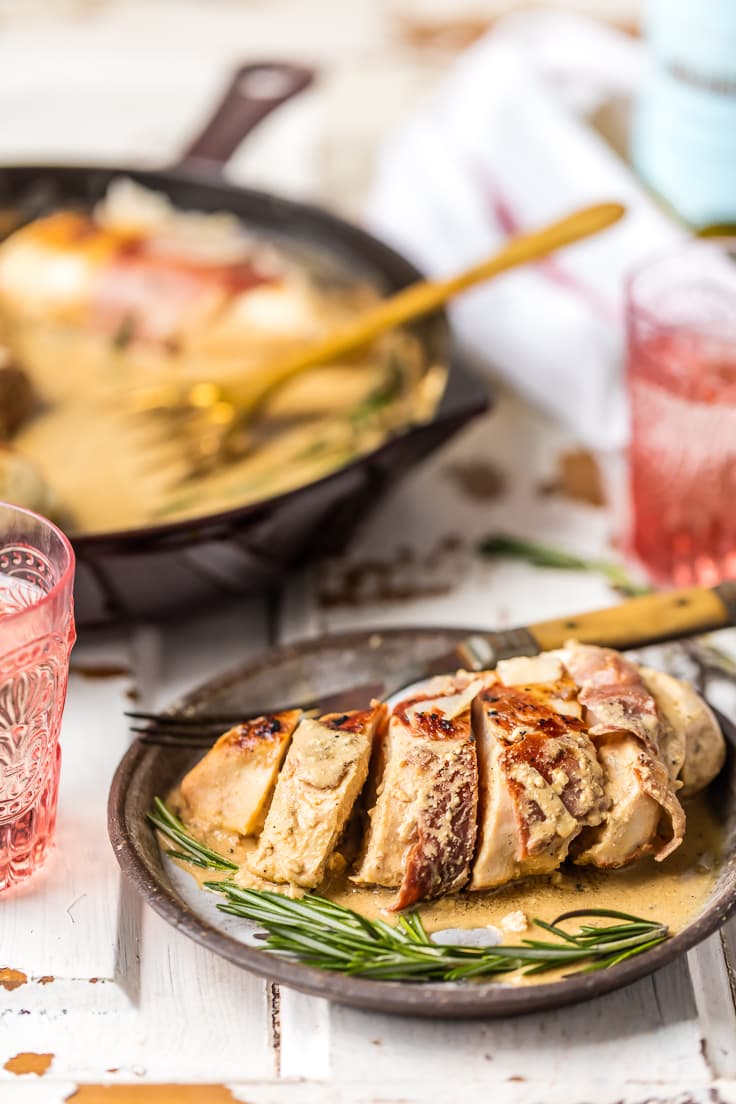 Tips!
Store leftovers in an airtight container in the fridge for 2-3 days. Reheat in the oven or on the stove for the best texture.
Replace rosemary with sage or basil for a slightly different (but still delicious) flavor.
Be sure chicken has reached an internal temperature of 165F before eating.
Scrape the brown bits in the pan to the center as you cook–that's where all the flavor lives!
Word of advice: try not to pour the sherry cream sauce into a cup and drink it (even though you'll want to). I recommend serving your chicken prosciutto with wine instead!
Can I use thighs to make prosciutto wrapped chicken?
Yes, you can substitute chicken thighs for this recipe if you prefer. Use boneless, skinless thighs.
Follow the same steps in the recipe card, but you will need to increase the cooking time slightly. Bake a few extra minutes, until the internal temp reaches 165F.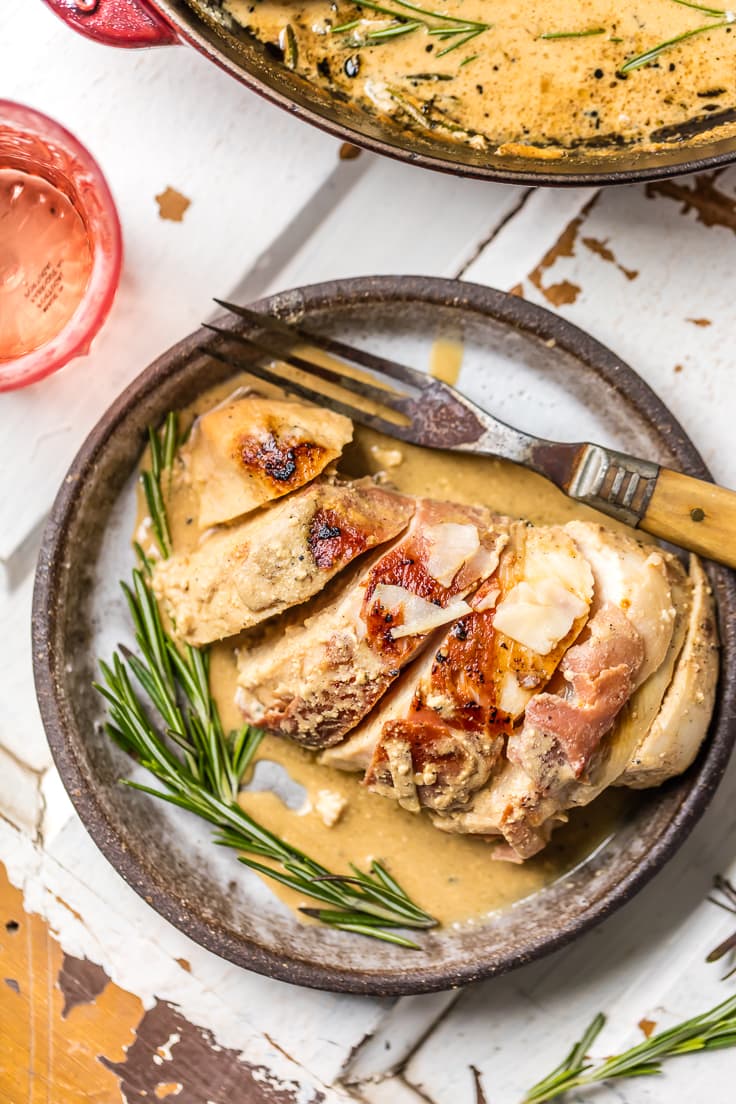 I can't wait for you guys to try this prosciutto wrapped chicken skillet. You'll fall in love with the sherry cream sauce instantly, guaranteed!