PROSCIUTTO WRAPPED SHERRY CREAM CHICKEN SKILLET is our favorite EASY and quick dinner! So much flavor and made in under 30 minutes. The cream sauce…I can't get enough!
You know those recipes that you think about over and over. You're laying in bed and you're like "OMG do I still have leftovers of THAT AMAZING RECIPE that I can eat tomorrow??". Or "I HAVE TO MAKE THAT RECIPE TOMORROW BECAUSE I'M CRAVING IT BAAAAD". Typically, I feel that way about an amazing steak at an amazing restaurant. But I also feel that way about this Prosciutto Wrapped Sherry Cream Chicken Skillet. When I say it's one of my all-time favorites, I mean that as I was cleaning the skillet I actually took my finger and licked the remaining sauce. Sorry not sorry. It's THAT good and I can't wait for you to try it. Be warned…you'll want to eat it every day!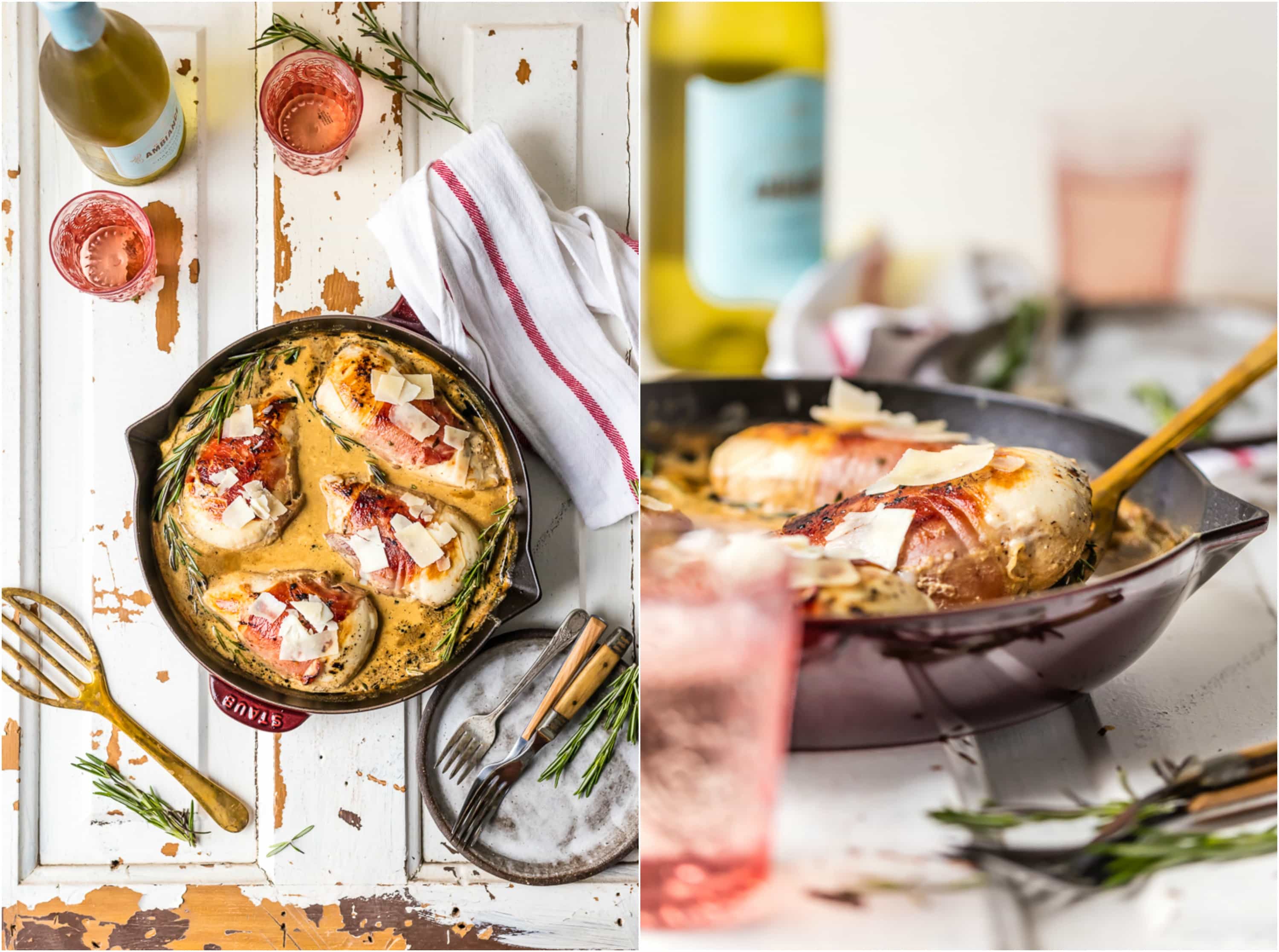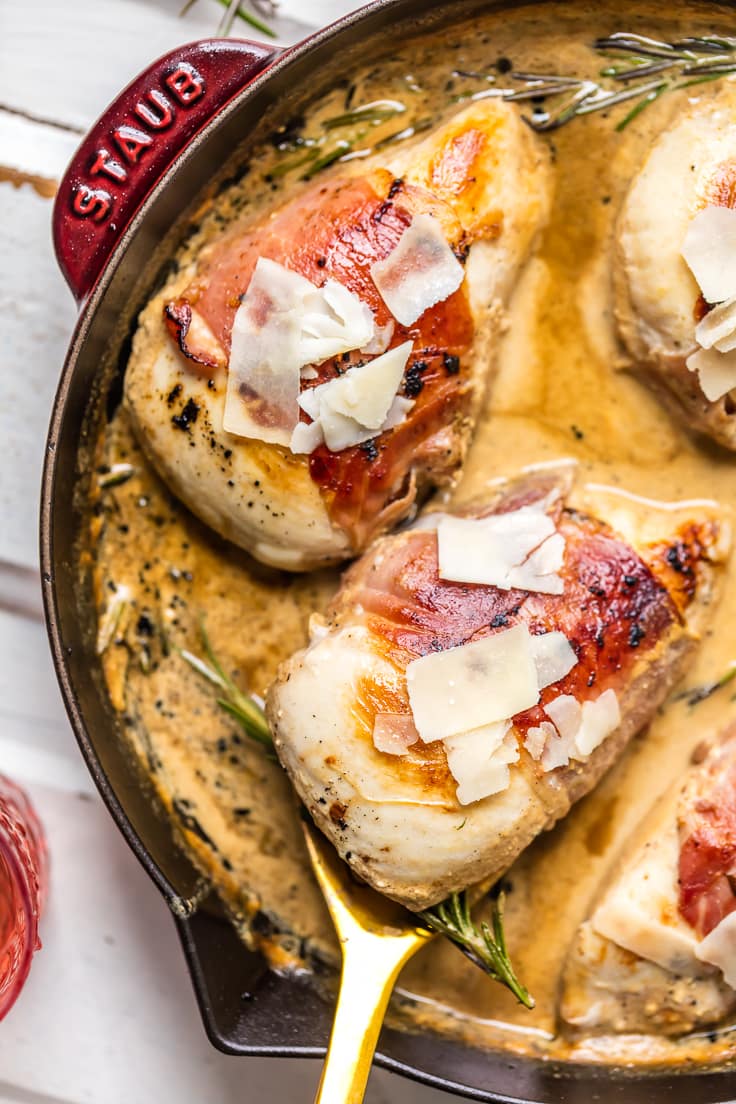 This is basically an easier, updated, one pan version of another favorite from WAAAAYYY back in the blog archives, Smoky Sherry Chicken. Look at those pictures at your own risk my friends. I'm not saying I have learned all there is to learn, but YIKES those pics. Anyway, The flavors here remind me so much of my favorite flavors there. But like I said, this is easier, quicker, and made in ONE PAN. You guys know how I feel about skillet meals. If you forgot: I LOVE THEM. One pan to clean up…YASSS. Cannot get enough. One day it might be all I do. I love them that much.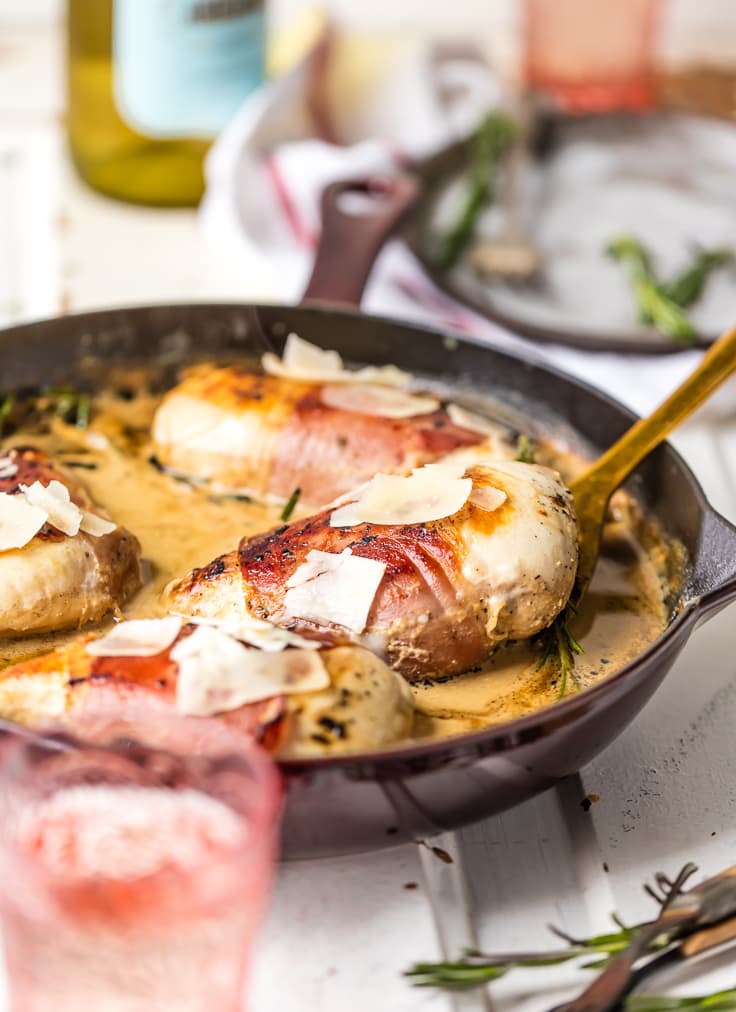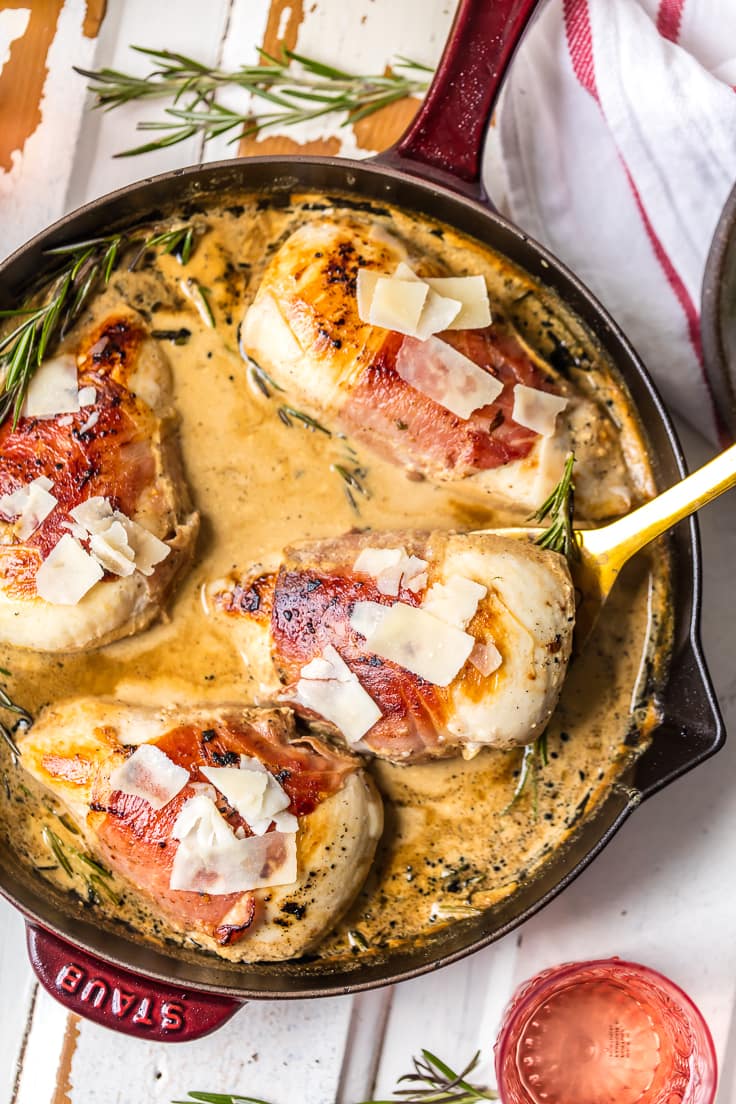 I gotta admit, I'm pretty proud of this recipe. I know it's nothing mind-blowing. The flavors have been done before in plenty of different ways. But it tastes SO good. I'll make this Sherry Cream Chicken Skillet again and again, long after I'm done blogging. You can make it at home just for yourself (again…ONE PAN), or have friends over and feel like chef extraordinaire as they praise you for your prowess in the kitchen. They don't have to know how easy it is. I mean, you could do me a solid and tell them about the blog, but I'm also fine if you take all the credit. :)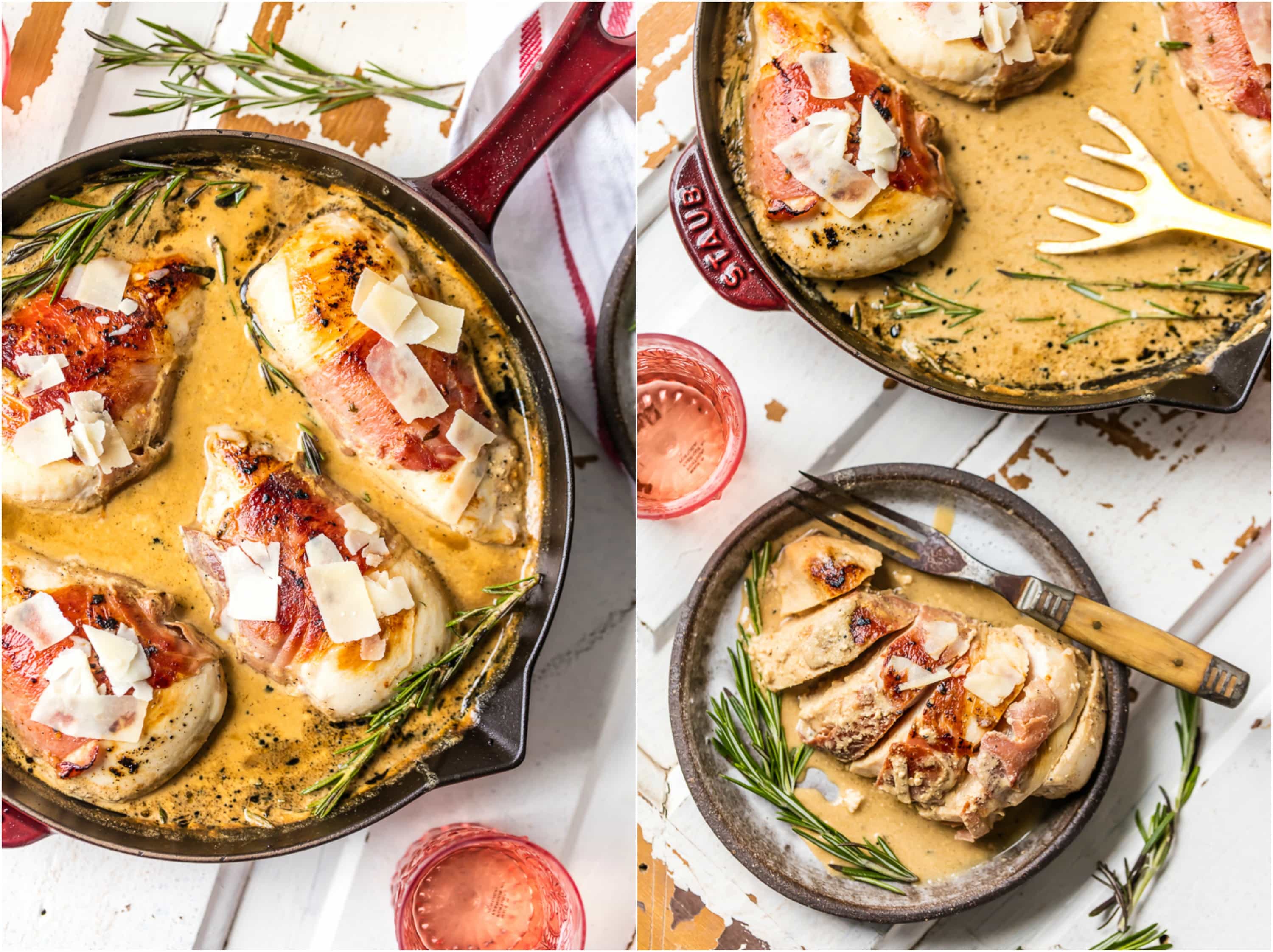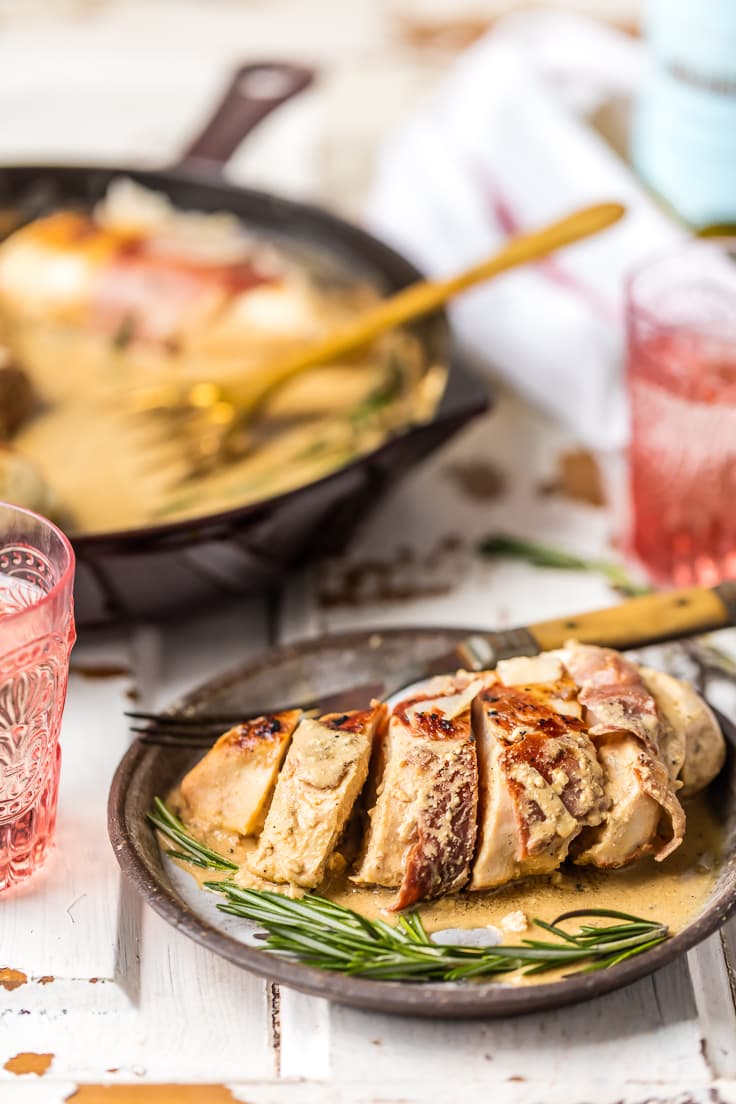 Serve this delicious, moist (I hate that word as much as you but it had to be said!), flavorful, and EASY chicken with rice, over pasta, or by itself. You can't go wrong. And try not to pour the sauce into a cup and drink it. Serve it with wine instead. But you'll want to drink it. Just saying.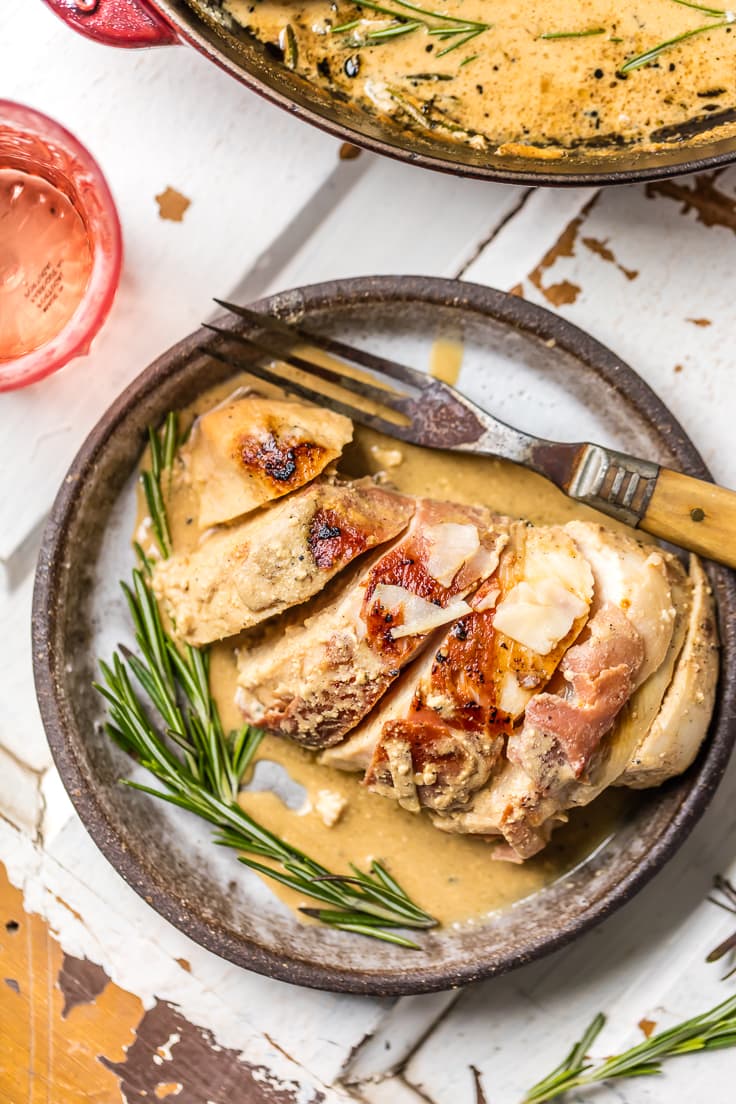 Prosciutto Wrapped Sherry Cream Chicken Skillet, Enjoy!!
Other Chicken Recipes we LOVE: