Green Bean and Corn Casserole is a classic holiday side dish that fills me with nostalgia. This homemade green bean casserole with cheese, sour cream, corn, and topped with Ritz crackers is so creamy, cheesy, and absolutely perfect for Thanksgiving!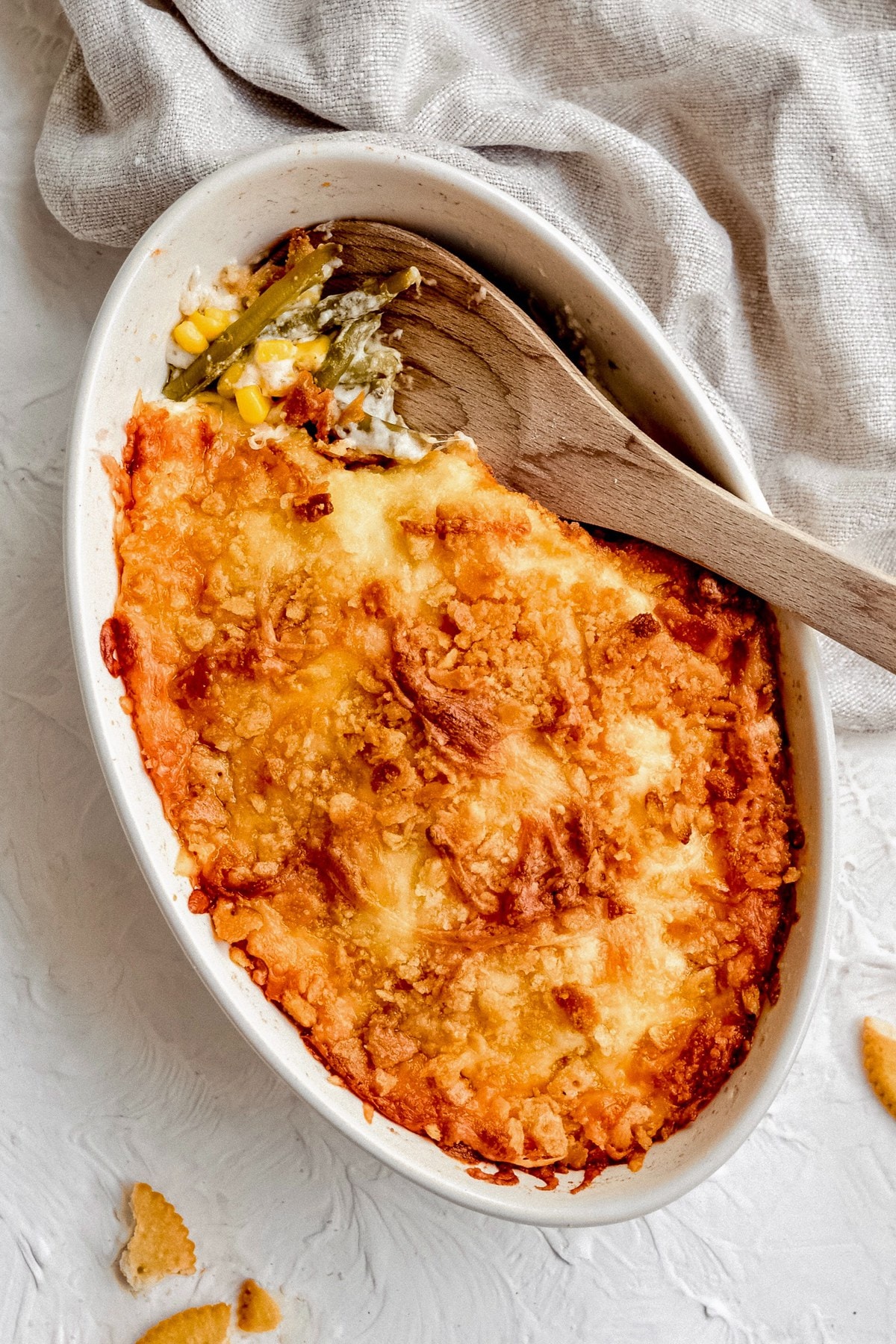 Green Bean and Corn Casserole with Cheese
Make this cheesy green bean and corn casserole recipe for Thanksgiving, Christmas, and every other holiday you celebrate! Then again…who needs a holiday? Surprise everyone and fix it just for the heck of it!
Growing up, I always looked forward to both of my grandmas cooking wonderful dishes over the holidays. Grandma Adee made all the best cookies, and Grandma Gall made some seriously amazing casseroles. This Green Bean and Corn Casserole recipe was always one of my favorites!
Some foods just taste like home, and for me, this is one of them. Grandma Gall called it "Royal Casserole," although I'm not really sure why. However, it does deserve royal treatment, because it is so good!
A tasty homemade green bean casserole with cheese, sour cream, corn, water chestnuts, crumbled crackers, cream of mushroom…YUM. And add all those family memories to it, and you can understand why this is such a special recipe to me.
Everything bakes together into a crispy, creamy, cheesy, delicious casserole that everyone will devour. It's so easy to make, so it's perfect for busy holiday meals. I love having this on the table at Thanksgiving!
This casserole fits perfectly on the holiday table. Easy and tasty!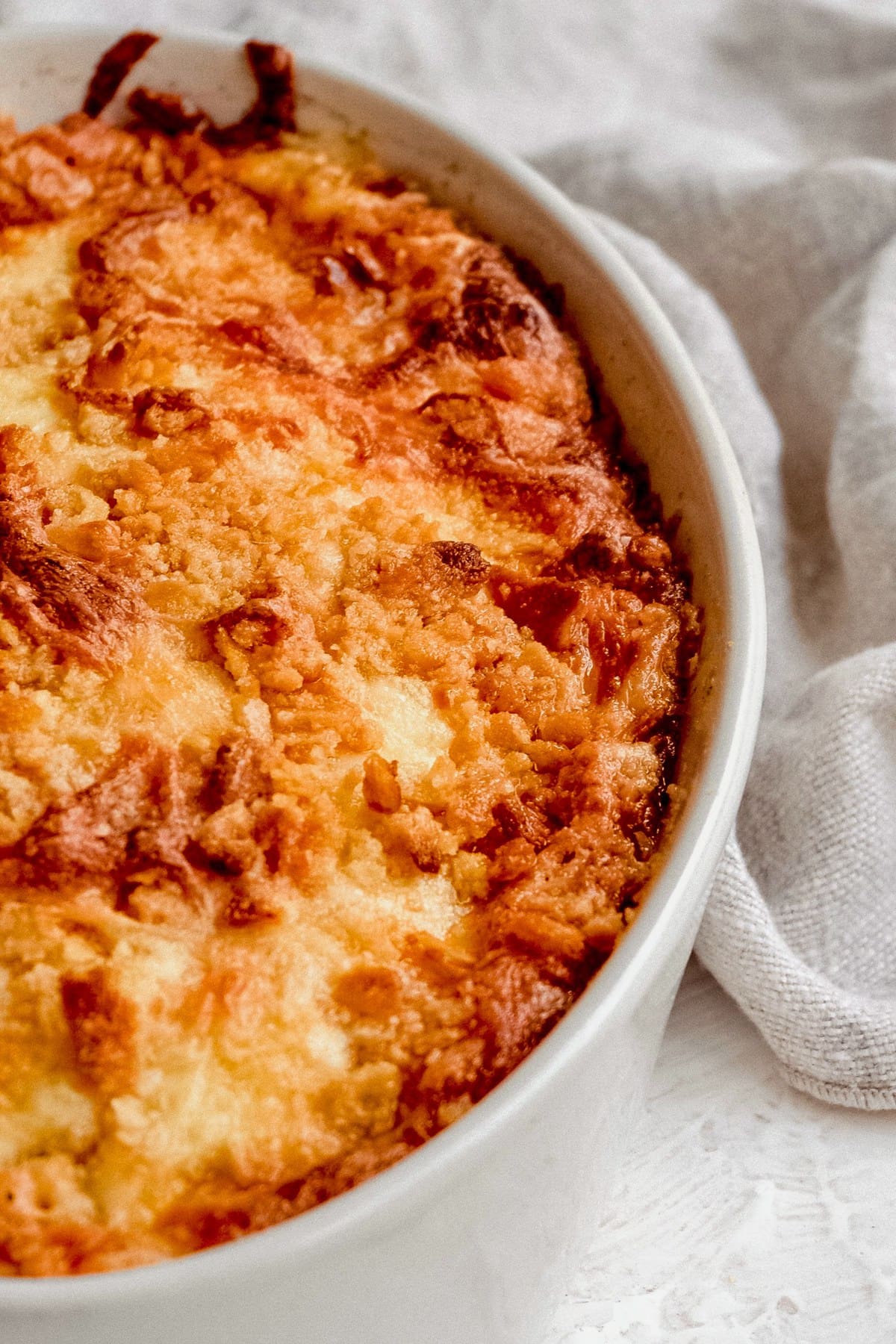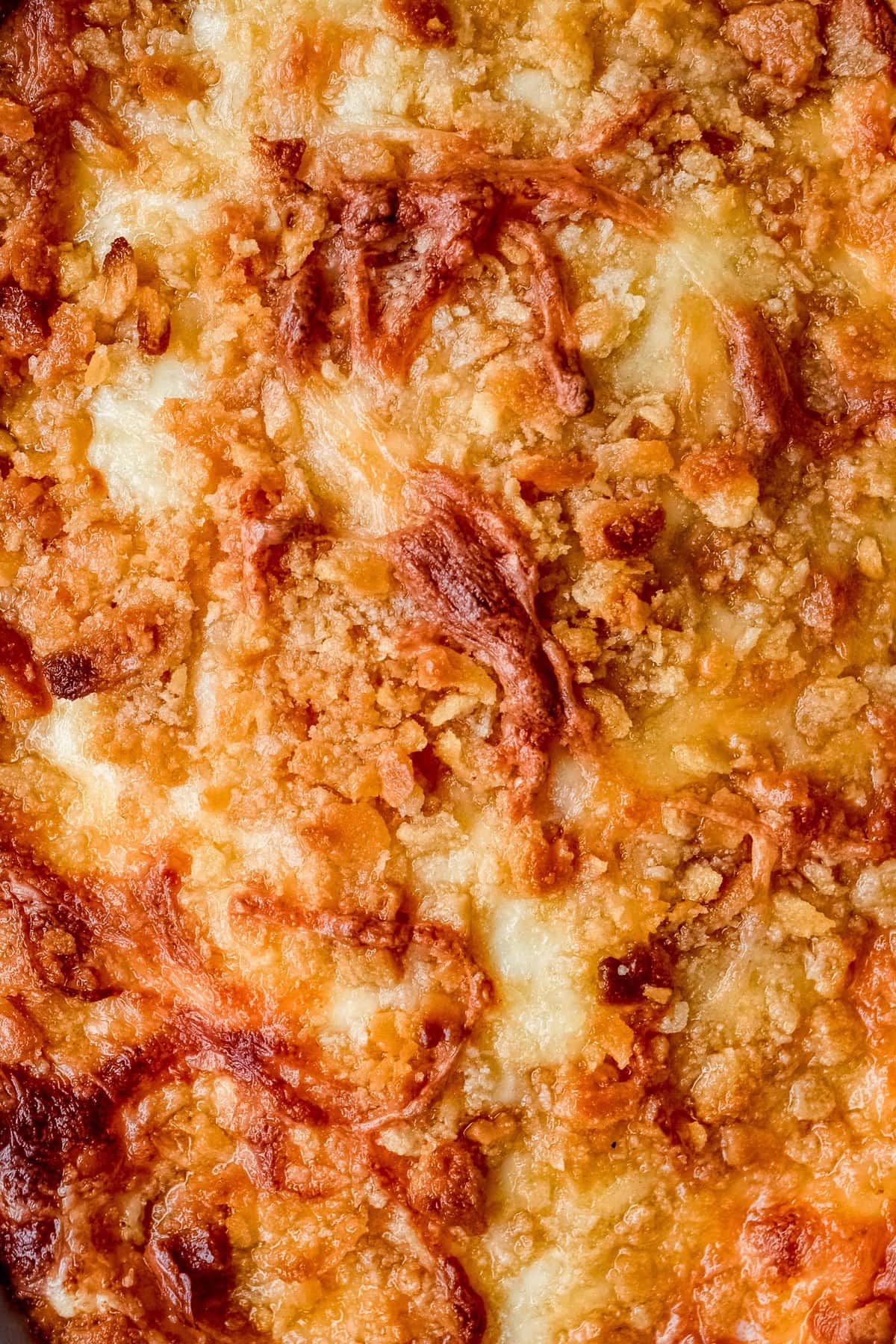 Not Your Typical Green Bean Casserole
The Classic Green Bean Casserole is a go-to for most of us on holidays, but Green Bean and Corn Casserole is a nostalgic homemade favorite in my family.
I love how the cheese, sour cream, and corn add so much extra flavor into the mix. And the crumbled cracker topping is so crispy and just so good. I seriously can't get enough of this dish, and I love having it as a Thanksgiving side.
Why you'll love this Green Bean and Corn Casserole Recipe:
It's a party in your mouth: Creamy, crunchy, savory, cheesy, and tangy tastes, all mixed together, create a wonderful combination.
Get some veggies: Beans, corn, water chestnuts, onions, and mushrooms (or celery)add healthy elements to this dish.
It's easy: Just mix and bake! This gives you more time to enjoy holiday festivities!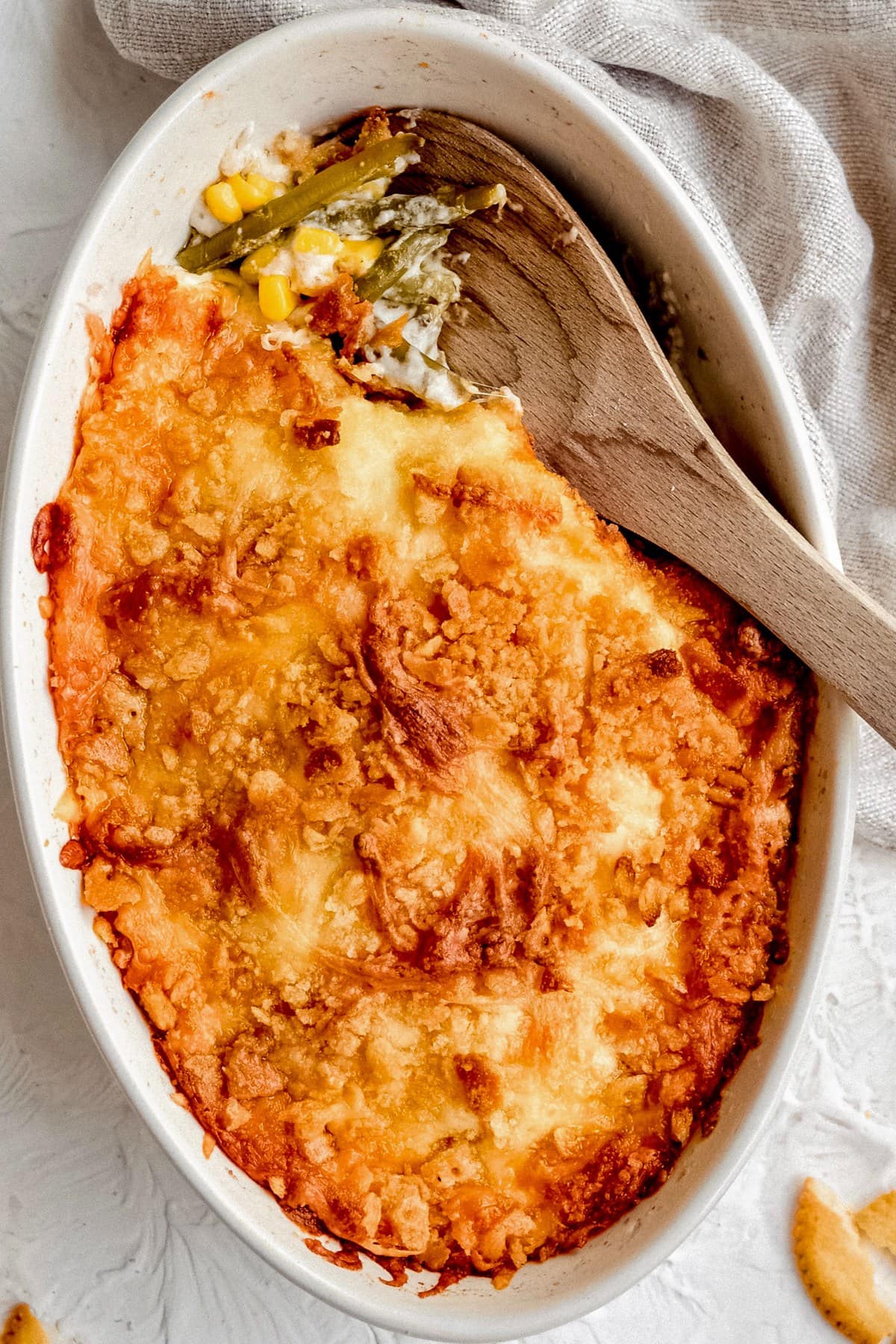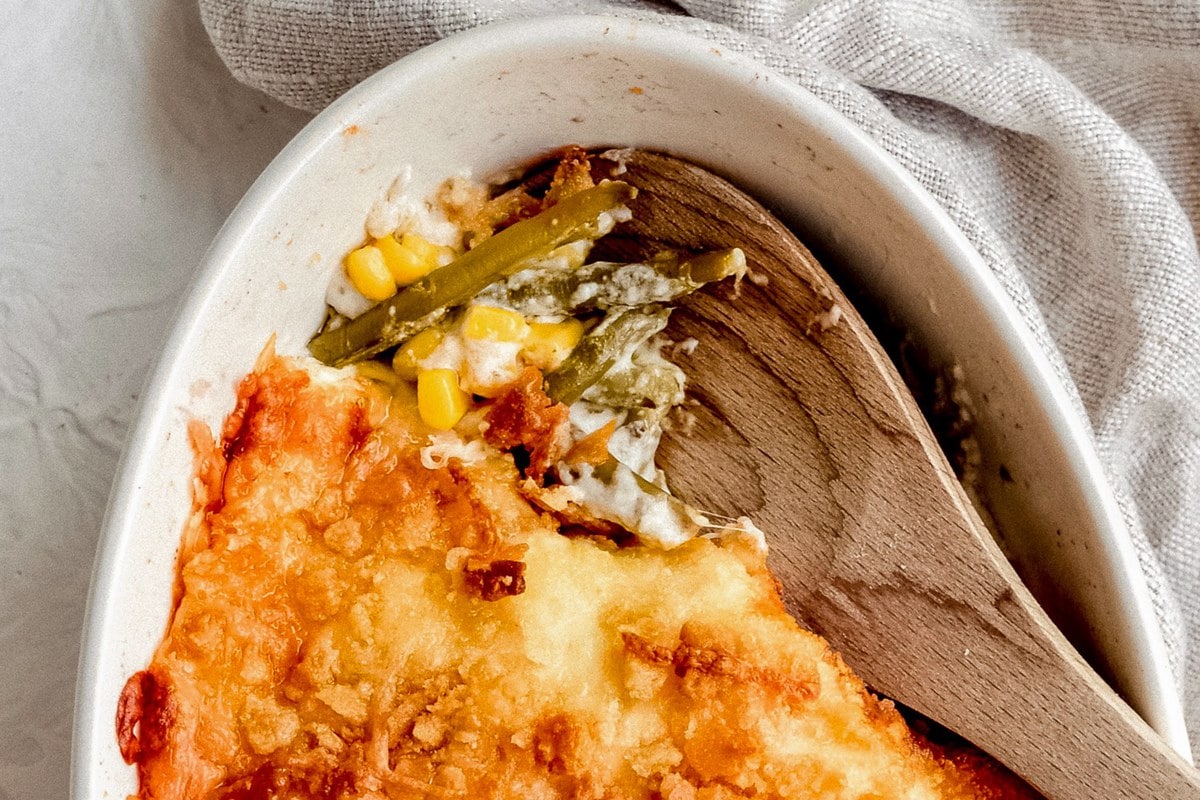 How to Make Green Bean and Corn Casserole With Cheese
Casseroles are easy, and this one is wonderfully uncomplicated! All you have to do is mix and layer the ingredients into a casserole dish, bake, and eat!
I love recipes like this that add so much flavor to the holiday meal, without taking extra time and stress. It comes out golden, crispy, bubbly, and just so amazingly yummy. Everyone is going to love this!
To Make:
Layer the corn, green beans, water chestnuts, and onion into the casserole dish.
Mix the sour cream and mushroom soup; add it to the dish.
Sprinkle on the shredded cheese, and then garlic powder.
Crumble up the crackers and sprinkle them generously over the entire casserole.
Finish it by pouring melted butter over everything. Bake as directed and then serve.
You can jump to the recipe card for full ingredients & instructions!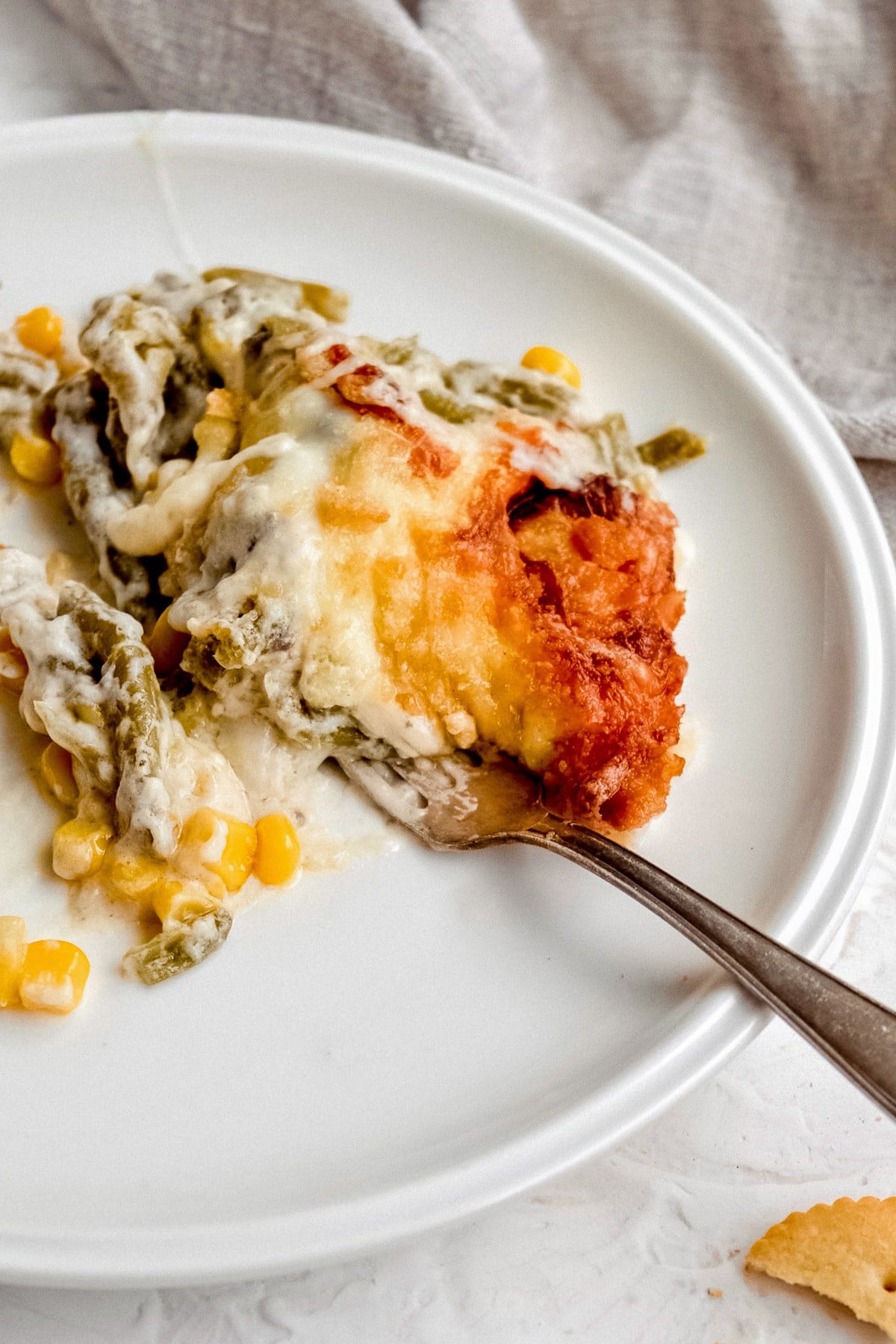 Can I Swap Out the Cheddar Cheese?
Instead of Cheddar, you can use Colby, Monterrey jack, or even Swiss cheese. Try to keep with like-textured cheeses so that that the overall composition of the dish isn't changed.
How Do I Freeze Leftovers?
This casserole is always best when fresh out of the oven. Refrigerated leftovers can be microwaved, but if you want to freeze some of this casserole, remove the cracker crumbs from the top.
They'll get soft and soggy. Package the rest of the dish in an airtight container and freeze for up to three months. Thaw and then reheat in the microwave.
What's the Best Way to Crumble the Crackers?
Crumbling them with your hands is the easiest way to accomplish this task, but if you prefer, you can process them in a food processor or a blender. Alternatively, you can put the crackers in a plastic bag and crush with a meat mallet or a rolling pin.
Don't forget to make this casserole this holiday season. It will become a fast family favorite for all!
If you like this recipe, you'll love these other classic side dishes: