Green Bean and Corn Casserole is a classic holiday side dish that fills me with nostalgia. This homemade casserole is made with green beans, corn, cheese, sour cream, cream of celery soup, and topped with Ritz crackers. It's the best mix of creamy, cheese, and crunchy, and it's so easy to make.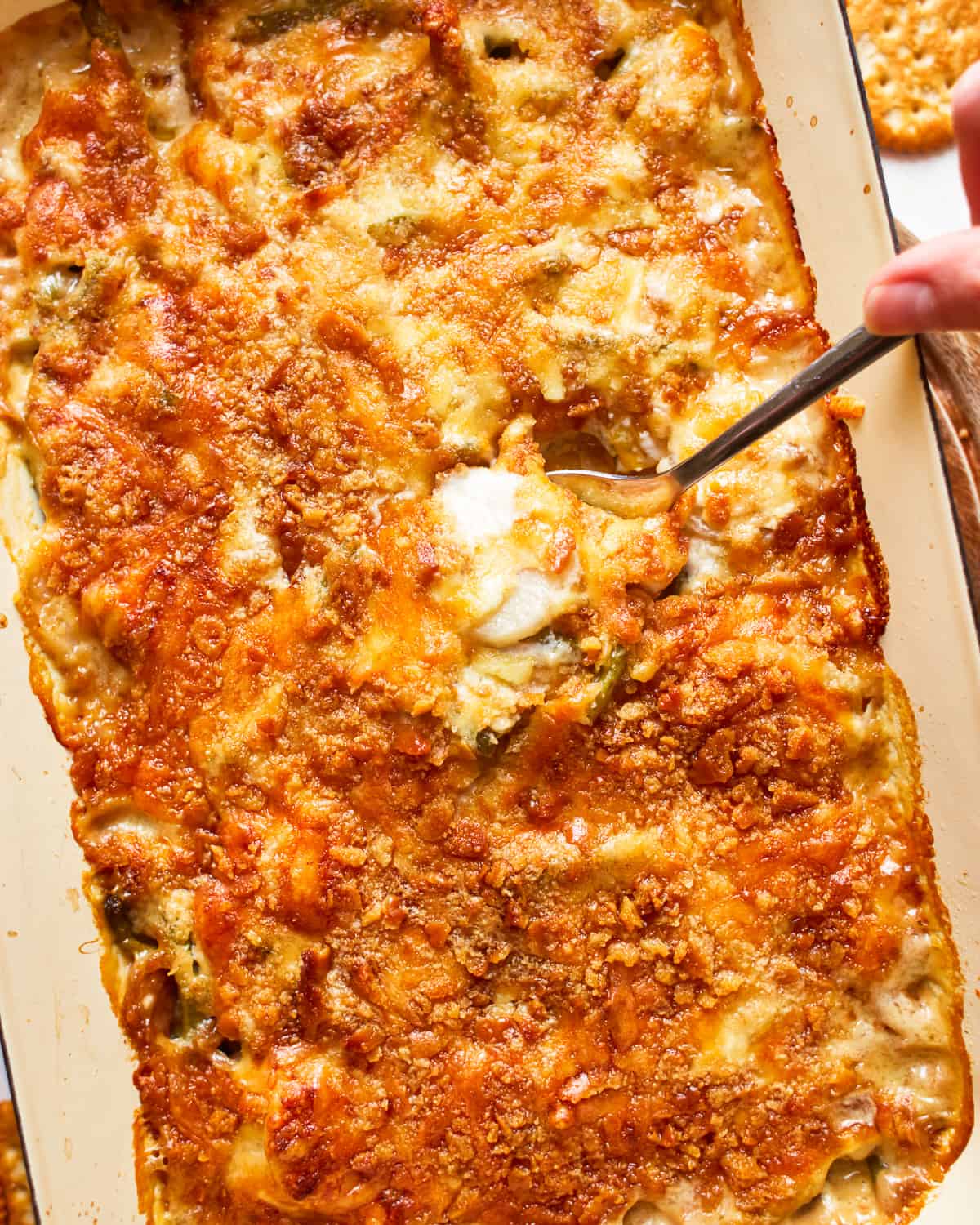 What's in Green Bean and Corn Casserole?
If you're a fan of green bean casserole or corn casserole, then you're certainly going to love this side dish that combines the best parts of both!
Corn: Use a can of corn kernels, drained. If you prefer to use frozen corn, be sure to thaw it and remove excess moisture before adding it.
Green Beans: Use a can of green beans, drained. I like using French-style beans, but you can use cut green beans instead.
Cream of Celery Soup: Use a can of cream of celery or cream or mushroom soup–either one is fine! This adds a creamy texture and savory flavor.
Sour Cream: This adds a creamy and tangy kick.
Water Chestnuts: A can of water chestnuts adds more texture.
Ritz Crackers: Buttery, crumbled crackers make a delicious topping for this green beans and corn casserole.
Onion: Sweet yellow onion works best, but white onion is fine too.
Cheese: Cheddar cheese tastes best, and freshly-shredded cheese is best for melting. You can also use Gruyere, Swiss, or Colby instead.
Butter: Melted butter is used on top of the cracker topping to finish the casserole.
Garlic Powder: A little bit of garlic powder adds a bit of savory flavor to the mix.
Pro Tip: If you don't have fresh onion on hand, substitute 1 tablespoon of minced onion flakes.
What else can I add to this casserole?
If you're looking to make a few ingredients swaps or additions to this cheesy green bean and corn casserole, here are some ideas.
Swap sour cream for plain Greek yogurt–it's just as tangy and creamy, but much lighter.
Mix in crumbled bacon, caramelized onions, or roasted mushrooms along with the rest of the ingredients.
Use breadcrumbs, french fried onions, or crumbled croutons as a topping instead of crackers.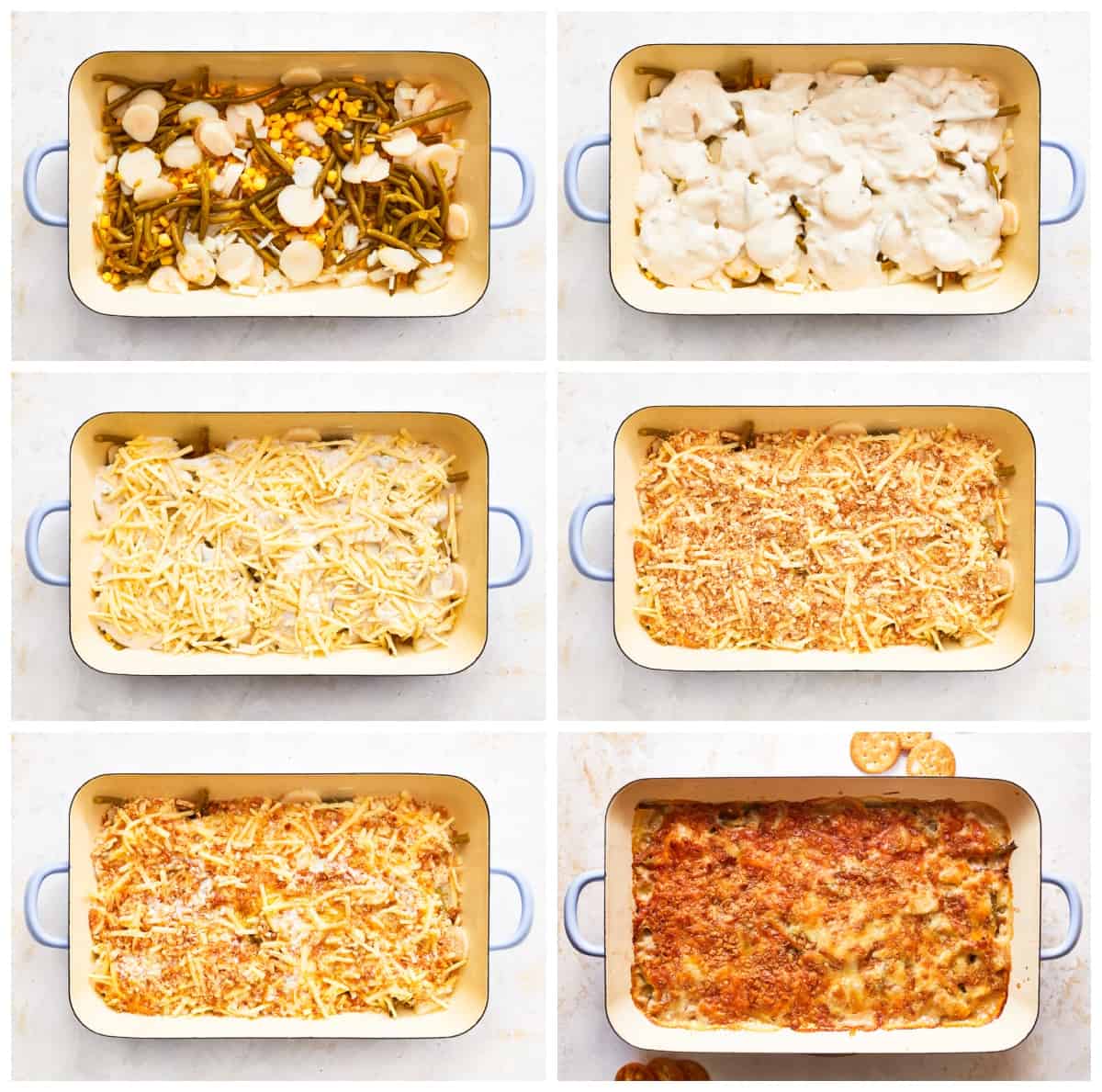 How long does it take to cook green bean corn casserole?
With the oven set to 350F, it will take 30-40 minutes to cook. The best way to tell when it's done is when the topping gets golden brown and the liquid starts to bubble.
Can I use fresh vegetables for this casserole?
You can use fresh green beans or corn if you prefer, but canned version are really convenient and tastes just as good.
What's the best way to crumble crackers for the topping?
Crumbling them with your hands is the easiest way to accomplish this task, but if you prefer, you can crush them in a food processor or a blender. Alternatively, you can put the crackers in a plastic bag and crush with a meat mallet or a rolling pin.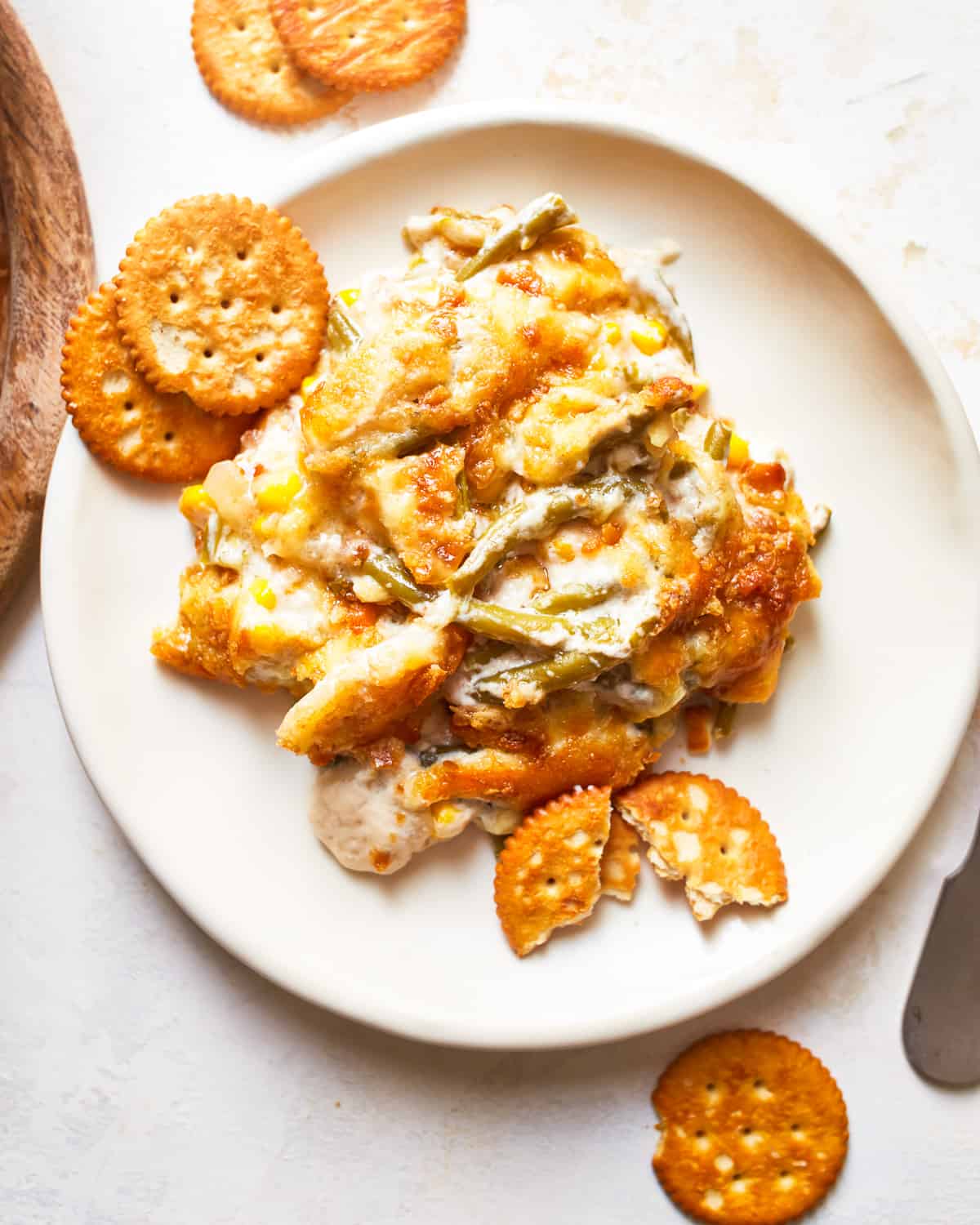 How to Store and Reheat
Store leftover green bean with corn casserole in an airtight container, and keep in the refrigerator up to 4 days. Reheat in the oven at 350F until heated through; or in the microwave, stirring every 30 second until warm.
How to Freeze
If you plan to freeze this green bean corn casserole, leave off the cracker topping, or remove it (as best you can) before freezing–the crackers will get soggy when thawed. Store leftovers in an airtight container and freeze up to 3 months. Thaw before reheating.
What to Serve with Green Bean Corn Casserole
This is the perfect side dish for Thanksgiving, or any holiday feast, because it tastes delicious with Honey Baked Turkey, Brown Sugar Glazed Ham, or Whole Roast Chicken. It's also easy enough to make for weeknight dinners, served along with Mini Turkey Meatloaves, Air Fryer Chicken Thighs, or Parmesan Crusted Chicken.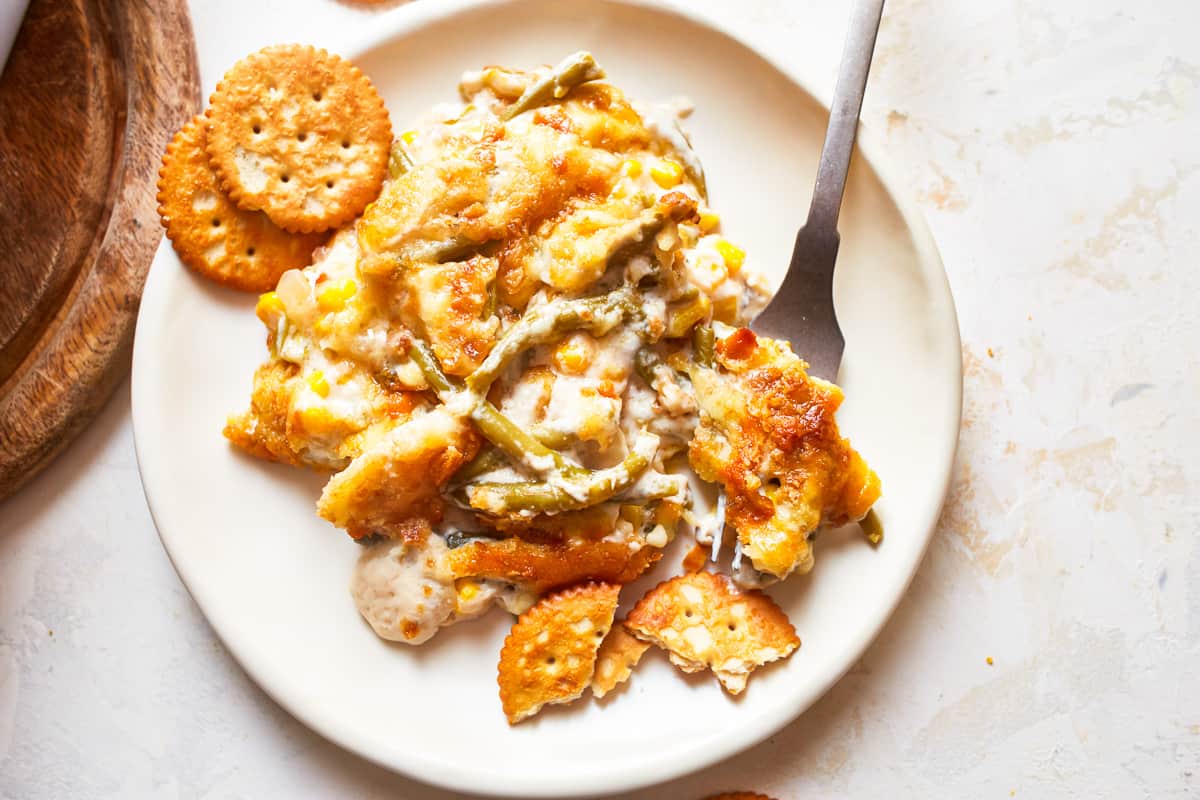 More Green Bean and Corn Recipes We Love