Taco Pizza is a favorite recipe amongst pizza lovers and the best family friendly dinner for any day of the week! This dish features a pizza dough covered in a base of refried beans, taco sauce, cheese, toppings, and is cooked and served with a variety of taco toppings. If you can't decide between taco night or pizza night, then this is the dish for you! This easy meal is the perfect way to switch up two favorite classic dishes and get the best of both worlds!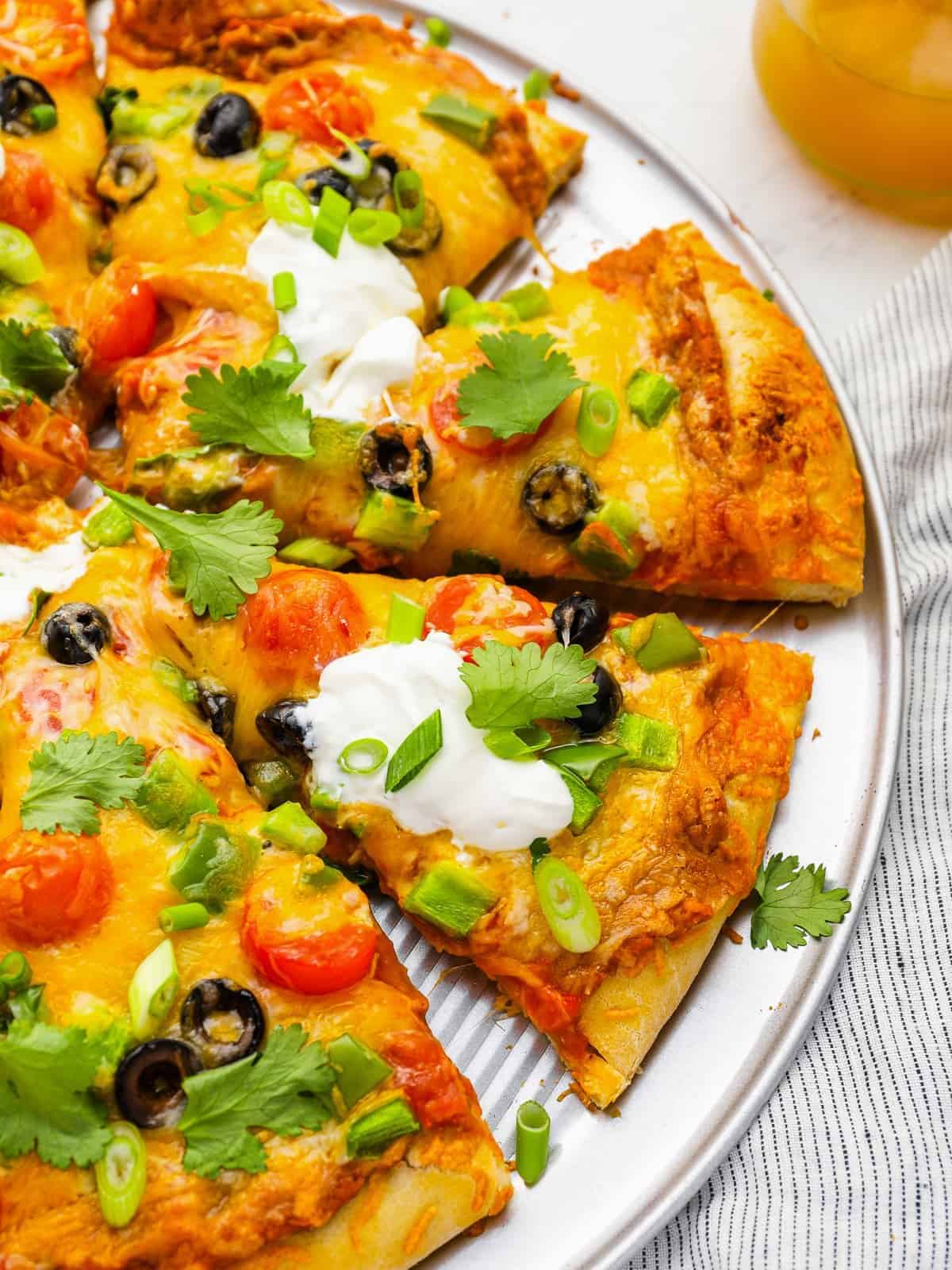 What's in this Taco Pizza Recipe?
This recipe uses simple ingredients to give great flavor and easy cooking instructions to this beloved dish! The basic ingredients within this recipe can be found at your local grocery store for an easy one-stop dinner option.
Refried Beans: For this recipe, you can use refried black beans or refried pinto beans.
Taco Seasoning: Homemade or store-bought taco seasoning works just fine for this recipe. If you'd like to reduce the amount of salt in this dish, feel free to use a low sodium taco seasoning packet or make your own blend.
Taco Sauce: The taco sauce in this recipe adds a bit of additional flavor to the dish and serves as a replacement for what would typically be tomato sauce or pizza sauce.
Pizza Dough: One of the best ways to ensure you get a good pizza is to use a quality pizza dough or pizza crust. For this recipe, you can use your favorite store-bought or homemade pizza dough or crust. Check out our easy pizza dough recipe to make it yourself!
Cheese: This recipe uses a Mexican cheese blend. You can also use colby jack cheese or mild cheddar cheddar cheese in place of the cheese blend.
Toppings: This recipe includes a few basic toppings such as black olives, cherry tomatoes, green onion, and cheese, as well as optional toppings to include once the pizza is cooked. You can also customize your Taco Pizza by adding your favorite taco toppings such as fresh salsa, avocado, and more.
Variations on Homemade Taco Pizza
This easy Taco Pizza recipe is perfect for customizing and altering to your preference! Here are a few recipe variation ideas:
Spicy: Add thin jalapeno slices to the top of the pizza before or after cooking for a bit of heat.
Crisp and crunchy: Add fresh Pico de Gallo, chopped fresh romaine lettuce, and crushed tortilla chips for a crisp, crunchy texture!
Meaty: Add cooked Mexican chorizo or cooked ground beef with taco seasoning as a topping for a meat-lovers version of this homemade Taco Pizza recipe. This is also a great way to use up leftover taco meat by incorporating it as a topping on the pizza!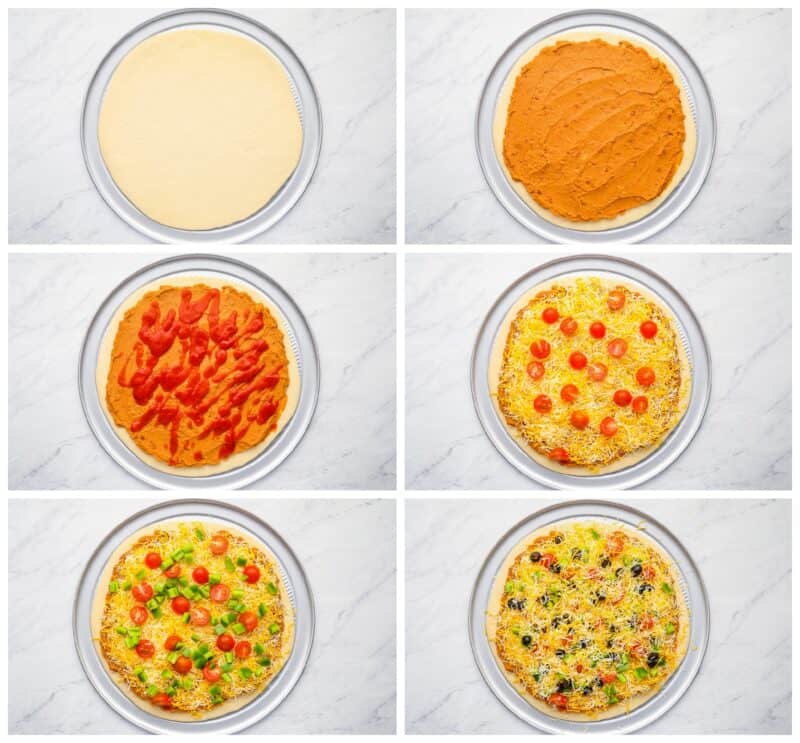 Is taco pizza gluten-free?
Unfortunately, this pizza is not gluten-free. To make it gluten-free, use gluten-free pizza dough!
What size pizza does this recipe make?
This recipe makes a 12-inch pizza, but you could stretch the dough out as far as 16 inches.
What's the best cheese for taco pizza?
I like to use Mexican blend cheese because it melts well and adds classic taco flavor. However, you could use cheddar or mozzarella cheese instead if you prefer.
Can I make taco pizza ahead of time?
This pizza tastes best warm from the oven, but feel free to store leftovers covered in the refrigerator for 3-4 days. You can reheat them in the oven, in a skillet on the stove, or in the microwave.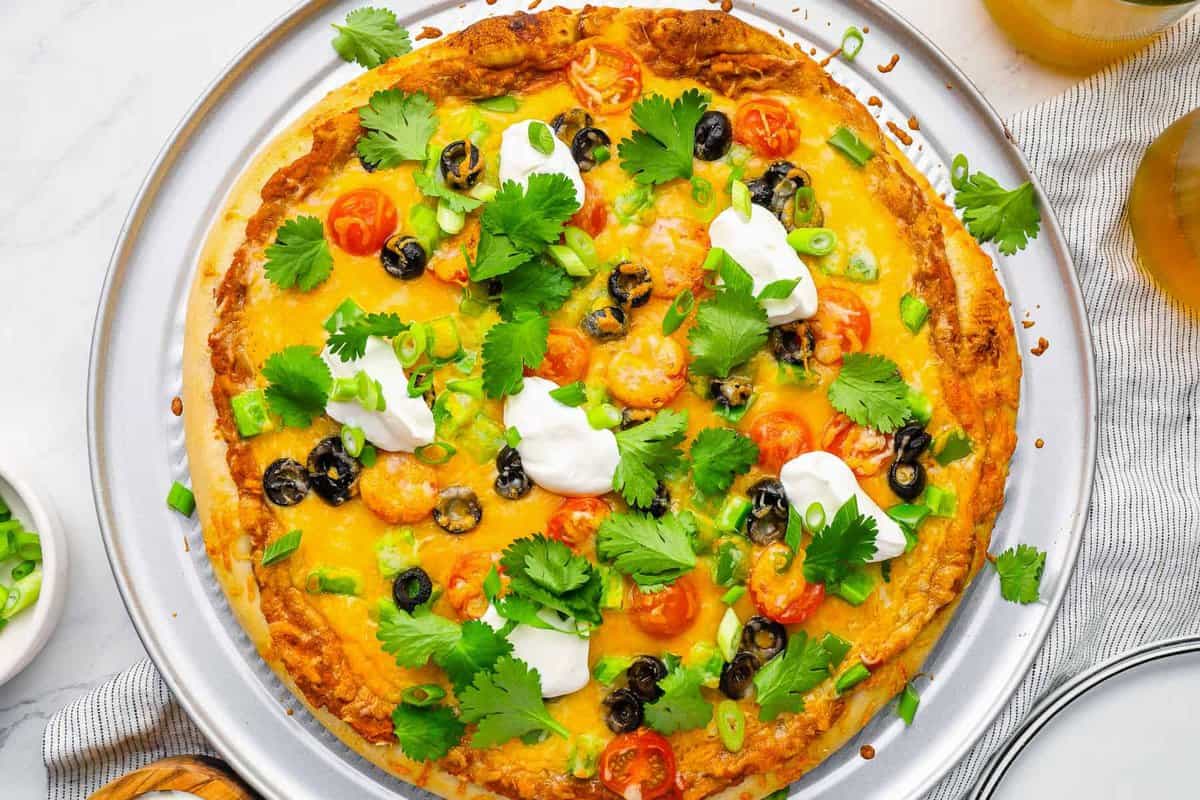 How to Store and Reheat the Best Taco Pizza
Store leftover taco pizza in an airtight container in the refrigerator for up to 4 days. Reheat in a 350°F oven for 5-7 minutes, in the microwave, or in a skillet on the stovetop until warmed through.
How to Freeze Mexican Taco Pizza
Freeze taco pizza slices in a single layer on a lined baking sheet until solid, about 1-2 hours. Transfer the frozen pizza slices to an airtight container or Ziplock bag to store for up to 3 months. Let thaw overnight in the refrigerator before reheating.
What to Serve with Easy Taco Pizza
This meal is perfect for serving alongside a variety of easy recipes and Mexican food side dishes. This is a great recipe to pair with alcoholic and non-alcoholic drinks such as Mangonadas, Pineapple Agua Fresca, and Chili Mango Margaritas. You can also serve this dish with Margarita Guacamole, Mexican Street Corn Salsa, or a side of Mexican Stuffed Peppers.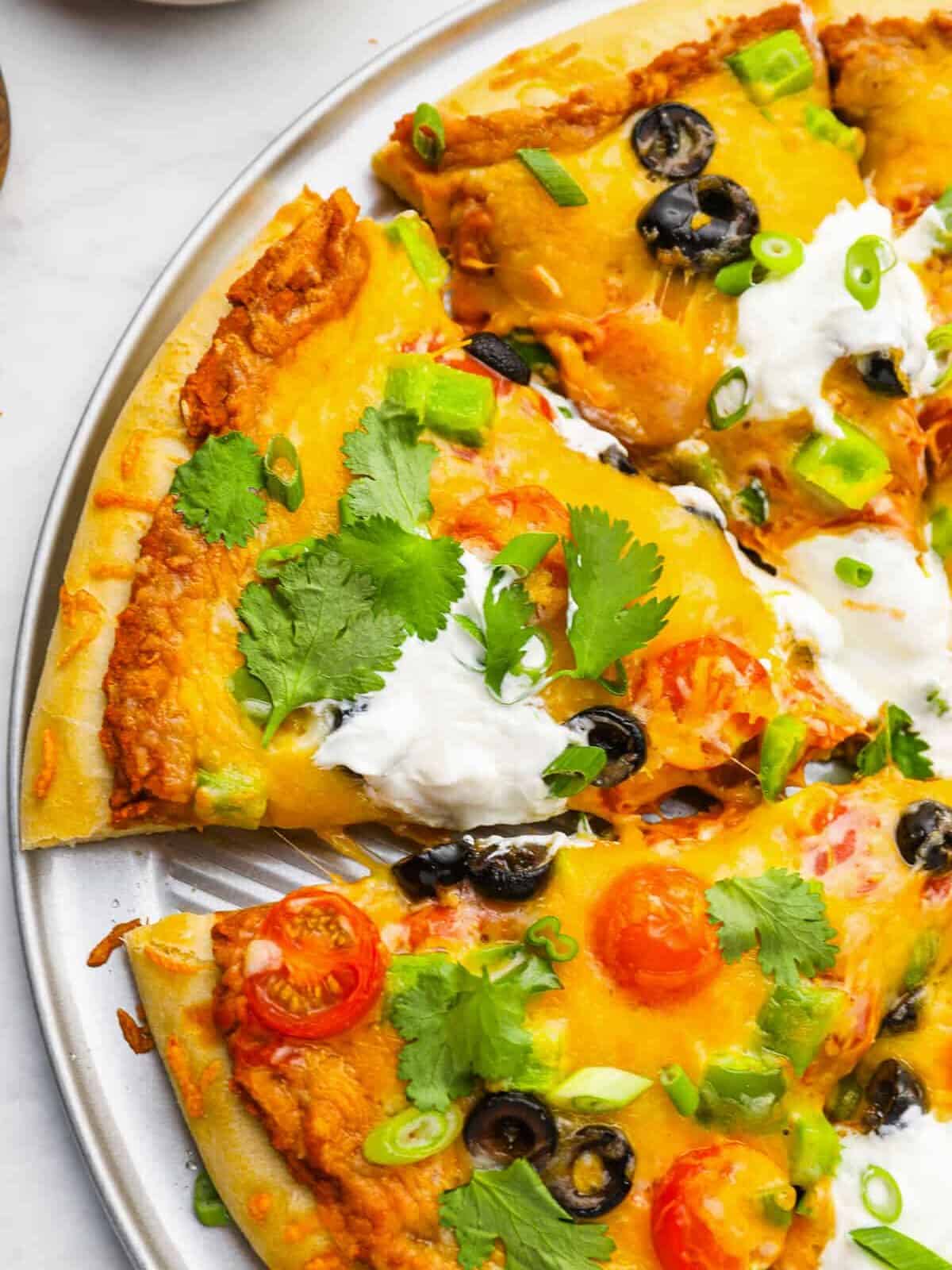 More Pizza Recipes We Love
More Taco Recipes to Try:
Did you hear? We are one of the leading recipe developers for amazing taco recipes! Here are some fun recipes with the ultimate flavor combinations: