White Bean Chicken Chili is a super easy and deliciously spicy recipe. This EASY white chicken chili recipe is perfect for those colder months, and it's so full of flavor. This spicy chili recipe is sure to warm you right up! You definitely need to make up a batch of this easy white chicken chili ASAP!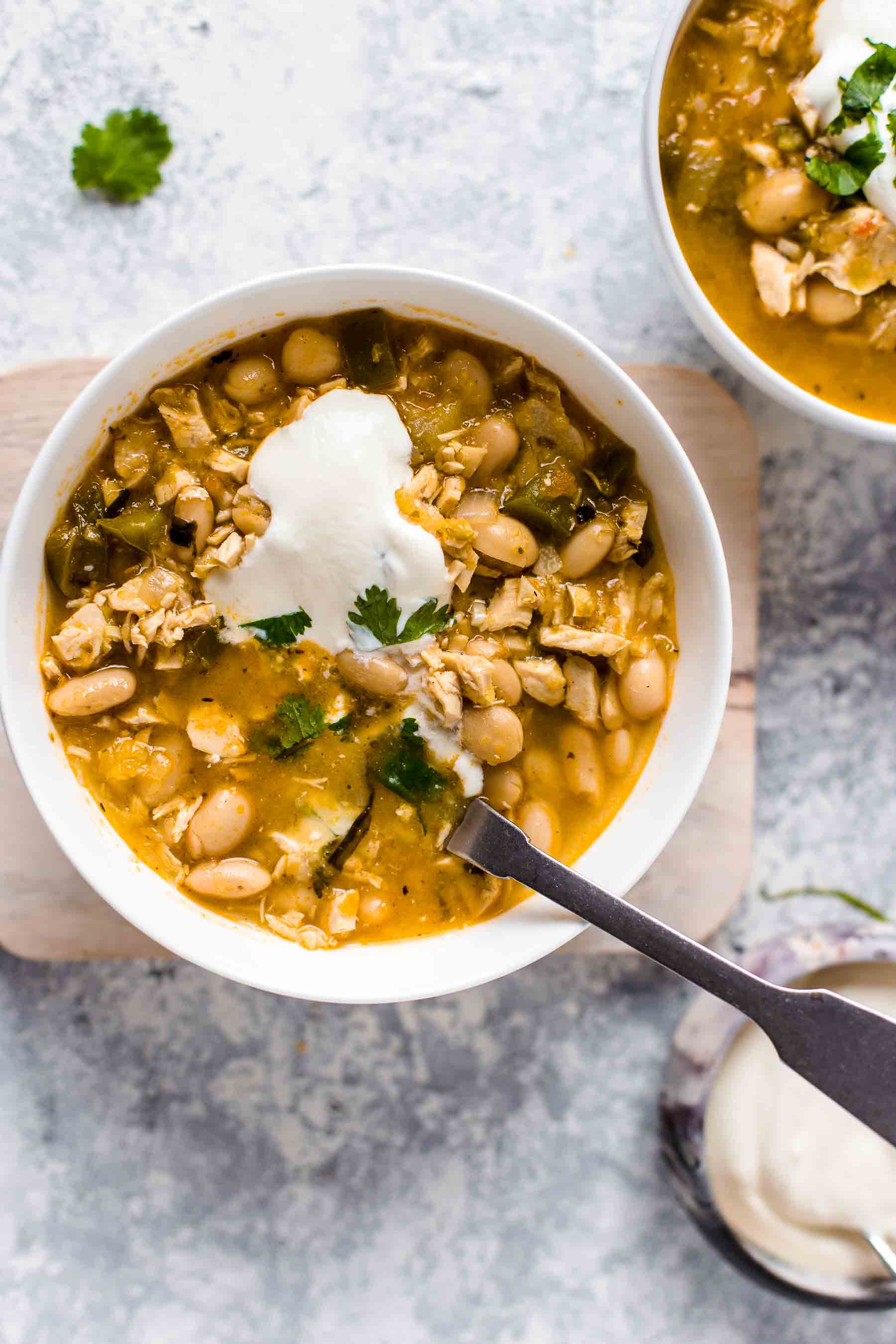 White Bean Chicken Chili (Spicy and Easy)
This easy white chicken chili is so deliciously spicy. Not only that, but this easy chicken chili can be made in just about 30 minutes, ready to eat!
I used to HATE jalapenos. I also used to hate cooking, but well…here we are now. Funny how things change! Now I cook constantly and I welcome all the spicy jalapenos!
This Spicy White Bean Chicken Chili is a staple at our house this winter. It's full of spicy flavor, and it only takes about half an hour to make. It doesn't get easier (or tastier) than this easy chicken chili!
Our Creamy White Chicken Chili (made with Cream Cheese), is another favorite around here. But this spicy chili recipe is even easier and quicker than that one. This easy white chicken chili is just perfect for weeknight dinners at home, and it tastes so amazing!
This Easy White Bean Chicken Chili will warm you right up! Make this spicy chili recipe to get you through the long winter season!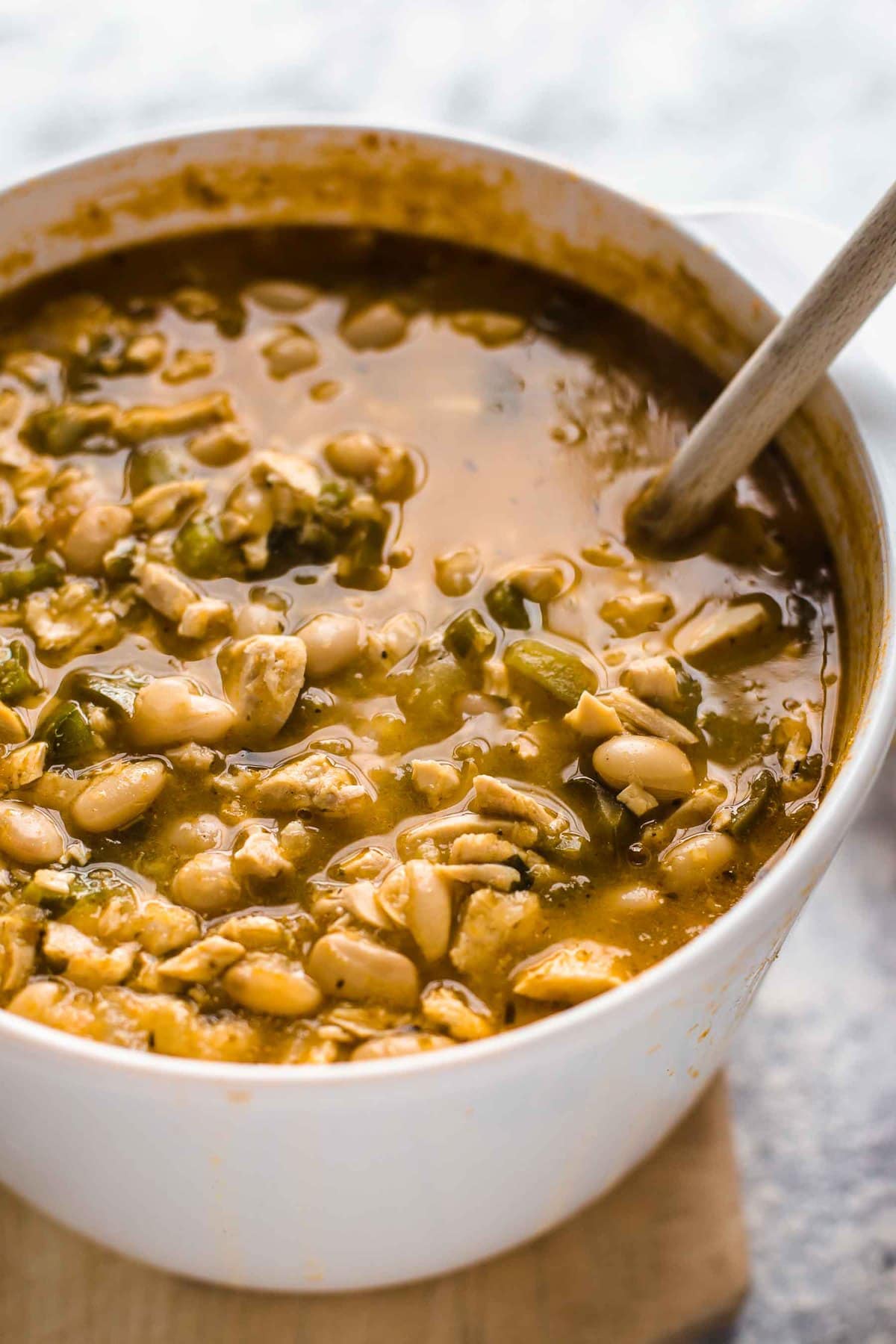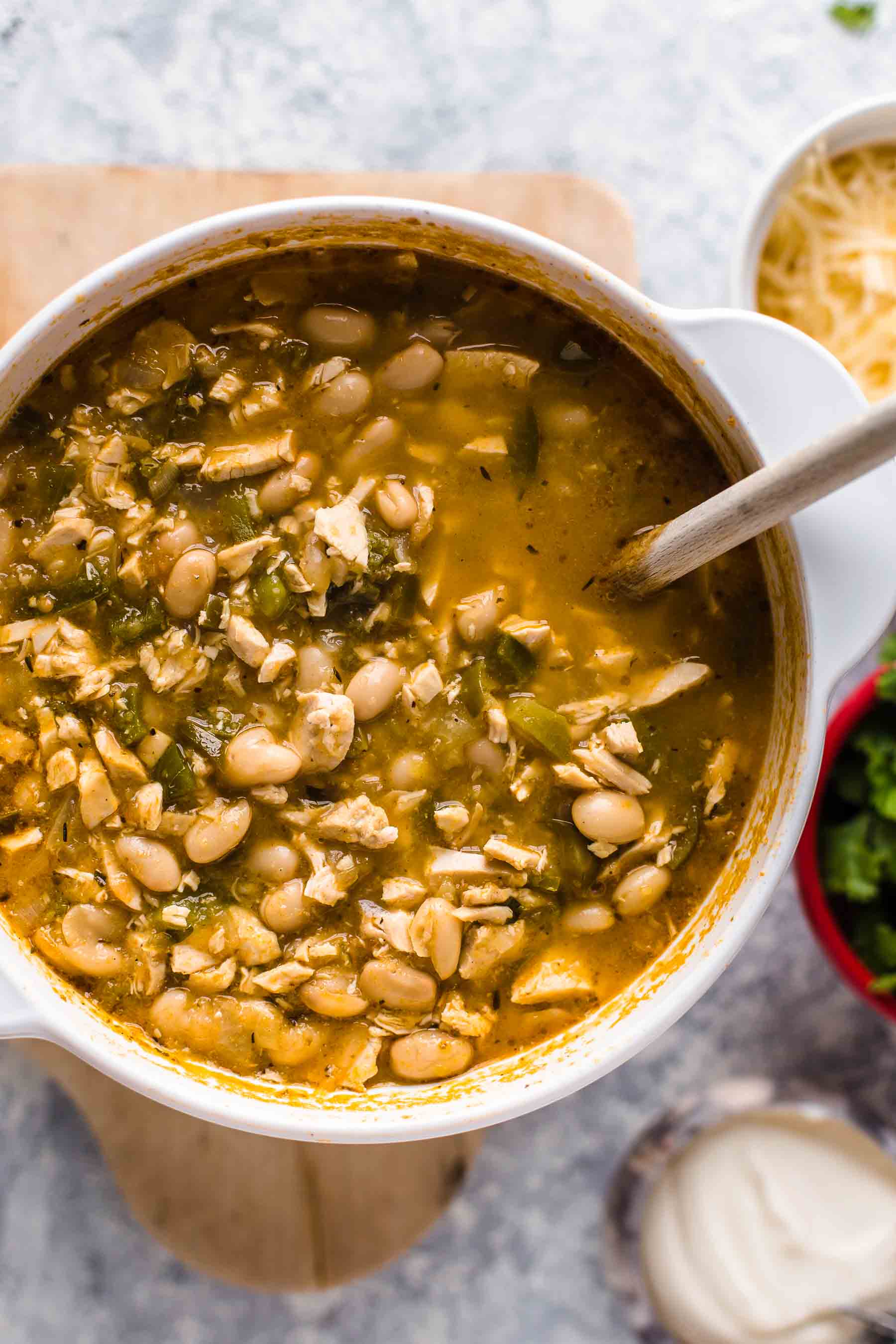 Easy and Spicy
I love chili recipes. They are a major staple around here during the winter months. This easy chicken chili is a favorite because…well, because it's easy!
There's nothing better than a white bean chicken chili that can be made in 30 minutes…except one that is also spicy, which this one is. Yum!
Spicy White Chicken Chili Recipe
Speaking of spicy…this spicy chili recipe is beyond delicious! A simple white bean chicken chili is great, but a spicy one is even better. I added chili powder, jalapenos, and poblano peppers to make sure it had some heat.
I even used a salsa with more jalapenos in it, because I just can't get enough. Can you blame me? When the weather outside is OH so frightful, all I want to do is curl up with a hot bowl of chicken and white bean chili.
If you REALLY like the spice, you can even add a bit more to this easy chicken chili. I used jalapenos and poblano peppers, but you could also use serrano chilis. And make sure you leave the seeds in the jalapenos to give it even more of a kick.
If you're looking to burn your mouth off, you've come to the right place!
How do you make chili less spicy?
If you're not a fan of the spice, you can certainly leave out the peppers and just stick with a regular white bean chicken chili. You could also remove the seeds from the jalapenos for just a bit of heat, but not too much.
I personally love the heat in this spicy white chicken chili, but I know some people don't like it. So don't worry, there are options!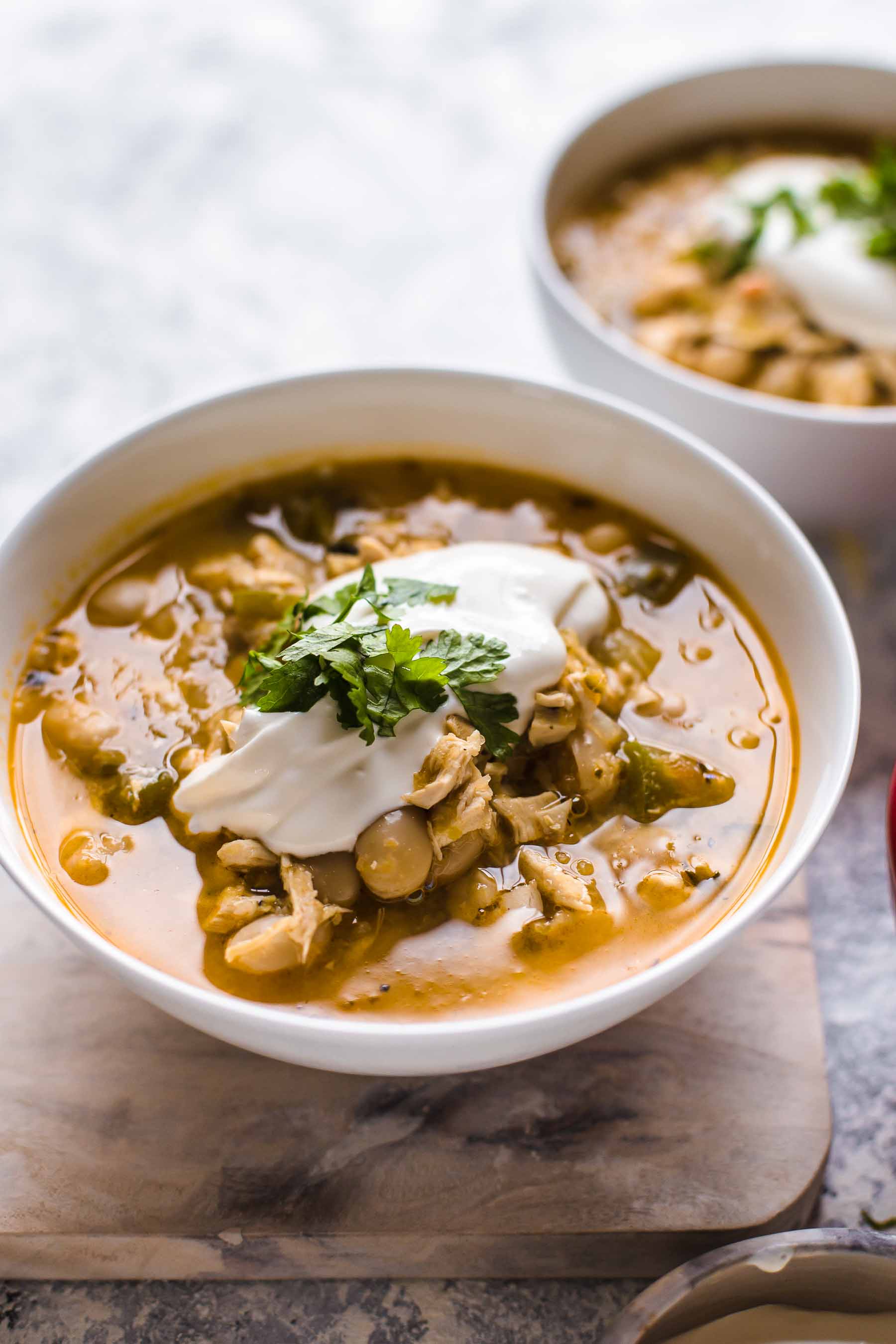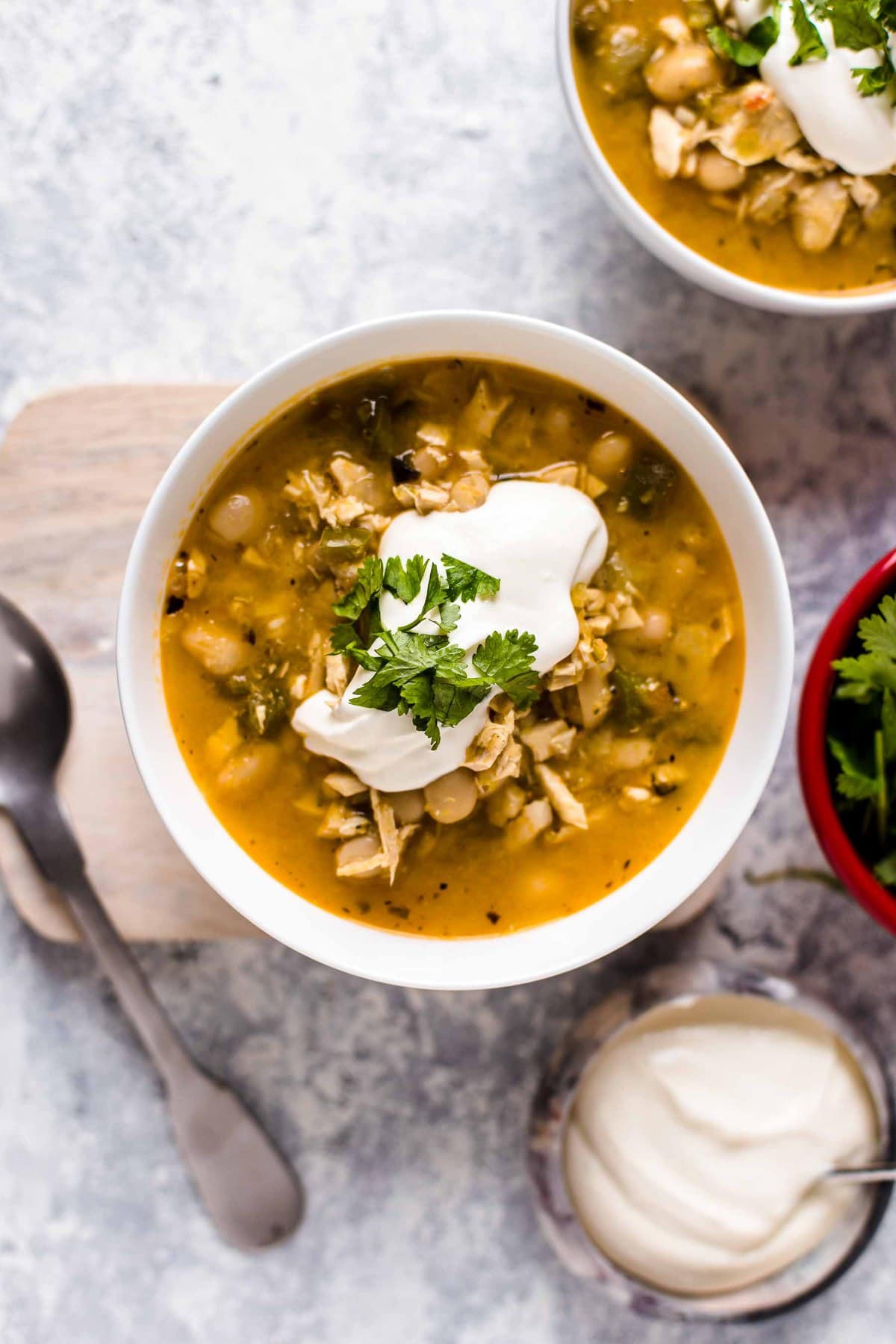 Spicy White Bean Chicken Chili Ingredients
So what's in this incredibly delicious, spicy, and EASY chicken chili? All the best ingredients, of course! Plenty of stuff to add heat, plus the tried and true for the perfectly flavored chicken and white bean chili.
Chicken Broth
Shredded Chicken (pre-cooked)
Northern White Beans
Jalapenos
Poblano Peppers
Salsa Verde
Chili Powder
Garlic
Onions
Cilantro
Poultry Seasoning
Be sure to see the recipe card at the bottom of the post for full ingredients and instructions.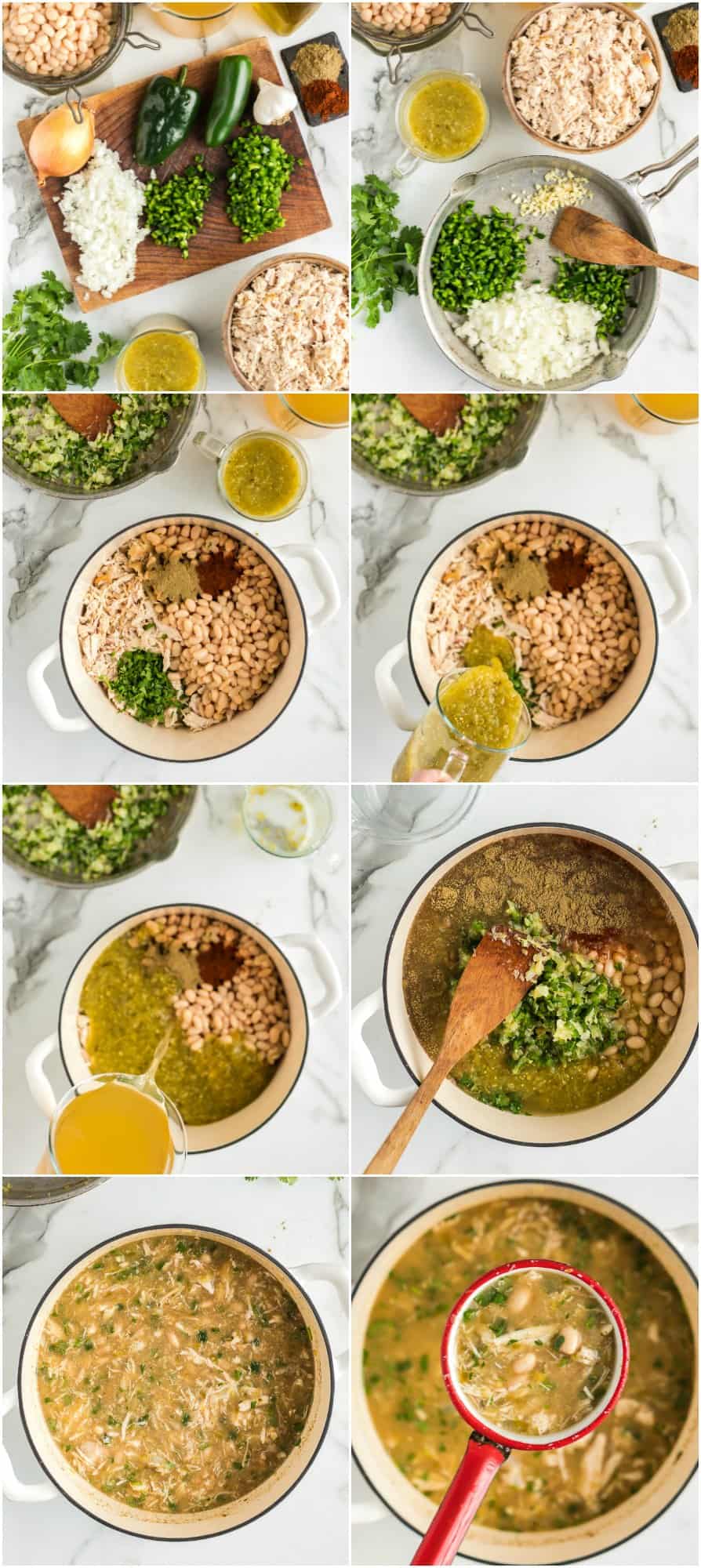 How to Make Spicy White Bean Chicken Chili
This Spicy White Bean Chicken Chili recipe is beyond simple. All you need is a few ingredients, a pot, and half an hour. Yup, there's a reason I called it EASY chicken chili. Take note that I used pre-cooked chicken for this recipe to save on time. You can pick up a rotisserie chicken or something similar at the grocery store, or use chicken you have cooked yourself.
How to Make White Chicken Chili:
Heat onion, peppers, and garlic in a skillet, just until the onions become transparent.
Add all ingredients to your pot, and bring the chili to a boil.
Cover the pot, reduce the heat, and let it simmer about 5-10 minutes.
Serve it up hot (and spicy) with all your favorite toppings. A big dollop of sour cream melts in perfectly to give this spicy chili recipe a nice creamy balance. I like adding a bit of shredded cheese and some sliced jalapenos too!
What kind of beans are white beans?
I used Northern White Beans for this white bean chicken chili, but you could substitute other types of white beans too. Cannellini beans, Navy Beans, White Kidney Beans would all work in this recipe.
Can you freeze cooked white chicken chili?
Yes, you can easily freeze this white bean chicken chili to save for later. Let the chili cool completely after cooking, and then pour it into freezer safe containers. I recommend portioning it before freezing, to make the thawing and reheating process easier.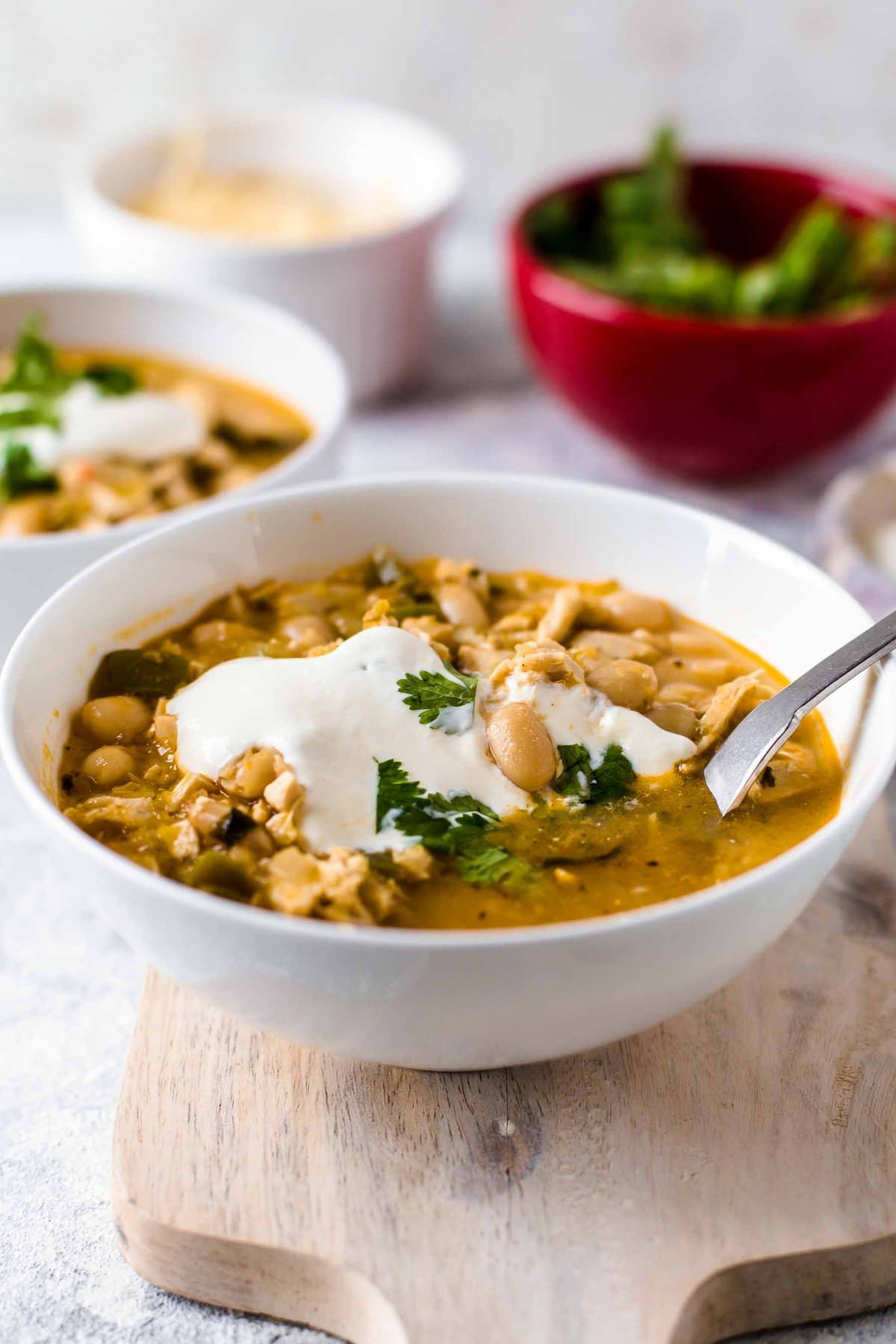 It's winter, so it's time to eat right! Nothing better than a hot, spicy white bean chicken chili that's ready in under 30 minutes. This easy chicken chili is right up my alley in every way!
If you like this spicy chili recipe, try some of our other chili recipes:
If you make this recipe be sure to upload a photo in the comment section below or leave a rating. Enjoy! You can also jump to recipe.