These homemade deep fried hush puppies are one delicious treat! Made with ground cornmeal, the batter is fried to crispy perfection.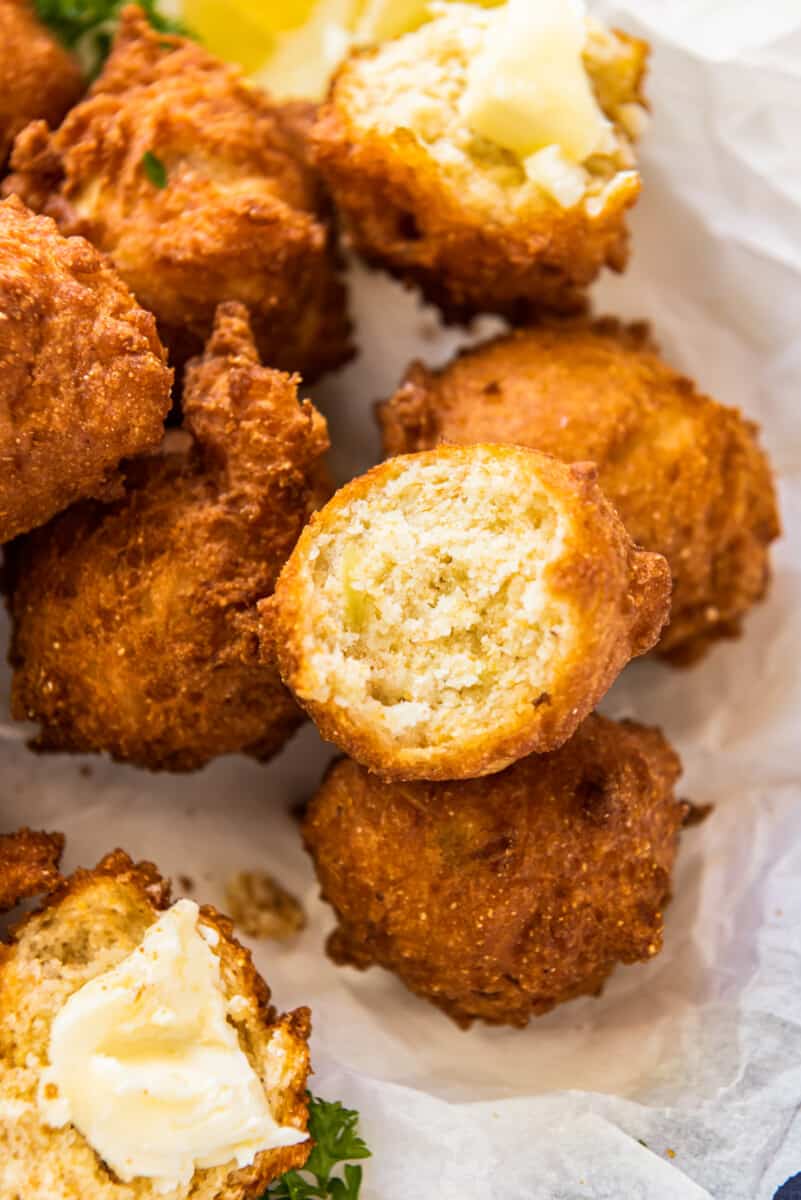 Homemade Hush Puppies Recipe
Great for snacking, or served up with your favorite Southern dishes like Shrimp Creole or Chicken Fried Steak with Gravy, these fried hush puppies are hands down delicious.
Quick and easy to make, they are wonderfully crispy on the outside and soft and fluffy in the middle. I'm pretty sure these will become your new favorite recipe!
Why You'll Love this Deep Fried Hush Puppy Recipe:
Quick and Easy: Simple to make with basic ingredients, it's quick to make a batch before they are fried.
Simple Ingredients: Made with a few pantry staples, you can whip these up whenever the craving strikes!
So Delicious: The bread batter is perfectly seasoned and slightly sweet. Made with buttermilk they have such a wonderful flavor.
Treat yourself and cook up a batch of these fried hush puppies, you'll be so glad you did!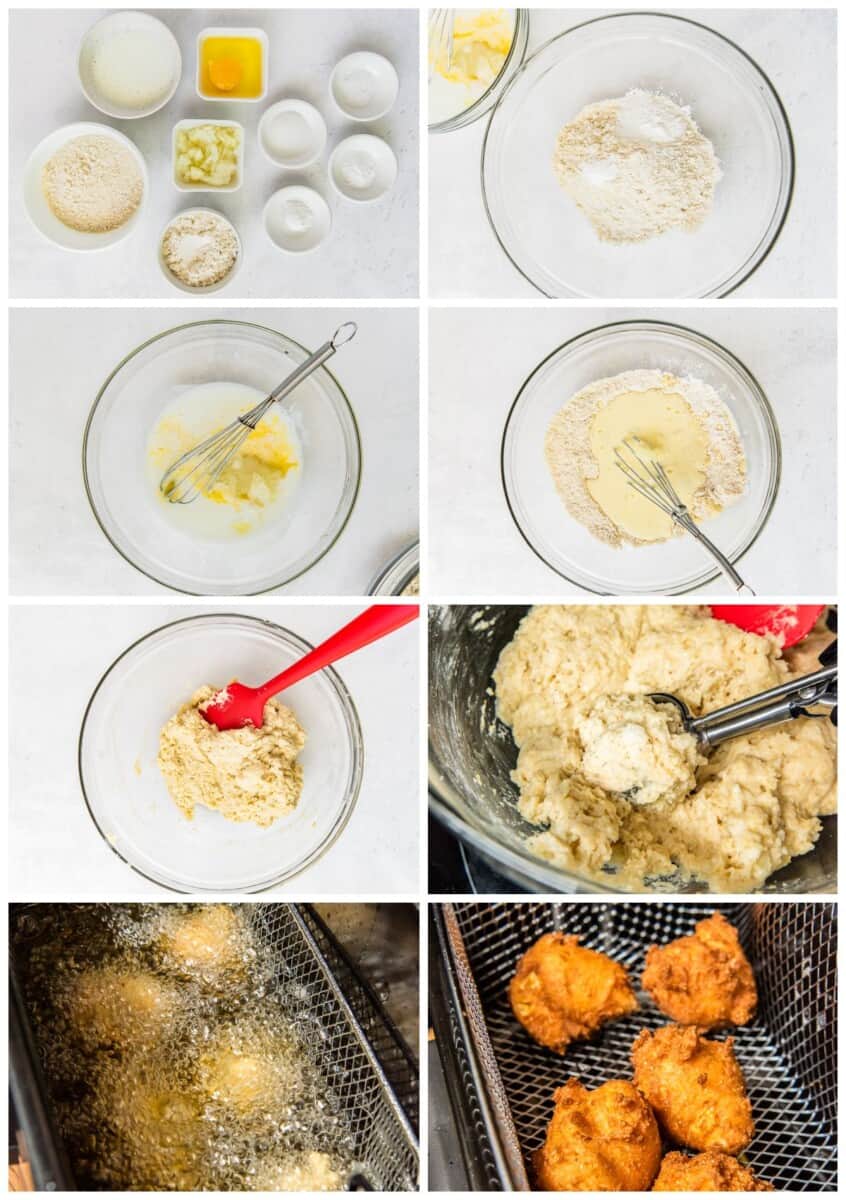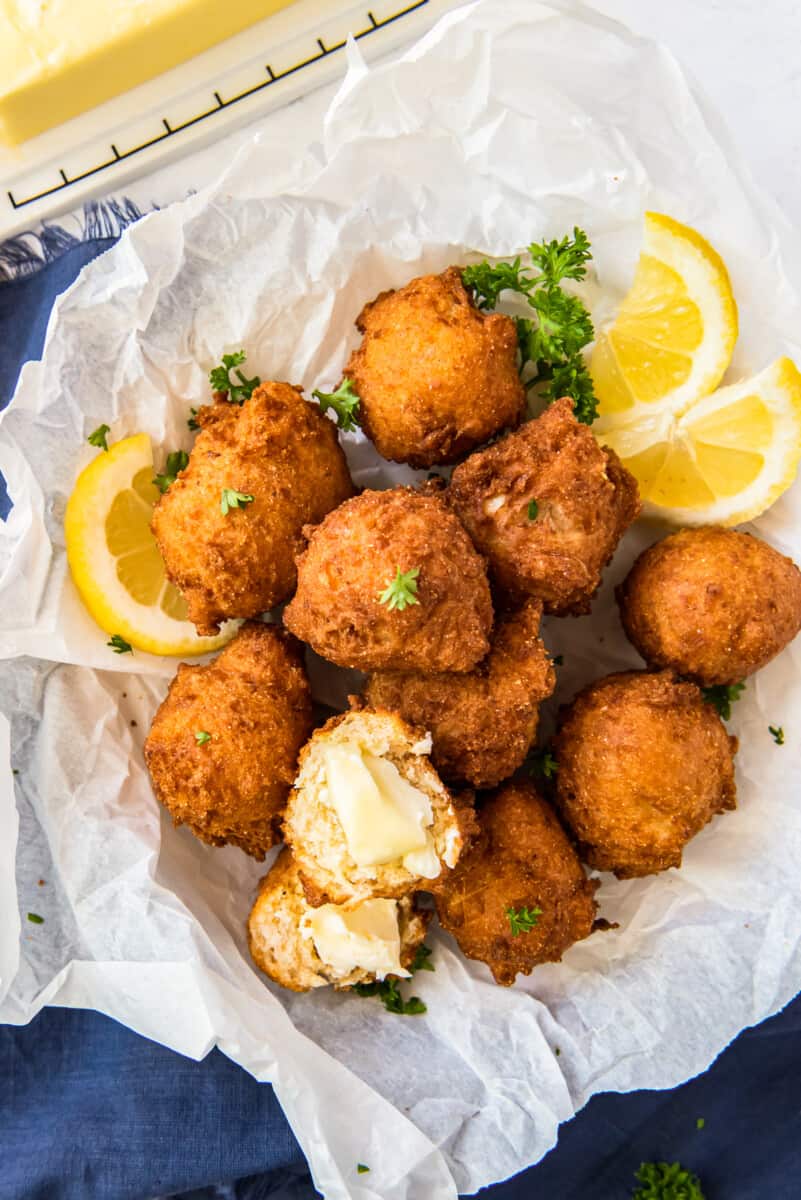 How to Make Fried Hush Puppies at Home
You can jump to the recipe card for full ingredients & instructions!
Mix the dry ingredients in one bowl and the wet in another.
Combine the wet and dry ingredients.
Scoop into balls and fry til golden.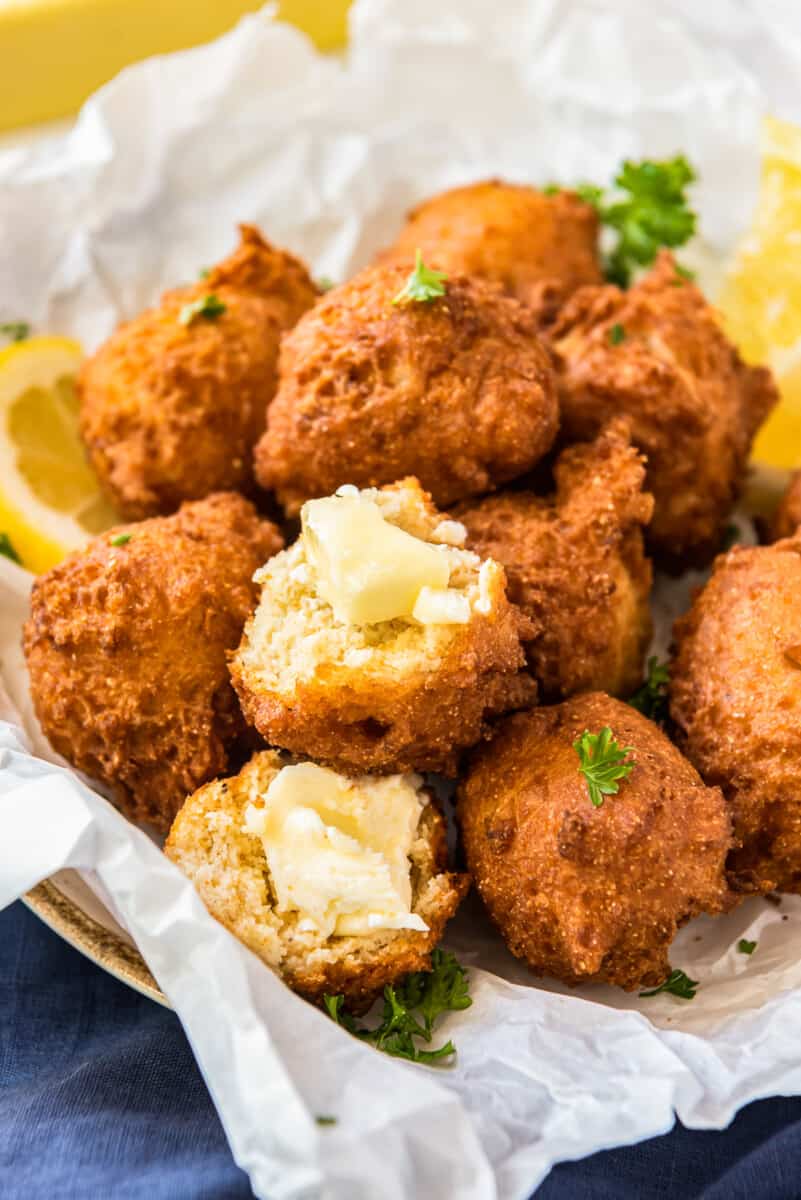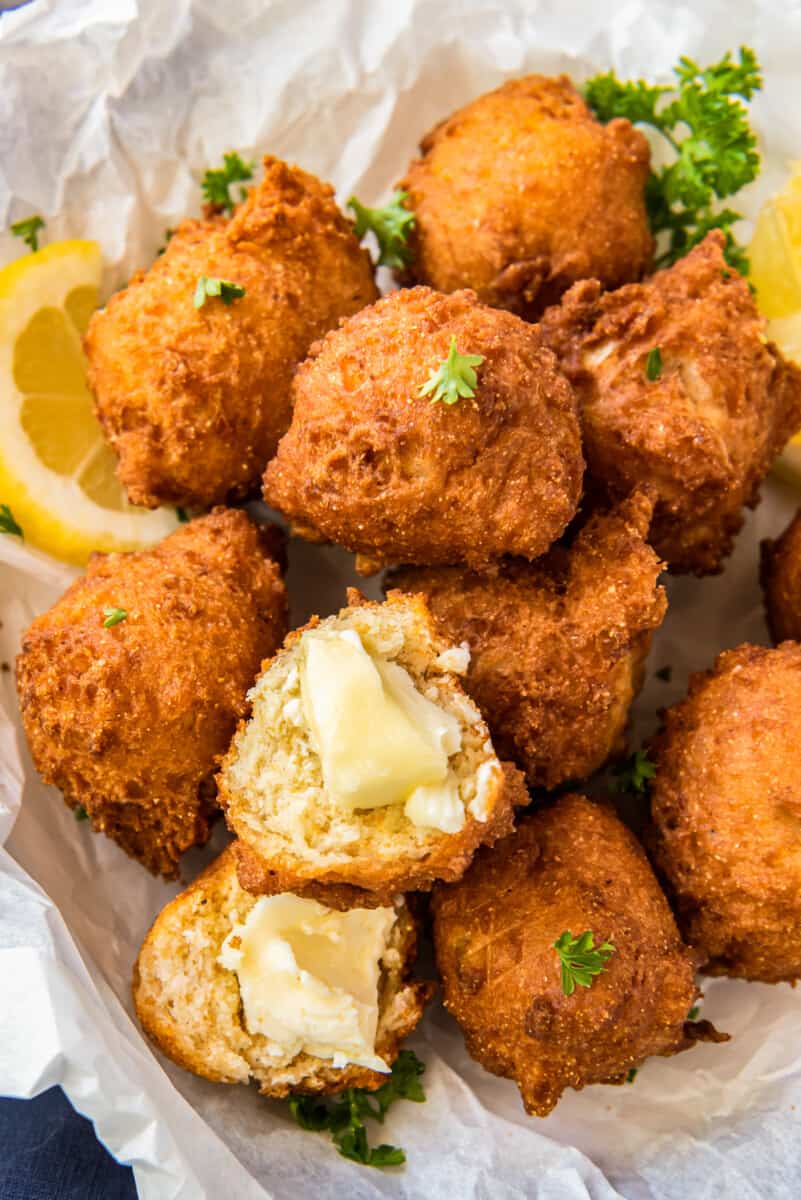 Can you make hush puppies in an air fryer?
I find that deep-frying yields the best results, as air frying can make these quite dry. If you do want to try the air fryer, cook them at 390°F for around 10 minutes, and spray them well with oil.
Can you shallow fry rather than deep fry?
These hush puppies need to be submerged in the oil, and shallow frying is not a great method. They are more likely to fall apart as they are cooked, and it's tricky to cook them evenly with this method.
What other ingredients can you add to hush puppies?
You can easily add other ingredients to your hush puppy batter to suit your tastes. Fold in some shredded cheese or add in some diced jalapenos for a spicy kick.
Can you make hush puppies ahead of time?
You can make the hush puppy batter a day ahead of time and keep it covered in the fridge. Fried hush puppies will keep well for 3-4 days and can be reheated in the oven at 400°F for 10 minutes to warm them through and crisp them back up.
Serving Suggestions
These hush puppies are delicious served with butter and honey as a tasty snack, or serve them up with your favorite Southern-style mains or fried fish as a side.
However you enjoy them, this recipe is a real crowd-pleaser!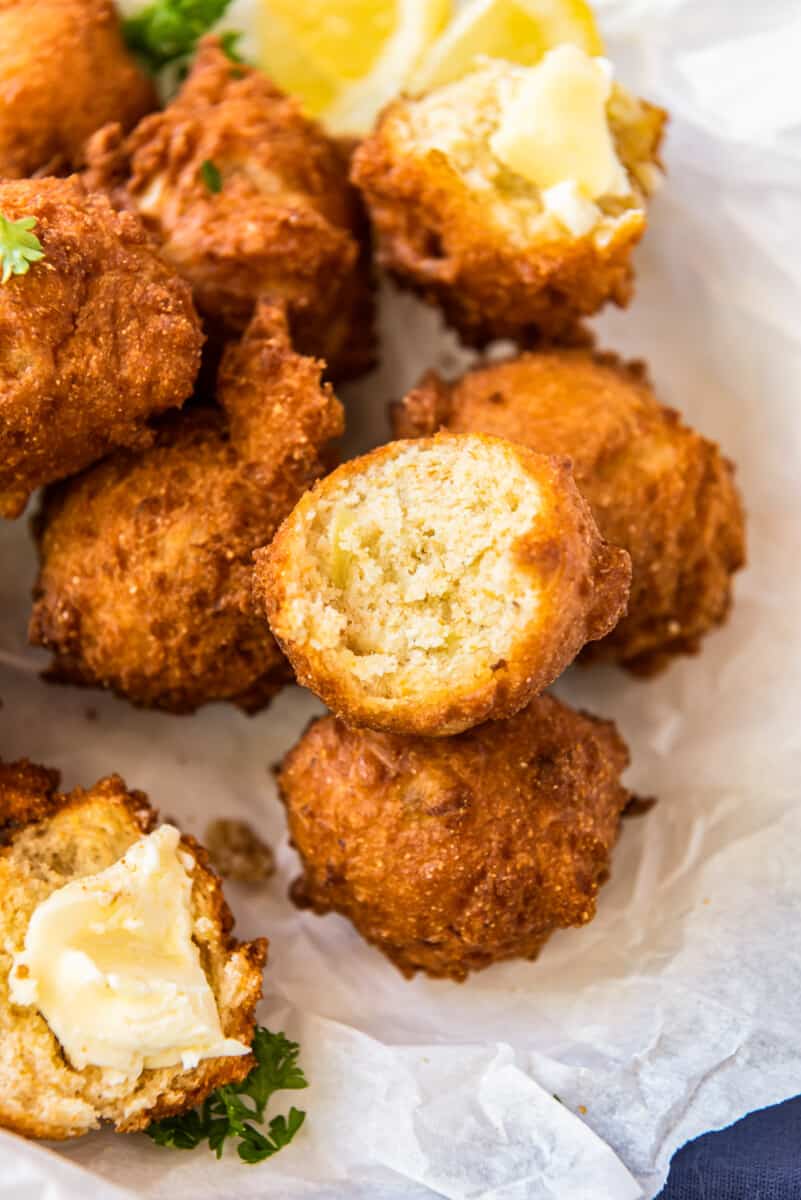 Tips!
Make sure the oil is hot before adding the hush puppy batter. It should register at 365°F.
Don't over-mix the batter or the gluten can overdevelop which can cause dense and chewy hush puppies. The flour should be just combined.
Each hush puppy should be made of around 2 tablespoons of batter. Don't make them too big or they won't cook through evenly.
These hush puppies are so quick and easy to make. They make a wonderful addition to any meal!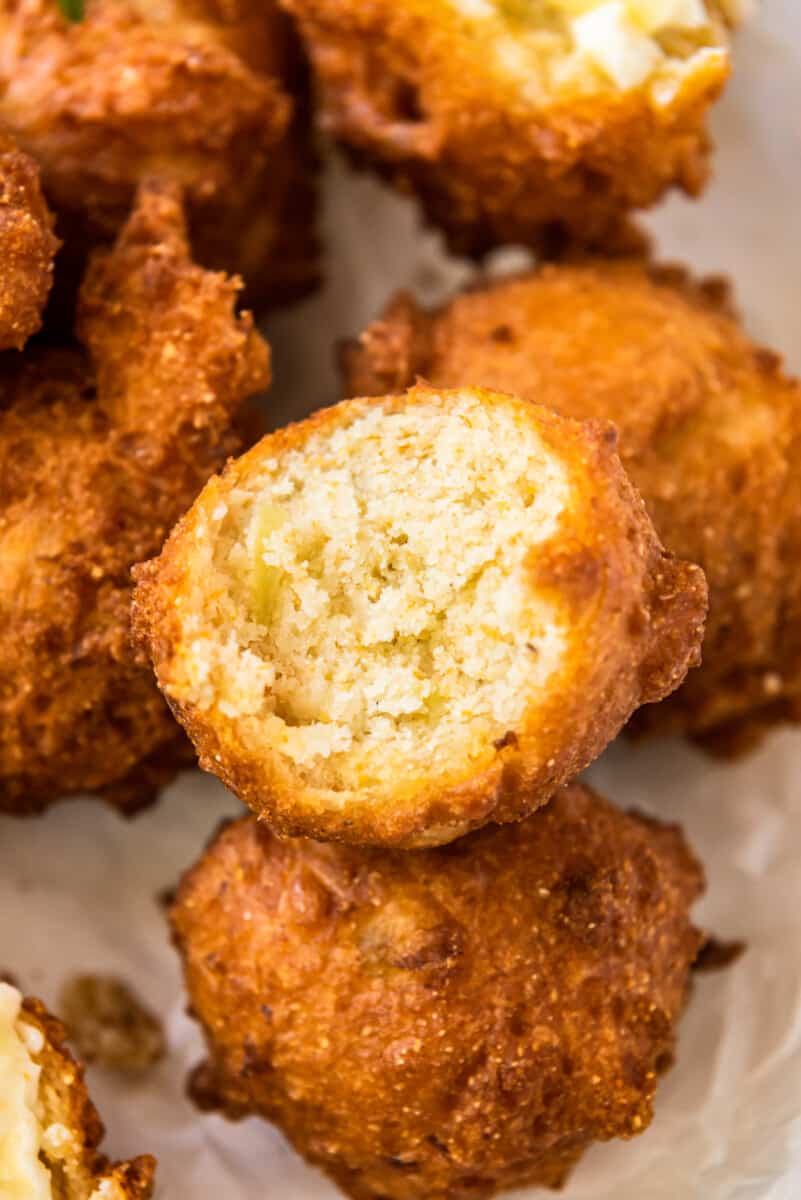 These deep-fried hush puppies are one delicious Southern treat that everyone will love. Crispy and soft and extra addictive!
If you make this recipe be sure to upload a photo in the comment section below or leave a rating. Enjoy! You can also jump to recipe.