Toasted Ravioli is a classic St. Louis appetizer that deserves worldwide recognition. These deep fried raviolis are crispy, flavorful, and absolutely addicting! This easy fried ravioli recipe is perfect for parties, pre-dinner apps. or pretty much any occasion. Just dip them in marinara sauce and enjoy!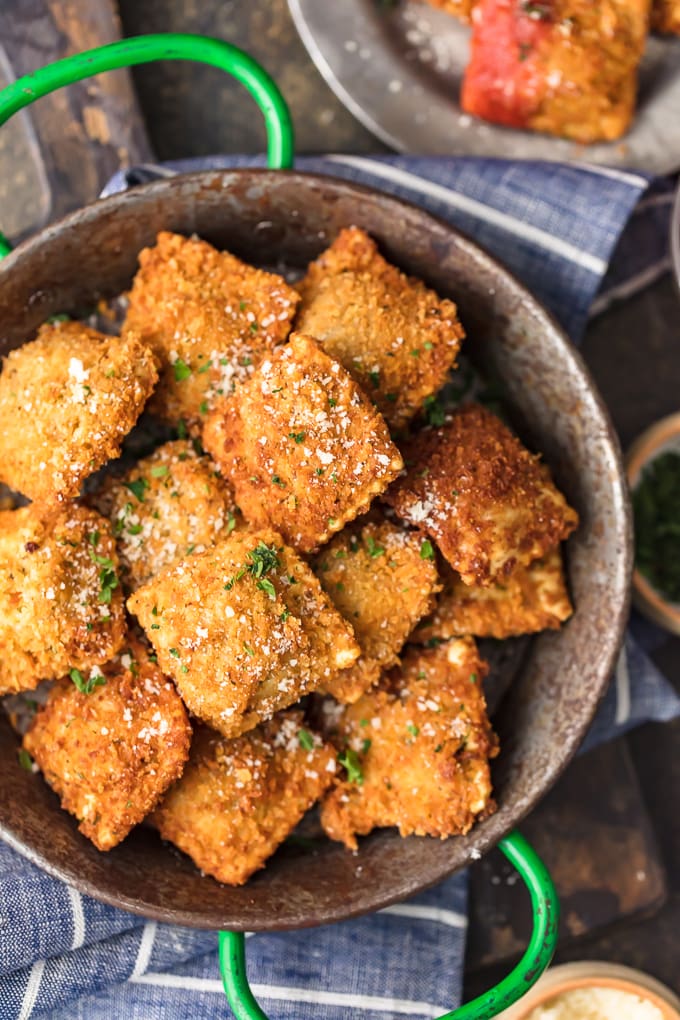 Toasted Ravioli
Toasted Ravioli is one of the most delicious (and most addicting) appetizers. This deep fried ravioli recipe will impress anyone and everyone!
If you're from St. Louis, then you already know about the heavenly deep fried appetizer that is Toasted Ravioli. But for everyone else in the world, this one may be totally new to you. If that's the case, then I'm really excited to introduce you to something SO delicious, SO crispy, SO addicting…quite possibly the best appetizer in existence: deep fried ravioli!
Imagine ravioli stuffed with cheese or beef, deep fried in breadcrumbs, and then dipped in marinara sauce. It's crispy and crunchy, super savory and cheesy, hot and fresh.
It's everything you could want in an appetizer! St. Louis style toasted ravioli is a big hit around here, and I think it'll be a hit in your home too.
These deep fried raviolis are perfect for parties (these are a great Super Bowl appetizer) because they're the perfect size. Just grab, dip, and pop in your mouth! They'll fly off the plate, so make plenty. They're also a great pre-dinner appetizer, something to enjoy before pasta. And if you're really feeling it, they make a great dinner too!
You're about to fall in love with these St. Louis Toasted Raviolis. You won't be able to stop eating them!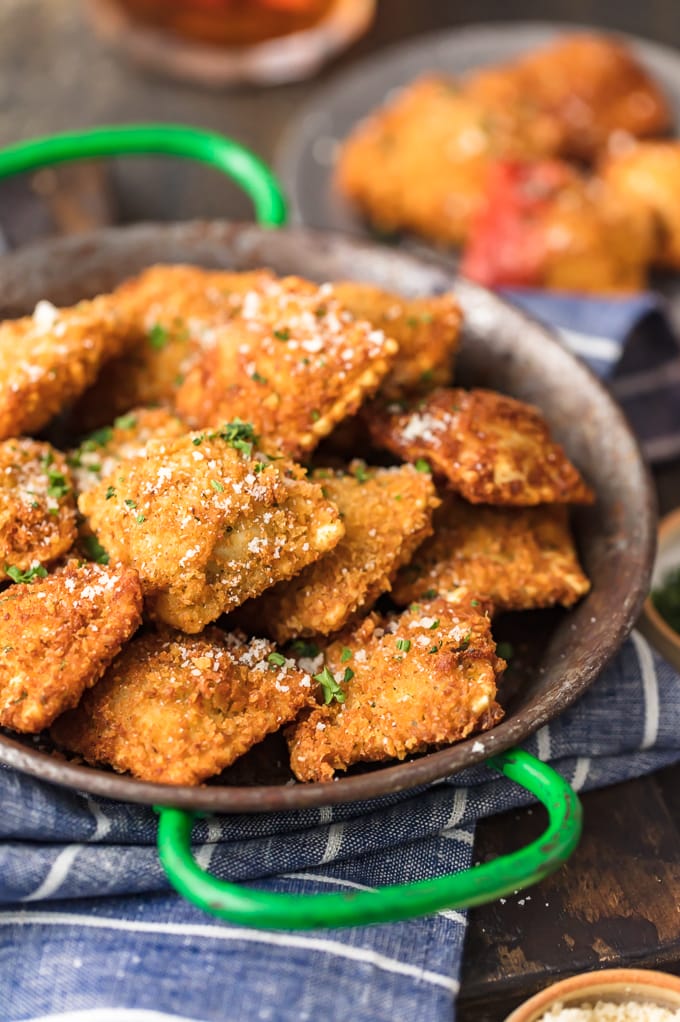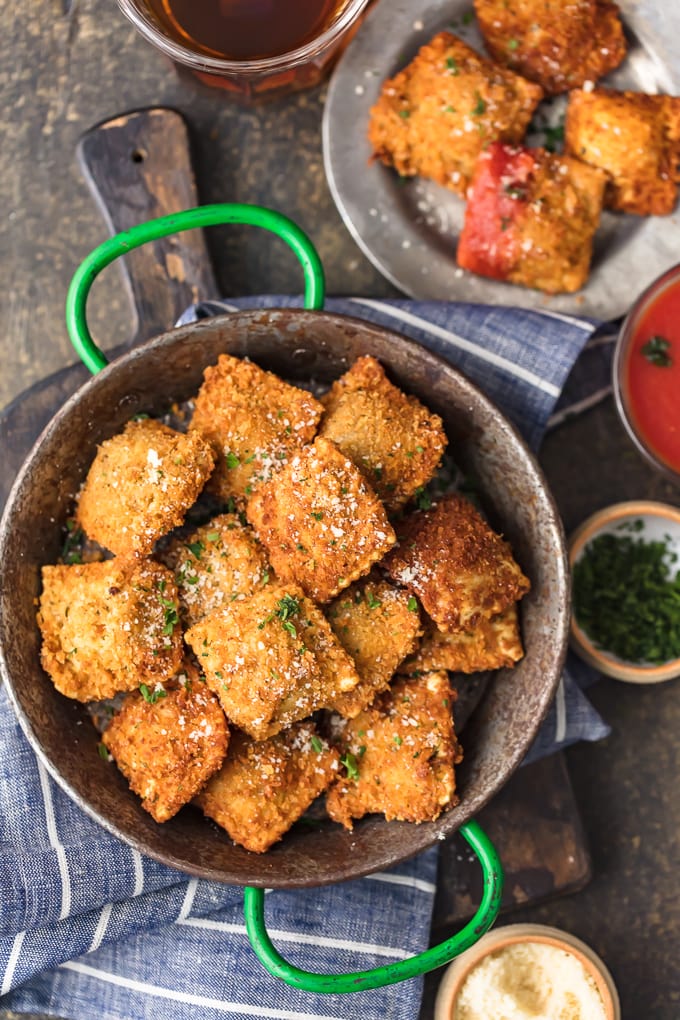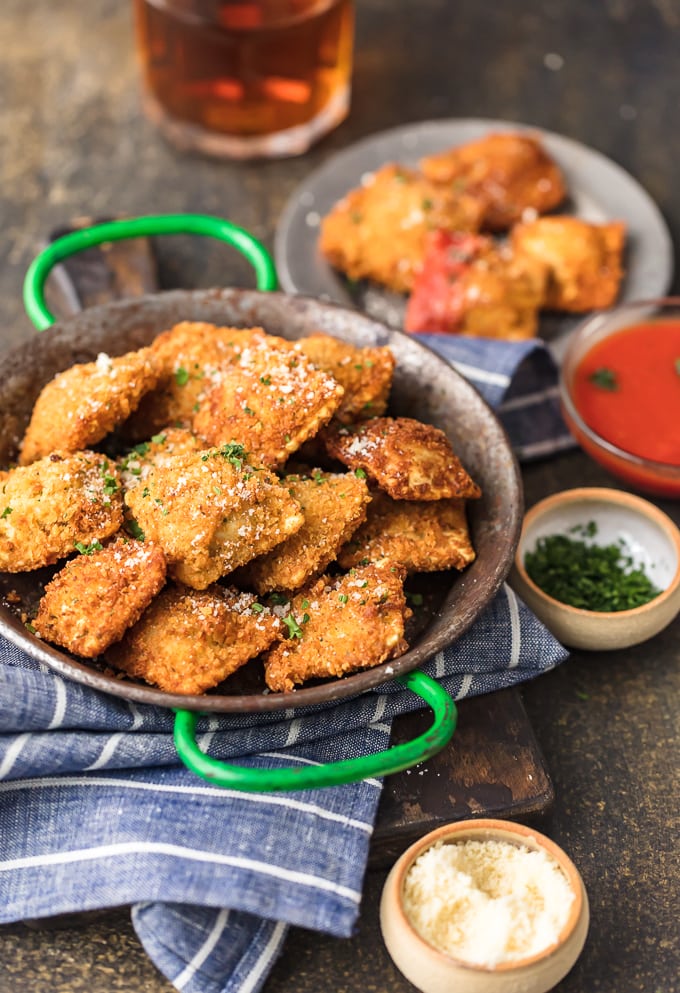 Deep Fried Ravioli Recipe
What's not to love about deep fried foods? It seems like you could drop just about anything in a fryer and it would probably taste pretty good. I don't want to test that theory out on my own, but I'm glad other people do.
Toasted ravioli is the perfect example of something unexpected being deep fried and turned into a delicious appetizer. Fried ravioli doesn't seem particularly crazy to me, but I know plenty of people have never even considered it. Trust me though, this is a fried appetizer you NEED to try.
What is toasted ravioli?
Toasted Ravioli is just like regular ravioli, but deep fried. This tasty app was invented in St. Louis, a happy accident. Story has it that someone dropped a ravioli in a fryer, and ended up with this fried ravioli…the rest is history! It was too good not to keep making, and I for one am very grateful for this accidental dish.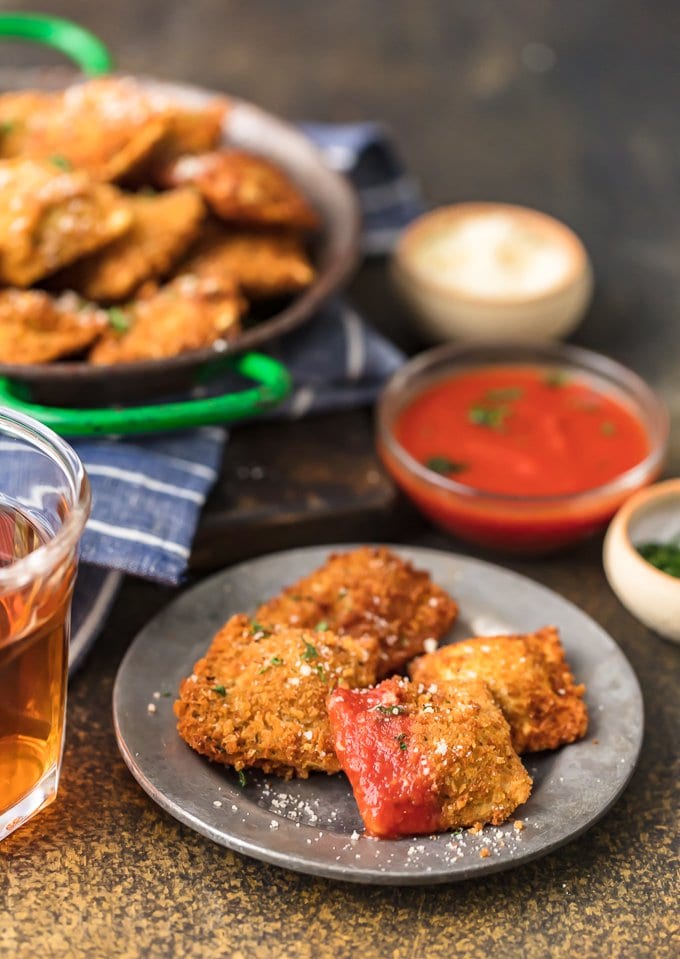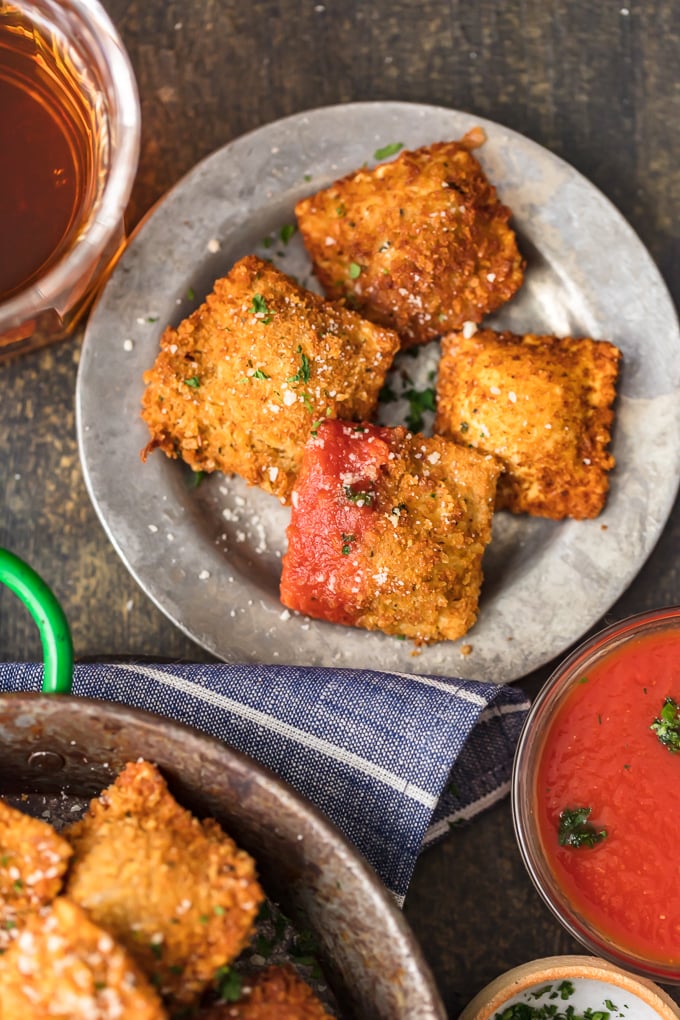 How to Make Fried Ravioli
Deep fried ravioli are really easy to make. You don't need a deep fryer or any fancy equipment, just a frying pan, dutch oven, or something you can heat oil in. The best part is you don't even have to make the ravioli; just buy them pre-made from the store (fresh or frozen), and start frying!
How to Make Toasted Ravioli:
Heat oil in a frying pan until it reaches 325°F.
Whisk together milk and eggs in a small bowl. In another bowl, combine both types of breadcrumbs.
When oil is hot, you're ready to start frying!
Dip each ravioli (one at a time) in the milk/egg mixture, then cover it completely in breadcrumbs. Carefully place it in the hot oil.
Repeat the process, frying 3-5 raviolis at a time. They should take about 3 minutes to fry up. Stir and flip each one as they cook so that both sides get fried and crispy.
Once they're done cooking, remove them from the pan and place them on the prepared rack to cool while you cook the others.
These fried ravioli are a great thing to prepare ahead of time if you're planning to serve them at a party. The frying process probably isn't something you want to do right before your guests arrive. So fry them all up, set them in the refrigerator, and then just heat them up in the oven before serving.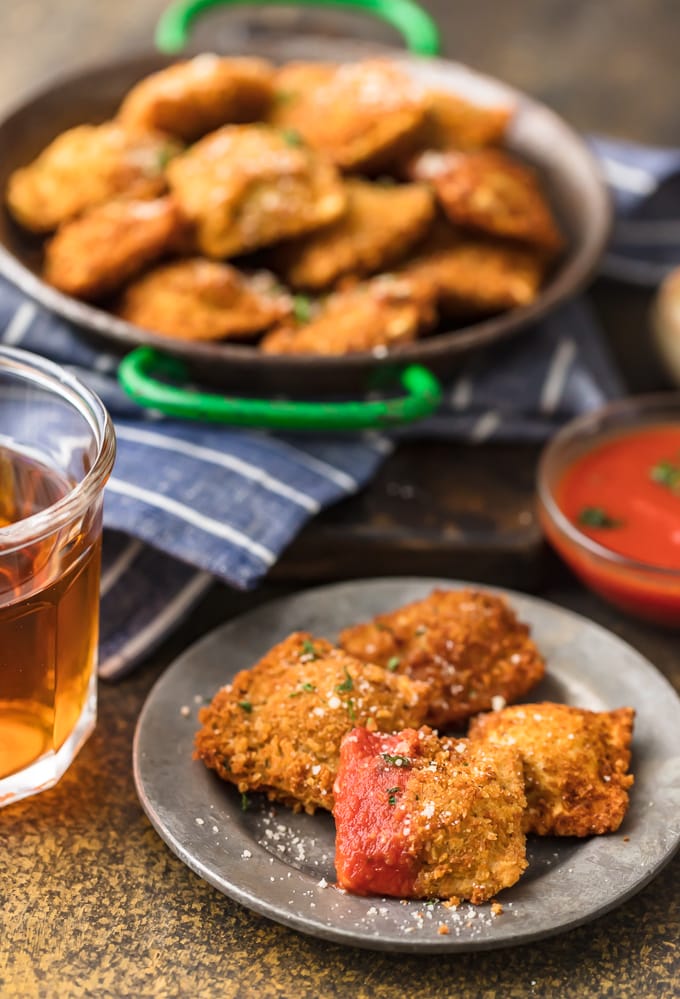 Can you freeze toasted ravioli?
Yes, you can freeze toasted ravioli after it's been deep fried. Make sure they cool completely before storing them. Place them in a freezer-safe container and freeze up to 2-3 months.
How do you reheat fried ravioli?
To reheat fried ravioli: Place the raviolis on a rimmed baking sheet, and bake for 10-15 minutes at 375°. Reheating in the oven is always best so that you don't get soggy ravioli. Nobody likes that!!
Dipping Sauces for Fried Ravioli
Toasted ravioli is good on its own, but the dipping sauce is what really makes it AMAZING. Classic marinara sauce is a must if you're going to serve these, but you can give people some other options as well.
Using honey mustard and ranch are simple dipping sauce options, and something cheesy will really add an addicting twist. If you want your sauce a little chunkier, try this Crockpot Spaghetti Sauce!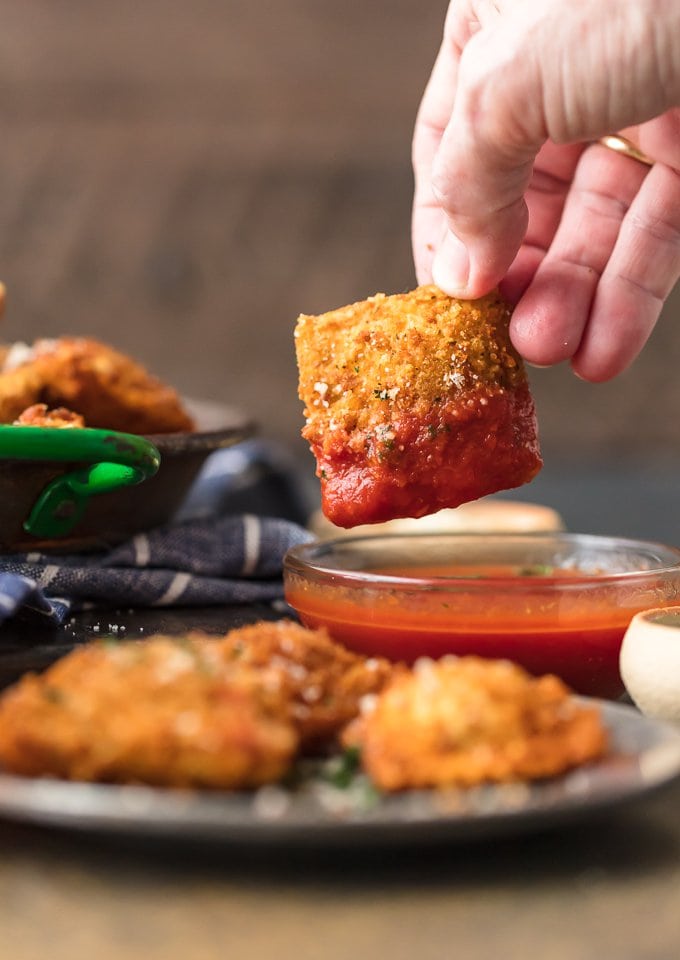 Toasted Ravioli are one of the best appetizers, and I can't wait for you to try them. Everyone will love these delicious deep fried raviolis!
If you like this recipe, try these other delicious appetizers: