Easy to make, this fritos popcorn chicken recipe is the real deal! Deep fried for maximum flavor and crunch, they are perfect to serve as an appetizer or part of a main.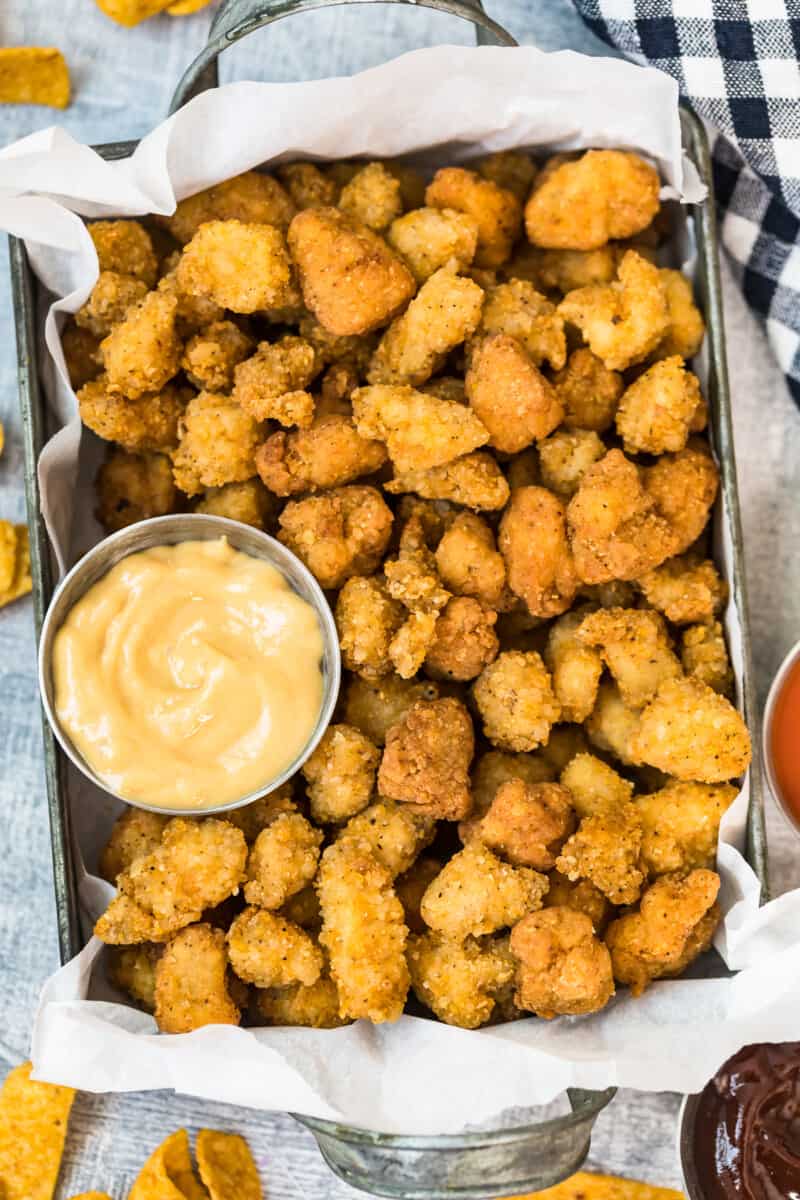 Fritos Crusted Popcorn Chicken Recipe
Homemade popcorn chicken gets a makeover with this recipe!
Coated with a seasoned fritos breading and deep fried, they are super crispy and tender and bold in flavor.
Great to serve as a game day appetizer or as part of an easy weeknight dinner, they make for one tasty bite!
Be sure to try my Baked Chicken Nuggets and Buffalo Chicken Bites.
Why you'll love this Fritos Popcorn Chicken recipe:
KID FRIENDLY: If you have picky eaters in your home, I'm pretty sure they'll love these! Fun to eat and kids of all ages love them.
EASY: These are pretty straight forward to make and they are quick to cook, so they're a great option when you are short on time.
SO CRISPY! These chicken bites are coated with Fritos and then fried for one super crispy bite.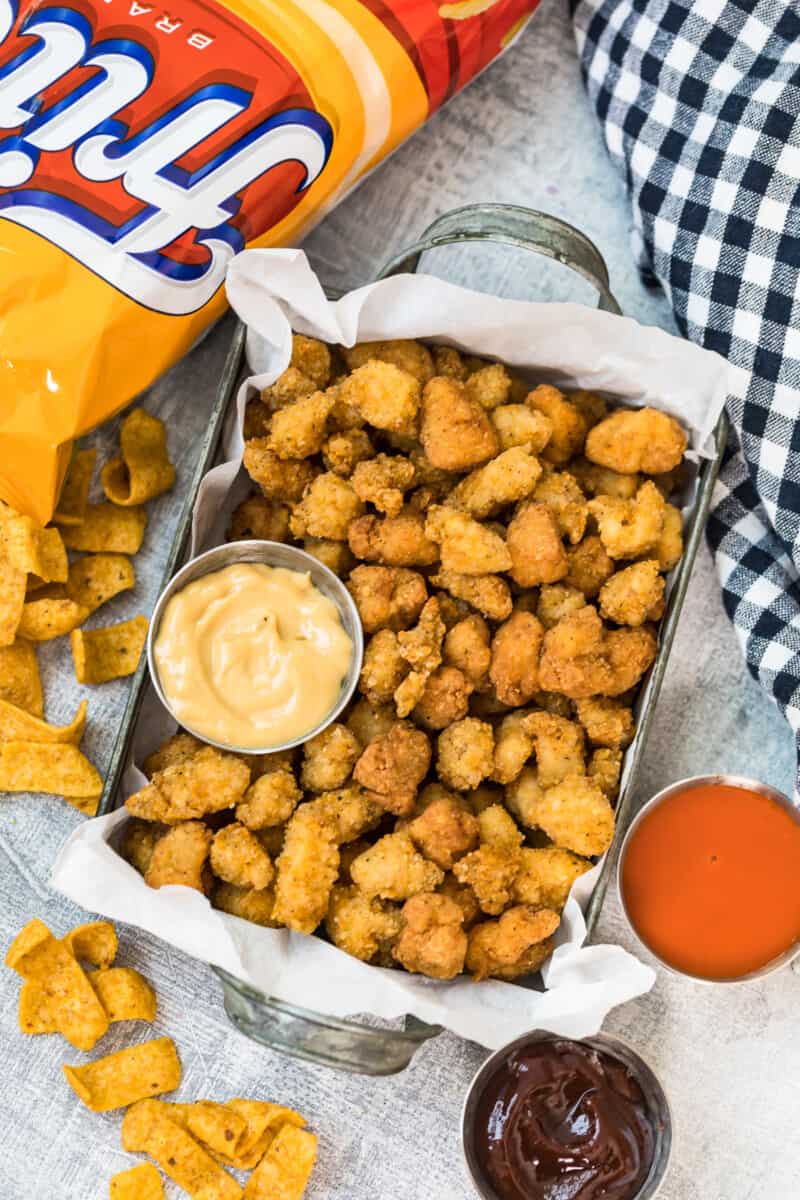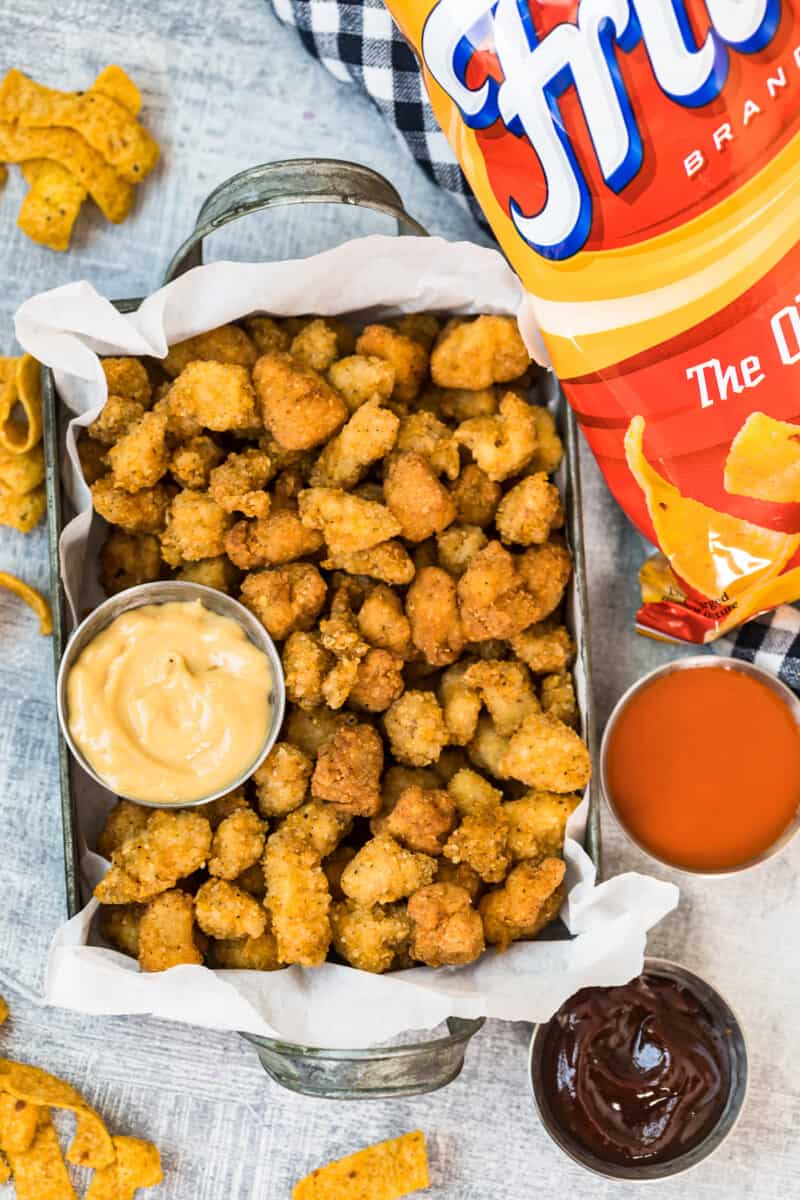 How to make Fritos Crusted Chicken Bites
You can jump to the recipe card for full ingredients & instructions!
Cut and season the chicken.
Place into a bag and pour over the slurry.
Whisk together the flour and seasonings and mix in the water and Fritos.
Coat the chicken pieces in the frito mix and place on a baking sheet.
Heat the oil.
Fry the chicken in batches, drain on paper towel and serve!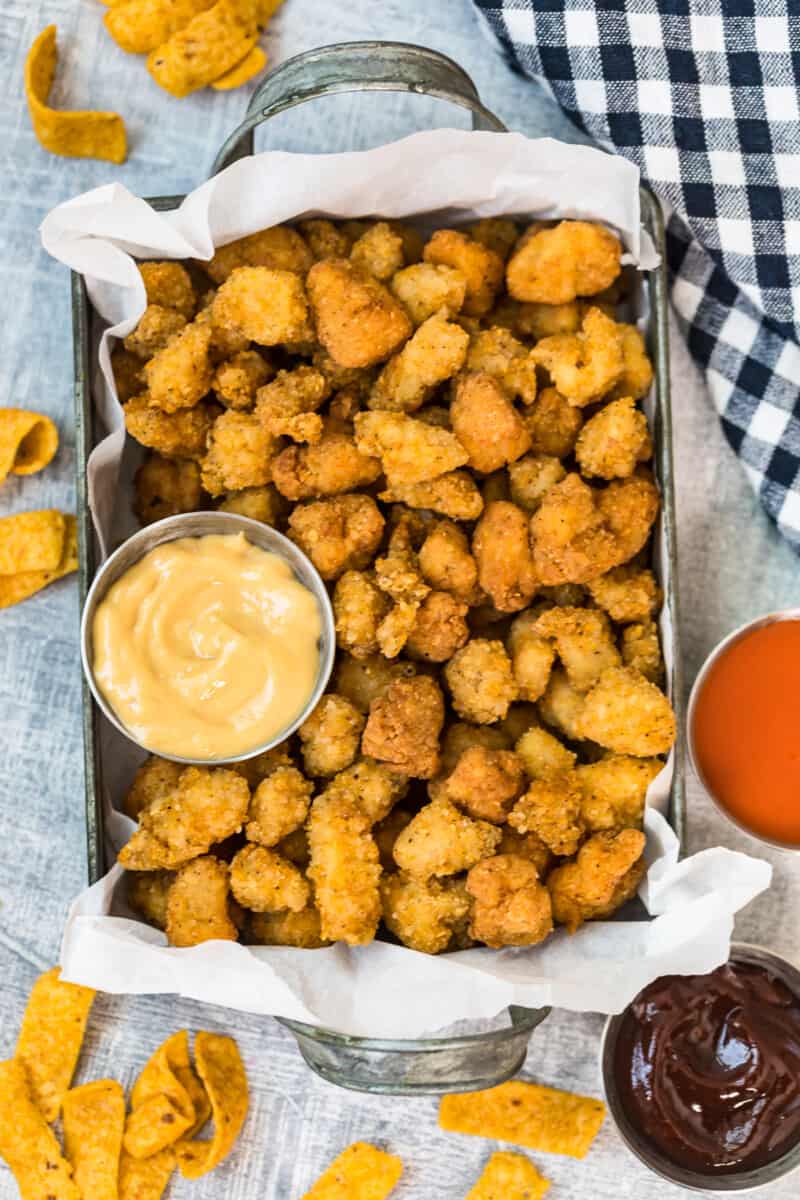 What's the best cut of chicken to use?
Chicken breasts, rather than thighs, are best to use for this popcorn chicken. Thighs take longer to cook through, so you can risk having undercooked chicken or a burnt coating.
You can use chicken tenders if you have those.
Can you oven bake them?
I much prefer to fry my Fritos popcorn chicken so they get super crispy, but you can bake them if you prefer.
Place the coated chicken onto a foil lined baking sheet and bake at 400F for 15 to 20 minutes until cooked through and golden brown.
What do you serve them with?
This popcorn chicken is great to serve with your favorite dips like ketchup, chick-fil-a-sauce, BBQ, ranch or blue cheese. You can also serve them as a main meal with fries and a side salad.
They are also great to enjoy in wraps!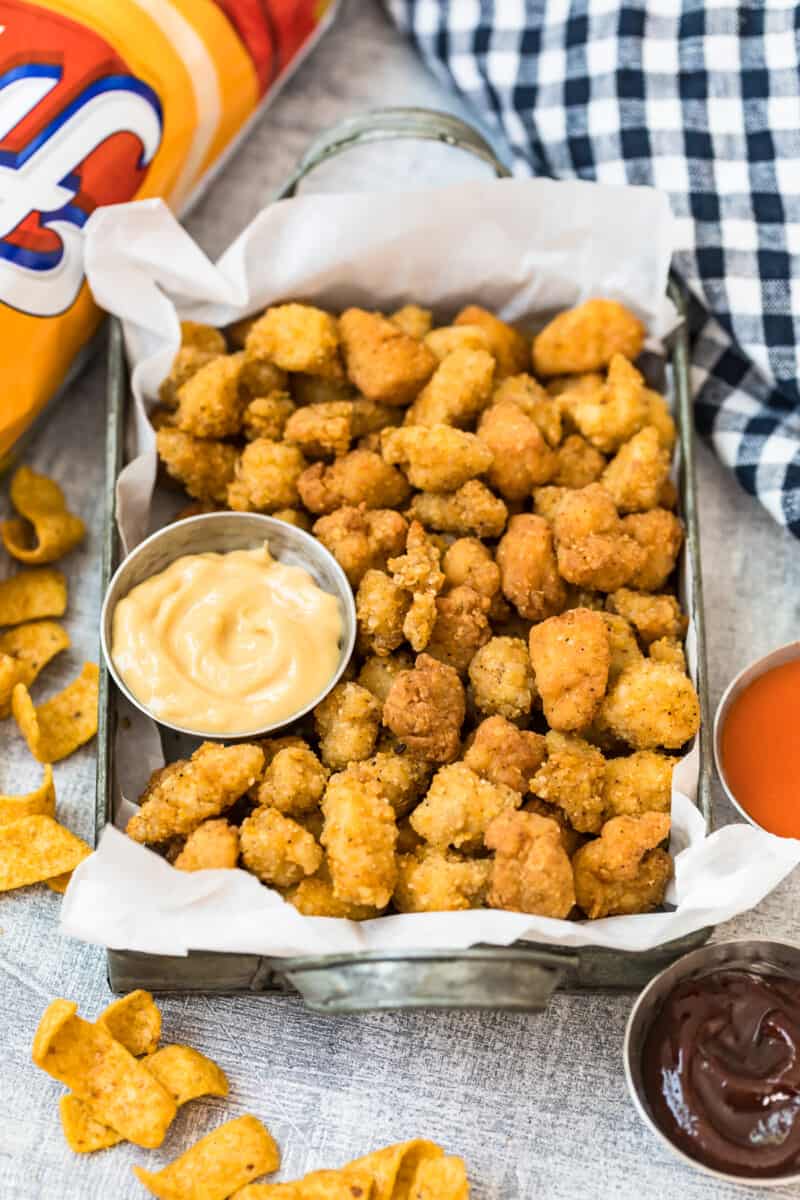 Tips!
Don't overcrowd the pot when you fry the chicken or the temperature of the oil will drop. Cook them in a couple of batches.
Fritos popcorn chicken is best enjoyed as soon as it's made. Reheating them can cause them to become less crispy.
Cut the chicken into similar sized pieces so that it cooks evenly through.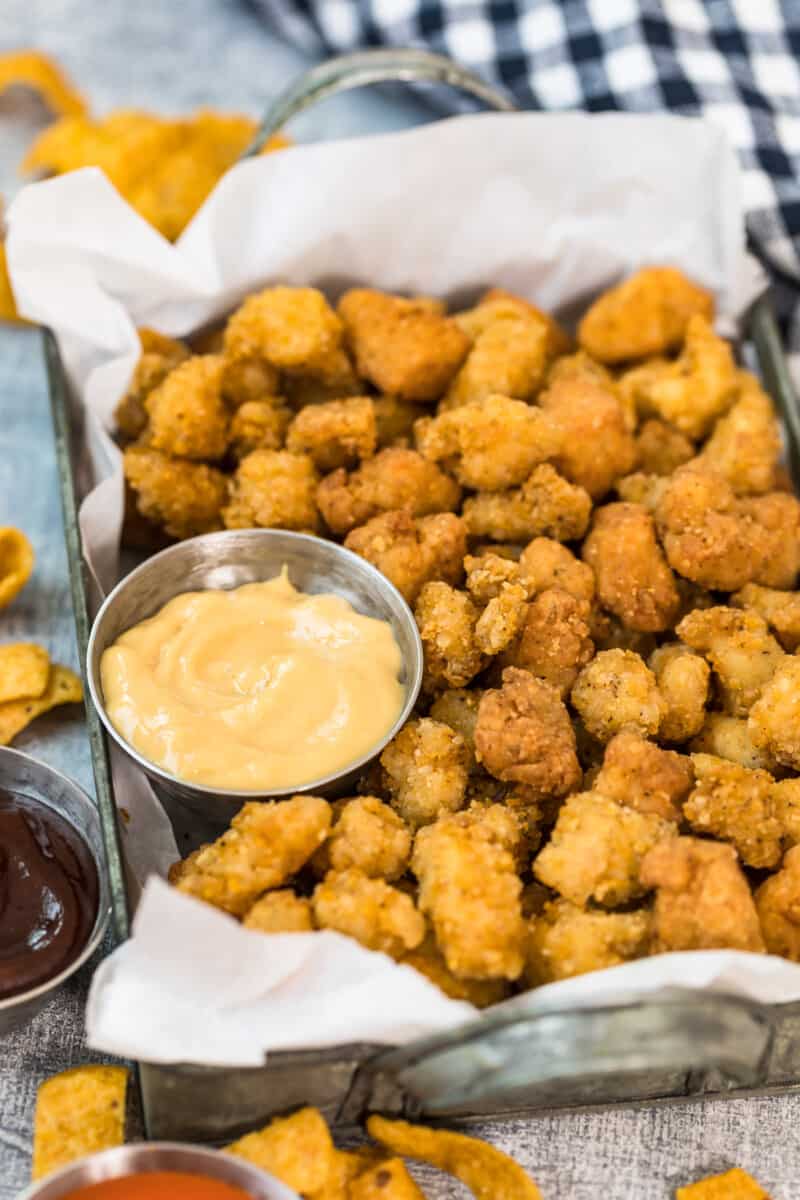 This Fritos popcorn chicken recipe is such a fun and easy recipe that will leave you wanting more! The coating is super delicious and the chicken is cooked to perfection!
I can't wait to hear what you think!
More Chicken Recipes we Love
If you make this recipe be sure to upload a photo in the comment section below or leave a rating. Enjoy! You can also jump to recipe.