Nachos Supreme are loaded with ground beef, refried beans, guacamole, jalapeño, pico de Gallo, lots of cheese, and plenty more. This homemade recipe is way better than Taco Bell, and super easy to make. Just load up all those ingredients onto some tortilla chips, and bake until hot. You'll want to have these ready for Cinco de Mayo and game day!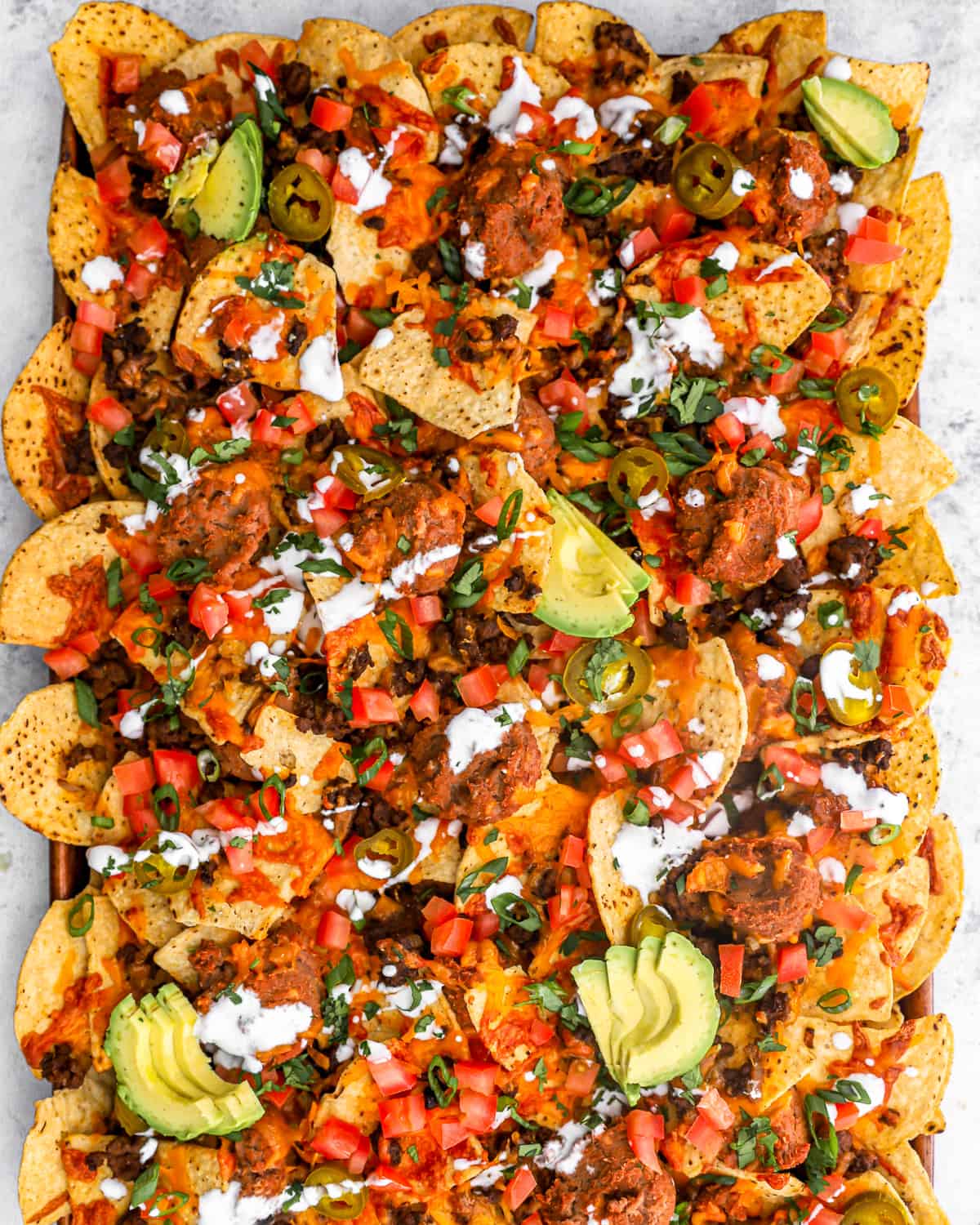 What's in Taco Bell Nachos Supreme?
Just like the Taco Bell classic (but better), we load up these nachos with seasoned beef, cheese, sour cream, guacamole, pico de gallo, and refried beans!
Ground Beef: I like 85% lean for the best balance of flavor. Make sure to drain the ground beef before adding it to the chips to avoid greasy nachos.
Onion: Any kind of chopped onion will work here! White is pretty neutral, and red will add a nice bite.
Taco Seasoning: You can use store-bought or homemade to season the beef.
Tortilla Chips: Corn or flour tortilla chips are both delicious! A heartier chip will hold up better under all those ingredients.
Refried Beans: These add a creamy texture and help hold all the toppings on.
Cheddar Cheese: I like to use shredded cheese instead of cheese sauce for nachos supereme because it melts without feeling too heavy. You can use Colby, Monterey jack, pepper jack, or Mexican blend instead.
Jalapeños: Adds a bit of spice! Use more or less to your personal preference.
Guacamole: Adds even more creaminess and freshness on top. You could use diced or sliced avocado instead.
Pico de Gallo: Adds freshness. You could use diced tomatoes or regular salsa if you prefer.
Sour Cream: The perfect tangy topper for these loaded nachos supreme.
Green Onion: Adds a pop of color and freshness. I like to add cilantro too, but you can skip it if you're not a fan.
Pro Tip: Place parchment paper along the bottom of the baking sheet pan before layering on ingredients for easy cleanup.
Variations on Supreme Nachos
There are so many fun ways to change up these loaded nachos. Try swapping out the beef for ground chicken, pork, or turkey, or try shredded chicken or beef carnitas. Swap the taco seasoning for fajita seasoning for a slightly different flavor, or use refried black beans instead of traditional pinto.
Change up the cheese to something spicier, like pepper jack, and top your nachos with avocado corn salsa or salsa verde and a sprinkle of cotija cheese for that authentic Mexican flavor.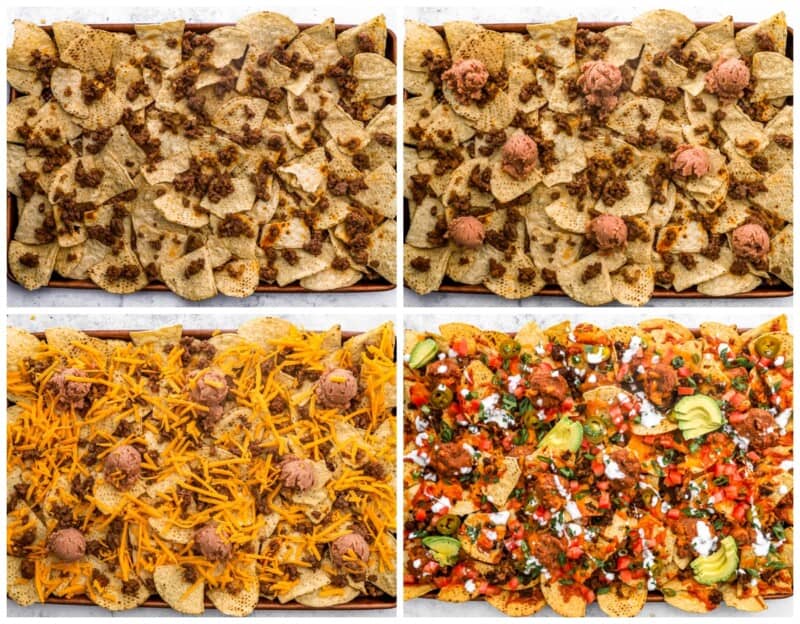 What is the difference between nachos and nachos supreme?
Regular nachos are just tortilla chips with cheese sauce. Nachos supreme are loaded up with your favorite toppings, like ground beef, refried beans, cheese, pico de gallo, guac, and sour cream!
Can I use nacho cheese sauce on these nachos?
You sure can! I like regular cheese to lighten these nachos up a bit, but to really get that fast-food flavor, you can use nacho cheese sauce.
Are nachos supreme spicy?
That depends! I like to use jalapeños on mine, which gives them a spicy kick. To make them less spicy, you could use diced green bell pepper instead. For spicier nachos, swap out the jalapeños for habaneros.
Can I make nachos ahead of time?
You can make them on the day you plan to serve them and reheat them gently in the oven. However, these nachos are best eaten fresh from the oven. They don't keep well as the tortilla chips start to get soggy.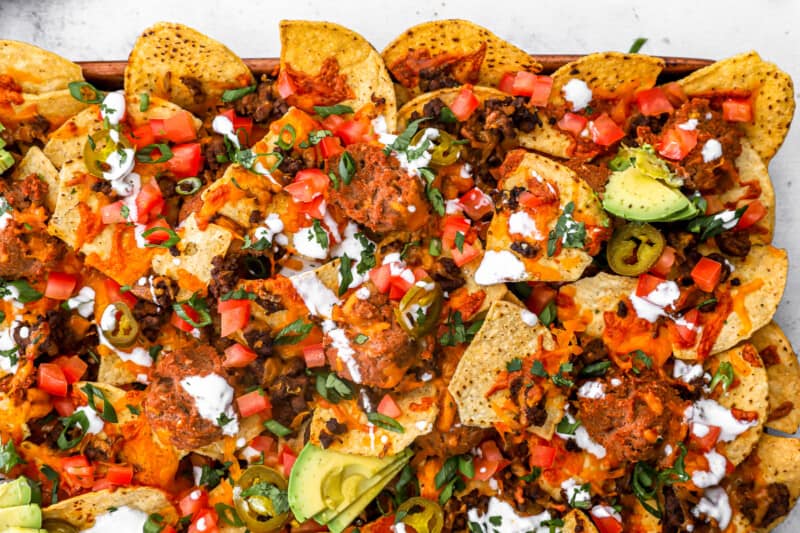 How to Store and Reheat
While I highly recommend enjoying nachos supreme fresh out of the oven, they will keep well for about 1 day in the refrigerator before becoming too soggy. Gently reheat in a 350°F oven until the cheese has melted and the meat is warmed through.
Serving Suggestions
Serve these loaded beef nachos as an appetizer for your Cinco de Mayo feast. Serve them alongside chicken quesadillas, steak fajitas, chicken tacos, homemade crunchwraps, or birria tacos. Sip on a refreshing margarita and get the party started!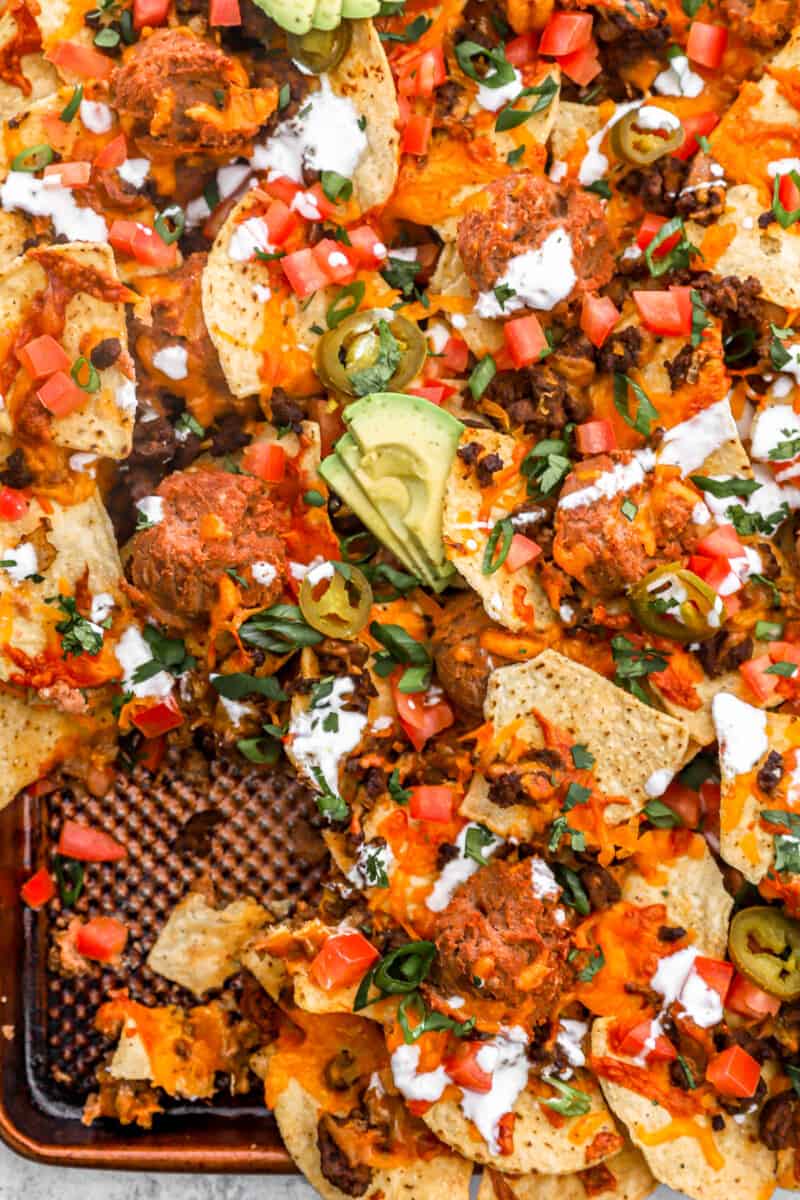 More Nacho Recipes We Love