Honey Baked Turkey is a deliciously sweet and savory main dish, similar to honey baked ham. This recipe uses simple ingredients and includes easy step-by-step instructions to make the best turkey that your whole family will love!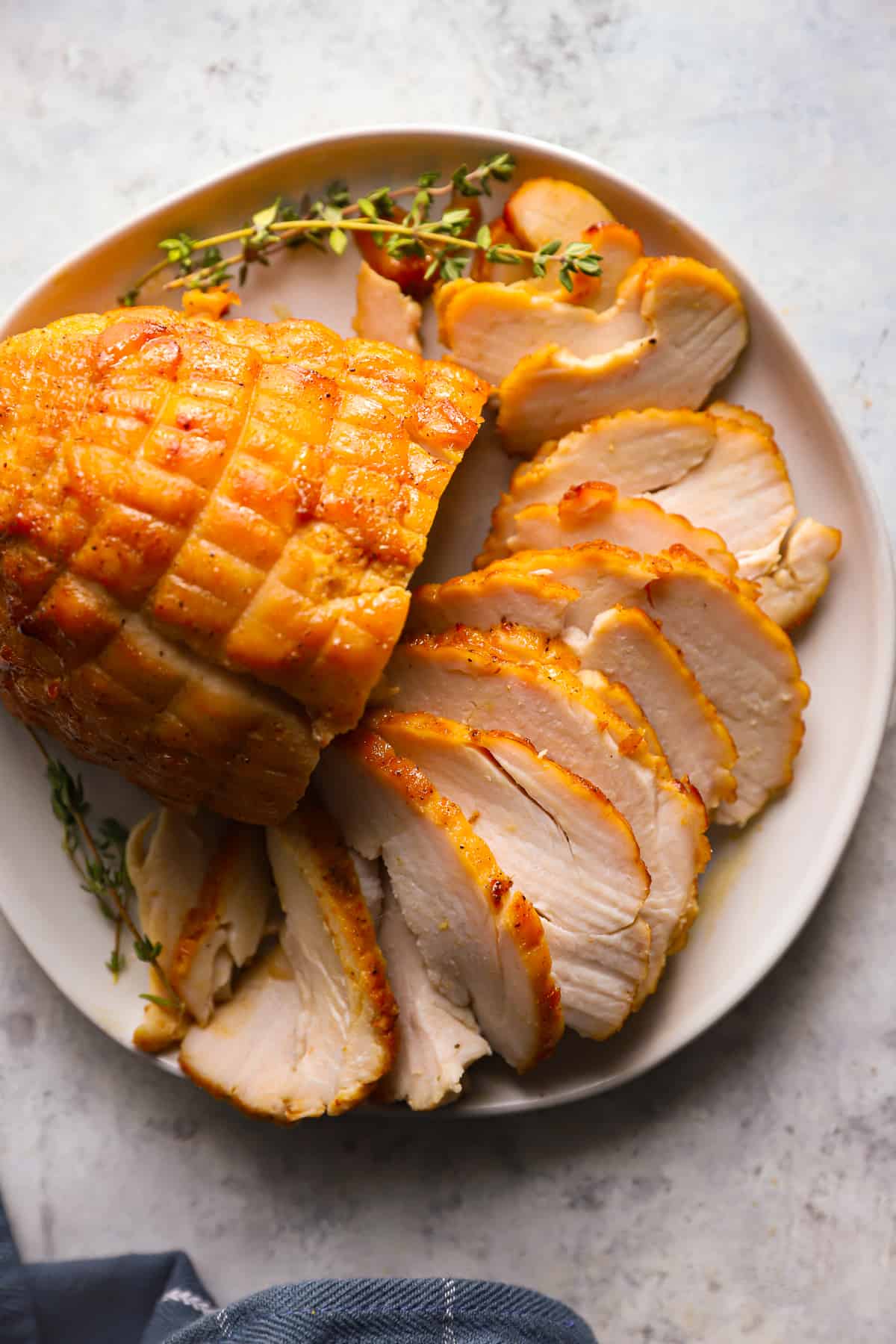 Honey Glazed Turkey
This Honey Glazed Turkey recipe is the best main course for any holiday feast! Inspired by a classic honey baked ham, this glazed turkey breast is perfectly sweet and savory.
This recipe consists of 11 ingredients and serves 6. It's a great choice for holiday dinners and events including Christmas, Thanksgiving, holiday parties, and New Year's celebrations.
Why You'll Love this Honey Baked Turkey Recipe:
Delicious: Honey Baked Turkey is sweet, salty, and full of flavor!
Easy: This easy dish is a great way to switch up a classic holiday turkey recipe, and it's so simple to make.
Holiday Ready: Turkey breast is a great option for holiday meals for families or small groups. Just enough for everyone!
Honey Glazed Turkey pairs beautifully with classic holiday side dishes such as mashed potatoes, mashed sweet potatoes, cheesy roasted vegetables, cranberry sauce, turkey gravy, dinner rolls, and so much more! An added bonus is that this turkey makes good leftovers for sandwiches and wraps the next day!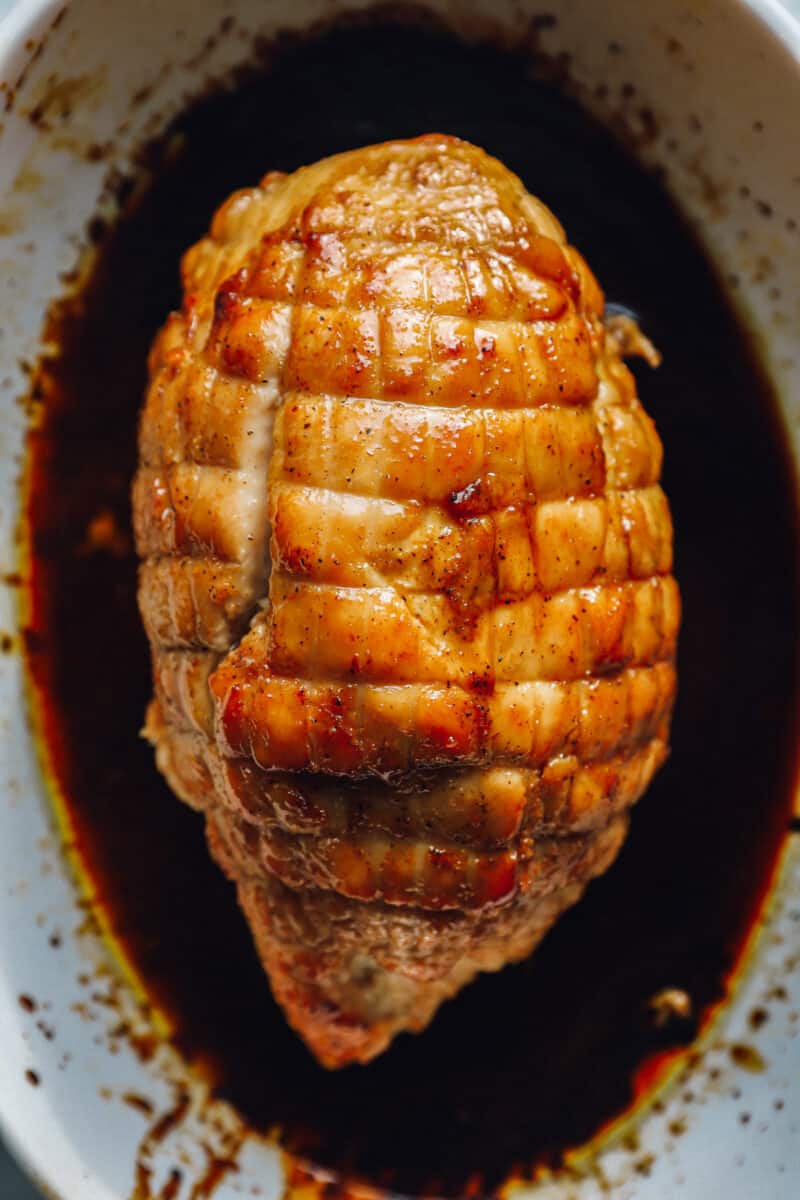 How to Cook Honey Baked Turkey
You can jump to the recipe card for full ingredients & instructions!
Season the turkey breast with the spice rub, then wrap it in plastic wrap and refrigerate overnight.
Unwrap the turkey, place it in a baking dish, and covered with butter. Then bake.
Combine and cook ingredients in a saucepan to make the glaze.
Glaze the turkey part of the way through roasting, then put it back in the oven to continue cooking.
When it's cooked through, cover it with the rest of the glaze, and cover with foil while it rests.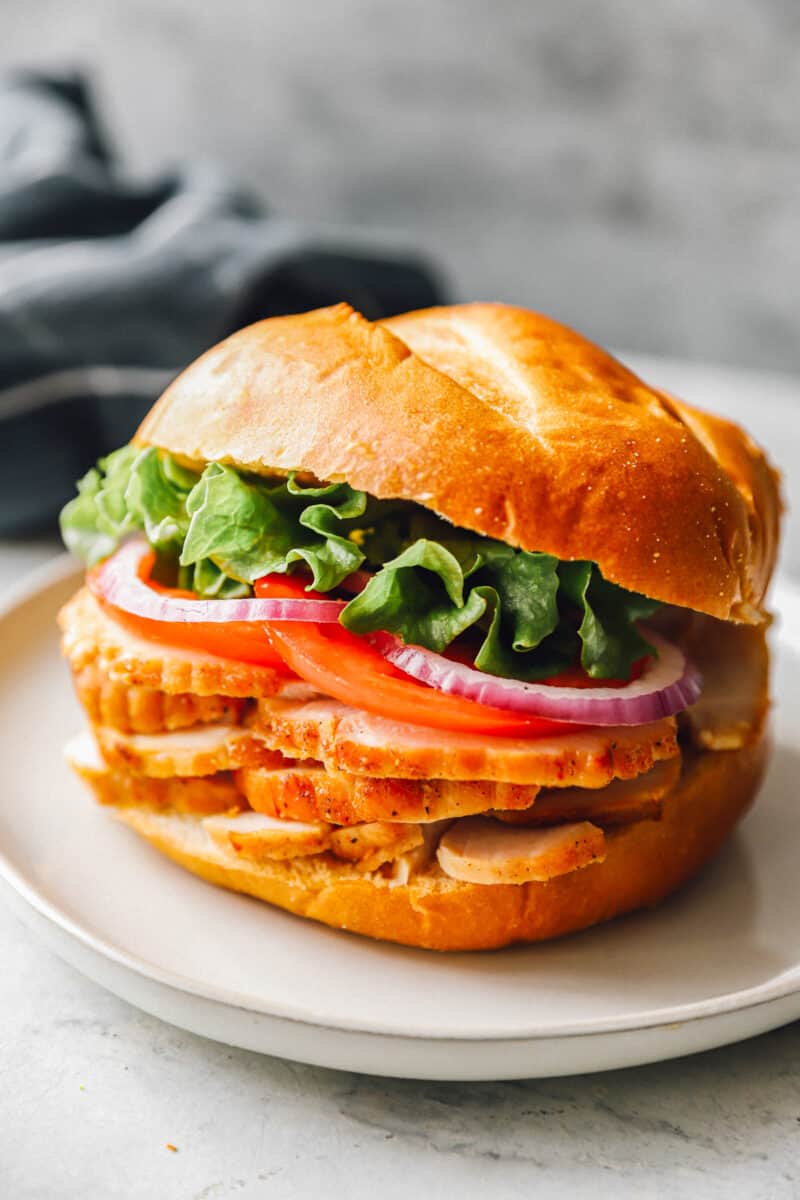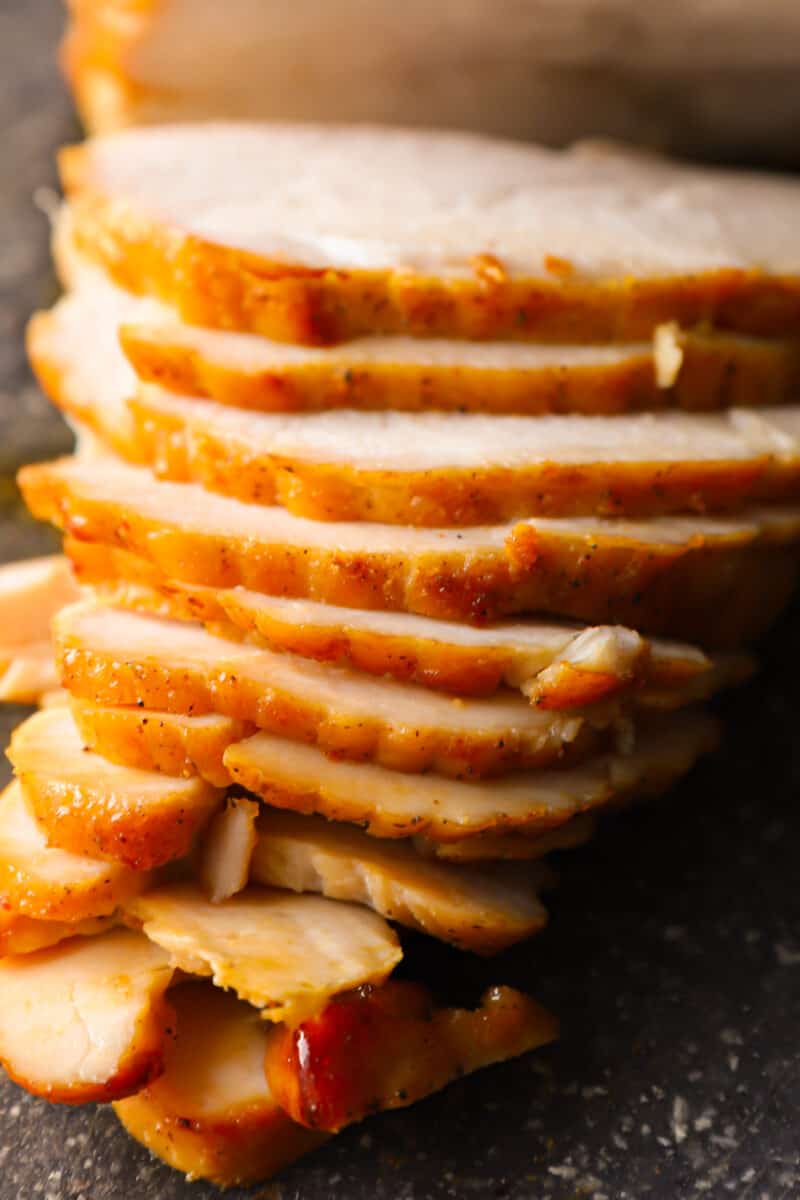 What is poultry seasoning?
Poultry seasoning, or chicken seasoning, is a seasoning blend made from brown sugar, paprika, Italian seasoning, garlic powder, onion powder, kosher salt, and ground black pepper. You can find it in the spice aisle of the grocery store, or you can make your own!
Do I have to make honey baked turkey with white wine?
Nope! If you're not a fan of white wine or not a wine drinker, you can use chicken, turkey, or vegetable broth instead.
Can I use this recipe for a whole turkey?
Absolutely! Depending on the size of your turkey, you may need to double or triple the glaze ingredients. You'll also need to increase the cooking time accordingly. After the first 45 minutes, continue basting the turkey every 30 minutes until 165°F at the thickest point.
How long is honey baked turkey good for?
Honey baked turkey will keep well in the refrigerator for up to 3 days.
Can you freeze honey baked turkey?
Yes! You can freeze honey baked turkey in an airtight container for up to 3 months!
This recipe is broken up into two simple parts: marinading the turkey overnight, and roasting and glazing the next day. This simple cooking process is an easy way to make your holiday dinner plans stress-free!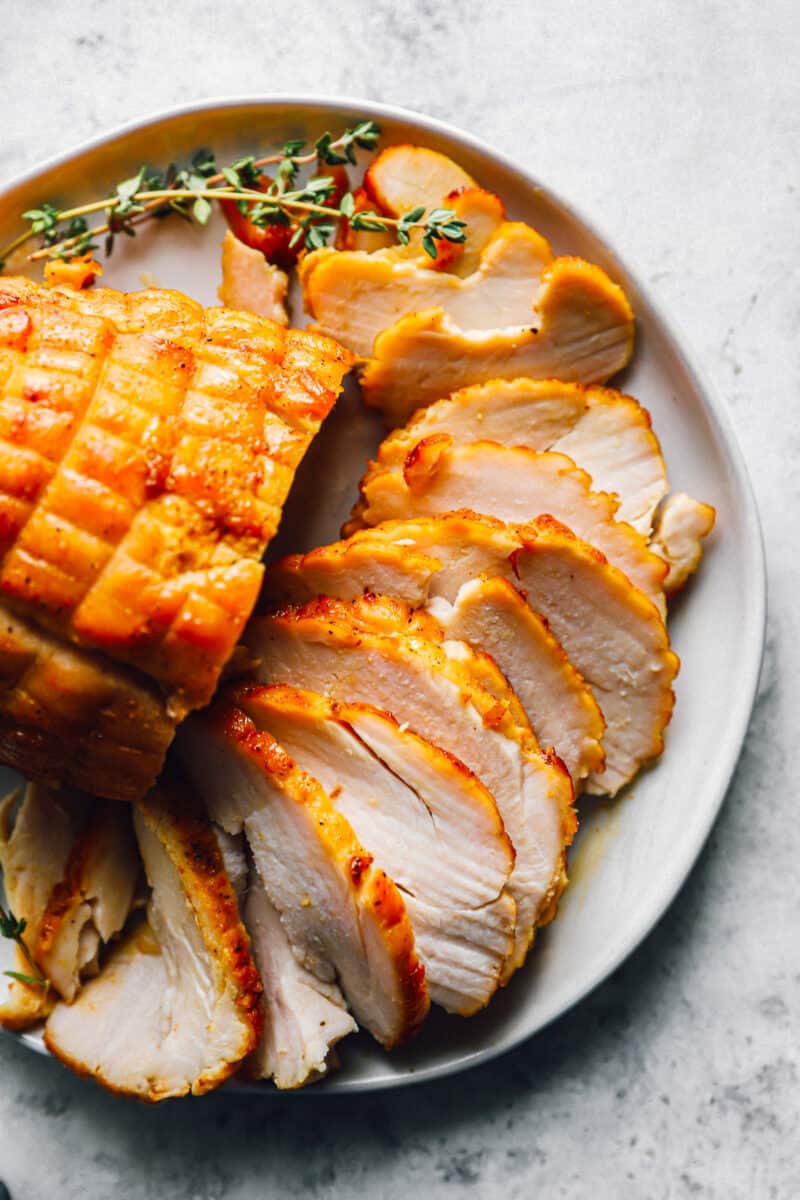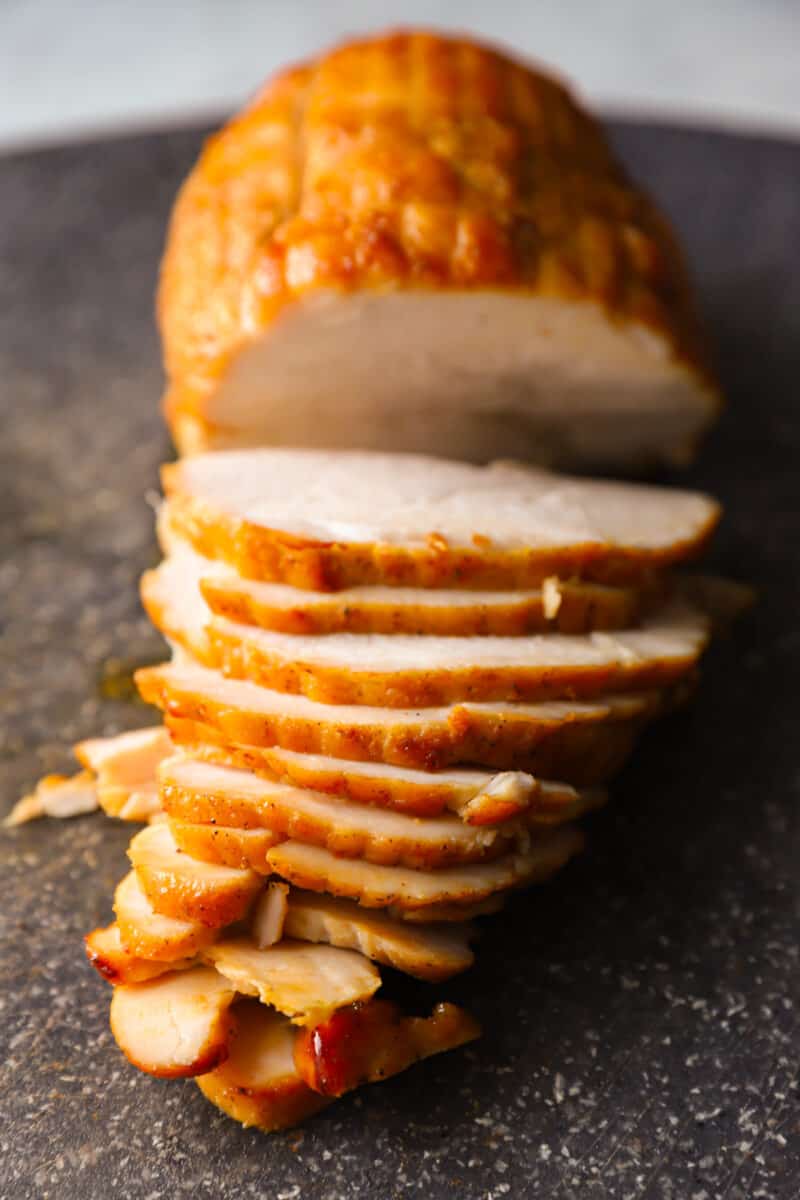 Make Ahead Instructions
This honey baked turkey is a perfect make-ahead recipe, as it needs time to soak up the spice rub overnight in the refrigerator. Prep the turkey breast the day before, tightly wrap in plastic wrap, and refrigerate until ready to bake and glaze!
Storage Instructions
Store leftover honey baked turkey in an airtight container in the refrigerator for up to 3 days. Reheat individual servings in the microwave or reheat the entire breast covered in a 350°F oven for 20-30 minutes, until warmed through.
Freezing Instructions
Freeze honey baked turkey whole or in individual servings in an airtight container for up to 3 months. Let thaw overnight in the refrigerator before reheating.
Substitutions
Swap the honey for maple syrup for a different flavor.
Feel free to swap the white wine for chicken, turkey, or vegetable broth.
Tips for the Best Honey Baked Turkey
Don't skip the overnight chill in the refrigerator; it enhances the flavor immensely!
Make sure the turkey is fully cooked to 165°F internally at the thickest point.
Be sure to let the turkey breast rest covered with foil for 15 minutes to lock in the juices.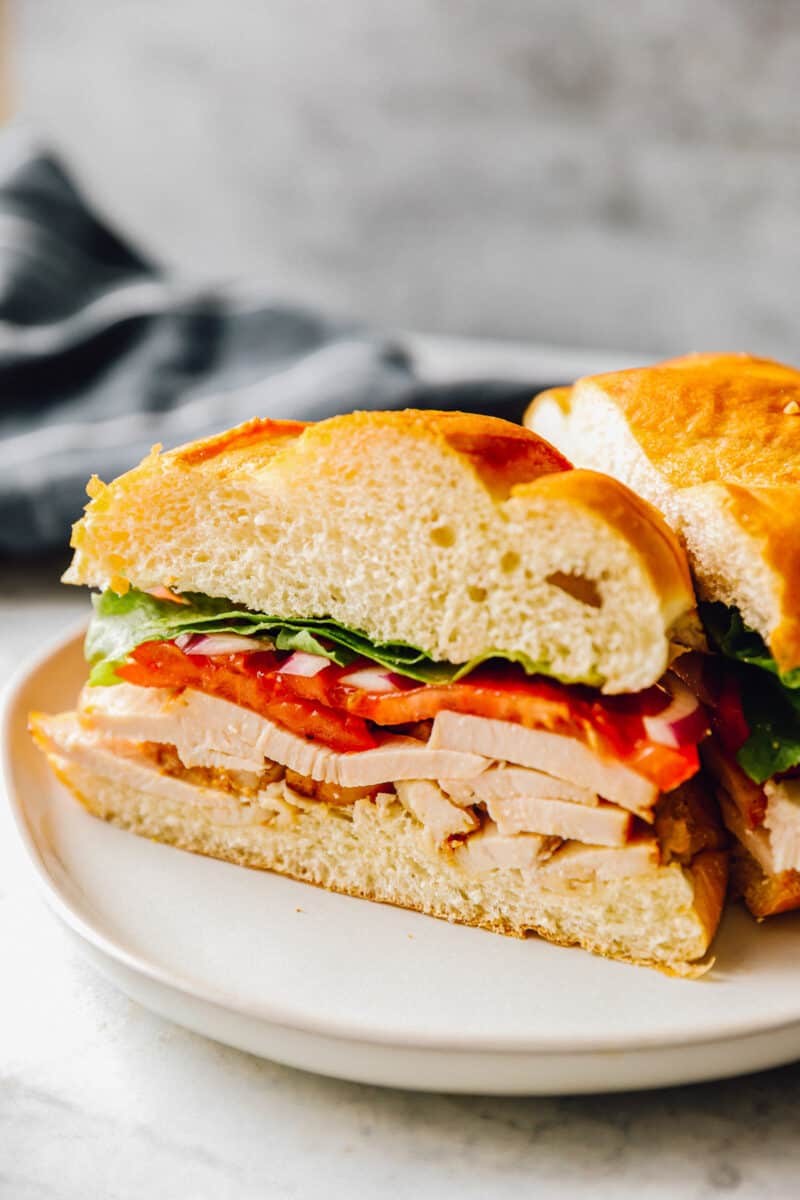 Honey Baked Turkey is the perfect addition to your holiday table! Make this easy recipe with the simple cooking instructions below.
If you make this recipe be sure to upload a photo in the comment section below or leave a rating. Enjoy! You can also jump to recipe.