Honey Baked Turkey is a deliciously sweet and savory main dish, similar to honey baked ham. This recipe uses simple ingredients and includes easy step-by-step instructions to make the best turkey that your whole family will love!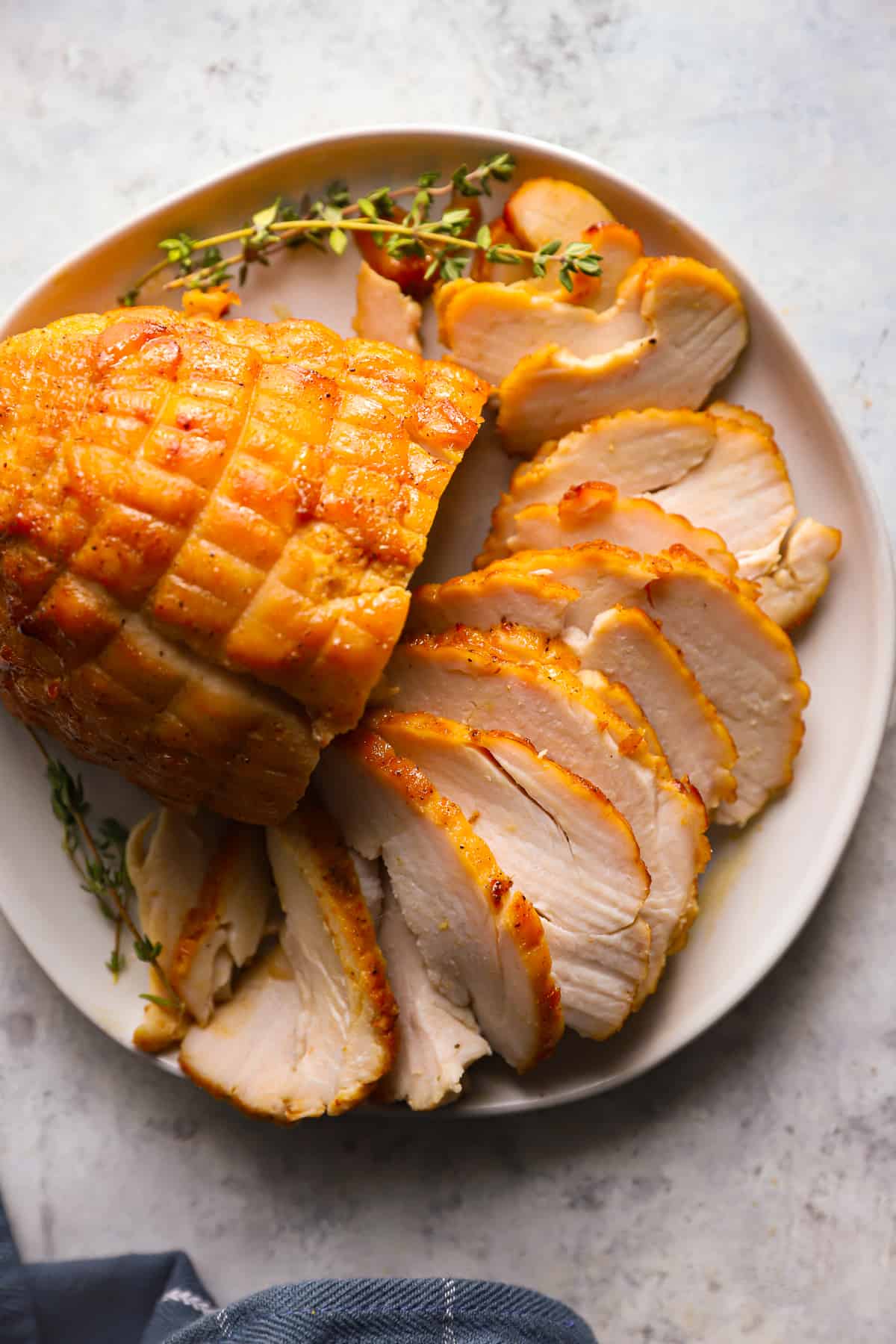 What's in this Honey Baked Turkey Recipe?
This honey glazed turkey recipe is the best main course for any holiday feast! Inspired by a classic honey baked ham, this glazed turkey breast is perfectly sweet and savory.
Boneless Turkey Breast: You'll need a 3-pound breast for this recipe. I grabbed one wrapped in netting for presentation, but it's not necessary.
Kosher Salt: Enhances the flavor of the turkey and the glaze.
Poultry Seasoning: A delicious blend of herbs and spices that brings out the natural flavor of the turkey.
Spices: Ground paprika, onion powder, garlic powder, and black pepper enhance the overall flavor even more.
Unsalted Butter: Helps the seasoning stick to the turkey and helps create a rich and shiny glaze.
Honey: Sweetens the glaze.
White Wine: Adds a touch of acidity to the glaze to balance the sweetness.
Dijon Mustard: Adds a bit of spicy and sharp flavor to the glaze.
Pro Tip: Feel free to swap the white wine for chicken, turkey, or vegetable broth.
Variations on Honey Baked Turkey Breast
It's easy to change up the flavor of this turkey breast by using different spices and seasonings. You could swap out the poultry seasoning for my favorite turkey rub for a bit more savory flavor. Or try swapping out the honey for maple syrup or agave for a slightly different flavor.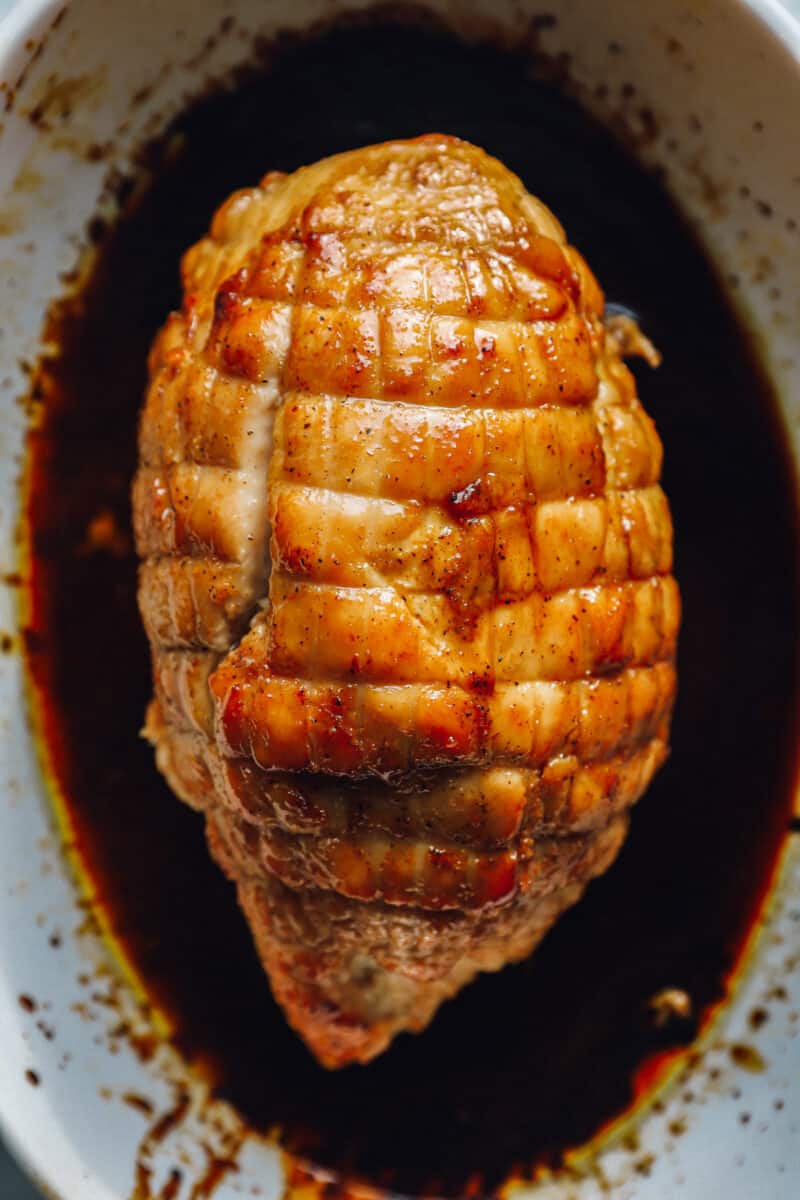 What is poultry seasoning?
Poultry seasoning, or chicken seasoning, is a seasoning blend made from brown sugar, paprika, Italian seasoning, garlic powder, onion powder, kosher salt, and ground black pepper. You can find it in the spice aisle of the grocery store, or you can make your own!
Do I have to make honey baked turkey with white wine?
Nope! If you're not a fan of white wine or not a wine drinker, you can use chicken, turkey, or vegetable broth instead.
Can I use this recipe for a whole turkey?
Absolutely! Depending on the size of your turkey, you may need to double or triple the glaze ingredients. You'll also need to increase the cooking time accordingly. After the first 45 minutes, continue basting the turkey every 30 minutes until 165°F at the thickest point.
How long is honey baked turkey good for?
Honey baked turkey will keep well in the refrigerator for up to 3 days.
Can you freeze honey baked turkey?
Yes! You can freeze honey baked turkey in an airtight container for up to 3 months!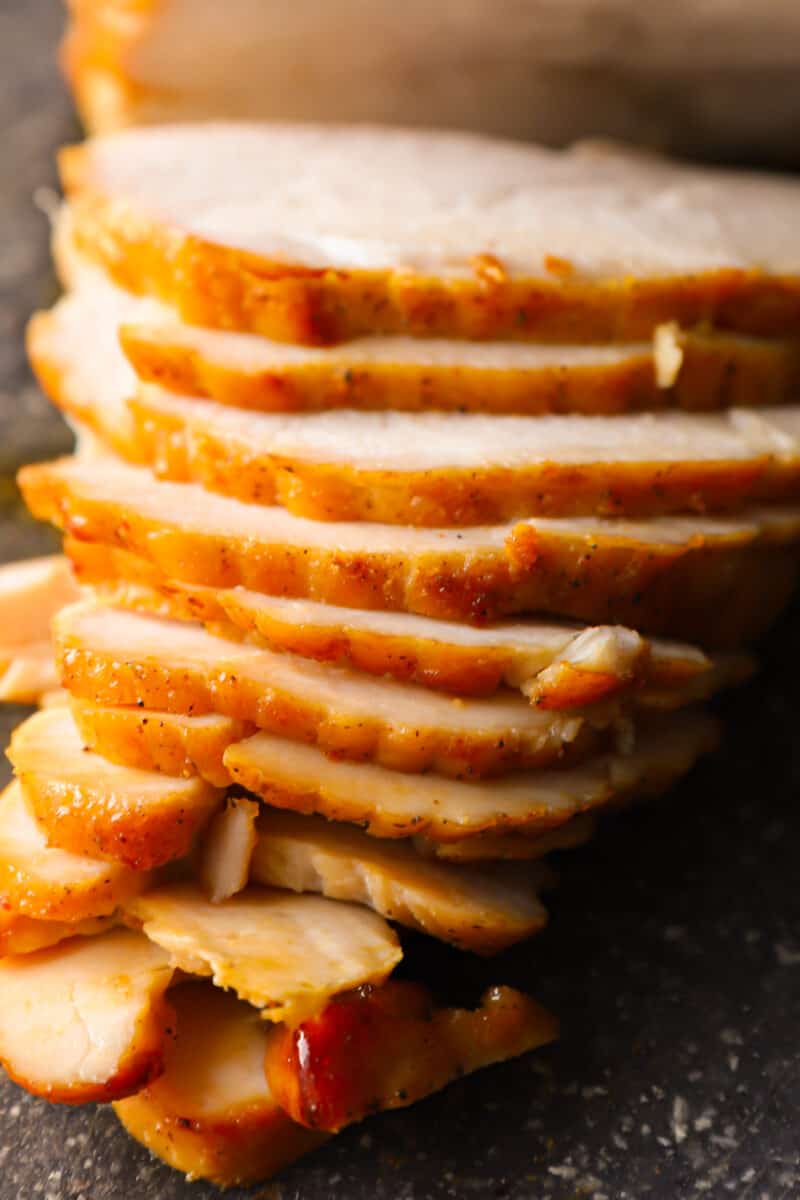 How to Store and Reheat
Store leftover honey baked turkey in an airtight container in the refrigerator for up to 3 days. Reheat individual servings in the microwave or reheat the entire breast covered in a 350°F oven for 20-30 minutes, until warmed through.
How to Freeze
Freeze honey baked turkey whole or in individual servings in an airtight container for up to 3 months. Let thaw overnight in the refrigerator before reheating.
Serving Suggestions
Honey Glazed Turkey pairs beautifully with classic holiday side dishes such as crockpot mashed potatoes, mashed sweet potatoes, roasted vegetables, cranberry sauce, turkey gravy, dinner rolls, and so much more! An added bonus is that this turkey makes good leftovers for sandwiches and wraps the next day!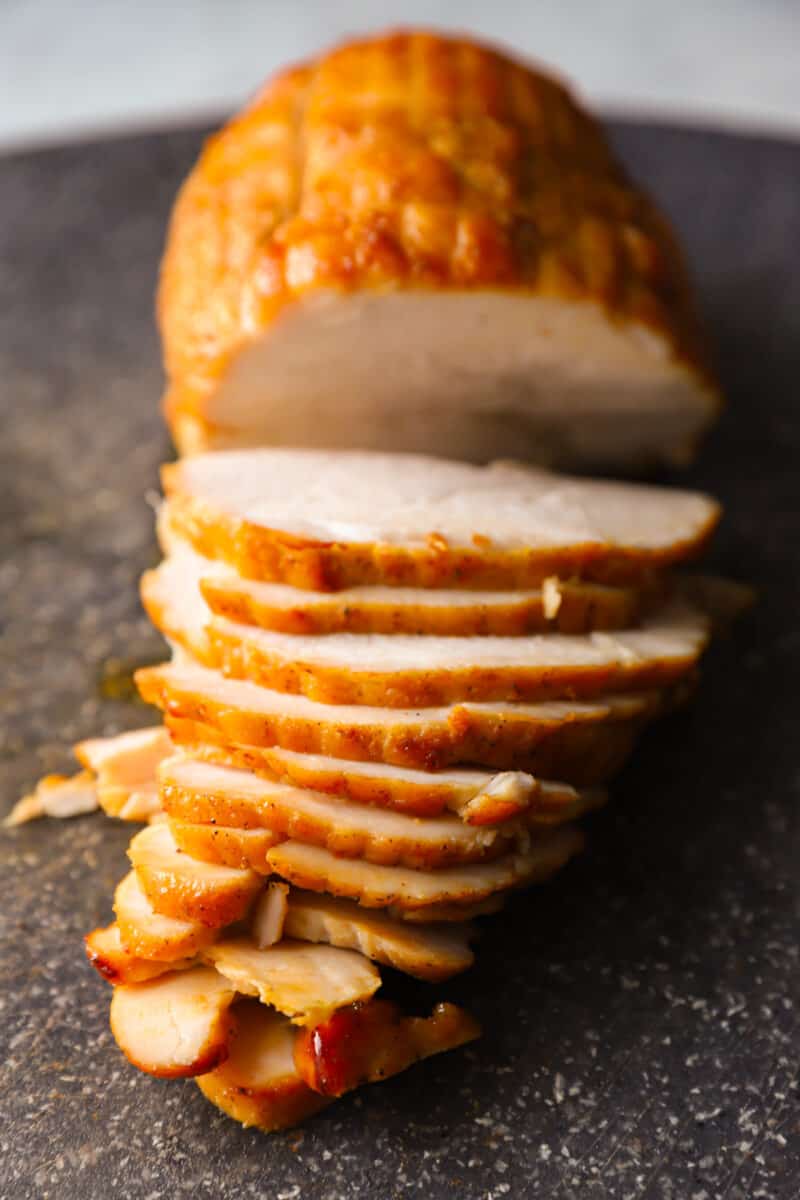 More Turkey Breast Recipes We Love