Rich, nuanced, and milder than other chile sauces, this Chile Verde recipe is simmered with tender chunks of pork for a delicious stew. It's time to pull out your large Dutch oven and try out this great recipe for green chili.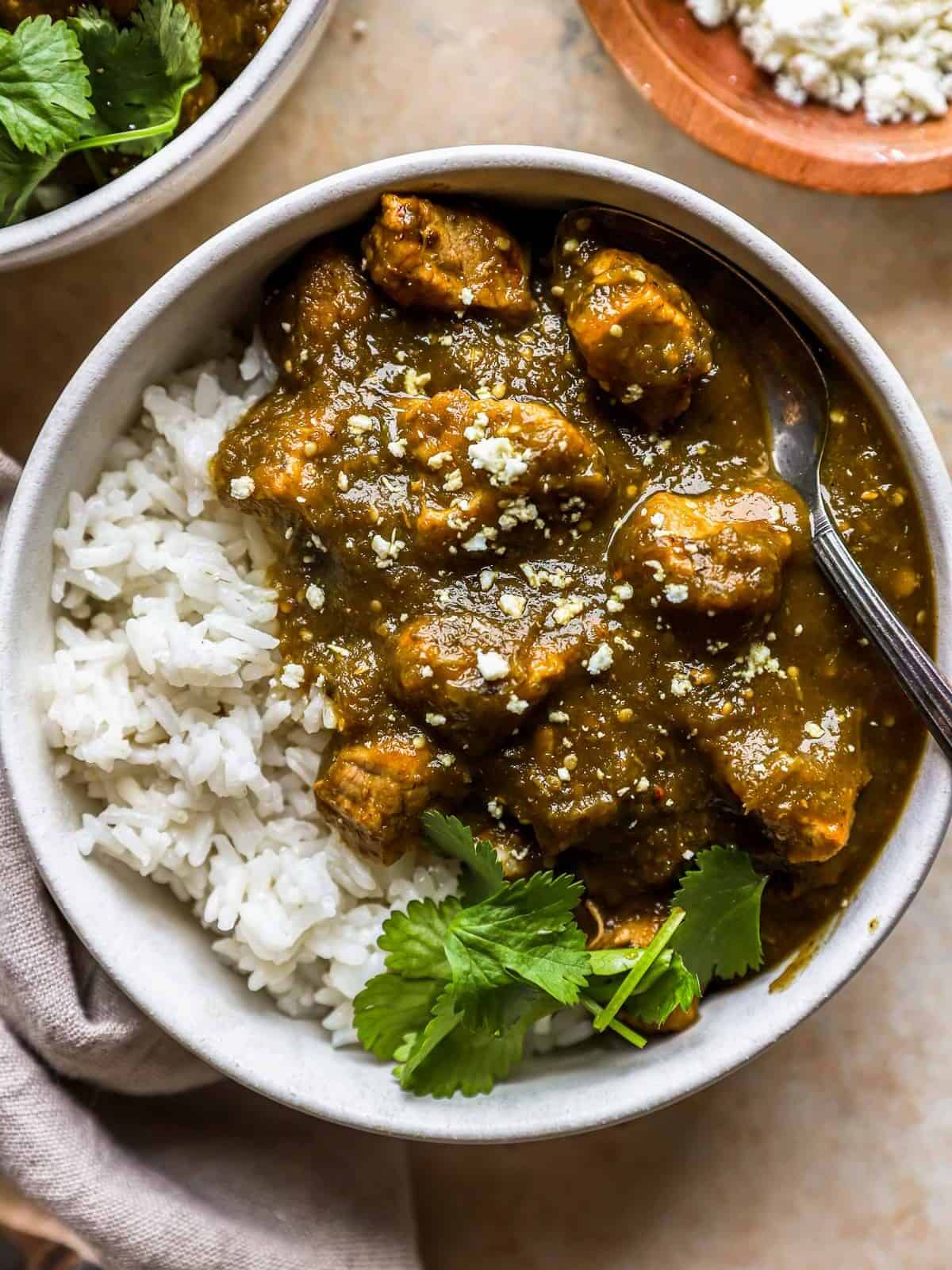 What's in this Chile Verde recipe?
Tomatillos, green chilies, and juicy pork come together for one of the best dishes. A warm, comforting green chili stew that can be served on a bed of rice, in warm tortillas, or with tortilla chips.
Tomatillos: Slightly acidic and less sweet than most tomatoes.
Jalepeño Peppers: These add a little spice. Remove the membrane and seeds to minimize spice (unless you want it spicy!).
Poblano Chiles: This mild pepper is a deep shade of green that adds beautiful to the chile sauce.
Pork Shoulder: Boneless pork shoulder or country-style pork ribs both work.
Olive Oil: For roasting!
Salt + Black Pepper: To taste.
Onion + Garlic: Aromatics are essential here.
Oregano: I'm using dried oregano. Swap this out for Mexican Oregano to highlight the acidic flavors of this chile verde sauce.
Chicken Broth: I love homemade, but your favorite grocery store brand is welcome too.
Variations on Green Chili Stew
From fresh ingredients to pantry staples, it's so easy to change this Chile verde recipe to your preferences. Here are a few of my favorite tips and tricks.
Switch up your protein! Instead of pork shoulder, try pork loin or shredded chicken.
Use a mix of spicy peppers like Hatch chiles, Colorado green chili, or Anaheim chiles, or leave them out entirely if you prefer less spice.
Leave out the meat altogether to turn this pork chile verde into tomatillo sauce or a delicious green enchilada sauce.
Serve this stew with crispy tortilla strips, avocado slices, lime wedges, sour cream, and fresh cilantro.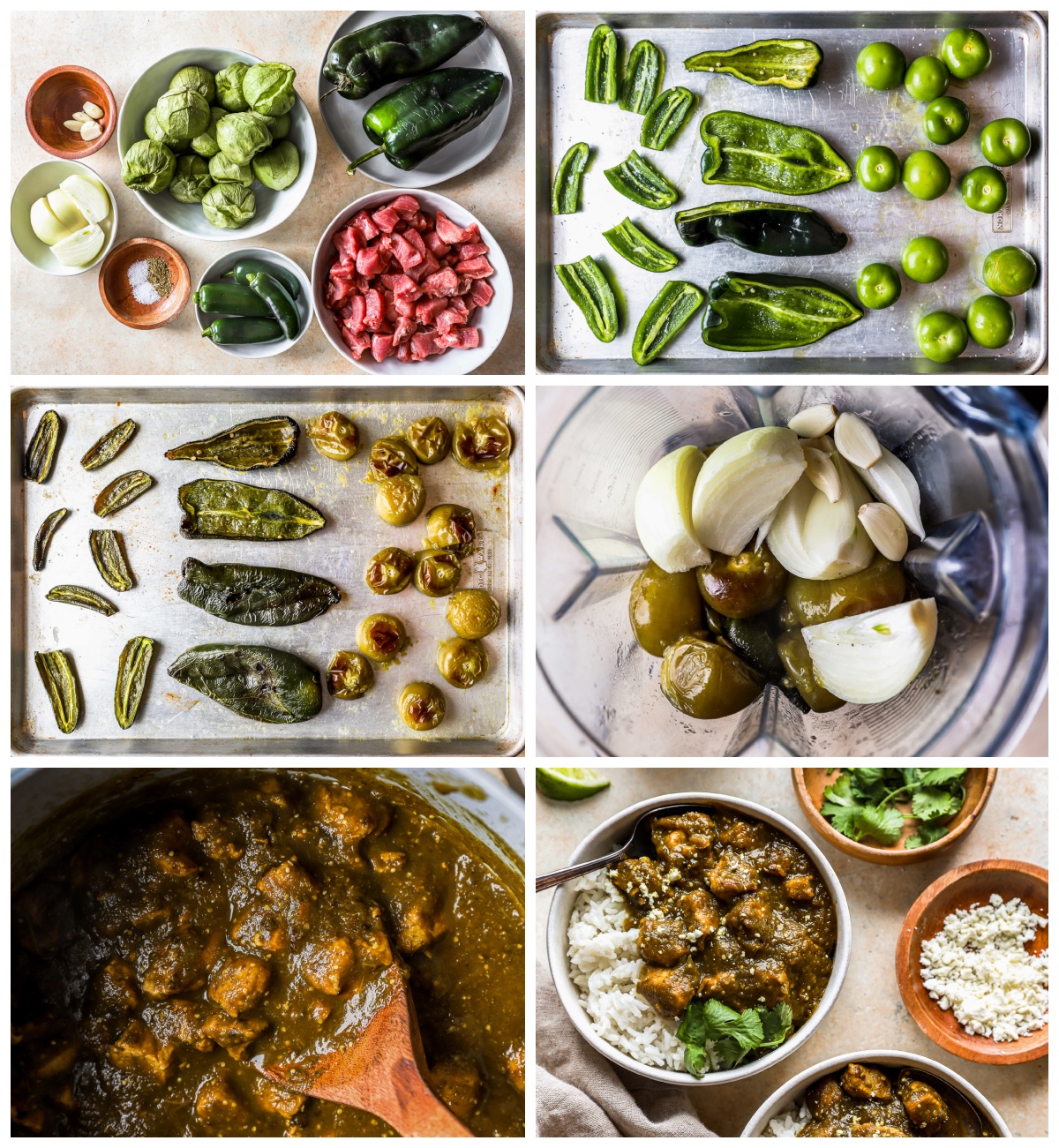 What is chili verde?
Chili verde (aka: chile verde or green chili) is a type of stew consisting of pork shoulder cooked low and slow in a sauce made green by the addition of tomatillos and green chiles. It's bright, acidic, and spicy!
What are green chiles?
Green chiles encompass a variety of green chile peppers, including Poblano, Pasilla, and Anaheim peppers. In this recipe, we're using Poblanos, but either of the other varieties will also work!

Are green chiles hot?
Green chiles tend to be on the milder, but they may still be too spicy for some. We add jalapeños to up the spiciness, but you can leave them out if you'd like your chili less spicy.
How do I fix runny chile verde?
If your chile verde is a bit too watery, simmer it uncovered over medium-low heat, stirring frequently, until it thickens up.
How can I tell when the pork is cooked through?
The safe internal temperature for pork is 145°F.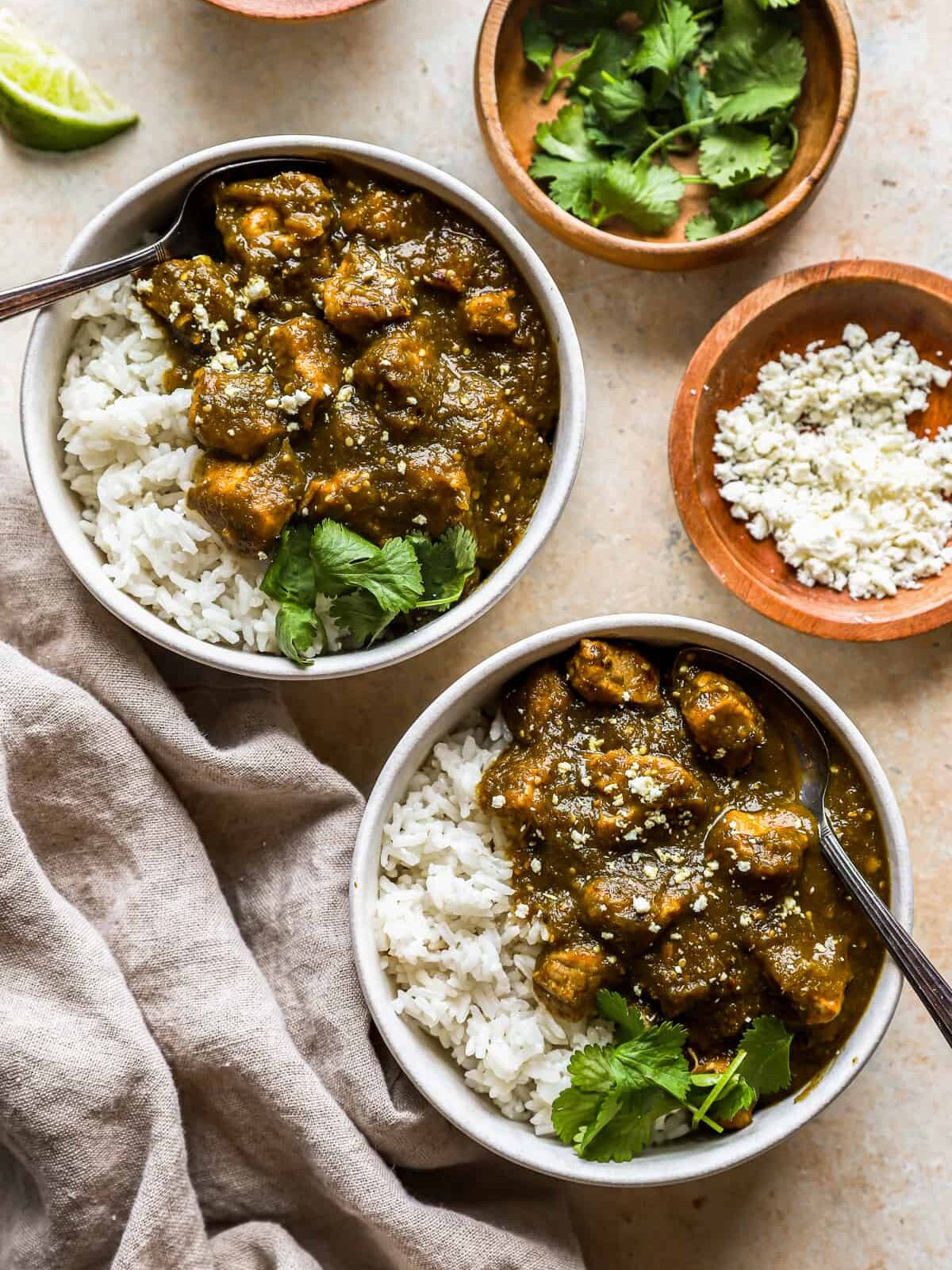 How to Store and Reheat Pork Green Chili
Store leftover chile verde in an airtight container in the refrigerator for up to 3 days. Reheat gently in the microwave or on the stovetop.
How to Freeze Chile Verde Pork
Freeze chile verde whole or in individual portions in airtight containers or Ziplock bags for up to 3 months. Let thaw overnight in the refrigerator before reheating.
What to Serve with Green Chili Pork Stew
This spicy Chile verde stew is delicious on its own, but I love highlighting the Mexican flavors by serving it alongside this creamy refried bean dip and tortilla chips, or even adding jalapeno poppers to the appetizers menu! I recommend serving it on a bed of my famous cilantro lime rice with a margarita or agua fresca to help balance all those spicy flavors.