This traditional Irish bread pudding recipe is the perfect dessert for St. Patrick's Day and beyond. This easy bread pudding is made with a whiskey caramel sauce that's just absolutely delicious!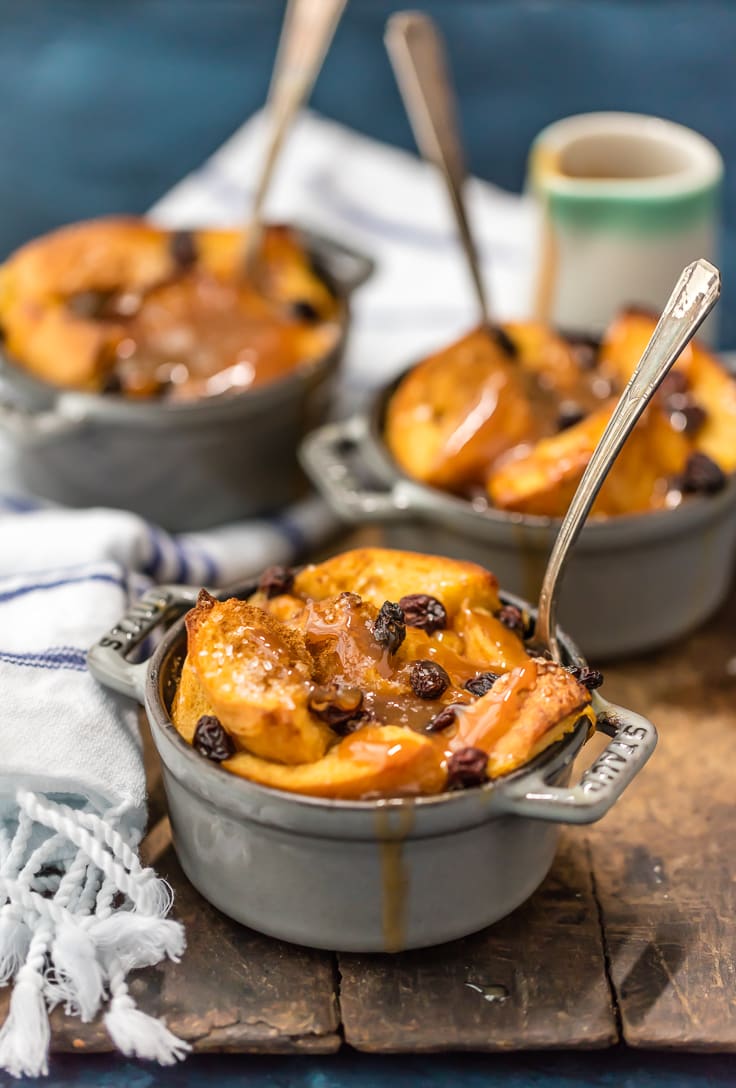 What's in Whiskey Bread Pudding
This traditional Irish bread pudding recipe is much easier to make than it seems. And the rich whiskey caramel sauce is what really sets this dessert apart. It's the best St. Patrick's Day dessert!
Bread: French bread is a great option for bread pudding because it has a tough and chewy texture that holds up well when soaked in the egg mixture. You could also use brioche, challah, or another sturdy loaf.
Eggs: Eggs create the thick custard-y texture of the bread pudding mixture.
Sugar: Granulated sugar adds the right amount of sweetness.
Milk & Cream: You'll need heavy cream and evaporated milk for the custard, and regular milk for the sauce.
Whiskey Caramel Sauce: This bread pudding sauce contains whiskey, milk, sugar, water, butter, and cream cheese.
Raisins: Raisins add a nice texture and sweetness to the dessert, but you could use chocolate chips instead if you prefer.
Cinnamon: This adds the perfect level of warmth.
Stale or day-old bread works best, so this recipe is a great way to use up leftover bread. If your bread is too fresh, just let it sit out overnight before making this delicious dessert.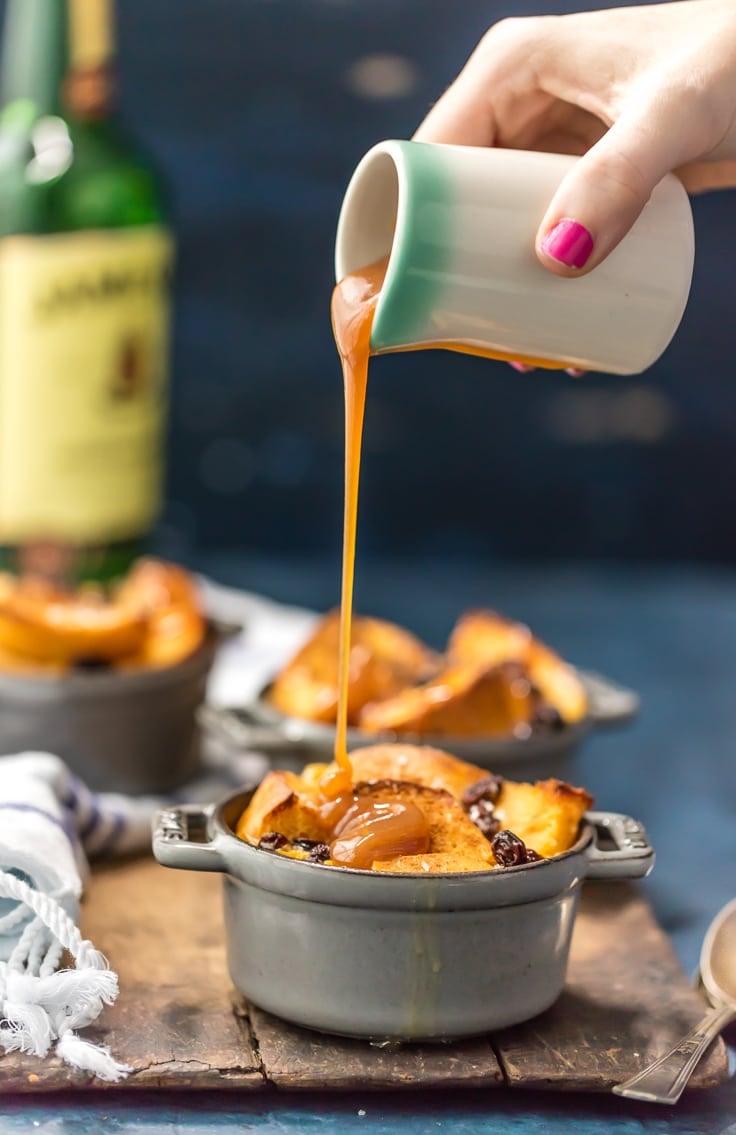 What is bread pudding?
Bread pudding is made by soaking cubes of bread in a custard mixture, then baking it in the oven to cook.
Do you eat bread pudding hot or cold?
It's best served warm, soon after coming out of the oven. But once it's been fully cooked, you can also eat it cold if you prefer.
Why is my bread pudding soggy in the middle?
If it's still soggy, let it continue cooking in the oven until it sets. But this might also be caused by too much liquid and not enough/sturdy enough bread to soak it all up. That's why it's important to use the right bread and stick to the right measurements.
How can you tell when bread pudding is done baking?
It should be set in the center, but more importantly, it should reach an internal temperature of 160F to make sure the eggs are fully cooked.
How long does breading pudding need to soak?
Let the bread soak in the egg mixture, in the fridge, for at least 30 minutes or overnight.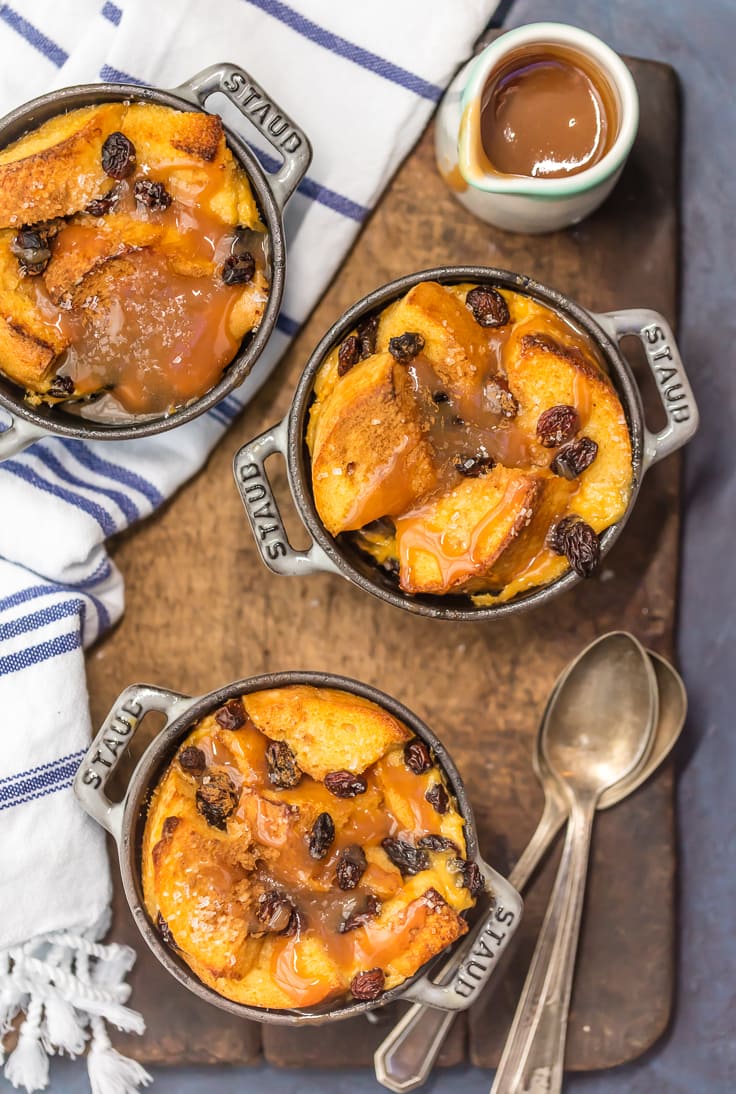 How to Store Bread Pudding with Whiskey Sauce
Storage: Let the bread pudding cool to room temperature before storing, but be sure to move it to the fridge within 2 hours of baking. To store, wrap the casserole dish or ramekins tightly in plastic wrap or aluminum foil. Or you can transfer it to an airtight container. Keep in the refrigerator up to 4 days. Store the extra whiskey caramel sauce separately.
Reheat: For best results, reheat in the oven at 350F until fully warmed through. You can reheat the sauce on the stove.
Make Ahead: You can make the whiskey sauce and keep it in the fridge until ready to use. You can also prepare everything and let the bread soak overnight, then bake the next day.
How to Freeze Irish Bread Pudding
Freeze bread pudding in a freezer-safe container up to 3 months. I don't recommend freezing the whiskey sauce. Thaw it in the fridge overnight before reheating.
If you make this recipe be sure to upload a photo in the comment section below or leave a rating. Enjoy! You can also jump to recipe.
More Cozy Desserts We Love