This delicious sheet pan apple crisp recipe is simple and easy to make and perfect for feeding a crowd. Made in a sheet pan, this fruit crisp is a real treat and is meant to be served with ice cream!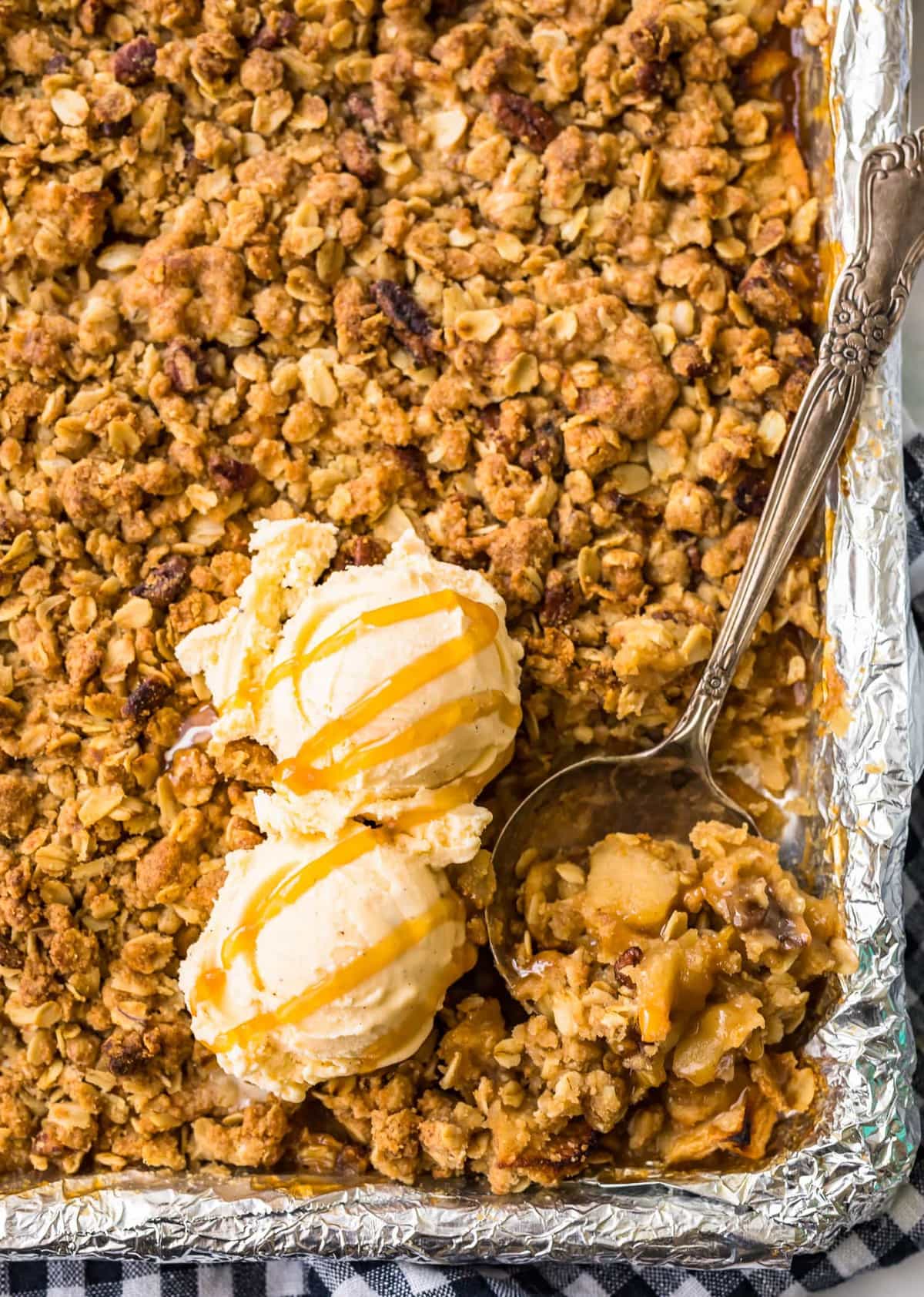 Is there anything more comforting than an apple crisp served with lashings of ice cream?! I think not! Making this fruit crisp in a sheet pan is a great and fuss free way of making a delicious sweet for a crowd.
I love this crisp for fall weekends, Thanksgiving dessert, or to celebrate Christmas!
How to make this Sheet Pan Apple Crisp Recipe
Heat oven to 425°F and line a large rimmed baking sheet with aluminum foil. Spray the foil with non-stick cooking spray.
For the crisp topping:
In a large bowl, whisk together flour, oats, brown sugar, salt, apple pie spice and pecans. Add the butter pieces to the flour/oat mixture. Give the mixture a stir and use fingers to rub the butter into the flour/oat mixture until small/damp clumps form. Refrigerate the topping while

preparing the apple filling. (The Crisp Topping can be made ahead and kept refrigerated, in an airtight container, up to two weeks.)
For the apple filling:
If not peeling the apples, wash and dry them. If using peeled apples, peel them and pat dry with paper towels.

Core the apples and slice them into ¼-inch slices. Place in a large mixing bowl.

Squeeze lemon juice over the apples and mix well to coat. The lemon juice will keep the apples from browning.

In a medium bowl, mix together brown sugar, granulated sugar, orange zest, salt, apple pie spice and ginger. Sprinkle the brown sugar mixture over the apples and mix well.

Pour the apples onto the prepared sheet pan and spread to an even layer.

Loosely cover the apples with foil that has been sprayed with nonstick cooking spray.

Bake the apples at 425°F 20 minutes or until the apples have softened and some juices have released.

Remove the sheet pan from the oven and carefully remove the foil.

Reduce the oven temperature to 375°F.

Sprinkle (or dothe Crisp Topping evenly over the apples and bake, uncovered, until mahogany in color, crispy and bubbly, another 20-30 minutes.

Remove the crisp from the oven and allow the juices to set, 10-15 minutes.

Serve warm with a scoop of ice cream and drizzle with caramel sauce, if desired.

Enjoy!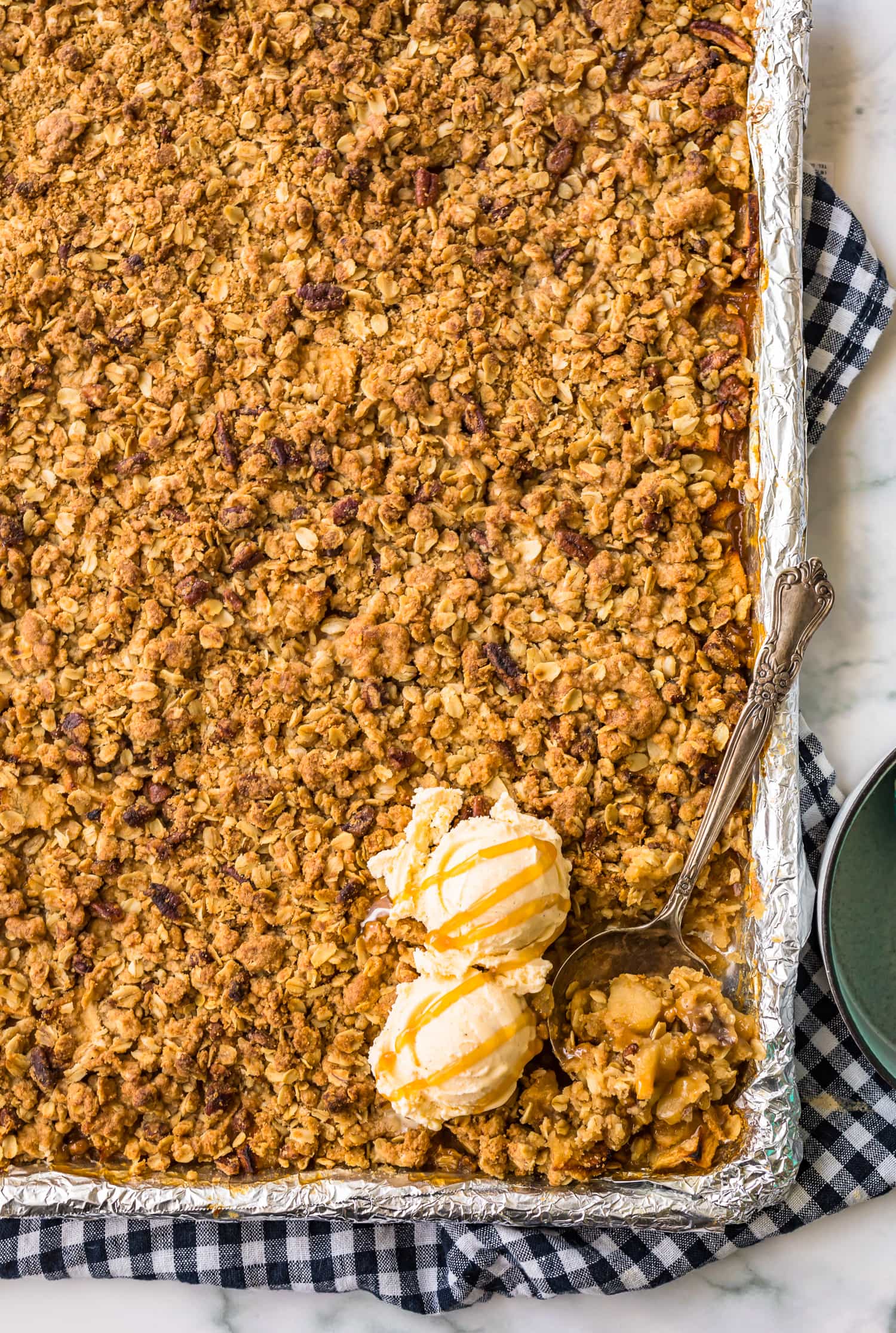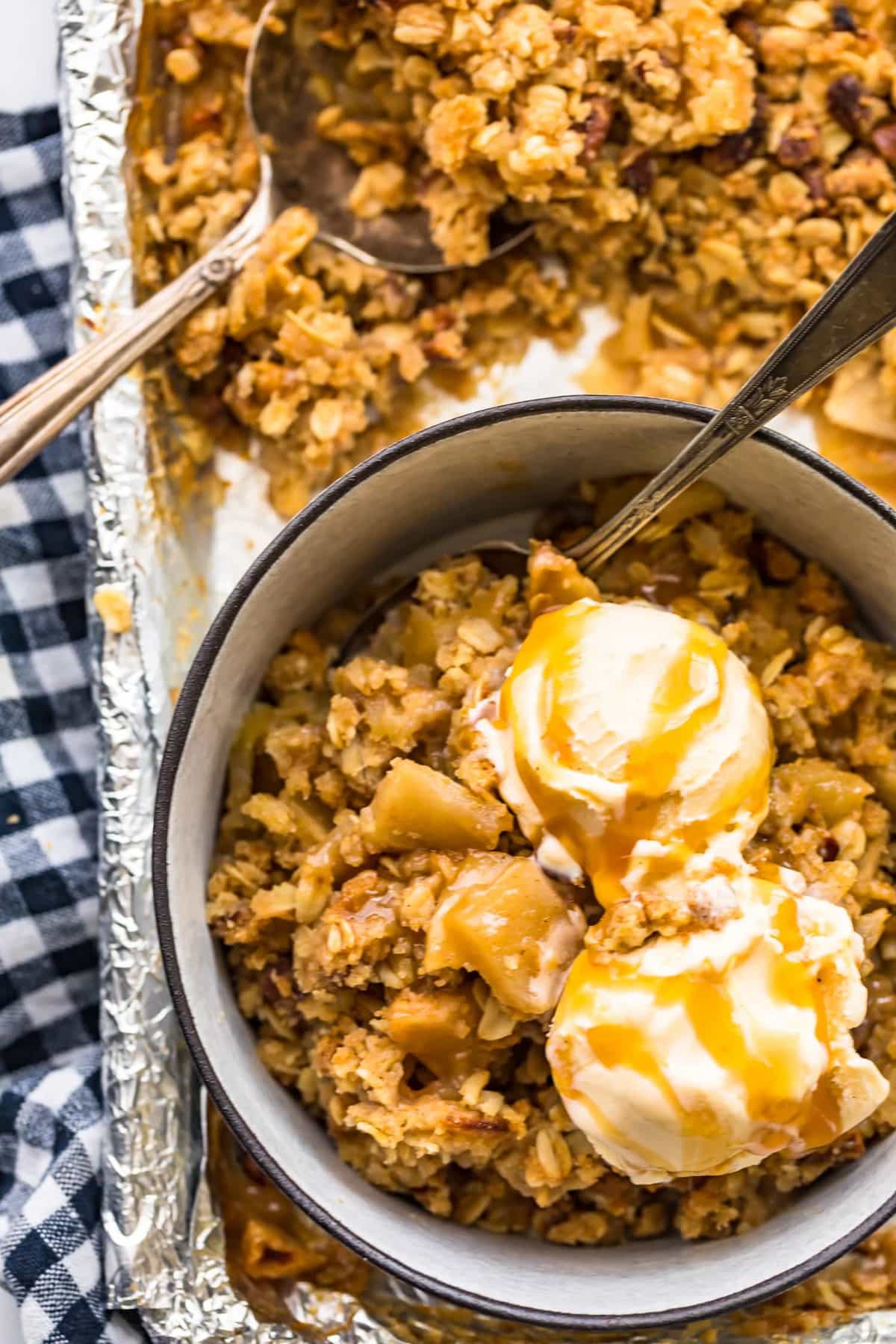 Is an apple crisp the same as a crumble?
Crisps and crumbles are very similar baked fruit desserts, but the difference is in the topping. The topping on a crumble tends to be more dense and cakey where as the topping on a crisp is lighter. The toppings on a crisp tend to contain oats.
What are the best apples to use?
It's best to use tart apples in this sheet pan apple crisp so that they contrast with the sweet topping. I used Granny Smith apples in mine, pink pearl would also work well. Apples should be firm for the best results.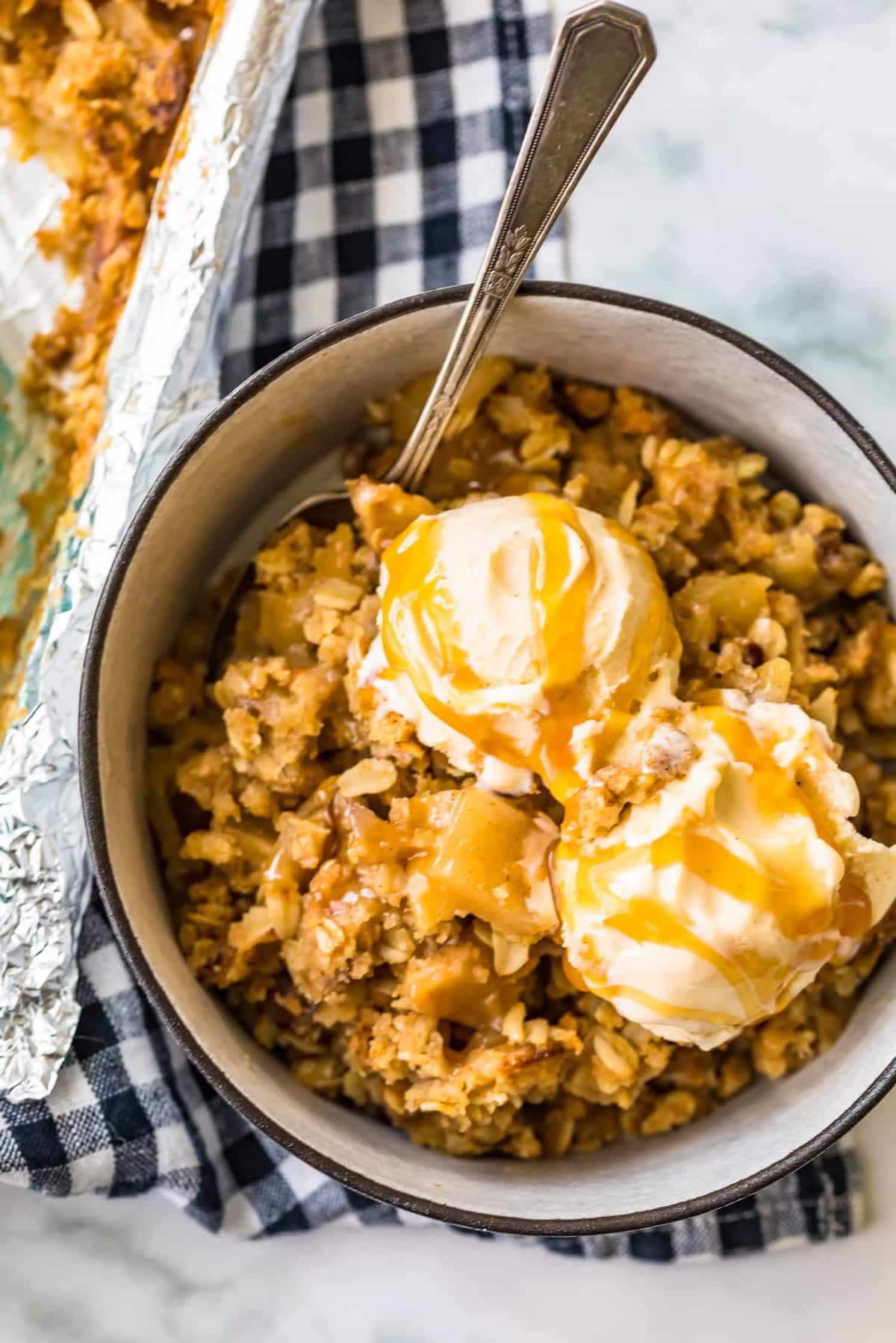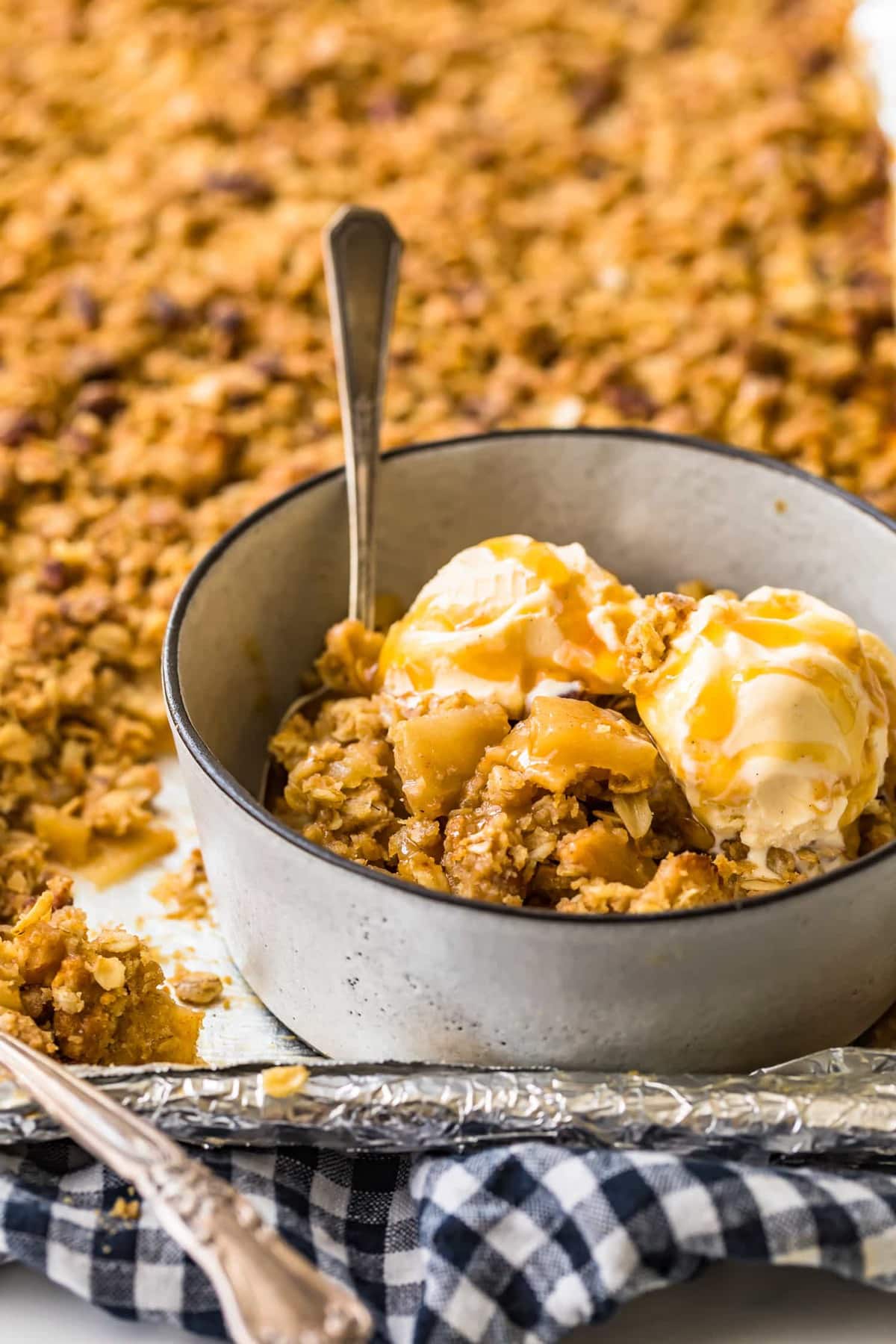 The best apple crisp recipe
Making the apple crisp in a sheet pan is such an easy way to bake this dessert, and it also means you can make a big batch with no fuss. The topping is deliciously crispy and the apples are full of flavor. Leftovers can be stored covered in the fridge for 3-4 days and either gently reheated or served cold.
Other Apple Recipes we LOVE
We simply LOVE apple recipes here at The Cookie Rookie. This Sheet Pan Apple Crisp is in good company! Here are some of our other go-to favorites.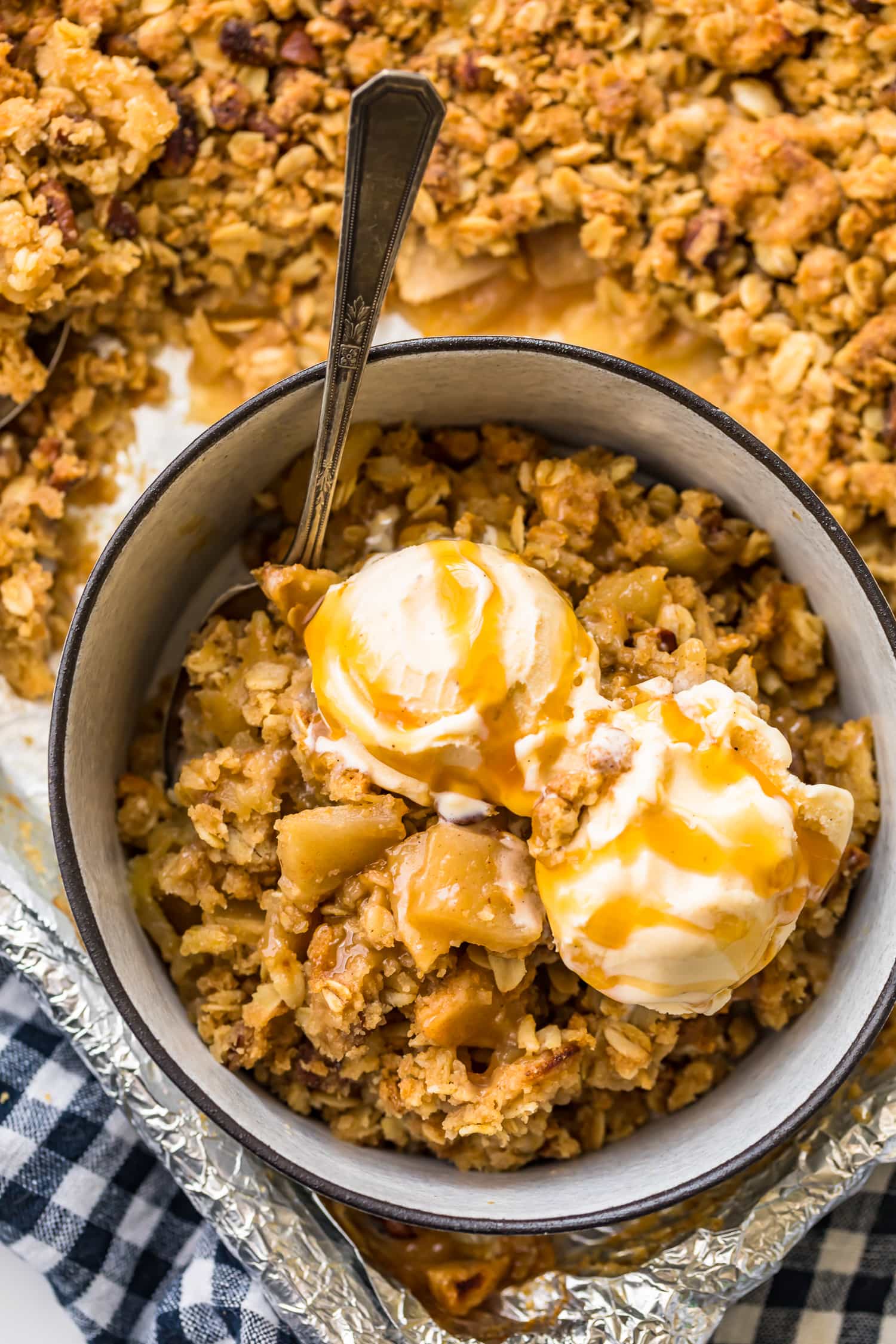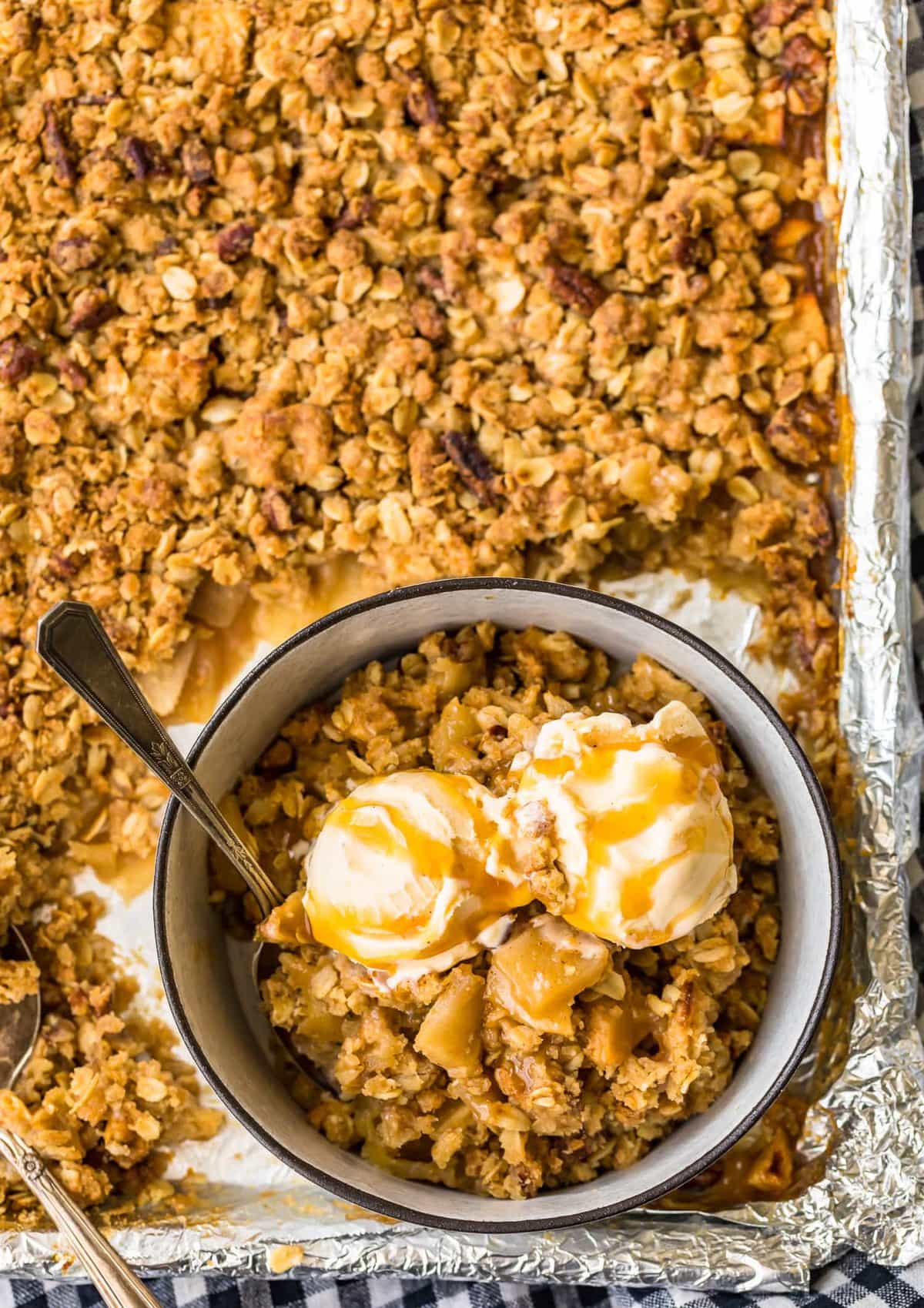 Top tips to make this Sheet Pan Apple Crisp Recipe
Use tart, firm apples for the best filling.
Line your sheet pan with foil and spray it with a non stick spray.
Cook the crisp in a pre-heated oven.
Be sure to serve with the creamiest of ice creams.
Top it off with caramel sauce and you're really in business!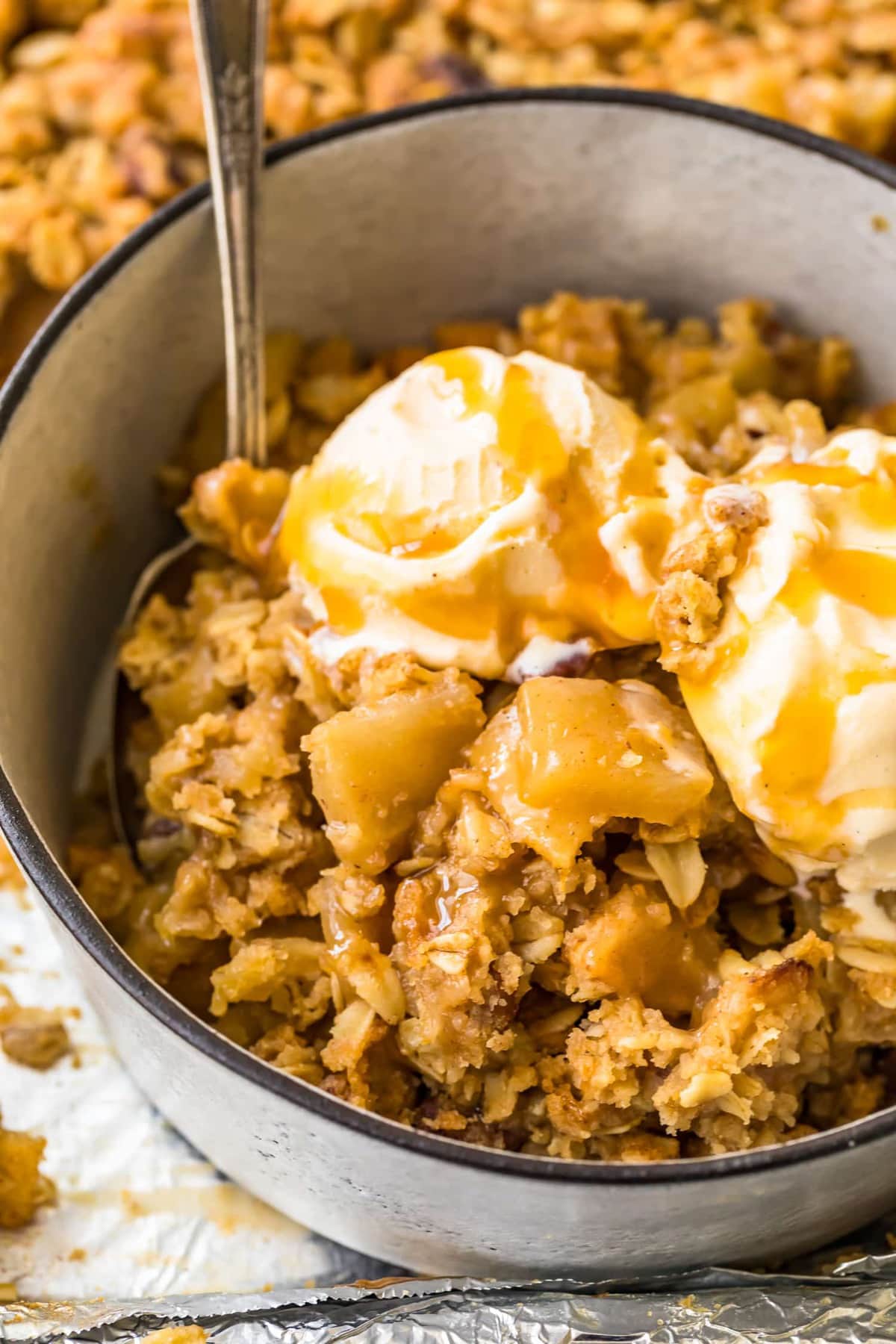 Be sure to check out these other delicious desserts!