This Zesty Panzanella Salad (aka bread salad) is super easy, fresh and delicious! It's made with a Meyer lemon vinaigrette that's whipped up in the food processor and tastes incredible!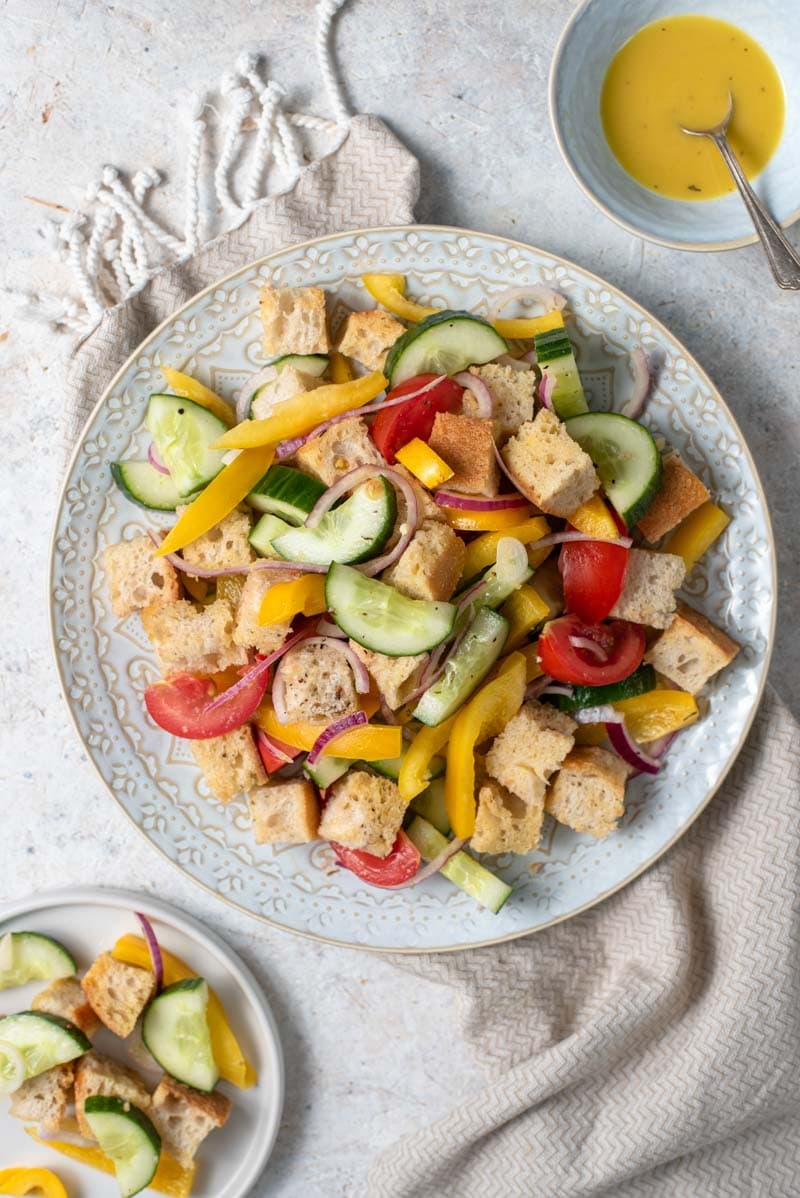 This is a Sponsored post written by me on behalf of Pompeian. All opinions are 100% mine.
When Pompeian Vinegars approached me about using their delicious Red Wine Vinegar to make a homemade salad dressing, I was SO excited. Scared and excited. I've wanted to tackle making salads for a long time now.
I know, they sound like about the easiest thing to make in the kitchen, but for some reason, I felt intimidated. Since May is National Salad Month, I decided it was about time I give some salads a try. Zesty Panzanella Salad with Meyer Lemon Vinaigrette is easy, delicious and fresh. Perfect for summer.
Bread Salad…different, right? It's for girls like me that are teetering on the edge of healthy cooking. The veggies and light vinaigrette are totally healthy…the bread is more of a 'my kind of healthy'. I'm halfway there. Give me some credit! :)
What Bread Should You Use to Make Panzanella Salad?
This salad traditionally was a way of using up stale bread so I always say if you have any crusty bread (stale or fresh) that needs using up, use that.
I love to use sourdough because I think it adds a ton of flavor but you could also use french bread, ciabatta or any crusty bread you like.
Making the Best Vinaigrette
Pompeian Balsamic Vinegar has been a favorite at our house since we got married. Pat loves nothing more than a simple caprese salad with Balsamic Vinegar. You can't beat the quality and price of Pompeian. They have so many flavors and varieties of vinegar and oils.
I had never tried Pompeian Red Wine Vinegar, but I was so excited to use it in my first ever homemade salad dressing. It's zesty and full of flavor, perfect with all of these colorful veggies. It was absolutely delicious mixed with the suble flavor of the fresh Meyer Lemon Juice. SOOO good.
How to Make this Zesty Panzanella Salad
Preheat oven to 325°F.
Place cubed bread on baking sheet and brush or spray with olive oil.
Sprinkle with Herb and Garlic Seasoning and Sea Salt
Bake bread for 12-15 minutes or until browned.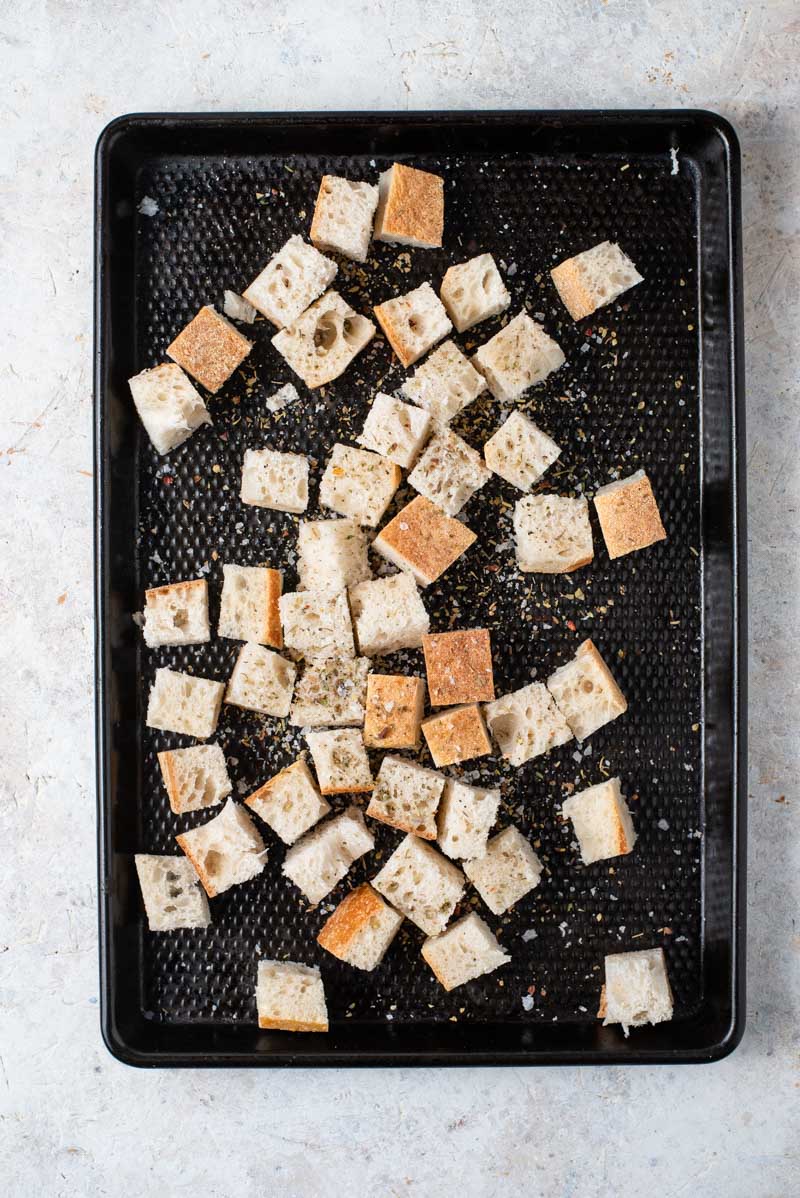 While bread is cooking, cut and prep your veggies. Place in a bowl, mix, and set aside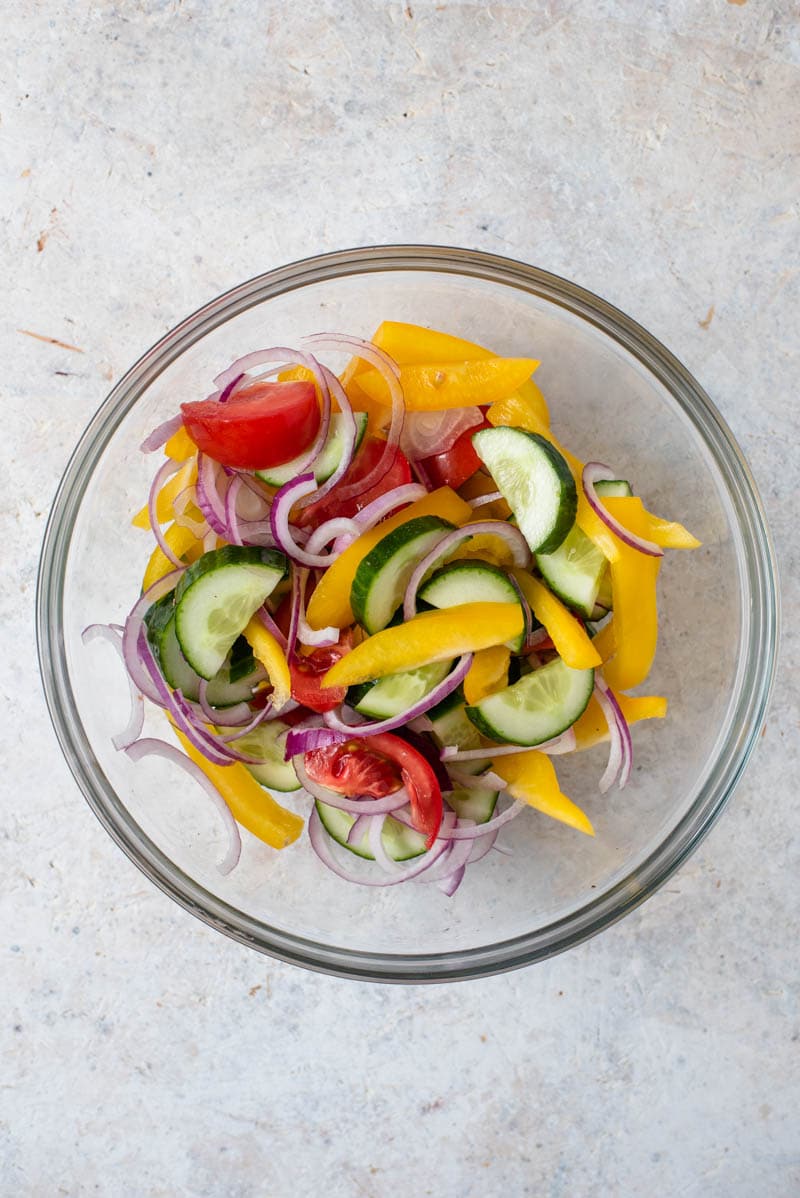 In a food processor, mix together vinegar, lemon juice and zest, orange juice, and 1 tsp. black pepper. With food processor on low, mix in olive oil one tbsp at a time until well incorporated. Transfer dressing to airtight container.
May is the perfect month to celebrate salads. Fresh vegetables are ripe and in season, the weather is warmer, and people are looking to lighten up their menus.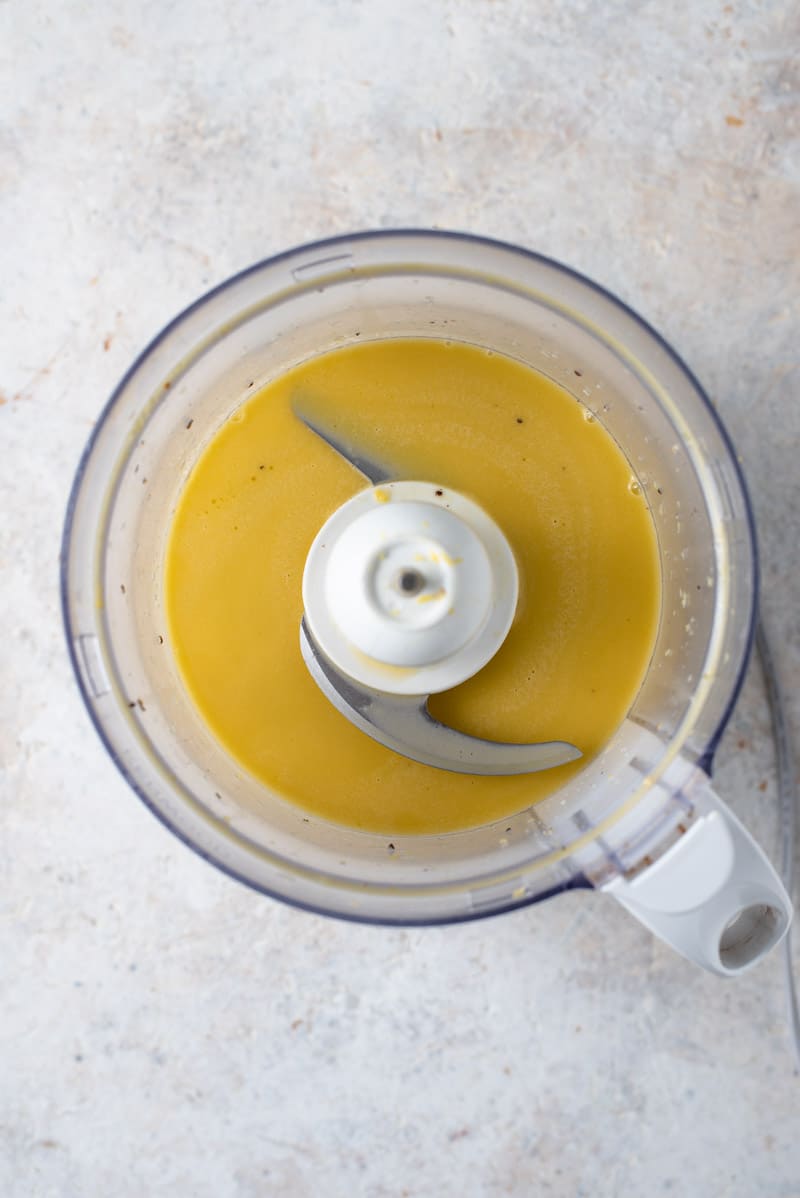 Mix bread in with veggies and pour dressing over all, mixing with your hands.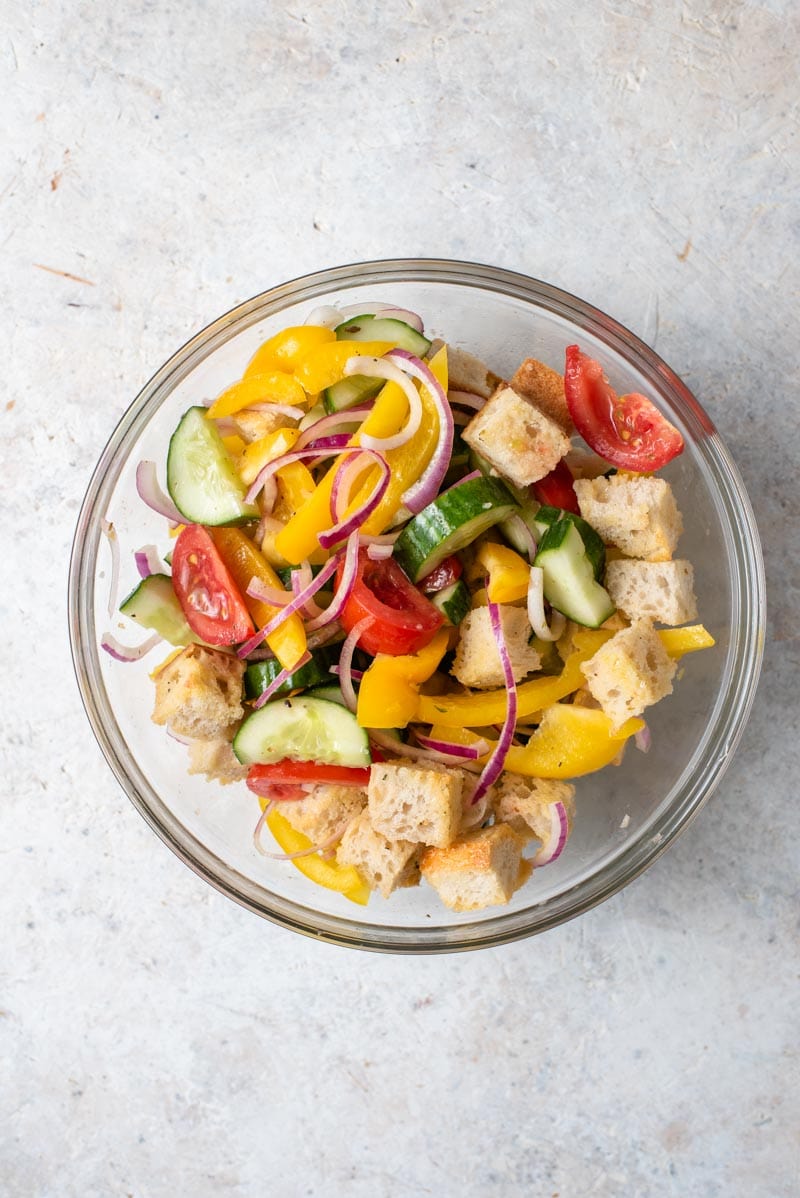 This salad would make the perfect side dish, or perfect meal, on any summer day. You could switch up the veggies for any of your favorites. I chose to use cucumbers, yellow peppers, tomatoes, and red onion.
Variations of Bread Salad
I love how simple and fresh this salad is but you can easily customize it with different veggies, herbs and spices. Here are some ideas to try;
Add mozzarella (baby bocconcini or mozzarella pearls work great)
Bell peppers or any color (jarred roasted peppers are a great option too)
Chopped zucchini
Olives
Avocado
Tuna (canned tuna)
Cooked chicken
Cooked ham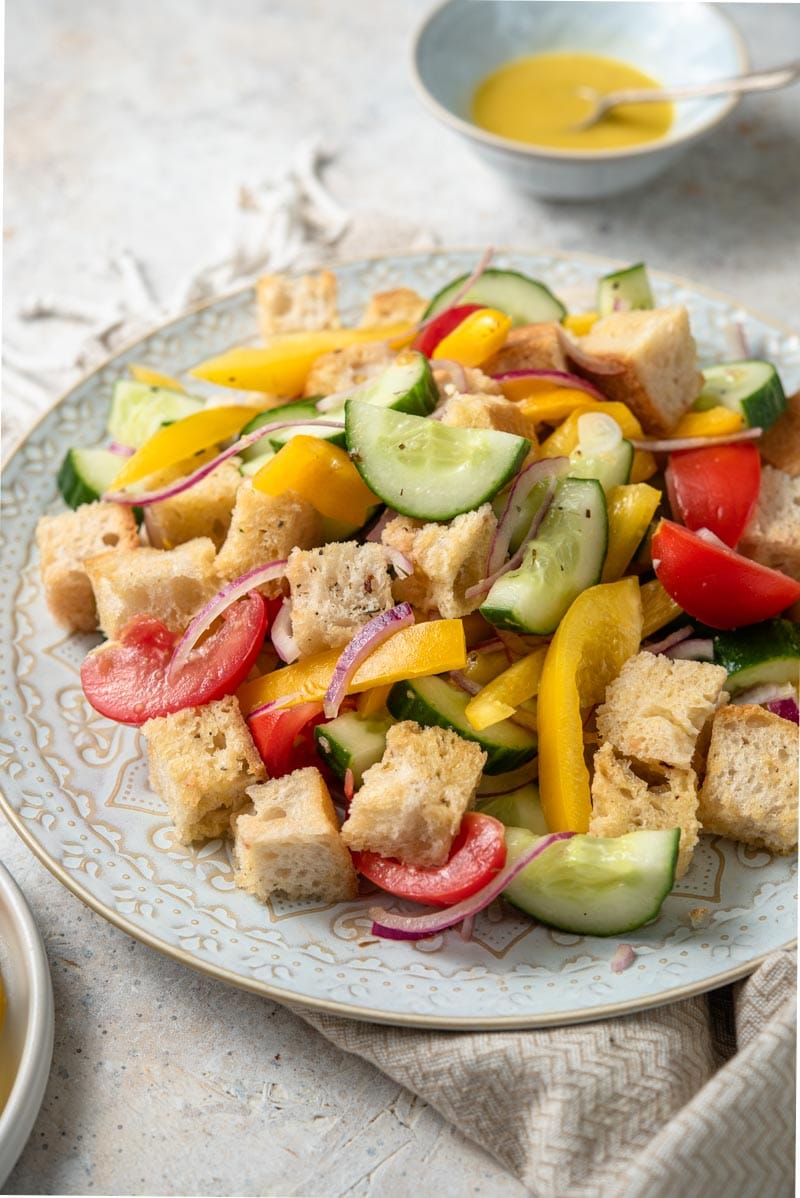 Top Tips for Making Panzanella Salad
Panzanella is a great way to use up stale bread so don't throw it out!
If you don't have sourdough any crusty bread will do.
You can switch it up by sprinkling different herbs and spices on the bread croutons (parmesan cheese works well too).
If you can't find Meyer lemons then use regular lemons but cut the amount by half.
You can make this salad in advance and store it in the fridge for 1-2 days (the flavors get a chance to meld and develop).
This is a great salad to make for picnics or barbecues because it gets better as it sits.
More Delicious Salads You Might Like: