CRANBERRY ORANGE SHORTBREAD COOKIES have become an obsession at our house! It's one of our favorite Christmas cookie recipes and a must make for the holiday season. You're going to love these sweet Cranberry Shortbread Cookies!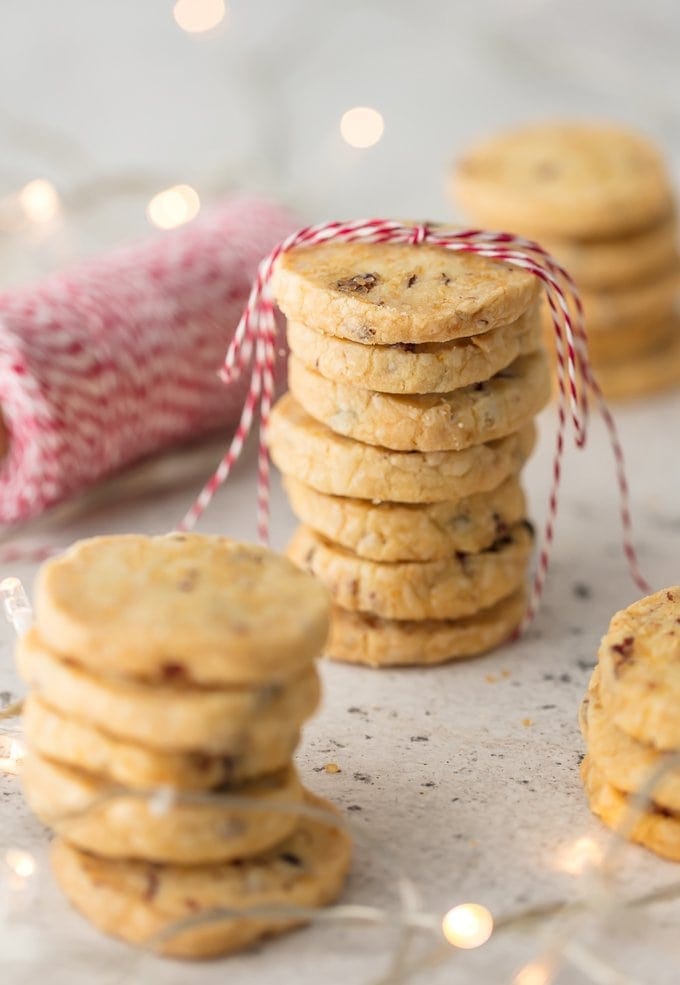 Christmas Shortbread Cookies
This Cranberry Orange Shortbread Cookies recipe is perfect for the holidays!
My Mom Susie (her blog is Simply Sated) makes all kinds of amazing holiday baked goods. I've posted so many Christmas favorites straight from her kitchen to yours including
She is literally the only reason I know how to make ANYTHING in the kitchen, and we are all better because of it. THANK YOU MOM!
Today she brought over one of our favorites, Cranberry Orange Shortbread Cookies! They're a must for the holidays and easy enough we all can make them this Christmas!
These Orange Cranberry Shortbread Cookies are tasty Christmas Classic!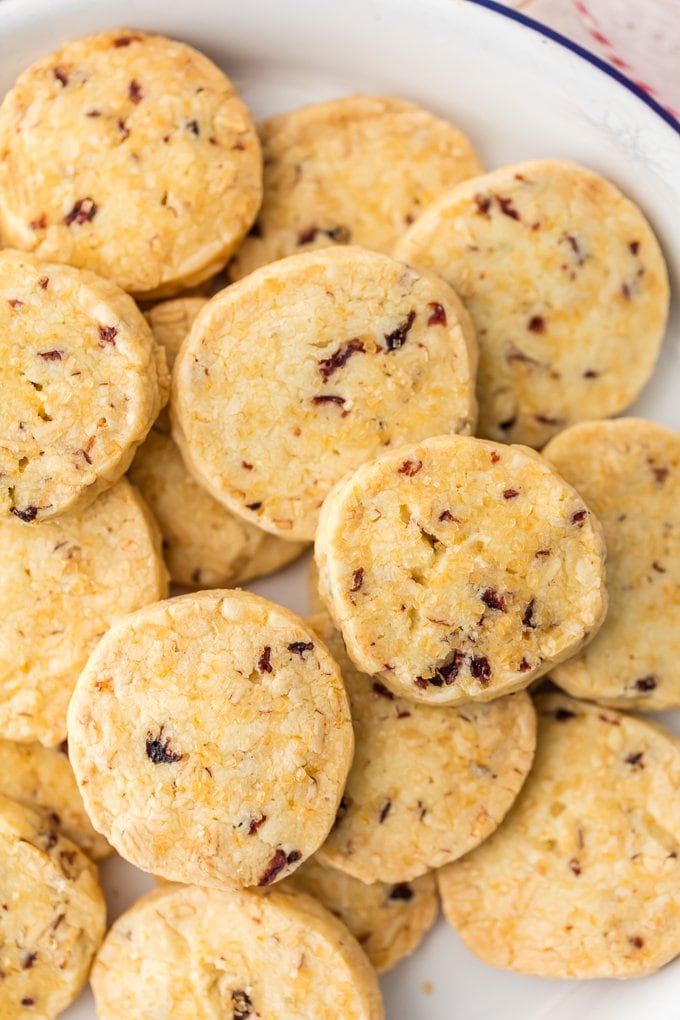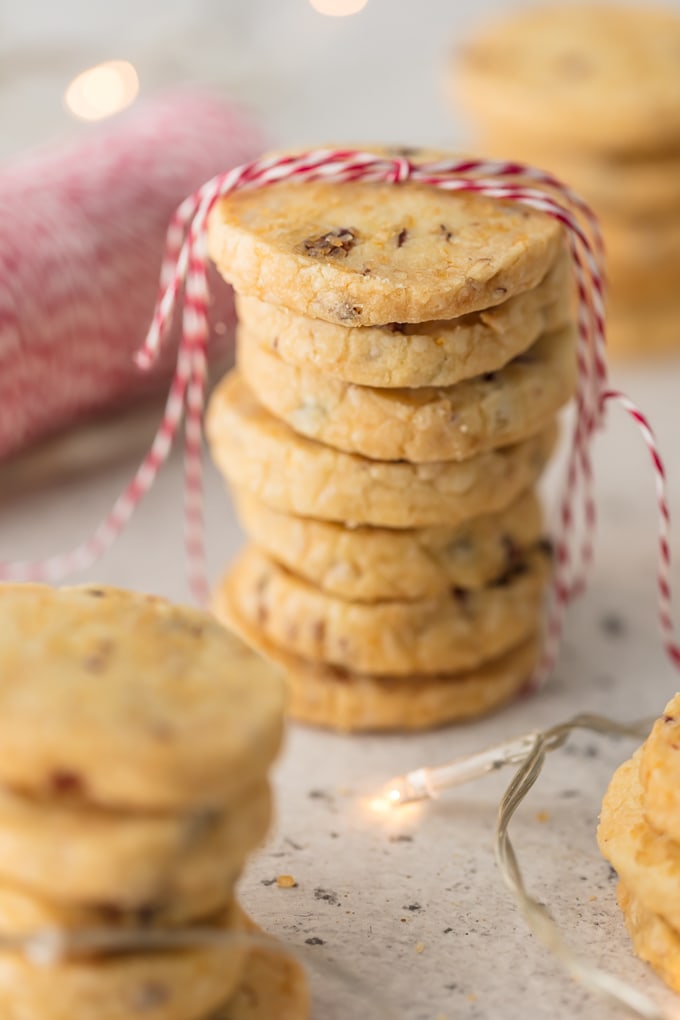 Favorite Orange Shortbread Cookie Recipe
Pat knows good and well that he isn't allowed to eat anything in this house until it's been photographed. It's the reason sometimes I cook dinner at 10am and he has to reheat it at 7pm when it's in shambles after a photo shoot. He knows he's not to sneak food, ESPECIALLY cookies before I have a chance to get them documented for you.
These Cranberry Orange Shortbread Cookies are so good that he broke all the rules and ate 4 before I had a chance to take pics. Dog house! He didn't care because he loves orange cranberry shortbread that much. Again, thank you Mom!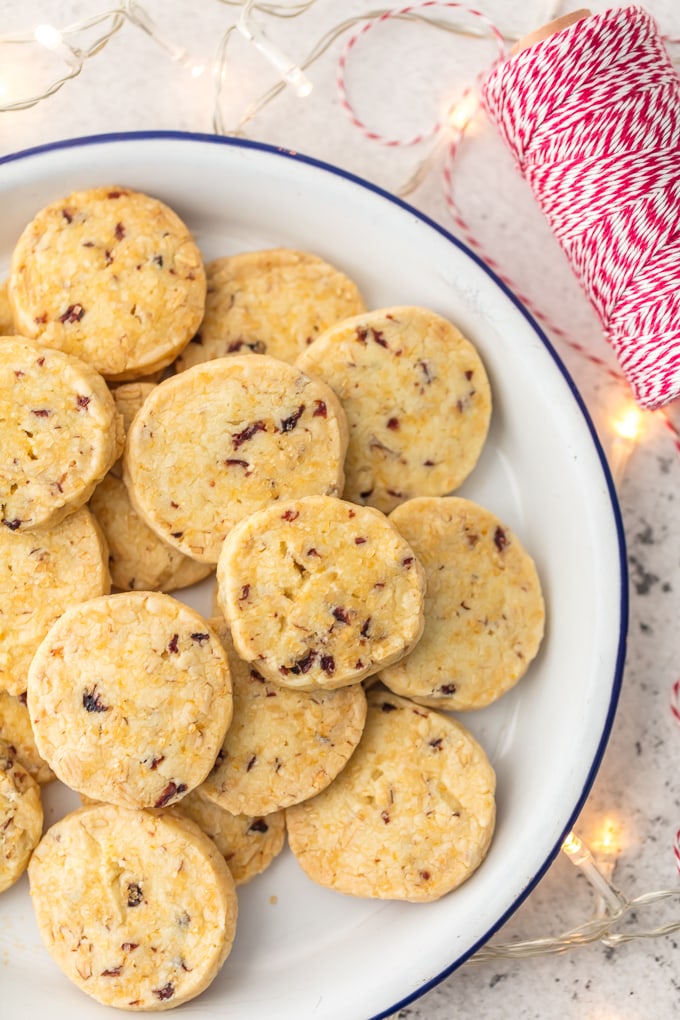 I just love the flavor combination of these orange cranberry shortbread cookies. The dried cranberries with the orange zest, a touch of salt, and crunchy shortbread…YUM! They're so pretty too…even prettier in person.
Cranberry Shortbread Cookies just scream Christmas to me. The flavors, colors, and overall charm. These make a great homemade present because they keep well, better than most cookies. I'm obsessed…can you tell?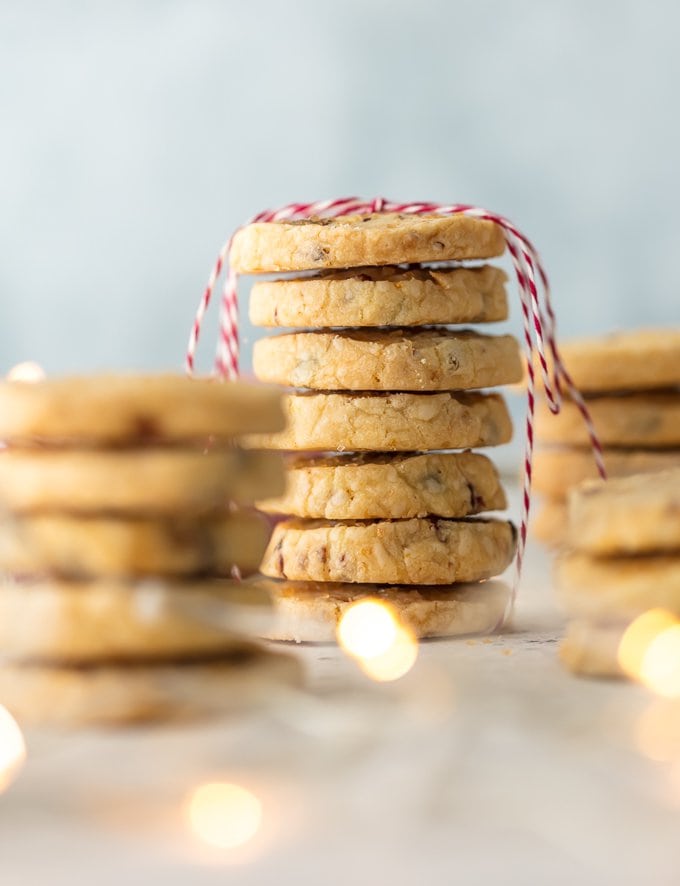 Do me a big favor and hop over to Mom's site to get this recipe for cranberry orange shortbread cookies. Every couple weeks, I post a recipe that is uniquely hers and I'd love for you to get the recipe from her, not me. I want everyone to know about her awesome site!
Try these other holiday cookie recipes:
Need more holiday cookie recipes? Try these 25 Easy Christmas Cookies!
RECIPE FOR CRANBERRY ORANGE SHORTBREAD COOKIES from Simply Sated