Rice Pilaf is a great side dish for any meal. Make it better by spicing it up with some cinnamon, apples, and raisins like we did in this easy rice pilaf recipe! It's perfect for holidays or any hearty dinner.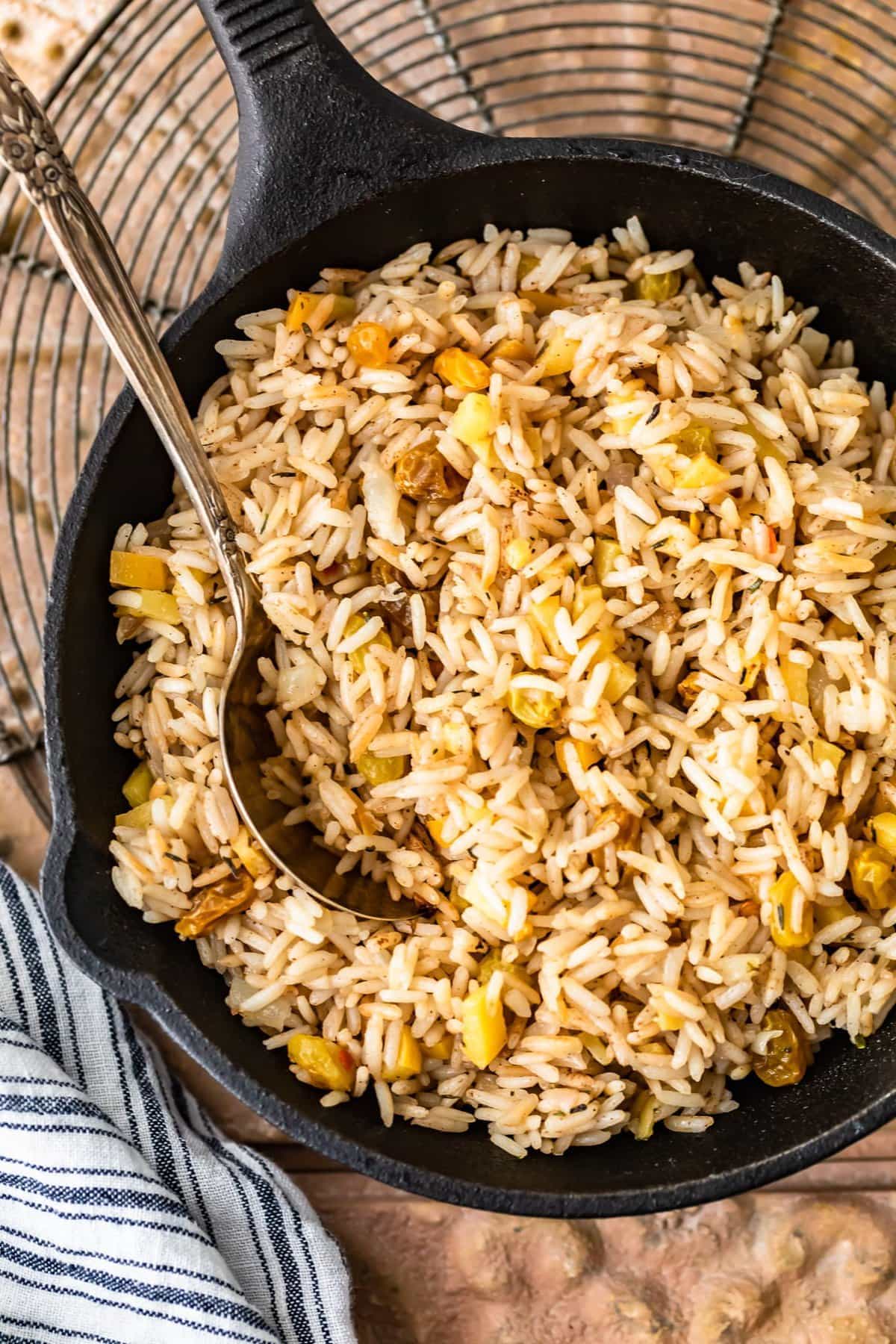 Spiced Rice Pilaf Recipe
Looking for a fun and flavorful side dish for your next holiday meal or dinner? This Spiced Rice Pilaf recipe is exactly what you need!
Rice mixed with cinnamon, apples, raisins, allspice, onion, and more make one delicious rice dish that can be served on any occasion. I just love the mix of flavors in this dish, and it's so easy to make too! All you need are a few things from your pantry.
I love this rice pilaf dish for Thanksgiving, Christmas, and other holidays. It fits in perfectly with all the other side dishes on the table! But it's just as good with some chicken or pork for a regular weeknight dinner. Try it as a side dish for this Pork Tenderloin with Honey & Herbs, Prime Rib Roast, Herb Crusted Rack of Lamb, or our Baked Fried Chicken!
Rice Pilaf with Apples & Raisins is an easy and delicious side dish for any meal!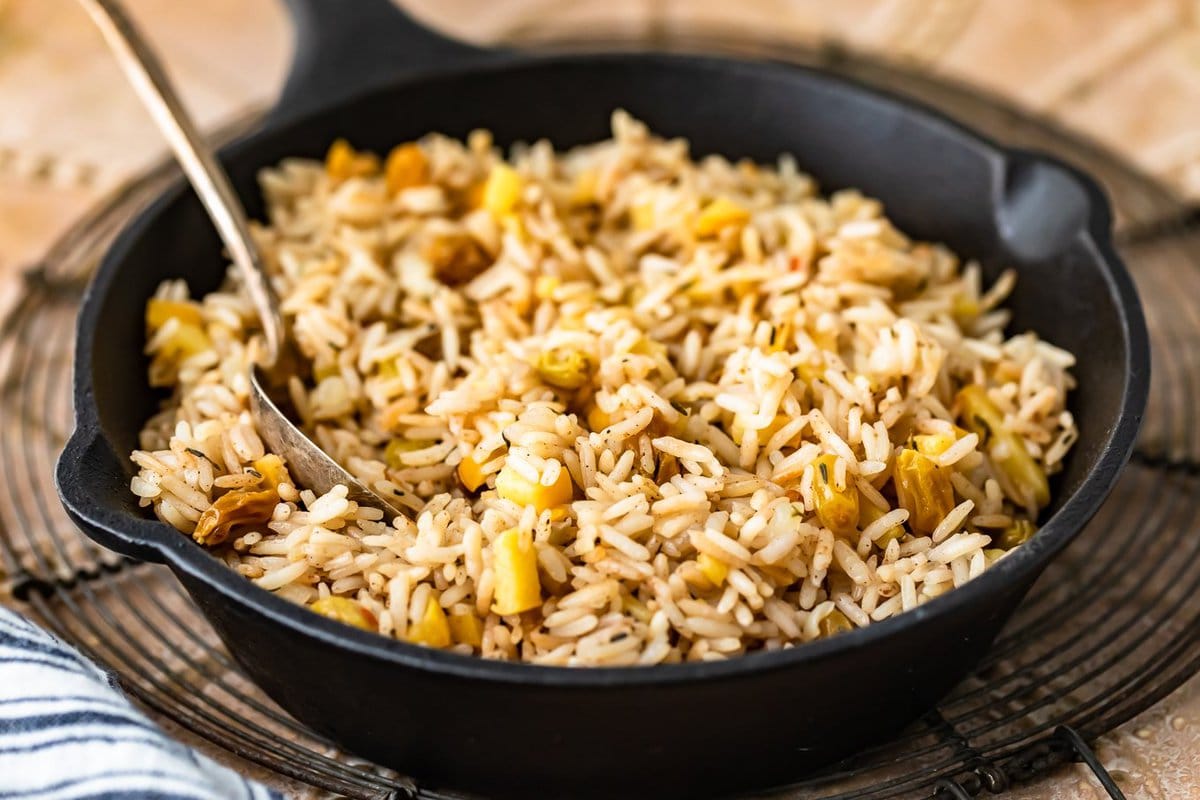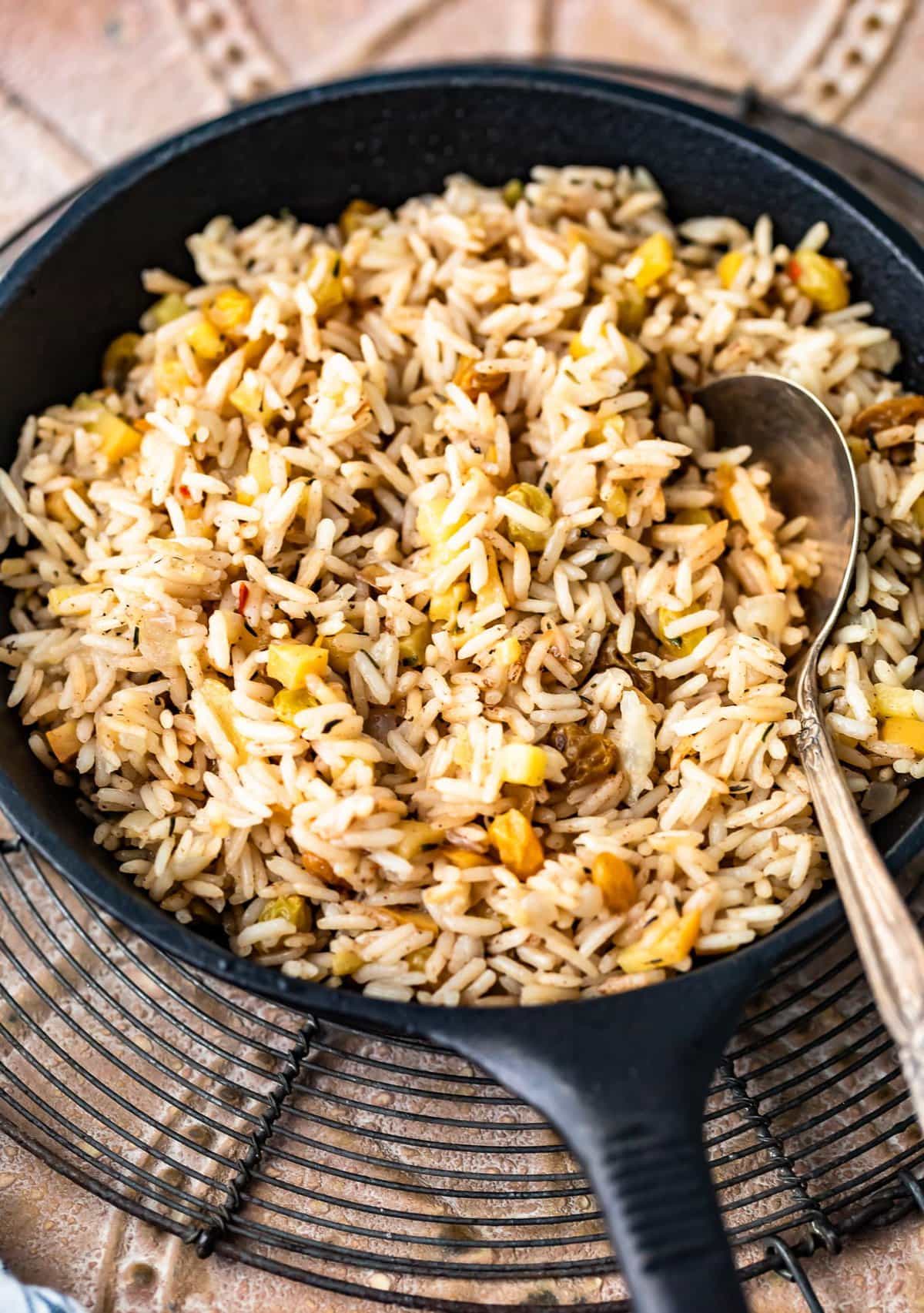 Rice Pilaf with Apples & Raisins
The combination of ingredients and flavors in this rice pilaf dish is a little bit sweet, a little bit savory, a little bit "spicy" (spiced, not hot), and a whole lot of TASTY. It's the perfect side dish for holidays because of that warm flavor from the cinnamon and allspice. I'll definitely be making this next Thanksgiving!
What's in this spiced rice pilaf recipe?
Jasmine or Basmati Rice
Gala or Granny Smith Apple
Chicken Stock or Water
Golden Raisins
Ground Allspice
Dried Thyme
Ground Cinnamon
Red Pepper Flakes
Yellow Onion
Butter
Salt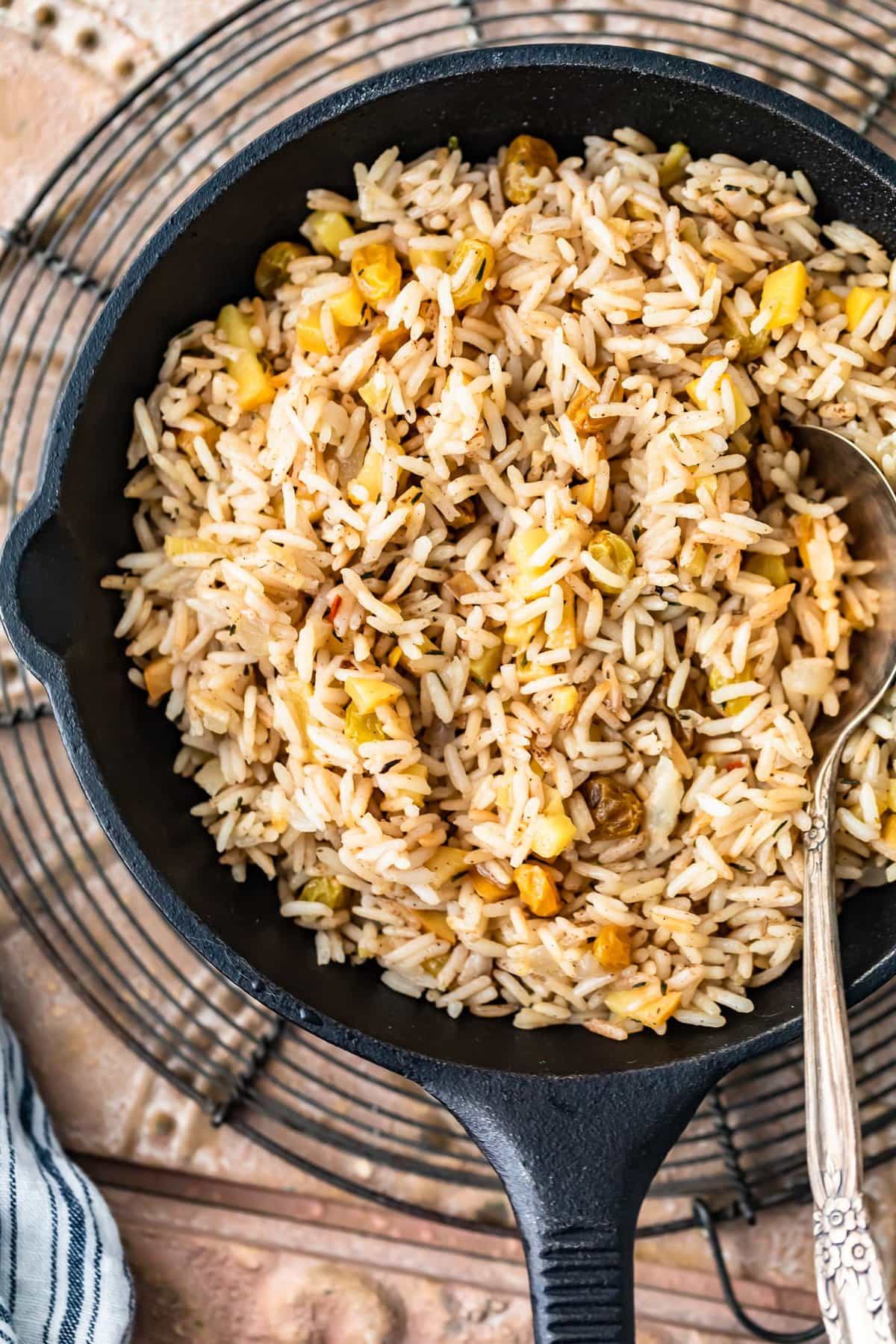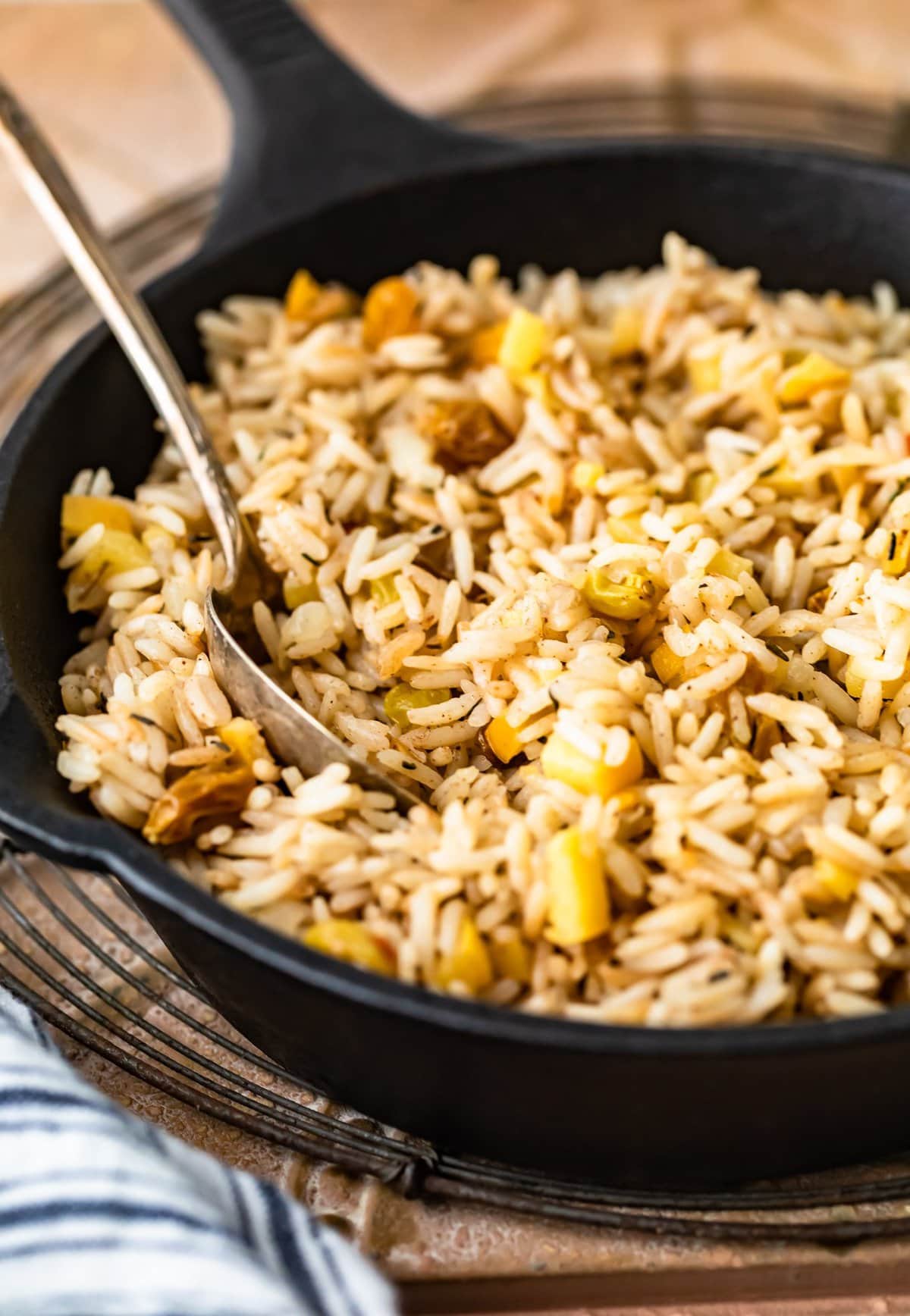 How to Make Rice Pilaf with Apples & Raisins – Step by Step
This rice pilaf is just as easy to make as any rice dish. Add all the ingredients to a skillet and let it cook! This recipe will be ready in about 20-30 minutes to serve with your meal.
How to Make Spiced Rice Pilaf:
Heat oil and butter in a large skillet. Then add in the apples and onion and sautee about 5-6 minutes.
Add in the rice and stir regularly for about 6-8 minutes until it's browned.
Now stir in the rest of the ingredients and bring it to a boil. Then reduce the heat, cover, and let it cook for 15-20 minutes (or until the rice has absorbed all the liquid).
Fluff it up with a fork and serve!
It's such a simple recipe, and so darn good!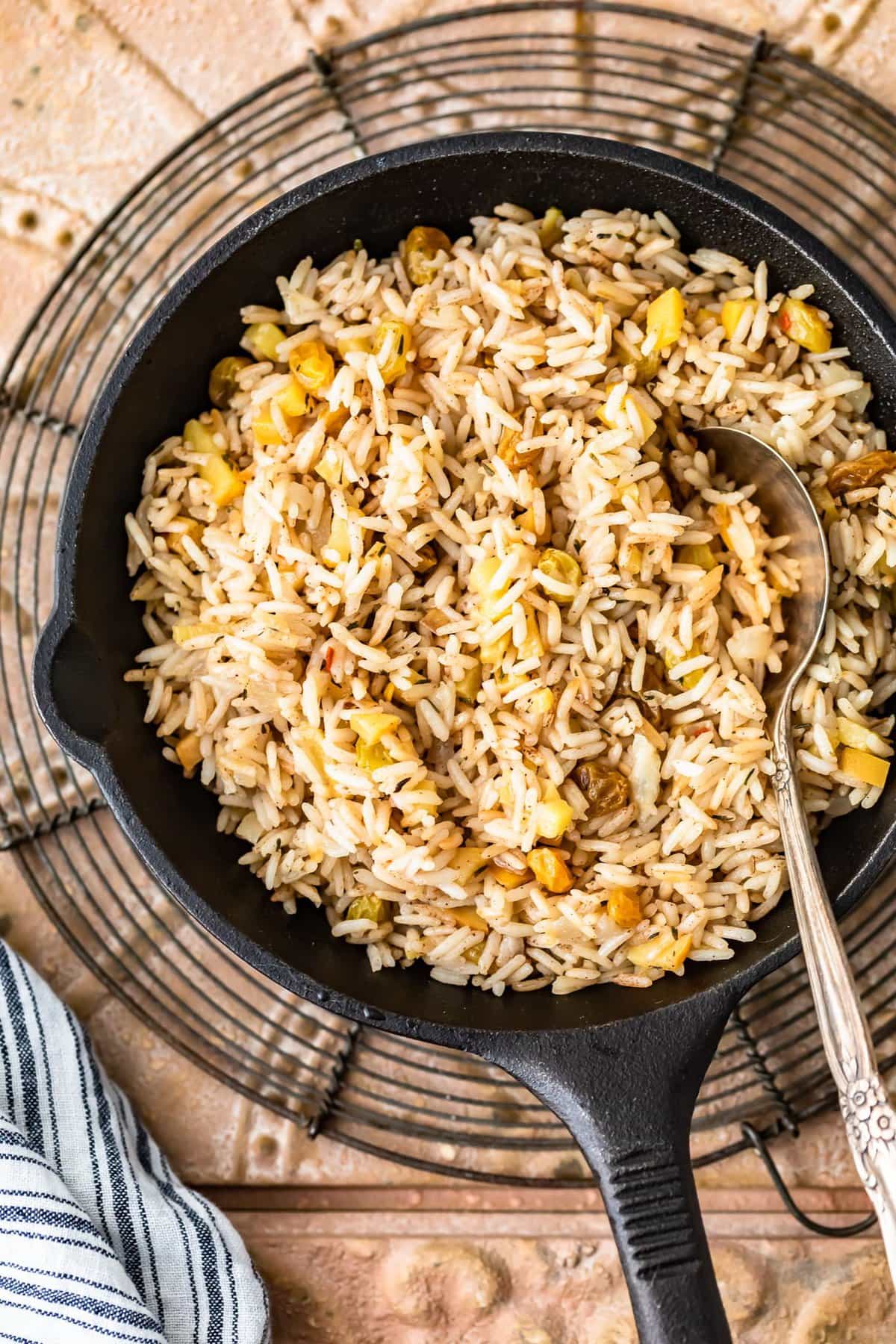 Easy Rice Dishes
Rice is a pantry staple, so it's likely you always have some on hand. You can do so much with it, from sides to casseroles to full meals. Most dinners can benefit from an easy rice dish, and this spiced rice pilaf recipe is a delicious addition. Try some of the recipes below for more ideas on what to do with that rice in your pantry!
Easy Rice Dishes
Rice is a pantry staple; here's what you can do with it!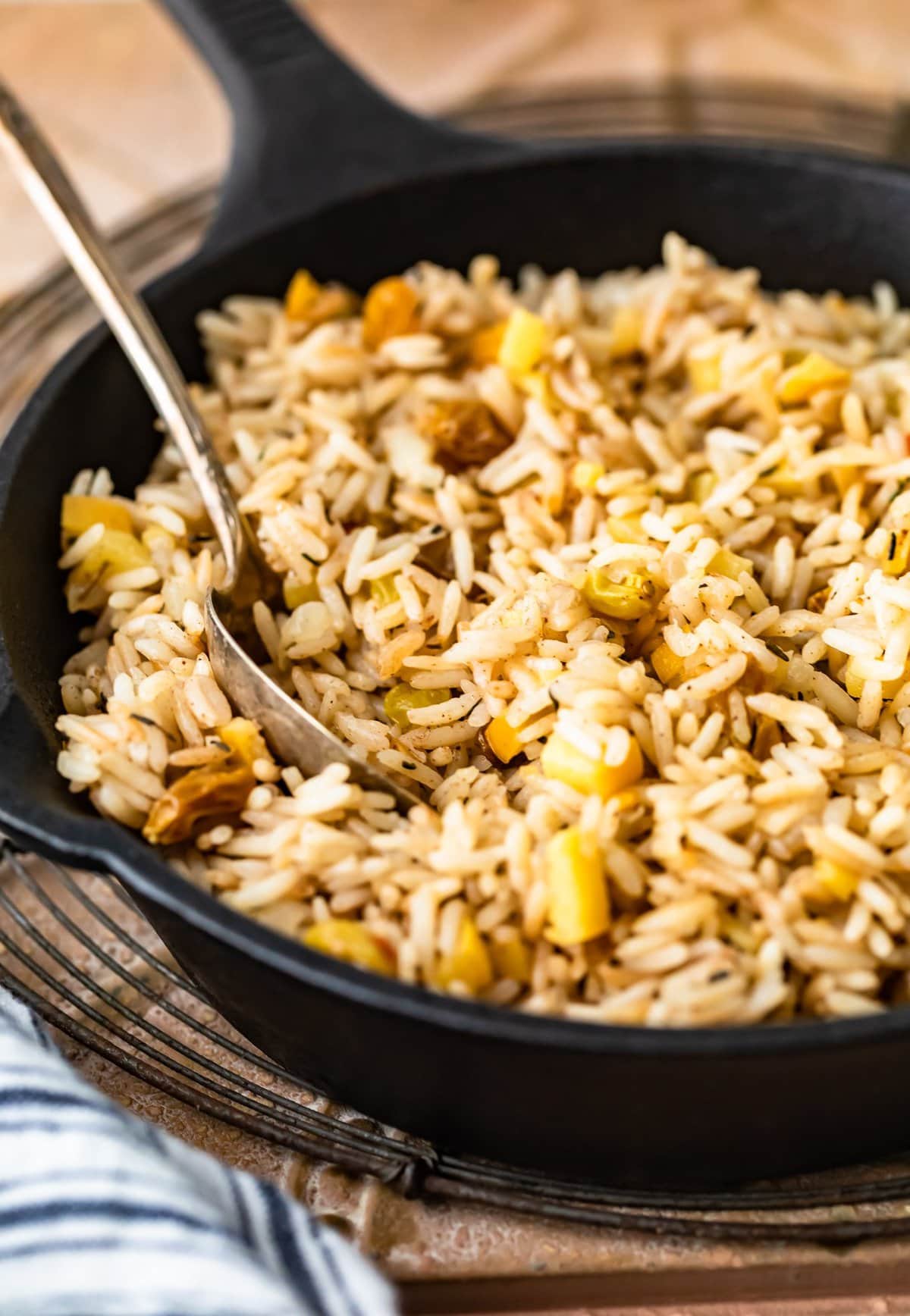 I hope you enjoy this rice pilaf with apples & raisins as much as I do. It's such a comforting dish and tastes so good with pork, chicken, or beef.
See the recipe card for details on how to make Spiced Rice Pilaf. Enjoy!
If you like this recipe, be sure to try these other delicious side dishes: