This homemade Pickle Relish recipe is tangy, sweet, and perfectly flavored. Cucumbers, red onions, and bell peppers are pickled together, then cooked in a sweet mixture to finish it off. This easy relish is the best condiment for hot dogs, bratwurst, burgers, and more, so make sure you have it at your next BBQ!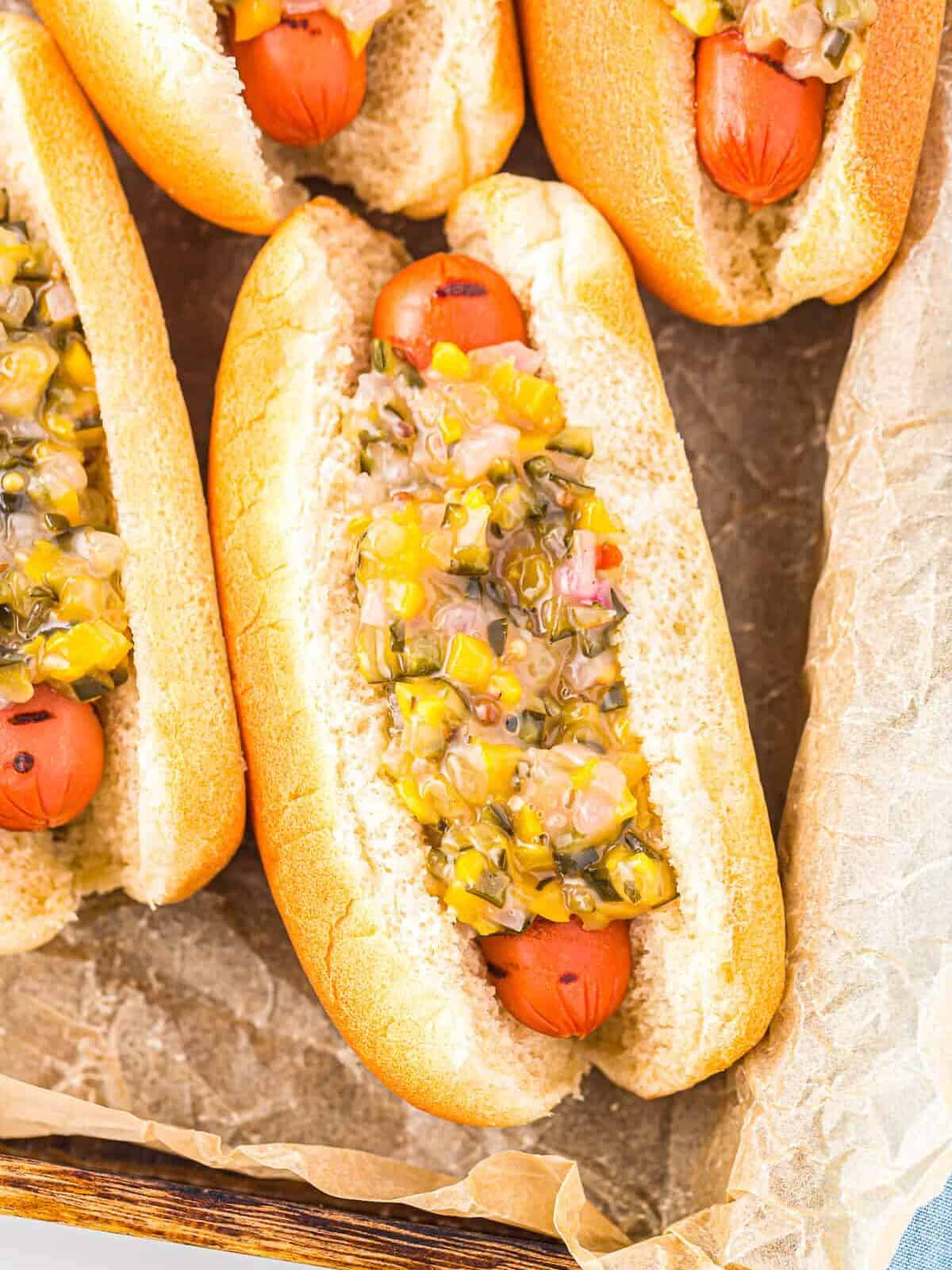 What's in this Sweet Relish Recipe?
Cucumbers, onion, and bell pepper are mixed with salt, spices, vinegar, and sweet simple syrup to create the perfect sweet-and-savory pickle relish.
Cucumbers: The base of this relish. Use large cucumbers for the highest yield.
Red Onion: Red onion has nice bite, but you can substitute white or yellow onion if needed.
Bell Pepper: You can use a red or orange bell pepper instead. In a pinch, you can substitute a green bell pepper but your relish won't have that pop of color that the bell pepper gives it.
Sea Salt: Substitute pickling or canning salt instead.
Pickling Spice: A mixture of allspice, bay leaves, cardamom, cinnamon, cloves, coriander, ginger, mustard seeds, and peppercorns. I used the Great Value brand of pickling spice from Walmart but you can use whatever brand is at your local grocery store.
Apple Cider Vinegar: Helps pickle the cucumbers, onions, and peppers.
Simple Syrup: Sweetens the relish. You can make your own simple syrup by bringing equal amounts of sugar and water to a boil and simmering until thick.
Celery Salt: Adds a vegetal saltiness that is classic in relish.
Variations on Homemade Relish
There are so many ways to change up this relish recipe to suit your individual tastes.
For a Dill Pickle Relish, add some ground or fresh dill in with the pickling spices.
For a Spicy Pickle Relish, add some crushed red pepper flakes in with the pickling spices.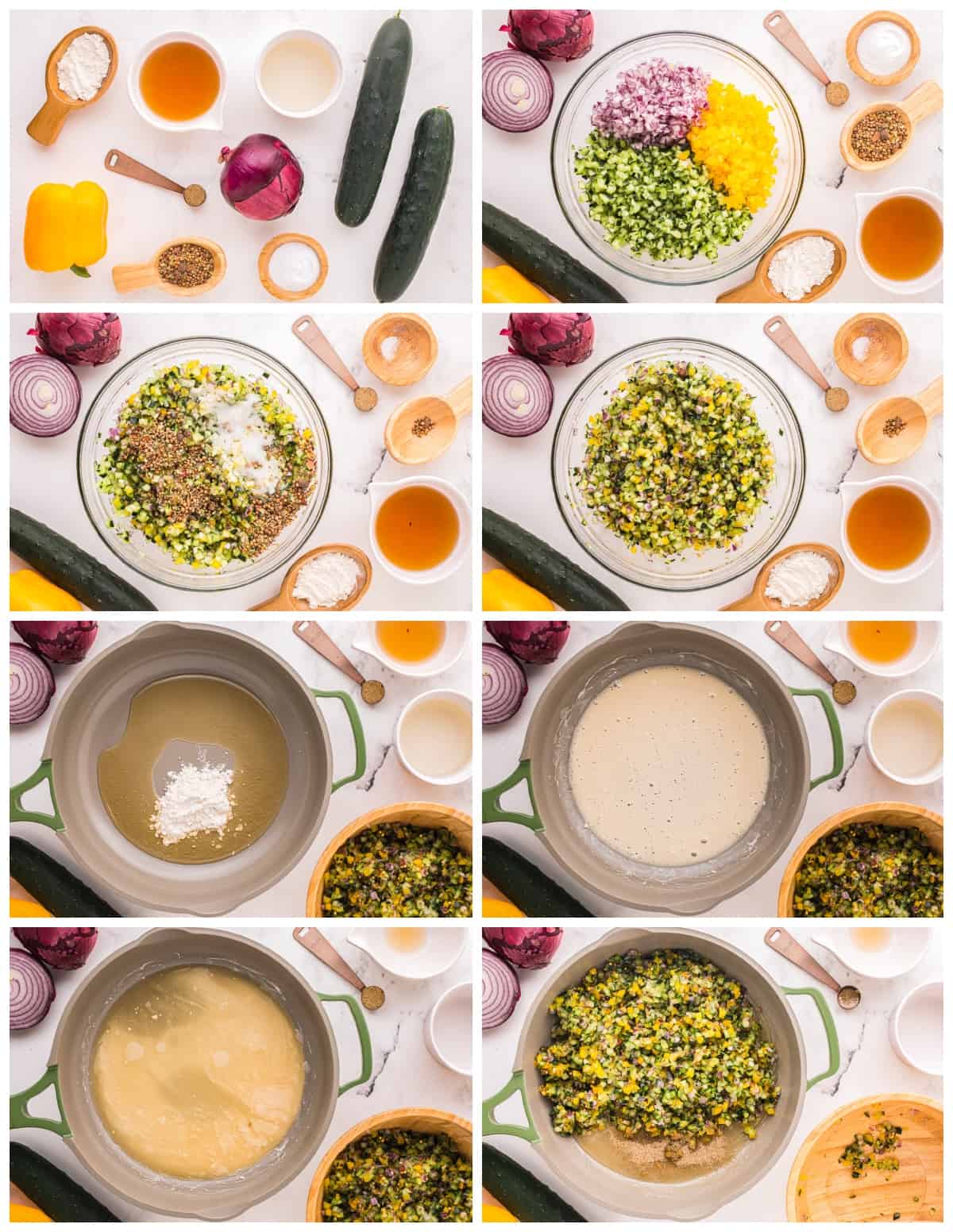 Is pickle relish just chopped pickles?
Nope! While you certainly could make a quick version of relish by chopping up pickles, it would not hold together well and would probably be very messy. This recipe mixes refrigerator pickles with thickening agents to create a thick, viscous relish just like store-bought!
Why do I need to allow the vegetables to sit overnight?
Allowing the vegetables to sit in the salt and seasoning overnight draws out excess water from them, which helps them keep their crispy texture and not get soggy when heated in the vinegar solution. It also allows the seasonings to add flavor to them so that the relish tastes full of flavor instead of bland.
How should I store my Pickle Relish?
You should store your relish in an airtight container in the refrigerator for up to 2 weeks. If you would like it to last longer you can follow a canning procedure that will allow it to last up to 1 year at room temperature. You can also freeze this relish in an airtight, freezer-safe bag or container, however the texture and flavor may change when frozen. If you do not use relish frequently you may want to make just ½ of the batch so that you don't have to throw out the extra.
Can this relish be canned?
If you would like to can this relish, whether to store for yourself or to use as gifts, you certainly may. Relish should not be pressure canned as it will lose texture and become mushier than you would want. Instead, follow a water bath canning method, and be sure to use sterilized mason jars, lids, and rings. Can the relish while it is hot and leave the appropriate amount of space at the top of the jar (usually ¼-½ inch of space). Be sure to follow safe canning procedures and use the proper equipment to protect yourself and your food.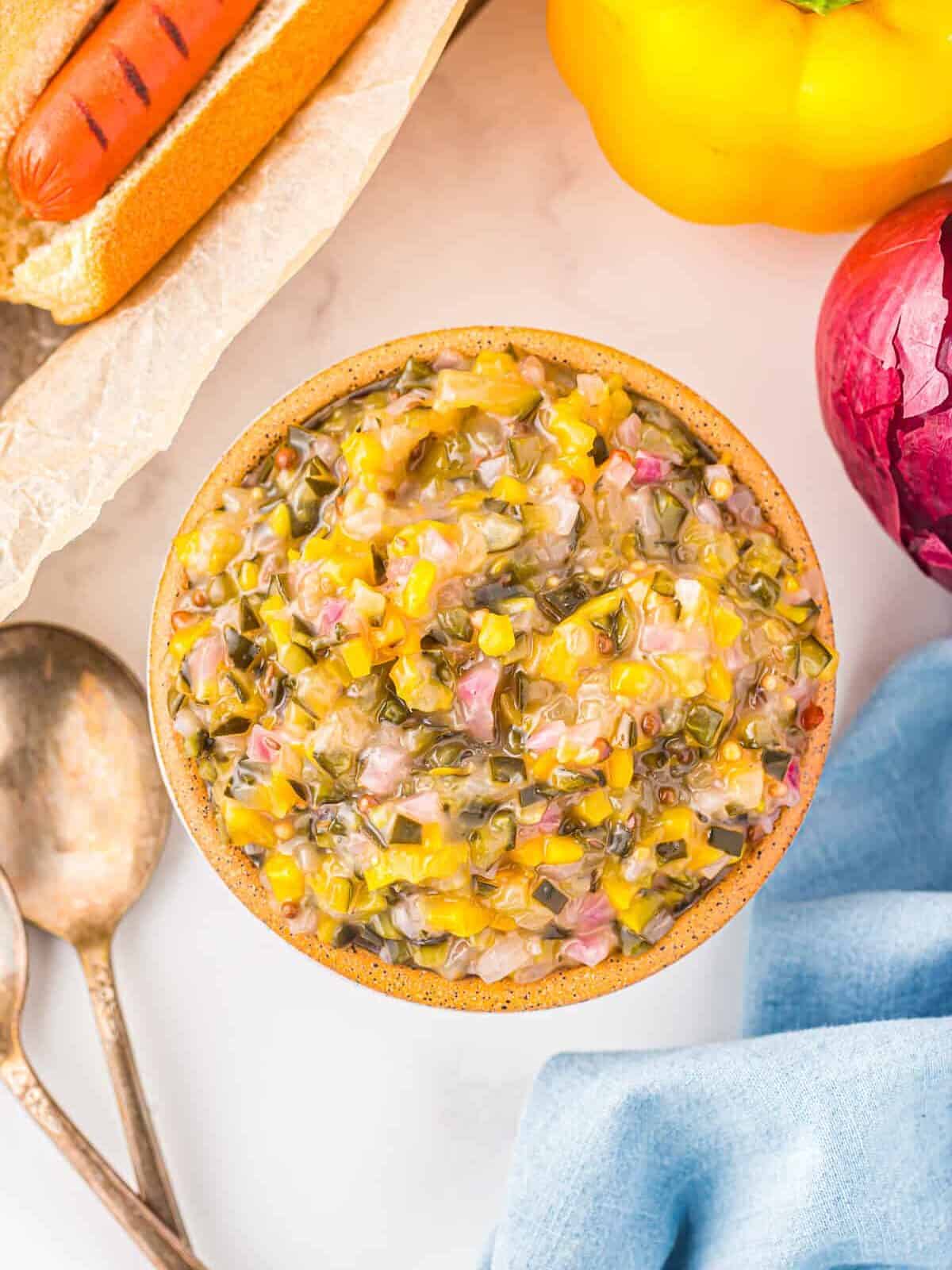 How to Store
Store leftover pickle relish in an airtight container in the refrigerator for up to 2 weeks.
How to Freeze
Freeze cooled relish whole or divided into individual portions, in airtight containers or Ziplock bags, for up to 4 months. Let thaw overnight in the refrigerator before using. Once thawed, it can continue to be stored in the fridge for up to 1 week.
How to Use Relish
This sweet pickle relish is the perfect condiment for hot dogs, burger recipes, chicken sandwiches, bratwurst, wraps and other sandwiches, or beef nachos. Try adding it to pickle dip or dill potato salad for a burst of flavor!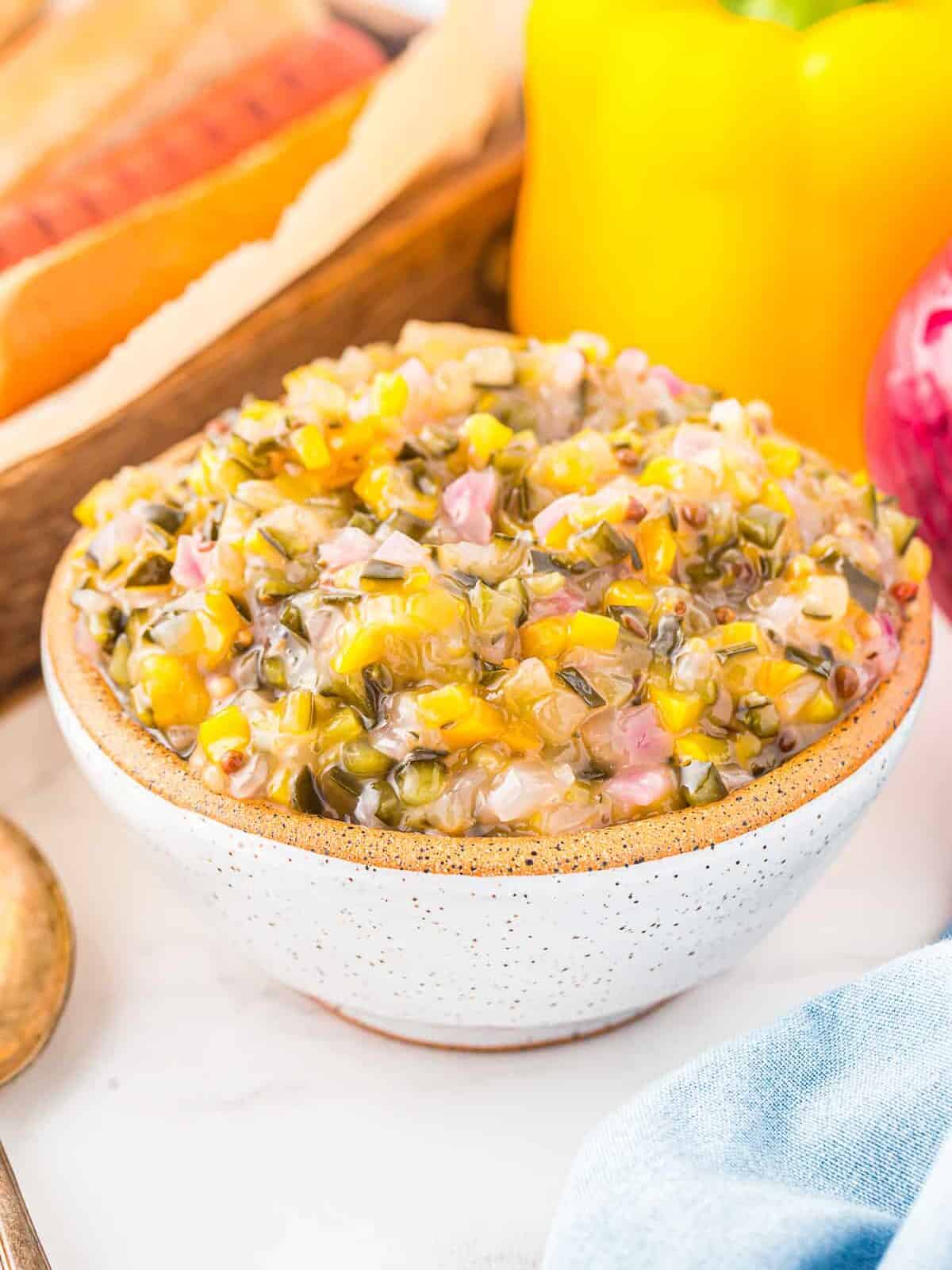 More Condiment Recipes We Love