Goodbye Pumpkin Pie and hello Pumpkin Crisp! This delicious fall dessert is a great way to refresh your Thanksgiving menu, while keeping those warming flavors we all love.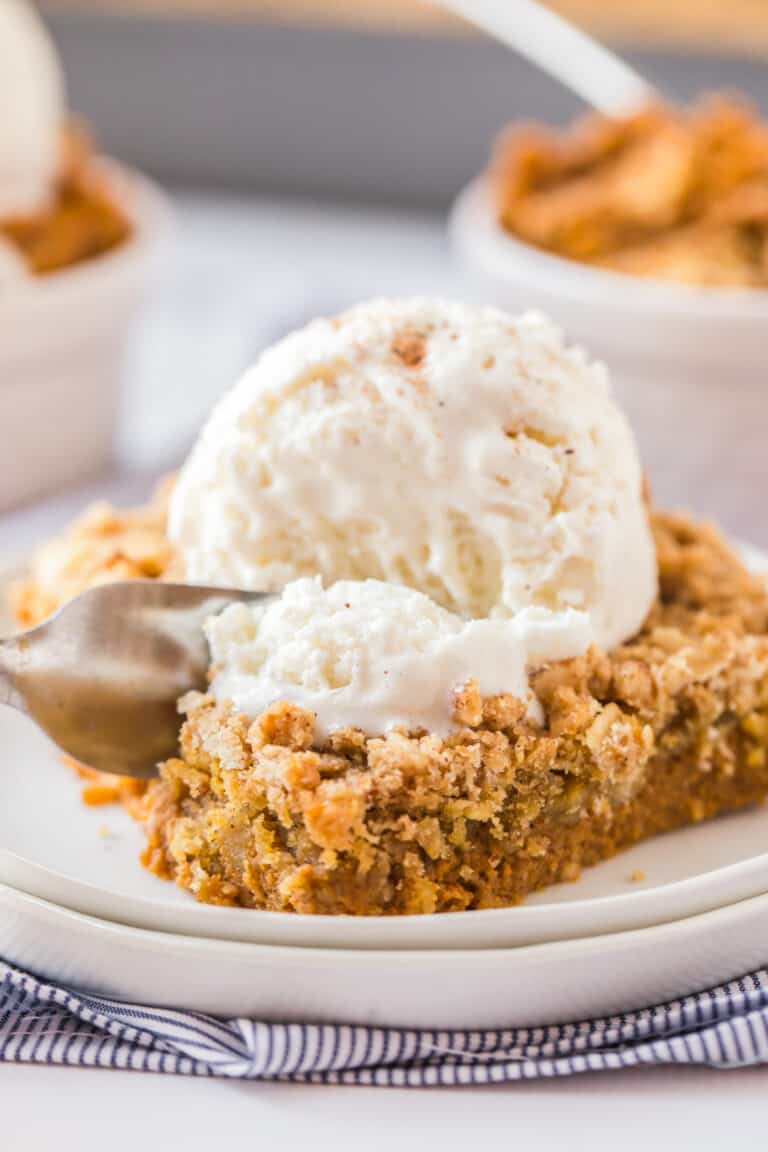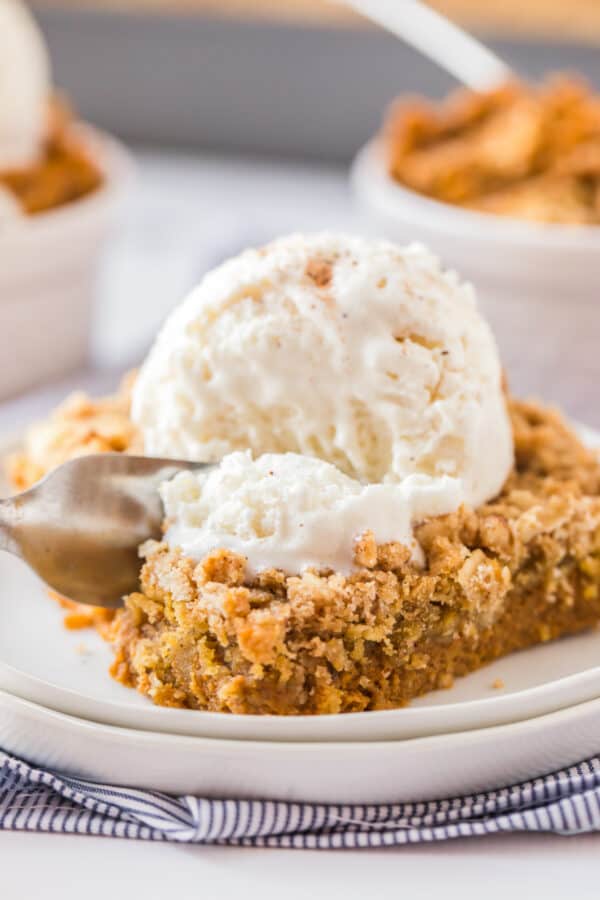 A delicious pumpkin pie filling, crowned with a buttery crumble topping, cozy, comforting and utterly delicious! The filling is packed with flavor and works beautifully with the crumbly topping, the textures marry up so well! Top this Pumpkin Crisp with ice cream and tuck in!
If you're looking for other delicious dessert recipes, why not also try my Easy Peach Cobbler Recipe or my Easy Angel Food Cake.
Why this Pumpkin Crisp is so good
A scrumptious crumble topping. Buttery, spiced and utterly yummy!
Pumpkin filling. The base of this crisp taste like the most flavor packed pumpkin pie you've ever had! If you love pumpkin pie you'll love this!
An easy thanksgiving dessert. The filling and the topping are whipped up in a flash, then slam in the oven – done. Plus it's a great alternative to pumpkin pie, without upsetting the purists out there!
How to make this Pumpkin Crisp
Be sure to see the recipe card below for full ingredients & instructions!
Make your Pumpkin Filling – In a bowl whisk your ingredients together until smooth. Then pour into a greased baking pan.
Make your crisp topping – Add all your crisp ingredients to a small bowl and combine. Then evenly sprinkle onto the pumpkin filling.
Bake – Bake uncovered for 35-40 mins. Allow to cool for 5 mins.
Serve with whipped cream/ice cream, enjoy!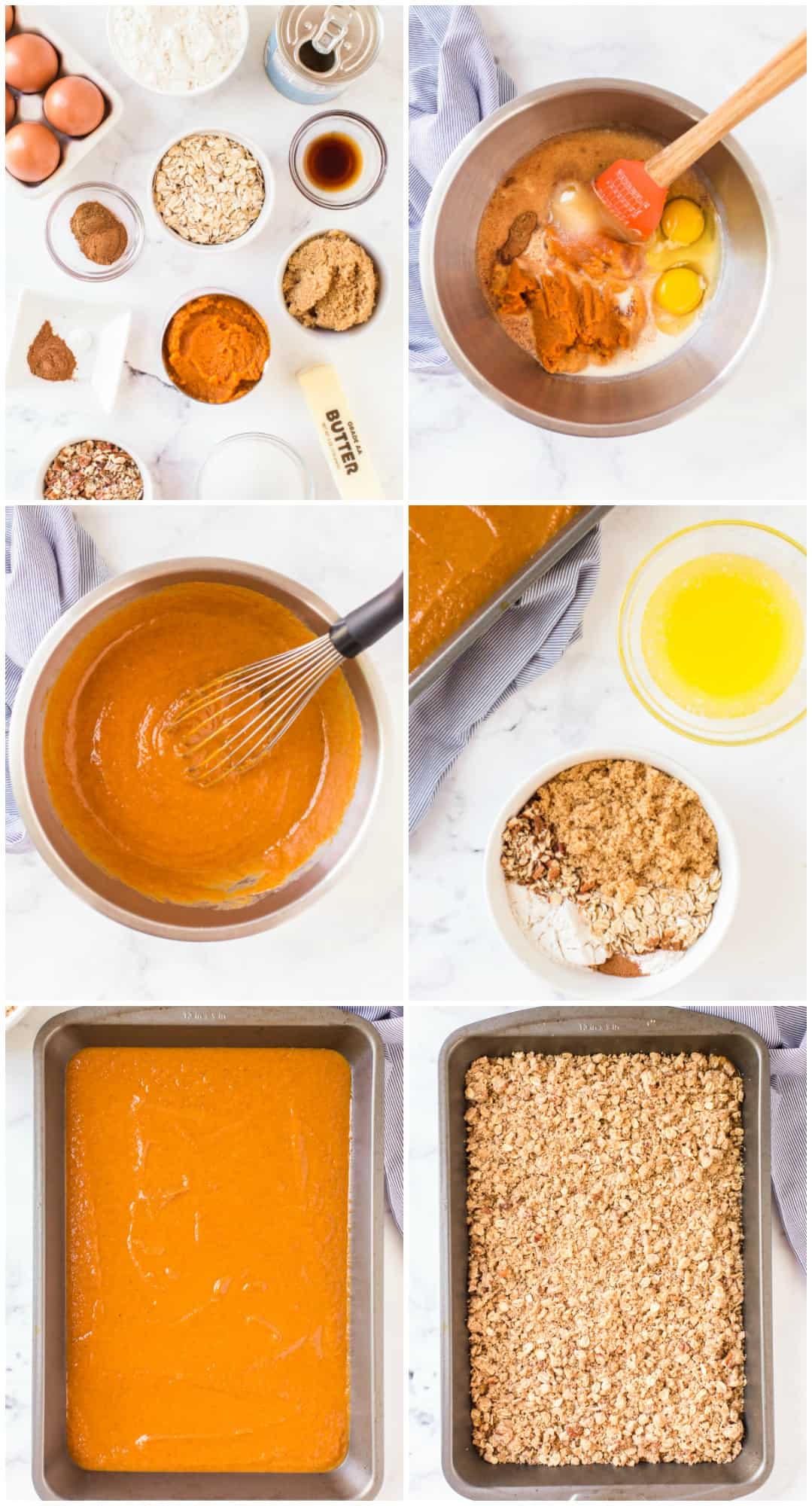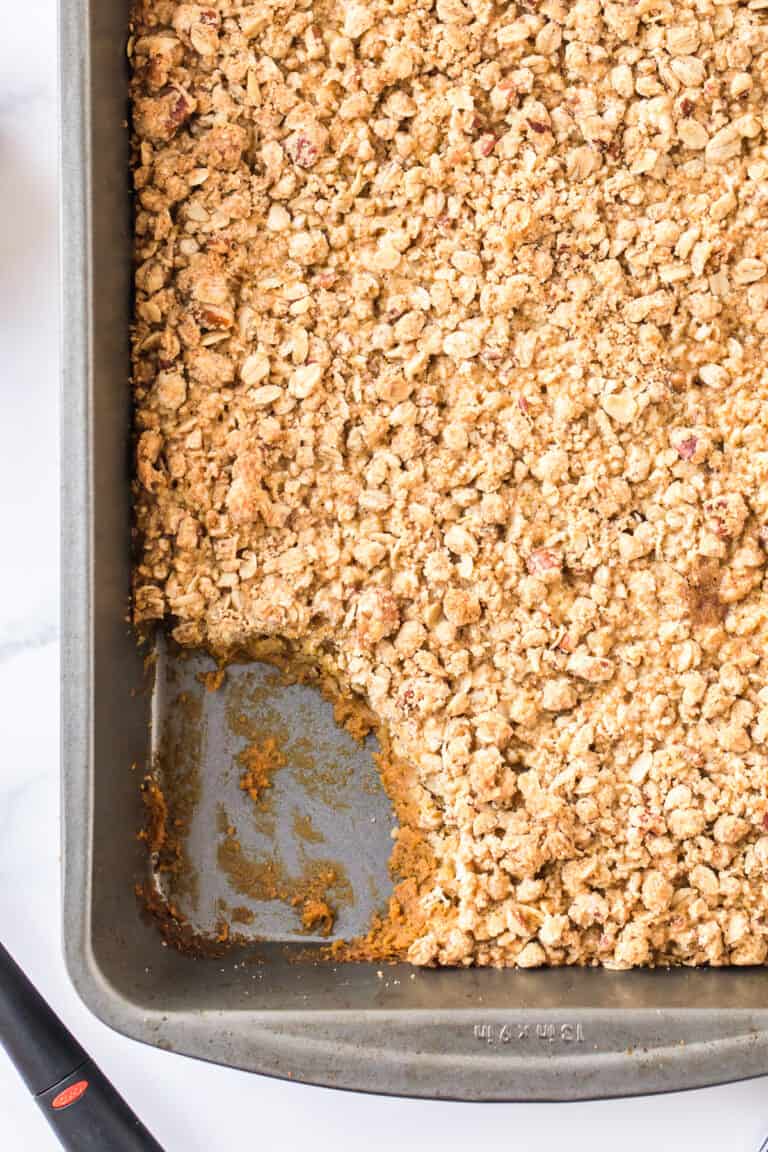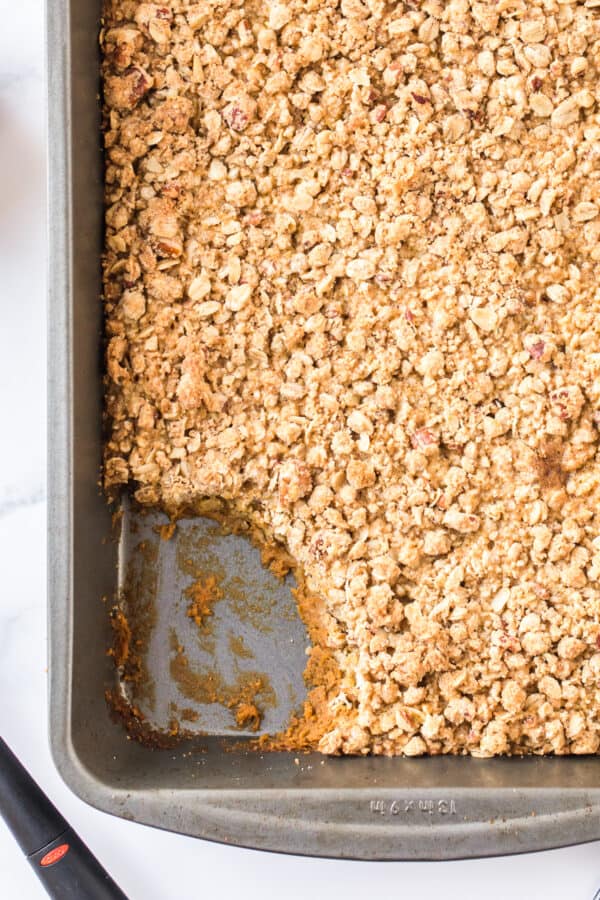 Do you serve Pumpkin Crisp hot or cold?
This crisp is great warm but you can also serve it cold, the texture changes a bit but it's still gorgeous!
What to put on Pumpkin Crisp?
Topping Pumpkin Crisp with ice cream or whipped cream is always a winner, especially warm so you get that melty creamy goodness.
You could also drizzle some melted chocolate over the crisp, pumpkin and chocolate love each other. Ditto fudge sauce!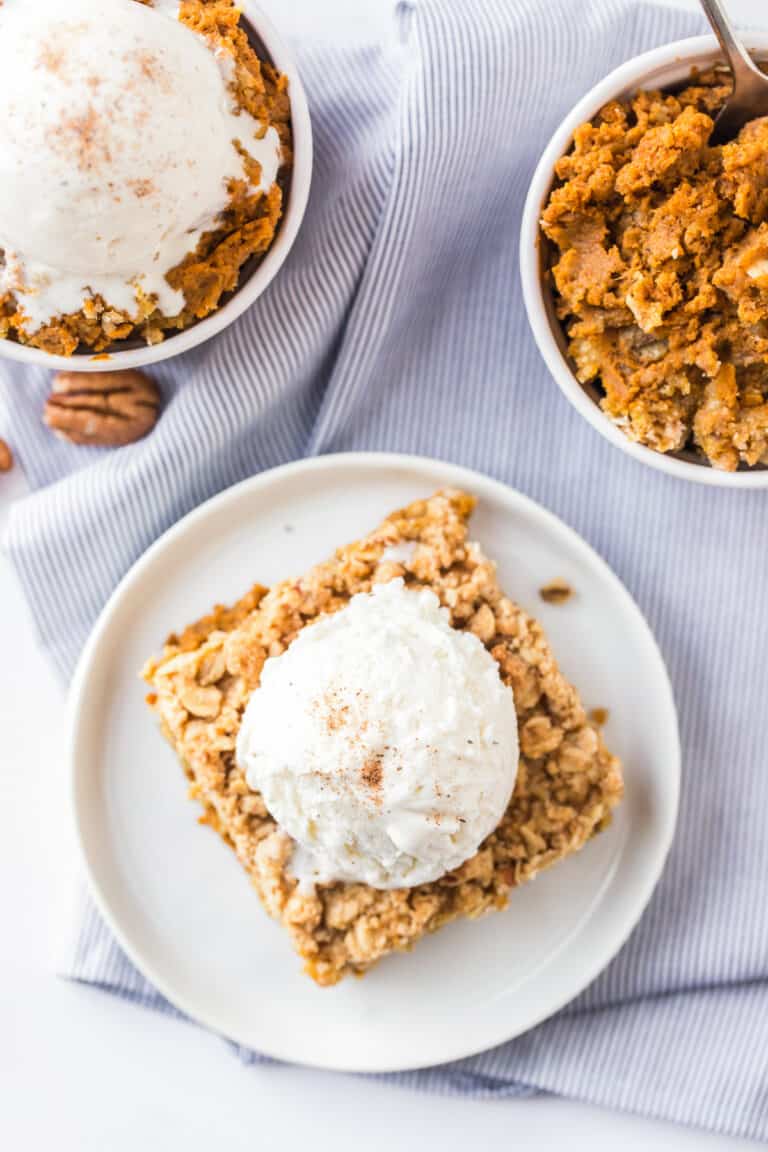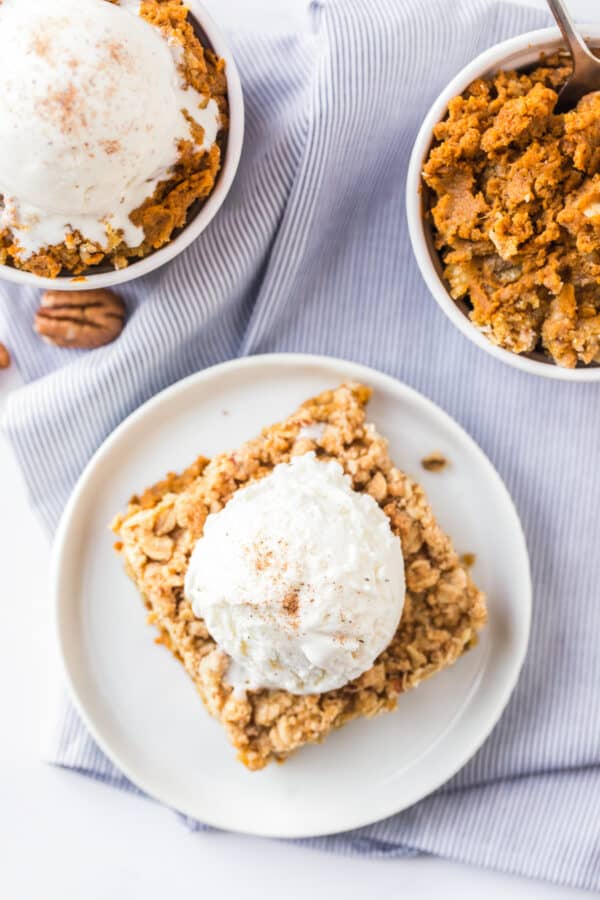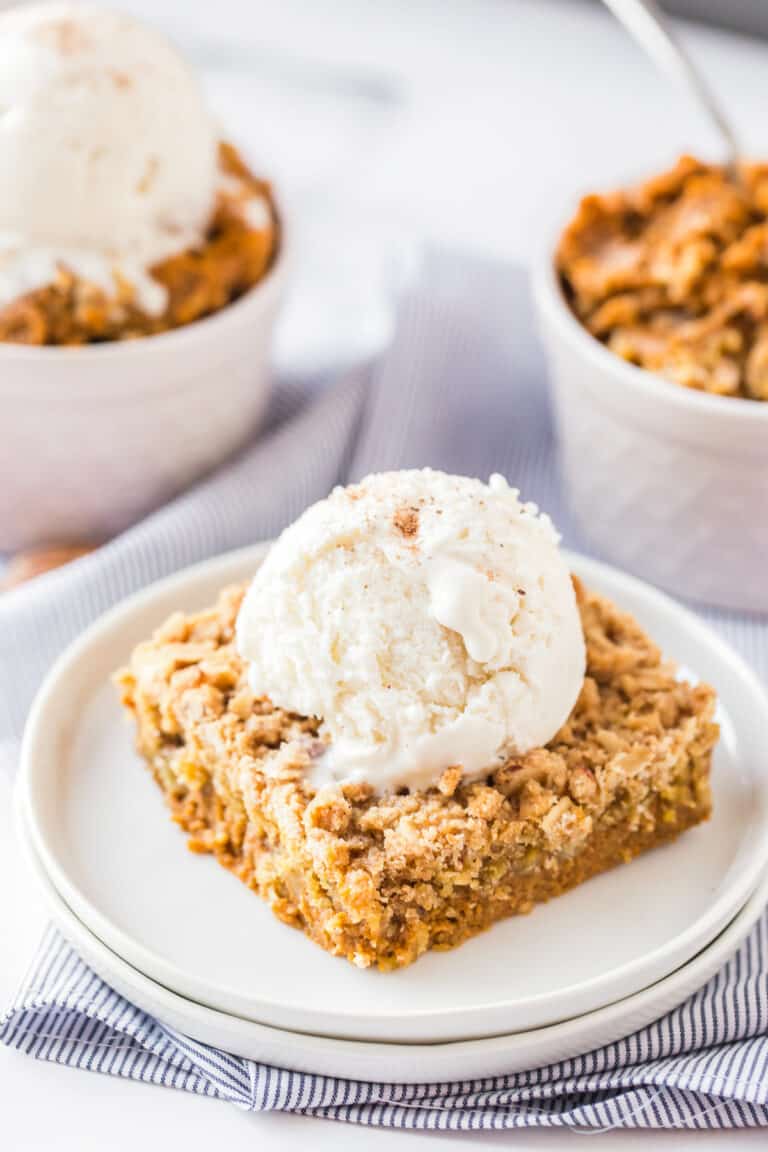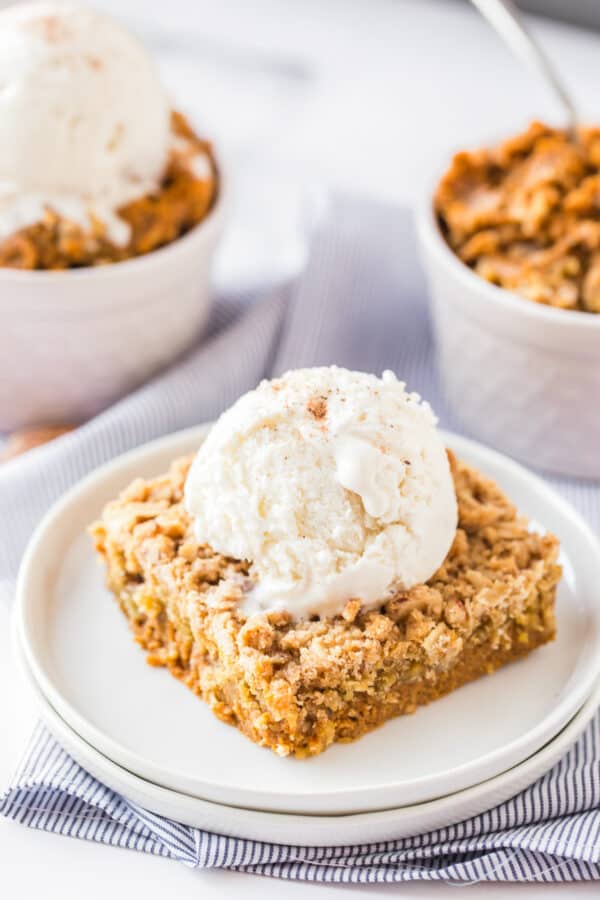 Storing leftovers
If you do have leftovers, you'll want to cover the remaining crisp with a lid or plastic wrap (after it has cooled) and refrigerate. I'd suggest eating the crisp within a day or two because the topping will get less and less crunchy as the time goes by.
Once you're ready to eat, you can have it cold or warm it up in the microwave for 10-15 seconds.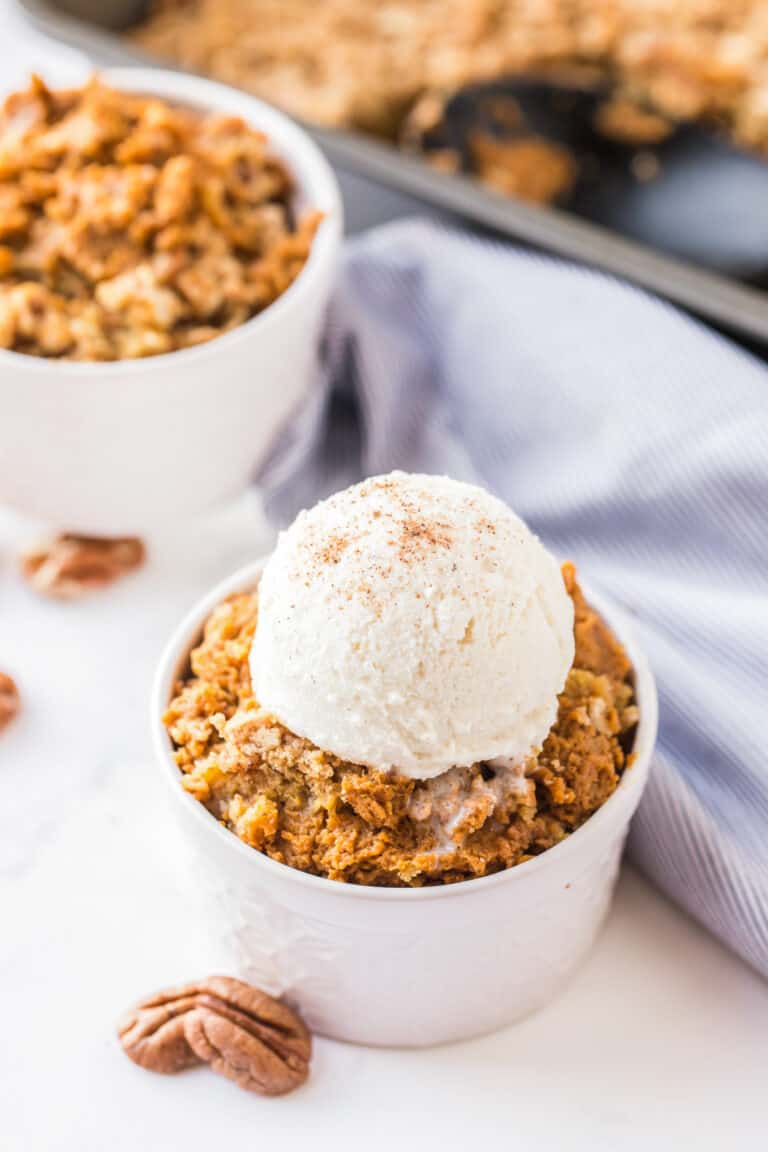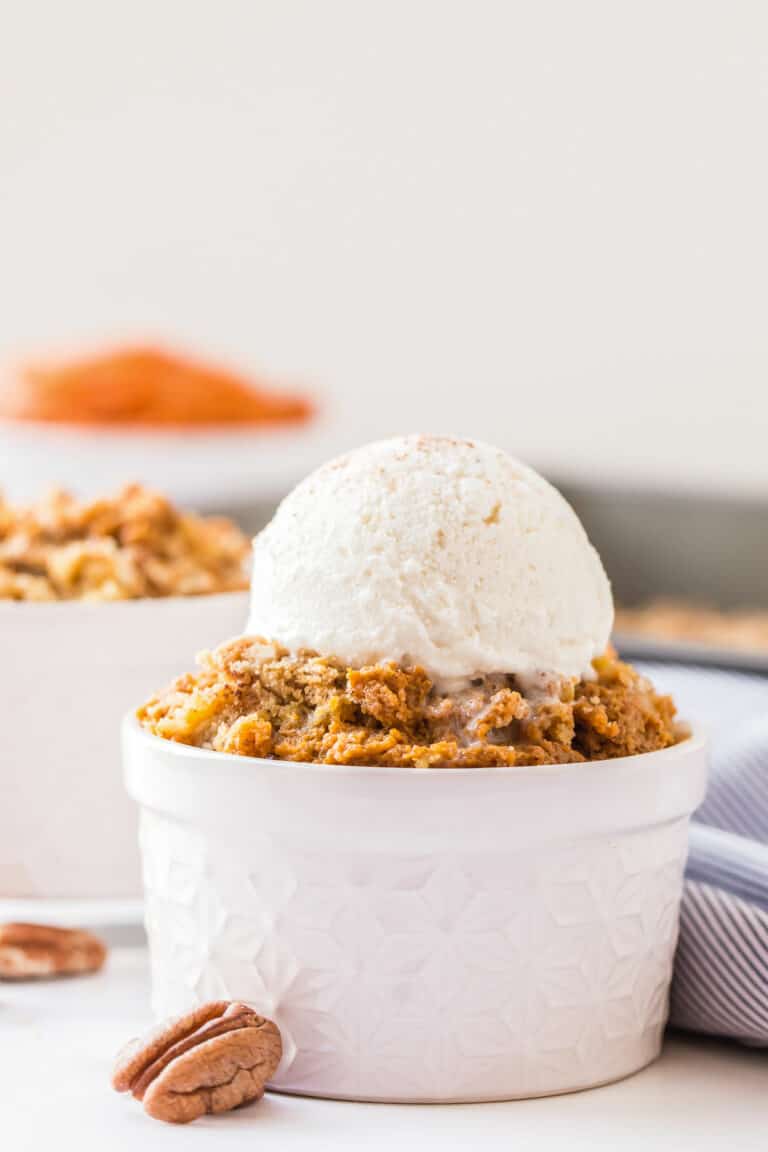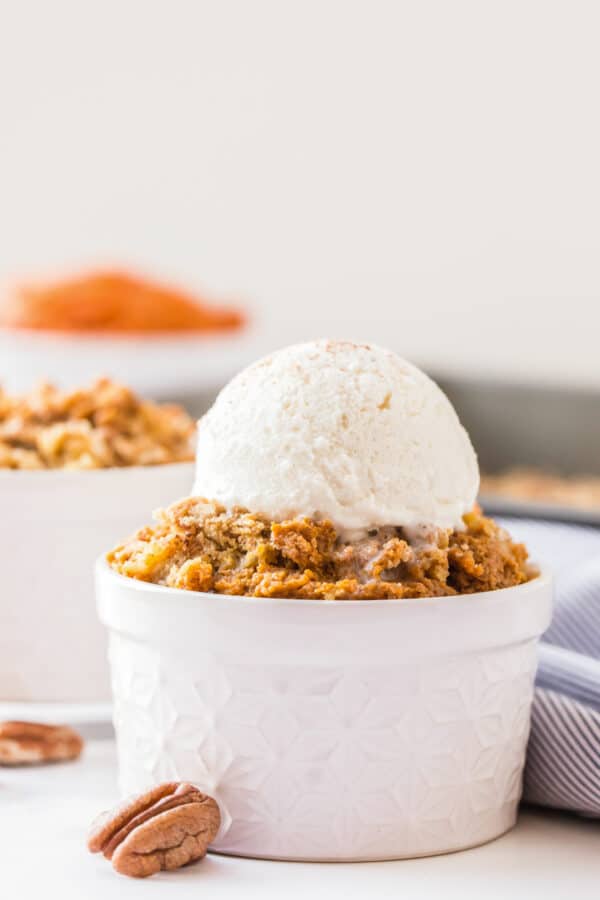 Tips!
Use a preheated oven.
Use pumpkin puree not pumpkin pie filling.
You can omit the pecans, if you wish – still tastes great!
Use a greased pan.
The pumpkin crisp should be golden and bubbly when you remove it form the oven.
Allow to cool for 5 mins before serving.
Serve with ice cream, whipped cream or drizzle chocolate sauce on it!