This RAINBOW PEPPER HUMMUS DIP is a healthy, easy, beautiful, and oh so delicious dip! This healthy Hummus Dip appetizer is made for game day and it's loved by both kids and adults. You can feel good about serving this fresh and colorful hummus dip at your next party or bbq.
Hummus Dip with rainbow peppers
Serve this rainbow hummus dip at your next party for a healthy snack!
Hummus dip topped with beautiful rainbow peppers is a healthy alternative to other party dips. I'm so excited to share this healthy tailgating recipe with you today.
If you're a regular reader of The Cookie Rookie, you know that my dips and appetizers are usually full of cheese, cheese, and more cheese. I'm not exactly known for my healthy recipes. While cooking diet food isn't my jam, I do love to find skinny alternatives that are still delicious, crave-able, and extra tasty!
This Rainbow Pepper Hummus Dip is ridiculously flavorful and sure to be eaten up by even the pickiest game day fans. From kids to adults, everyone who has tried this hummus dip has loved it! Wow your friends or guests with this fun and special one of a kind app.
Make this easy Rainbow Pepper Hummus Dip for your next game day party!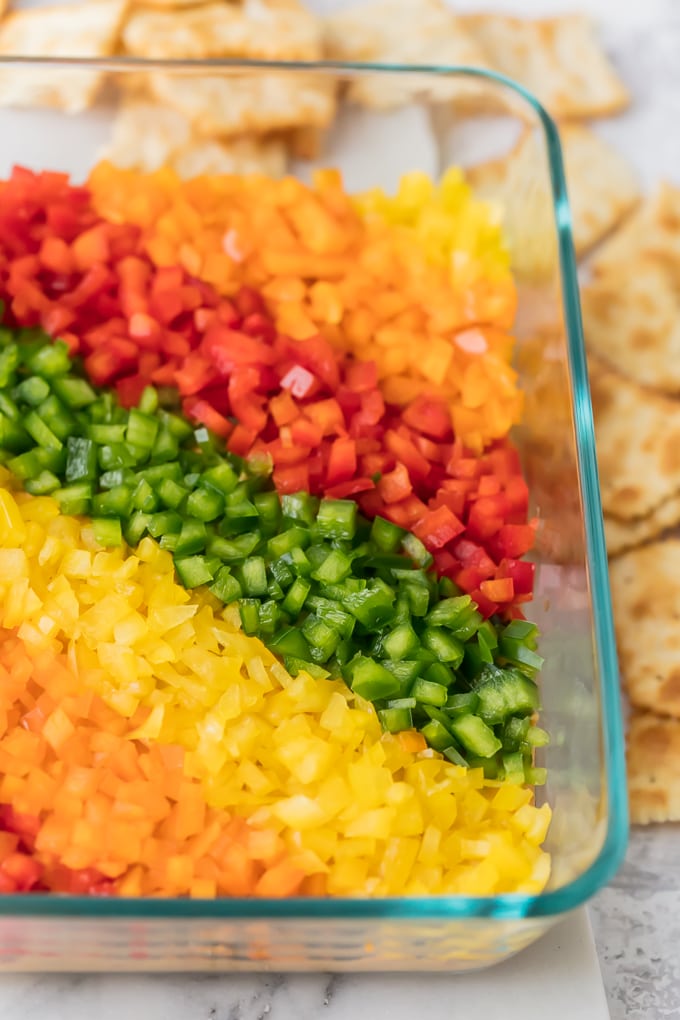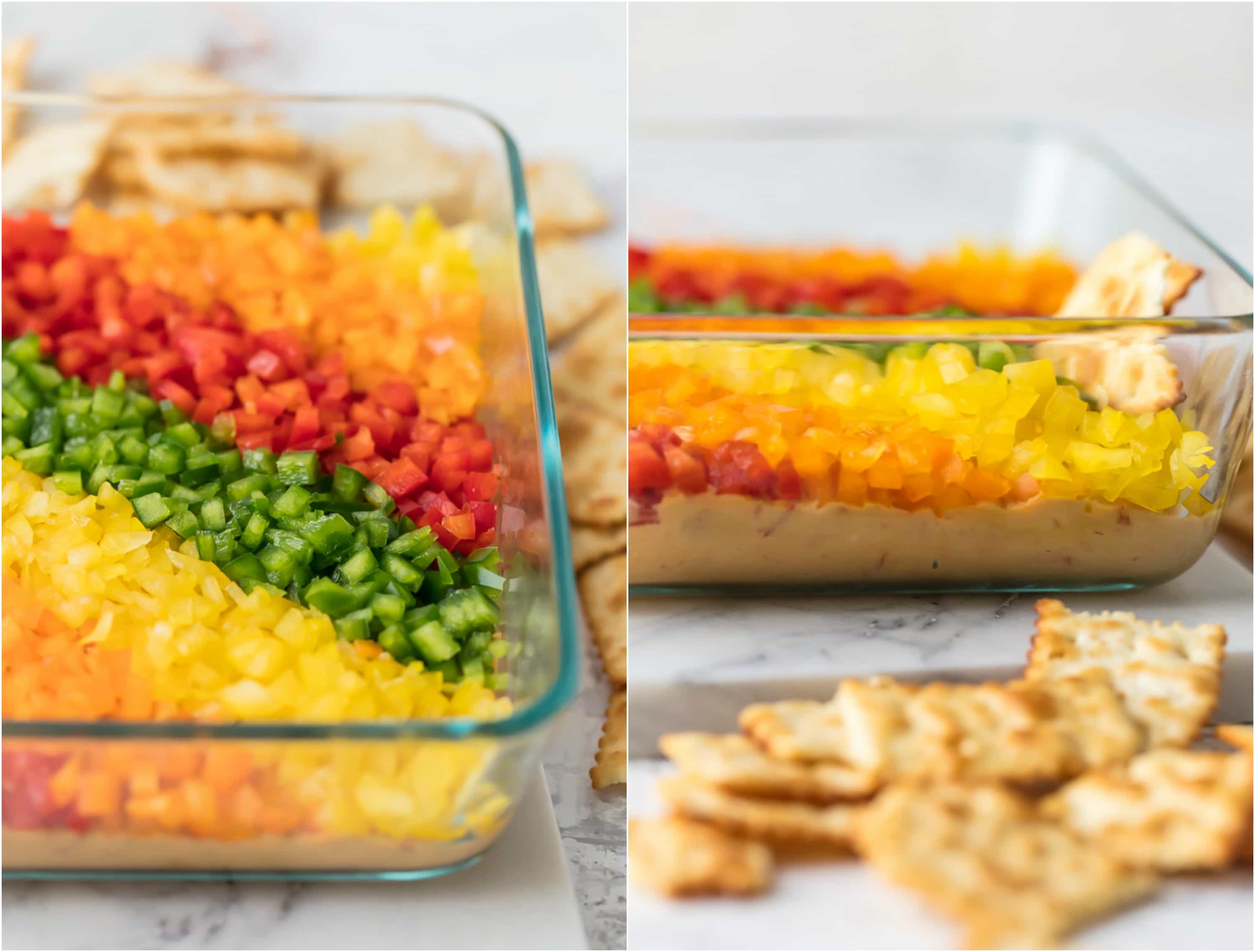 Healthy Hummus Dip for Game Day
This hummus dip recipe couldn't be simpler. It's just your favorite hummus flavor topped with every color pepper you can find! The peppers are finely chopped as a beautiful and healthy hummus topping. And that's IT!
You'll be surprised how much flavor there is in such a simple dish. Plus you can feel good about serving this hummus dip to your loved ones…or if you're eating it alone you can feel good about devouring more than your fair share! There's zero guilt in this delicious and healthy hummus recipe.
When Mom brought this hummus recipe over this week I was a little skeptical. I'll be honest, hummus usually isn't my favorite thing to snack on. But I was blown away after trying it. I wanted more and more and even had her make it again to take to a trivia night we had last weekend (WE WON BY THE WAY!)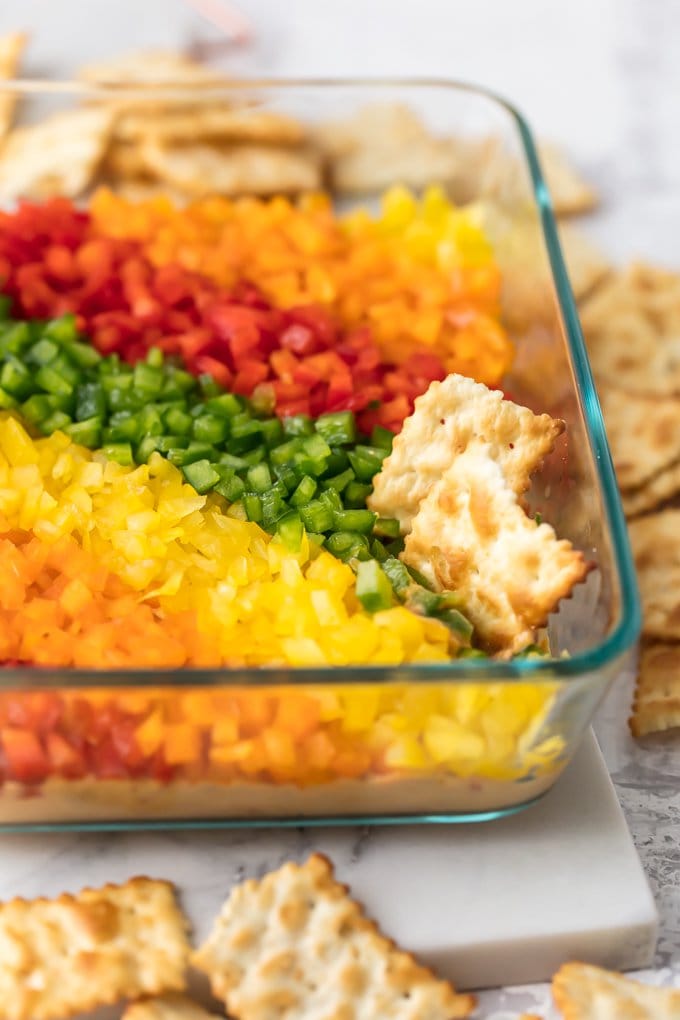 What is hummus made out of?
Hummus dip is made from chickpeas (garbanzo beans) and usually a bit of tahini or lemon juice with salt to taste. After that, you can add just about anything you want to your hummus! Popular hummus additions are garlic, roasted peppers, onions, and other simple ingredients.
Is Hummus good for you?
Hummus is a super healthy food! Since it really is just straight chickpeas, hummus dip is full of protein, fiber, and vitamin B. So it's chock-full of nutrients! In addition, it's a low-calorie, guilt-free snack.
This Rainbow Pepper Hummus Dip also has the added benefit of fresh peppers on top! There's nothing healthier than fresh, brightly colored produce.
What do you eat with hummus dip?
The possibilities for this rainbow pepper hummus dip are endless! Hummus goes great with just about anything: crackers, chips, pretzels, vegetables, breads (like this homemade naan)…
For game day, just set out a variety of crackers, pita chips, and chopped vegetables for easy dipping. Get some sturdy options so everyone can really dig in. I like serving with these wonton chips, hearty crackers, or baked tortilla chips.
If you need some more appetizers to serve at your next party, try this Chex Mix recipe, these Homemade Tortilla Chips with Blender Salsa, and this easy White Queso Dip! And don't forget to quench their thirst with a Skinny Margarita.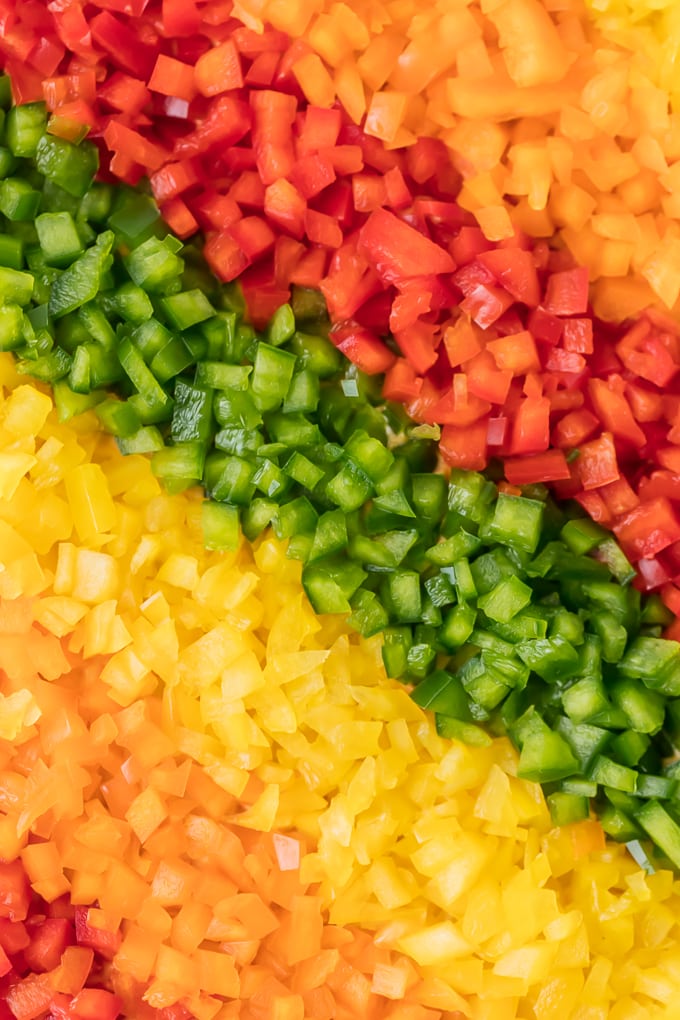 Mom was inspired to make this colorful Rainbow Pepper Hummus Dip after seeing one of my favorite bloggers make Rainbow Veggie Ranch Dip. If you haven't visited Macheesmo, you're missing out! Nick is SO creative and always blows me away. You must must must check it out.
Try these fun appetizers to go along with your hummus dip:
HOP OVER TO SIMPLY SATED (CLICK HERE FOR THE FULL RECIPE) WHERE MY MOM HAS THE RECIPE. THANKS MOM!
Be sure to try our favorite Homemade Hummus recipe and get some ideas for a fun Hummus & Veggie Board.