Slow Cookers are a must-have for quick and easy recipes. We researched and reviewed the best slow cookers of 2023 – read more!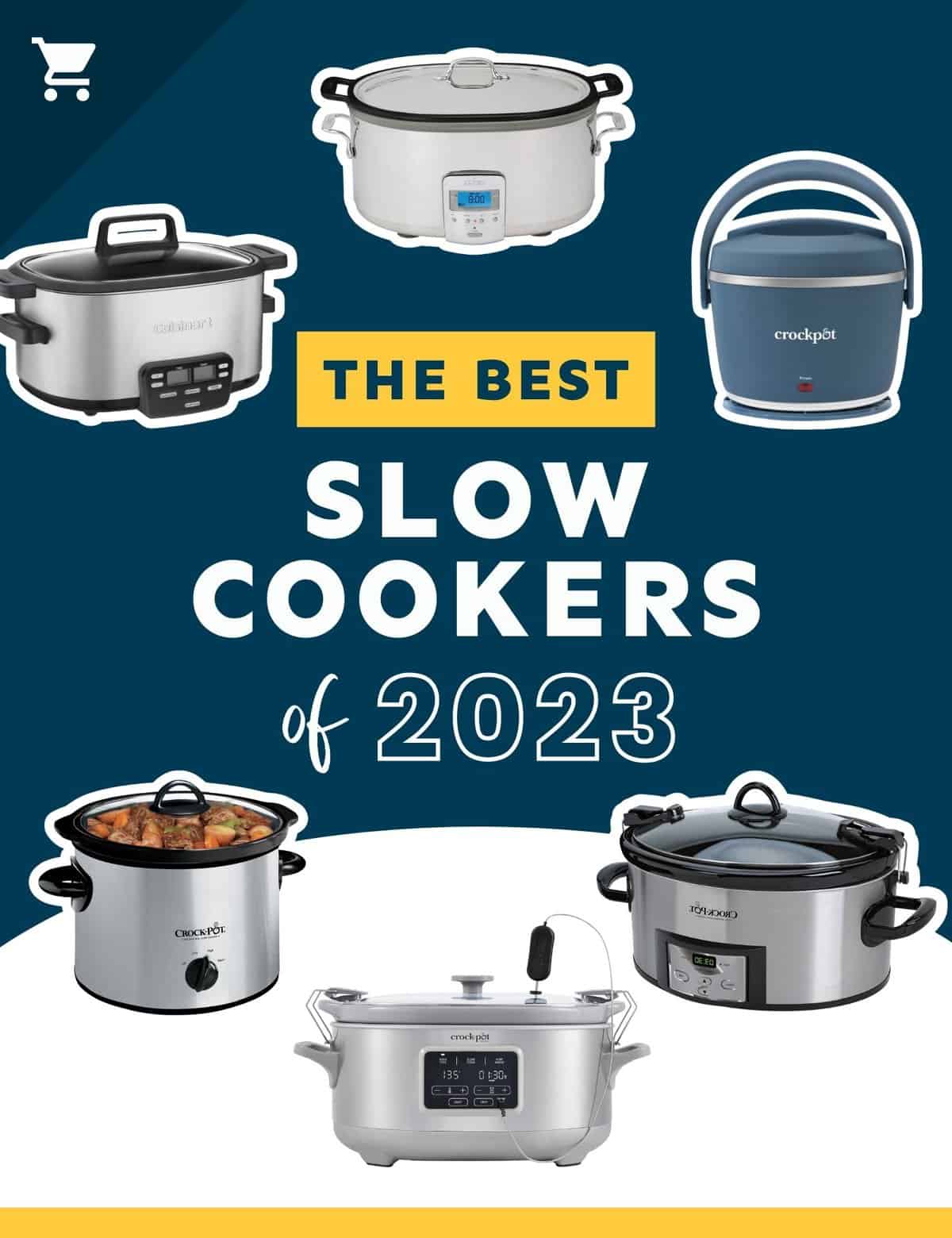 Slow cookers take the hassle out of weeknight dinners for busy families, overscheduled singles, and people who want easy cooking. Loading some ground beef, tomatoes, onion, spices, and spices translates to a crockpot full of chili just a few hours later—all you need is to add your favorite toppings.
And what's better on a cold night filled with sports practices than fork-tender pot roast and all the vegetables that's been roasting away in your slow cooker without you for hours?
With thoughts of crockpots full of creamy macaroni and cheese or comforting chicken and dumplings, it's hard to focus on which slow cooker model to select. There are small 1-3 quart sizes and mammoth 8-10 quart models.
There are stoneware inserts and aluminum options. Features like removable probe thermometers, locking lids, programmable timers, and more make shopping for a new slow cooker complicated, but we've got you covered.
We researched and evaluated all the options of the kitchen workhorse, and came up with the best slow cookers for each cook's needs.
Our Top Slow Cooker Picks:
In this article you'll find our favorite slow cookers as listed below. Click the title to read all about it, or check out the price if you know which one best fits your needs!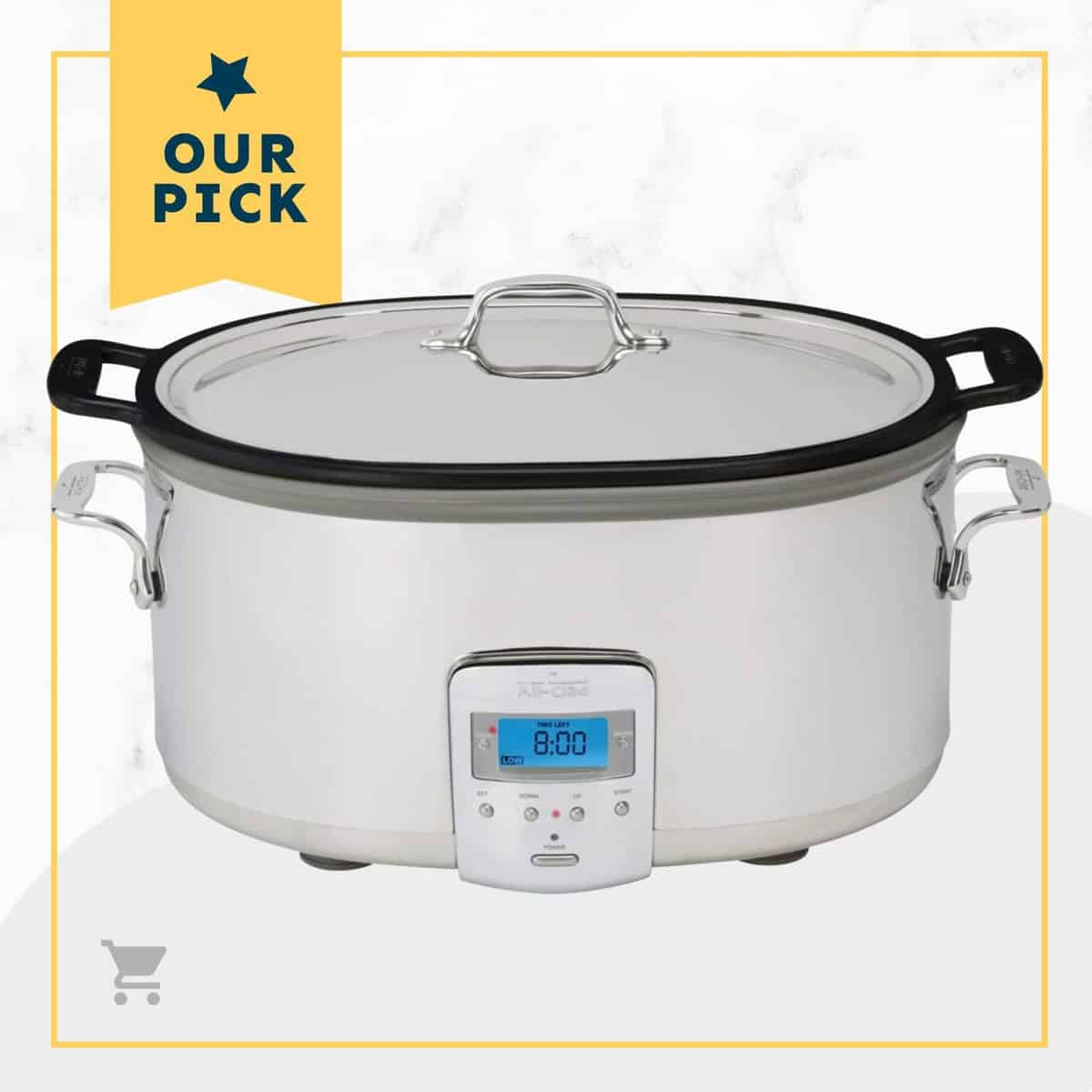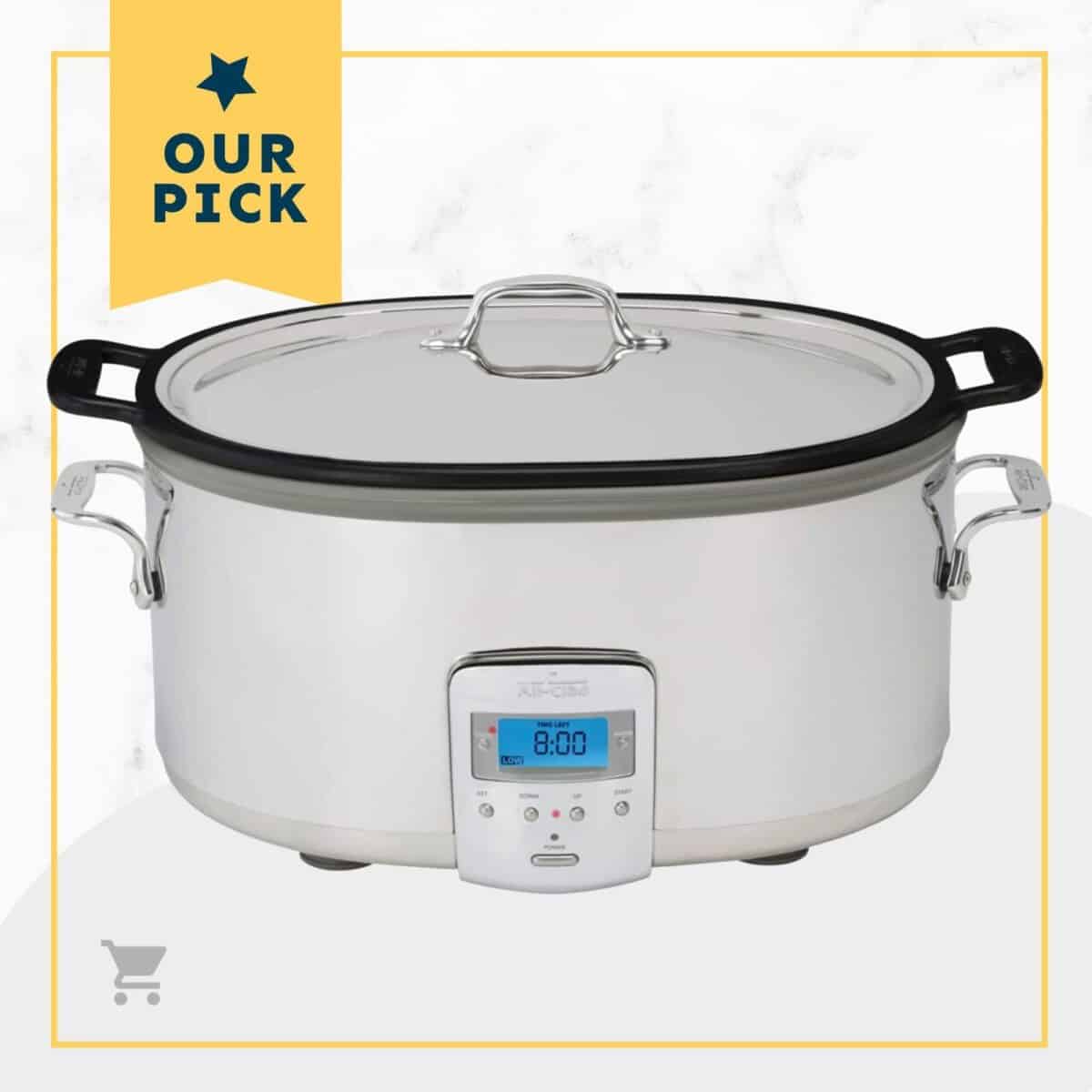 Best Overall Slow Cooker
Best Overall: All-Clad Deluxe Slow Cooker with Cast-Aluminum Insert
Pros
Versatile cook settings
Removable aluminum insert
Easy-to-read digital display
Programmable timer with long automatic "keep warm" setting
Cons
Insert not dishwasher safe
Hefty to move around
The Cadillac of slow cookers, this All-Clad Deluxe model with cast-aluminum insert checks a lot of boxes. The 7-quart aluminum insert heats rapidly and can be used on a stovetop to get that nice crust on your next brisket or pork roast, and the capacious size will feed an entire family or give you a leg up in holiday prep.
The biggest asset of this model beyond that extra ability browning, steaming, and rice cooking, lies in its programmable timer—the 20-hour timer coupled with the automatic five-hour "keep warm" setting makes this the ultimate fix-it-and-forget-it appliance. It features four cooking modes with an intuitive, easy-to-read digital screen and large push buttons. Plus the riveted handles make both the insert and unit easy to maneuver, though the hefty 18-pound weight may cause a little strain.
Though this is a large model and will take up a fair amount of real estate on your counter, the elegant stainless steel finish and stainless steel lid make for a far more attractive piece of kitchen decor than your grandmother's flowered version from the 70s. Aluminum, the holy grail for professional chefs, should not be put through the dishwasher, but the nonstick finish makes this a breeze to clean up with soapy water and a towel.
| | |
| --- | --- |
| Dimensions: | 18″D x 11.5″W x 10.5″H |
| Capacity: | 7 quarts |
| Weight: | 18 pounds |
| Pot Material: | Aluminum |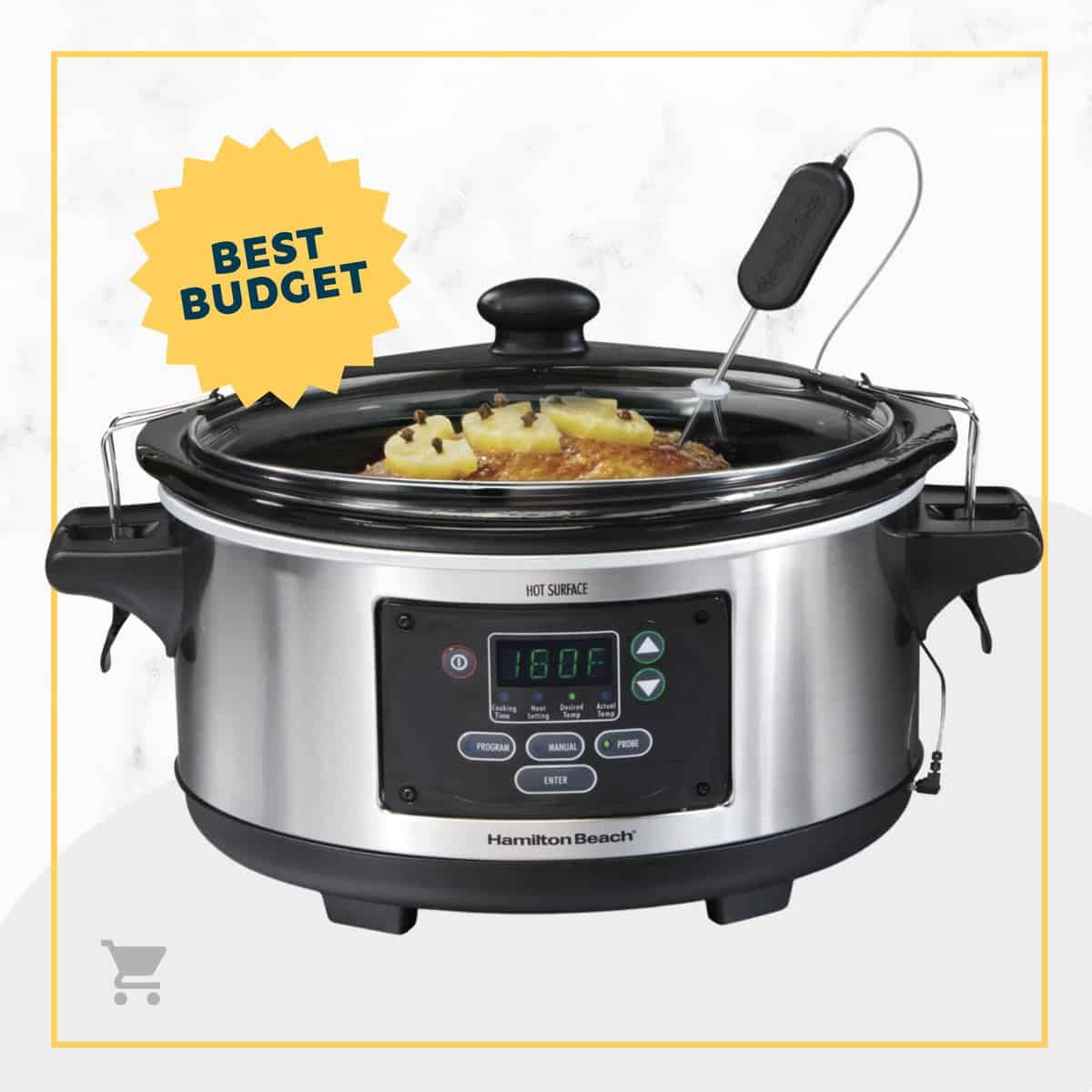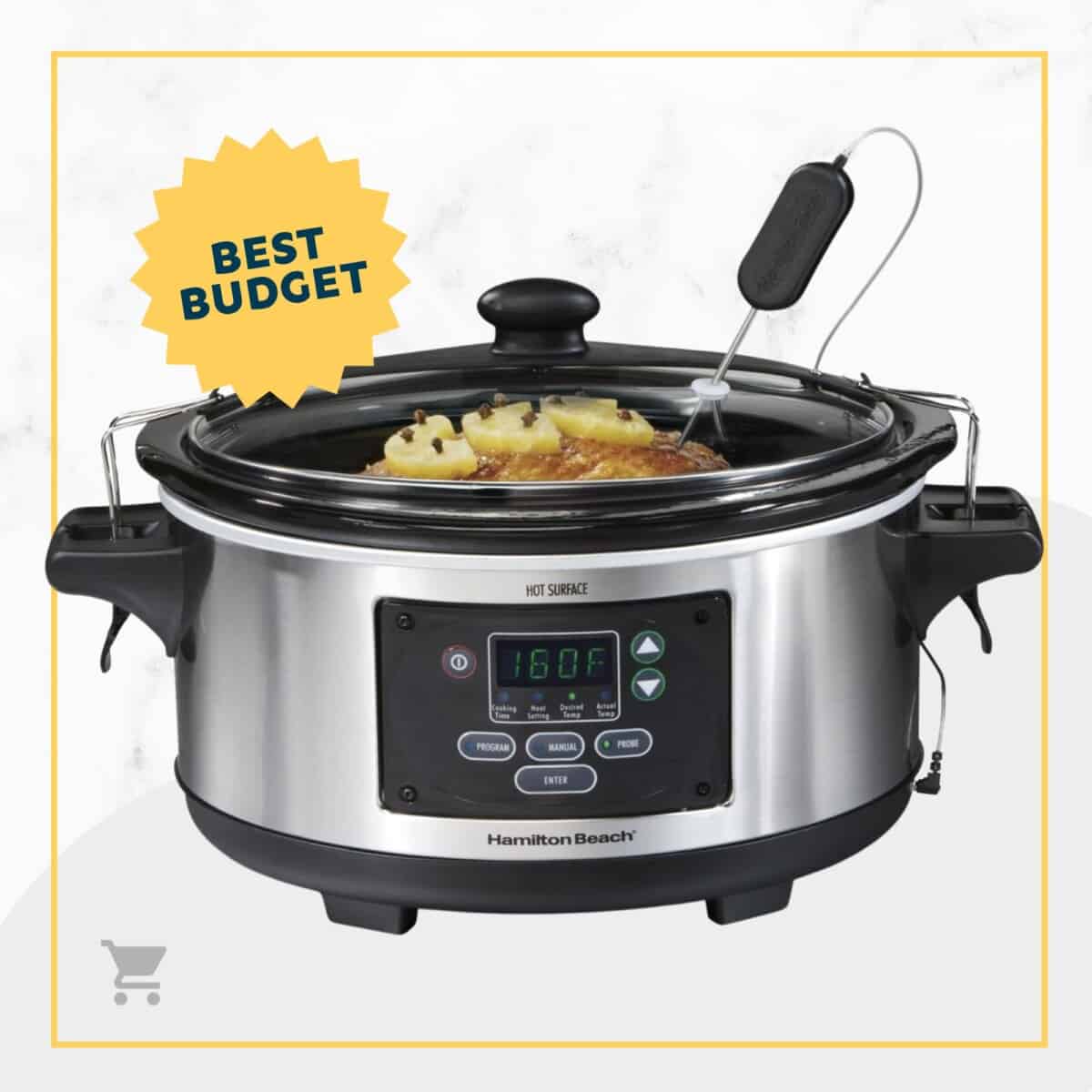 Best Budget Slow Cooker
Best Budget: Hamilton Beach Portable 6 Quart Set & Forget
Pros:
Programmable probe thermometer makes cooking more exact
Dishwasher safe insert
Portable
Affordable
Cons:
Probe thermometer is a little short
Handles are small
This model took the top slot for many other cooking sites like NY Times Wirecutter and we can see why. At 13 pounds it's much easier to maneuver than other 6-quart models and the expansive ceramic insert with locking lid and sealing gasket ensures those fall-off-the-bone ribs make it to the next potluck with no spillage.
The value of the programmable probe thermometer cannot be overstated. It allows control over the slow cooking as you can set it for the temperature you want to achieve and once the food gets there, the slow cooker automatically switches to warm.
The push-button display makes operating the Hamilton Beach Set & Forget Slow Cooker easy to use and the optional manual mode affords home cooks ultimate control over the cooking process.
But when the school projects and work responsibilities mount, you can engage one of the versatile cooking options like braising, simmering, making fondue, preparing yogurt, and more. And when you're finished, just throw the stoneware insert into the dishwasher for easy cleanup.
| | |
| --- | --- |
| Dimensions: | 11.25″D x 17.5″W x 11.75″H |
| Capacity: | 6 quarts |
| Weight: | 13 pounds |
| Pot Material: | Stoneware |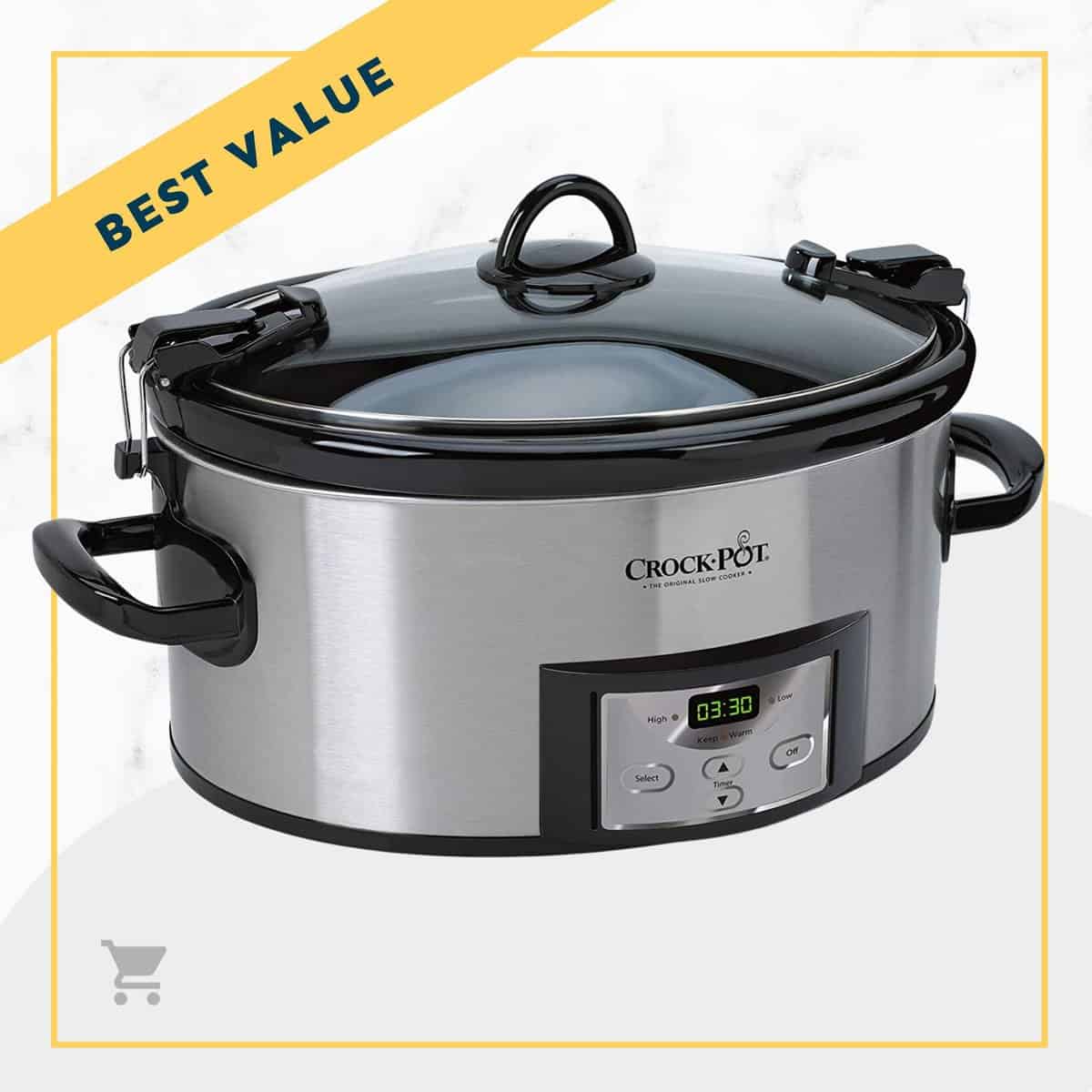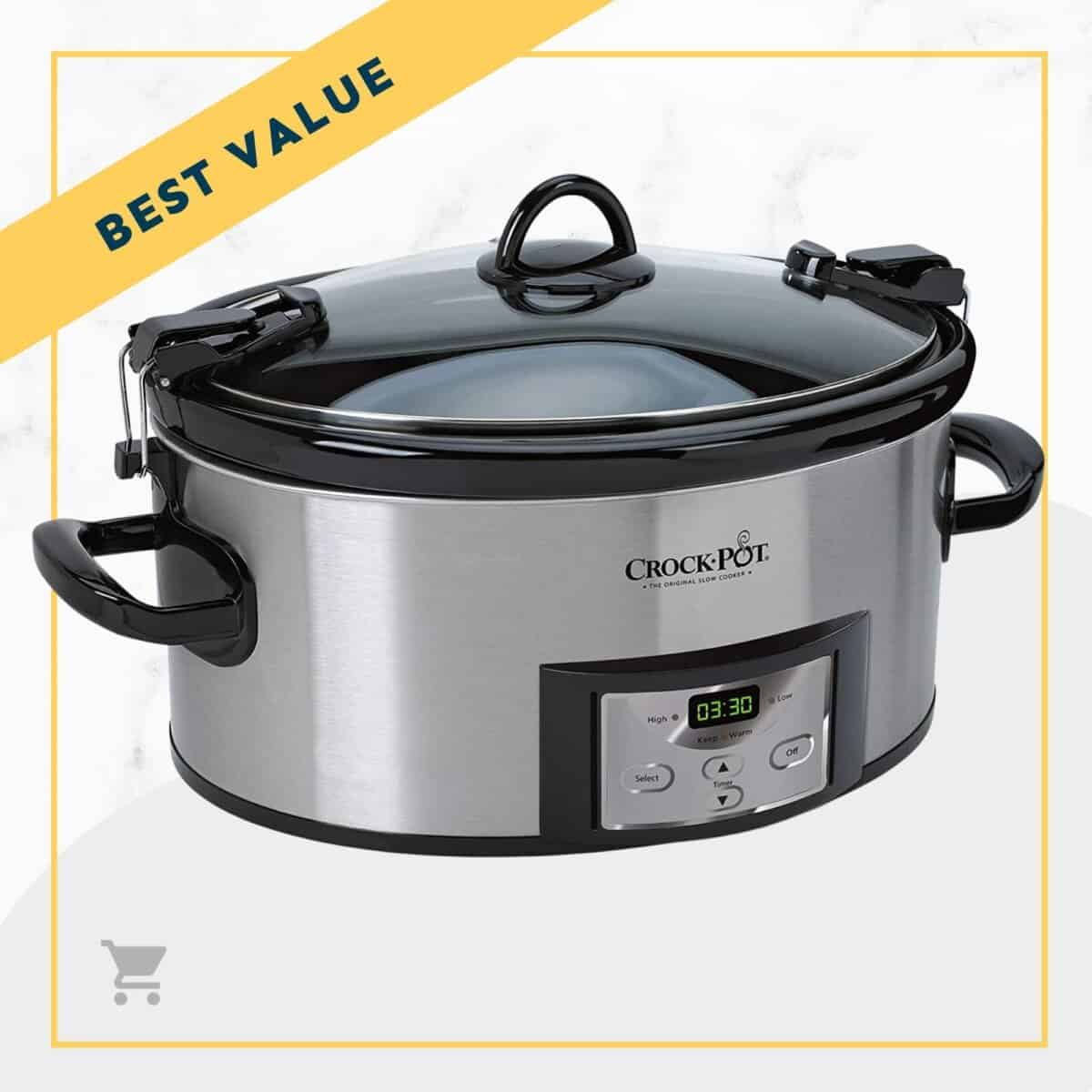 Best Value Slow Cooker
Best Value: Crock-Pot 6 Quart Cook & Carry
Pros:
Locking lid
Affordable
Dishwasher safe insert
Wide handles
Cons:
The exterior gets hot
Limited programmed options
Crockpot has evolved since its humble beginnings, but it still is the name you think of when talking about slow cookers. This affordable 6-quart Cook & Carry model brings all the reliability of the brand while offering a lighter weight that makes it easier to tote around to picnics, backyard barbecues, and Sunday suppers. And the locking lid ensures everything arrives intact.
The countdown programmable technology allows lots of flexibility when meal planning, and the easy-to-use display takes the guesswork out of cooking with its limited options of high, low, and warm temperature settings.
Another design feature we appreciated with this model is the wide handles—they make it easy to maneuver without the danger of burning yourself, though the exterior does get hot the longer it cooks. Once your tacos or Swedish meatballs finish cooking, the insert and glass lid can be moved to the dishwasher for simple cleanup.
| | |
| --- | --- |
| Dimensions: | 17″D x 11.8″W x 9.8″H |
| Capacity: | 6 quarts |
| Weight: | 11.9 lbs |
| Pot Material: | Stoneware |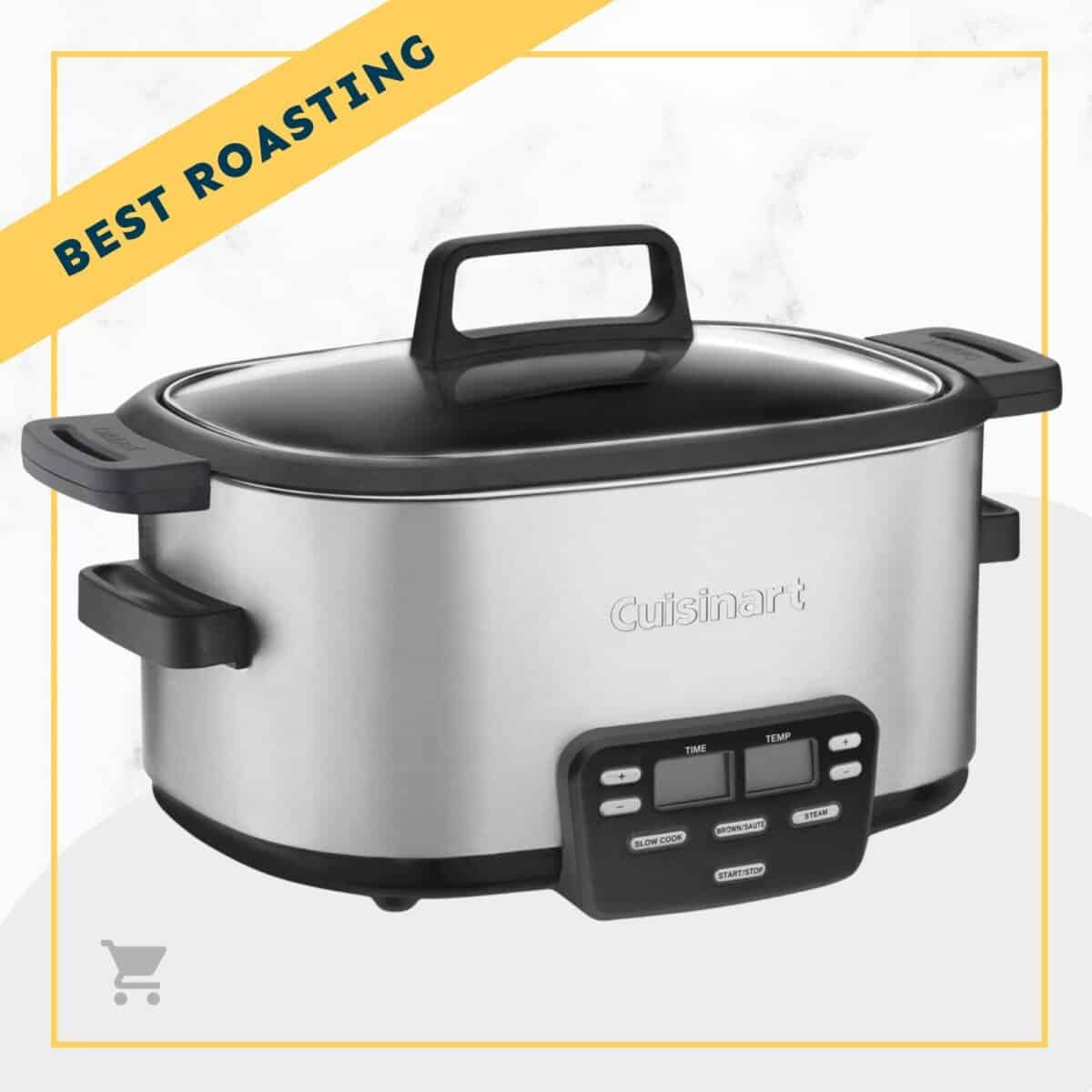 Best Slow Cooker for Roasting
Best for Roasting: Cuisinart 3-In-1 Cook Central 6-Quart Multi-Cooker
Pros:
Steaming/roasting rack included
Versatile
Retractable power cord
Cons:
If versatility is what you're after, the Cuisinart 3-in-1 Cook Central Multi-Cooker is the way to go. The roomy 6-quart insert leaves plenty of space for carrots and potatoes alongside chicken breasts, or you can make a big batch of taco soup that will last through multiple nights of dinners.
The best part of this model though is it's ability to sauté/brown, and slow cook all within the unit—you don't have to spend time searing on the stovetop in a separate pan, it all happens in the unit which also cuts down on the dishes dirtied.
Another nice feature of this model is the lit-up control panel which makes it easy to read even from the other room or as the sun starts to set. Programming is also super easy with the buttons for selecting slow cook, brown/sauté, steam, start/stop, and plus/minus increments for temperature and time.
The home cook gets lots of control over the process with this model. At 18 pounds, this is another hefty slow cooker, but the ease of operation, dishwasher-friendly interior pot and steaming rack, and two sets of handles for easy transport make this a worthy purchase.
| | |
| --- | --- |
| Dimensions: | 11″D x 18″W x 10.5″H |
| Capacity: | 6 quarts |
| Weight: | 18 pounds |
| Pot Material: | Nonstick Aluminum |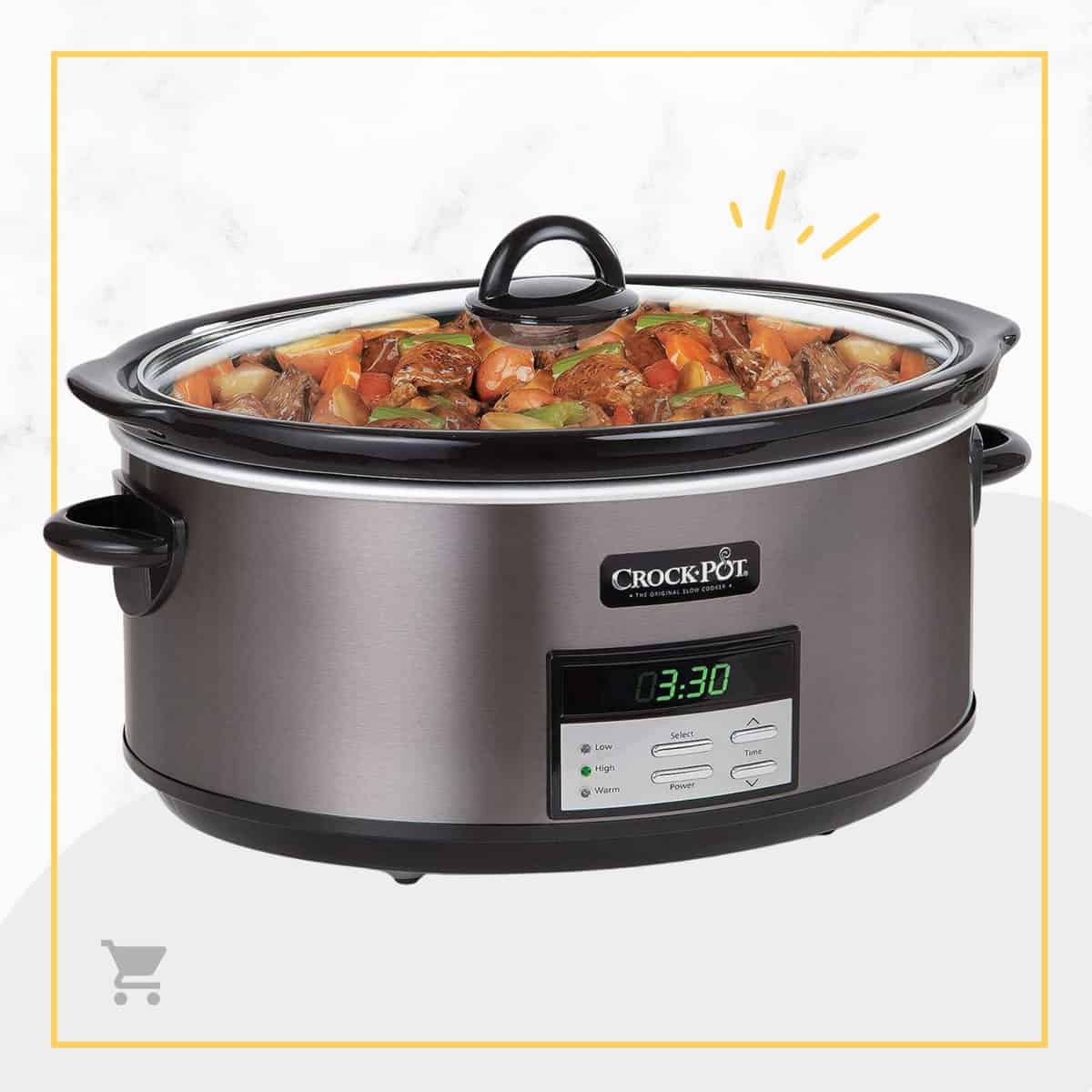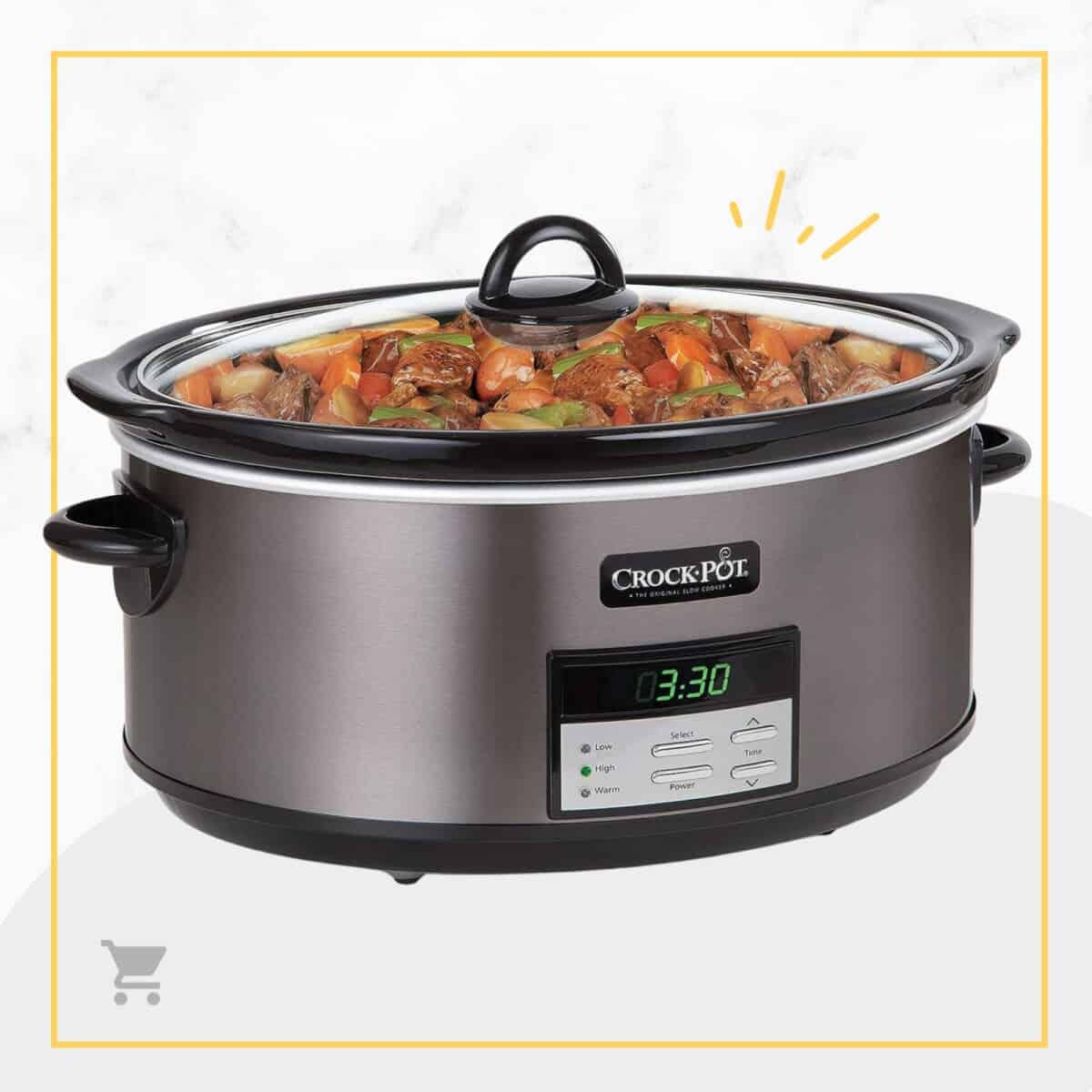 Best Large Slow Cooker
Best Large Capacity: Crock-Pot 8-Quart Programmable Slow Cooker
Pros
Heating coil placement makes for even cooking
Easy to operate
Dishwasher-safe insert and lid
Cons
Another model from the reliable Crockpot brand, this 8-quart programmable workhorse features more capacity when faced with church suppers or holiday gatherings. Though it doesn't have that desirable locking lid, it cooks evenly with no hot spots because the heating coil is underneath the unit.
Coming in at 15.1 pounds, this appliance is not light, but the extra capacity makes it worthy, especially when you're cooking for 10+ people. The basic interface is easy to use and like other models on this list the digital timer can be programmed for up to 20 hours, and the slow cooker automatically shifts to warm after the cooking time is completed.
The glass lid and stoneware insert are dishwasher safe, and the gorgeous black stainless steel unit lends elegance to any kitchen counter.
| | |
| --- | --- |
| Dimensions: | 9.5″D x 15.4″W x 15.3″H |
| Capacity: | 8 quarts |
| Weight: | 15.1 lbs |
| Pot Material: | Stoneware |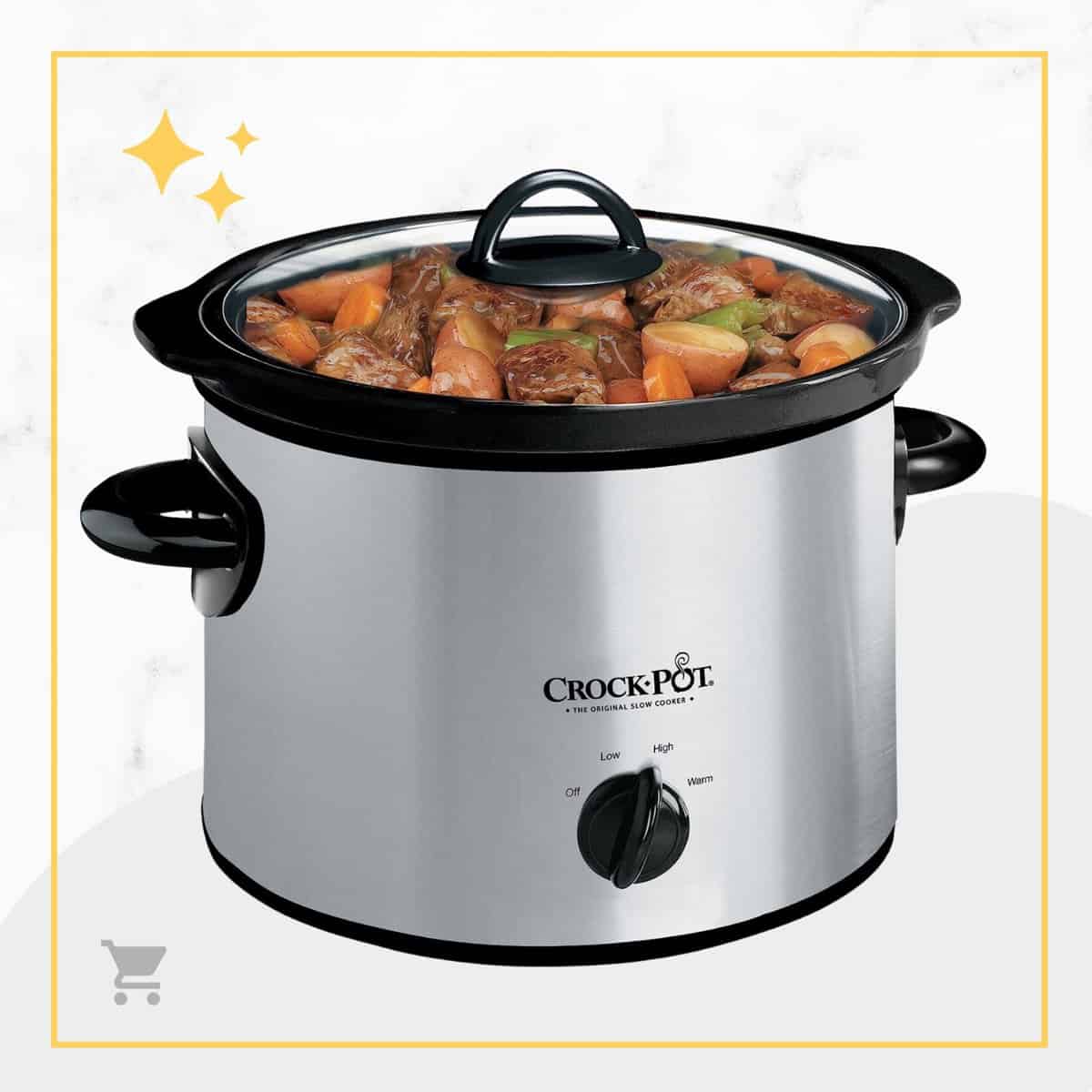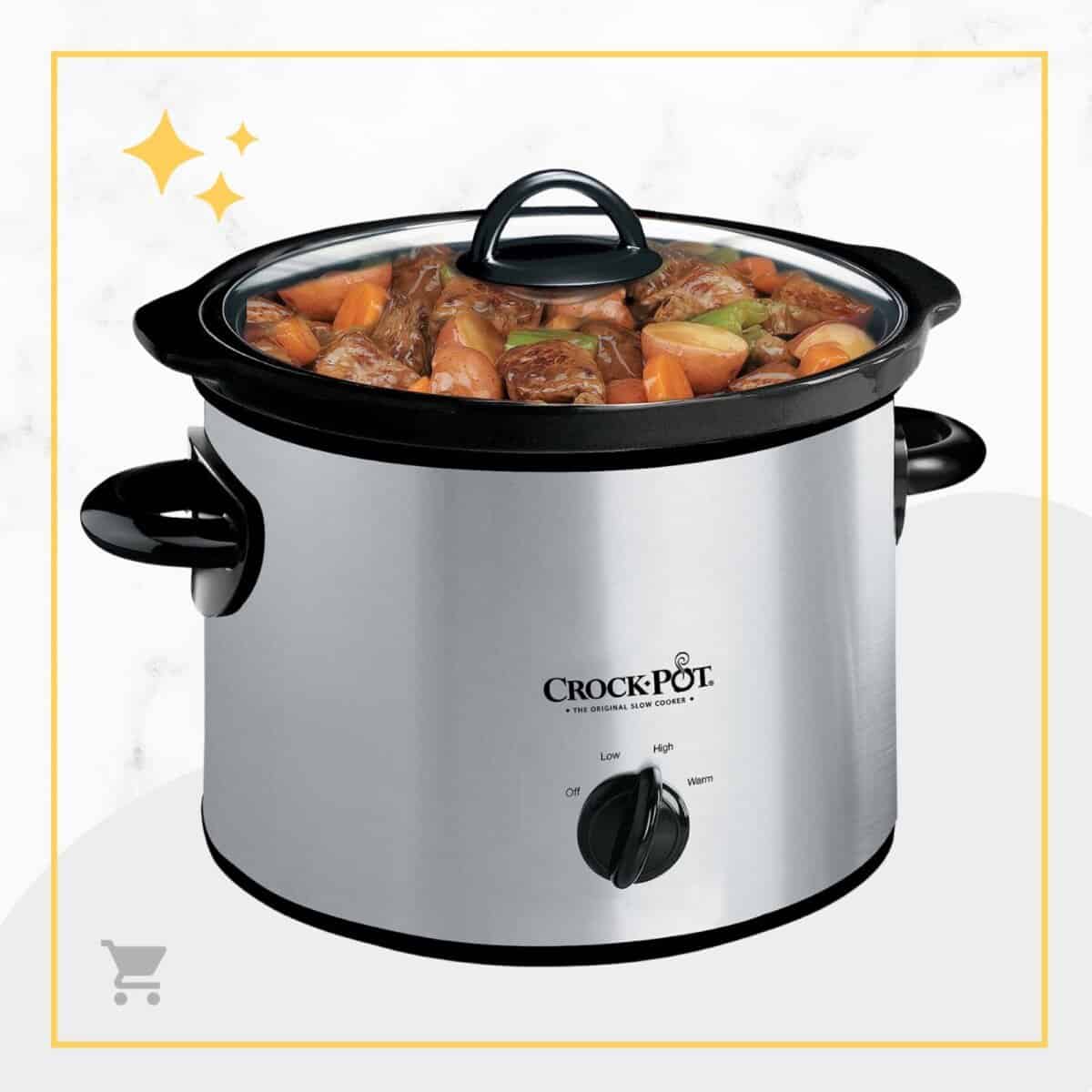 Best Small/Mini Slow Cooker
Best Small Capacity: Crockpot 3-Quart Round Manual Slow Cooker
Pros
Capacious for its compact size
Easy to transport
Perfect for cooking for two
Cons
It has limited settings
No custom programming.
It's no surprise our favorite for smaller batches comes from Crockpot. This 3-quart model strips away the bells and whistles with just three easy-to-use settings controlled by a single knob.
It's the perfect size for a single batch of potato soup that won't be overwhelming for a household of 1-2 people. And if you're attending your friend's murder mystery dinner party, this model is the perfect size for a zesty batch of queso dip.
Like other Crockpot models from this list, the stoneware insert and glass lid are dishwasher safe, and the affordable $25 price tag makes this a great option for a small household, dedicated tailgate dip and fondue prep, or your next camping trip. Plus the petite size makes for easy storage, even in cozy kitchens.
| | |
| --- | --- |
| Dimensions: | 11.5″D x 9.5″W x 9.8″H |
| Capacity: | 3 quarts |
| Weight: | 6.7 lbs |
| Pot Material: | Stoneware |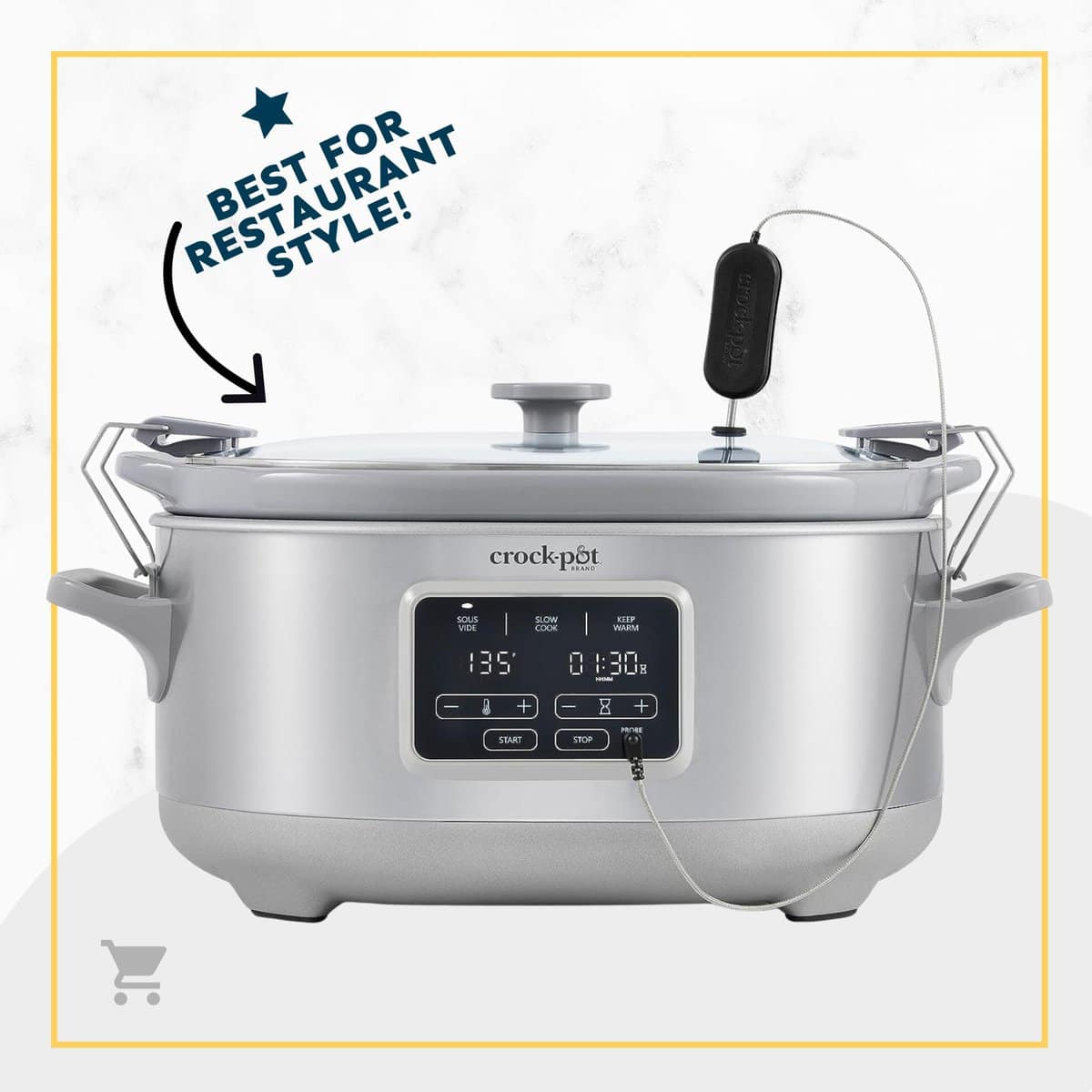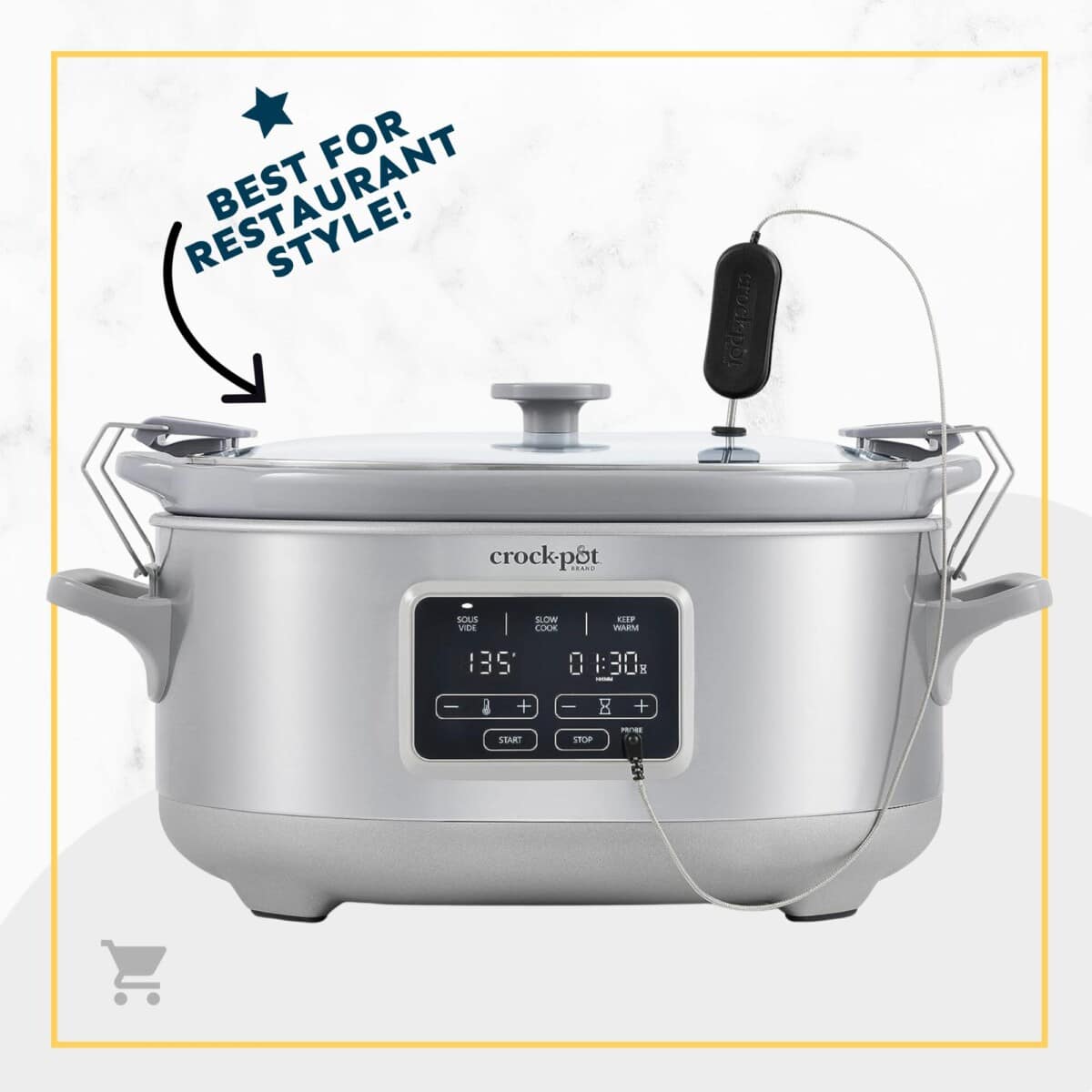 Best Restaurant Style Slow Cooker
Best for Restaurant-Style Meals: Crock-Pot Programmable 7-Quart Cook & Carry Slow Cooker with Sous Vide, Stainless Steel
Pros
Removable probe thermometer
Versatile
Insert is oven and dishwasher-safe
Locking lid
Cons
Sous vide takes a long time
Heavy to transport
If you love to dine out, but are looking to eat a little more budget-friendly, the Crockpot Programmable Cook & Carry with Sous Vide has you covered. Chefs know cooking sous vide yields tender, flavorful, precisely cooked meats, veggies, and fish, and now Crockpot is providing that same capability for home cooks in this versatile kitchen appliance.
The removable temperature probe ensures no over- or under-cooking, and the 7-quart insert offers plenty of space for larger family meals.
We love a locking lid to keep spills at bay and this model has one, making it perfect for transporting to your next function. The sleek stainless steel unit features digital programming from 5 minutes to 30 hours, and the automatic warm function keeps food hot until service. Plus the stoneware insert can be popped into the oven, adding versatility. Cleanup is easy as the insert and lid are dishwasher safe.
| | |
| --- | --- |
| Dimensions: | 17.5″L x 11.37″W x 9.13″H |
| Capacity: | 7 quarts |
| Weight: | 14 lbs |
| Pot Material: | Stoneware |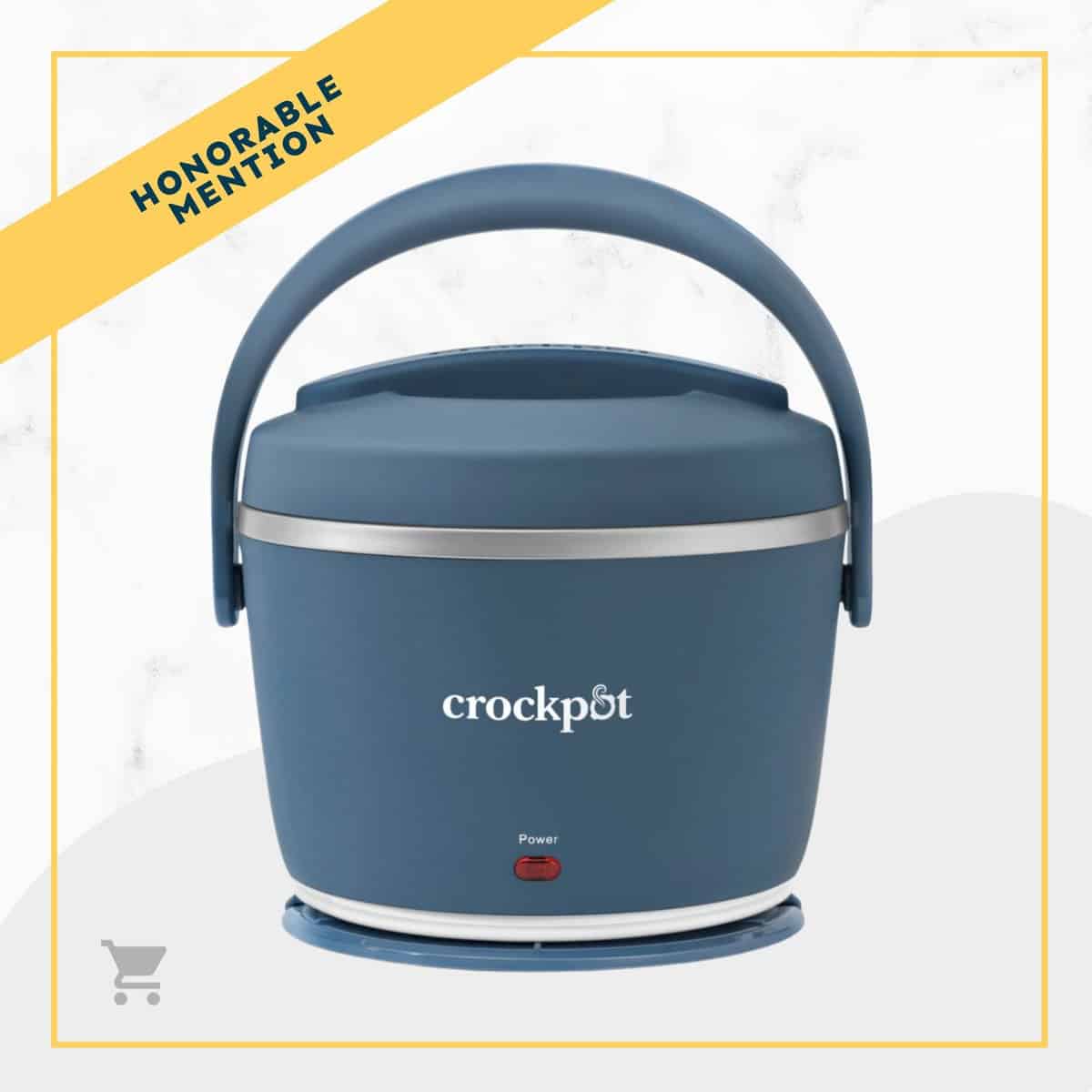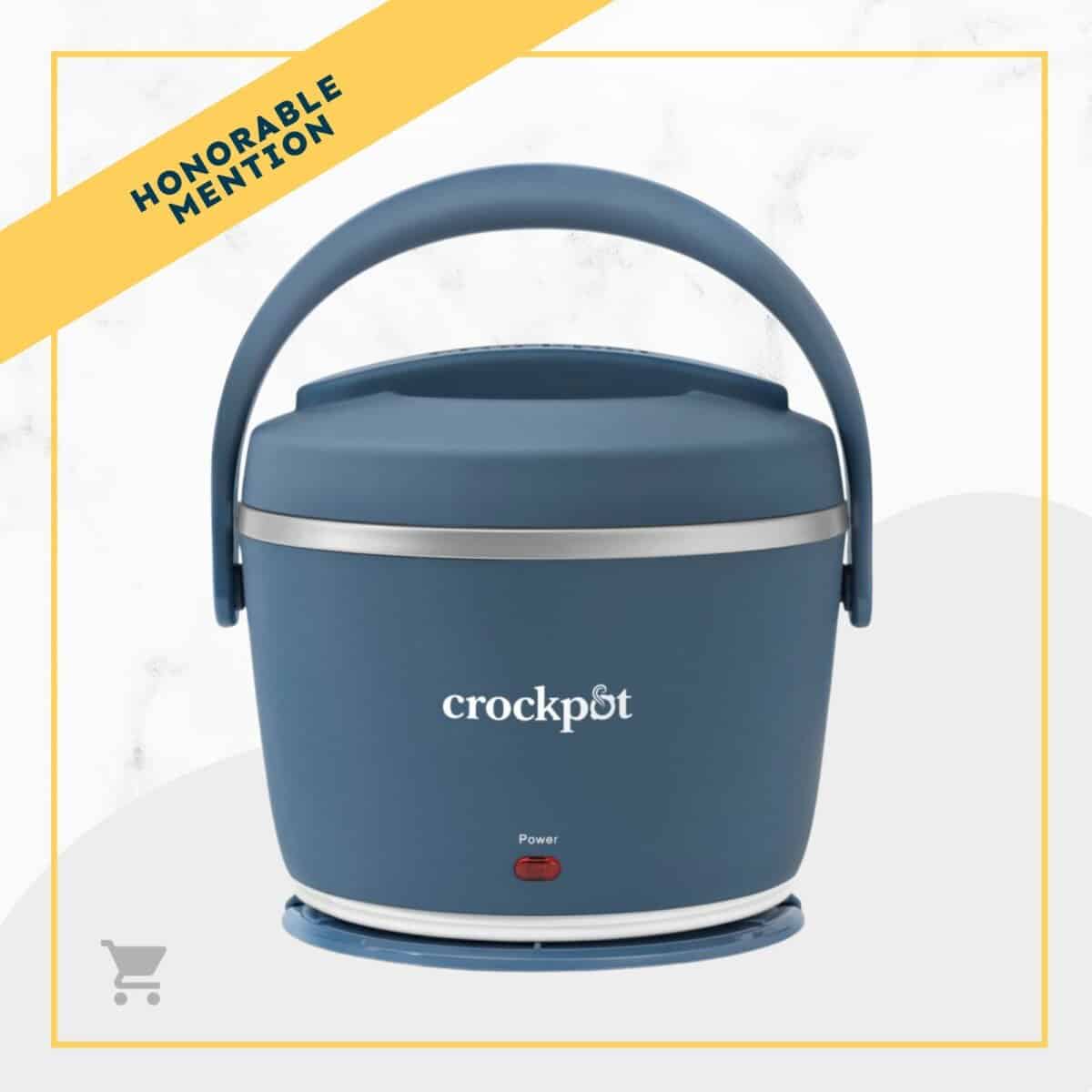 Honorable Mention
Honorable Mention: Crock-Pot Electric Lunch Box, Portable Food Warmer for On-the-Go
This Crockpot Lunch Box might not have made our list of top slow cookers in the categories we picked, but it sure is fun. We love the cute colors (comes in so many fun varieties) and is just perfect for taking on the go soups, casseroles, and more. It makes a great holiday gift or a fun reward for yourself at the end of a long week.
The Bottom Line…
If you're looking for a versatile slow cooker that can brown, steam, cook rice, and more inside a reliable aluminum insert, our top choice is All-Clad Deluxe Slow Cooker. It's programmable timer and easy-to-use interface ensure loads of control over cooking and the elegant stainless steel body makes a beautiful piece of kitchen counter decor.
If you want a more budget-friendly model, there are many options on the list, though it's hard to beat the Hamilton Beach Portable 6 Quart Set & Forget. The programmable probe thermometer affords exact cooking temperature and the push-button display with optional manual settings makes it easy to use.
Features to Consider When Buying a Slow Cooker
Cooking Capacity: Size figures prominently when shopping for a slow cooker. If you cook for more than one or two people, check out the six-quart options from our list—you'll have the capacity to make larger batches for your hungry family. If it's just 1-2 people in your household, our small choice offers lots of options with minimal operational learning curve. If you are the person they call for 10+ people gatherings, check out our spacious 8-quart model. It's really about evaluating how many people you cook for and what you like to cook.
Functions: Lots of features have come down the pipe since Crockpot introduced slow cooking in the 1970s. Some features we love are locking lids to keep mess at bay, temperature probes for more exact cooking, programmable options that ratchet up versatility, and dishwasher-safe inserts that allow easy cleanup.
Ease of Use: Nobody wants to spend a long time trying to decipher how to use an appliance that is supposed to make life easier. Simple, minimalist, easy-to-read displays help make fix-it-and-forget-it meals attainable. Look for large, well-labeled buttons, lit displays, and clear program options.
How We Chose the Best Slow Cooker
We scoured the internet searching for all the available models of slow cookers, evaluating the size, capacity, features available, and ease of use. Utilizing trusted reviews, as well as personal experience with these models, we honed down to the best slow cookers you find on this list.
We also looked at reliability data from Consumer Reports and leaned on rigorous testing outcomes from sites like NY Times Wirecutter, Good Housekeeping, and Southern Living. Each pick was carefully selected for what it did best and then placed in a category based on what type of shopper we thought it would best fit.
Why Trust The Cookie Rookie
Carrie Honaker is a food and travel writer who has an arsenal of small kitchen appliances, including a crockpot from this list.
As a restaurateur and avid home cook, she has simmered hundreds of sauces and soups, and slow-cooked countless corned beef briskets—she knows how a reliable slow cooker can make a busy life easier.
To compile this list, Carrie spent hours researching what to consider when shopping for slow cookers, including capacity, features, size, ease of operation, and ease of use.
Who makes the best Slow Cookers?
Crockpot has many entries on this list and has a deep reputation in this arena. The brand has been putting out reliable slow cookers since the 1970s and it's hard to argue with that. There is a difference between a Crockpot and a slow cooker—the former employs a stoneware vessel surrounded by a heating element while the latter typically has a pot resting on top of a heating element. That being said, other brands have challenged Crockpot's top spot with modern features and versatility. Those brands are represented on our list alongside Crockpot.
What foods are best for Slow Cooking?
The better question is what do you like to cook because slow cookers can cover a lot of ground. Soups, stews, and chilis are obvious, but slow cookers also wield the power of tenderizing tough cuts of meat, and fixing the main event for Taco Tuesday with minimal attention. We have so many recipes for Crockpot meals that we even have a section of our website devoted to it. The only caution with these kitchen heroes is don't put frozen food in them. The USDA has a complete guide for food safety when it comes to slow cookers.
What does a programmable Slow Cooker mean?
Basically, with programmable slow cookers, you can set a cook time and it will switch to warm once it reaches that amount of time. This allows you to be away from your slow cooker longer. You can also delay start time which is convenient when you have a short cook time, but won't be at home when it needs to begin cooking.
How much do Slow Cookers cost?
As you can see from our list, the price range is wide and dependent on size and features. You can get a small, manual model for as little as $25 or you can opt for a model with lots of options that will run closer to $300. You can find a reliable one for about $70, in fact two of our choices meet this price, but it really depends on what you plan to use it for and what type of cook you are.