Small air fryers take up less countertop space and help you whip up a meal quickly. We researched and reviewed the best small air fryers to use today.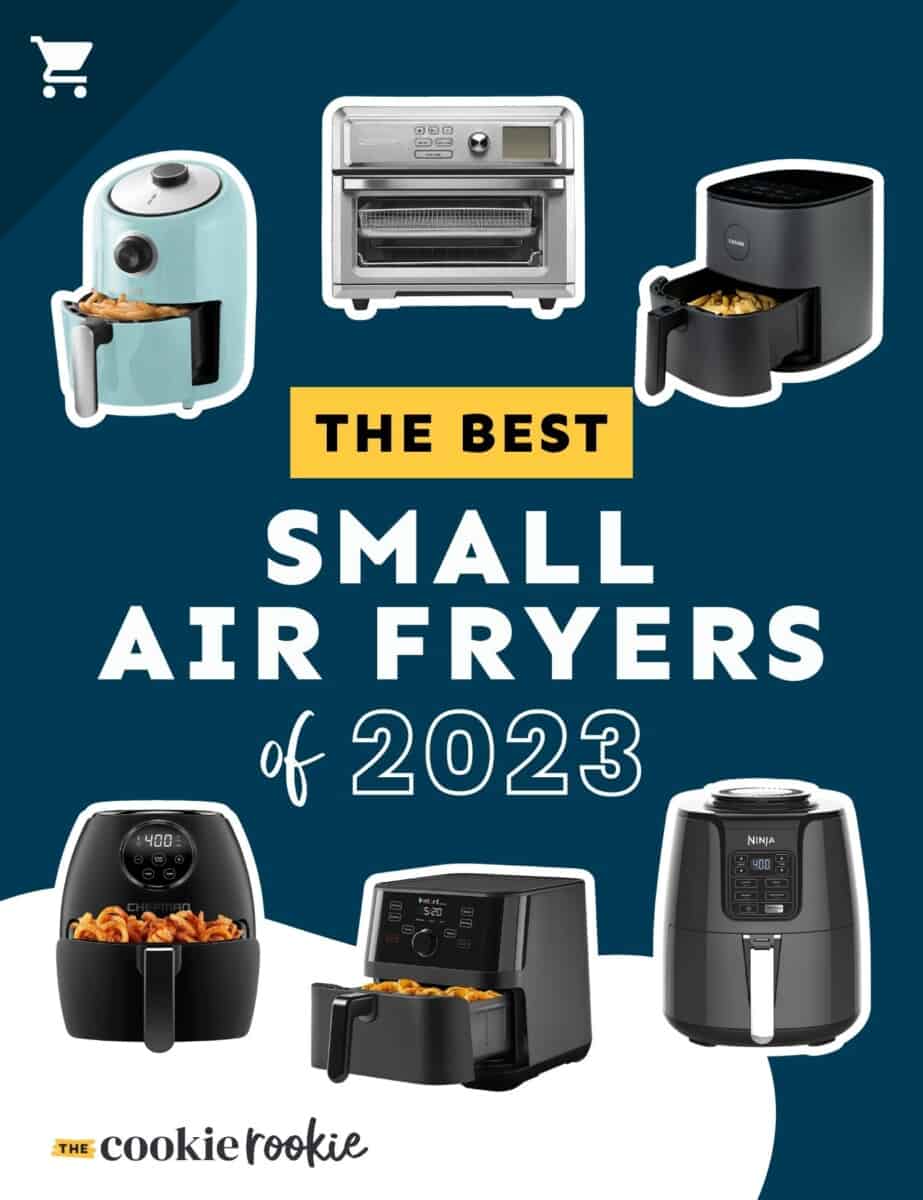 Small air fryers offer a convenient and healthier way to enjoy your favorite fried foods. These compact kitchen appliances have completely changed how home cooks "fry" and reheat by making it easier and far less messy. By using hot air circulation, they crisp up food with little to no oil, resulting in deliciously, golden fries, chicken tenders, and more.
One of the advantages of having a smaller air fryer is its compact size, making it ideal for those living in apartments, dorms, or with limited counter space. They're perfect for preparing meals for one or two people, making them a great option for college students, couples or small families.
But don't let their size fool you. These pint-sized air fryers are often still equipped with versatile features, such as preset cooking functions, dishwasher-safe parts or auto shut-off. From their space-saving design to their ability to create healthier, yet still crispy versions of your favorite dishes, the best small air fryers are a must-have for any kitchen.
Our Top Small Air Fryer Picks:
In this article you'll find our favorite small air fryers as listed below. Click the title to read all about it, or check out the price if you know which one best fits your needs!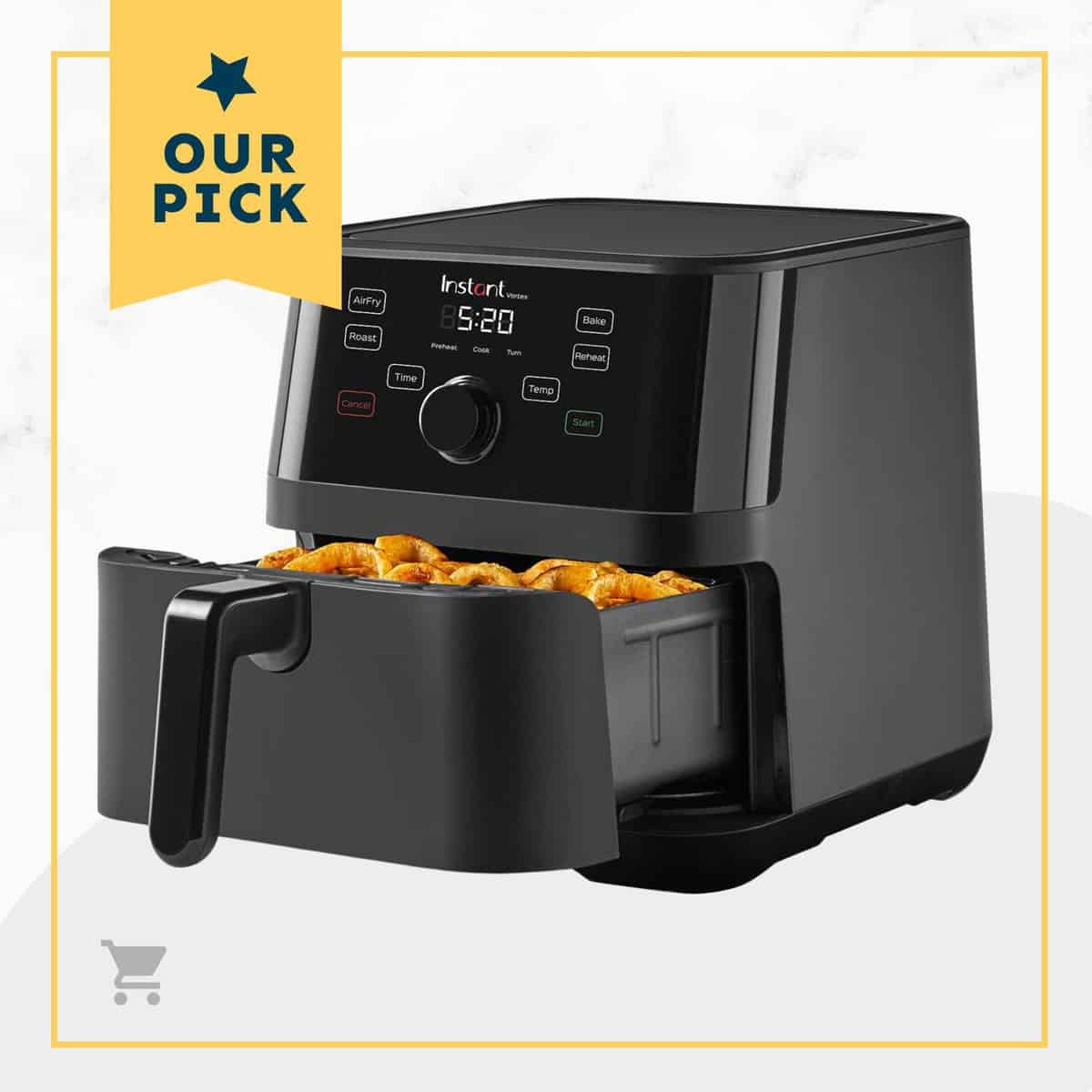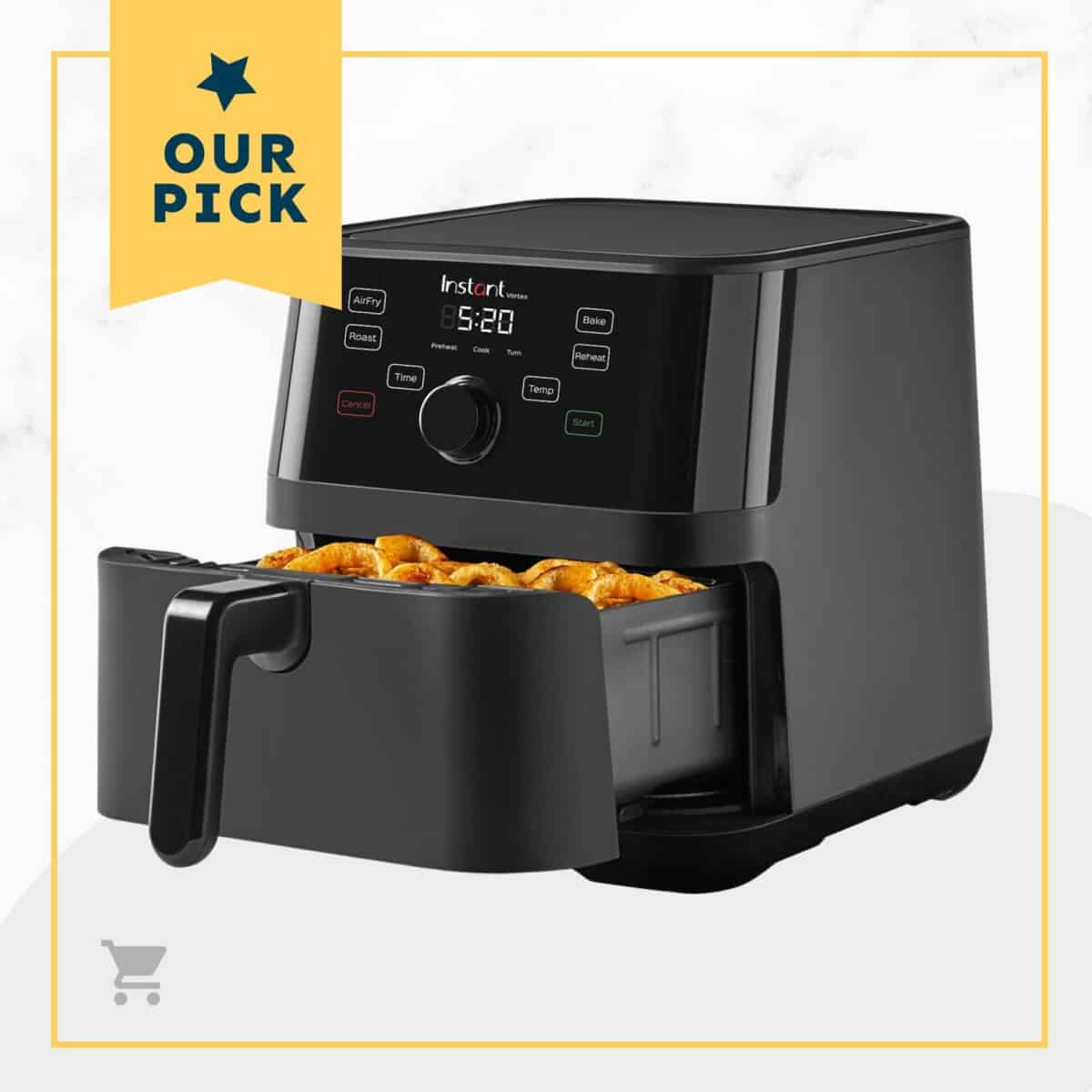 Best Overall Small Air Fryer
Best Overall: Instant Pot Vortex 4-Quart Air Fryer
Pros
6-in-1 functionality
Fast, even cooking
Intuitive controls
Cons
Can get noisy
Display stays lit if not unplugged
Requires preheating
Instant Pot has become a brand that we rely on when it comes to pressure cooking and it's no surprise its Vortex Air Fryer is another top-rated winner. The compact powerhouse is smaller than the popular 6-quart model, but still has a lot of the same great functionality, including multiple cooking functions like roasting, broiling and baking.
Most importantly, it delivers a perfect golden finish and crispy texture every time, whether you're air frying your favorite Trader Joe's appetizers or making something from scratch.
Enjoy one-touch smart programs for wings, veggies, potatoes, and more, plus easy cleanup thanks to the non-stick, dishwasher-safe basket and tray. The 4-quart basket is sized nicely for two to three servings, but also has a small enough footprint so it doesn't take up too much space.
| | |
| --- | --- |
| Dimensions: | 10.2 x 13.03 x 11.02 inches |
| Capacity: | 4 quarts |
| Settings: | Air fry, roast, broil, bake, reheat and dehydrate |
| Weight: | 9 pounds |
| Non-Stick Coating: | Yes |
| Wattage: | 1600 watts |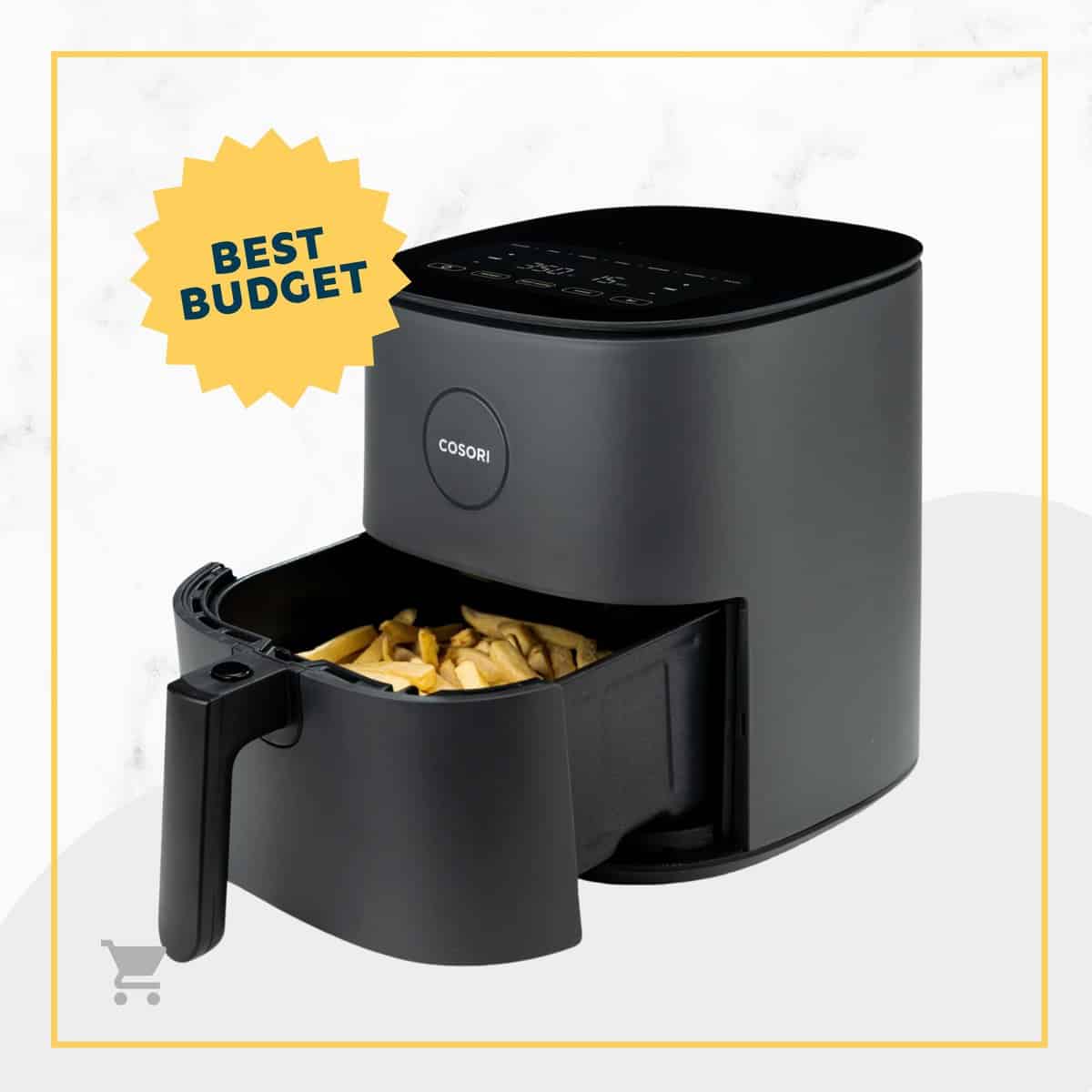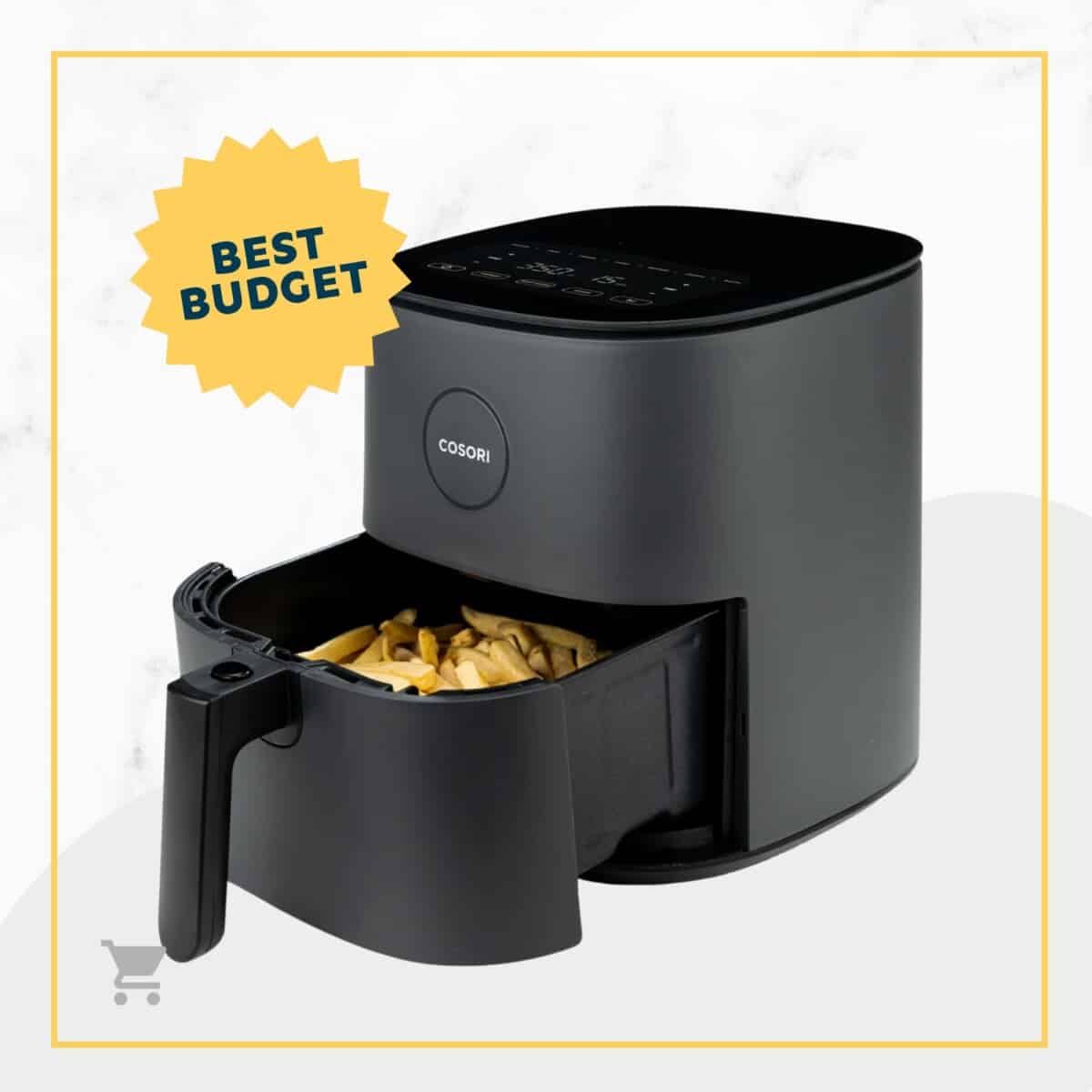 Best Budget Small Air Fryer
Best Budget: Cosori Pro LE 5-Quart Air Fryer
Pros:
9 cooking presets
Dishwasher-safe basket
Sleek, matte exterior
Cons:
Uneven crisping
Cooking can take longer
Loud beeping
At just under $100, the Cosori Pro LE Air Fryer truly gives you the best crisp for your buck. The 5-quart basket has plenty of venting so air can circulate thoroughly and it heats up lightning fast, turning out golden-brown fries, wings and more in a flash.
The user-friendly tempered glass display has nine preset functions so cooking items like steak and bacon requires a quick tap and you can add personalized shake reminders to ensure you don't forget this important step. Cleanup is a breeze too, thanks to the dishwasher-safe nonstick basket.
In addition to its superior air frying capabilities, one of Cosori's biggest draws is its stylish design. Along with a sleek black finish, it also comes in a minimalist white and, for home cooks who like a pop of color in their kitchens, a subtle, yet unique sage.
| | |
| --- | --- |
| Dimensions: | 12 x 10.8 x 14.4 inches |
| Capacity: | 5 quarts |
| Settings: | Air fry, reheat |
| Weight: | 6 pounds |
| Non-Stick Coating: | Yes |
| Wattage: | 1500 watts |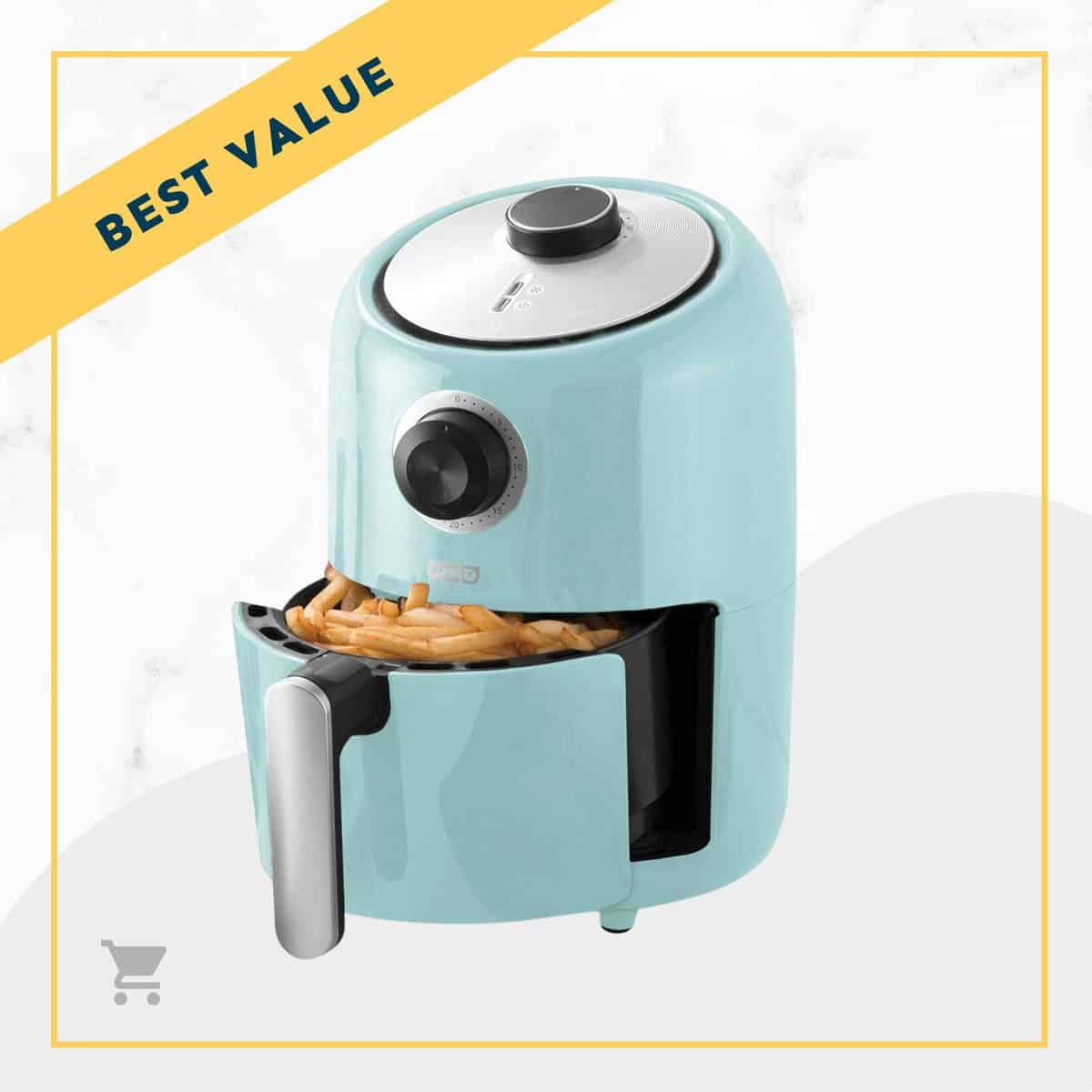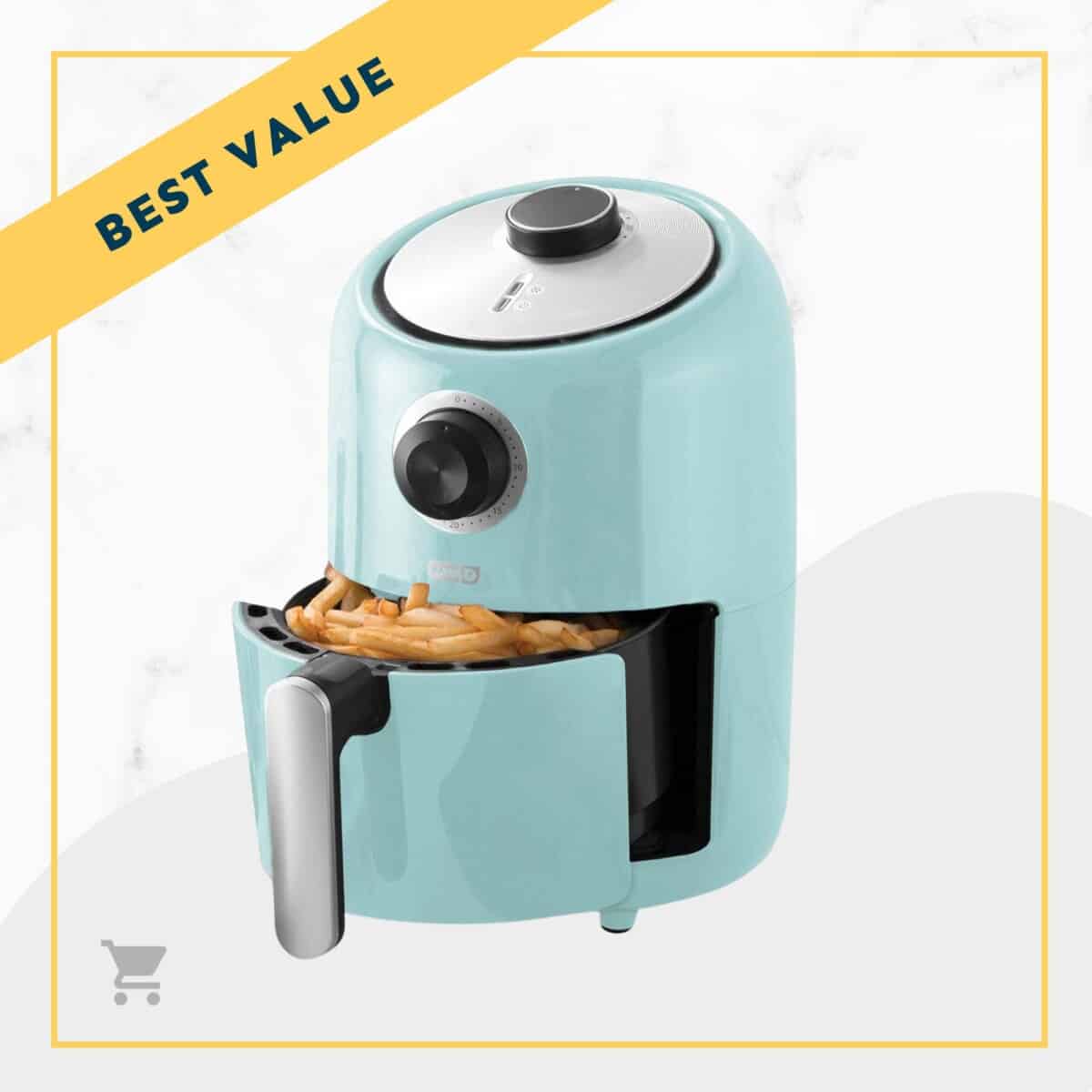 Best Value Small Air Fryer
Best Value: Dash Compact 2-Quart Air Fryer
Pros:
Compact size
Auto shut-off
Multiple colors
Cons:
Limited capacity
Manual temperature dial isn't the most precise
Non-stick coating contains PTFE
Not only is the small-but-mighty Dash Compact Air Fryer one of the tiniest options on the market, it's also the most affordable. For $50, you get a machine that focuses purely on air frying.
Simply set the manual temperature and timer, and enjoy crispy food in the amount of time it takes to preheat your full oven. Though its heating element is smaller, don't underestimate its power—the Dash still browns and crisps beautifully.
Since the two-quart basket only fits enough for one, this lightweight machine is ideal for someone who lives alone or a home cook who wants to get a feel for air frying before committing to a larger machine. Features like auto shutoff make it great for city apartments with little counter space, dorms or even RVs.
| | |
| --- | --- |
| Dimensions: | 10.2 x 8.1 x 11.4 inches |
| Capacity: | 2 quarts |
| Settings: | Air fry |
| Weight: | 5.7 pounds |
| Non-Stick Coating: | Yes |
| Wattage: | 1000 watts |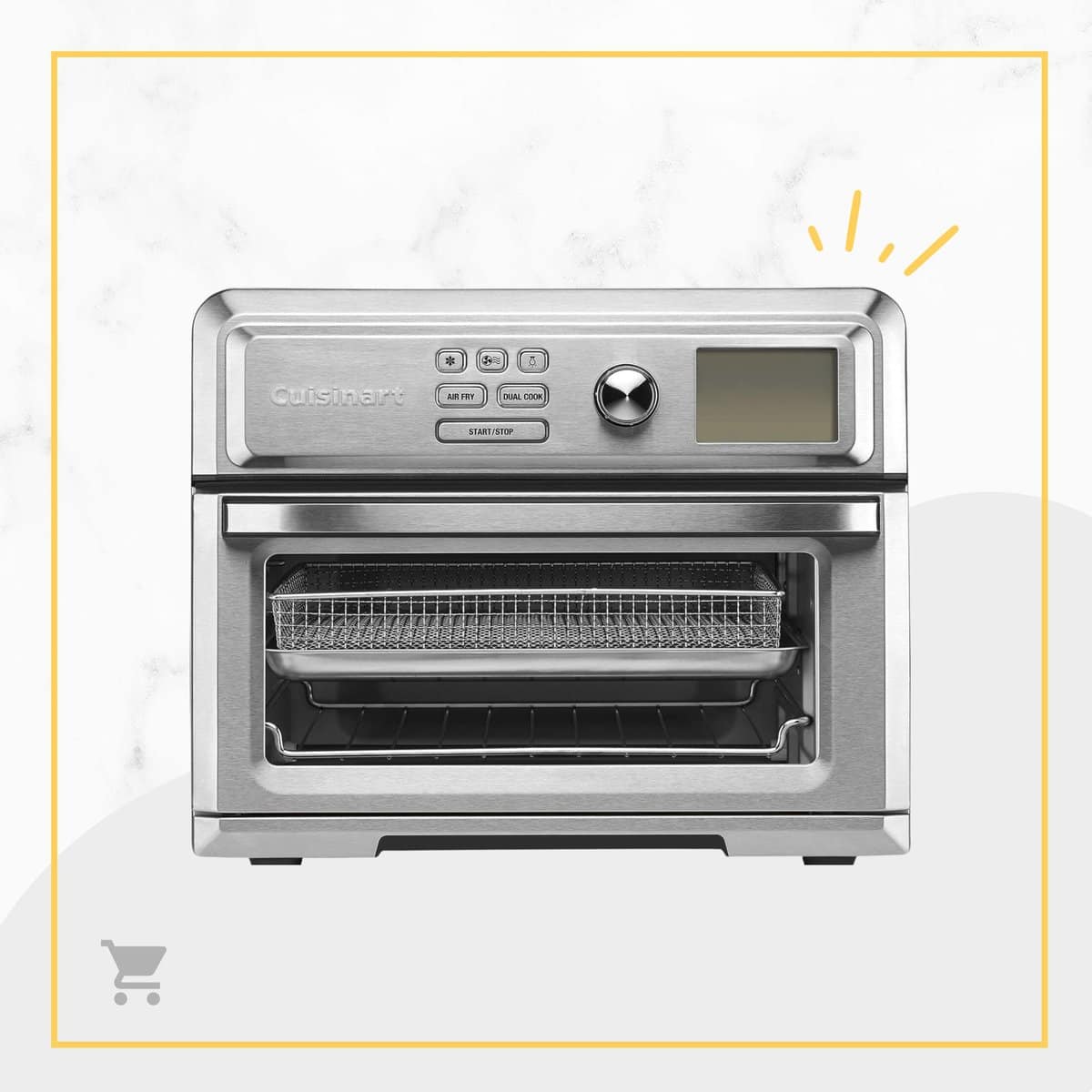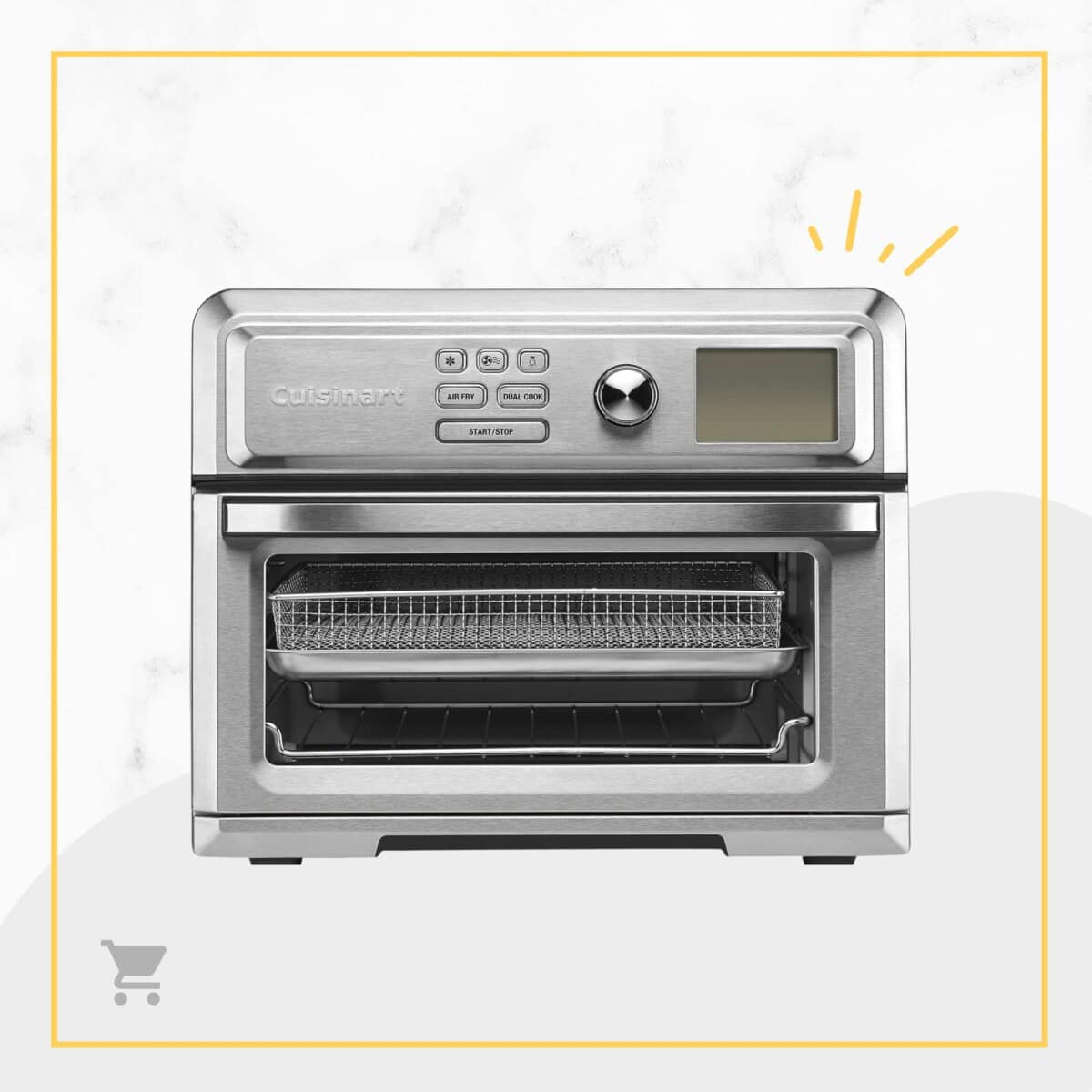 Best Toaster Oven Air Fryer
Best Toaster Oven Combo: Cuisinart Air Fryer Toaster Oven
Pros:
Multifunctional
Lage capacity
Versatile controls
Cons:
Bulkier design
Long preheating times
Expensive
For those who want an air fryer that does it all, look no further than the Cuisinart Air Fryer Toaster Oven. The machine combines an impressive 1800 watts of power with a multitude of functions, from air frying and baking to broiling and toasting.
While it's not necessarily the smallest, given the capabilities and price, the extra inch or two feels like a good trade-off since it also functions as a toaster oven (so that's one less appliance on your countertop).
The interior is spacious enough to handle up to six slices of bread, a 12-inch pizza and, more importantly, three pounds of air fried food. If you find yourself cooking larger cuts of meat like ribs and ham often or have a family of four, then this is the machine for you.
| | |
| --- | --- |
| Dimensions: | 17 x 21.73 x 15.75 inches |
| Capacity: | 18 quarts |
| Settings: | Air fry, roast, broil, bake, reheat, dehydrate |
| Weight: | 20.3 Pounds |
| Non-Stick Coating: | Yes |
| Wattage: | 1800 watts |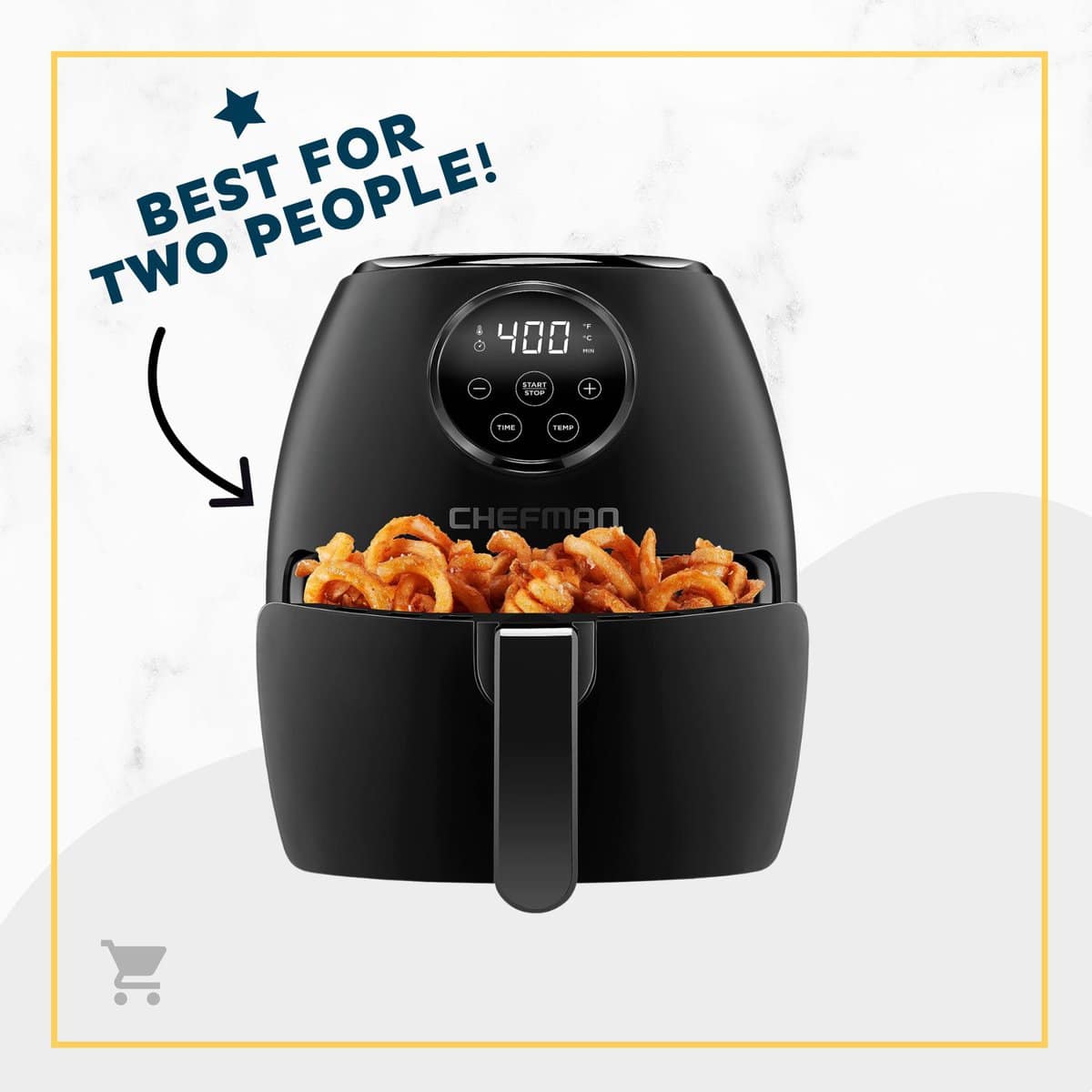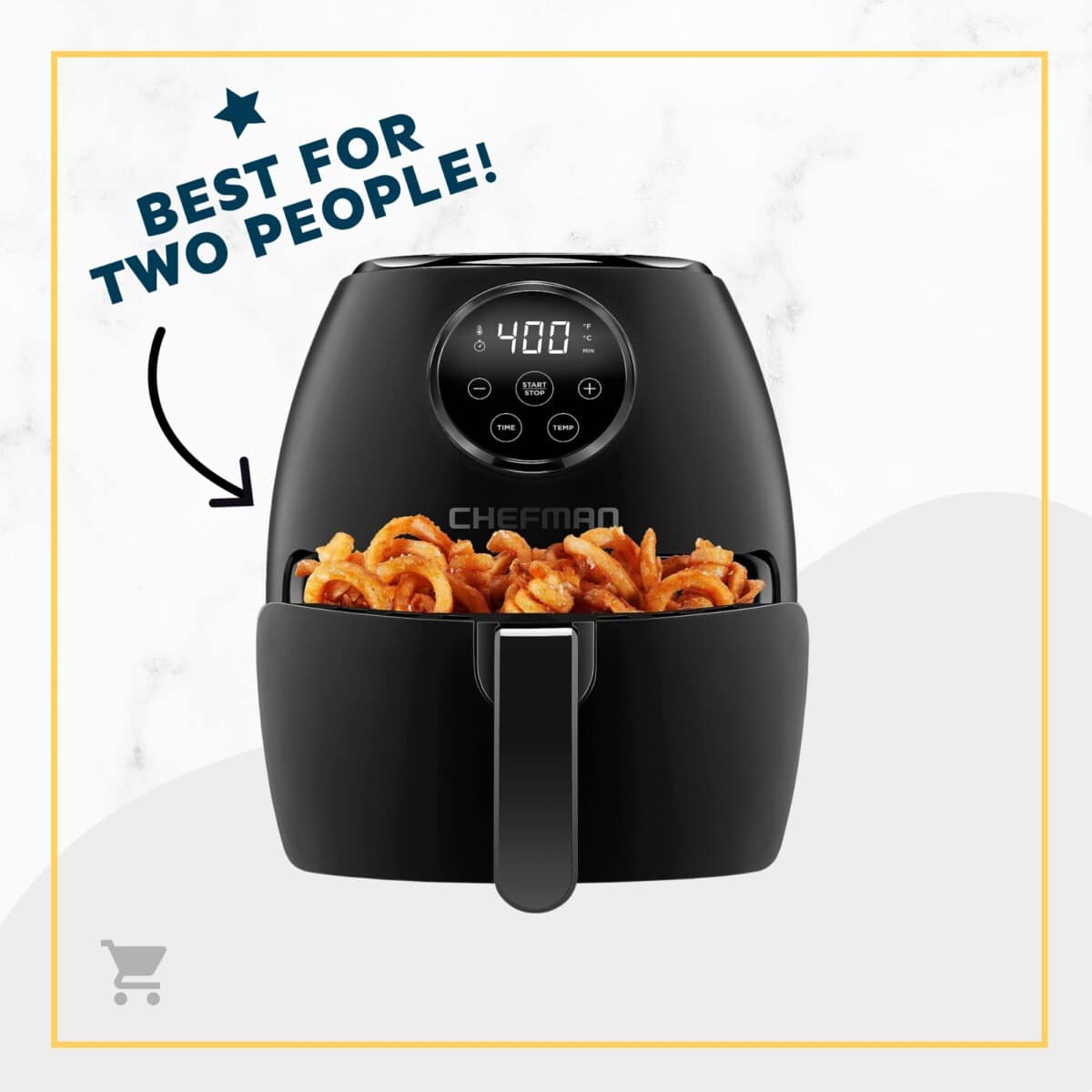 Best Small Air Fryer for 2 People
Best for 2 People: Chefman Small 3.6-Quart Air Fryer
Pros
Compact design
Easy-to-clean
Quiet operation
Cons
Limited temperature range
No preset cooking options
Exterior gets very hot
Cooking for two is easy when you have the right tools, like the Chefman Small Air Fryer. At 3.6 quarts, it's able to cook sides, main dishes and even desserts for two without taking up too much valuable countertop real estate.
Due to its size and affordable price, this air fryer lacks some of the bells and whistles of other models. It's solely an air frying machine (though given the variety of foods you can air fry, that's not necessarily a negative!) and it does the job. Food browns and crisps up nicely in its 200°F to 400°F temperature range.
Since the Chefman doesn't have preset functions, it's best to use recipes so there's no trial and error involved in finding the ideal cooking time and temperature.
| | |
| --- | --- |
| Dimensions: | 8 x 8 x 9.5 inches |
| Capacity: | 3.6 quarts |
| Settings: | Air fry, roast, bake |
| Weight: | 7.4 pounds |
| Non-Stick Coating: | Yes |
| Wattage: | 1200 Watts |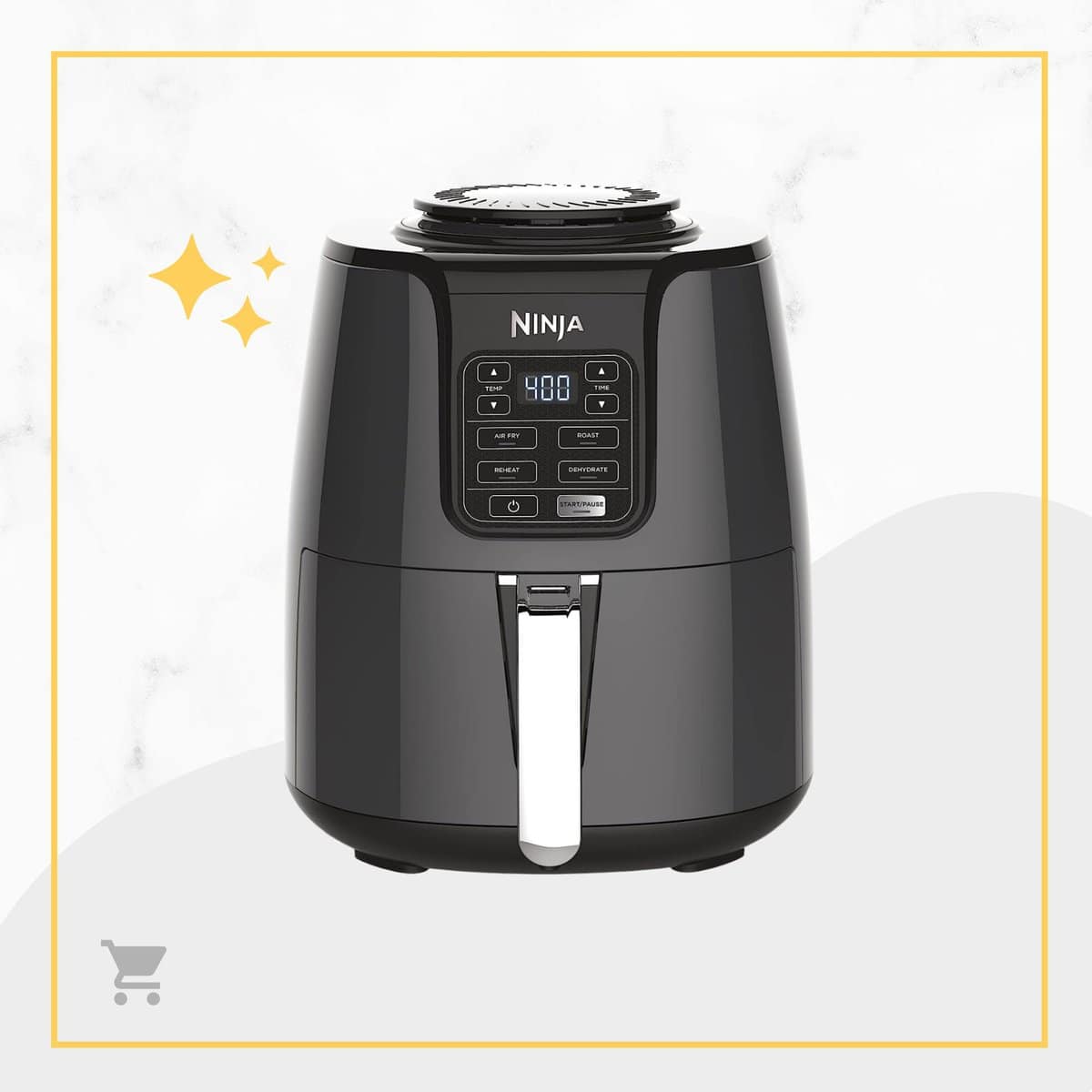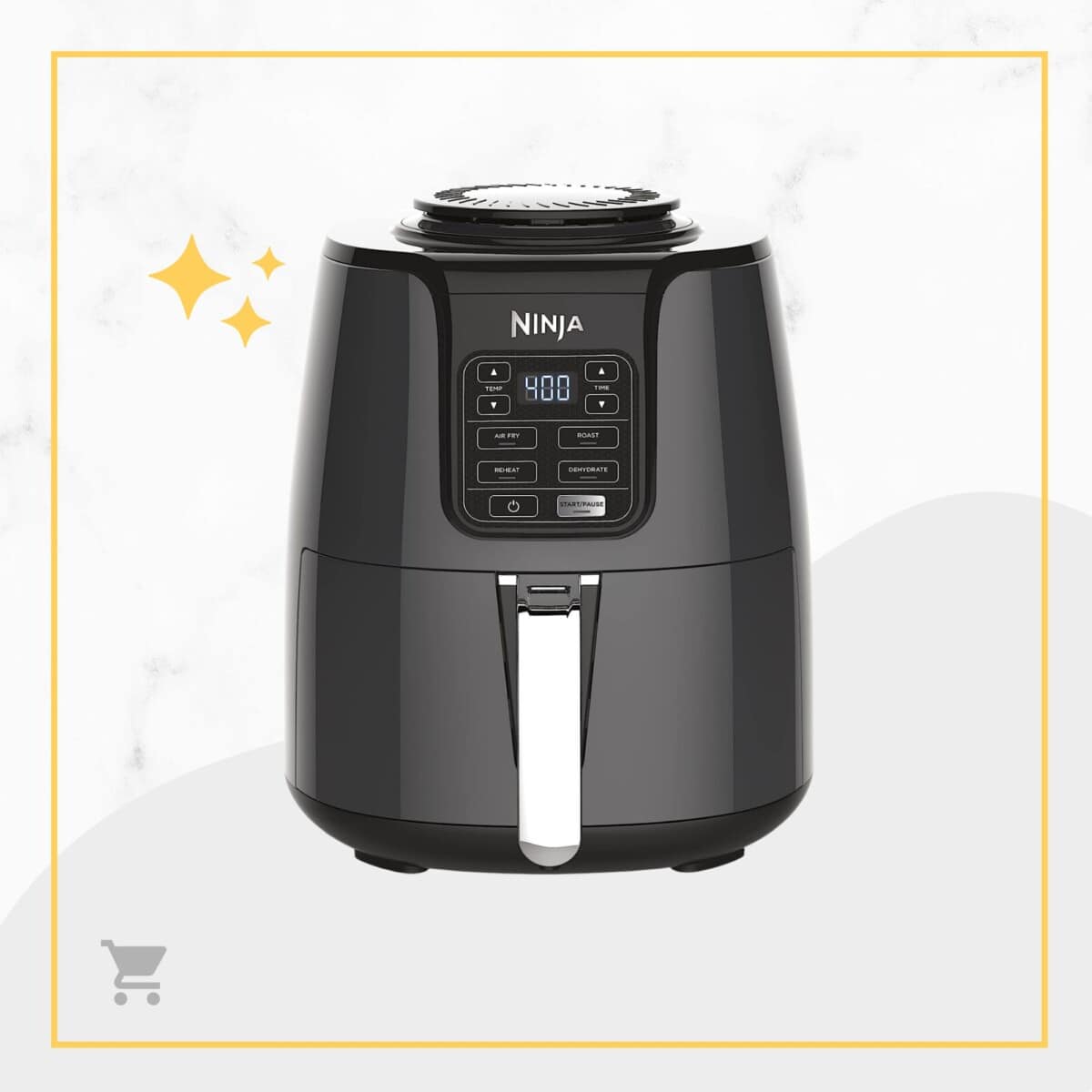 Best Small Ninja Air Fryer
Best Ninja: Ninja AF101 4-Quart Air Fryer
Pros
Wide temperature range
Quiet operation
Compact size
Easy to clean
Cons
Limited cooking presets
Plastic exterior
Expensive for size
Ninja did not invent the air fryer, but it has become synonymous with the popular appliance and produces them in a wide range of sizes and functionalities.
The AF101 is one of its more compact models, featuring a 4-quart ceramic-coated basket and crisper plate that makes enough for two. It gets an even, crispy cook on all your air frying essentials, such as fish sticks, fried chicken and fries (it fits a full two pounds).
The wide 105°F to 400°F temperature range gives you precise control, but unlike some other air fryers, it does require a few minutes of preheating time. Both the basket and crisper plate can go straight into the dishwasher, though, so you do save time on cleanup.
| | |
| --- | --- |
| Dimensions: | 8.5 x 12.1 x 11 inches |
| Capacity: | 4 quart |
| Settings: | Air fry, bake, roast, reheat, dehydrate |
| Weight: | 10.58 pounds |
| Non-Stick Coating: | Yes |
| Wattage: | 1550 Watts |
The Bottom Line…
Our top pick, the Instant Pot Vortex Air Fryer is a compact and powerful appliance that can be used for a variety of cooking tasks, including air frying, roasting, broiling, and baking. It is smaller than the popular 6-quart model, but still has the same great functionality and features.
Overall, the Instant Pot Vortex Air Fryer is a great option for those looking for a compact and versatile air fryer. It is easy to use and clean, and it produces consistently crispy and delicious results.
Features to Consider When Buying a Small Air Fryer
Cooking Capacity: One of the most important features to consider is how much an air fryer can hold at one time. A small air fryer should still work for the size of your household and the portions you typically prepare. For example, if a bag of frozen french fries or chicken nuggets are a staple, then check to see if the basket or pan will fit it all at once so you don't have to air fry in multiple rounds.
Versatility: Check to see if the air fryer offers additional cooking functions. In addition to air frying, many models can also bake, roast and reheat. Some can even dehydrate. This versatility allows you to prepare a variety of dishes and recipes with a single appliance, which is always a plus!
Ease of Use: Opt for an air fryer with intuitive controls and a user-friendly control panel. Make sure it has clear settings and easy-to-read buttons for hassle-free operation. If you don't like to fiddle around with dials and temperature control, then go for an appliance that has preset functions so there's no guesswork involved.How We Chose the Best Small Air Fryers
How We Chose the Best Small Air Fryers
We carefully selected the best small air fryers based on several important factors. First, we considered the cooking performance, because consistent and delicious results are always a top priority.
We also evaluated the cooking capacity to accommodate various portion sizes, from a tiny one for solo home cooks to ones for families. User-friendliness and ease of operation were another key criteria, with a focus on easy-to-use controls.
Finally, we took into account the quality and durability of differing brands.
Why Trust The Cookie Rookie
Having developed recipes for everything from chicken wings to a full holiday ham in the air fryer, The Cookie Rookie knows exactly what to look for when it comes to choosing the best models.
We have thoroughly researched numerous small air fryer models to provide you with reliable recommendations that will deliver the same delicious results we get when making our favorite air fryer recipes.
How Do Air Fryers Work?
Much like a convection oven, air fryers circulate hot air around food. A powerful fan distributes the warm air, creating a crispy exterior without the need for a ton of oil like deep frying does. This innovative cooking method produces delicious, just-like-fried results with less oil, which is why you often see air fried foods touted as a healthier alternative.
What Can I Make in a Small Air Fryer?
Even the smallest of air fryers can open up a world of culinary possibilities! You can whip up crispy french fries, chicken wings, crab cakes, roasted veggies, homemade chicken nuggets, and even delectable desserts like air-fried donuts. The options are endless, making your small air fryer a versatile kitchen companion.
How Much Does a Small Air Fryer Cost?
As with most small appliances, the price of a small air fryer can vary. They come in a range of prices to fit different budgets. Generally, you can find quality small air fryers starting at as low as $50 and going up to $150 or more, depending on the brand, features and capacity.
How Do I Clean an Air Fryer?
Cleaning your air fryer is simple. Start by unplugging the appliance and letting it cool down. Remove the basket and pan, wash them with warm soapy water or place them in the dishwasher if they are dishwasher-safe. Wipe down the interior and exterior with a damp cloth. That's it—nice and easy!
How Do I Preheat an Air Fryer?
Preheating an air fryer is a cinch and takes nowhere as long as a regular oven. Just follow these simple steps: First, set the desired temperature on the air fryer. Then, it'll preheat for a few minutes (usually anywhere from 3 to 5), or as specified in the user manual. Once it's preheated, you're ready to start crisping.
Can I Put Aluminum Foil in an Air Fryer?
Absolutely! Aluminum foil can be used in your air fryer to enhance your cooking experience. It's great for preventing food from sticking to the basket or creating separate compartments for different ingredients. Just make sure you trim the piece of foil to fit inside and leave enough space for proper air circulation. This will help you achieve delicious results while also making cleanup a breeze.