This Air Fryer Fried Chicken coats chicken thighs with a crispy cornflake crust for a yummy alternative to traditional fried chicken. Juicy, tender, and perfectly spiced, this kid-friendly chicken recipe hits all the right marks with flavor and texture, so you won't get any complaints!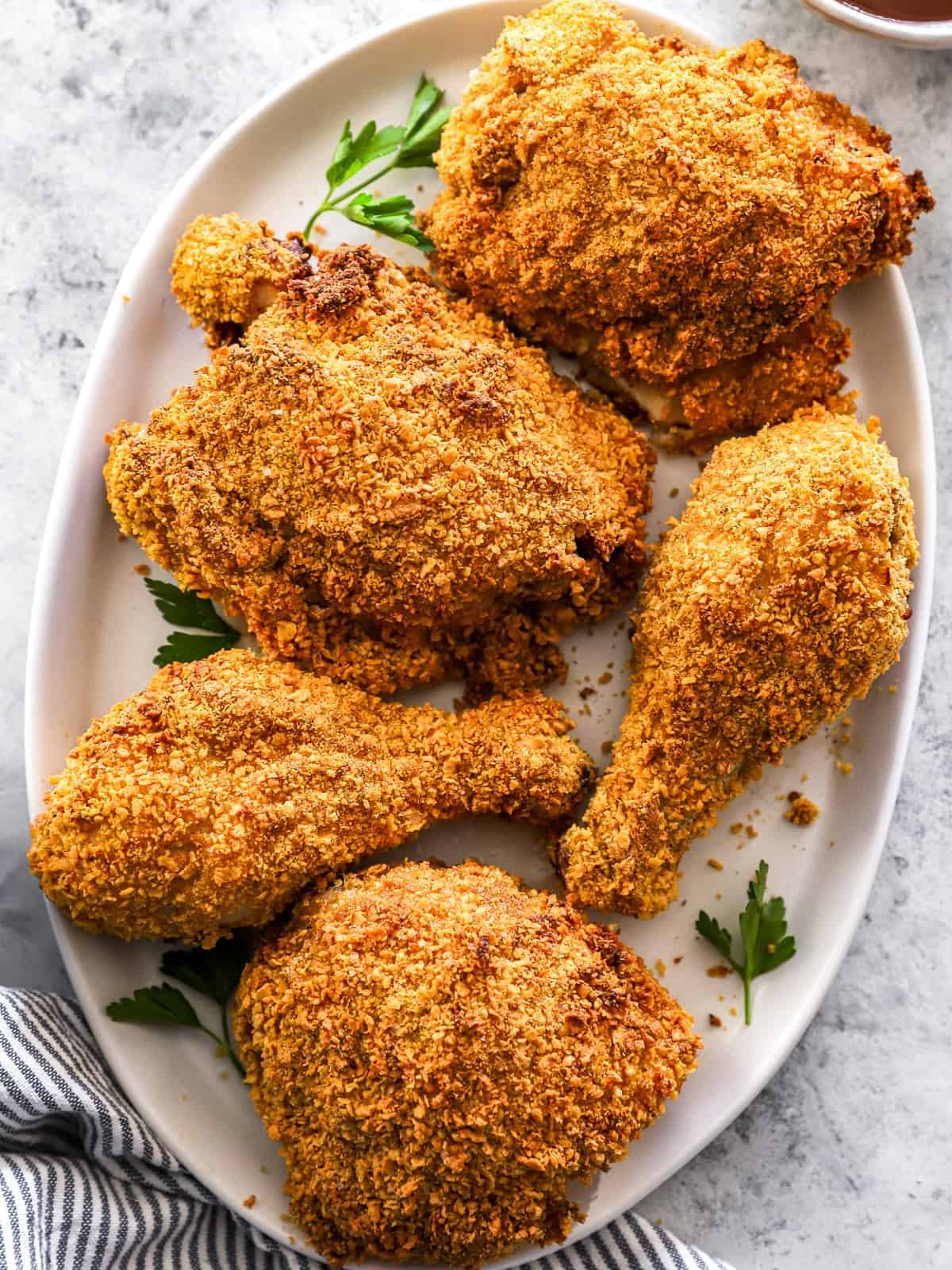 What's in this Easy Fried Chicken Thighs recipe?
Cooking fried chicken in the Air Fryer is so quick and easy, and you only need a few basic ingredients to get started!
Chicken: I like using bone-in, skin-on chicken thighs or drumsticks because they stay juicy and tender and get really crispy, but you can use any cut of chicken, boneless or bone-in. If using boneless, reduce the cooking time slightly.
Buttermilk: Soaking chicken in buttermilk before frying it helps to make it super tender and juicy, as well as more flavorful.
Flour: Use all-purpose flour for dredging fried chicken.
Cornflakes: Crushed Corn Flakes cereal is used to make a crispy coating on the chicken. Feel free to go the more traditional route and use Panko breadcrumbs.
Seasonings: We use a mix of smoked paprika, poultry seasoning, garlic powder, cayenne pepper, and salt and pepper.
Tips!
To make your own buttermilk, measure 2 cups of milk, remove 2 tablespoons of it, and mix in 2 tablespoons of lemon juice or white vinegar. Let this mixture sit for 5 minutes before using in the recipe.
Trademark Note: In the spirit of transparency, I want to note that Corn Flakes are a trademarked product. Kellogg's is a proprietary brand that I want to acknowledge and give credit to.
Air Fried Chicken Variations
Add a little bit of hot sauce into the buttermilk mixture for spicy fried chicken.
If you don't have smoked paprika, you can make your own by mixing 1 teaspoons regular paprika and ½ teaspoon cumin.
For less spicy chicken, reduce or omit the cayenne pepper.
If you don't want to make Cornflake Fried Chicken, feel free to go the more traditional route and use Panko breadcrumbs instead.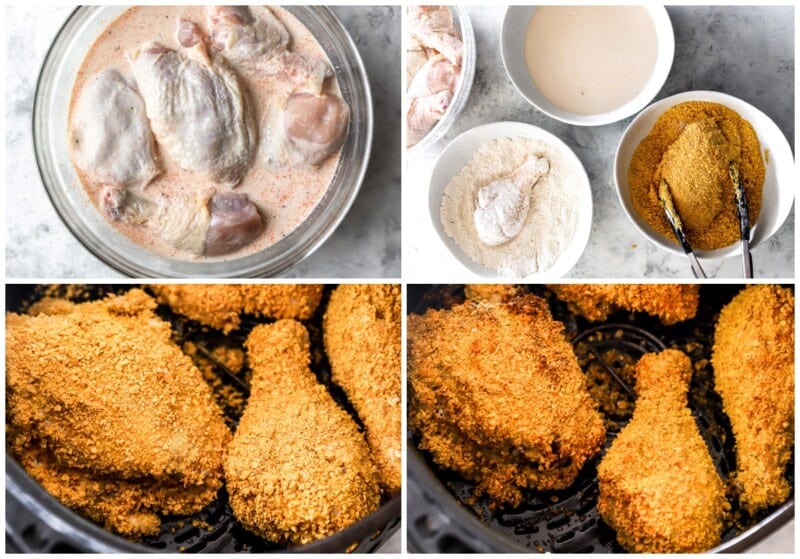 What is the best chicken for air fryer fried chicken?
I like to use bone-in, skin-on chicken thighs or chicken drumsticks, but you can really use any cut of chicken you like.
How long do I cook air fryer fried chicken?
The final cooking time will depend on the cut of meat you select. For chicken thighs or drumsticks, it takes about 20-25 minutes. For boneless, skinless chicken breasts, it will take about 25 minutes. For chicken tenders, it will take about 15 minutes. The proper internal temperature of cooked chicken is 165°F.
Do I have to use buttermilk to make air fryer fried chicken?
Yes! The buttermilk adds flavor and helps to tenderize the meat. If you don't have buttermilk, you can make your own by measuring out 2 cups of milk, removing 2 tablespoons, and adding 2 tablespoons of white vinegar or lemon juice. Let this mixture stand for 5 minutes before using.
Why won't the breading stick to my air fryer fried chicken?
I will say, it is more difficult to get the breading to stick to skinless chicken than it is to get it to stick to skin-on chicken. However, regardless, if your breading is falling off, be sure to let it air dry for about 10 minutes on a wire rack after dredging to help it adhere better.
Can I stack fried chicken in the air fryer?
No! Not only will the chicken cook incredibly unevenly, but there will also not be enough airflow for the breading to become crispy. Always air fry chicken in a single layer with space between the pieces.
Why is there still loose flour on my air fryer fried chicken?
It's important to spray the chicken well with oil before air frying to saturate the breading, creating a crispy crust. If there are exposed areas of raw flour, those areas will not crisp up!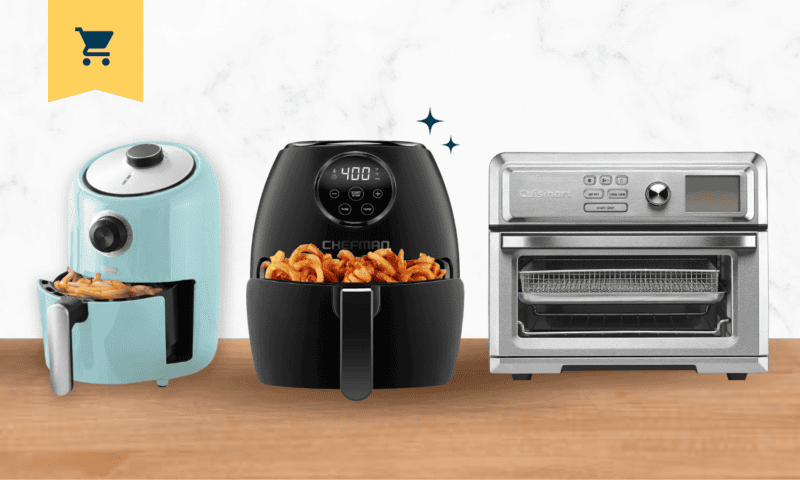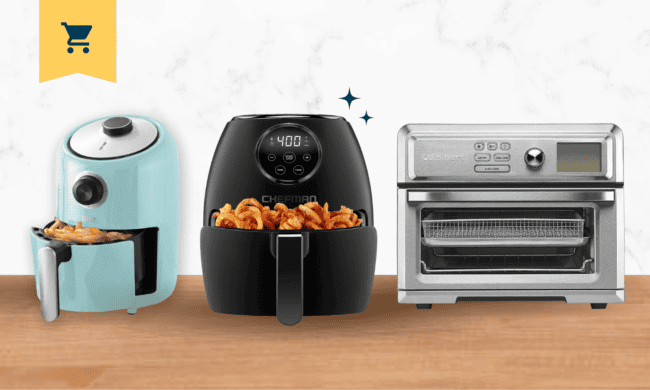 Best Small Air Fryers
We have reviewed our top 6 Small Air Fryers! Get reviews, pros, cons, and prices!
Top Small Air Fryers
How to Store and Reheat Cornflake Fried Chicken
Store leftover chicken in an airtight container in the refrigerator for up to 3 days. Reheat in the oven at 300°F or in the air fryer at 370°F for about 10 minutes.
How to Freeze Air Fryer Fried Chicken
Freeze fried chicken in a freezer-safe container or resealable bag for up to 3 months. Let thaw overnight in the refrigerator before reheating.
What to Serve with Air Fried Chicken Thighs
This crispy, cornflake-coated fried chicken goes well with all the typical dishes. We love serving it with creamy mashed potatoes, mac and cheese casserole, Air Fryer corn on the cob, and buttermilk biscuits. If you want to sneak in more green, molasses green beans and Air Fryer broccoli make great sides too.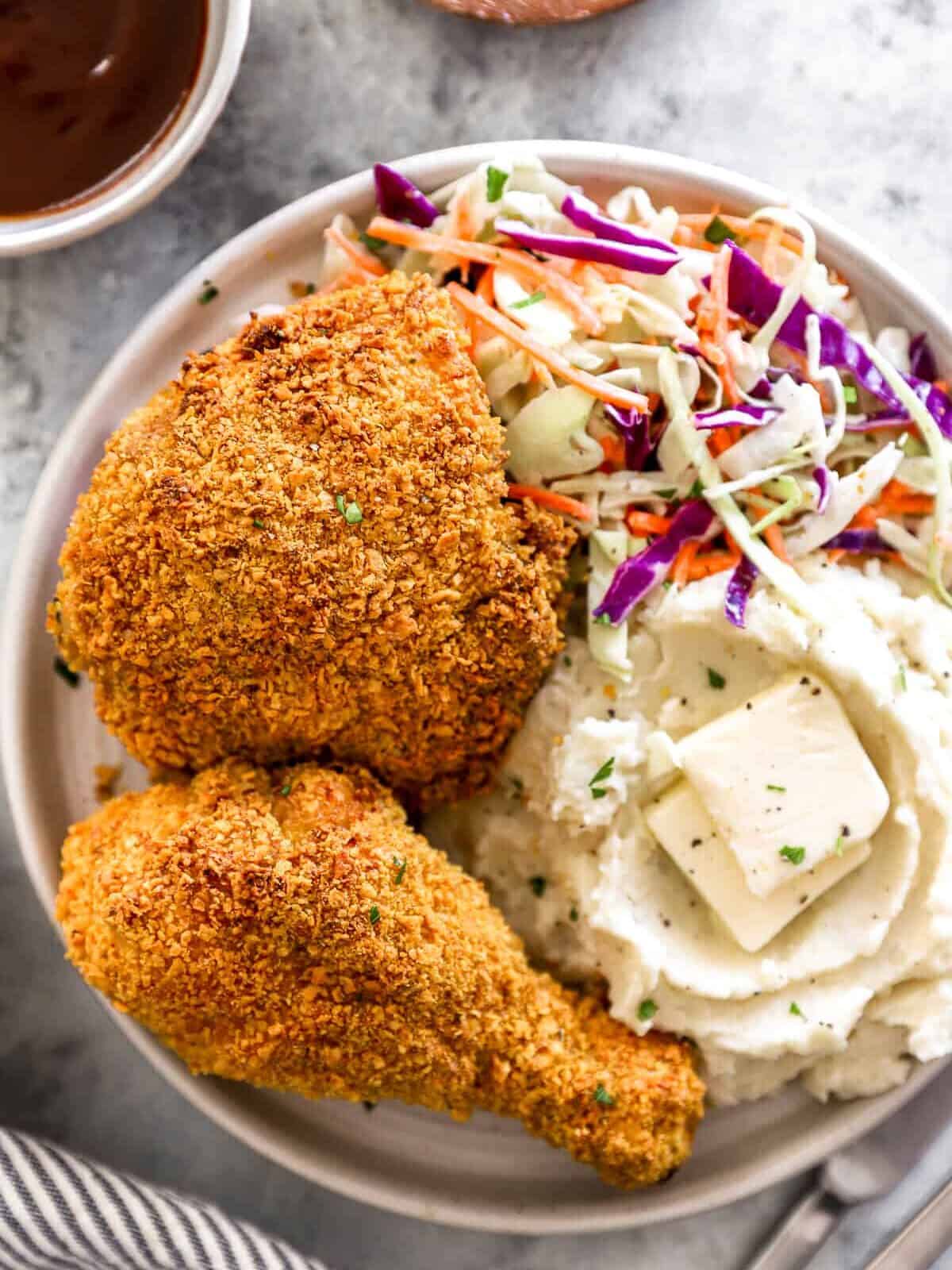 Looking for more fried chicken recipes? This Buttermilk Fried Chicken and copycat Kentucky Fried Chicken are delicious too.
If you make this recipe be sure to upload a photo in the comment section below or leave a rating. Enjoy! You can also jump to recipe.