Whip up a batch of perfectly crisp bacon in a fraction of the time with this easy Air Fryer Bacon recipe! Simple to make without any mess, this will be your new favorite way to cook bacon.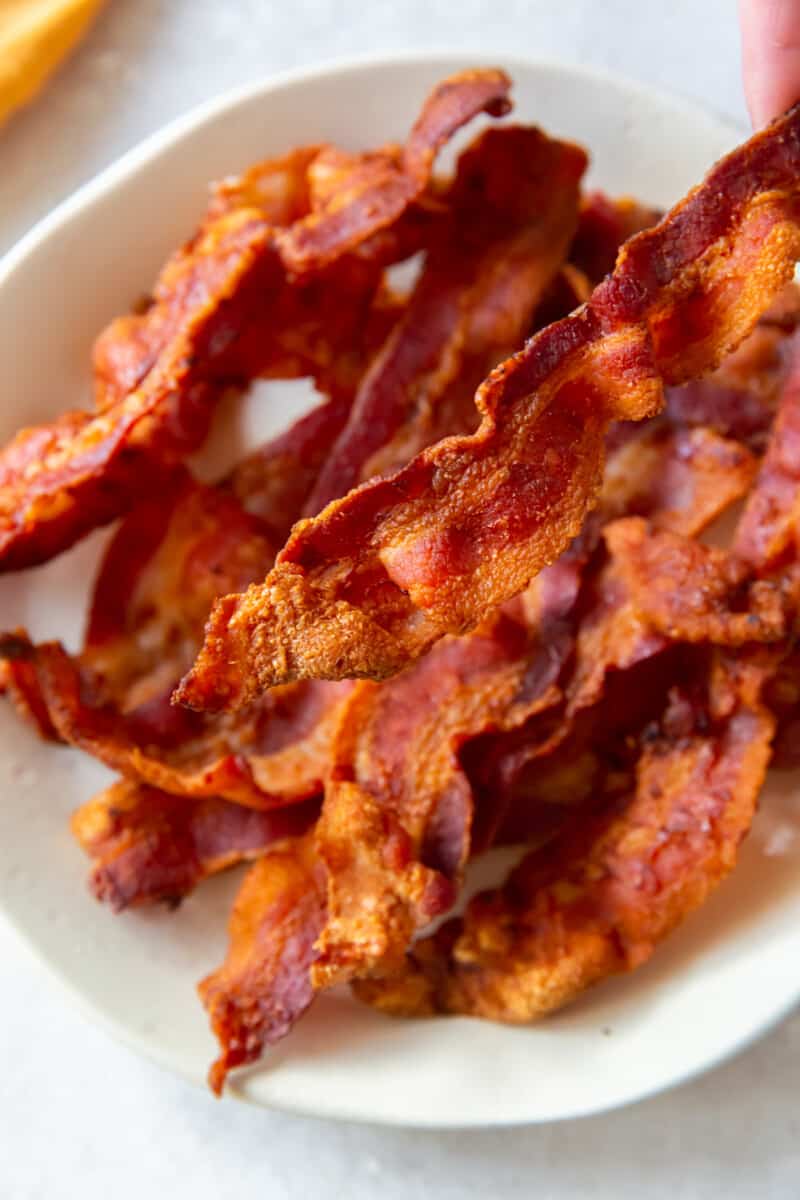 Crispy Air Fryer Bacon
Who doesn't love bacon? No weekend breakfast is complete without a towering plate of bacon… and the mess that ensues. Next weekend, give air fryer bacon a try! It's my go-to method for cooking crispy bacon without any oil splatters.
Once you cook bacon in the air fryer you will never go back to any other method! So easy, extra crispy, hassle free, and hands down delicious.
Be sure to try my Bacon Crumbles and Brown Sugar Bacon, too!
Why You'll Love this Easy Bacon Recipe:
SO QUICK: Air fried bacon is ready in less than 10 minutes!
HEALTHIER: Unlike cooking bacon on the stovetop or in the oven, air fried bacon doesn't sit in fat as it cooks. It's still wonderfully crispy, without all of the grease.
MAKE AHEAD: This method is great for breakfast meal prep! Cooked bacon keeps well in the refrigerator and is freezer-friendly, too.
Skip the stovetop and try air fryer bacon instead!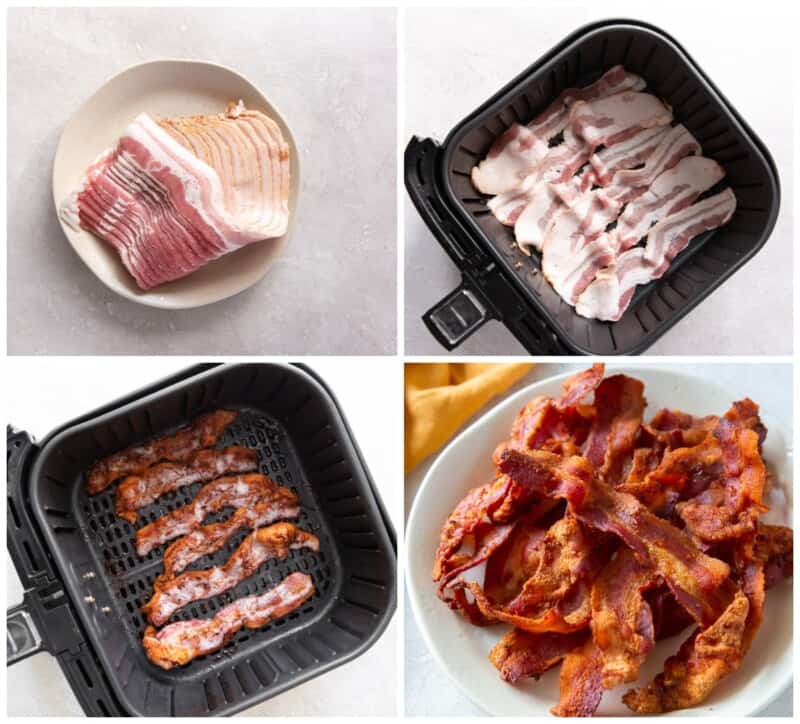 How to Make Air Fryer Bacon
You can jump to the recipe card for full ingredients & instructions!
Preheat the air fryer.
Arrange the bacon in a single layer.
Cook until crispy.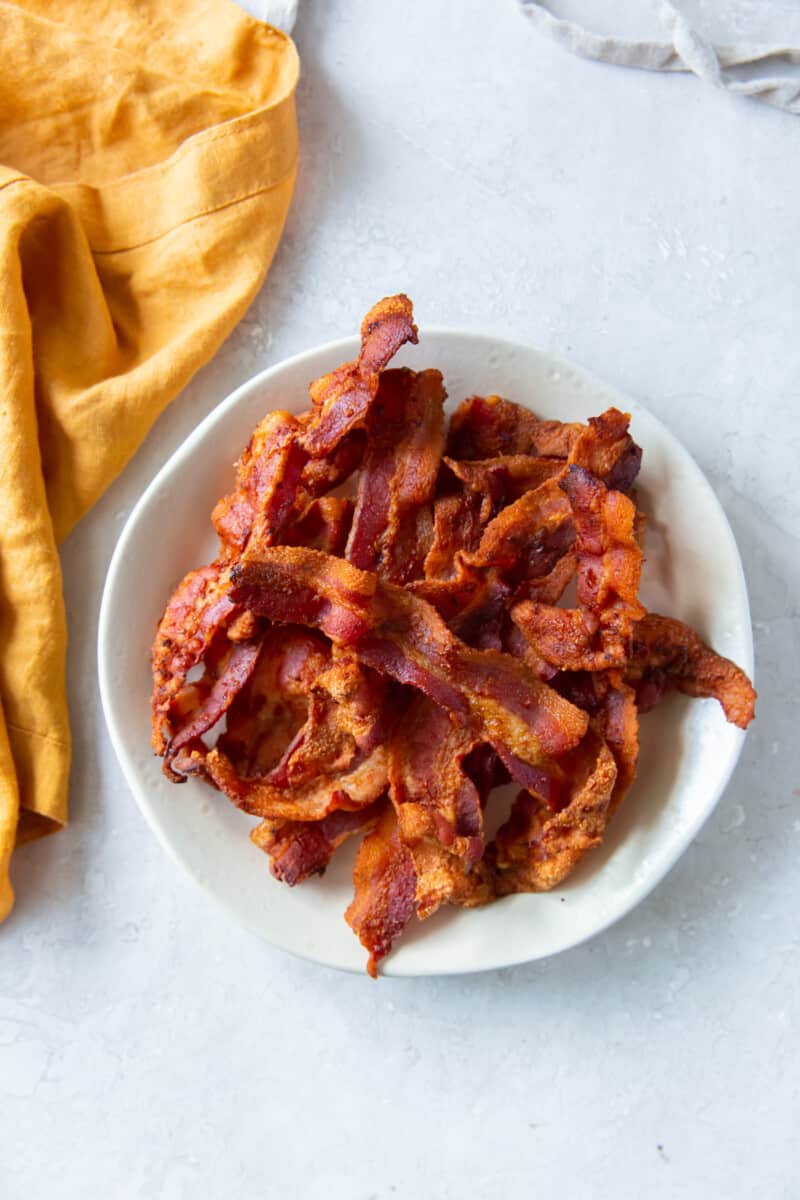 What temperature should I set the air fryer to?
For super crispy bacon, cook bacon at 400°F. Preheat the air fryer before adding the bacon so it's already nice and hot.
How long does bacon take to cook in the air fryer?
It depends on what kind of air fryer you are using. In my basket-style fryer, thick-cut bacon took about 9 minutes to cook. You can easily add a couple more minutes to the cook time if needed.
Can I use regular cut bacon instead of thick-cut?
Yes! Regular cut bacon may cook faster than thick-cut bacon as it's thinner. Adjust the cook time accordingly.
Do I need to spray the air fryer basket?
There is no need to spray the basket with oil before adding the bacon.
How can I prevent the air fryer from smoking?
If you are cooking several batches of bacon, empty the grease from the basket base before each batch. Safely discard the grease or keep it to use in another recipe, like bacon dripping gravy.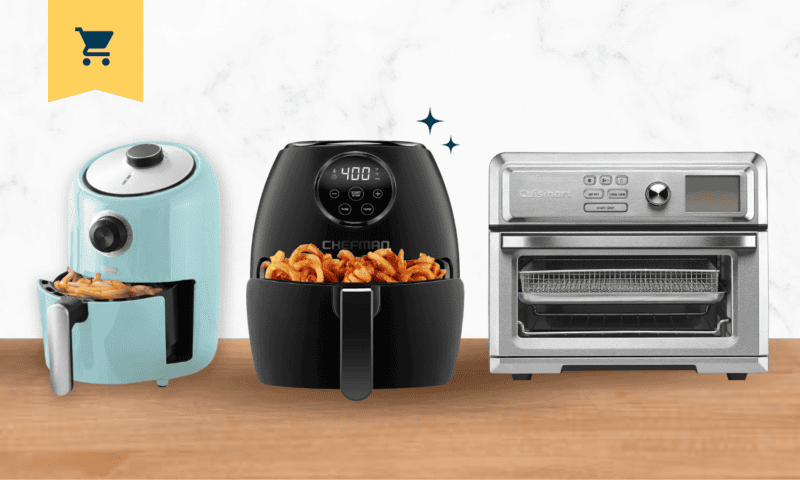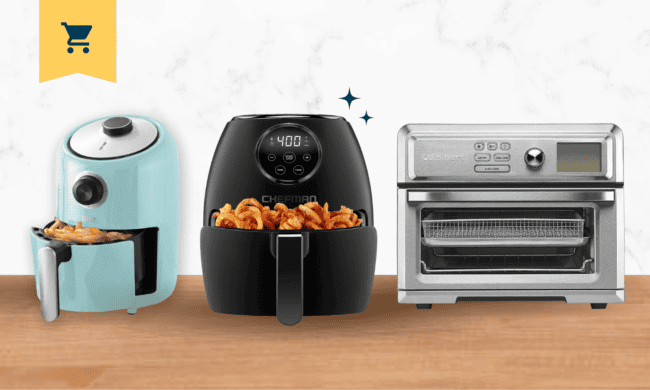 Best Small Air Fryers
We have reviewed our top 6 Small Air Fryers! Get reviews, pros, cons, and prices!
Top Small Air Fryers
Serving Suggestions
Delicious on it's own, it's also a flavorful addition to salads, soups, and more. Use air fried bacon in any of these recipes:
Bacon is such an easy way to add an extra burst of salty flavor!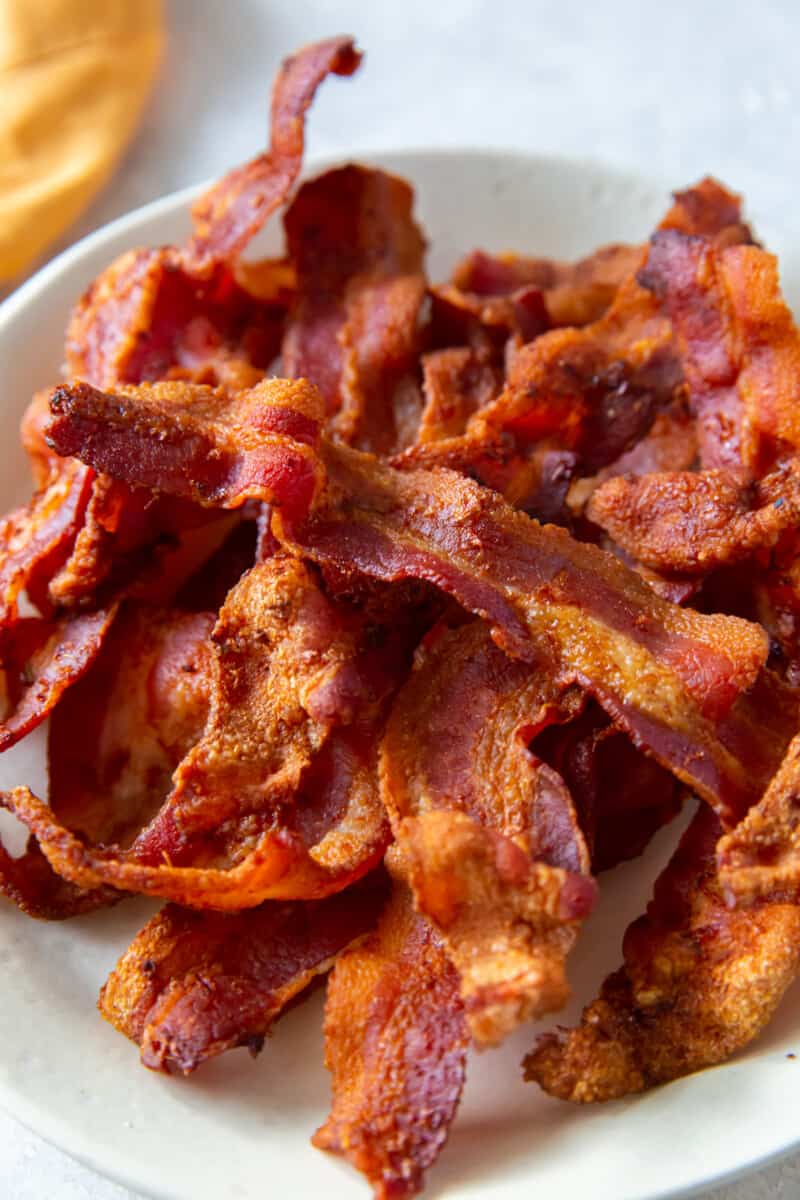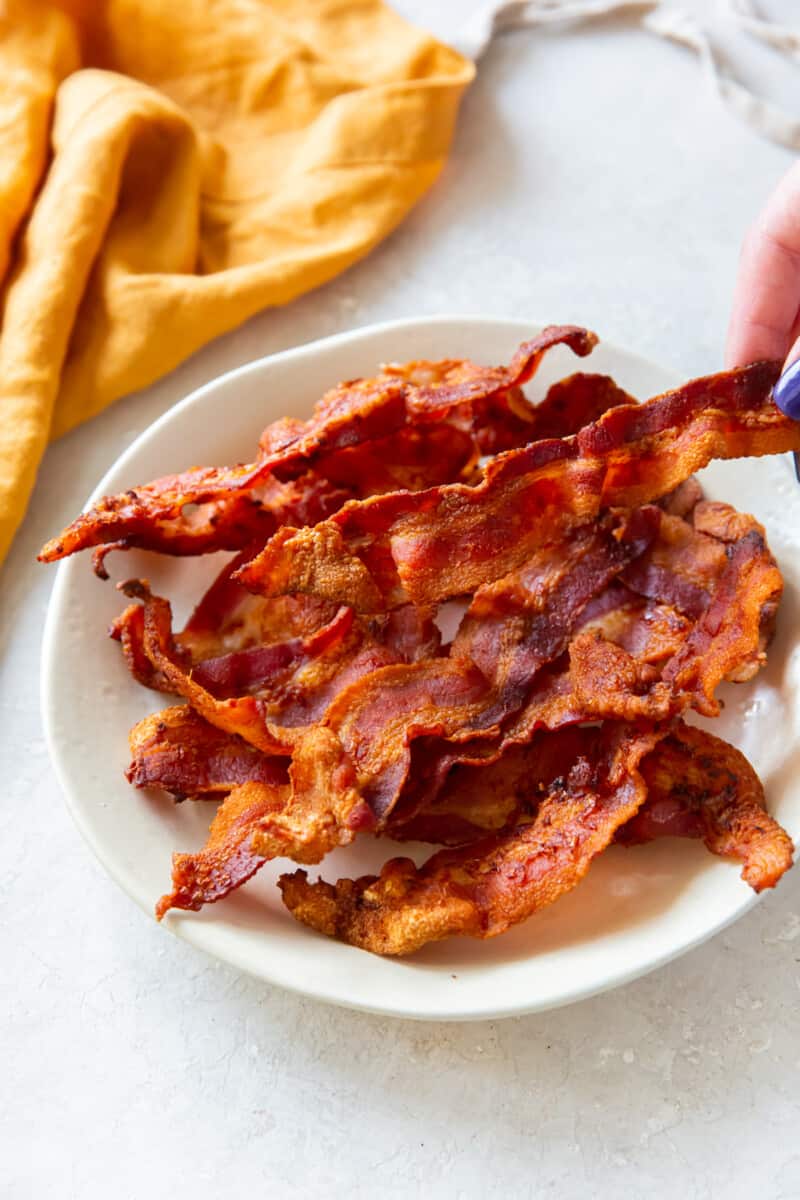 Tips!
For extra crispy bacon, preheat the air fryer to 400°F for 5 minutes.
Place the strips of bacon in a single layer in the basket. If any strips begin to overlap, cook the bacon in batches.
In between cooking batches of bacon, drain the bacon grease to prevent smoking.
Air fryer bacon is just as delicious as stovetop bacon without any of the mess. It's a total game changer!
Can I use turkey bacon?
Absolutely! Simply replace thick-cut pork bacon with turkey bacon and follow the recipe as written.
How should I store cooked bacon?
Make a big batch of bacon and keep it on hand for breakfast each morning! Once cooked, let the bacon cool, place in an airtight container, and refrigerate for up to 4 days. Enjoy it cold or reheat in the air fryer at 400°F for 1-2 minutes.
Can I freeze cooked bacon?
Yes! Wrap bacon in plastic wrap, place in an airtight container, and freeze for up to 1 month. Thaw in the refrigerator before reheating.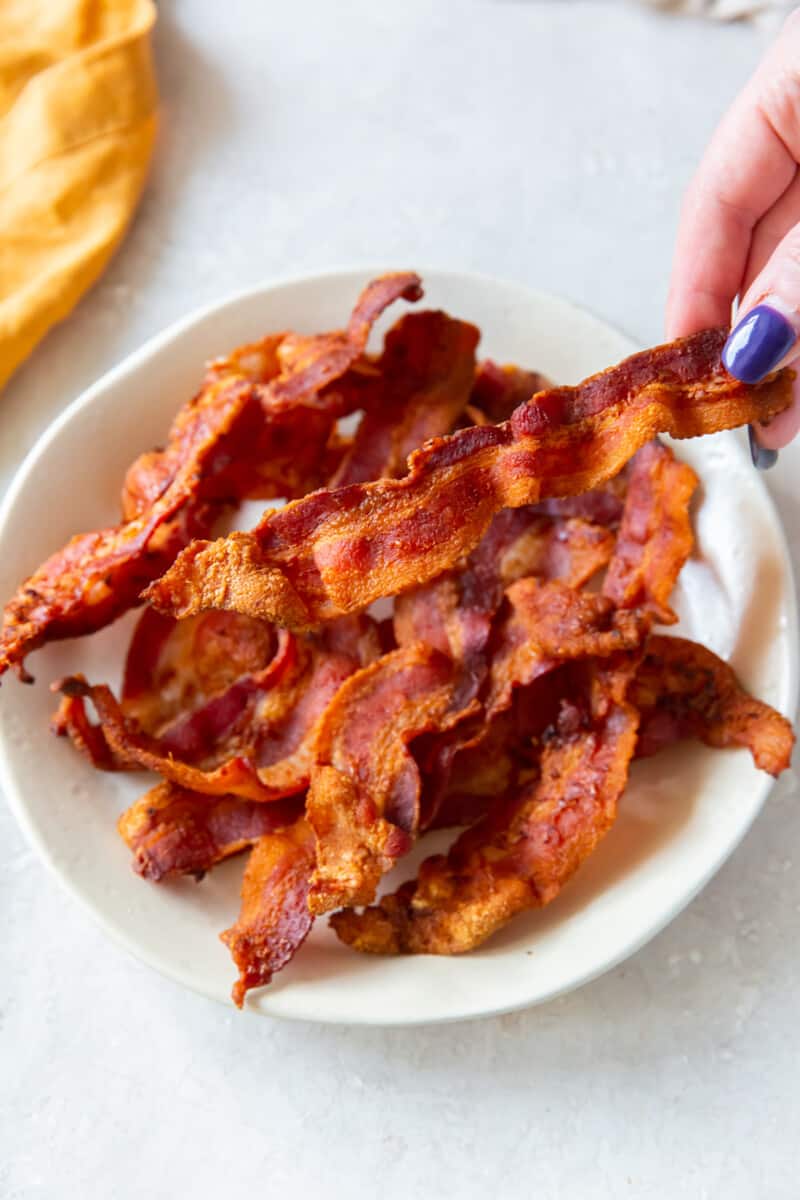 Any time is a good time for bacon, especially air fryer bacon! It's quick, simple, and clean up is a breeze.
If you make this recipe be sure to upload a photo in the comment section below or leave a rating. Enjoy! You can also jump to recipe.