This is the best Grilled Chicken Sandwich ever, perfect for summertime! Chicken breast is marinated and grilled for juicy delicious flavor, then layered up with thick slices of bacon, grilled red onion, provolone cheese, and a tangy homemade sauce. One bite of these chicken sandwiches will have you hooked!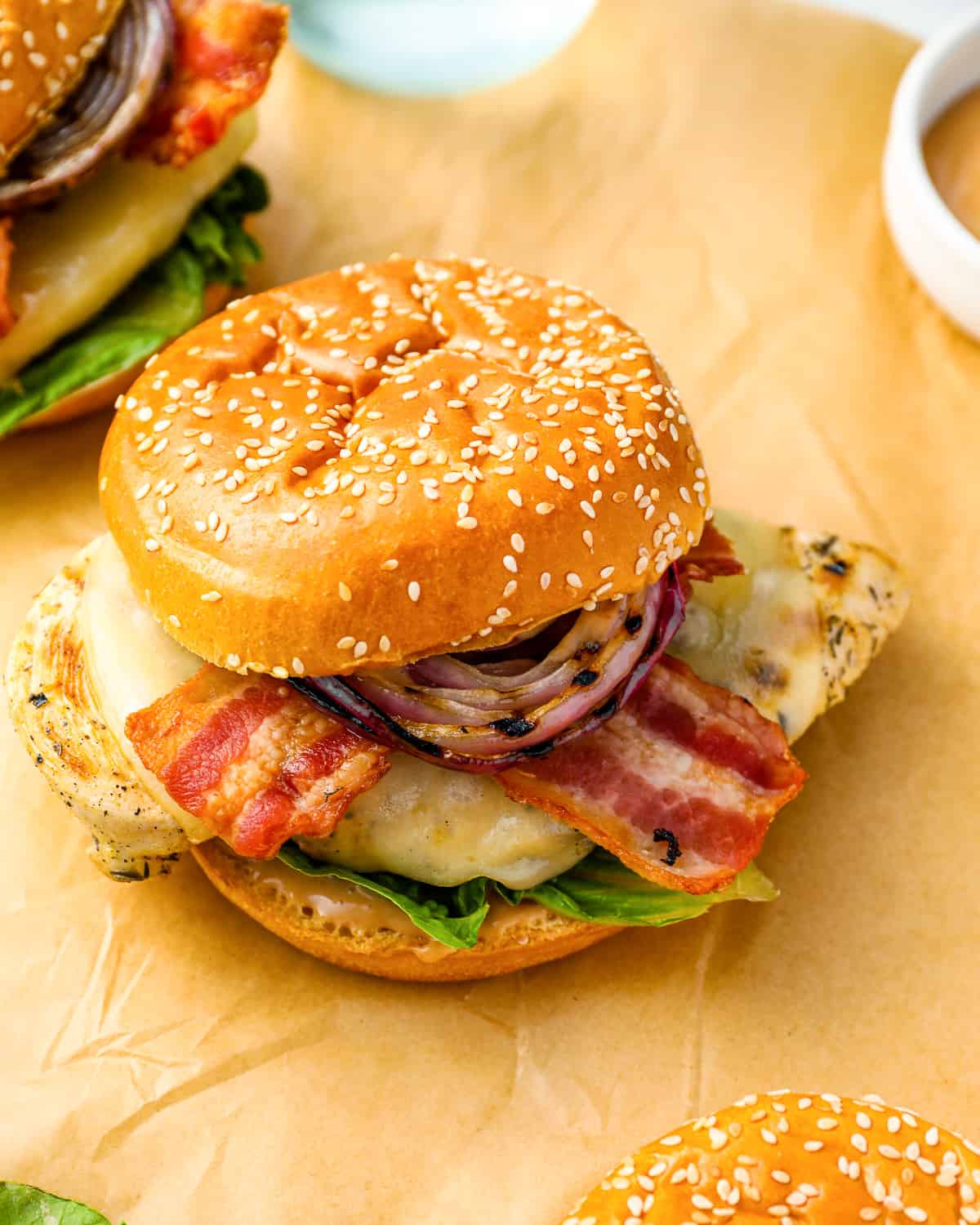 What's in this Grilled Chicken Sandwich Recipe?
Juicy marinated grilled chicken is slathered in a creamy, tangy sauce and topped with gooey cheese, onions, and bacon on a buttery brioche bun.
Chicken: I prefer to use boneless, skinless chicken breasts but thighs also work.
Olive Oil: Forms the base of the marinade for the chicken and helps it cook without sticking to the grill.
Lemon Juice: Adds acidity to the marinade.
Garlic: Adds earthy flavor and a pungent aroma to the marinade.
Spices: Kosher salt, dried thyme, and ground black pepper enhance the chicken's natural flavor.
Mayonnaise: Makes the sauce rich and creamy.
Barbecue Sauce: Adds delicious sweet, smoky, tangy flavor to the sauce.
Dijon Mustard: Adds spicy tanginess to the sauce.
Cheese: I like Provolone, but use your favorite cheese!
Red Onion: Grilling these red onions adds a punchy, slightly sweet flavor.
Buns: I like rich, buttery brioche buns, but use your favorite!
Lettuce: Crunchy romaine or green leaf lettuce works well.
Bacon: I love adding cooked bacon to my sandwiches for a burst of salty, sweet, umami flavor.
Pro Tip: Marinate the chicken for at least 2 hours, or up to 24 hours, for the best taste.
Variations on Grilled Chicken Sandwiches
You can change up the flavor of a grilled chicken sandwich by changing the spices for the chicken (try chicken seasoning, Creole seasoning, blackened seasoning, Italian seasoning, or herbs de Provence). You can also use a different sauce, like Chick Fil A sauce, Buffalo sauce, sweet and sour sauce, honey mustard, bang bang sauce, or pesto.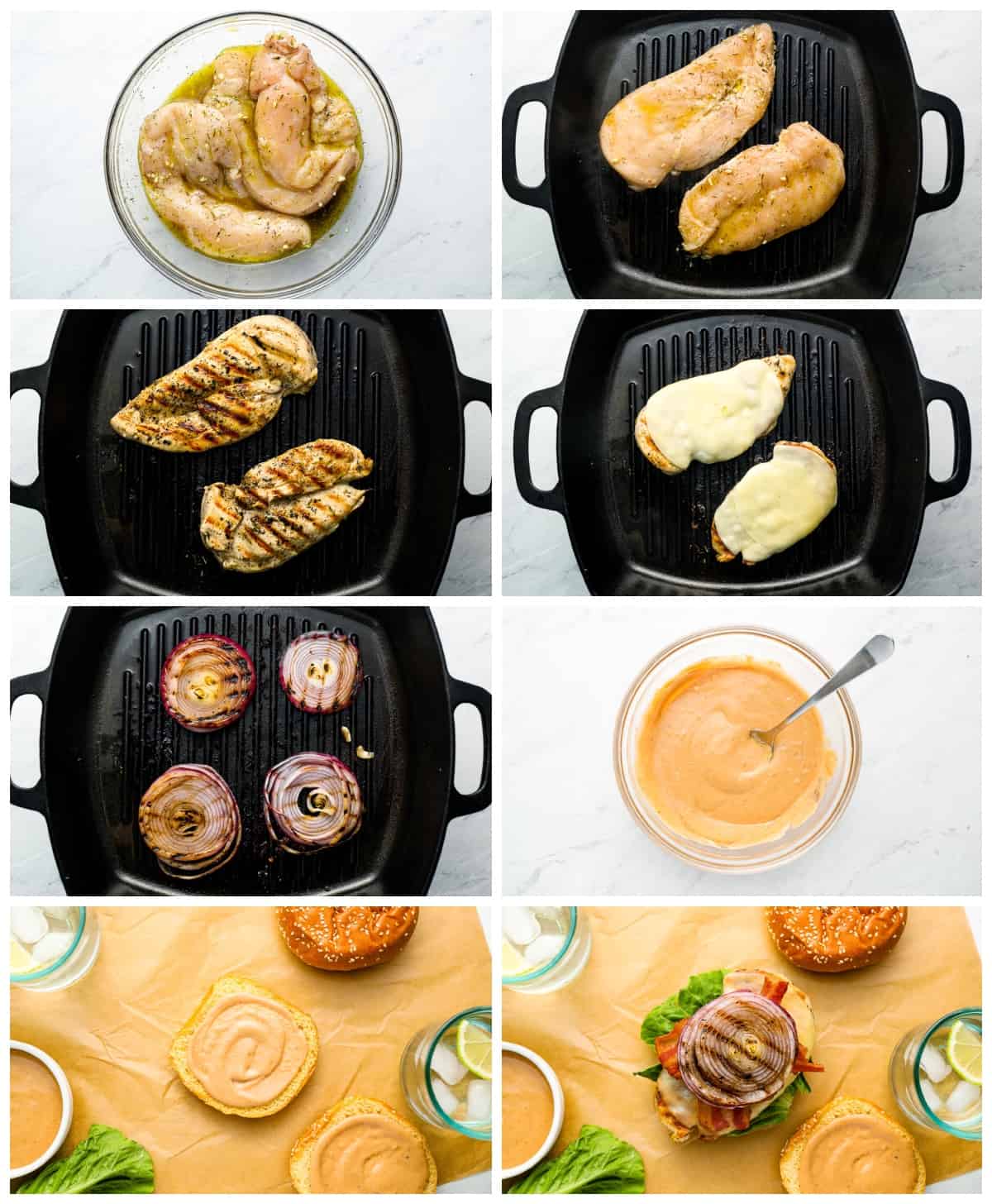 Is a grilled chicken sandwich healthy?
Yes and no. Grilled chicken sandwiches are much healthier than fried chicken sandwiches, but this recipe is still pretty high in calories because of some of the toppings. But you can skip the cheese, bacon, switch out the sauce, etc. to make them lighter if you prefer.
How many calories in a grilled chicken sandwich?
These sandwiches are 792 calories each.
Is it better to make chicken sandwiches with chicken thighs or breasts?
I personally prefer to use chicken breasts, but you can absolutely use thighs if you prefer.
Do I have to marinate chicken before grilling it?
No, but it really does improve the flavor and texture of the chicken. Even just 30 minutes of marinating time makes a difference!
Can I cook these chicken breasts in the oven?
Yes, you can. Place the breasts on a baking sheet and bake in a 375°F oven for 15-20 minutes, or until 165°F internally. You can also cook these chicken breasts on the stovetop in a grill pan or cast iron pan.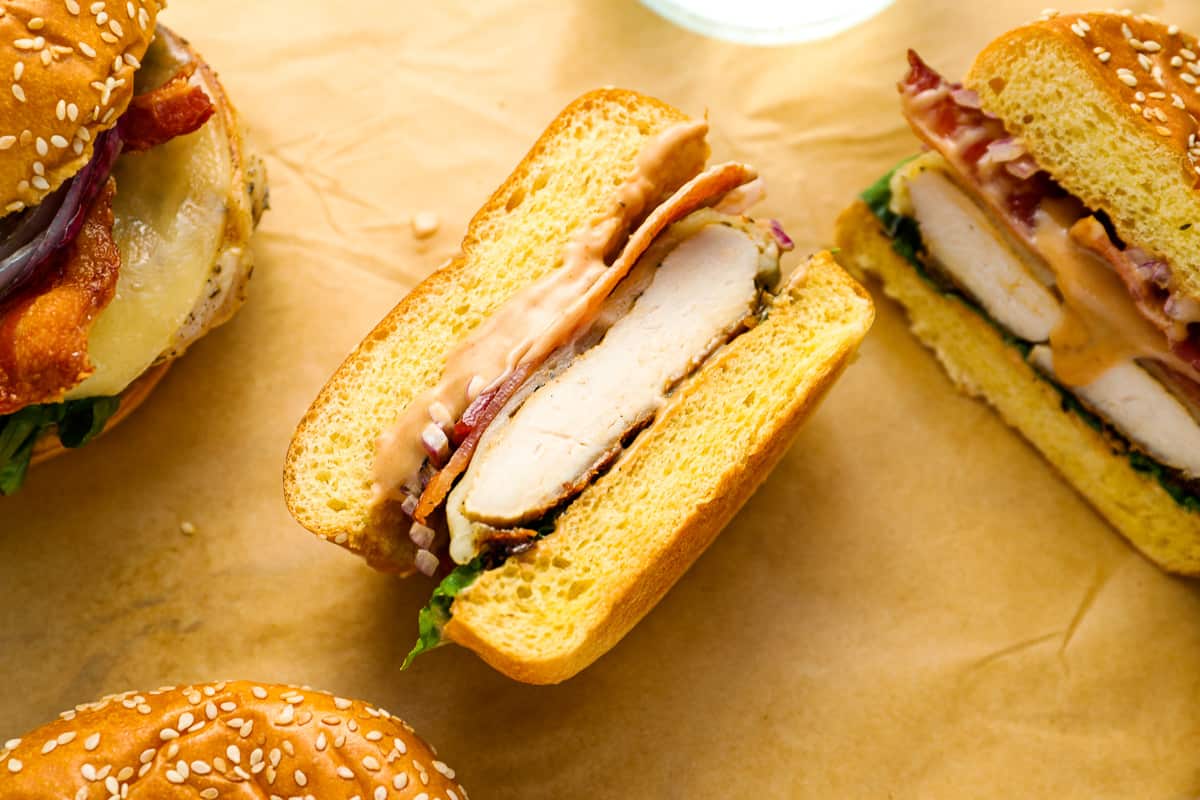 How to Store and Reheat
I recommend storing the grilled chicken and other sandwich components separately so that they don't get soggy. You can store the chicken breast for up to 3 days in the refrigerator. Reheat it in the microwave n 30-second increments until warmed through before assembling the sandwiches fresh.
How to Freeze
Freeze the grilled chicken in an airtight container for up to 3 months. Let thaw overnight in the refrigerator before reheating and assembling the sandwiches.
Serving Suggestions
This is such a great recipe for summer grilling, and pairs well with lots of cookout side dishes. Serve these hearty grilled chicken sandwiches with a side of coleslaw, potato salad, or macaroni salad. Some french fries or potato wedges and grilled corn on the cob would pair perfectly!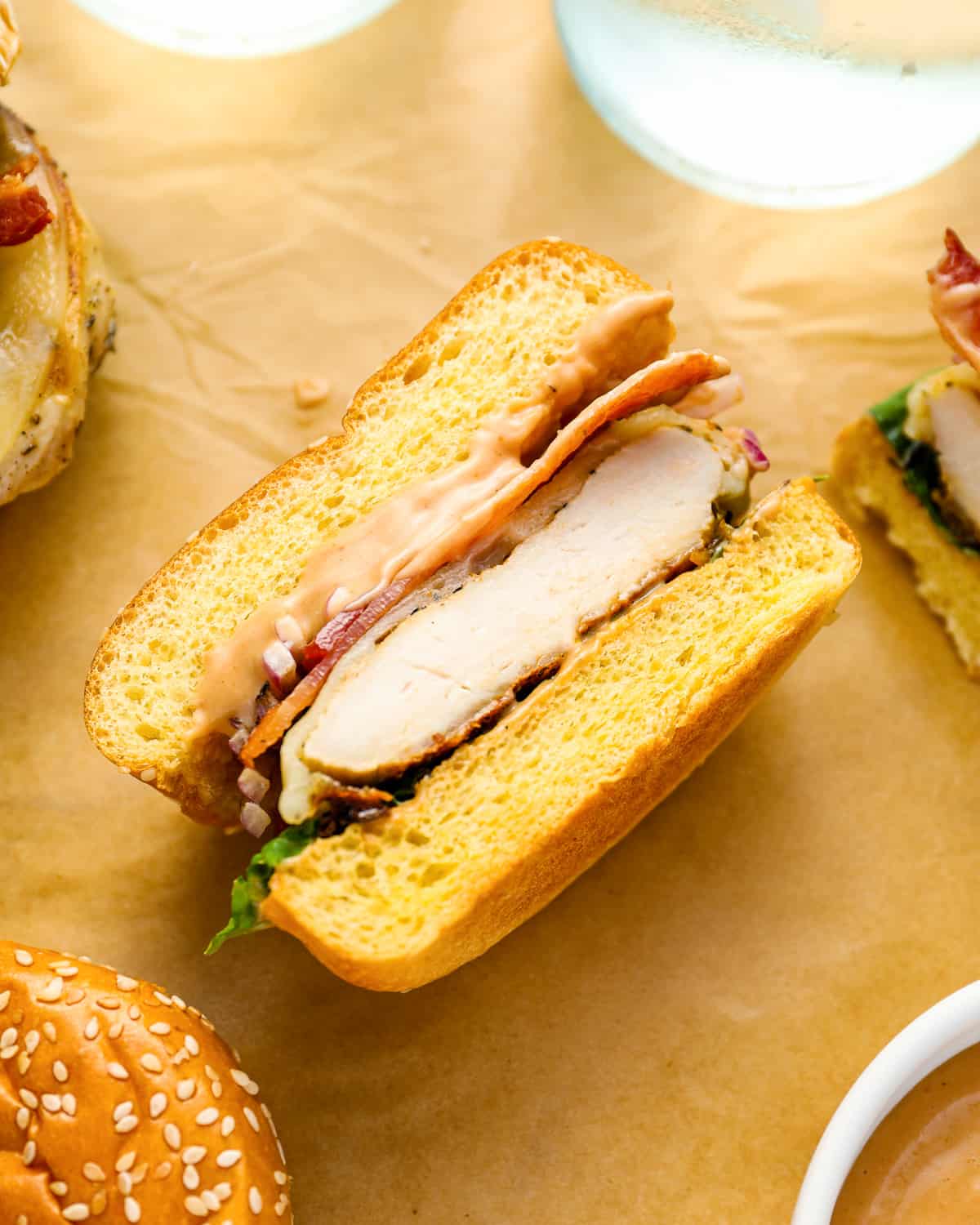 More Chicken Sandwich Recipes We Love