This is the ultimate skillet steak recipe! This peppercorn steak is smothered in a delicious brandy cream sauce fit for a king. Now that I know how to cook steak in a skillet, I'll never cook it any other way.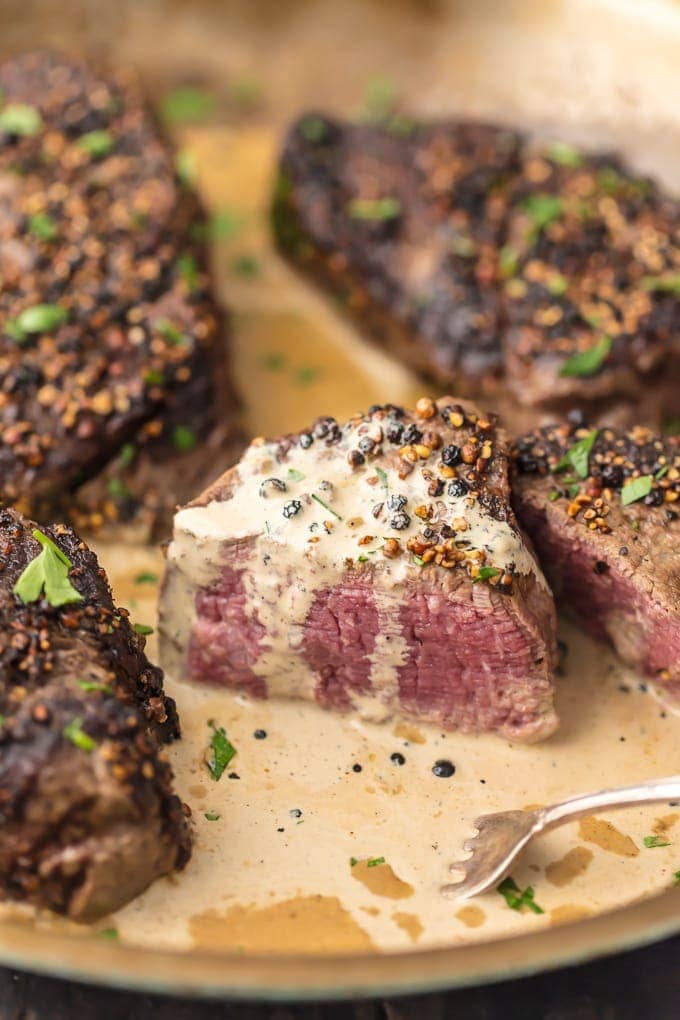 Peppercorn Steak Recipe
This Skillet Steak is EVERYTHING! I love the spicy peppercorn crust mixed with the brandy cream sauce. It really creates the perfect flavor, and it's so easy to make.
If you want to learn how to cook steak in a skillet, then today is your day. You can use a cast iron skillet or any non-stick skillet for this recipe, or you can use stainless steel.
Cooking a good steak at home couldn't be easier. We have made this recipe fool proof, so you'll feel like you're eating at your favorite high end steak restaurant (AND you'll feel like an absolute CHEF). To make the deal even sweeter, this recipe can be made in about 20-30 minutes tops.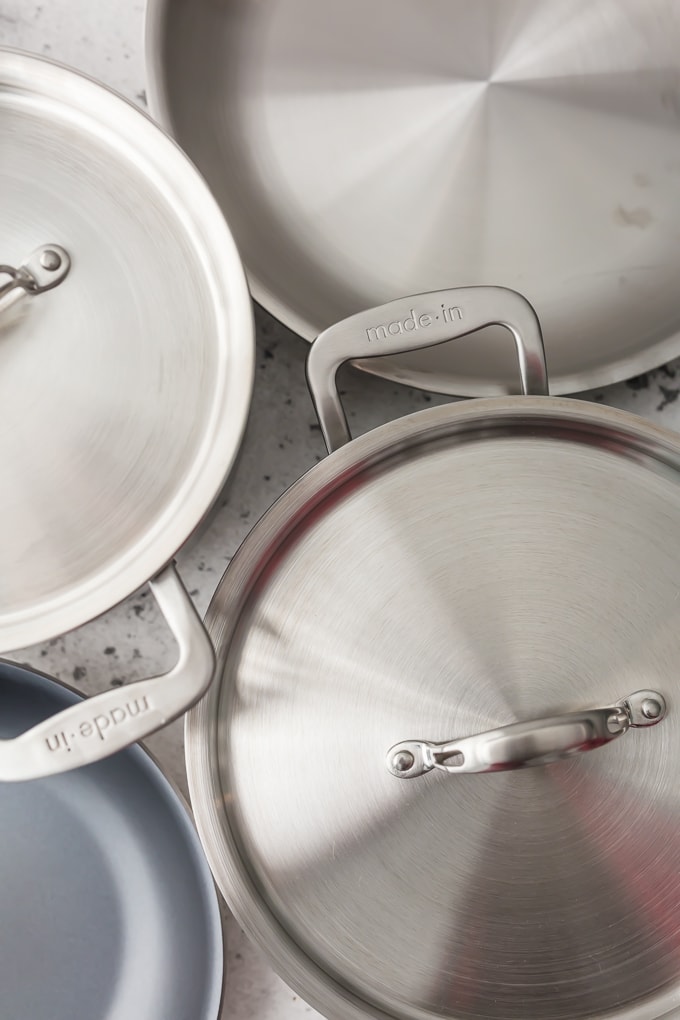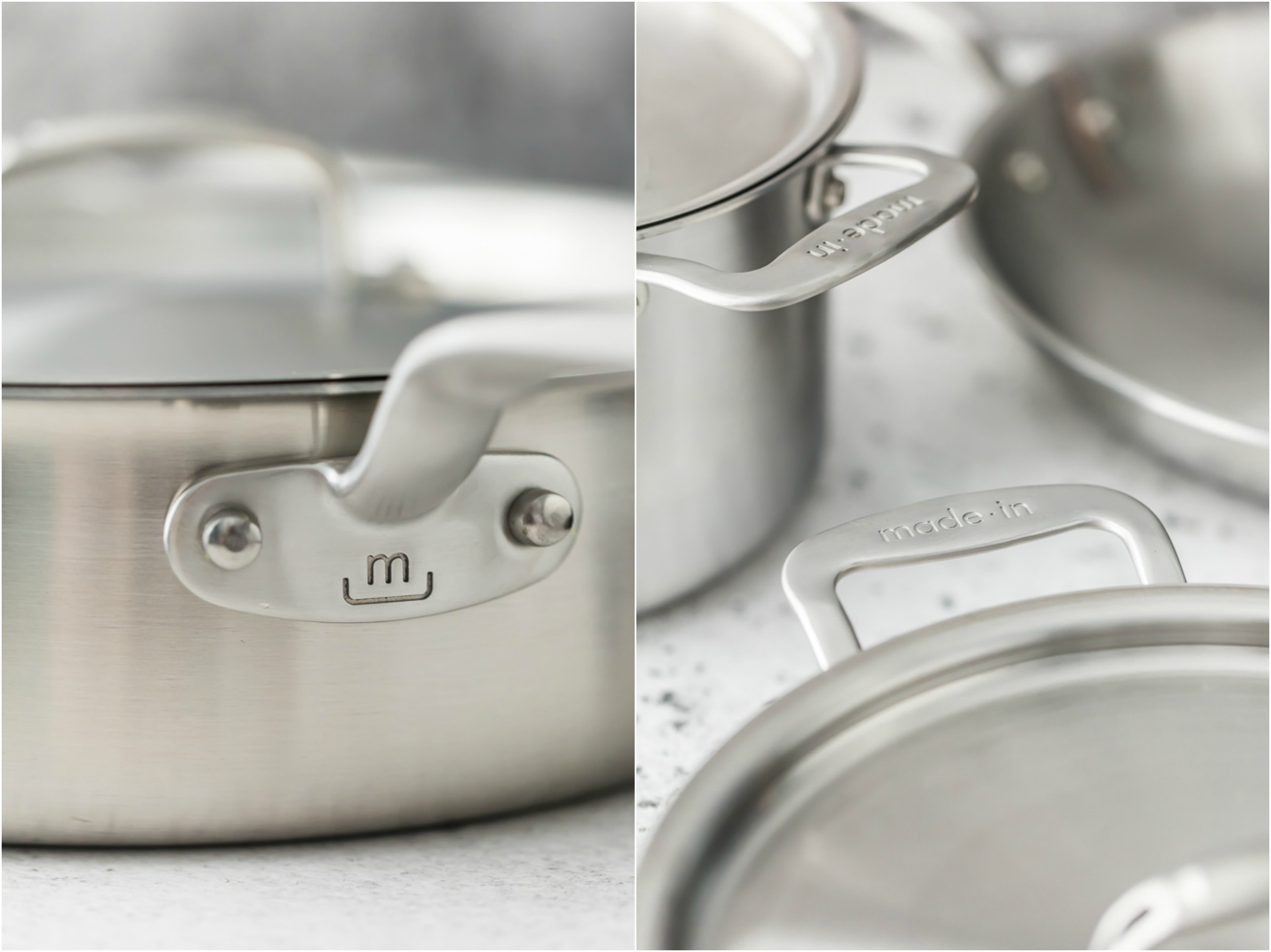 Using Stainless Steel Skillets
Like I mentioned above, stainless steel skillets are a great option for this recipe.
I got to test out these amazing Made In Cookware items and I'm so happy with them. The price point is affordable, the quality is high, the look is just right, and they're perfect for every lifestyle.
When I decided I would learn how to cook steak in a skillet, I knew I needed good cookware to make it happen.
I love that Made In believes in great cooking experiences for EVERYONE, and that starts with great cookware. Pat and I received a different cookware set for our wedding. At the time I wasn't blogging and had never cooked a day in my life. I had no idea what to register for. Within a year, the cheap nonstick pans were flaking and the other items were stained and burned.
I wish I would have done a little research and registered for something like this Made In Cookware Core Set. It has everything you need to make amazing meals in the kitchen. It's the ultimate gift for someone you love or especially for yourself.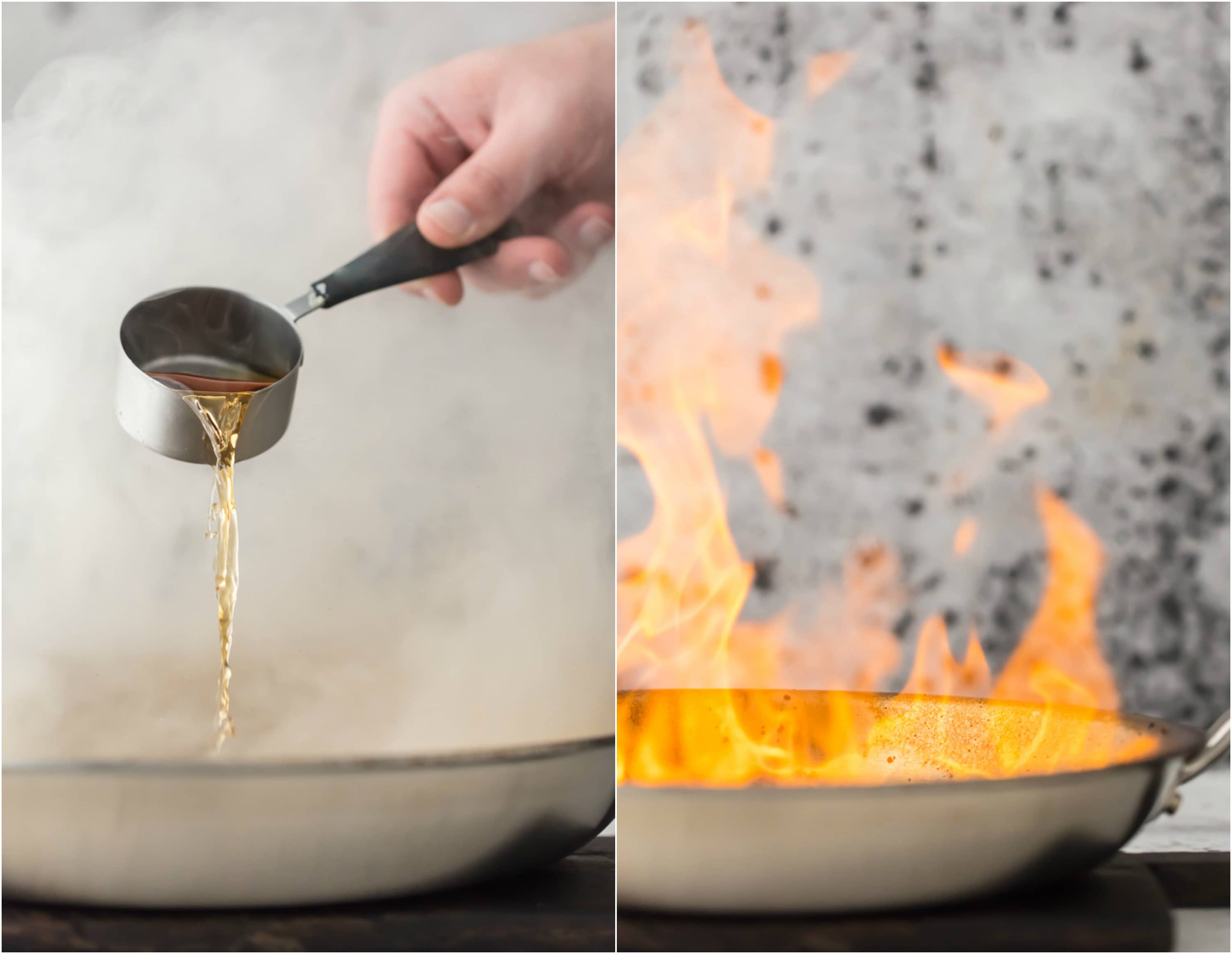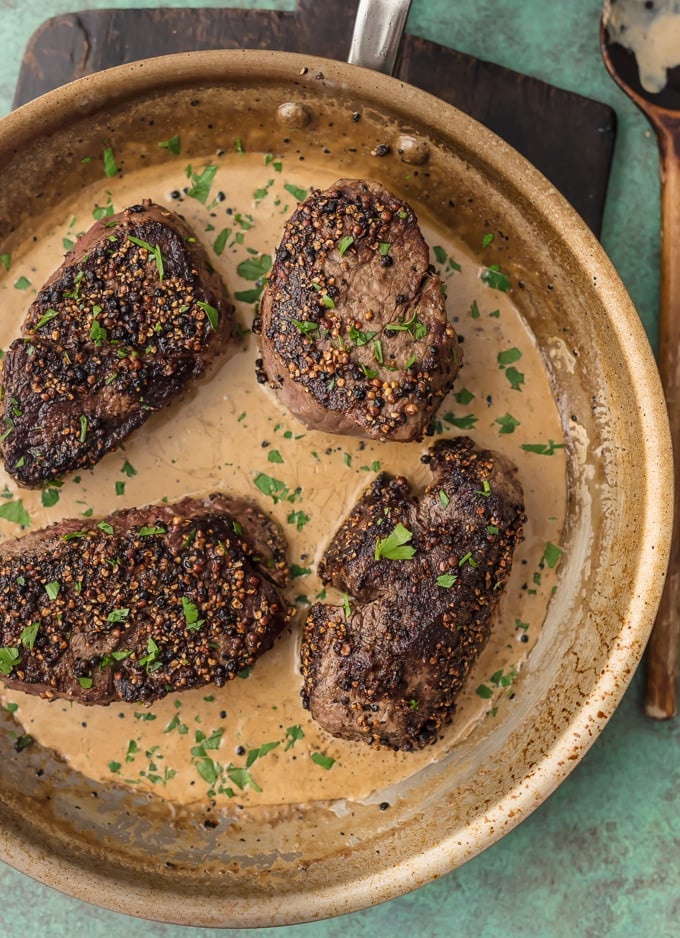 Fool Proof Skillet Steak
I plan to make steaks on the stove top more often now that I know how to make a good skillet steak.
Before, I was hesitant about this method because things never seemed to come out as expected: the sear was never quite right and the middle was never the right color. Basically, they were always a disappointment.
But I kept trying, made some adjustments, and created this recipe so you don't have to worry about it! It's as simple as following the instructions below in the recipe card.
I did a lot of research for this recipe and the steaks have come out perfect for me every time!
Peppercorn Brandy Cream Sauce
The peppercorn steak is delicious. By pressing the steak into the cracked peppercorns, you really get a nice heat and flavor.
However, it's the brandy cream sauce that really makes this recipe shine. The base is heavy cream, mixed with brandy (obviously), and it cooks right in the same skillet that you make the steak in. It's so good!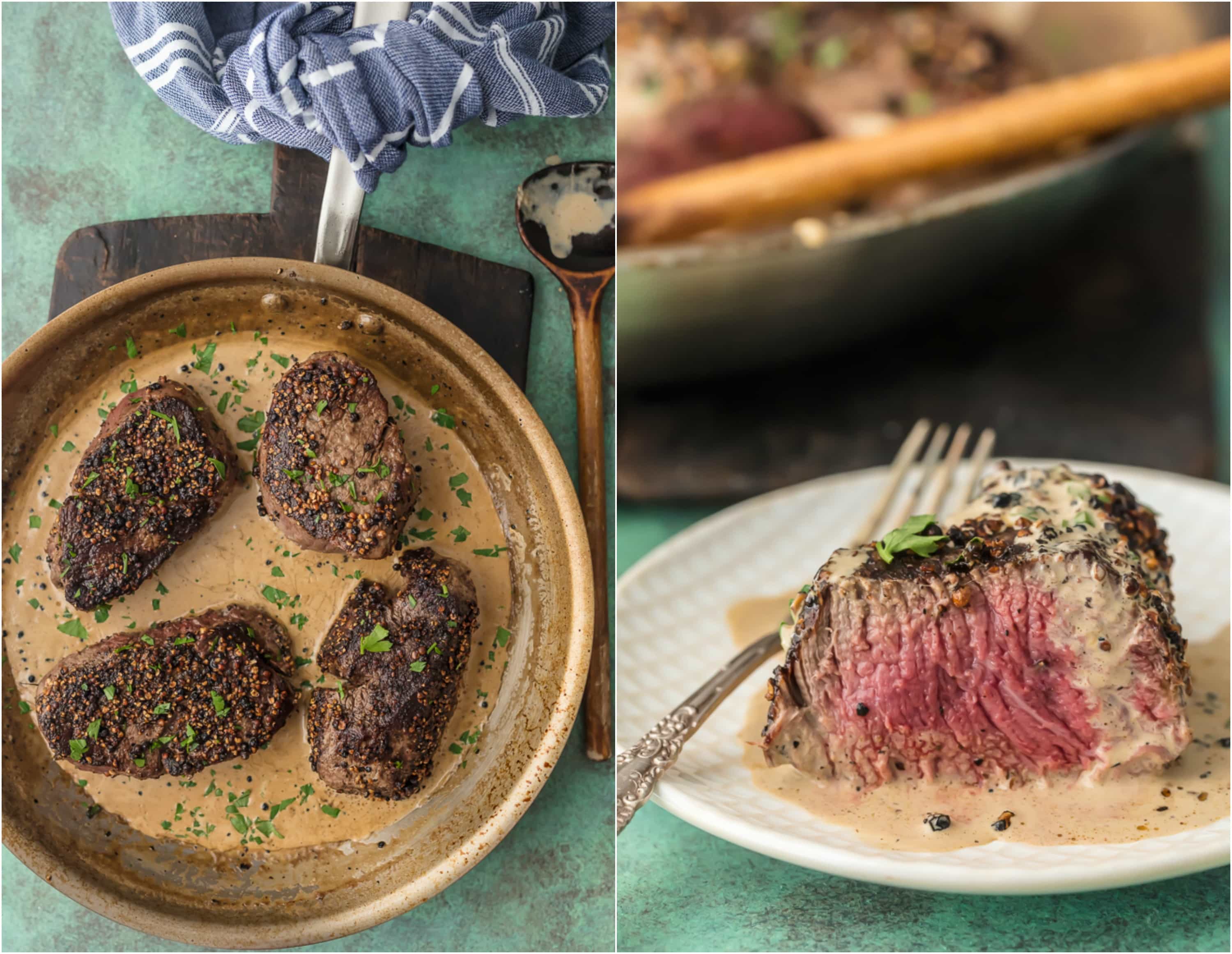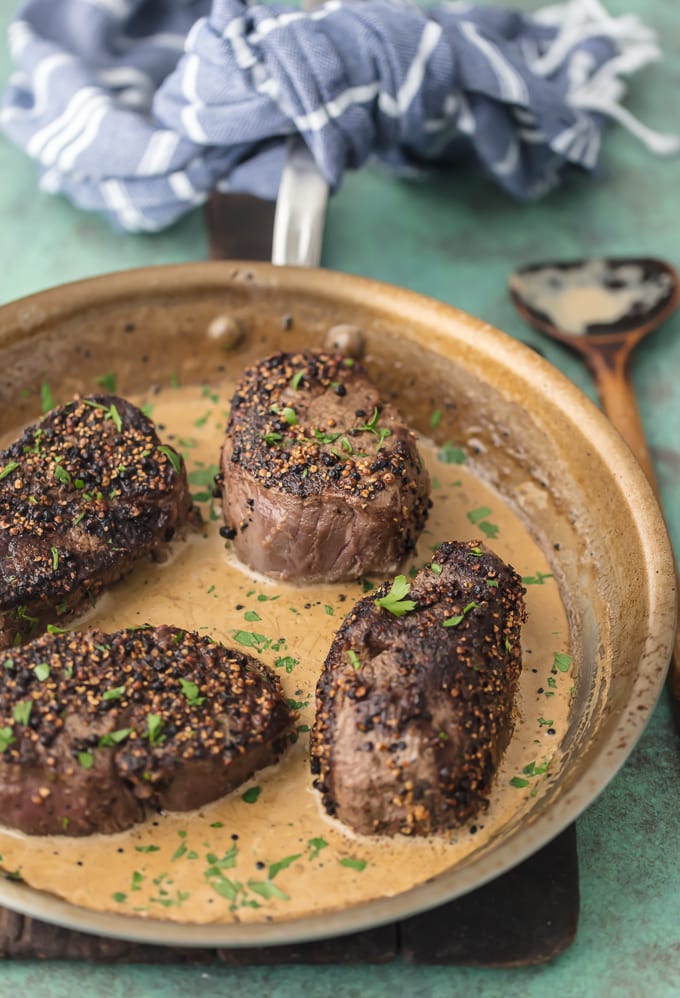 How to Cook Steak in a Skillet (Top Tips)
Bring steak to room temperature. Take steaks out of the fridge about 1 hour before cooking so it has time to come to room temp.
Be as hands off as possible. Only turn the steaks once and don't move or disturb them while they cook on each side. The less you touch and move them, the less they'll dry out. You want them to stay juicy!
Internal temperatures for steak are as follows: 130°-135°F for rare, 140°F for medium rare, 155°F for medium, and 165°F for well done. Get a printable meat temp chart here.
Don't overcook. Everyone has their own preferences for how they like their steak done, but I highly advise against cooking it well done! It's going to taste best (and juiciest) in the medium rare range. So cook about 4 minutes on each side.
Always get a good cut of meat. It makes all the difference. I love filet mignon, but some other juicy cuts include New York Strip, Ribeye, and T-Bone. It all just depends on how much fat you want on your steak.
Keep it warm. After cooking the steaks, remove them from the skillet and cover them with foil while making your sauce. This will keep them warm so they don't dry out.
Be careful when lighting the brandy. This step adds a nice touch to the sauce, but if you prefer, you can just let the brandy come to a boil instead of lighting it.
Check the recipe card below for ingredients, step by step instructions, and extra recipe notes. And be sure to watch the video to see how it's done.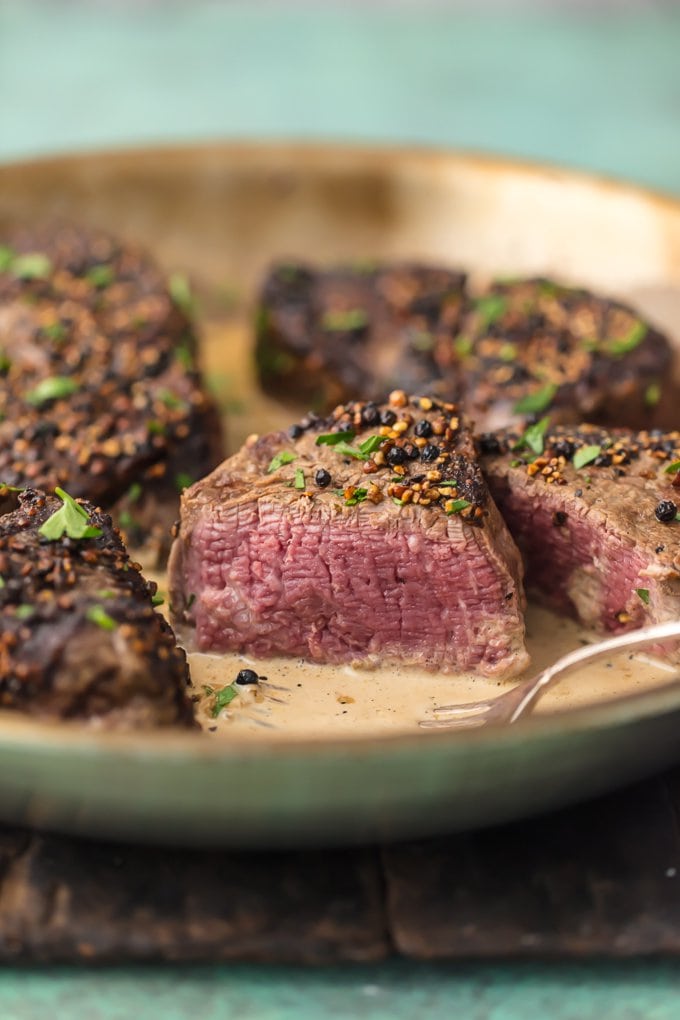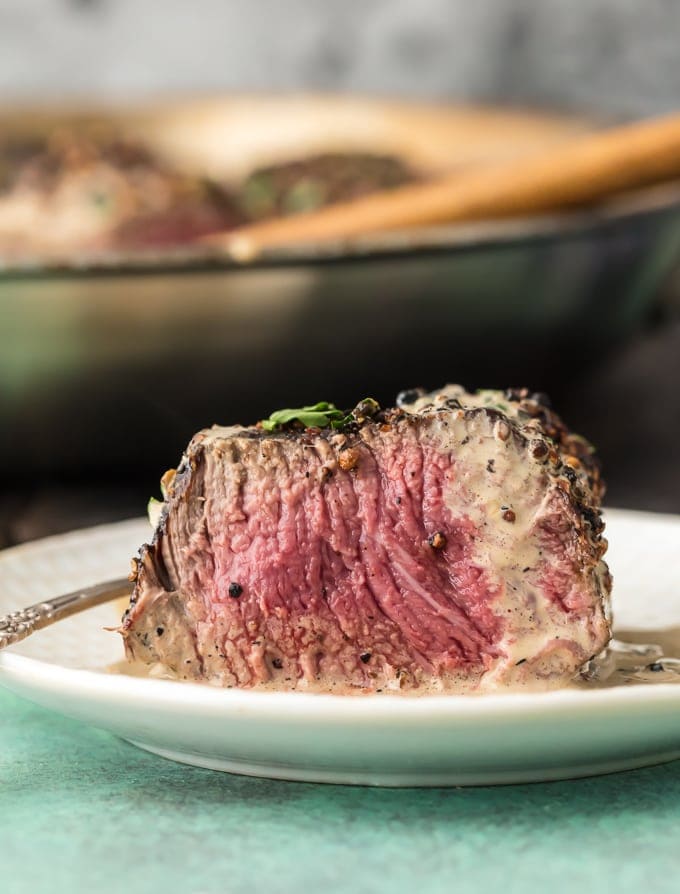 Serving Suggestions
To complete the meal, this peppercorn skillet steak pairs beautifully with side dishes such as mashed potatoes, asparagus, broccoli, roasted balsamic tomatoes, or brussels sprouts. And of course a glass of red wine will make you feel like you're actually eating dinner at a steak house.
And my best suggestion of all: pour that delicious brandy cream sauce all over a baked potato…just saying.
Try these other amazing steak recipes: