Garlic Rosemary Steak is an absolute favorite for date nights at home, romantic dinners, or just a straight-up AMAZING meal. This steak with garlic, rosemary, and sherry cream sauce is so juicy, creamy, and delicious!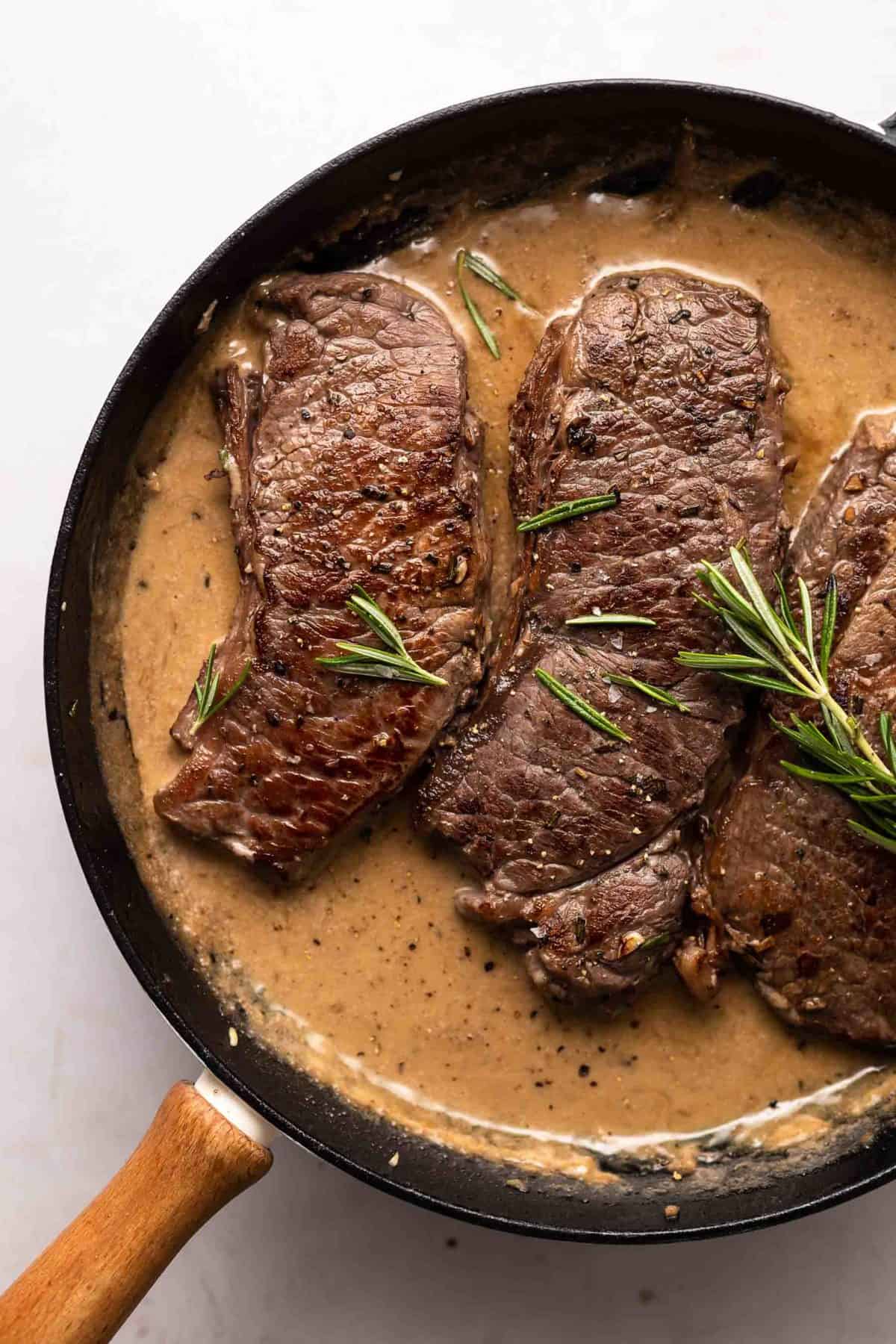 Skillet Garlic Steak
This steak is flavored with garlic and rosemary, then cooked and served in a tasty sherry cream sauce: Magnifique!
Steak is my absolute favorite meal on the planet. Whenever Pat wants to go out for a dressy date, I always choose a good steak restaurant. Savory steak plus good red wine? There's nothing better!
Now I have this easy recipe for date night at home instead. We both just love this Garlic Rosemary Steak with Sherry Cream Sauce, plus it's made in under half an hour.
This steak is foolproof, totally delicious, and will impress your guests (or your partner!). It's like having a gourmet dinner at home!
Why you'll love this Rosemary Garlic Steak Recipe:
Sherry Cream Sauce: The sherry cream sauce is the highlight of this recipe! Sure, the garlic rosemary steak is delicious, but the addition of the creamy sauce adds SO much flavor. (It's basically just a mix of cooking sherry and heavy cream, but it's made in the same skillet as the steak. So you get all the butter and steak juices mixed in while it cooks.)
It's steak: Steak is a recipe with a lot of emotional context. It's sophisticated, it's romantic and most of all, it's delicious!
It's easy: This is an impressive recipe, but once you learn how to do it, you'll wonder why everyone holds it in such awe. It's actually very easy to make!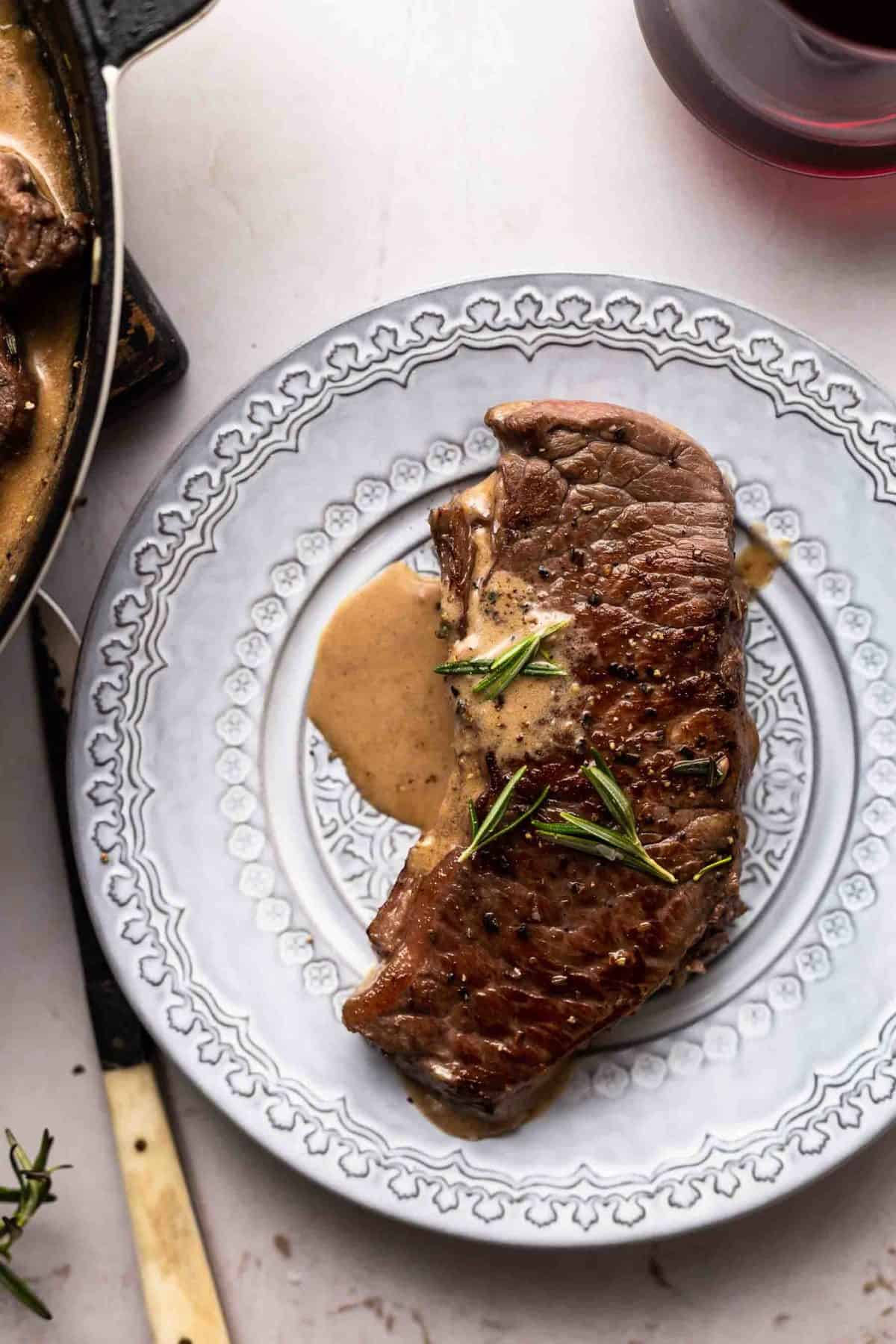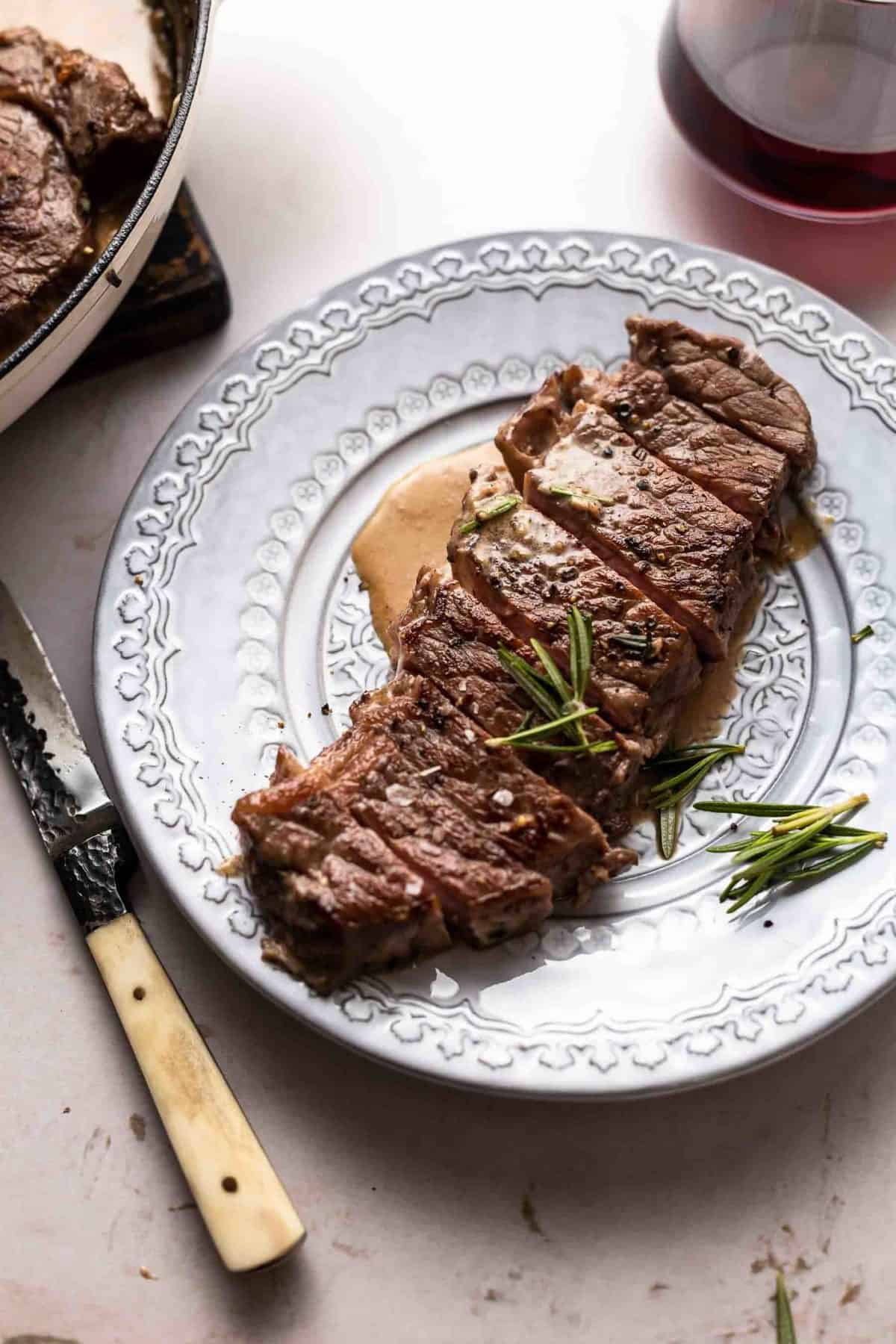 How to Make Rosemary Garlic Steak
You can jump to the recipe card for full ingredients & instructions!
Combine garlic, rosemary, salt, and pepper, then rub the mixture into the steak.
Heat butter and oil in a skillet until it bubbles, and then cook the steaks for 2-3 minutes on each side. Add in cooking sherry and cook steaks another 2 1/2 minutes on each side. Then remove the steaks from heat and let them rest for 5 minutes.
Add heavy cream into the skillet with the remaining sherry and let it simmer to cook down (at least 5 minutes).
Serve steaks with more rosemary and cream sauce. These steaks pair well with red wine!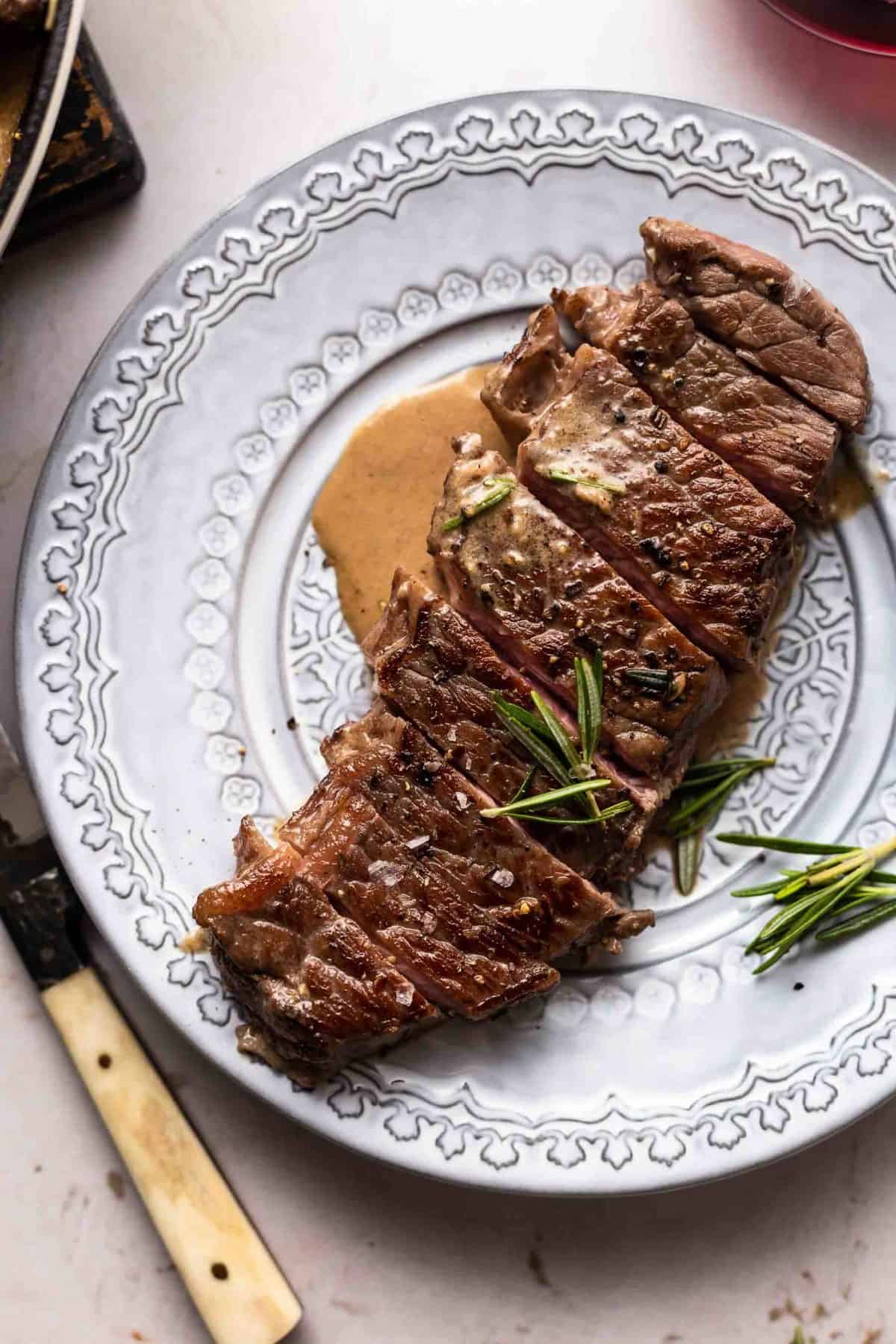 What Do I Serve with This Steak Recipe?
These juicy garlic rosemary steaks will be the star of your dinner, but it's nice to have some veggies to go along with them.
My favorite thing to serve with them is simple mashed potatoes (mix them in with the sherry cream sauce on your plate, YUM!).
Then add either roasted garlic asparagus, sauteed leeks, creamy garlic mushrooms, Burgundy Mushrooms Recipe, or (for something a little cheesier), make cheesy roasted broccoli.
It's the perfect meal!
And if you need a starter for the full restaurant effect, make this easy French Onion Soup!
How Do I Know When The Steak is Done?
Get a meat thermometer. That will remove all doubt! Cook until the meat, when measured in the thickest part, reaches the desired temperature. For medium-rare, that would be 118 degrees F. Well-done steaks are ready at 145 degrees.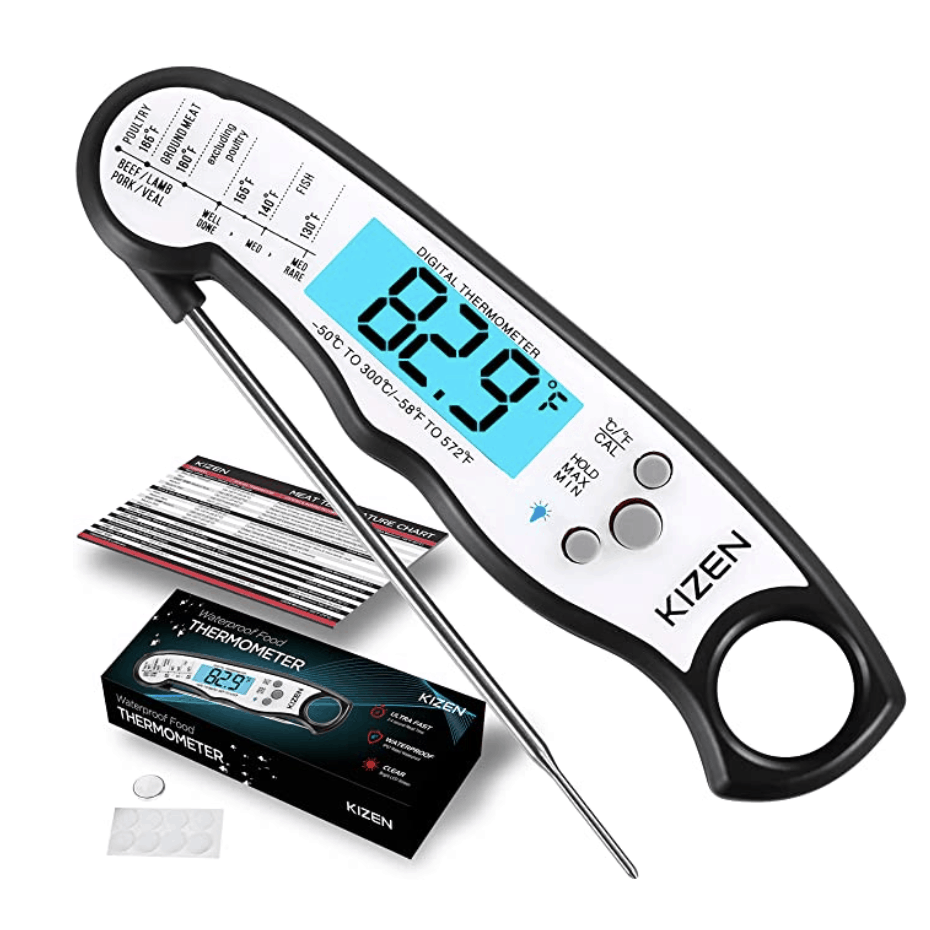 The Best meat thermometer!
I love using this meat thermometer for making sure the meat is cooked perfectly! Easy for beginners & totally worth the $10 cost!
What Does it Mean to Rest the Steak?
Leave the steak on a plate or cutting board. Let it stand at least 5 minutes, and up to 10. This allows the juices to redistribute in the meat, so they keep the steak juicy and delicious.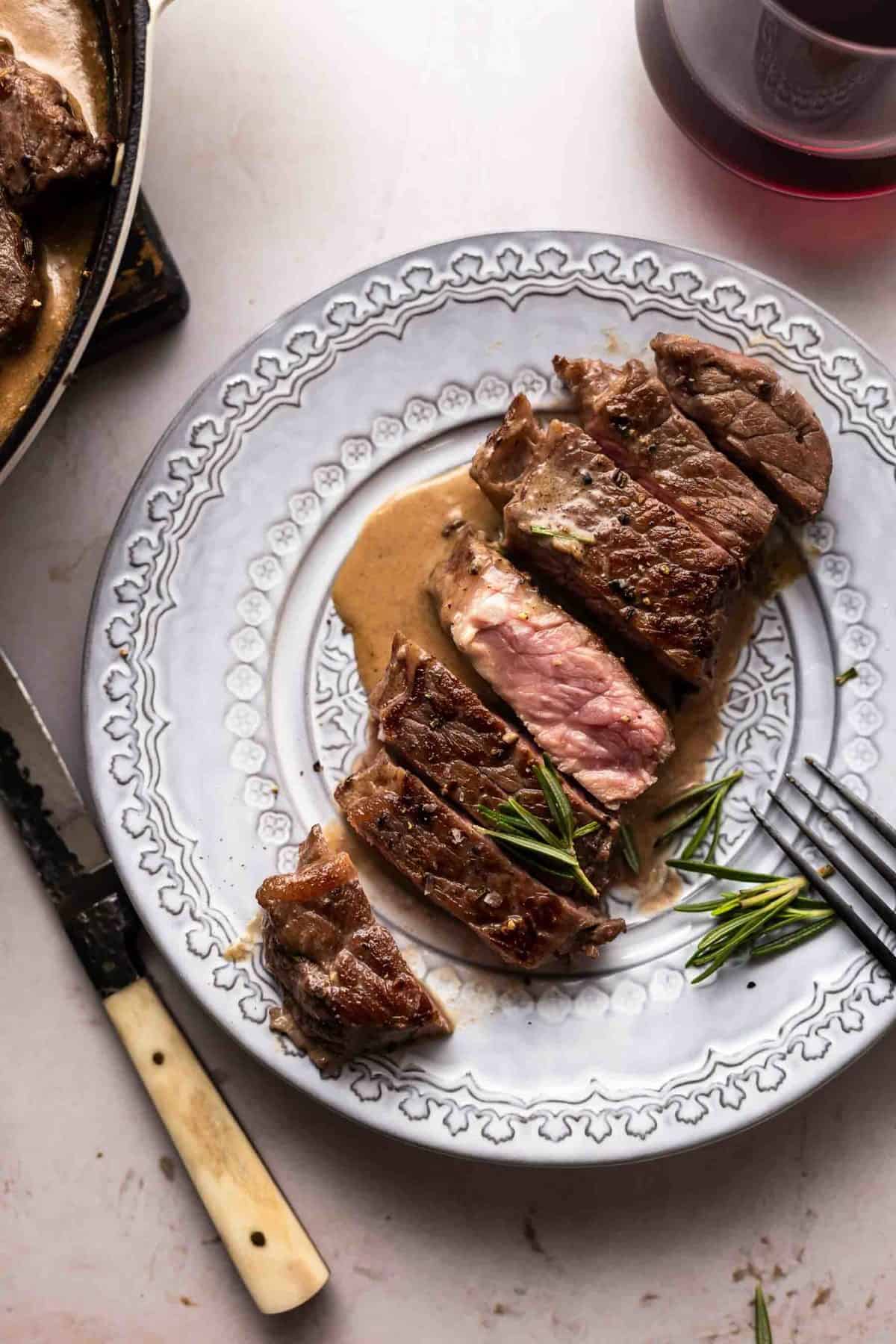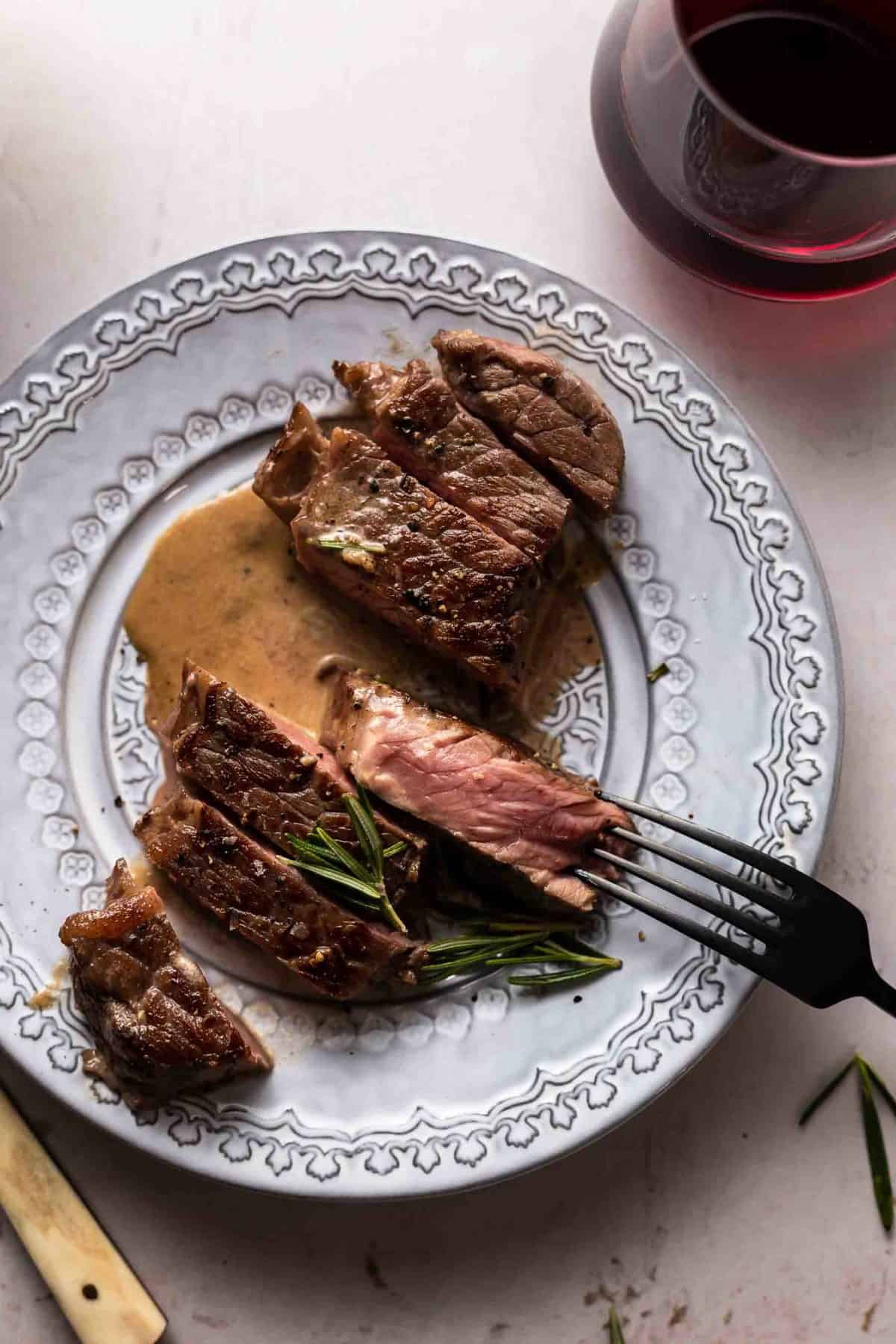 I can't wait for you to try this garlic rosemary steak recipe for your next date night at home! Savor that sherry cream sauce, add a nice glass of red wine, and enjoy!