Grilled Chicken Wings are juicy on the inside, crispy on the outside, and delightfully flavorful! If you have a grill in your backyard, follow this foolproof recipe for perfectly grilled chicken wings every time.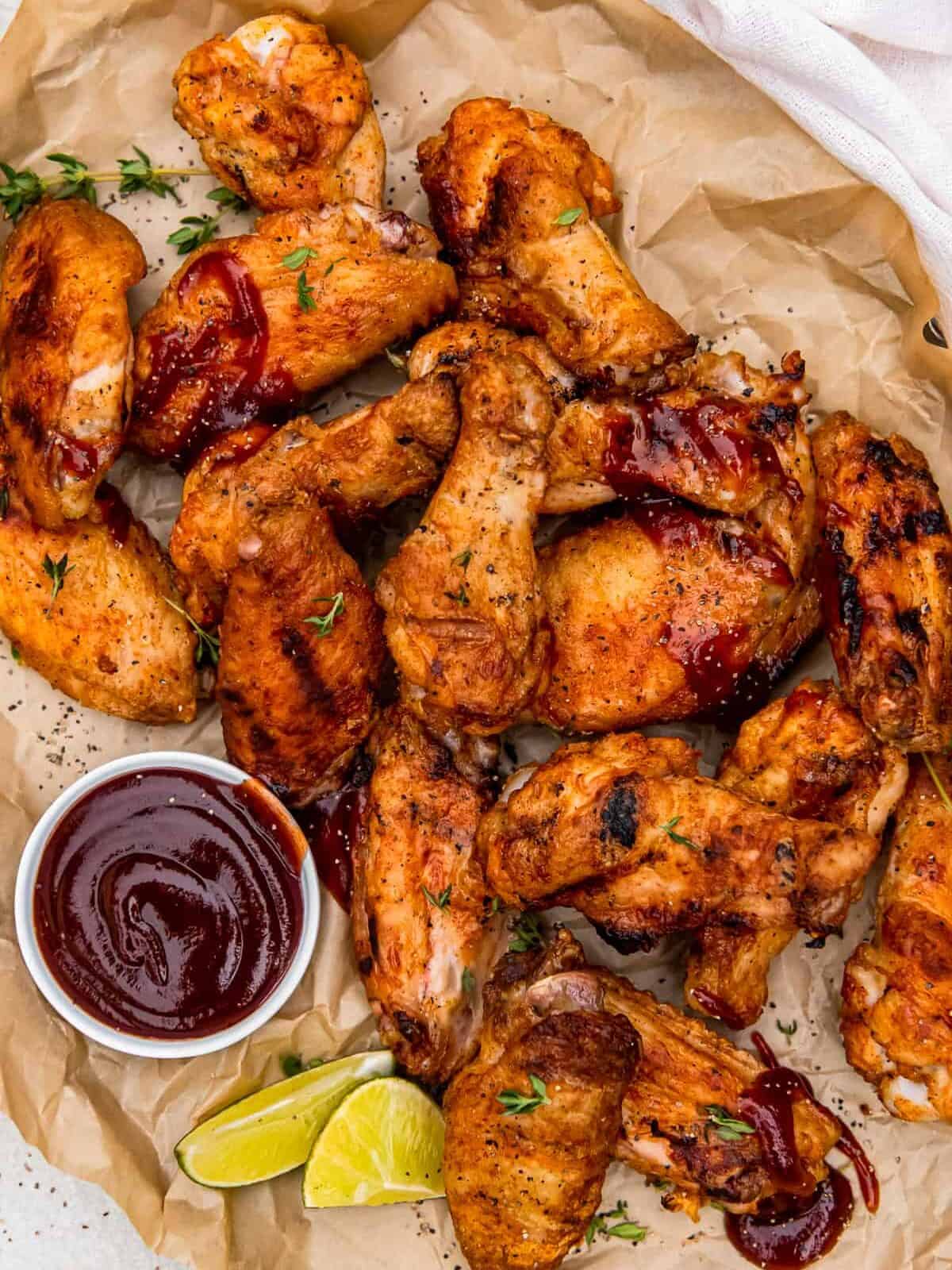 What's in this Grilled Chicken Wings Recipe?
Before hitting the grill, each wing is coated with a spiced flour mixture that adds flavor and crispiness. Serve them as an appetizer, finger food, or the main event. Grilled chicken wings are always a winner!
All-Purpose Flour: Helps the wings crisp up on the grill.
Spices: Paprika, garlic powder, black pepper, and salt add just a hint of spice to enhance the natural flavor of the chicken and the smokiness from the grill.
Chicken Wings: Separate the flats and drumettes.
Pro Tip: For gluten free wings, substitute the all-purpose flour with a gluten free 1:1 flour replacement.
Variations on Chicken Wings on the Grill
For a little spice, add a pinch of cayenne pepper or crushed red pepper flakes to the flour mixture in step 2. Baste the finished wings in honey mixed with crushed red pepper flakes for hot honey wings!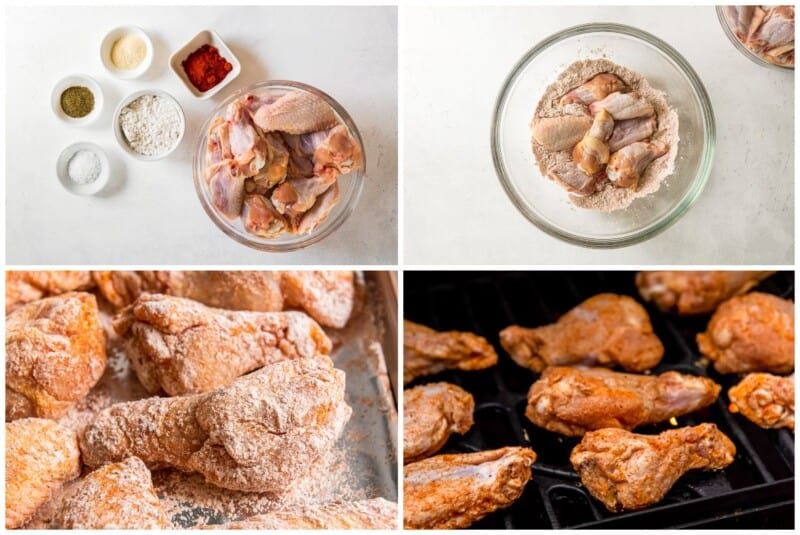 Can I use frozen chicken wings?
You can use frozen chicken wings, but let them thaw in the refrigerator prior to using.
What temperature should the grill be?
Set the grill to medium heat, about 350°F.
How do I know when chicken wings are cooked through?
After 20 minutes at medium heat, they should be ready to go! Use a knife to check the color inside a wing – if it's white and cooked through, it's safe to eat. You can also use an instant read thermometer – when the internal temperature reads 165°F, these wings are done.
Are these wings crispy?
Yes! Each wing is coated in a flour mixture before grilling which crisps up nicely.
Can I cook these wings in an air fryer?
Yes! Preheat the air fryer to 400°F and cook the wings for about 18 minutes, flipping halfway through. Air fryer chicken wings won't have that same great smoky grilled flavor, though.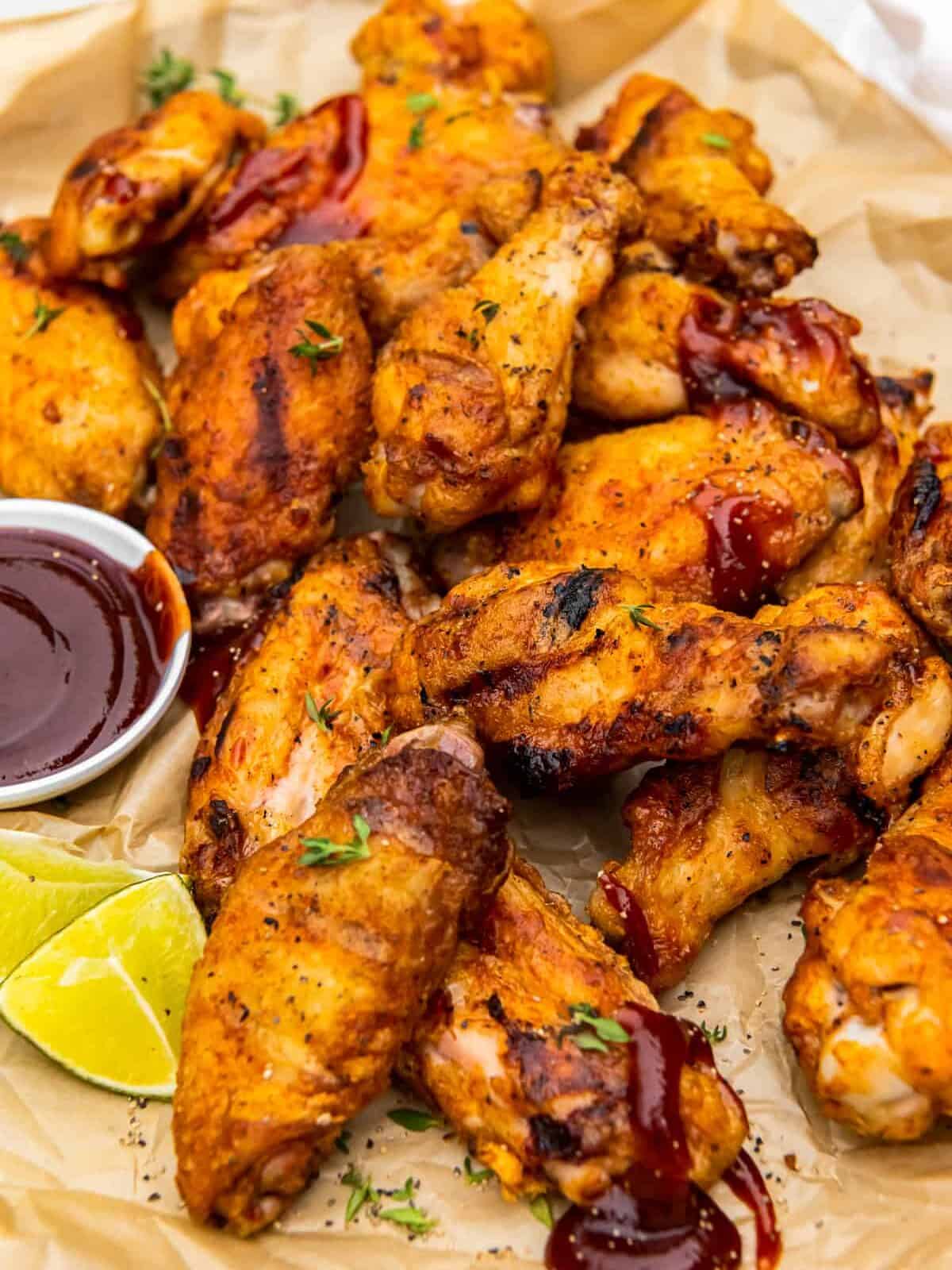 How to Store and Reheat
Store leftover grilled wings in an airtight container in the refrigerator for up to 3 days. Reheat in a 350°F oven on a wire rack set in a rimmed baking sheet for 5-10 minutes, or until warmed through.
How to Freeze
Freeze grilled chicken wings in a single layer on a lined baking sheet until solid, about 1-2 hours. Transfer to an airtight container or Ziplock bag to store for up to 3 months. Let thaw overnight in the refrigerator before reheating.
Serving Suggestions
Can't have wings without sauce! I love these served with Homemade BBQ Sauce, Homemade Buffalo Sauce, or Homemade Ranch Dressing. In addition to dipping sauce, I love serving these wings with sliced fresh veggies like celery, carrots, or bell peppers.
For a complete meal, serve yours with macaroni salad, french fries, zucchini fries, corn on the cob, loaded mac and cheese, cucumber tomato salad, cornbread, potato wedges, jalapeno popper pasta salad, ranch broccoli, or air fryer tater tots.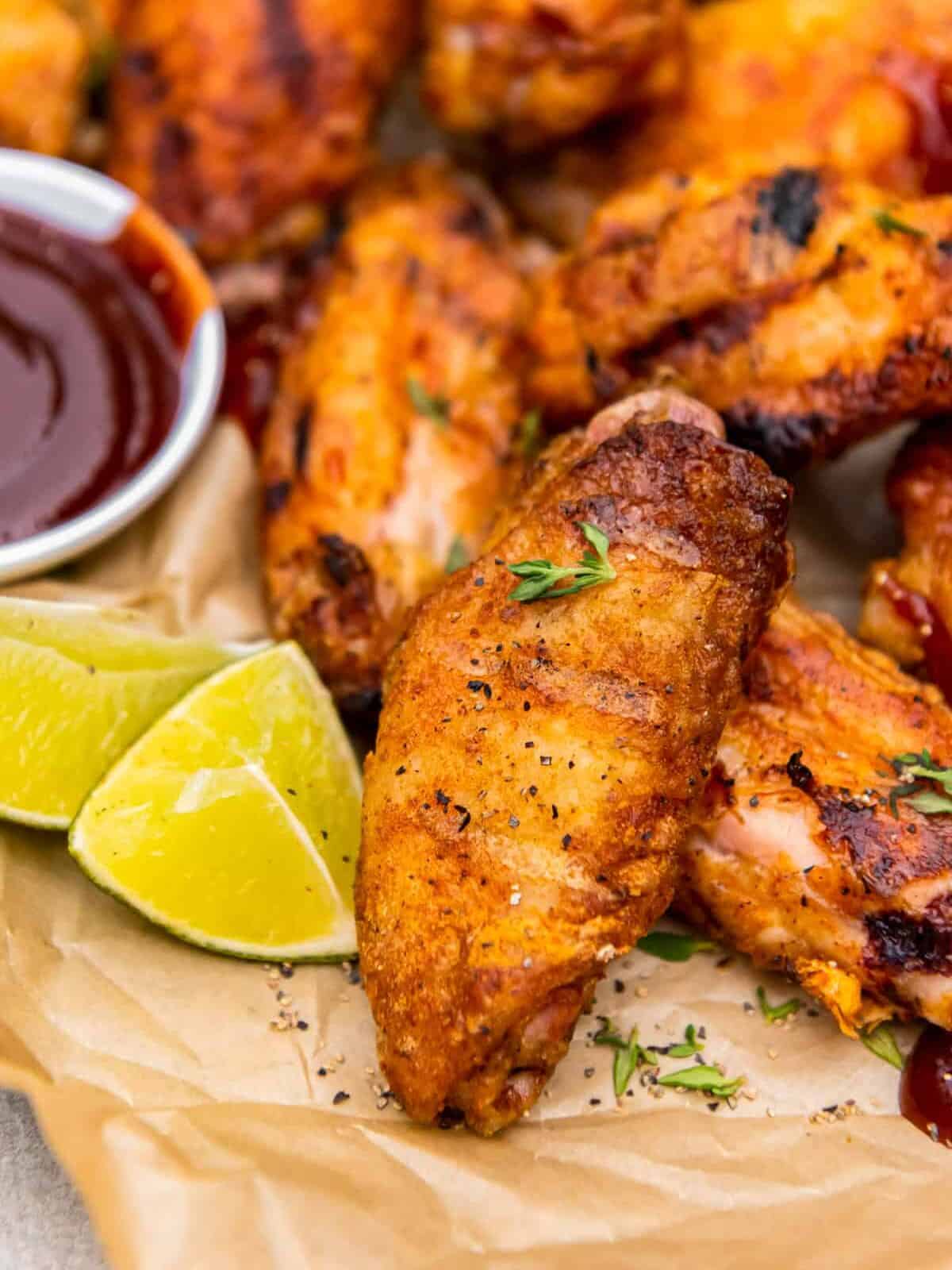 More Chicken Wing Recipes We Love