This Smoked Turkey recipe adds herb-y flavor and juicy tenderness to a whole turkey, perfect for your Thanksgiving or holiday dinner! A spice rub made with smoked paprika, brown sugar, and a range of herbs infuses flavor right into the skin. I'll show you how to cook this turkey in a smoker box on the grill, so you have a unique main dish that everyone will love!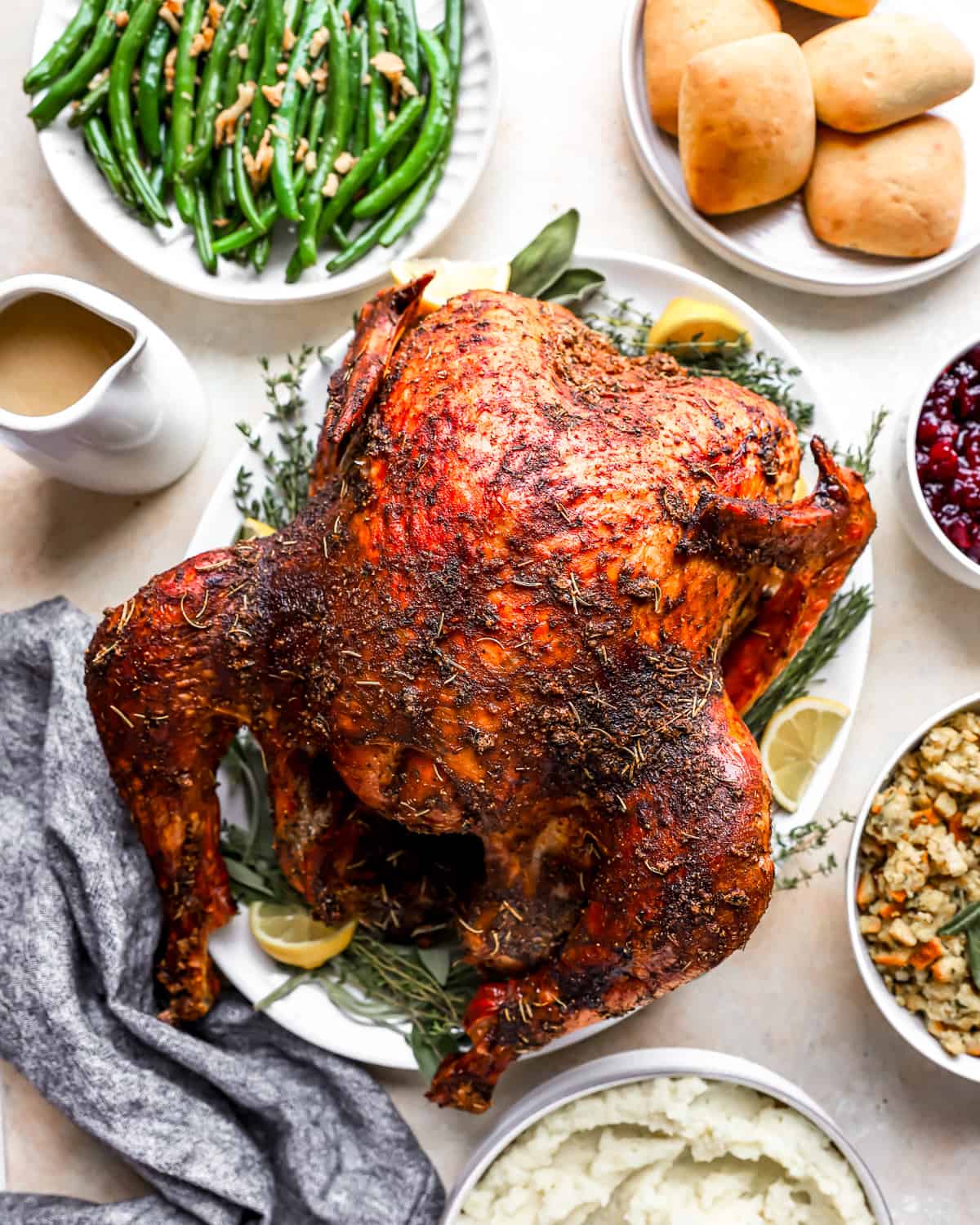 What's in this Smoked Turkey Recipe?
Feeling adventurous this Thanksgiving? Try this fun and flavorful twist on classic Thanksgiving turkey. It's sweet, savory, smoky, and just so good!
Turkey: This smoker recipe is for a whole turkey. We used a 12-pound turkey, but you can adjust the cooking time depending on the size of your turkey. Make sure your turkey is fully thawed before cooking.
Kosher Salt: Enhances the natural flavor of the turkey.
Brown Sugar: Adds a touch of balancing sweetness.
Smoked Paprika: Enhances the smoky flavor.
Dried Herbs: Sage, rosemary, and thyme add an herbal flavor and aroma to the meat.
Garlic + Onion Powder: Add an earthy flavor.
Black Pepper: Adds a touch of spice.
Olive Oil: Helps the spices adhere to the skin and helps the skin crisp up.
Chicken Broth: Ensures the turkey stays moist while cooking. You can also use apple cider (make sure not to use apple cider vinegar, though!).
Pro Tip: Smoke the meat for 30 minutes per pound–adjust to the size of your turkey!
Seasoning a Smoked Whole Turkey
I love using this sweet and savory spice rub on my turkey, but you can use whatever combination of herbs and spices you like. Spice blends like Creole seasoning, Italian seasoning, or herbs de Provence would all be delish.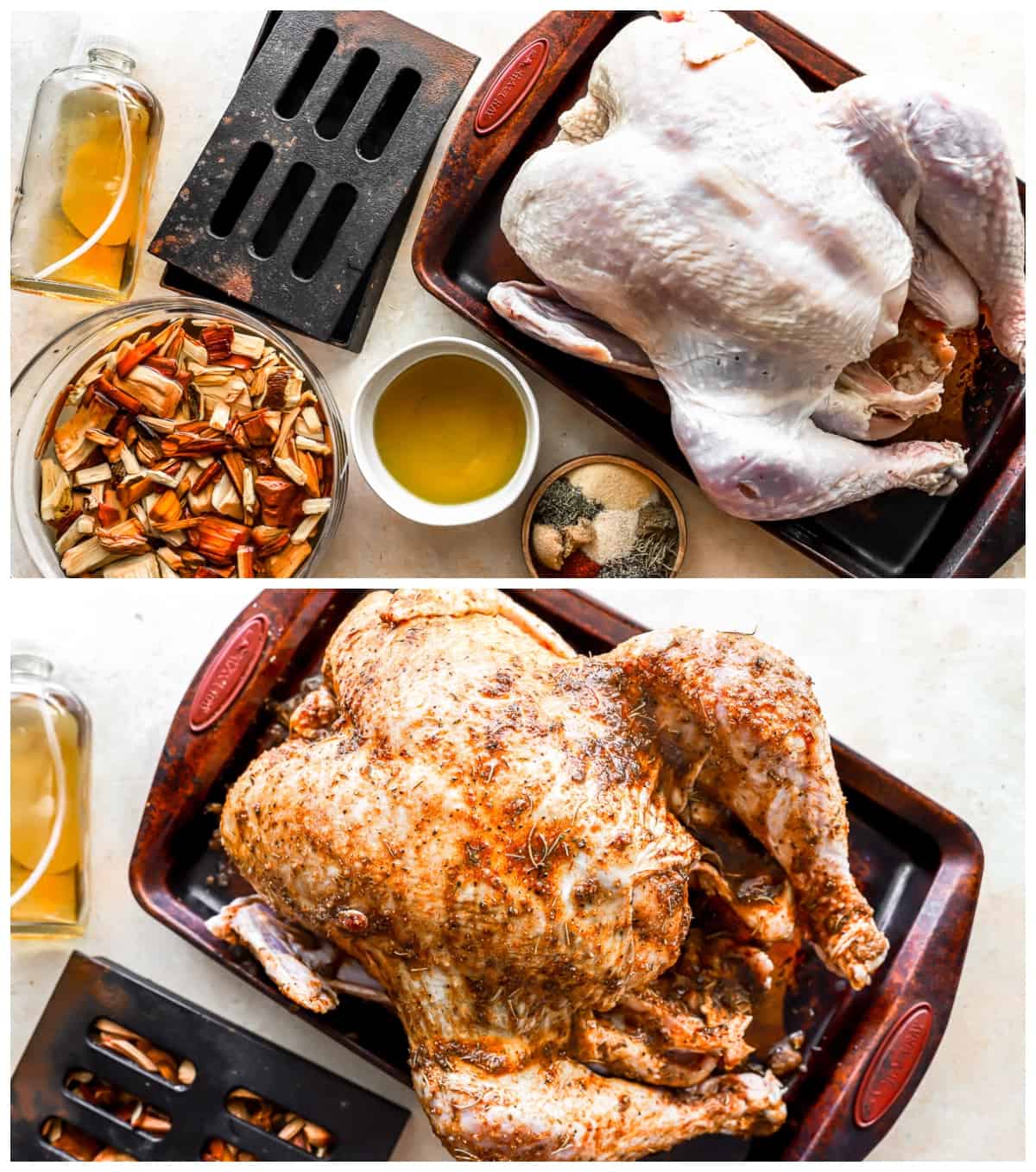 How long does it take to smoke a turkey?
It takes approximately 30 minutes per pound at 225-250°F to smoke a whole turkey. Check this chart for turkey cooking times.
Do you smoke a turkey covered or uncovered?
There's no need to cover the turkey unless it is starting to brown too quickly. However, I do recommend keeping the grill closed to seal in all that smoky flavor!
How do you keep turkey moist in a smoker?
Spritz the turkey with chicken broth or apple cider a few times throughout the cooking process to keep it moist! But take care not to open the grill too often, or this could dry it out.
What is the danger zone for turkey?
The danger zone is temperatures between 40-140°F, where harmful bacteria can multiply. This is why it's important to completely thaw the meat before smoking so that the meat doesn't spend too long in that temperature zone.
What temperature is a smoked turkey done?
The turkey is done when the thickest part of the breast registers 165-170°F and the thickest part of the thigh registers 175-180°F.
Can you overcook a turkey in a smoker?
Yes, it's definitely possible to overcook. Individual grills vary greatly, and birds vary greatly in size. Be sure to cook to temperature, not to time. If the meat says it's done, it's done!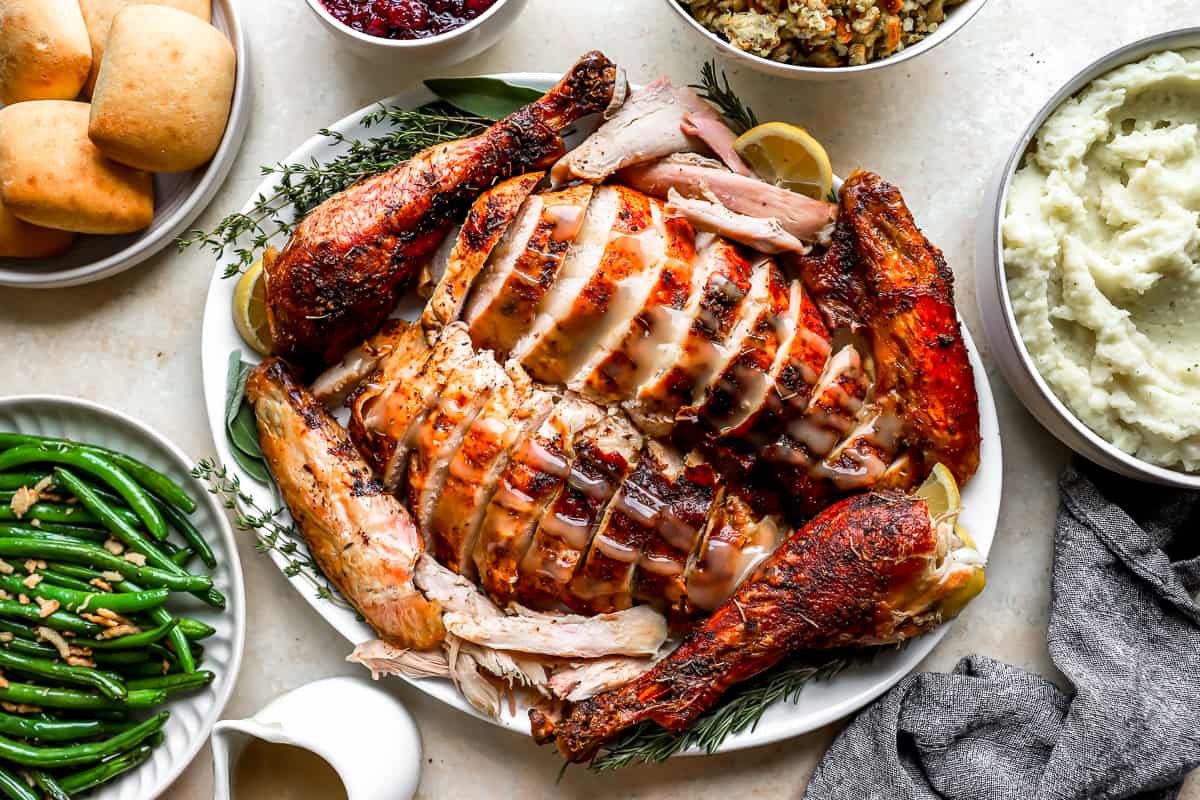 How to Store and Reheat
Store leftover smoked turkey in an airtight container in the refrigerator for up to 3 days. Reheat gently in the microwave, or covered with foil in a 300°F oven for 20-30 minutes.
How to Freeze
Freeze slices of smoked turkey in an airtight container for up to 3 months. Let thaw overnight in the refrigerator before reheating. I do not recommend freezing a turkey whole–always cut it into portions first.
Serving Suggestions
Serve this smoked whole turkey with the Thanksgiving dishes, like turkey gravy, crescent rolls, green bean casserole, honey glazed carrots, easy mashed potatoes, wild rice sausage stuffing, and maple roasted sweet potatoes.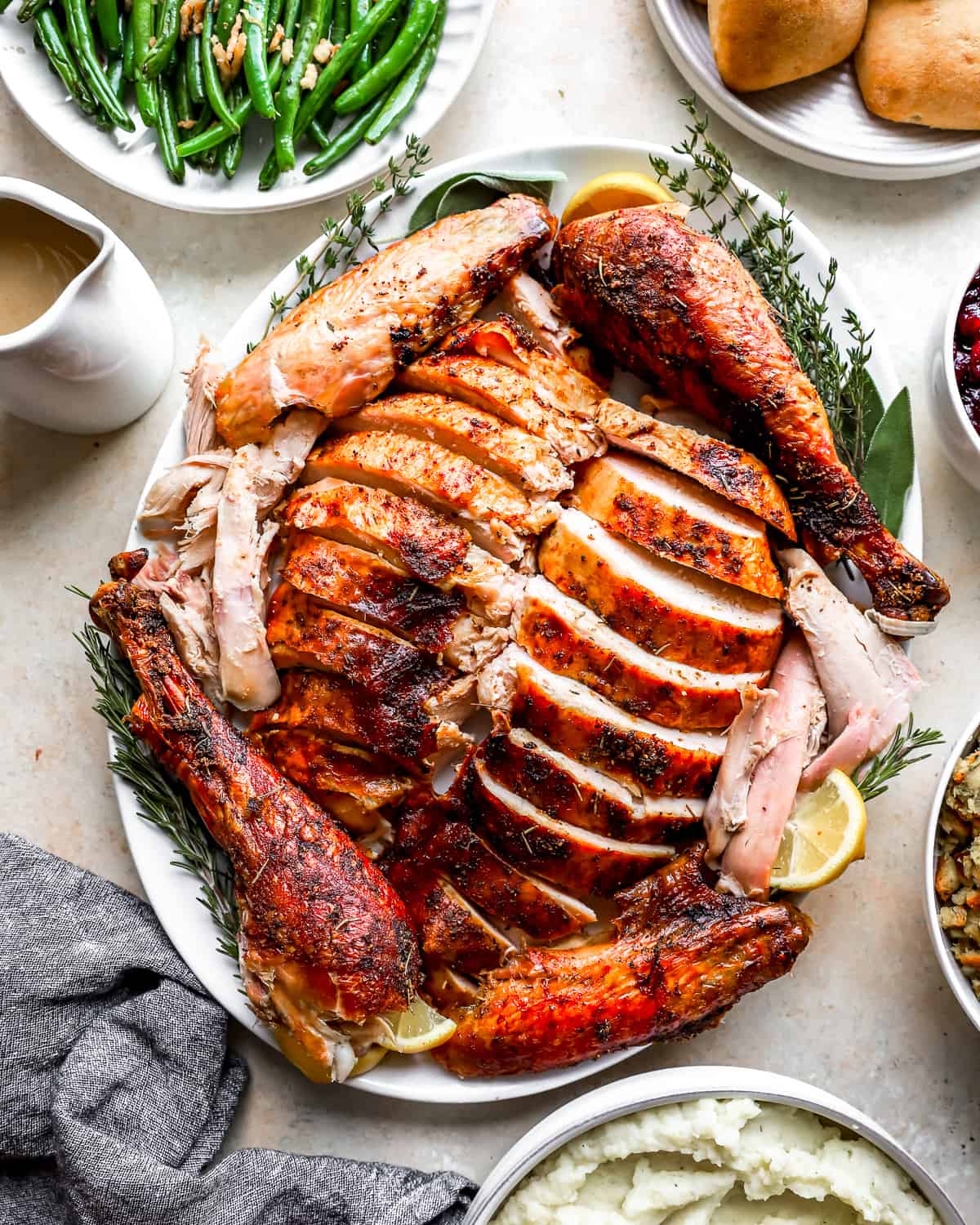 If you don't need to make a whole turkey, try this Smoked Turkey Breast instead!
More Smoked Meat Recipes We Love