Spiked Chai is the perfect warm winter drink! This chai tea recipe is simple, delicious, and full of flavor. It's exactly what you need for Christmas parties or any chilly evening. We made it with bourbon, but it can also be made without alcohol.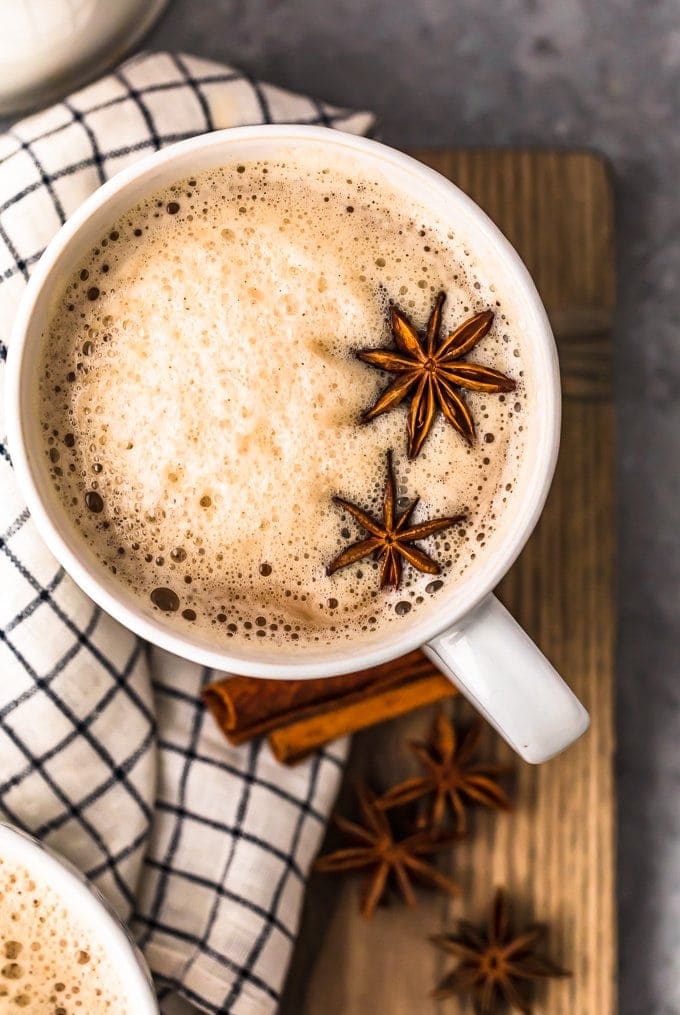 Chai Tea Recipe with Bourbon
This Spiked Chai Tea Recipe is so warm and full of flavor. I'm going to show you how to make chai tea with bourbon for the perfect Christmas treat!
Chai Tea is one of the most comforting drinks when it's cold outside. It's hot, it's full of spices, and it's just so soothing! I can't think of a better way to spend a chilly winter evening than curling up on the couch with a cup of chai…actually, I can think of a way to make it a little bit better: by turning it into a cocktail!
You guys know me, so you won't be surprised that I've come up with a Spiked Chai Tea recipe to share. The holidays call for a delicious drink, whether it's eggnog, tea, punch, or something else. I'm adding this chai tea with bourbon into the rotation and I'm so excited about it. It's going to be the perfect thing to sip on during Christmas festivities!
Cardamom, allspice, cloves and other chai spices give this spiked recipe the perfect flavor, and the bourbon adds just the right kick to make this extra fun. Of course you can leave the alcohol out if you prefer. The chai is still super delicious without it!
This Spiked Chai Tea Recipe with Bourbon is the perfect hot drink to warm you up this winter season!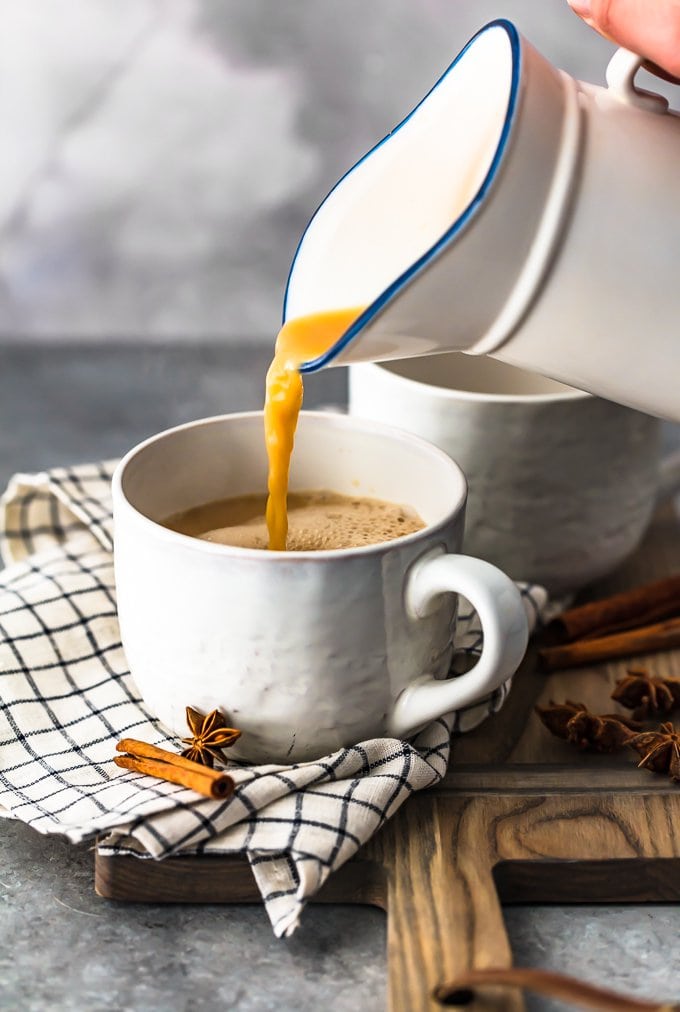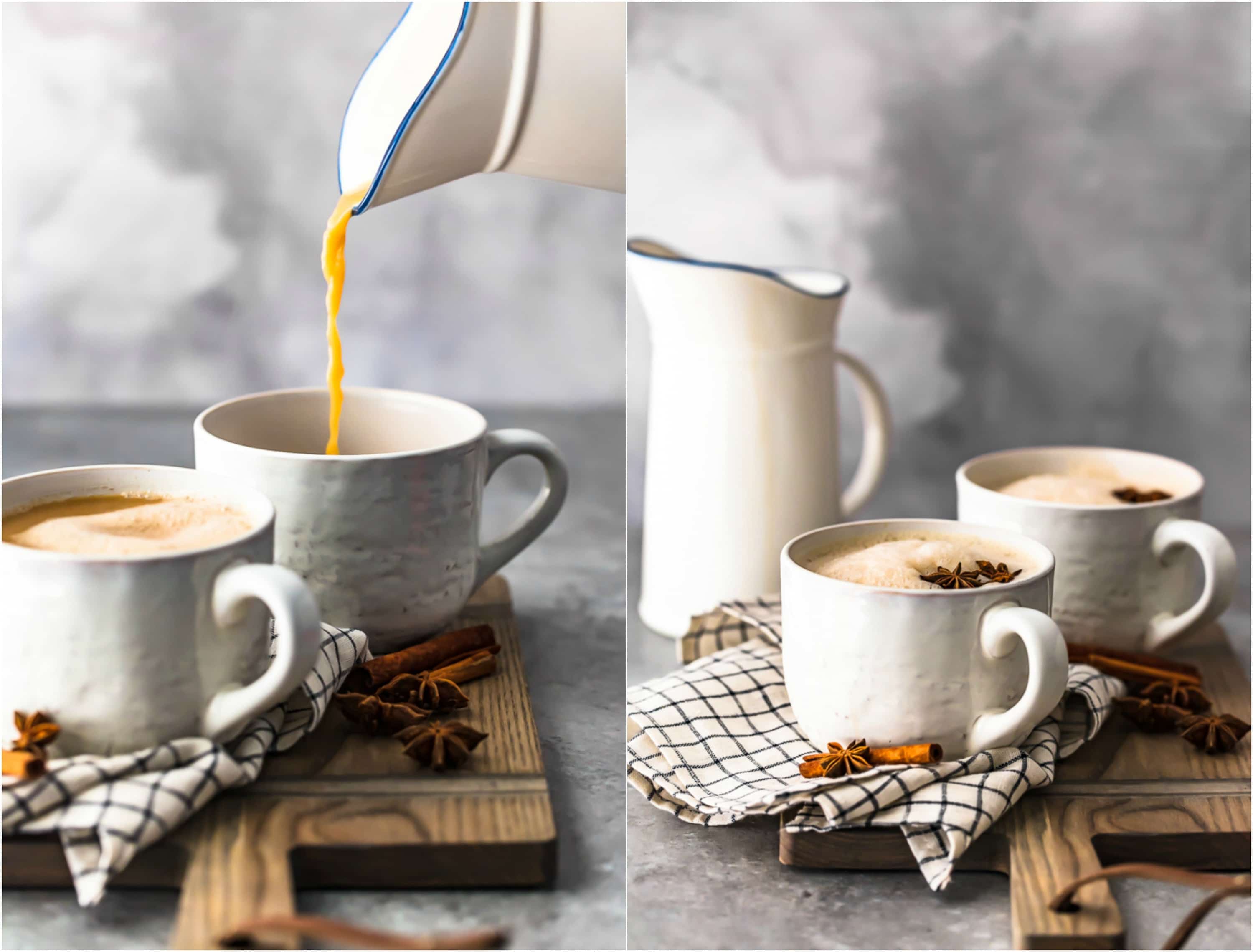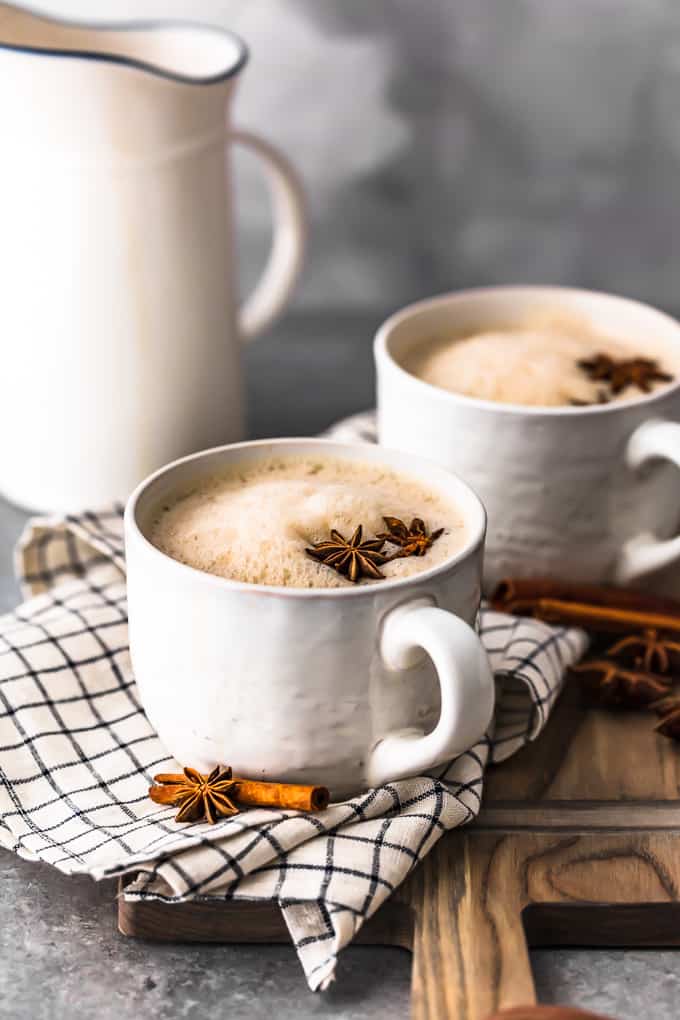 What is Chai Tea
Before we get into this Bourbon Chai Cocktail recipe, let's just talk about chai. If you've never had it before, you're in for a real treat!
Let's start by getting a little technical. "Chai" is the Hindi word for "tea", so calling it chai tea is actually redundant, but a lot of us refer to it that way anyways. In the English-speaking world, chai refers to a specific style of tea drink, more accurately called Masala Chai.
So the chai tea we know is just a mix of black tea and spices, usually brewed with milk. It can be served quite spicy, or sweetened for a lighter flavor. (And if you're like me, you also serve it mixed with a dash of alcohol.)
Chai Spices
If you want to know how to make chai tea, you need to know the chai spices. That's what makes it so special! Well, the bourbon is what makes this spiked chai tea recipe special, but we'll get to that in a minute.
The specific spices and amounts can vary from recipe to recipe, but we've included most of the usual chai spices in our recipe:
Cardamom
Allspice
Cinnamon
Cloves
Anise
Nutmeg
Ginger
Mix those spices with black tea, boil it with milk (we're using vanilla almond milk), and stir in some honey to add some sweetness. This creates one of the best chai tea recipes, ready to drink as is. And if you want to make the spiked version, then just add some bourbon (whiskey works too).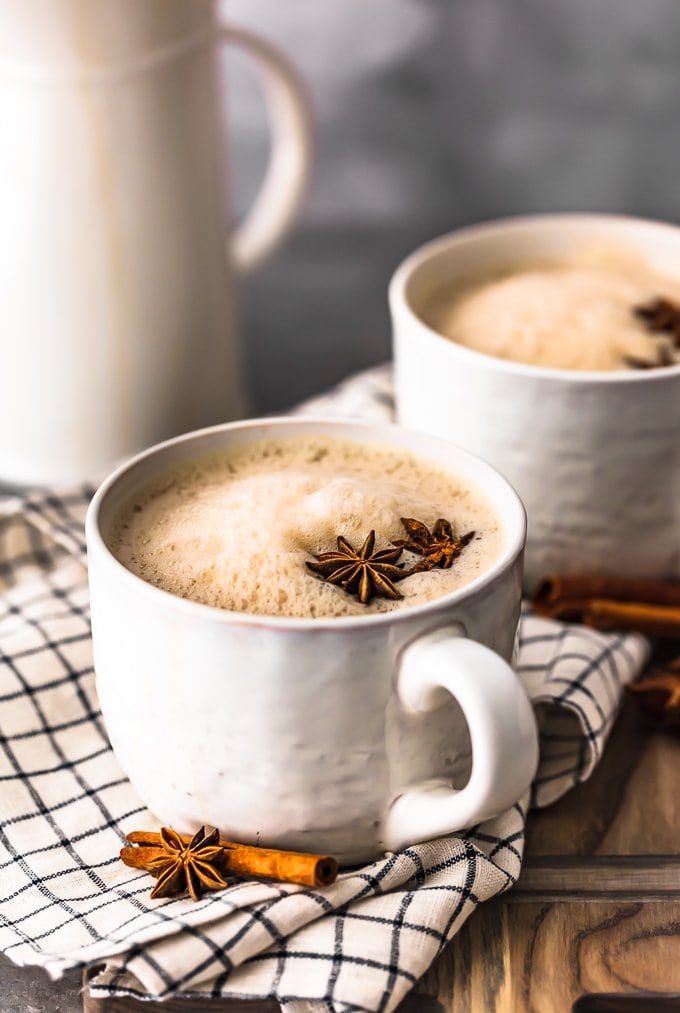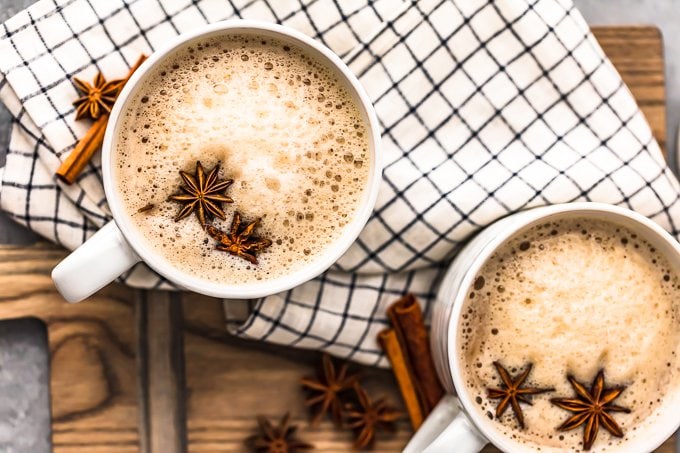 How to Make Chai Tea with Bourbon (Spiked Chai)
This Spiked Chai Tea recipe is my favorite drink this holiday season. The perfect blend of spices just makes me think of Christmas, so I love sipping on it at holiday parties, on Christmas Eve, or even on Christmas morning (without the bourbon of course). It's easy to make too, with or without the alcohol.
How to make chai at home:
Combine the water, spices, ginger, and vanilla extract in a saucepan, and add in the black tea bags.
Bring the mixture to a boil and then reduce heat to a simmer.
Whisk in the almond milk and honey, then remove from heat and let the tea steep for about 10 minutes.
When it's done, pour the tea through a fine mesh sieve to separate the liquid from the whole spices.
And now you've got the perfect cup of chai! If you're making spiked chai, you can pour the tea into a pitcher and stir in the bourbon before serving. You could also mix the bourbon into individual cups if you want both alcoholic and non-alcoholic options for your guests.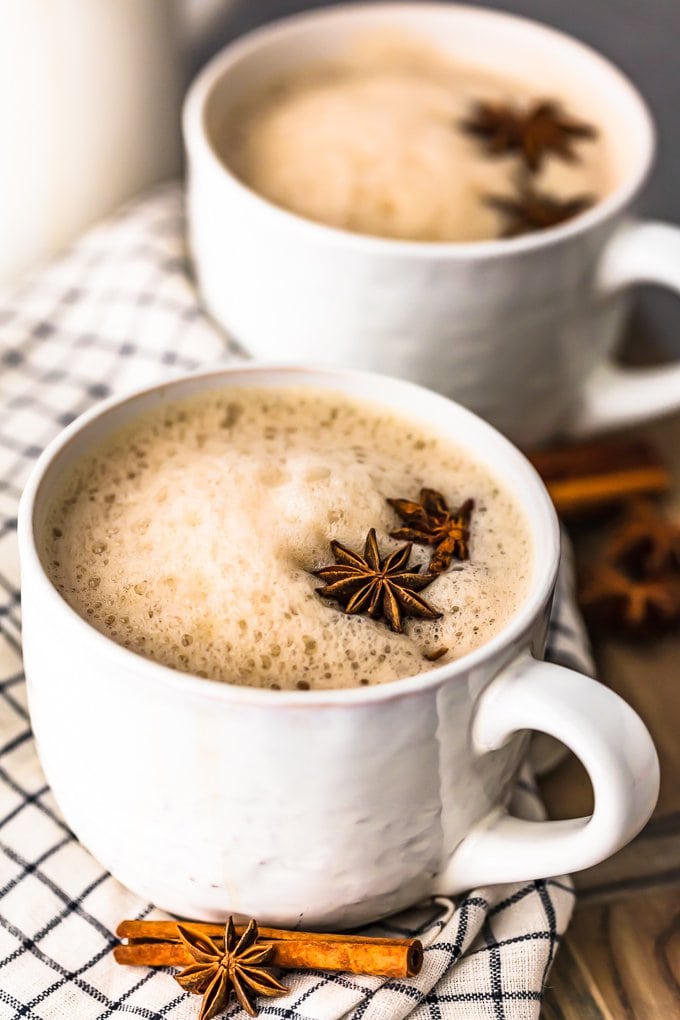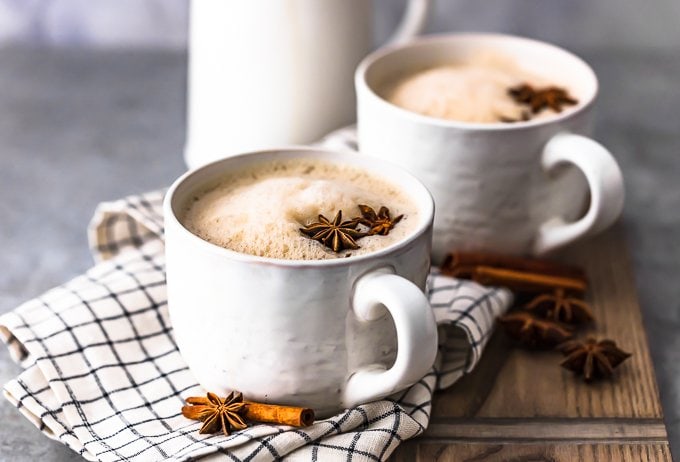 Easy Holiday Cocktails
I'm a big fan of festive winter and holiday cocktails. This Bourbon Chai Tea recipe fits in perfectly with my other delicious holiday drinks. Try some of the other favorites around here: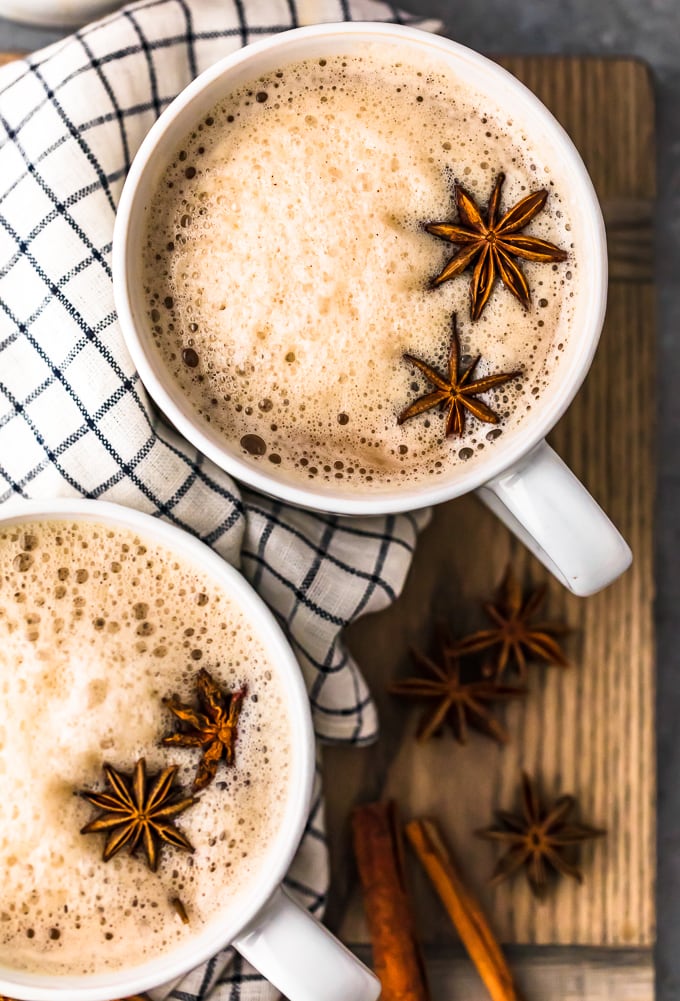 If you need a hot drink to sip on this winter, make this chai tea recipe your new go to. You can make it a spiked chai for holidays, get togethers, and chilly evenings, then make the non spiked version for those mornings you need a little pick me up. There's never a bad time for chai! Be sure to try this Iced Chai Latte in the warmer months.
See the recipe card below for details on how to make this Spiked Chai Tea Recipe. Enjoy!
If you like this recipe, try these other hot drinks for the winter season: