This tasty veggie pizza recipe is easy to make at home, and it's something the whole family will love! Made with a crescent roll base, it's a fun and simple recipe loaded with fresh veggies and a healthy helping of cheese! Perfect to serve as an appetizer!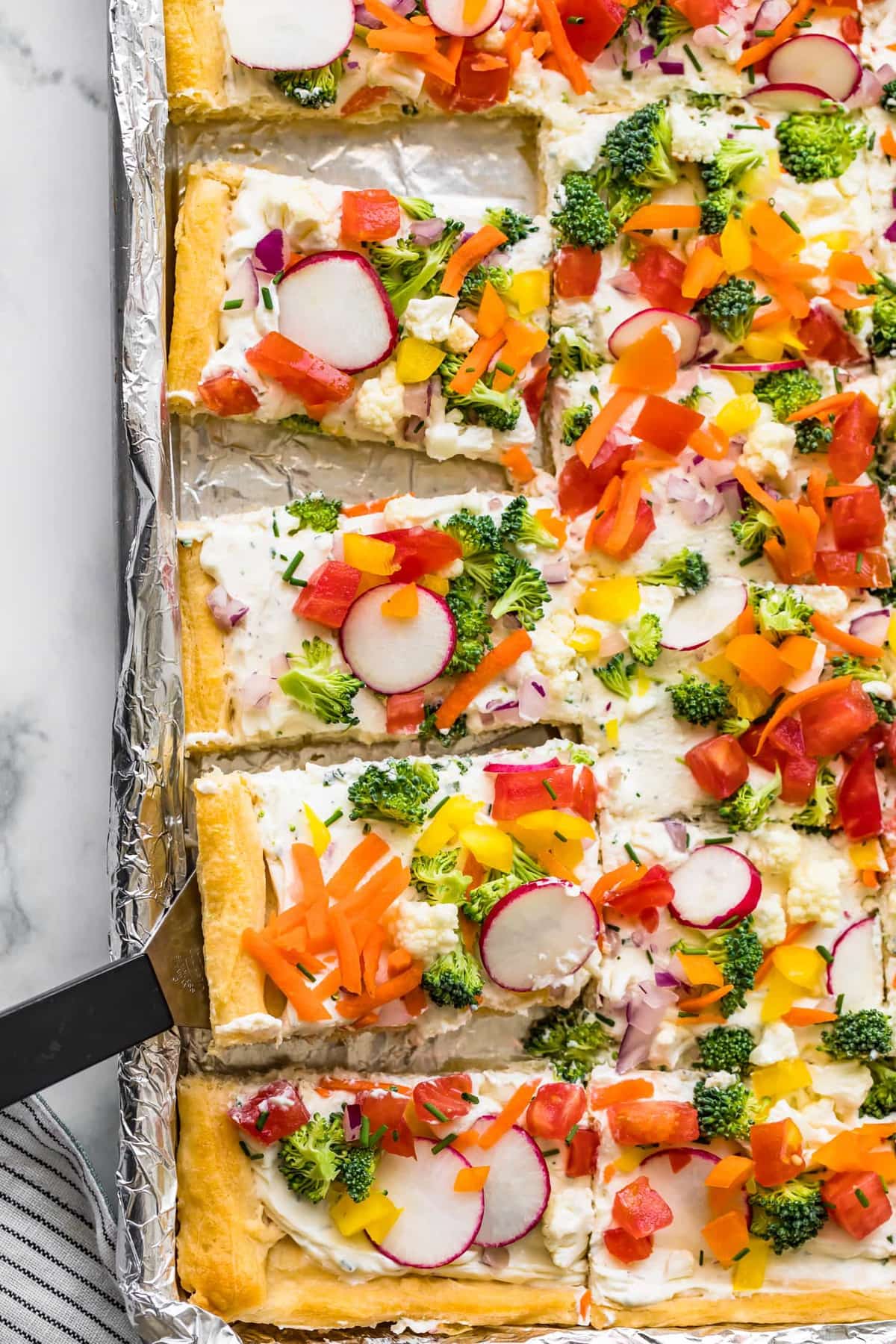 This isn't just your standard pizza – it's creamy and loaded with texture! It's perfect to serve as a fun appetizer! Crescent roll makes the base of this loaded pizza and it works so well! It was a hit with the whole family, and it's so easy, the kids can help you make it!
How to make this Veggie Pizza Recipe (Crescent Roll Pizza)
Heat oven to 375° and lightly spray a large rimmed baking sheet with nonstick cooking spray. The surface size of the large, rimmed baking sheet used is 16½" x 11½".

Remove the dough from the refrigerator 5 minutes before using. Set the dough in the pan and press it over the bottom and halfway up the sides. Pinch the seams of the dough together. Refrigerate the dough 5-10 minutes before baking.

Bake the crust at 375°F for 15-20 minutes or until a little darker than golden brown and is cooked through. Cool Completely.

While the crust cooks, beat together cream cheese, sour cream, dill, chives, garlic, crushed red pepper, salt and pepper.

Once the crust has cooled, spread the cream cheese/sour cream mixture evenly over the crust. Top the pizza with the vegetables, and lightly press them into the cream cheese layer.

Serve immediately or cover lightly with plastic wrap and refrigerate up to 24 hours.

When ready to serve, slice and serve.

Enjoy!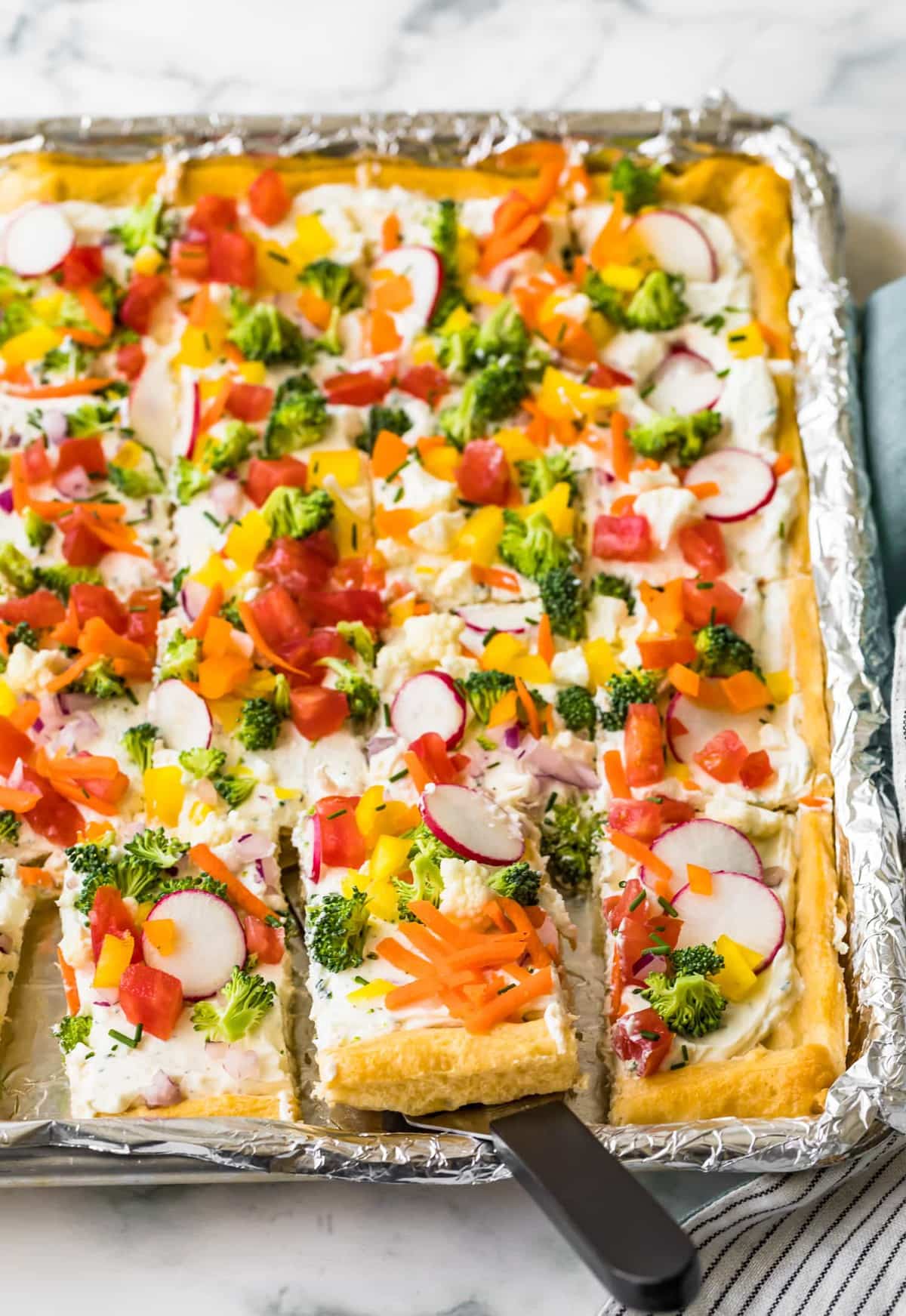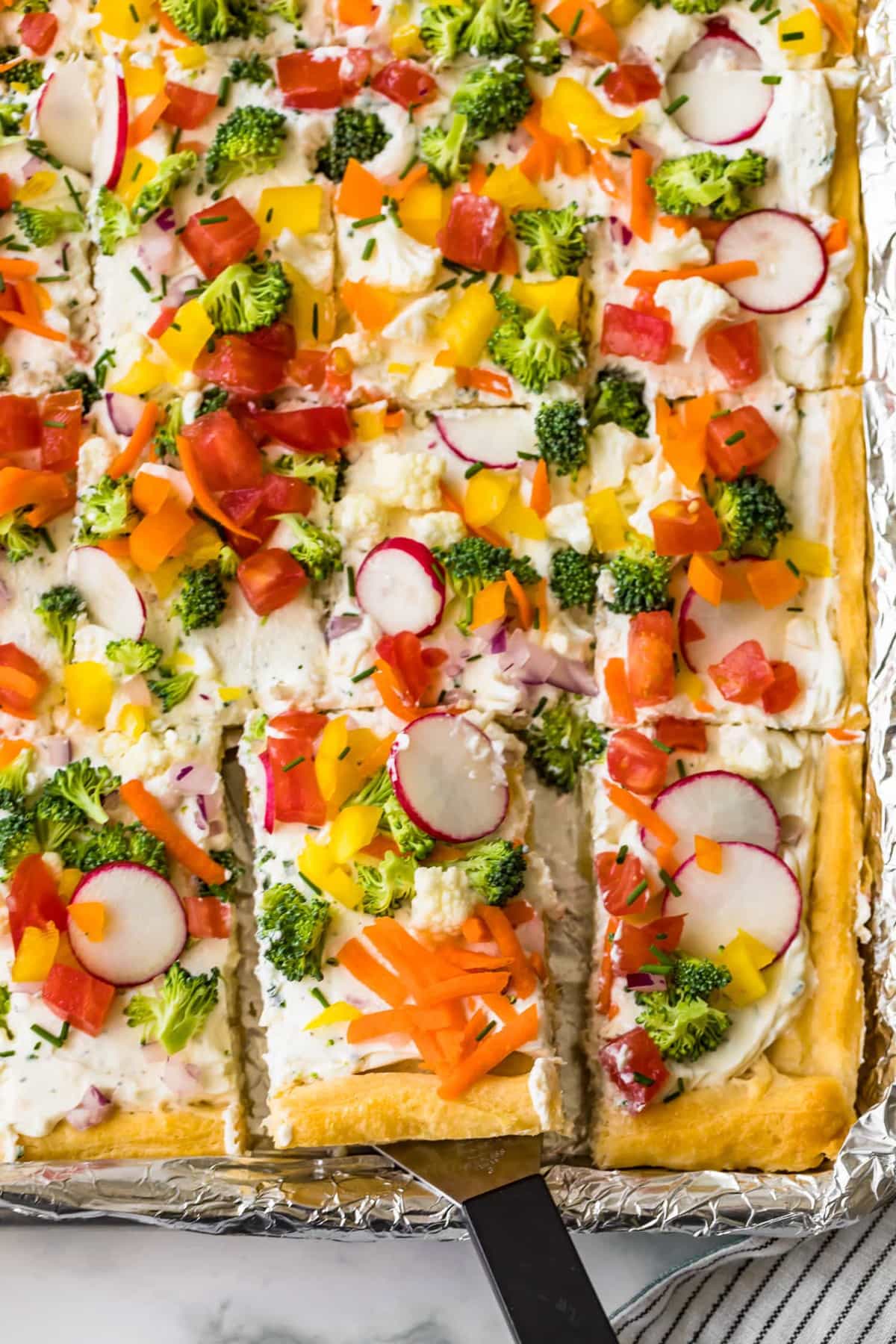 Healthy pizza toppings
This veggie pizza recipe is loaded with fresh and tasty toppings – it's a great way to get some extra vegetables into your families diet! The veggies I used to top this pizza are:
broccoli
cauliflower
radishes
red onions
tomatoes
bell peppers
carrots
radishes
These not only add tonne of vitamins and minerals, but they produce a vibrant pizza full of texture.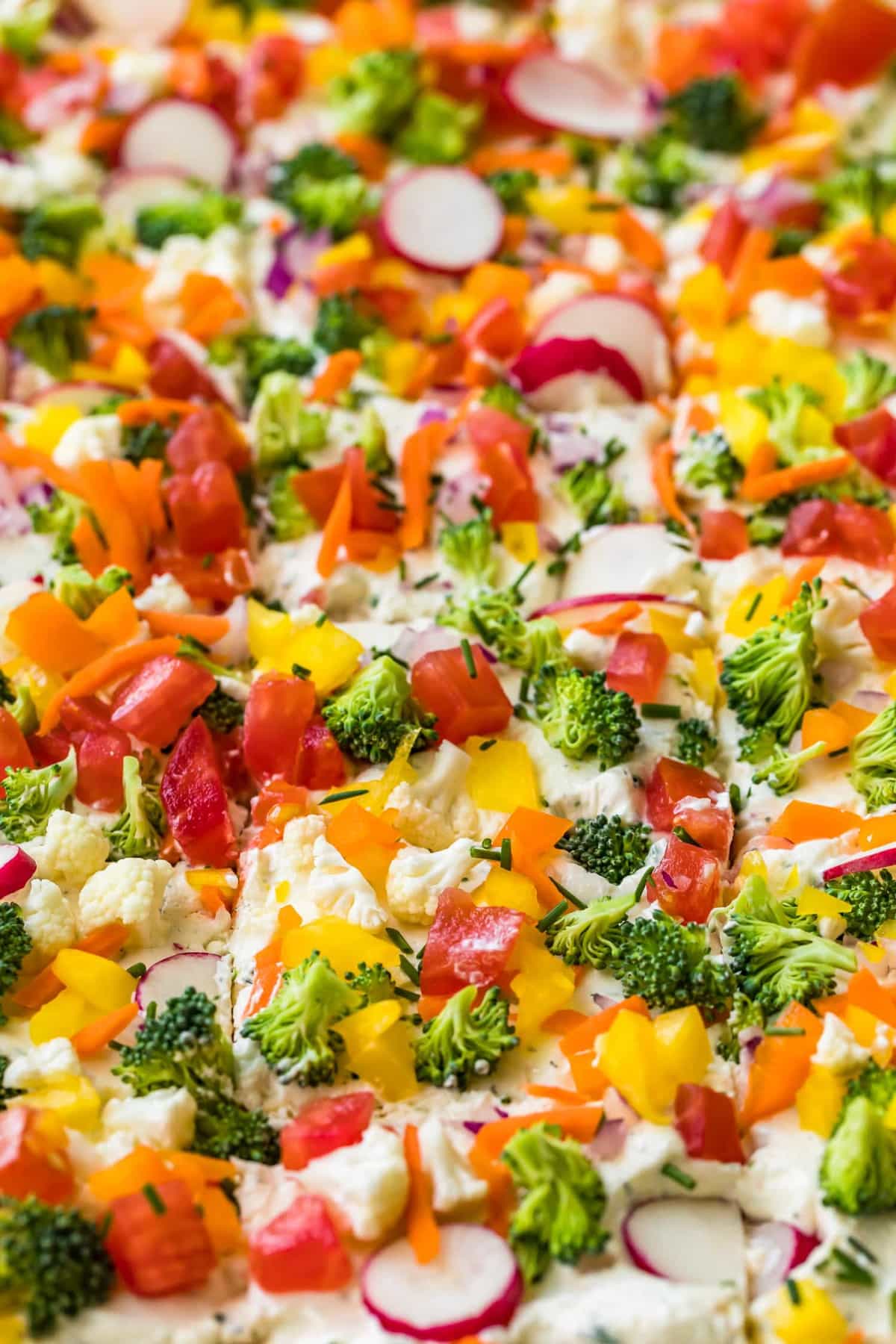 Crescent roll pizza base
There's nothing quite like making your own pizza dough, but let's face it, we rarely have the time for all that kneading and rising! Crescent roll dough is the perfect go to when you want homemade pizza but don't have several hours to spare! The base is light and crispy, so it's perfect to serve as finger food at a party.
If you're looking for a low-carb option, try our cauliflower pizza crust!
Veggie Pizza Appetizer Recipe
This recipe makes enough for sixteen servings, so it's perfect to serve at your next get together. Despite being a pizza, it's light and creamy so it makes for perfect finger food to serve. You can make this 24 hours ahead of time, just keep it covered in the fridge ready to serve.
I love making this as an Easter appetizer, or for any occasion when I have guests over. It's just so easy to make!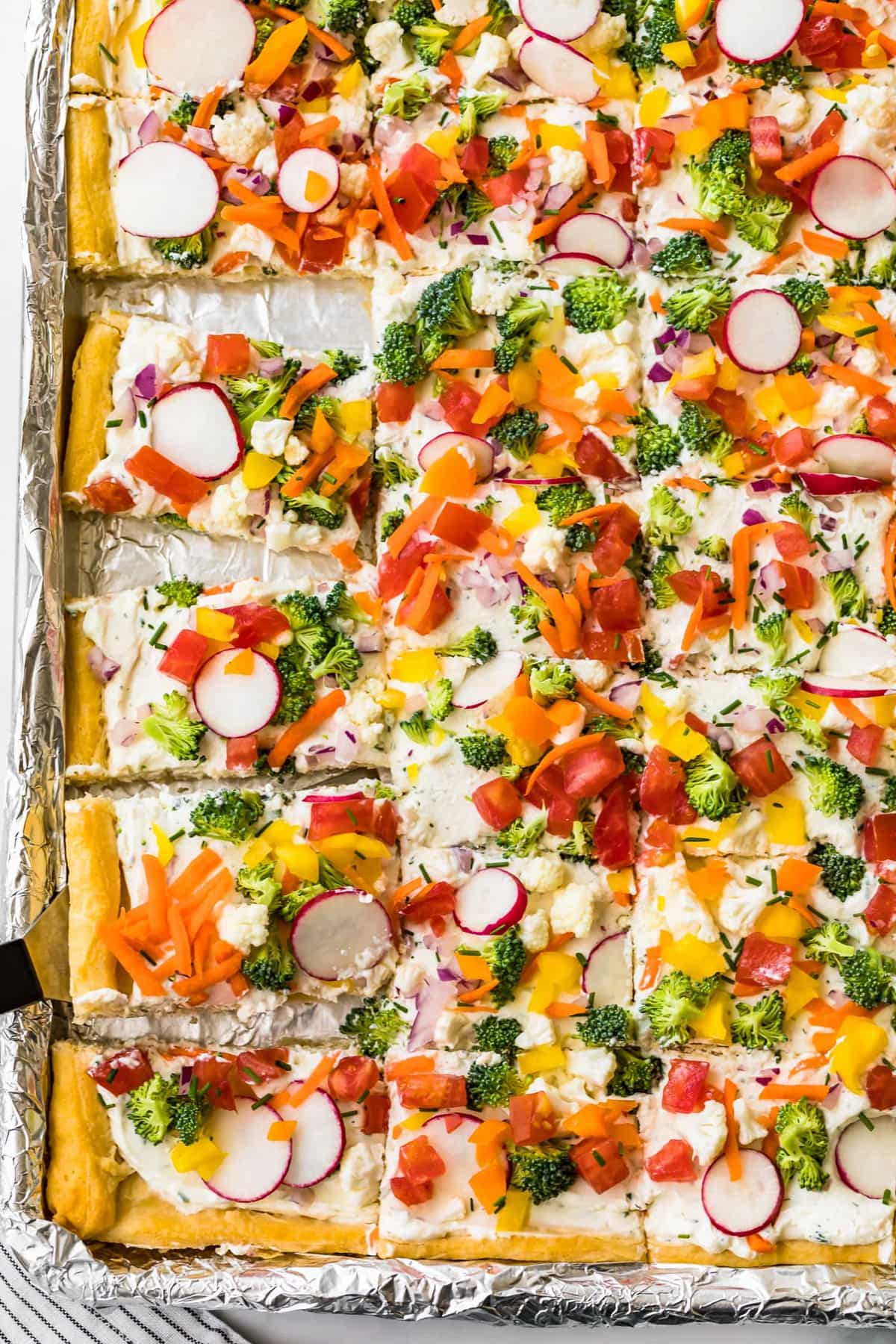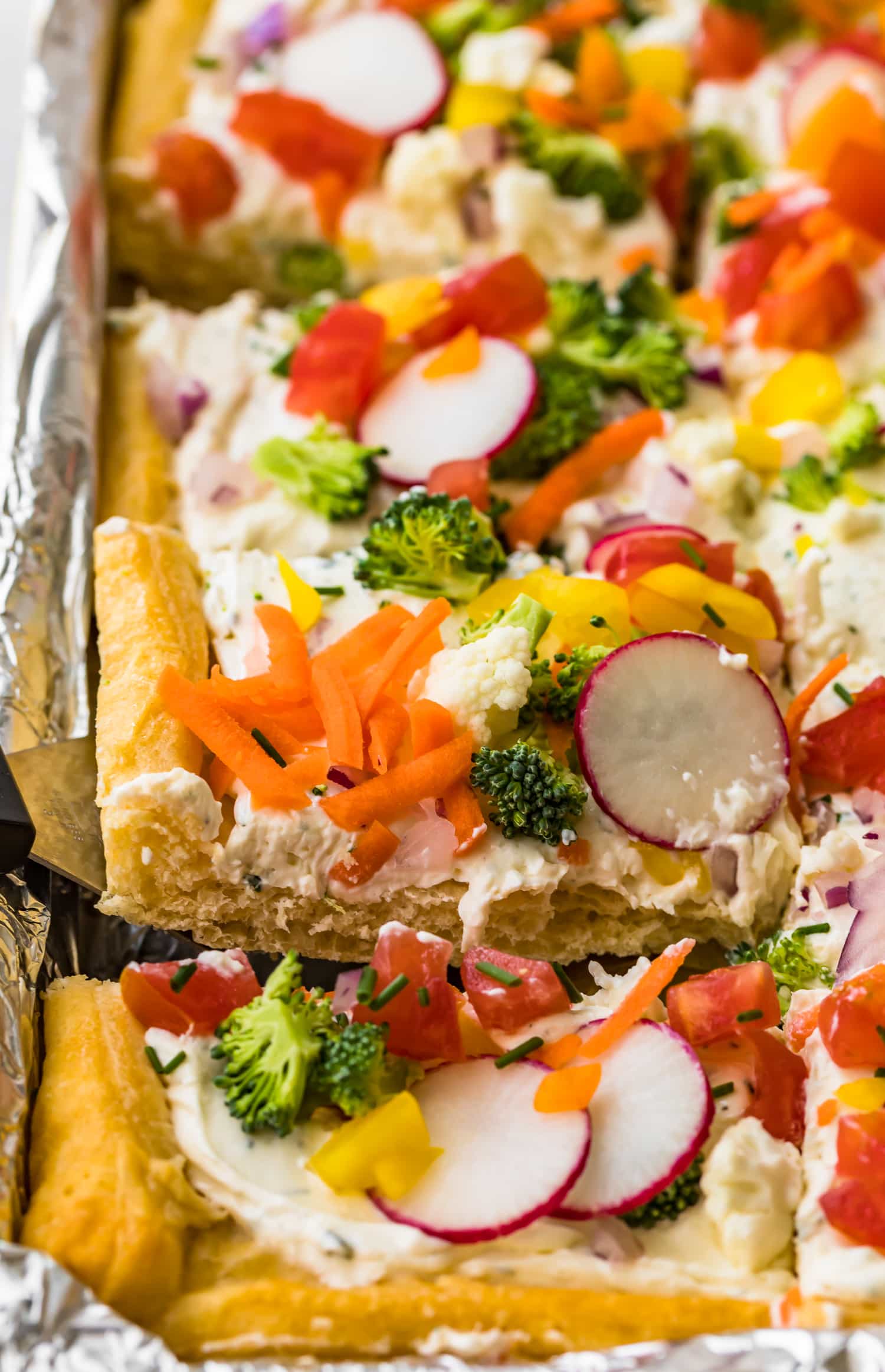 Top tips to make Veggie Pizza Recipe (Crescent Roll Pizza)
I love this combination of fresh veggies I used, but feel free to try whatever you have in your fridge!
To cut down on fat and calories, you can use a low fat cream cheese.
Make sure all of your veggies are fresh!
Be sure to check out these other tasty appetizer recipes!
Easy Bacon Wrapped Shrimp Appetizer Recipe
Creamy Spinach Dip Crostini Appetizers
Easy Queso Blanco Dip with Chorizo
Homemade Baked Mozzarella Sticks Recipe