Easy Gourmet White Pizza Copycat. This pizza is SO GOOD! Made to be like the popular Mellow Mushroom Pizza favorite. Loaded with tomatoes, feta, and more. You'll have to make it to believe it.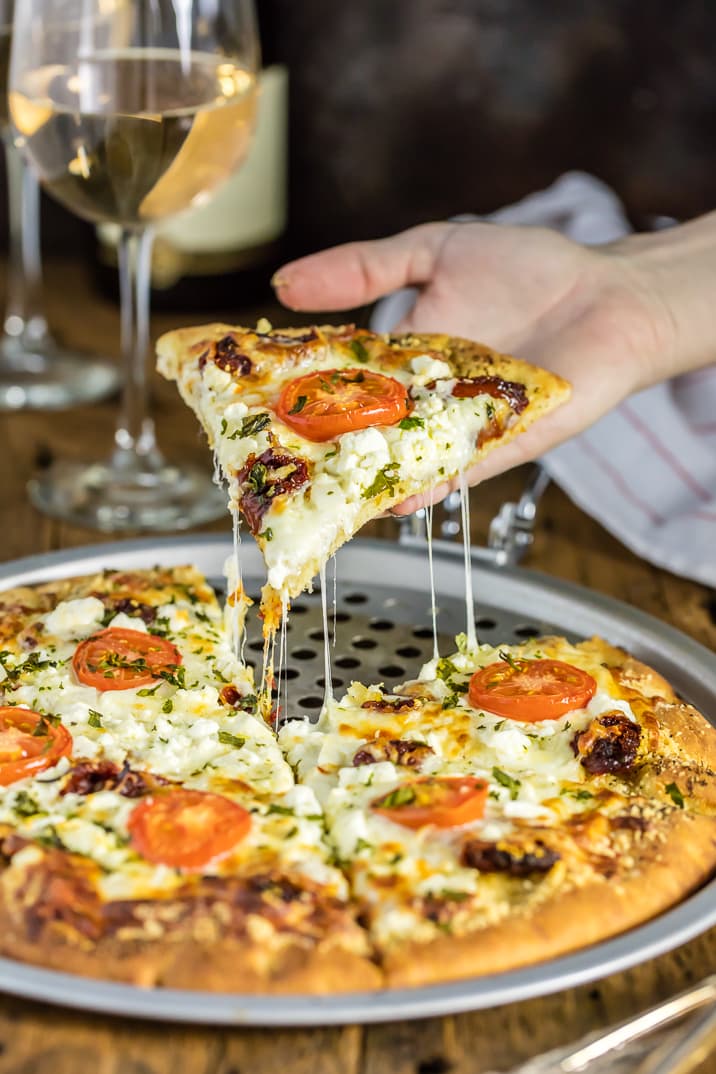 Everybody needs a good pizza recipe to keep in their back pocket and bring out on those lazy weeknights. I know I do. For me, this Easy Gourmet White Pizza is just that. It's delicious, simple, and just the right amount of decadence. It's a keeper.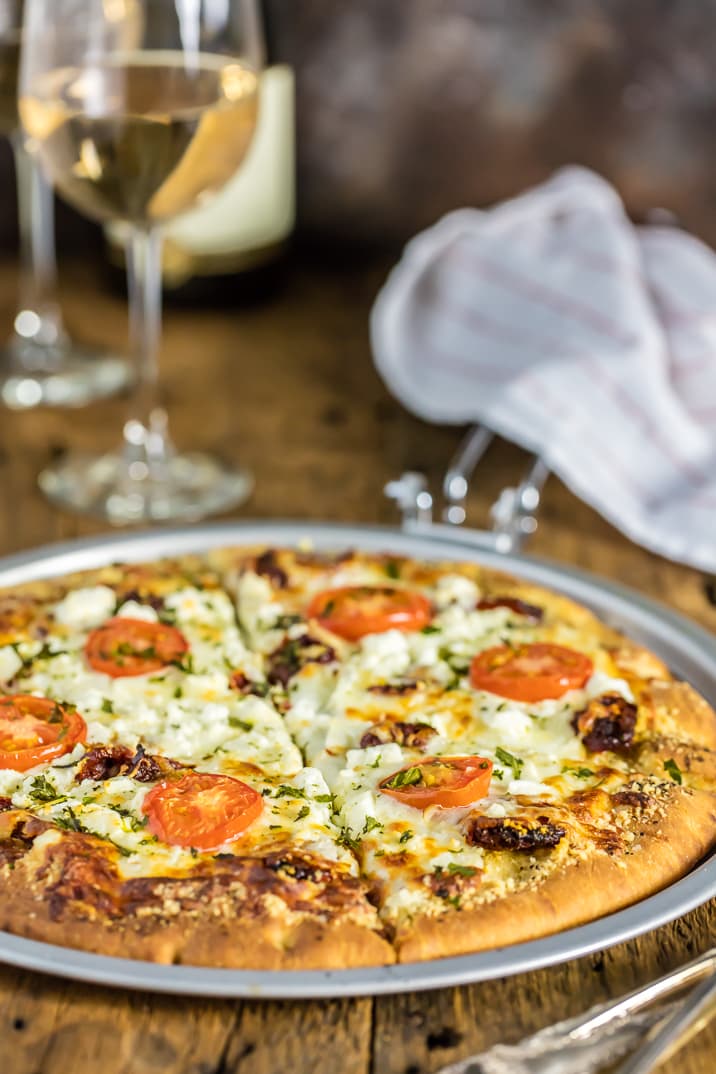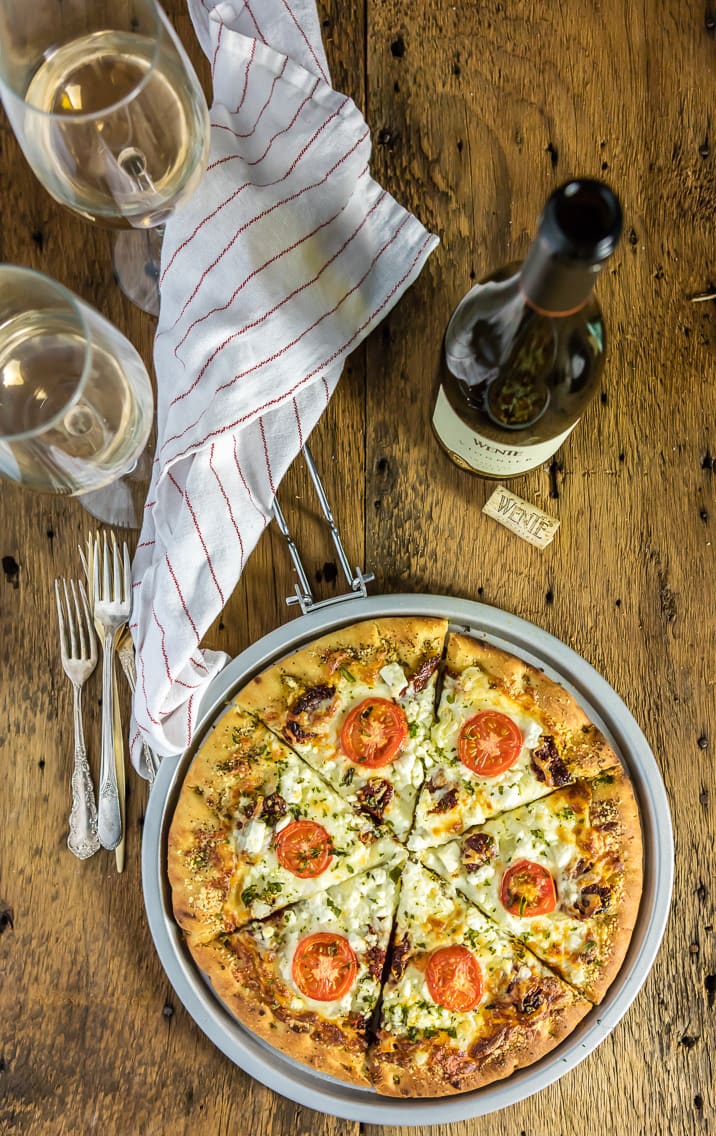 One of my favorite places to eat with friends when I lived in Jacksonville was Mellow Mushroom. It's an awesome pizza place with a great vibe and even better 'za as my dad calls it. It was such a great place to go with the girls and cat over a glass of wine and amazing cheesy pizza.
Pat and I went to Atlanta a couple weeks ago for a wedding and I saw a Mellow Mushroom from the road. I had to stop and have him try my favorite thing on the menu; their Gourmet White Pizza. Even better news came the next week when we heard they are opening up in STL! Yay! So now I can get my fix whenever I want to drive to Sunset Hills, OR when I want to make it at home. I think I've discovered the secret, and I'm pretty proud of it.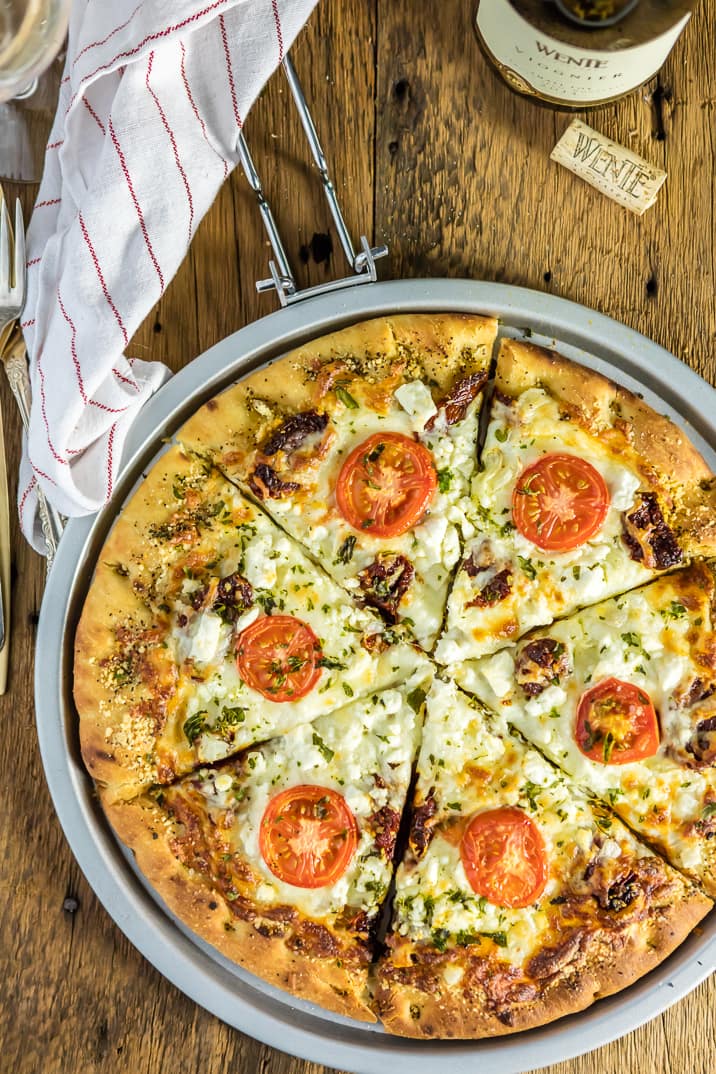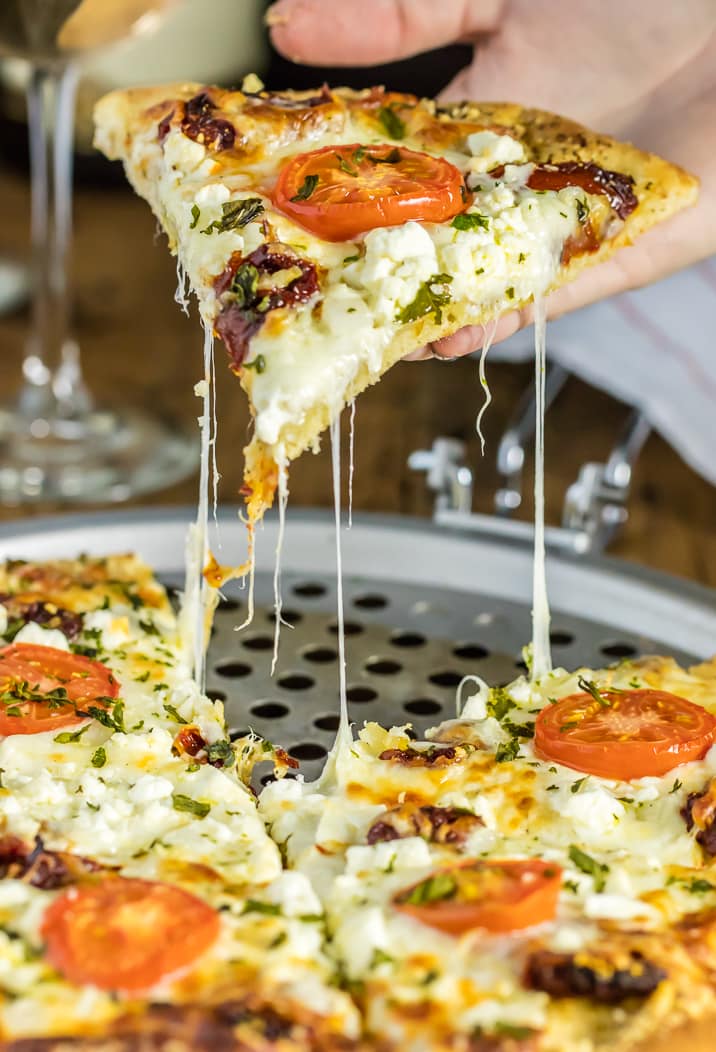 I mean, do you see all that cheese? That's four types of cheese. AND THAT'S MY TYPE OF PIZZA.
For the crust I used a pre-cooked naan pizza crust from Stonefire Flatbreads. This isn't a sponsored post, but I do love love love Stonefire. I'm no baker (yet), so making a pizza crust from scratch is a bit of a tall order still. This crust is the right middle ground of thickness and has an amazing flavor. Since it was pre-cooked, I only had to cook this pizza for 6 minutes. That deserves a high five!I hope you love this Gourmet White Pizza Copycat as much as we do!
Enjoy!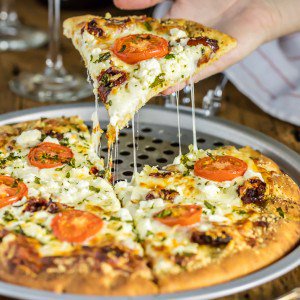 Easy Gourmet White Pizza Copycat
Adapted and Inspired by Mellow Mushroom's Gourmet White Pizza. Recipe in no way officially affiliated with Mellow Mushroom. This is just my personal take on the pizza.
Ingredients
1

premade pizza crust

I used a pre-cooked crust that I linked to above. You can use whatever crust recipe or premade crust that you like best. Cook according to package directions if it is not precooked. These directions will assume your crust is already precooked

2 1/2

tablespoons

olive oil

divided

1 1/2

tablespoons

minced garlic

divided

1/4

cup

grated parmesan

divided

1/4

cup

sundried tomatoes

if in oil, rinse

1

cup

shredded mozzarella/provolone blend cheese

2

roma tomatoes

sliced

1/4

cup

feta cheese

pepper
Instructions
Preheat oven to 425F

Brush 2 tablespoons olive oil into the middle of your pizza crust, leaving about an inch on all sides for the crust.

Brush 1 tablespoon garlic onto olive oil and sprinkle with 1/8 parmesan cheese.

Add sundried tomatoes, spaced out evenly.

Top the entire center of crust with the shredded cheese.

Add roma tomato slices and feta, spacing evenly.

Brush outside circle of crust with the remaining olive oil, garlic, parmesan, and pepper.

Bake pizza for 6-8 minutes (or according to crust instructions), until crust is browned and cheese is fully melted.

Broil for 3-4 minutes (optional) to make the cheese bubble and brown even more.

Slice and serve. Enjoy!