Cast Iron Skillet Pizza is the perfect thing to serve for you next family pizza night! The crispy crust is filled with lots of cheese and herb-filled tomatoes, making for a mouthful of flavor in every bite. Make this super easy skillet pizza recipe for a fun weeknight dinner!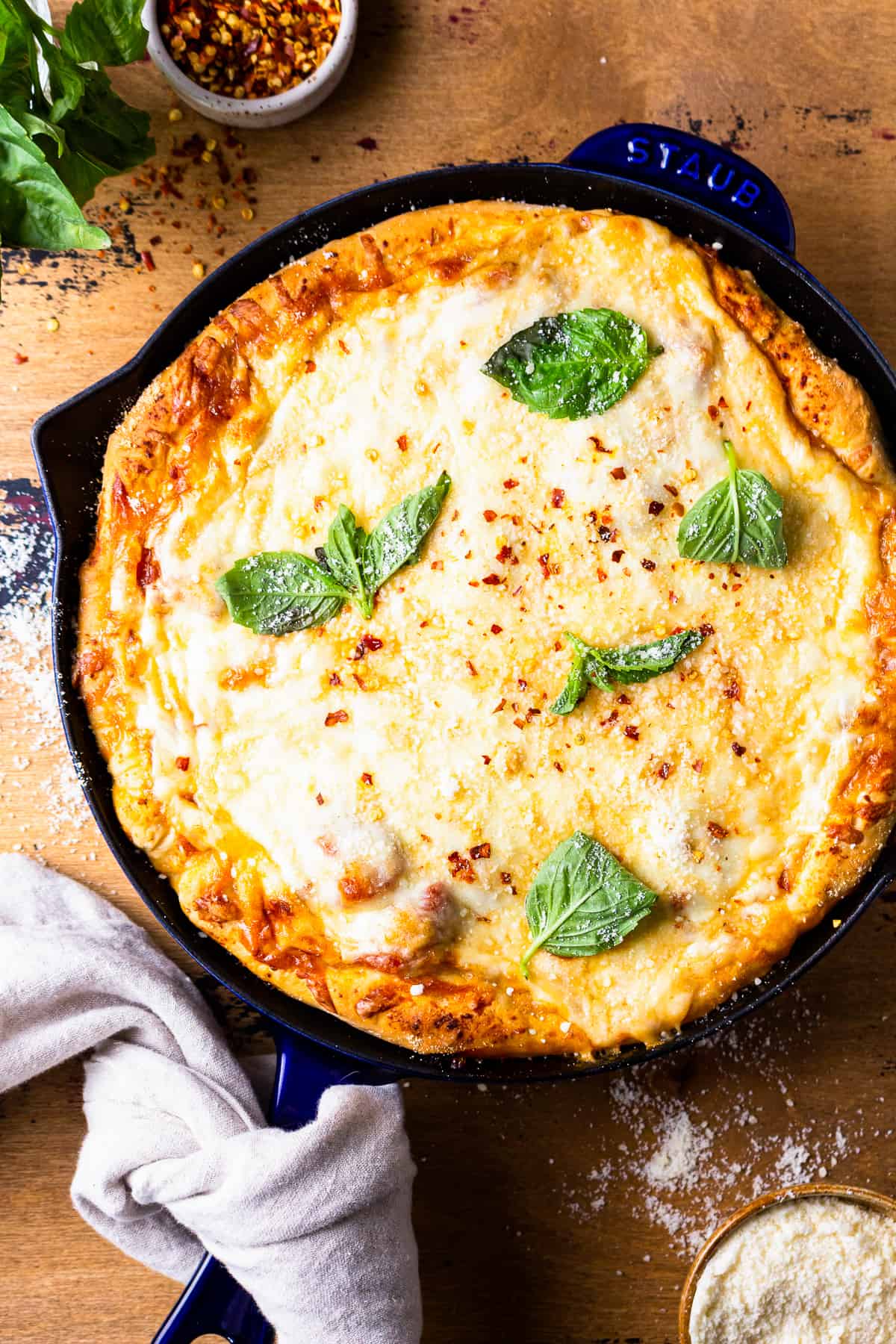 What's in this Cast Iron Pizza Recipe?
Making deep dish pizza in a skillet is such an easy way to get a crispy, flavorful pizza stuffed full of tasty ingredients for pizza night at home. You only need four ingredients and one pan to make this dish!
Bread Dough: I'm using frozen bread dough for the skillet pizza crust. It makes a nice, fluffy yet crispy crust that's ideal for this recipe. Feel free to make homemade pizza dough if you like.
Tomatoes: Instead of pizza sauce, we're using a can of diced tomatoes because they add a chunky texture that works well with the deep crust. I like the kind with basil, garlic, and oregano already mixed in, but you can season the tomatoes yourself if needed.
Cheese: I recommend using shredded Mozzarella for the cheese. But you can also use a blend, or another type of cheese, if you prefer. We're also using grated Parmesan.
Olive Oil: Use a regular/pure olive oil, rather than an EVOO.
If you don't want to use diced tomatoes for your cast iron pizza, use marinara sauce, meat sauce, or your favorite jar of pizza sauce. But keep in mind that thicker, chunkier sauces will hold better.
What toppings can I add to this skillet pizza?
Cheese and tomatoes are great for a simple meatless pizza that everyone can enjoy. But you can easily add any pizza toppings you like to your skillet pizza! Green peppers, Italian sausage, bacon crumbles, onion, black olives, pepperonis, and more can be mixed right into the filling before baking.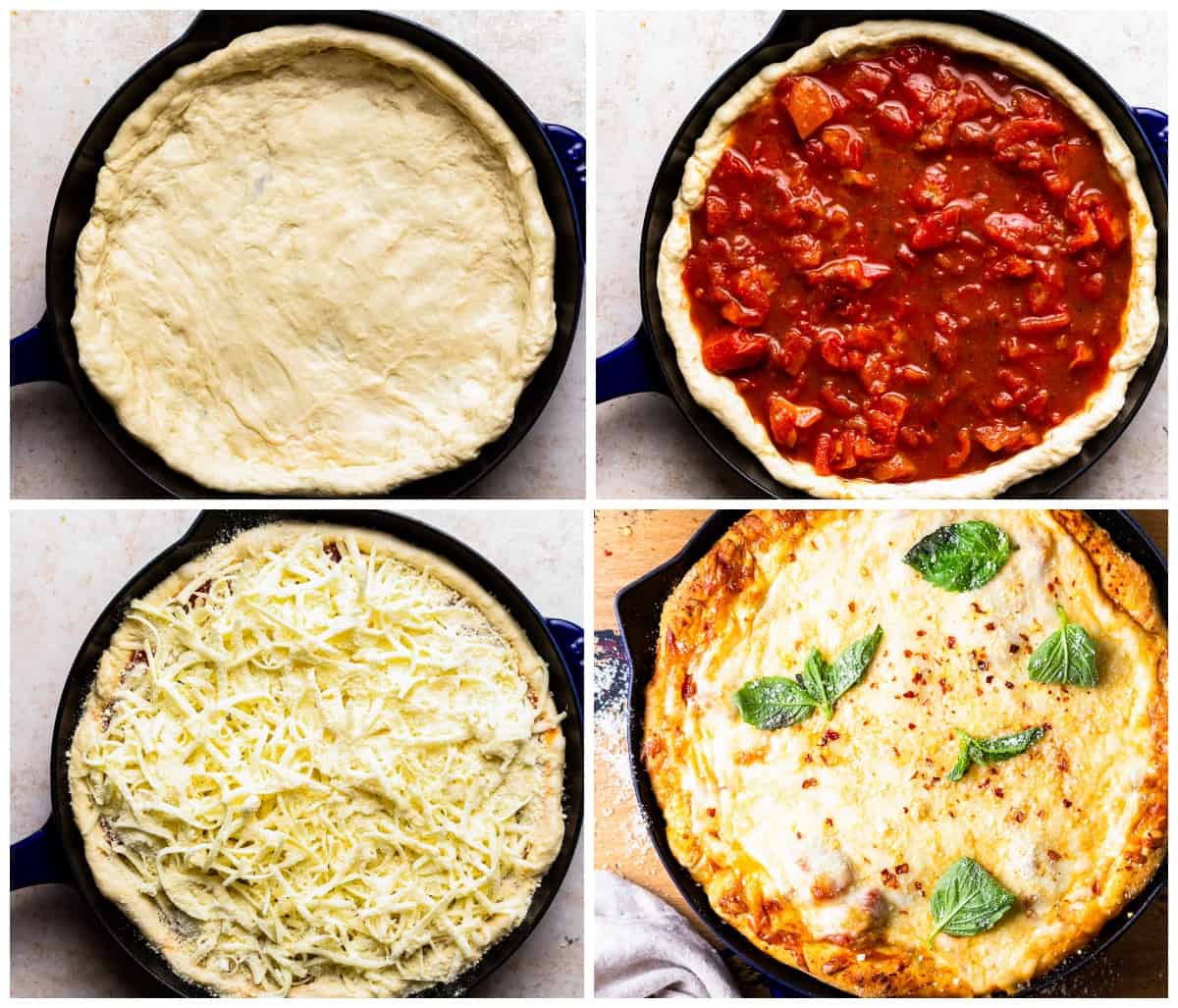 How long do you cook cast iron pizza?
You'll need to bake this pizza for about 30-40 minutes at 375F. You want the filling to be warmed through and bubbly, and the crust should be nice and crispy.
What's the best pan to make skillet pizza?
A 12-inch cast iron skillet is really ideal for this recipe. The heavy bottom and tall sides make a good base for the pizza while it bakes, plus the heat distributes evenly so that every inch of the crust cooks and crisps up. And of course, a well-seasoned skillet keeps the crust from sticking, so it's easy to remove when you're ready to serve! However, you can use another non-stick skillet, just make sure the sides are tall enough. If you don't have the right kind of skillet, you can use a 13 x 9 casserole dish instead. You'll end up with a rectangular pizza instead of a round one, but it will taste just as good!
What kind of sauce do you use for skillet pizza?
Instead of using a smooth pizza sauce for this recipe, we're using diced tomatoes! The chunky tomatoes create the perfect texture for a deep dish pizza–something to bite into, instead of a bowl of sauce.
How do you cut a cast iron skillet pizza?
I like to cut it into regular pizza slices, rather than squares, but either way works. If you're using a rectangular casserole dish, then of course squares will work best. A regular pizza cutter might not cut deep enough, so I recommend using a chef's knife to slice.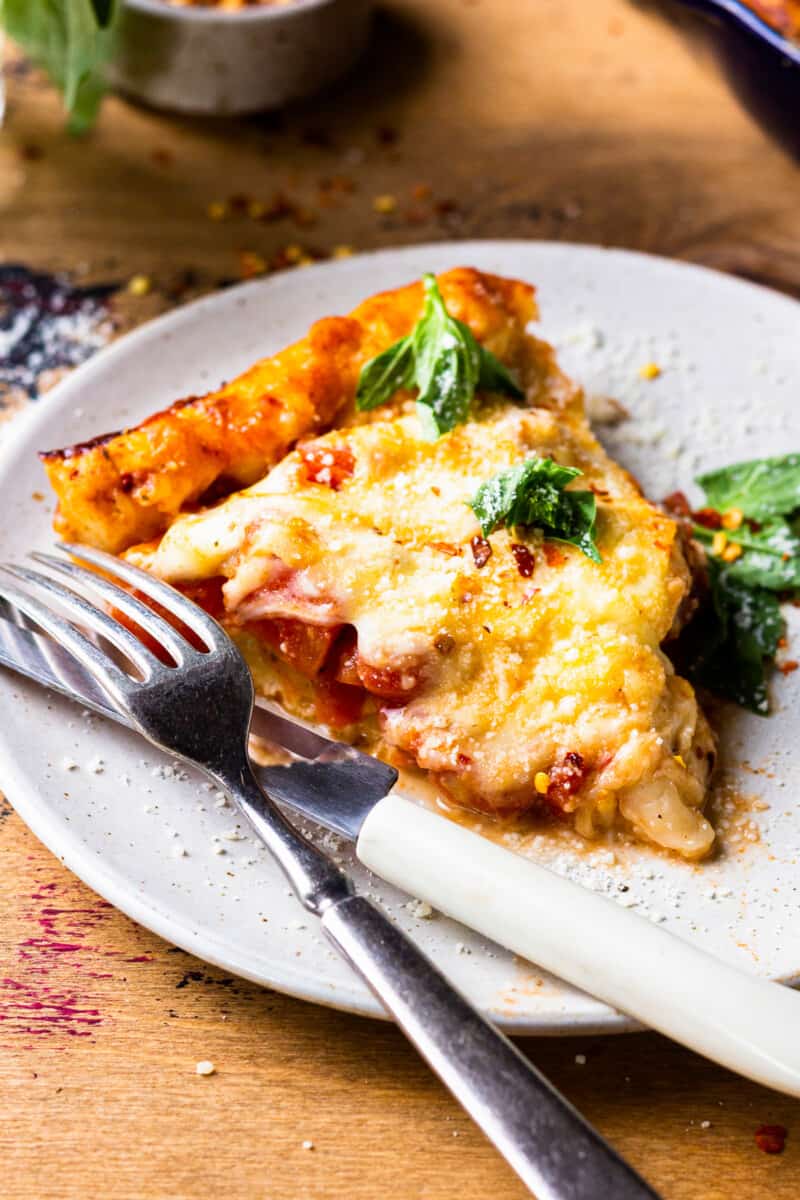 How to Store and Reheat Skillet Pizza
Store leftover skillet pizza in an airtight container in the refrigerator for 3 days. Reheat slices of pizza in the oven at 350F for about 15-20 minutes, or until warmed through. Microwaving is fine, but it will leave the crust a little soft and soggy. The oven will crisp it back up.
How to Freeze Pan Pizza
Freeze cast iron pizza by wrapping it tightly in layers of plastic wrap and aluminum foil, then place slices in a freezer-safe bag. Let it thaw in the fridge before reheating.
What to Serve with Cast Iron Pizza
When pizza night rolls around, you have to add some garlic knots, pull apart cheesy bread, or classic garlic bread. You can also serve it with a chicken Caesar salad or Greek salad. No matter how you serve it, this cast iron skillet pizza will be the star of the night!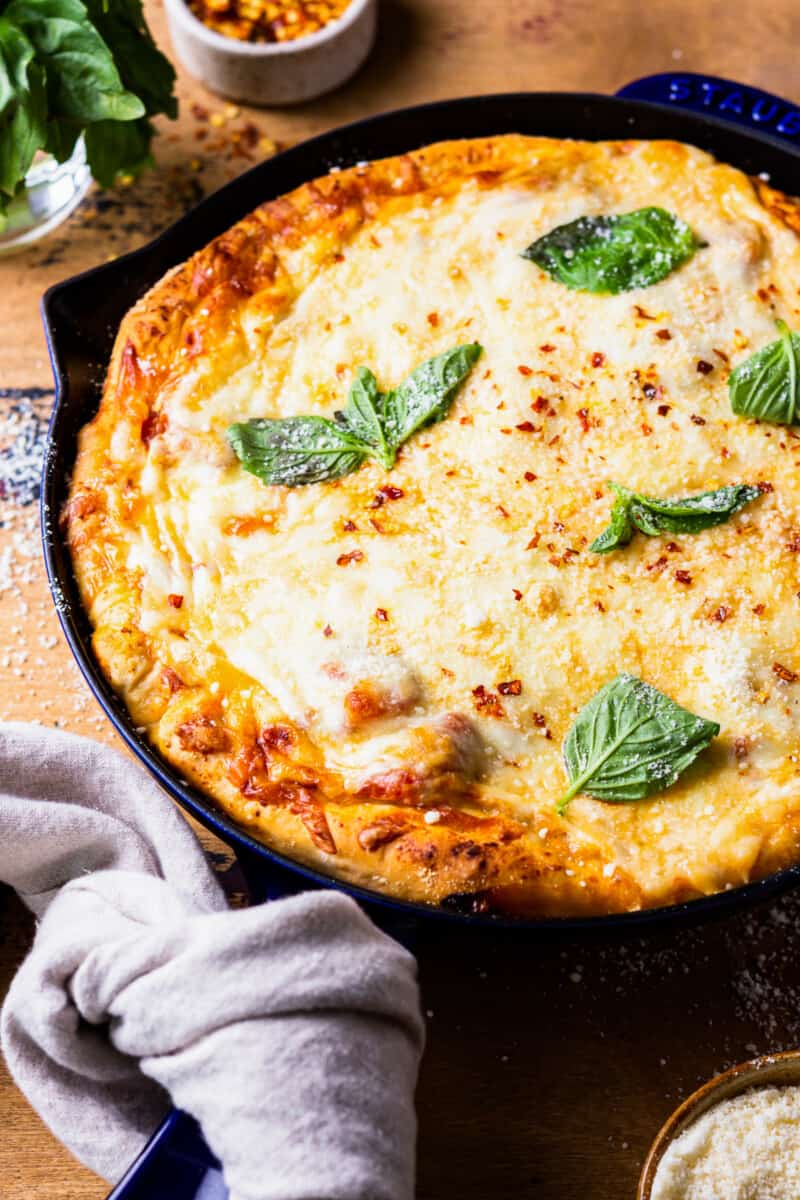 If you make this recipe be sure to upload a photo in the comment section below or leave a rating. Enjoy! You can also jump to recipe.