Deep dish pizza is the perfect thing to serve for you next family pizza night! The crispy crust is filled with lots of cheese and tomatoes, making for a mouthful of flavor in every bite. Make this super easy skillet pizza recipe in a cast iron skillet or a casserole dish for an easy weeknight dinner!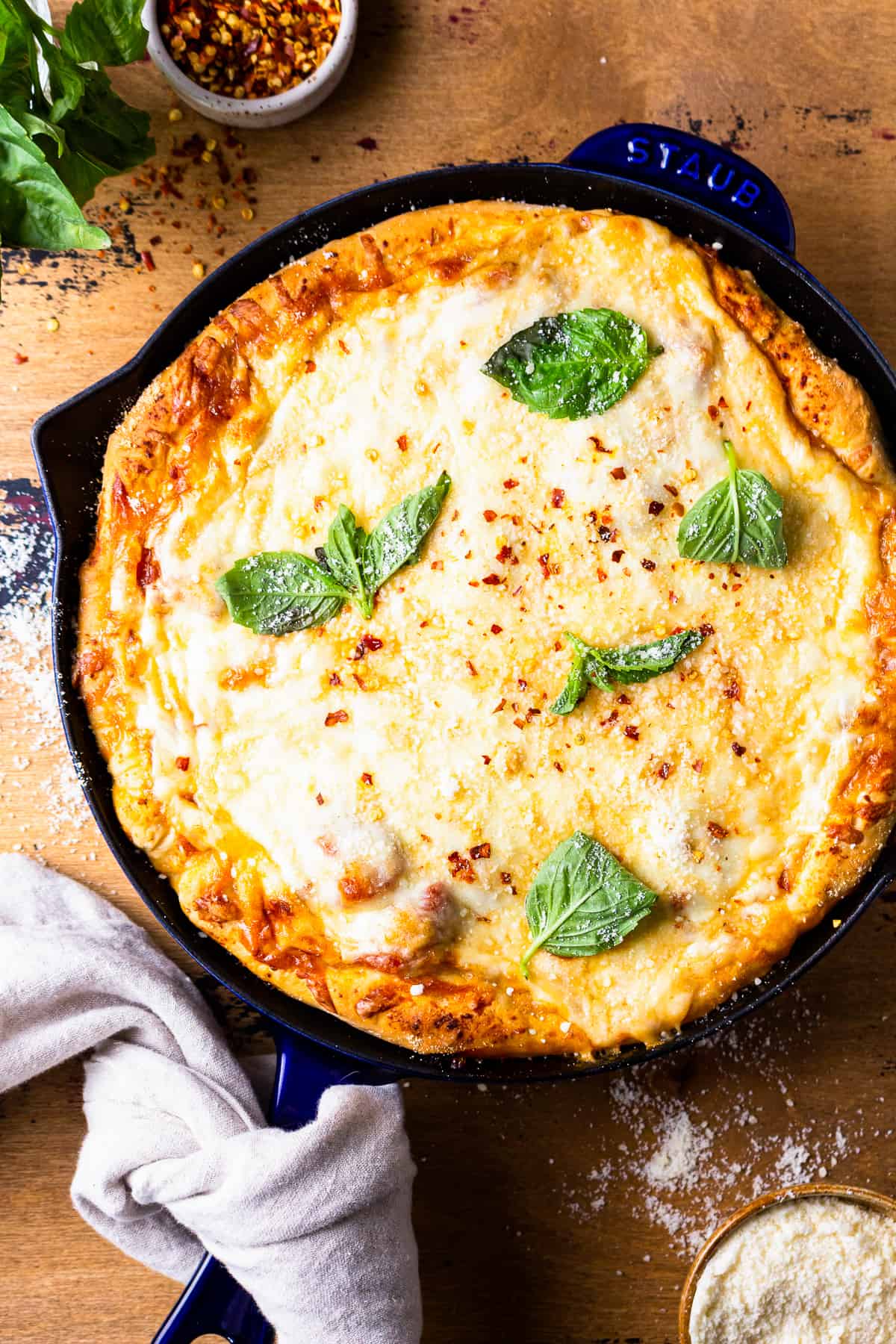 Skillet Pizza
Pizza night is always something we look forward to, but this week I decided to ditch the takeout and serve up this homemade deep dish pizza for dinner instead.
There's something special about a classic deep dish. The crust is amazing, AND it's filled with even more cheese than you get with a regular slice of pizza. It bakes up to perfection in a cast iron skillet.
This skillet pizza is super easy to make, and spoiler alert, it was a huge hit here. Don't forget the garlic knots to make the best dinner!
Why You'll Love this Deep Dish Pizza Recipe:
EASY: You only need a few ingredients to make this deep dish pizza at home. Let the oven do all the hard work of cooking!
FAMILY FAVORITE: The whole family will agree that this skillet pizza is amazing! It's something everyone will love to see on the table at dinner time.
SKILLET RECIPE: I love using my cast iron skillet, and this is the perfect time to take it out. Making pizza in a skillet is so easy, and creates the best texture for the crust.
Every pizza fan will LOVE this super easy recipe. You get more cheese, more sauce, and an amazing crust!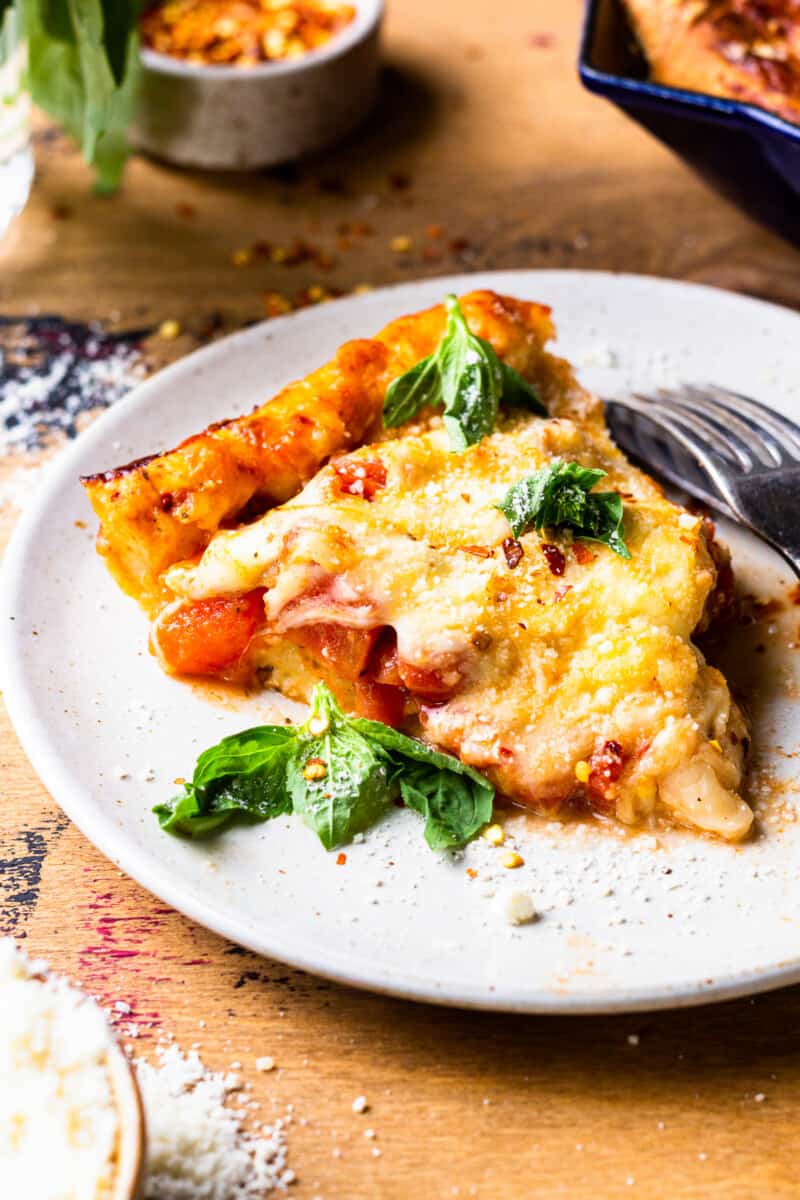 What is Deep Dish Pizza?
Deep dish, often called Chicago-style pizza, is traditionally made in a deep, round pan or skillet and baked to perfection. Unlike the typical pizza dough, the crust here is tall, thick, and crispy. And then you get to the fillings: lots of chunky tomatoes (instead of a smooth sauce) and lots of cheese, plus other "toppings" mixed in if you like. It's like a pool of delicious, hot pizza!
Ingredients
Bread Dough: We're using frozen bread dough for the skillet pizza crust. It makes a nice fluffy yet crispy crust that's ideal for deep dish.
Tomatoes: Instead of pizza sauce, we're using diced tomatoes. I like the kind with basil, garlic, and oregano already mixed in, but you can season the tomatoes yourself if needed.
Cheese: I recommend using shredded Mozzarella for the cheese. But you could also use a blend, or another type of cheese, if you prefer. We're also using grated Parmesan.
Olive Oil: Use a regular/pure olive oil, rather than an EVOO.
Toppings: Cheese and tomatoes are great for a simple meatless pizza that everyone can enjoy. But you can easily add any pizza toppings you like! Green peppers, sausage, bacon, onion, black olives, and more can just be mixed into the filling before baking.
How To Make Deep Dish Pizza in a Skillet
You can jump to the recipe card for full ingredients & instructions!
Prep: Brush the skillet with olive oil and roll the frozen bread dough in it to cover it. Let the dough thaw at room temperature. Pre heat the oven.
Make: Place the thawed dough in the skillet and stretch and press it into the skillet. Pour the tomatoes over the dough and top with the cheese.
Bake: Bake the deep dish pizza in the pre-heated oven until the top is golden brown (about 30-40 minutes).
Serve: Sprinkle with fresh basil if you like. Let it cool for a few minutes before slicing and serving!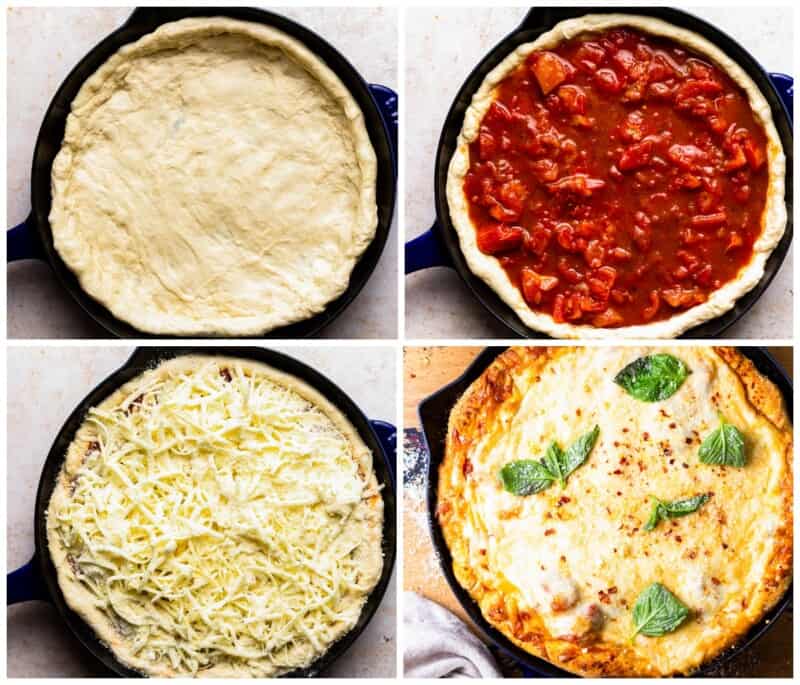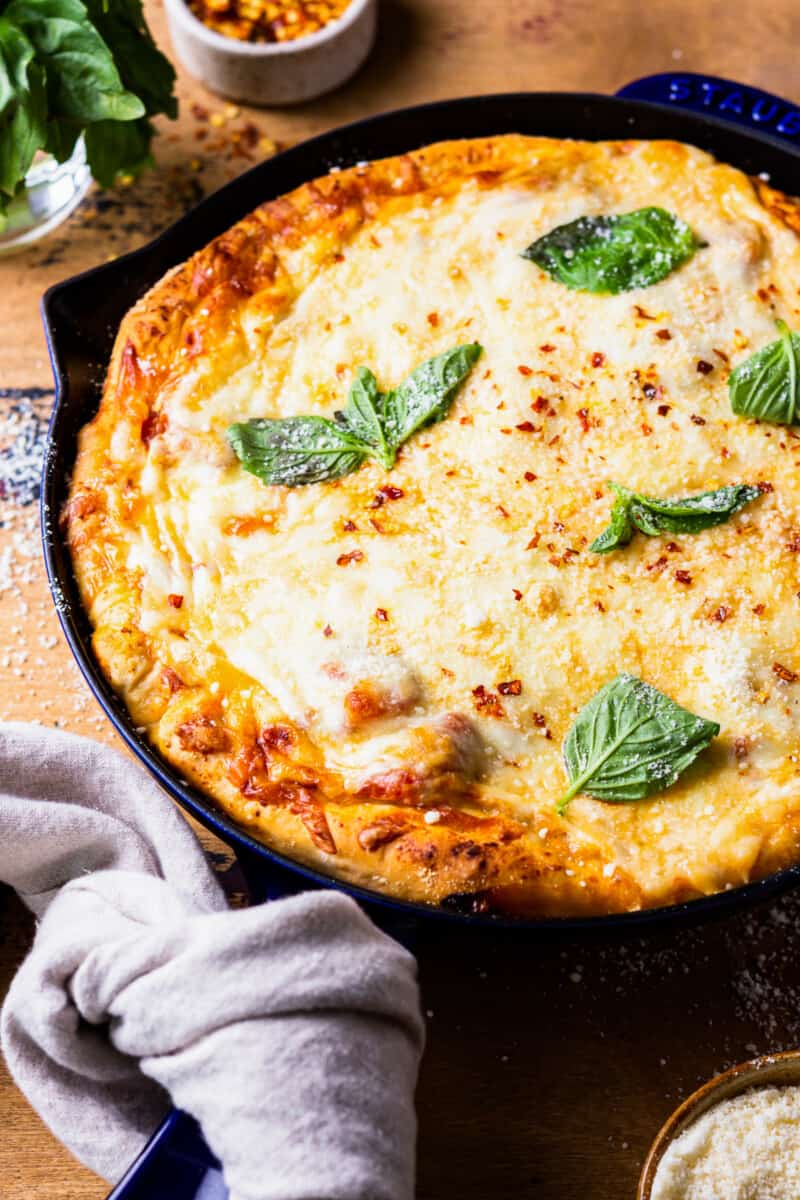 Cast Iron Skillet Pizza
Making homemade deep dish pizza in a skillet makes this recipe so easy! It's like assembling and baking a casserole. Just form the crust, add the ingredients, and pop that skillet pizza right into the oven!
This is a great time to pull out that cast iron skillet. The heavy bottom and tall sides make a good base for the pizza while it bakes, plus the heat distributes evenly so that every inch of the crust cooks and crisps up. And of course, a well-seasoned skillet keeps the crust from sticking, so it's easy to remove when you're ready to serve!
How long do you cook deep dish pizza?
You'll need to bake this pizza for about 30-40 minutes at 375F. You want the filling to be warmed through and bubbly, and the crust should be nice and crispy.
What's the best pan to make deep dish pizza?
As I talked about above, a 12-inch cast iron skillet is really ideal for this recipe. However, you can use another non-stick skillet, just make sure the sides are tall enough. If you don't have the right kind of skillet, you can also use a 13 x 9 casserole dish instead. You'll end up with a rectangular pizza instead of a round one, but it will taste just as good!
What kind of sauce do you use for deep dish pizza?
Instead of using a smooth pizza sauce for this recipe, we're using diced tomatoes! The chunky tomatoes create the perfect texture for a deep dish pizza–something to bite into, instead of a bowl of sauce.
How do you cut a deep dish pizza?
I like to cut it into regular pizza slices, rather than squares, but either way works. If you're using a rectangular casserole dish, then of course squares will work best. A regular pizza cutter might not cut deep enough, so I recommend using a chef's knife to slice.
How do you eat deep dish pizza?
You're probably used to eating pizza with your hands, but with a deep dish pizza, it's best to use a fork! Don't worry, it's the "right" way to eat it, to make sure you get the best of every bite. It would be almost impossible to pick up a slice by hand and bite into it (without the filling fall out everywhere).
Serving Suggestions
A slice or two of this cheesy homemade deep dish pizza is plenty filling. But you can definitely serve this along with a salad, some breadsticks, or even some pasta to give people options.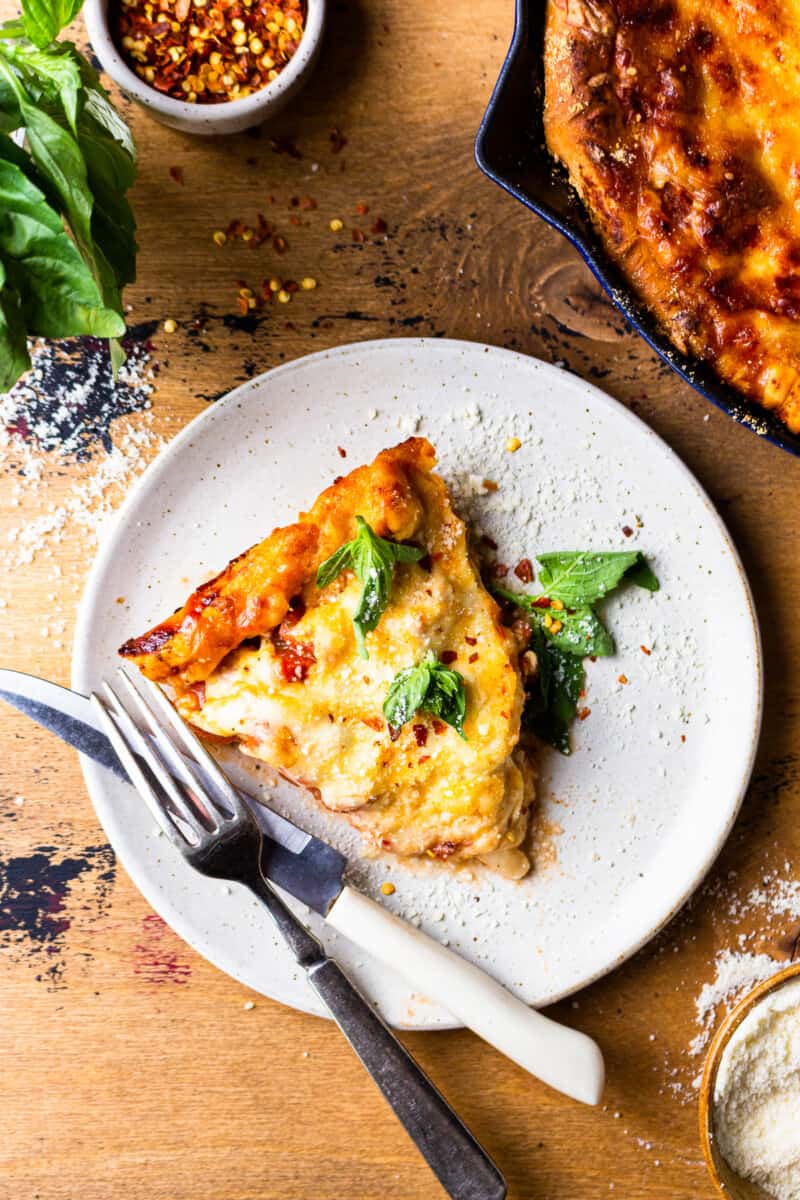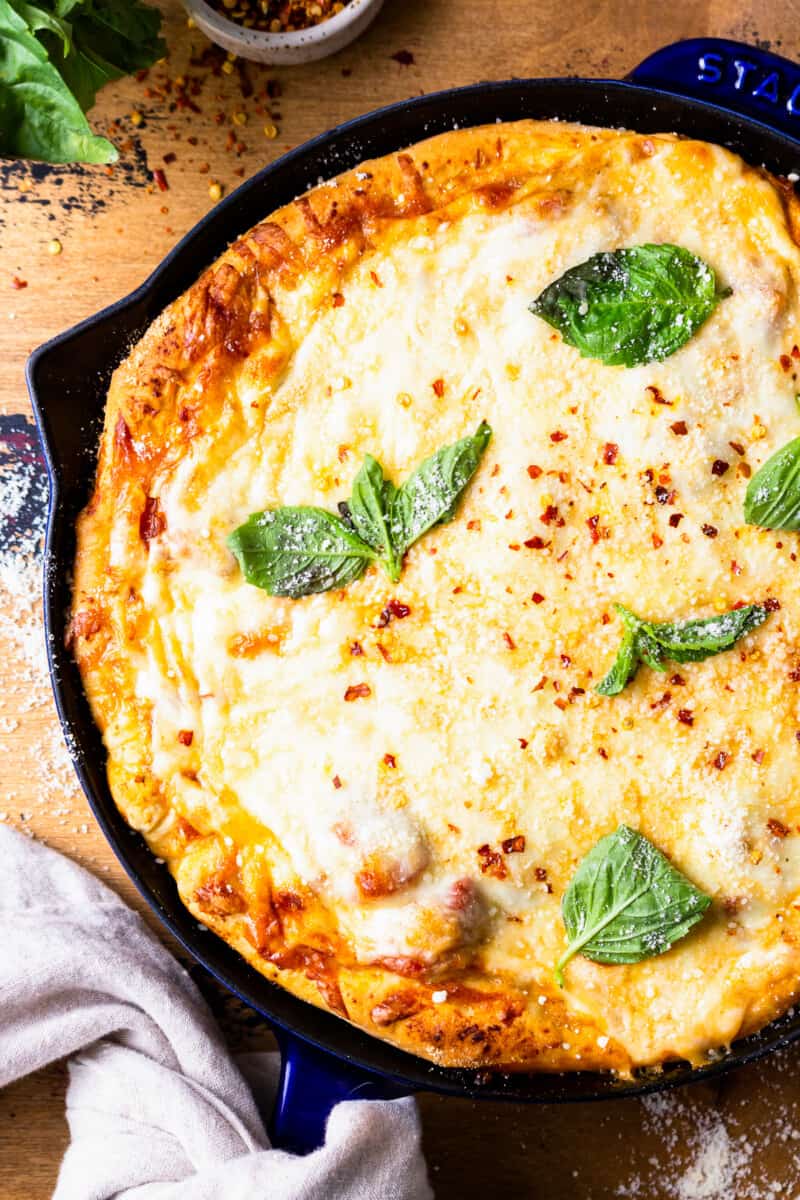 Tips!
The dough can be thawed at room temperature, 4-5 hours (depending on the temperature of the room) or overnight in the fridge.
A 13×9-inch casserole dish can be substituted for the cast iron skillet.
Ensure that the dough is fully thawed before using it.
If your skillet pizza is browning too quickly when it is baking, tent it loosely with some foil.
Let the pizza sit for 5 minutes before you slice and serve it (it will be very hot inside!).
Can you make skillet pizza ahead of time?
As with all pizzas, deep dish is best served straight out of the oven. It's hot, it's crispy, and it will be just perfect!
But if you have any leftovers, you can keep them in an airtight container in the refrigerator for 3 days. Reheat slices of pizza in the oven for the best results! Microwaving is fine, but it will leave the crust a little soft and soggy. The oven will crisp it back up.
What kind of crust do you use for deep dish pizza?
I prefer to use a pre-made dough for this pizza. Specifically, I use a frozen bread dough, rather than a typical pizza crust (you have to get that tall crust for deep dish!).
By using frozen bread dough (I use Rhodes), you take the hassle out of making a homemade pizza. The bread dough works so well to make that wonderfully doughy crust and because it is cooked in a skillet, the bottom gets wonderfully crispy.
Overall, the pre-made dough just makes this recipe SO much easier.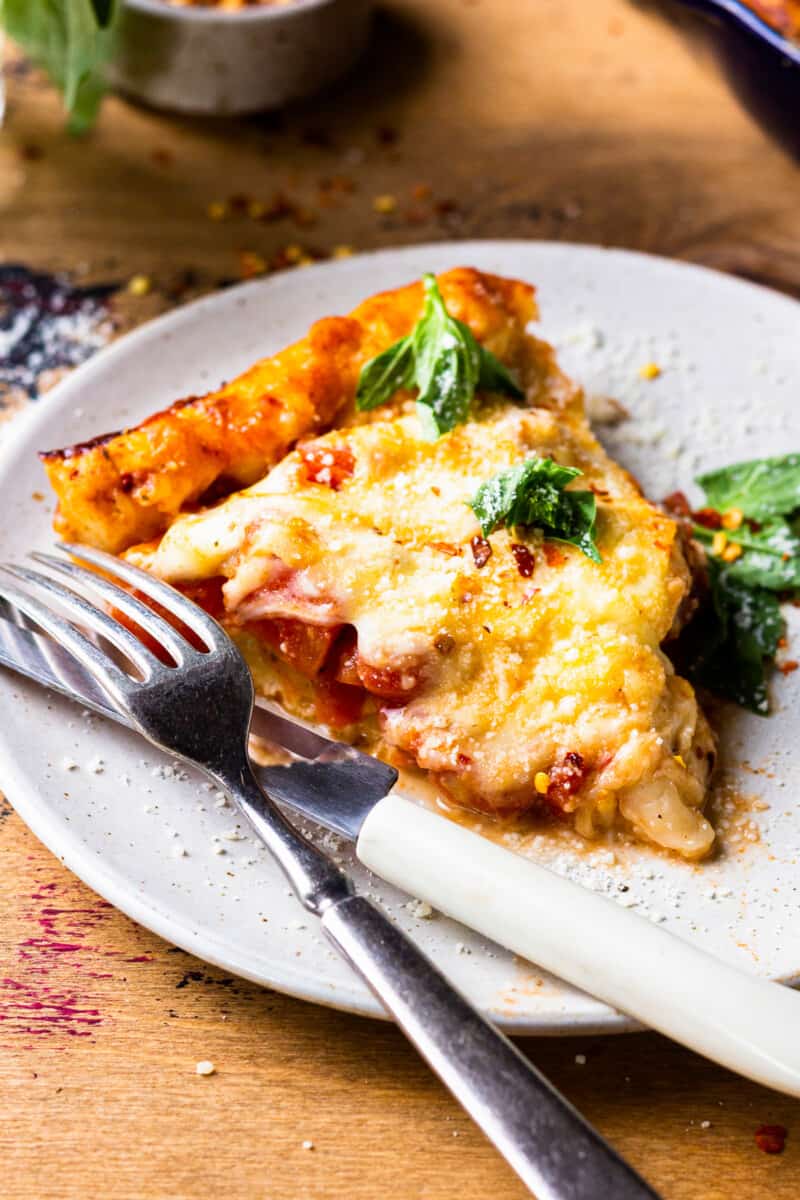 The whole family is going to LOVE this deep dish pizza recipe! It's filled with cheese and tomatoes, the crust is the perfect texture, and it's just absolutely delicious. Pizza night will be everyone's favorite night of the week when you serve this skillet pizza!
If you make this recipe be sure to upload a photo in the comment section below or leave a rating. Enjoy! You can also jump to recipe.