Cauliflower Pizza Crust is an easy way to turn any pizza into a healthy pizza! This low carb pizza crust recipe is delicious and EASY to make. Learn how to make cauliflower pizza crust and just add your favorite toppings!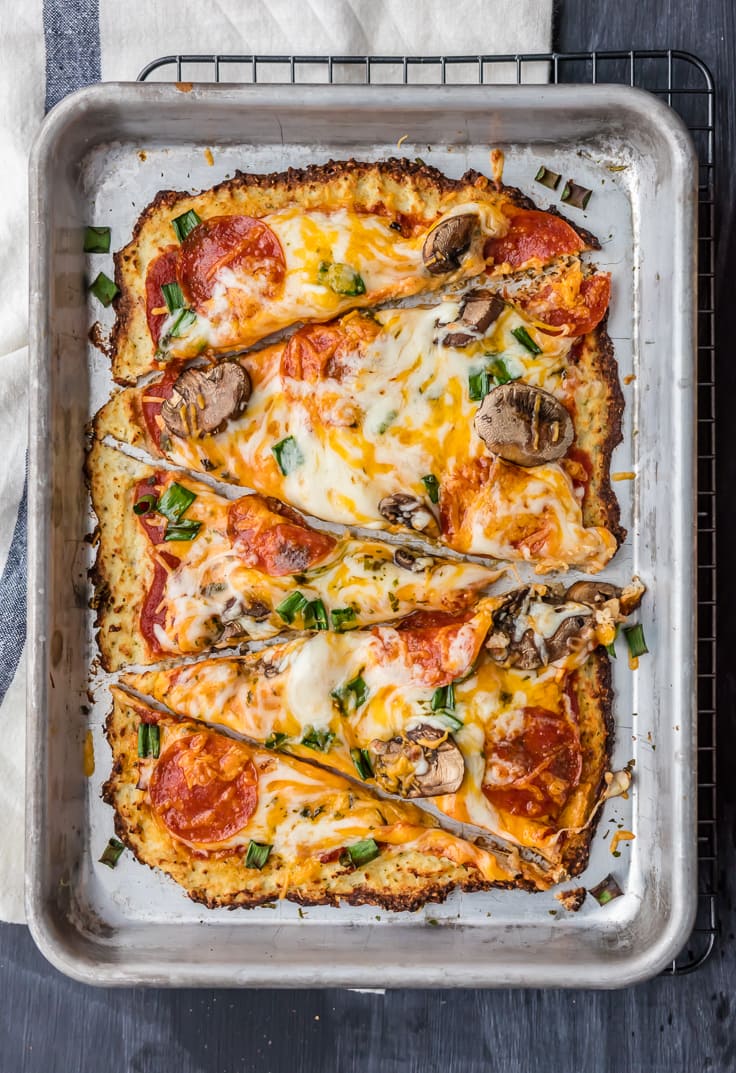 Cauliflower Pizza
Cauliflower? As a pizza? I know, I know. I used to doubt it too if I'm being honest. But my eyes have been opened and my ways have been changed.
Now I'm just wondering why it took me so long to try this cauliflower pizza crust recipe?
I've seen blog posts and recipes about the greatness of this low carb pizza crust for so long, but never actually tried it. It's popular in the keto world, and of course popular with anyone who can't eat gluten. But what about someone who is just trying to cut out a few extra carbs and calories without giving up PIZZA? That's what I'm here for.
I'm so glad I finally gave this recipe a try because it's easy and delicious! Yes, I loaded it with cheese and toppings (I made a mushroom pepperoni pizza, but you can use any toppings you like). That might make it "less healthy", but I'm not willing to give up everything.
Keep reading for the full recipe, plus tips on how to make cauliflower pizza crust!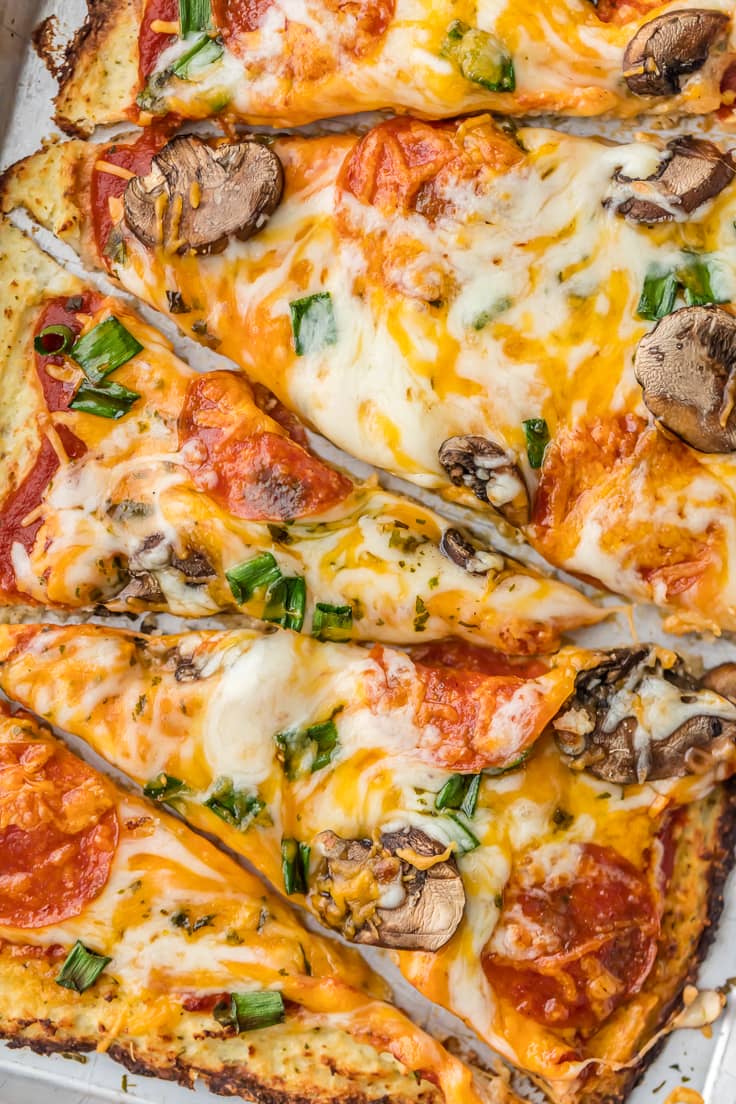 Low Carb Cauliflower Pizza Crust
Sure, this crust may be healthy, but don't worry! It still has a crispy and crunchy texture, and tons of flavor, all while being super light on carbs.
Whether you're gluten-free, following a keto diet, or just trying to make slightly healthier decisions here and there, this cauliflower pizza recipe is a great option. No one should have to give up pizza just because of their dietary restrictions!
Is this healthier than regular pizza crust?
Absolutely! It's gluten-free, low on carbs, low on calories, and it's a vegetable! So while you're chowing down on cheesy pizza, you've got a whole extra serving of veggies in there without even thinking about it.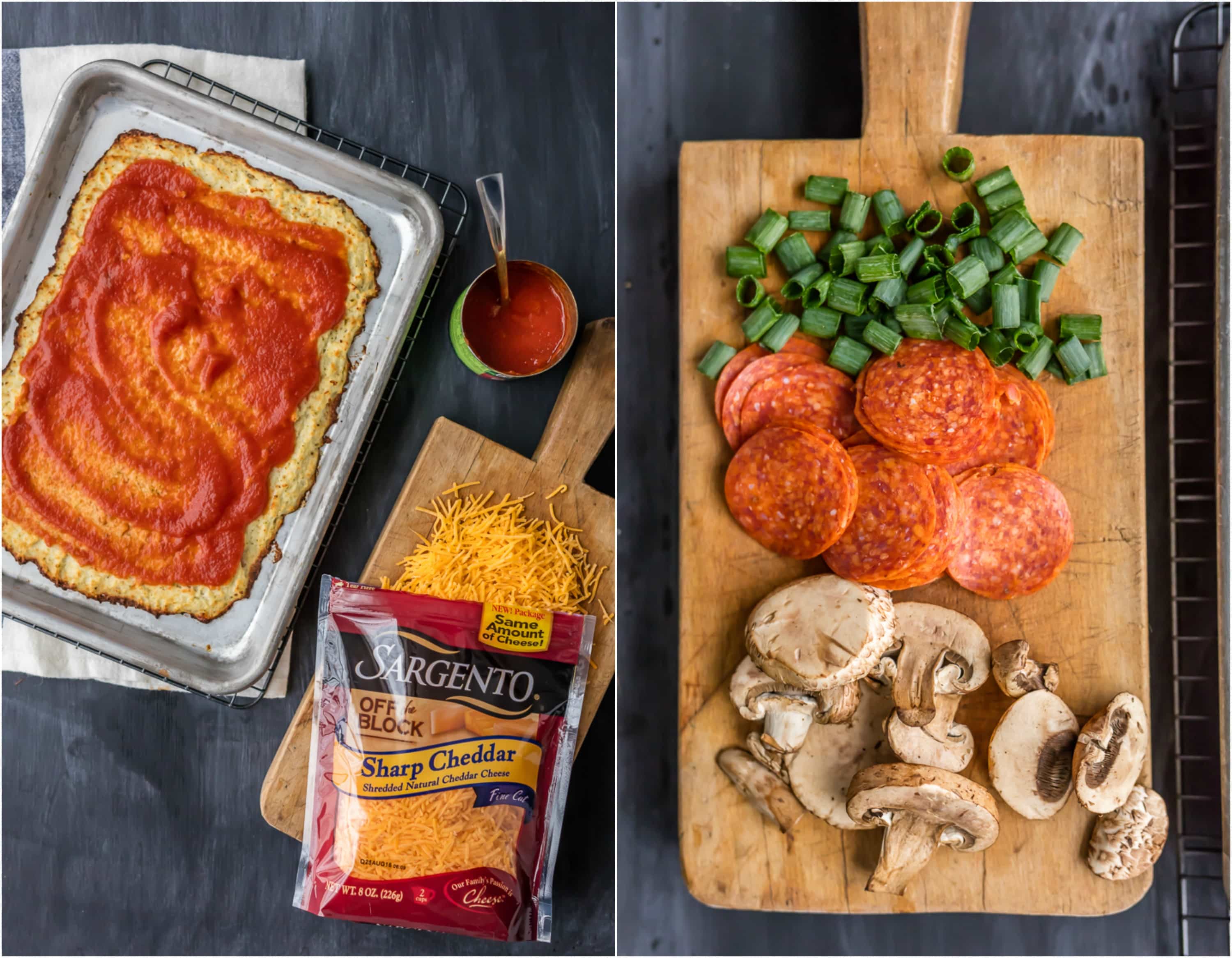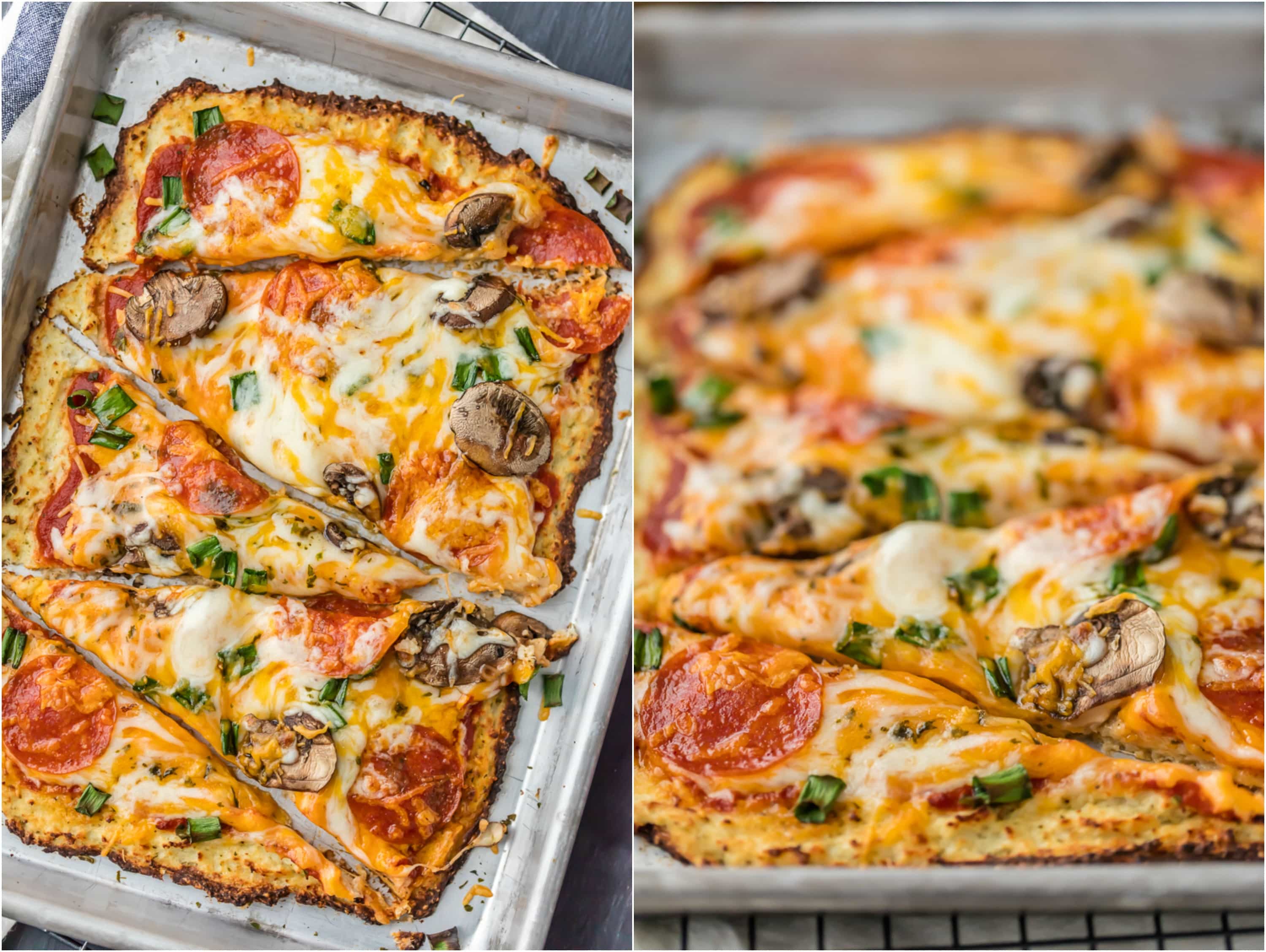 How to Make Cauliflower Pizza Crust
Turning cauliflower into pizza crust might sound difficult (trust me, making regular pizza crust from scratch sounds hard enough if you ask me), but it's actually pretty simple.
Ingredients List:
Cauliflower (of course)
Egg
Parmesan and mozzarella cheese
Garlic salt
Red pepper flakes
Black pepper
Basil
These ingredients combine to create the most flavorful crust. Yum!
Tips to Make this Recipe:
How much cauliflower do I need? – You can start with a full head of cauliflower, or you can buy some that's already been cut into florets. But it will need to measure about 2 1/2 cups and be cut small enough to put in a food processor. This will do the hard work of chopping it into tiny, almost grated, pieces.
Fresh or frozen cauliflower? – The recipe assumes fresh cauliflower, but if you use frozen, just make sure it's thawed and cooked until tender so it can be easily chopped up in the food processor.
Forming the crust – You can form the cauliflower mixture into whatever crust shape you want. It can be round, it can be long and flat, and if it turns out a little lop-sided…that's okay! That's the beauty of homemade pizza. Just pat down the top so you have a flat surface, and try to make it the same thickness throughout (so it cooks evenly).
Bake time – Bake 15-20 minutes at 425°F. It should be a light golden brown and slightly firm when it's done.
Making the pizza – The crust is the bulk of the recipe, but the rest is pretty straightforward. Throw your toppings on and bake!
Check below for the full printable recipe card!
Why is my cauliflower crust soggy?
To prevent a soggy crust (no one wants that!), you'll need to get rid of any extra moisture from the cauliflower.
The best time to do this is after it's been cooked and chopped up in the food processor, before mixing it up with the rest of the ingredients.
Try placing it on paper towels to squeeze out any moisture. Or wrap up the cauliflower with some cheesecloth or thin linen cloth and squeeze out as much moisture as you can. You could also place the pieces on a baking tray in the oven at a low temperature to dry it out before moving onto the next step.
Pizza Toppings
Once you've made the crust, you can use it to make any kind of pizza you want! Choose any toppings you like, throw them on top, bake, and you've got a pizza. Simple!
You can keep it healthy with lots of veggies, go classic with lots of cheese and meats, or make a nice mix of both like we did.
We chose to load up our cauliflower pizza crust with pepperoni, mushrooms, leeks, plenty of cheese, all with a classic tomato sauce base.
Some other toppings we love (though not all at the same time):
Italian sausage
Bell peppers
Sun-dried tomatoes
Cilantro
Olives
Broccoli
Goat cheese
Red onions
Possibilities are endless!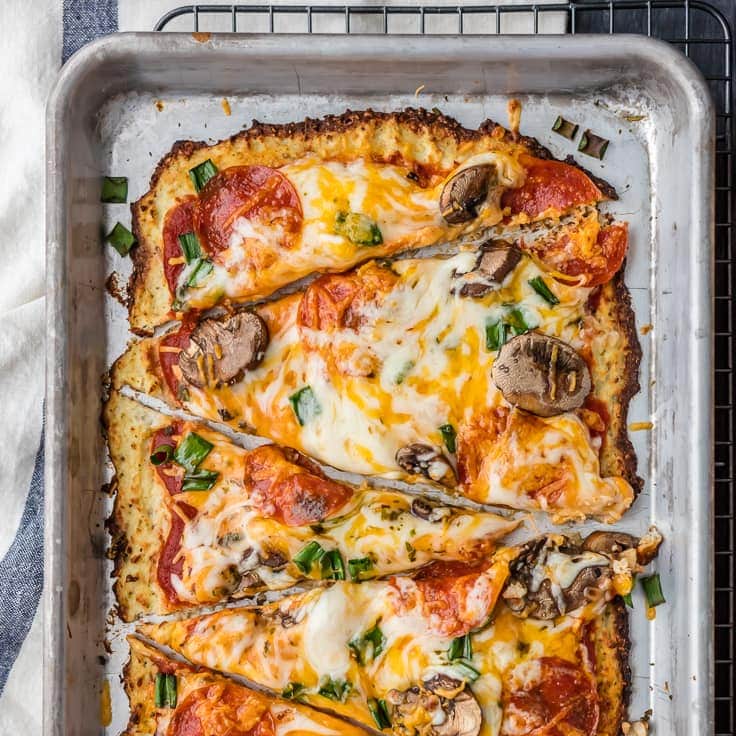 Cheesy pizza AND it's low-carb? Count me in on this easy crust recipe. Let me know what toppings you choose!
See the recipe card for details on how to make cauliflower pizza crust. Enjoy!
Need more pizza ideas? Try these fun recipes: