These soft-baked White Chocolate Cranberry Cookies have the perfect chewy texture and sweet flavor. All you need is a cookie mix, white chocolate chips, dried cranberries, and a couple other basic ingredients to bake these deliciously easy cookies!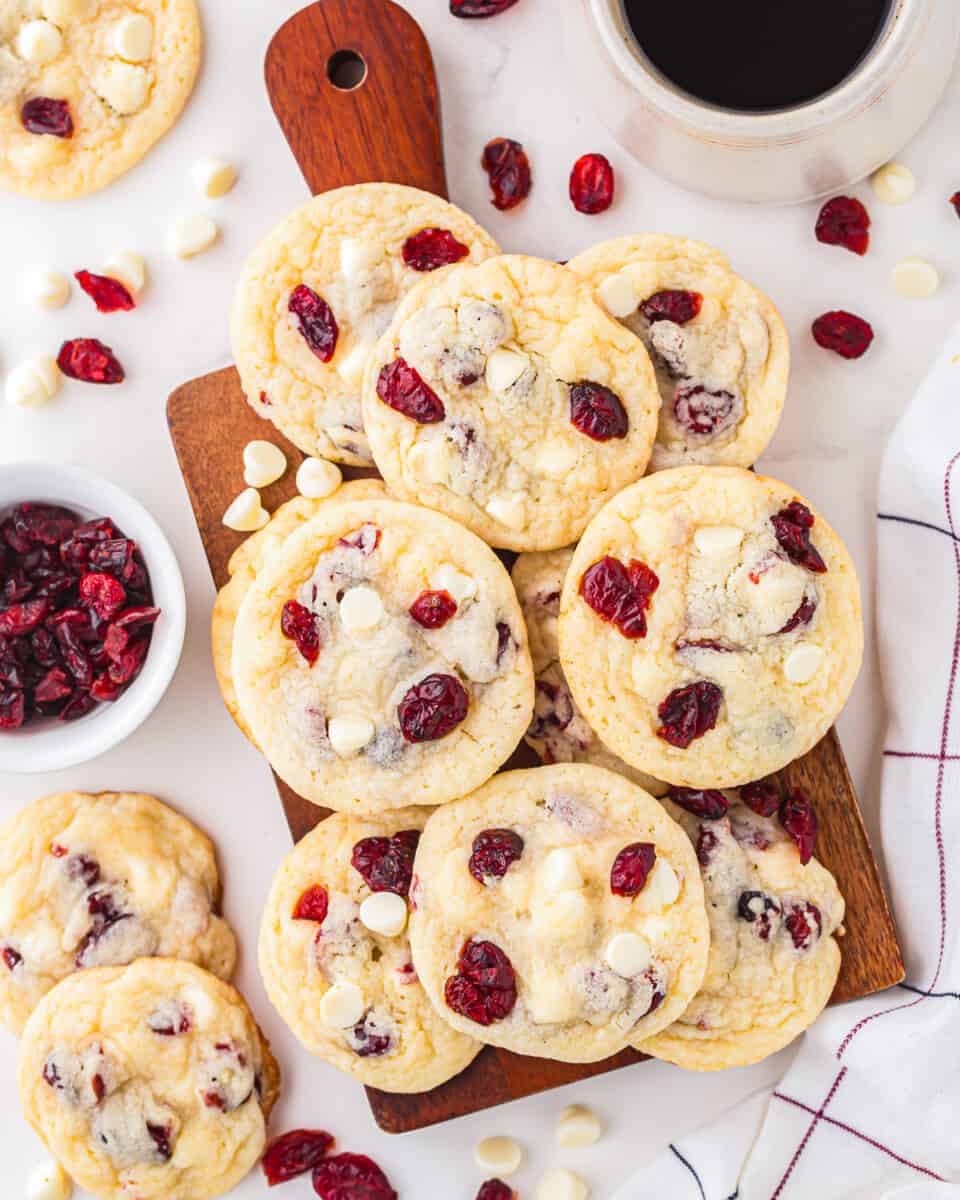 Why We Love This Cranberry White Chocolate Cookies Recipe
Delicious sugar cookies are dotted with white chocolate chips and dried cranberries for a sweet-and-tart cookie that's sure to impress!
Easy. Using a bag of cookie mix makes this recipe super simple! Just leave out the cinnamon sugar packet, or use regular sugar cookie mix if you prefer.
Moist. Sour cream makes these cookies super moist and tender, and adds just a touch of tangy flavor.
Flavorful. White chocolate chips add sweetness, while dried cranberries add a pop of tartness.
Variations on White Chocolate Chip Cranberry Cookies
These cookies are easy to modify with a different flavor of cookie mix, like sugar, oatmeal, or white chocolate macadamia! You could also add different dried fruits, like raisins, apricots, or cherries.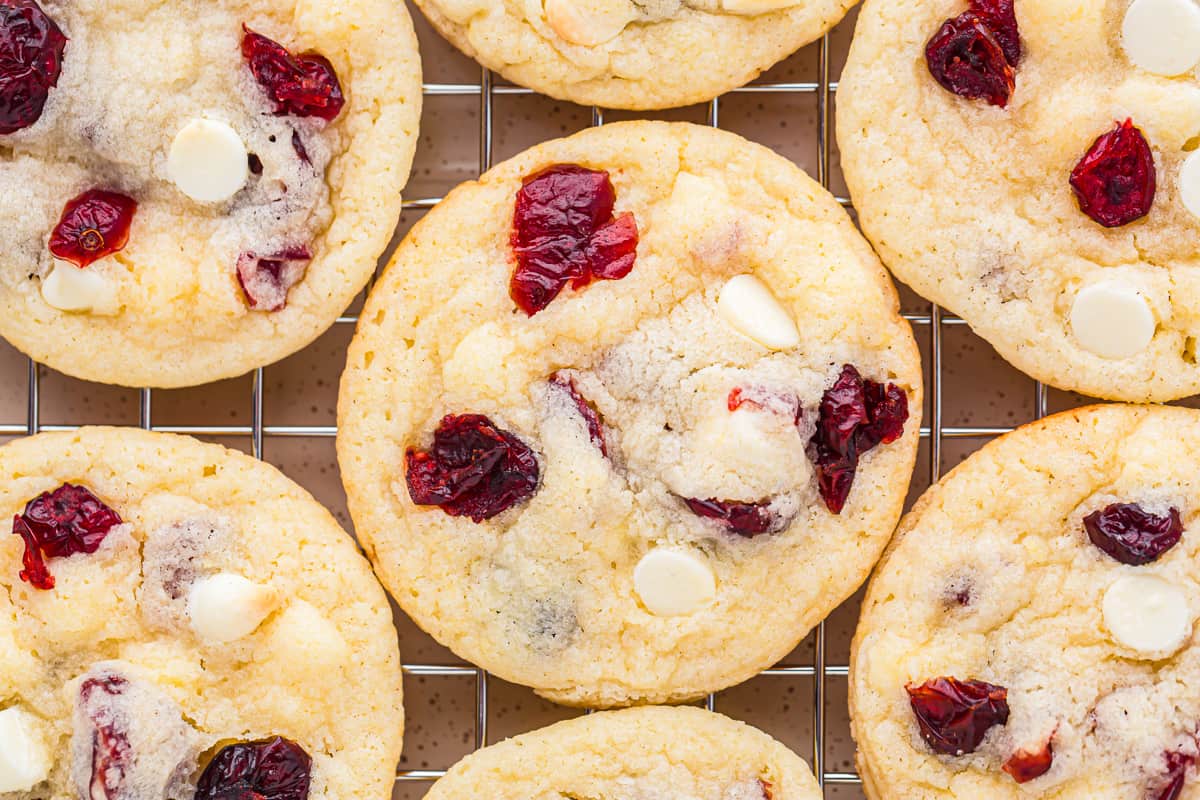 How to Store
Store white chocolate cranberry cookies in an airtight container at room temperature for up to 3 days, or in the refrigerator for up to 5 days. Enjoy at room temperature.
How to Freeze
Freeze soft-baked white chocolate cranberry cookies in an airtight container or Ziplock bag for up to 1 month. Let thaw overnight in the refrigerator before enjoying.
Serving Suggestions
Serve these sweet-and-tart cookies with some vanilla frosting on top, or turn them into cookie sandwiches. Enjoy them with a warm pumpkin spice latte or an iced chai tea latte.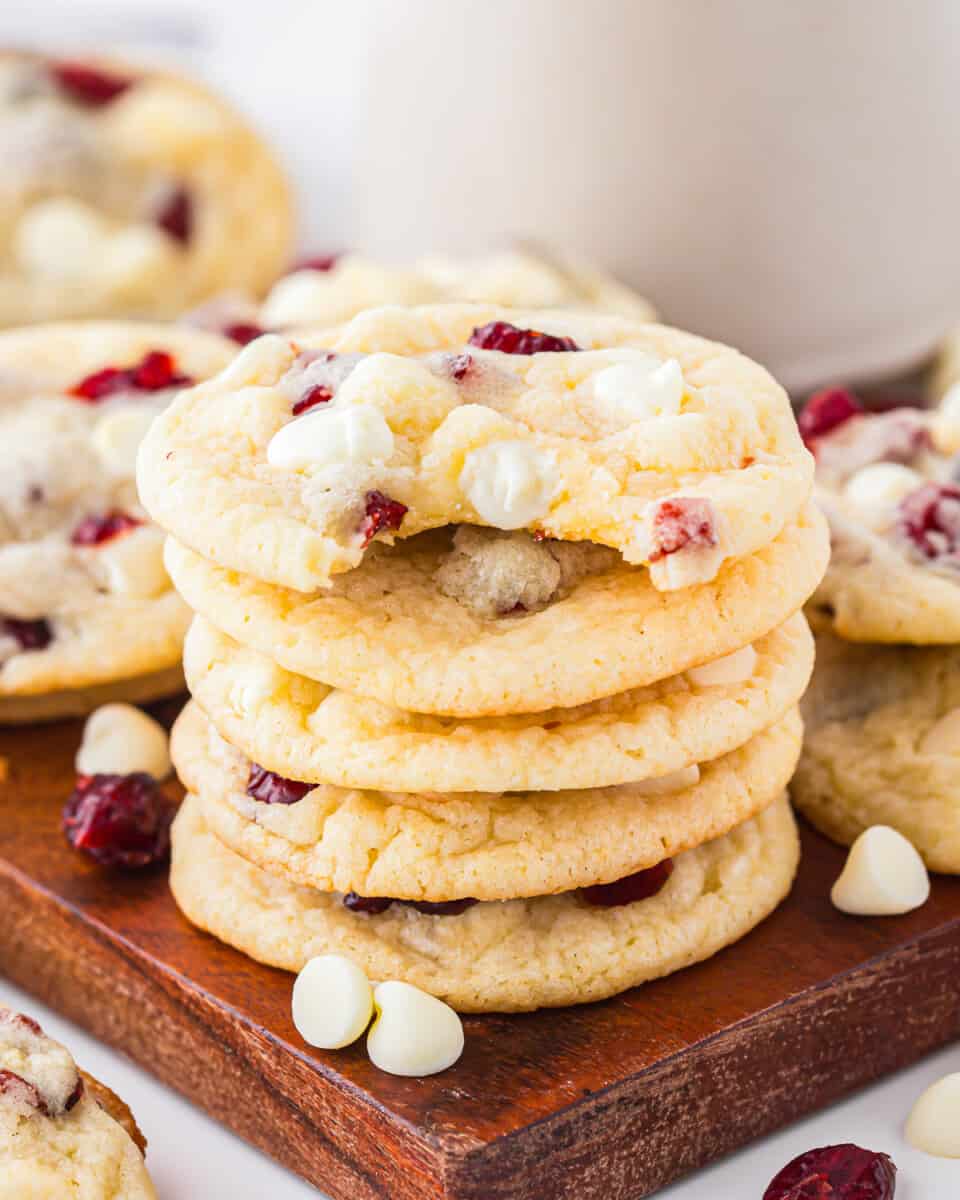 More Cranberry-Filled Desserts We Love
How to Make White Chocolate Cranberry Cookies Step by Step
Prep: Preheat your oven to 375°F and line 2 large baking sheets with parchment paper or grease lightly with nonstick spray.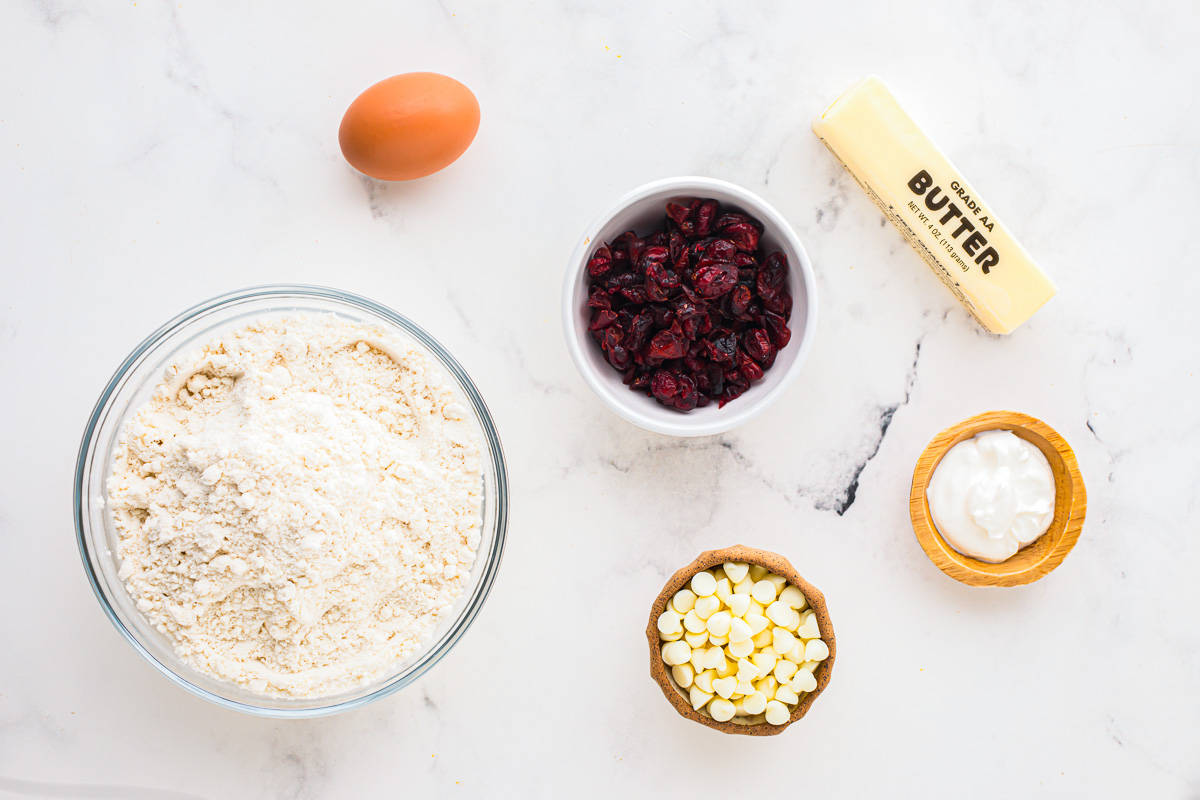 Make the Dough: In a large mixing bowl, use a hand mixer to beat 17.9 ounces (1 bag) of Snickerdoodle cookie mix, 1 large egg, ½ cup of softened unsalted butter, and 3 tablespoons of sour cream together for 2-3 minutes, or until thoroughly combined.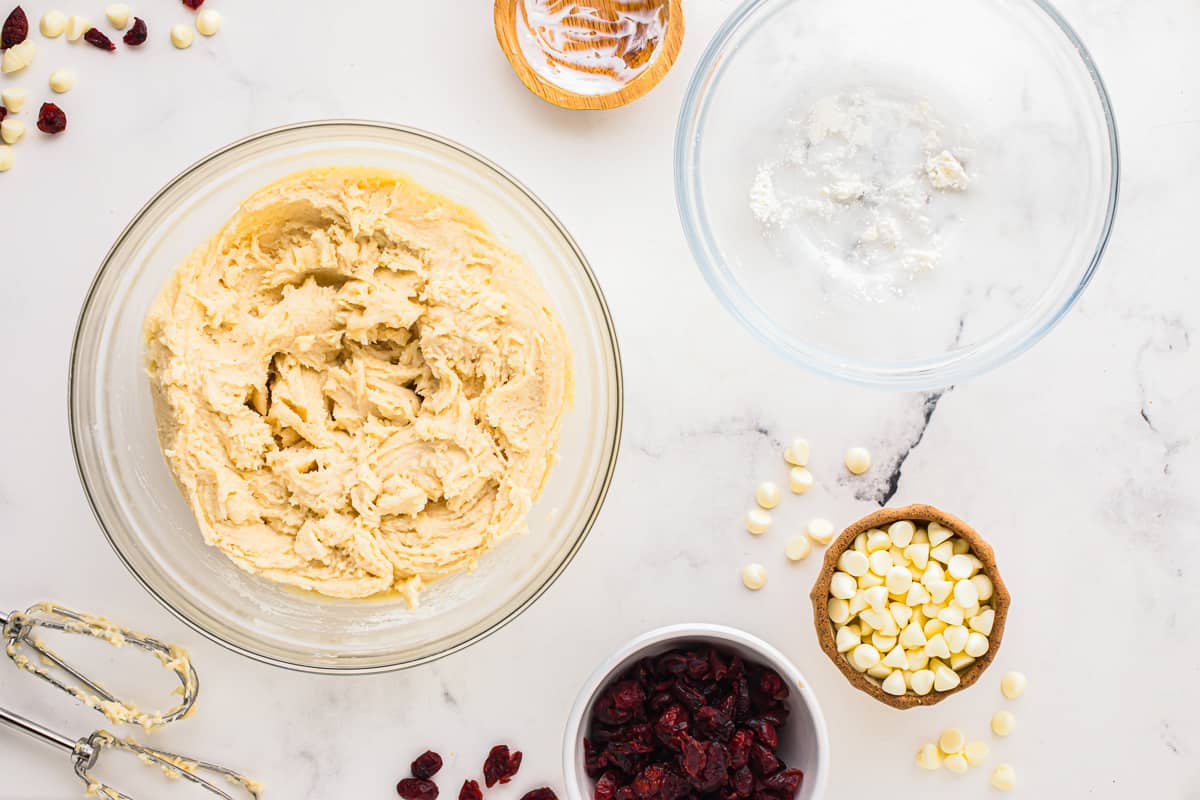 Add the Mix-Ins: Fold in ¾ cup of white chocolate chips and ¾ cup of dried cranberries until evenly distributed.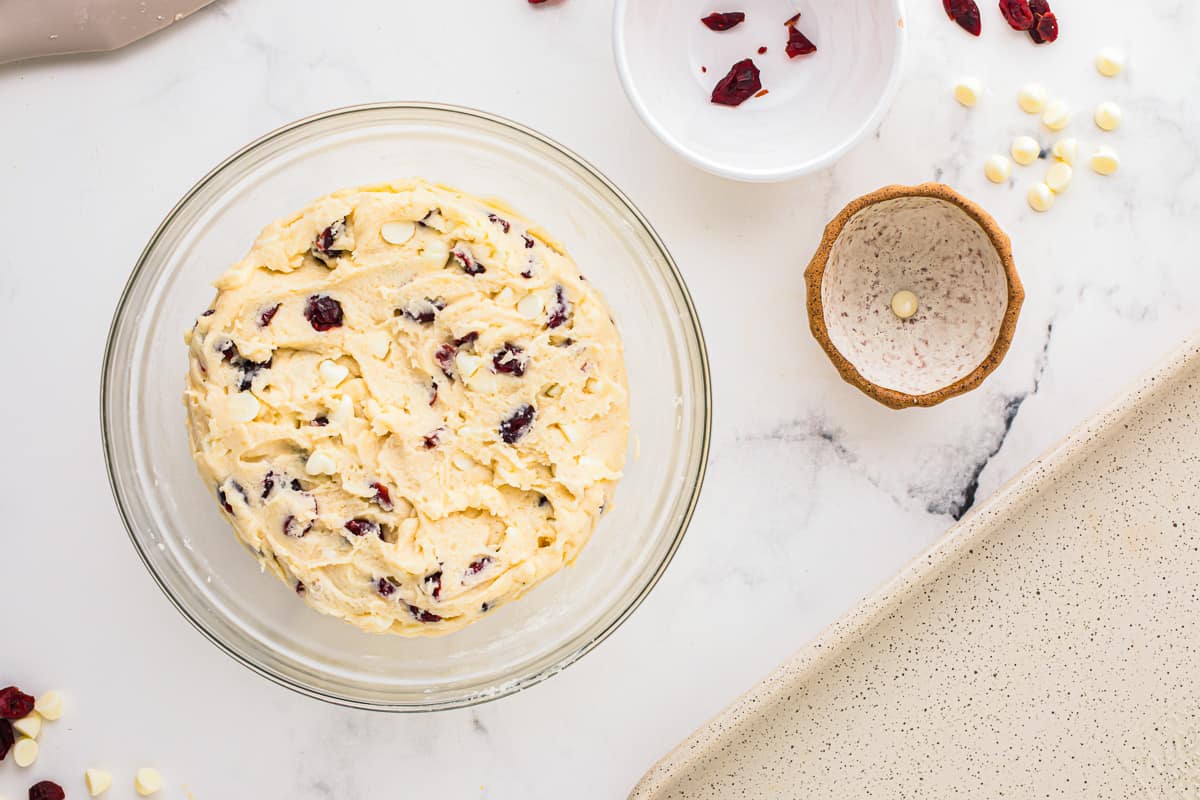 Scoop the Dough: Using a 1½-inch cookie scoop, scoop out the dough and form it into even balls. Place them on the prepared baking sheets with 1 inch between each cookie.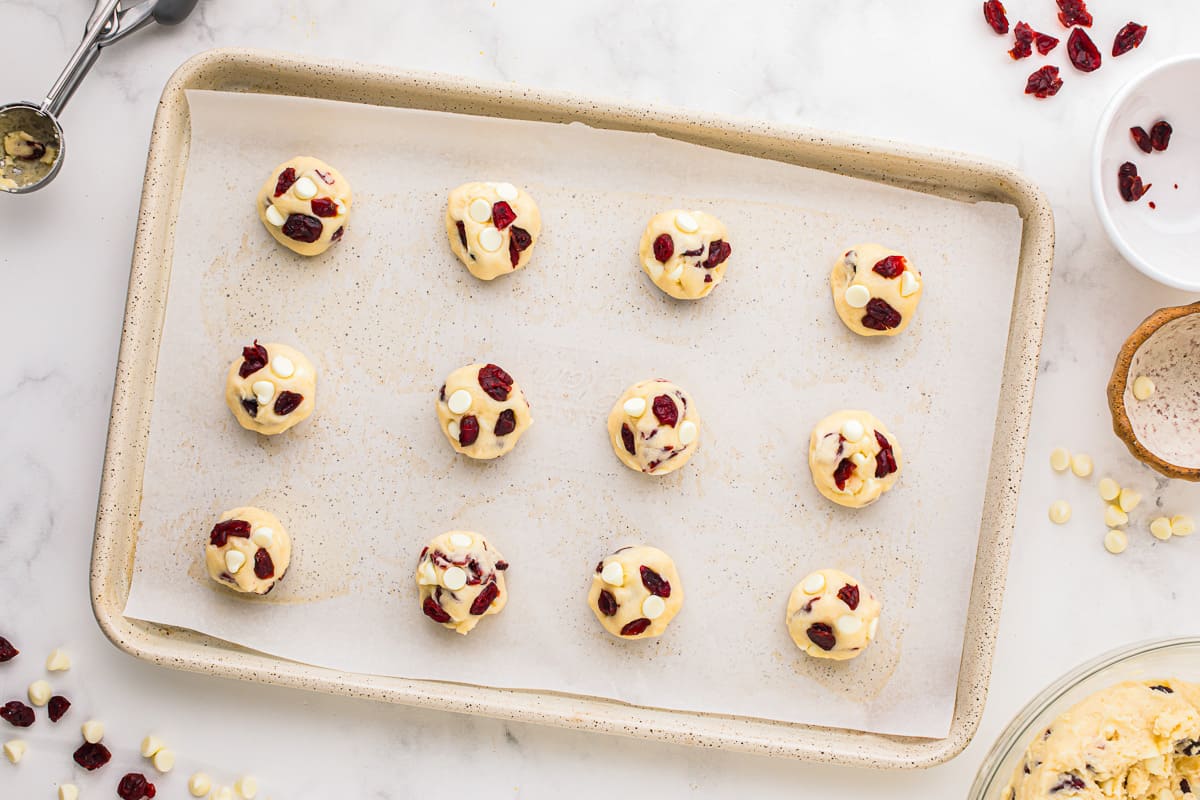 Bake the Cookies: Bake for 8-13 minutes or until the edges get golden brown. Do not overbake. Remove from the oven and cool for 5 minutes before removing to a cooling rack or serving warm.