Carne Asada Fries are the perfect festive and flavorful appetizer to help celebrate occasions like Cinco de Mayo or game day. Juicy grilled skirt steak and zesty toppings like jalapeños and tomatoes are layered on top of crispy baked cheese fries. This recipe is so delicious, easy, and tasty.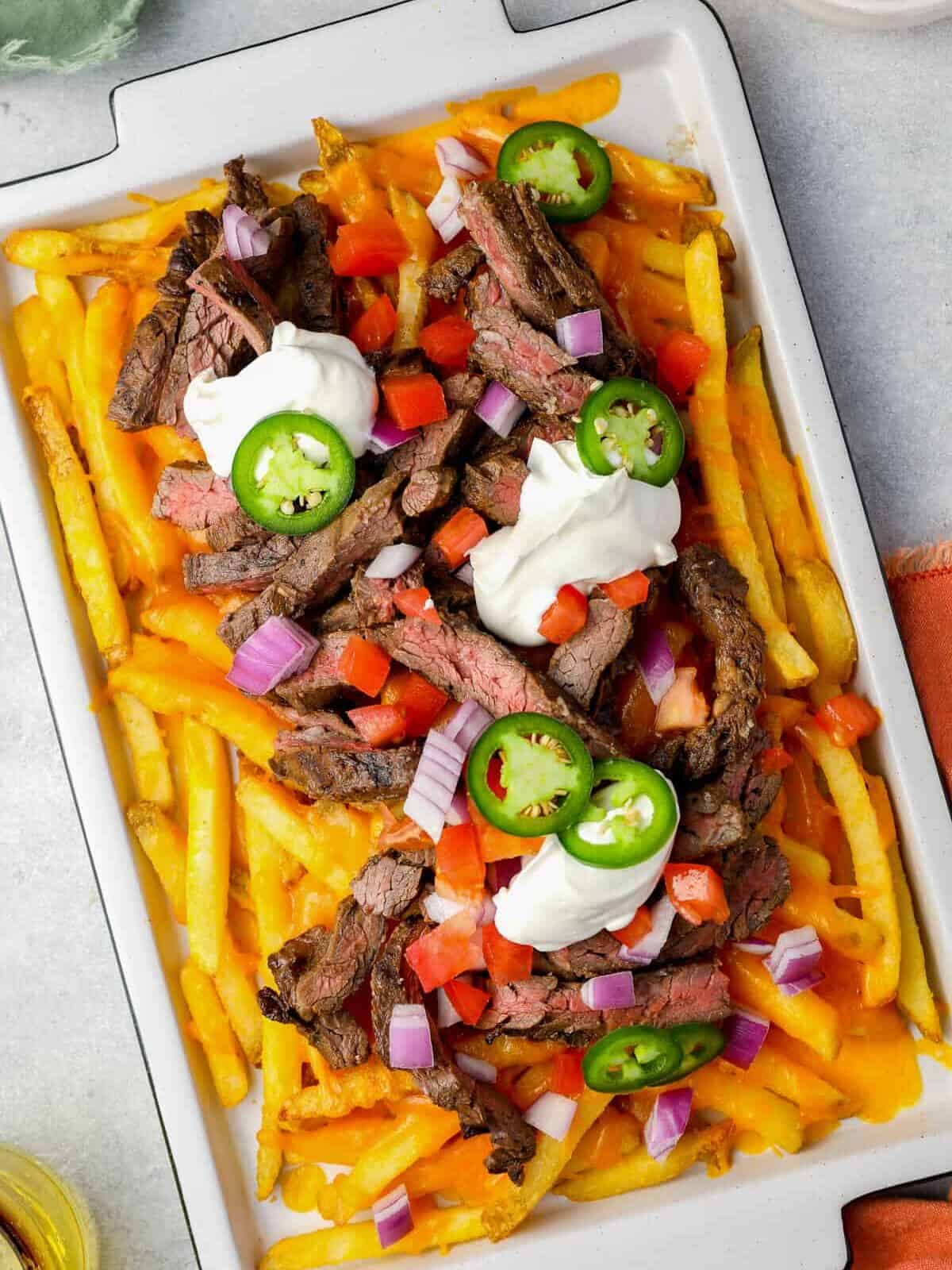 What's in this Carne Asada Fries Recipe?
This easy-to-create dish will make your tastebuds dance. The combination of crispy French fries topped with juicy and seasoned carne asada meat, melted cheese, jalapeños, red onions, diced Roma tomatoes, and tangy sour cream is simply irresistible.
For the Fries:
Frozen French Fries: Frozen pre-cut fries will taste just as delicious as homemade.
Cheddar Cheese: I love the sharp flavor of good cheddar cheese, but you can also use alternative cheeses such as Monterey Jack, Pepper Jack, or Colby.
Roma Tomato: A meatier and less juicy tomato, this variety is less likely to make your crispy fries soggy.
Jalapeño: Adds the perfect amount of heat and flavor.
Red Onion: Milder and sweeter than white or yellow onions.
Sour Cream: Adds tangy creaminess to complete these carne asada fries.
For the Carne Asada:
Skirt Steak: A long, flat cut of beef that is known for its flavor and tenderness.
Soy Sauce: Kikkoman's Soy Sauce is my go-to soy sauce brand, but you can use whatever you have on hand.
Lime Juice: Tangy, acidic lime adds a bright, fresh flavor to the marinade and helps tenderize the meat.
Orange Juice: Sweet and acidic, orange juice adds more sweetness to counterbalance the saltiness of the soy sauce.
Canola Oil: This neutral-tasting oil has a high smoke point that makes it ideal for marinating grilled meats.
Dark Brown Sugar: Adds a rich, molasses-like flavor to the marinade.
Garlic: A must-have in every flavorful steak marinade. If you don't have fresh garlic, you can substitute it with good powdered garlic.
Ground Cumin: No Mexican food dish would be complete without this warm and earthy spice. I always keep a jar of cumin in my pantry.
Black Pepper: Adds the right amount of kick to the marinade. If you don't have peppercorns to grind, use pepper powder.
Kosher Salt: This coarse salt is my preference when cooking, but you can always use table salt if you don't have any on hand.
Pro Tip: View this helpful guide from Serious Eats for how to trim skirt steak!
Variations on Loaded Fries
The easiest way to change up the flavor of these fries is to change the toppings! For healthier carne asada fries, you can swap out the sour cream for plain Greek yogurt. For more flavor, try swapping out the diced tomatoes for pico de gallo or salsa.
You could also add some fresh guacamole for a creamier topping. Feel free to swap the cheddar cheese for a Mexican blend cheese, Monterey jack, or pepper jack!
For a burst of freshness, top your fries with chopped cilantro. For vegetarian or vegan carne asada fries, swap the steak for soy curls or vegan beef tips, and use vegan alternatives to the cheese and sour cream.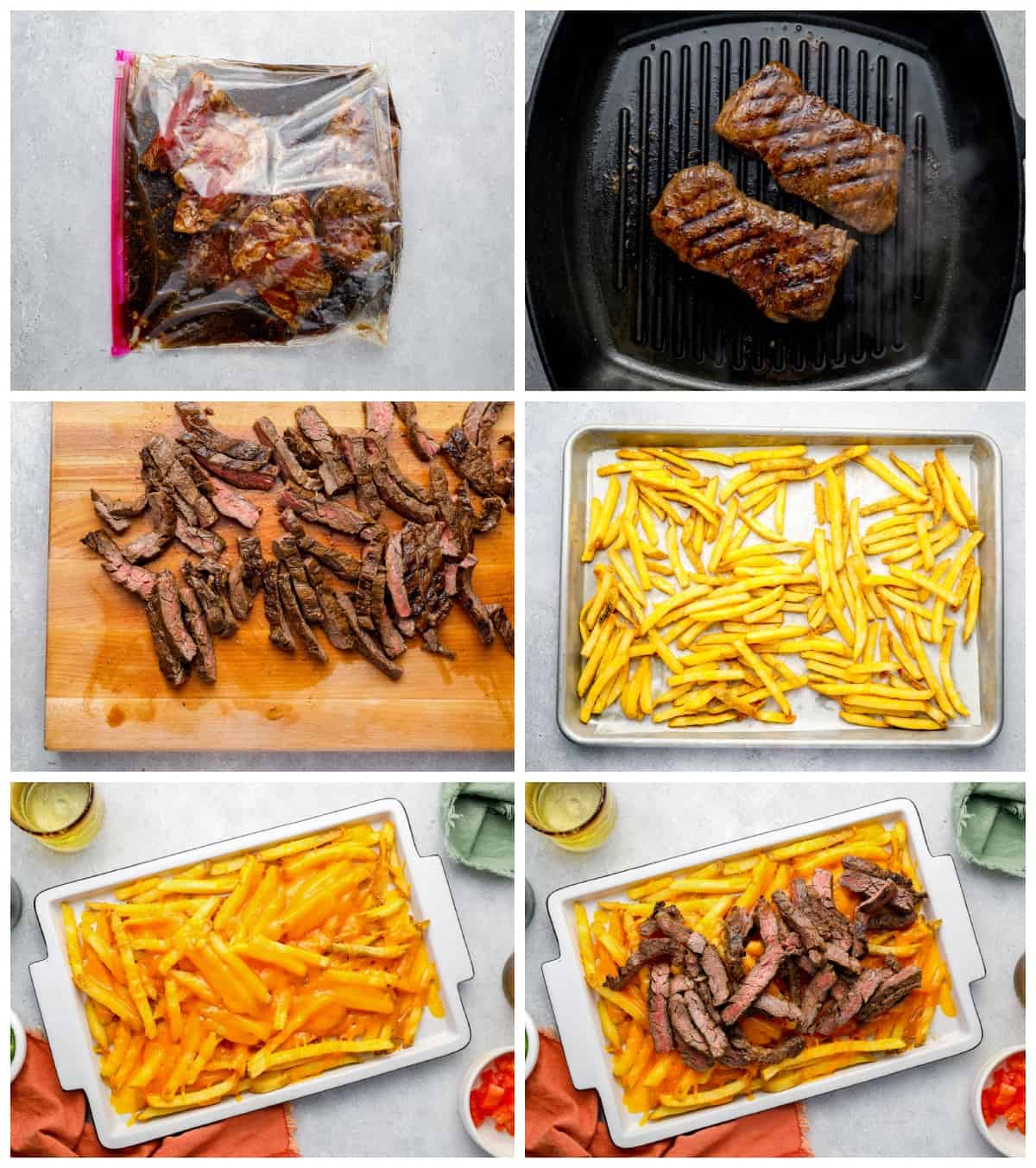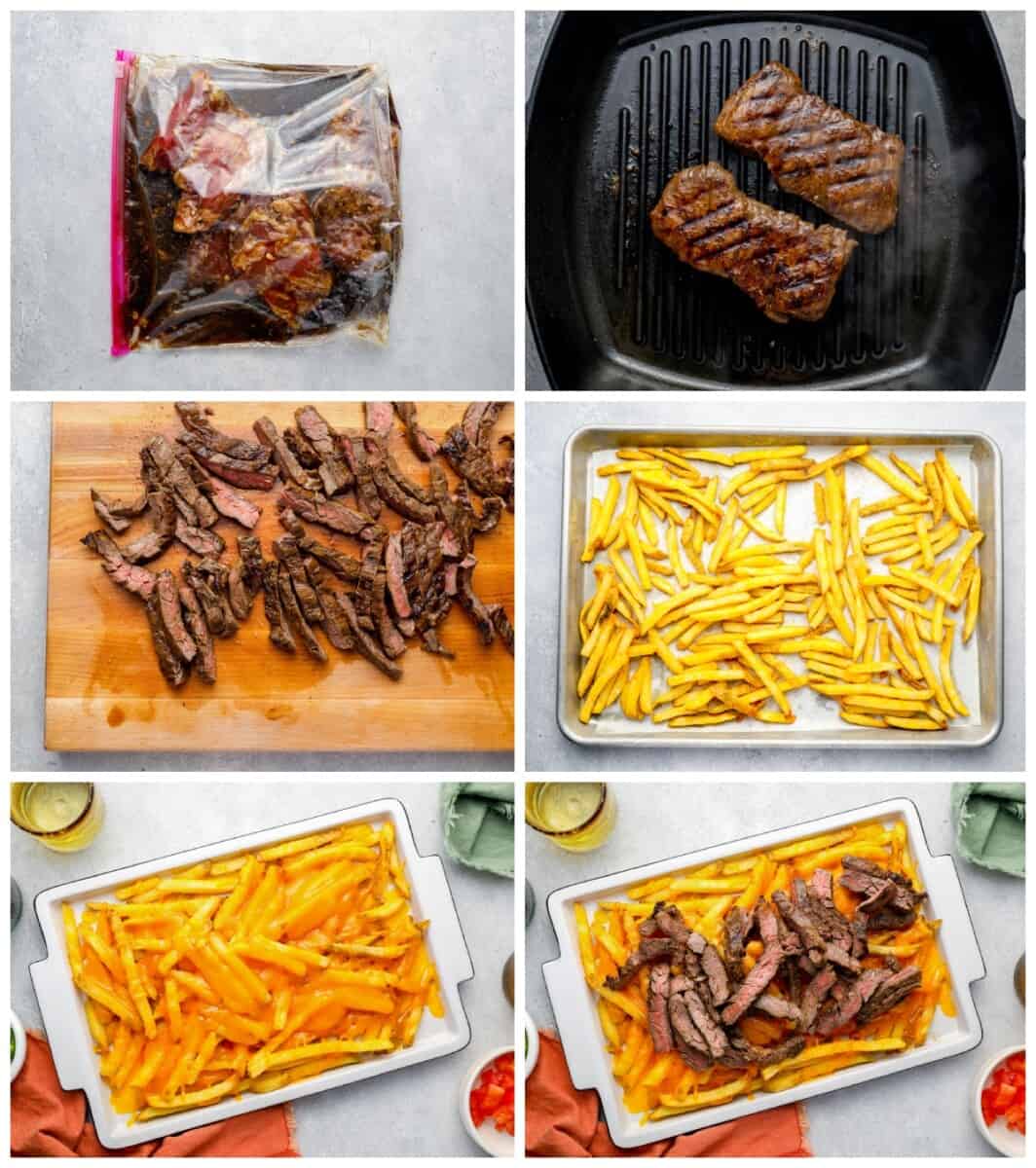 What are carne asada fries?
Carne asada fries blend the best of two dishes: carne asada and cheese fries! We take pan-grilled skirt steak, load it up with delicious Mexican toppings, and throw it on top of some baked french fries to make a crave-able appetizer you'll want to serve at every party!
What kind of steak is best for carne asada?
I like to use skirt steak because it's tender and flavorful, but flank steak will also work!
Can you make carne asada fries with homemade french fries?
Absolutely! Using frozen fries is a great time-saving hack, but homemade shoestring fries or potato wedges would also be delicious!
How many calories in carne asada fries?
There are 738 calories in one serving of these carne asada fries. That's about 4 ounces of french fries and just under 3 ounces of steak.
Can you air fry carne asada?
Absolutely! Air fry the marinated steak at 370°F for 5 minutes, flipping halfway through!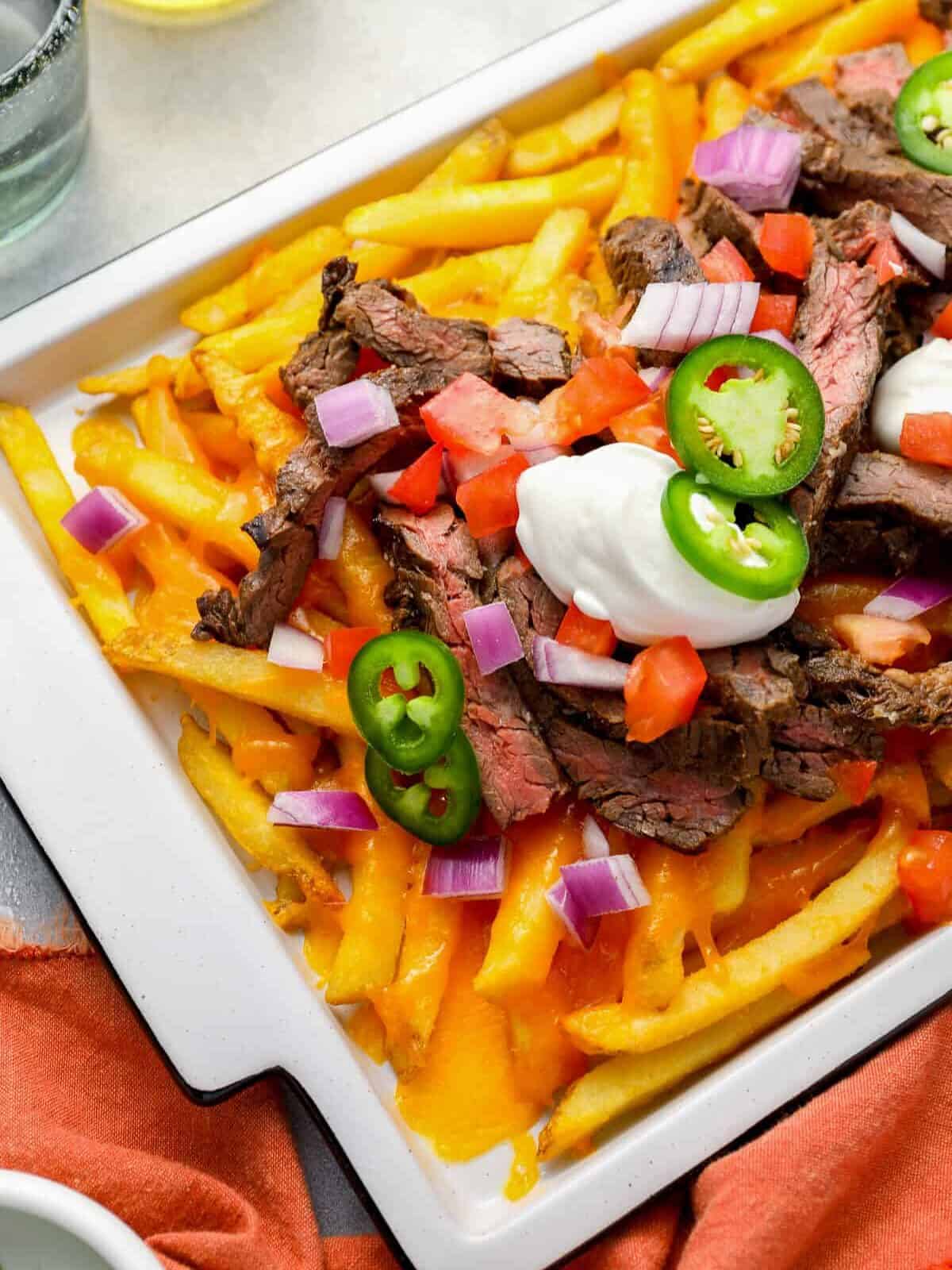 How to Store Homemade Carne Asada Fries
Once prepared, I recommend enjoying these carne asada fries right away. However, you can store the components in separate airtight containers in the refrigerator for up to 4 days.
How to Reheat Carne Asada Fries
Reheat the steak in an oiled skillet set over medium-high heat until warmed through. Reheat the fries in a 350°F oven for about 10 minutes. Add the steak and cheese and let melt in the oven for about 5 minutes, then top with the remaining ingredients.
What to Serve with Loaded Carne Asada Fries
While this filling dish can be served as a main course or an appetizer at a festive party, if you're looking to round out your Mexican-inspired meal, consider adding some homemade guacamole to the table along with some Mexican Street Corn washed down with some delicious non-alcoholic Sangria.
These also make a great pairing for a Crunchwrap Supreme, baked beef tacos, chimichangas, or any of your favorite taco night meals.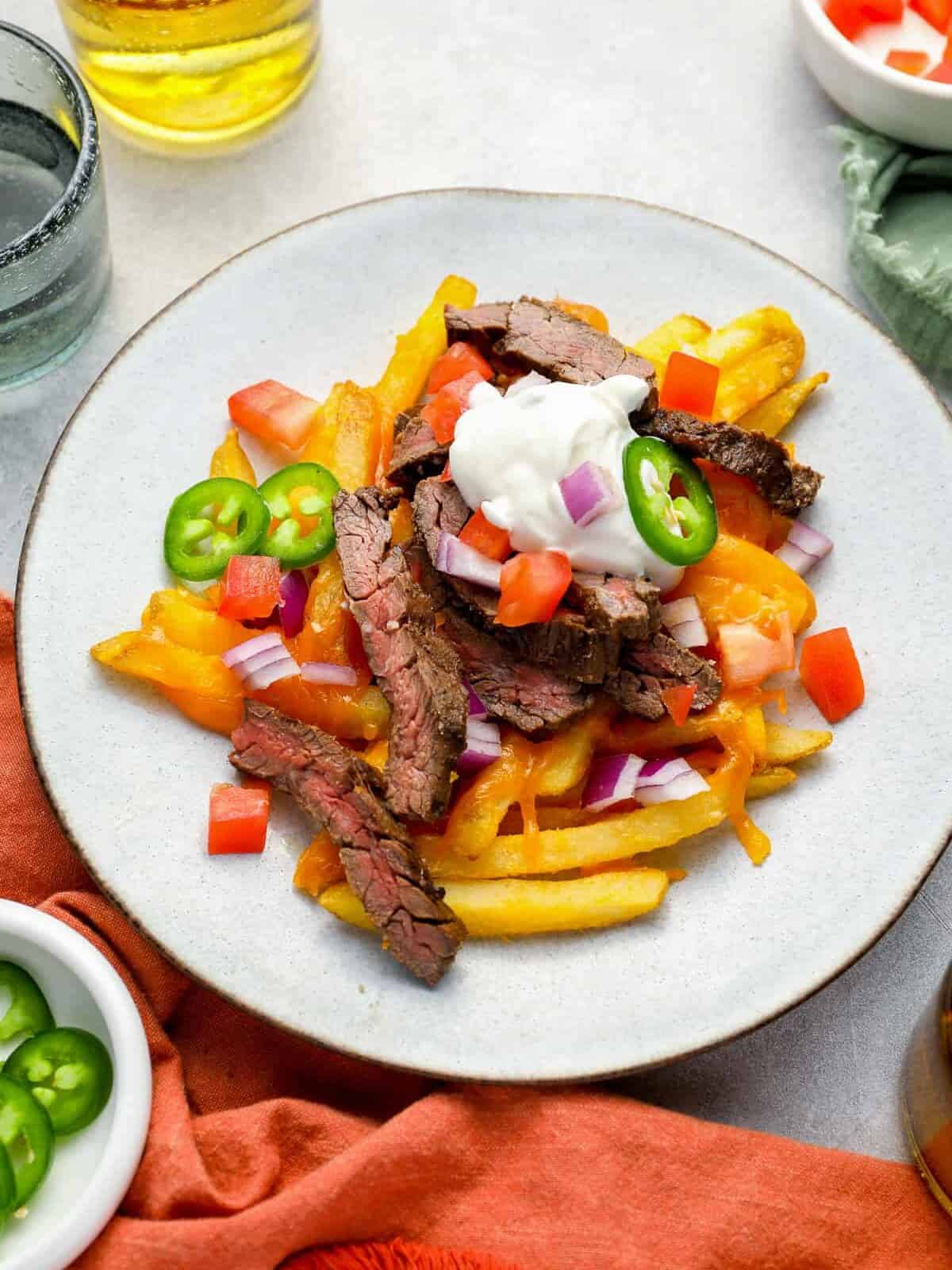 More French Fry Recipes We Love