This Stuffed Chicken Caprese Sandwich is our favorite summer grill recipe! Chicken breasts stuffed with fresh mozzarella, basil, and tomato, marinated in a balsamic reduction, grilled, and made into a delicious chicken sandwich. Amazing!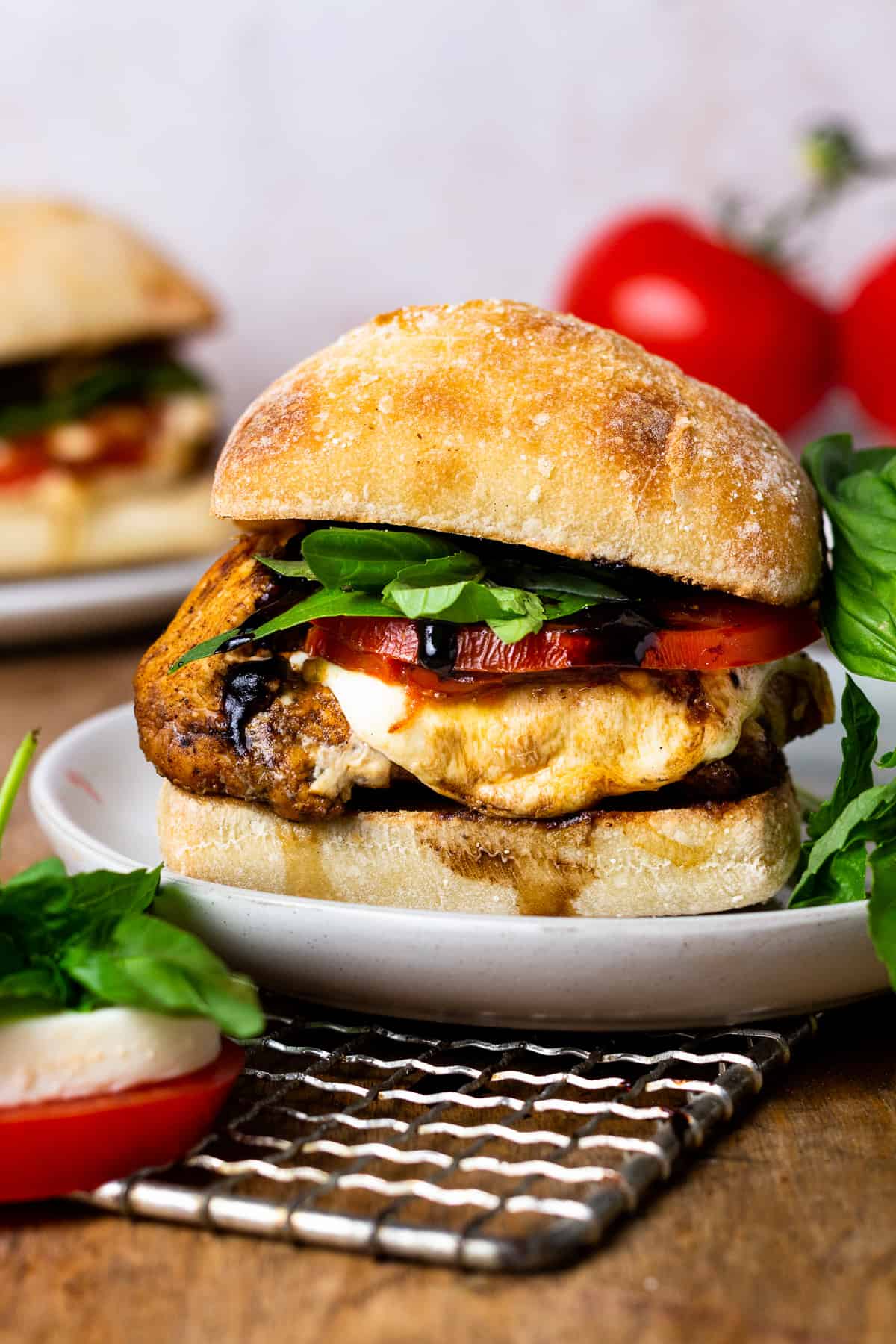 What's in a Chicken Caprese Sandwich?
Inspired by classic caprese, this sandwich is stuffed with grilled chicken, tomatoes, basil, and mozzarella for the perfect summer sandwich!
Balsamic Vinegar: The base of the balsamic glaze. Choose a high-quality vinegar, as this will be the dominant flavor in the marinade.
Honey: Sweetens the balsamic glaze. You could also use agave or maple syrup.
Chicken: Use boneless, skinless chicken breasts for the best results. You can also use thighs, but the pockets may be smaller.
Seasonings: Salt, pepper, and garlic powder help flavor the chicken.
Tomato: Slices of fresh tomato work best for stuffing.
Mozzarella: Choose a large, fresh mozzarella ball for the best results.
Basil: Fresh large basil leaves work best, but you could use dried basil in a pinch.
Buns: Choose a hefty burger bun to hold all of the filling!
Pro Tip: If you're short on time, skip the vinegar and honey and instead use store-bought or leftover homemade balsamic glaze.
Variations on a Caprese Chicken Sandwich
There are so many fun ways to change up these sandwiches. Try using a flavored balsamic vinegar, like raspberry or truffle. Swap the seasonings for your favorite seasoning blend, like Italian seasoning. Add some crushed red pepper flakes for a bit of spice. You could even swap the mozzarella cheese for feta cheese for a fun twist!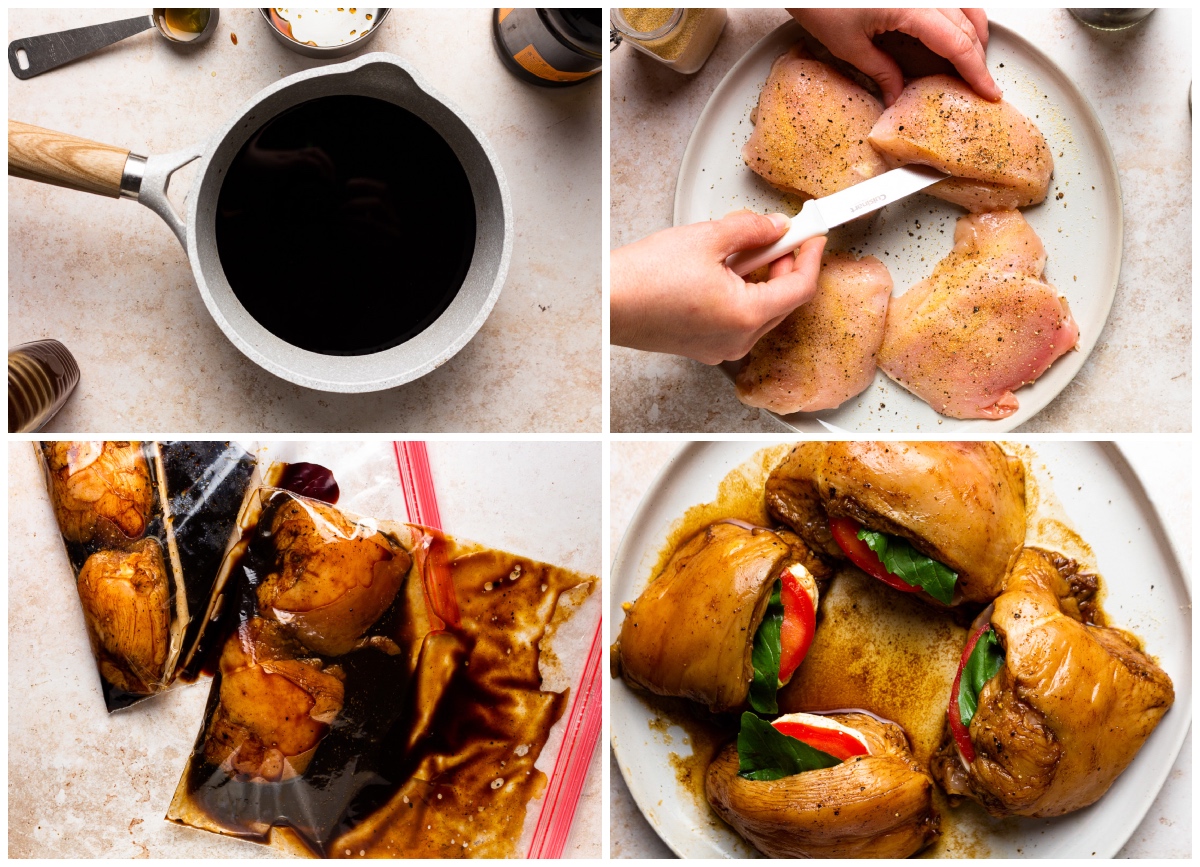 Do I need a grill to make this recipe?
Nope! You can grill the chicken breasts or cook them in a frying pan on the stovetop. Either method works well!
Can I make this recipe with thighs?
I find that chicken breasts are much easier to stuff than thighs. If you only have thighs, you can add less filling or chop up the filling to fit more easily.
Can I make this ahead of time?
If you want to get ahead of things, you can stuff the chicken breasts up to a day ahead of time and keep them covered in the fridge.
Can I freeze stuffed caprese chicken sandwiches?
I do not recommend freezing these sandwiches or even just the chicken, as the cheese and tomatoes do not freeze well.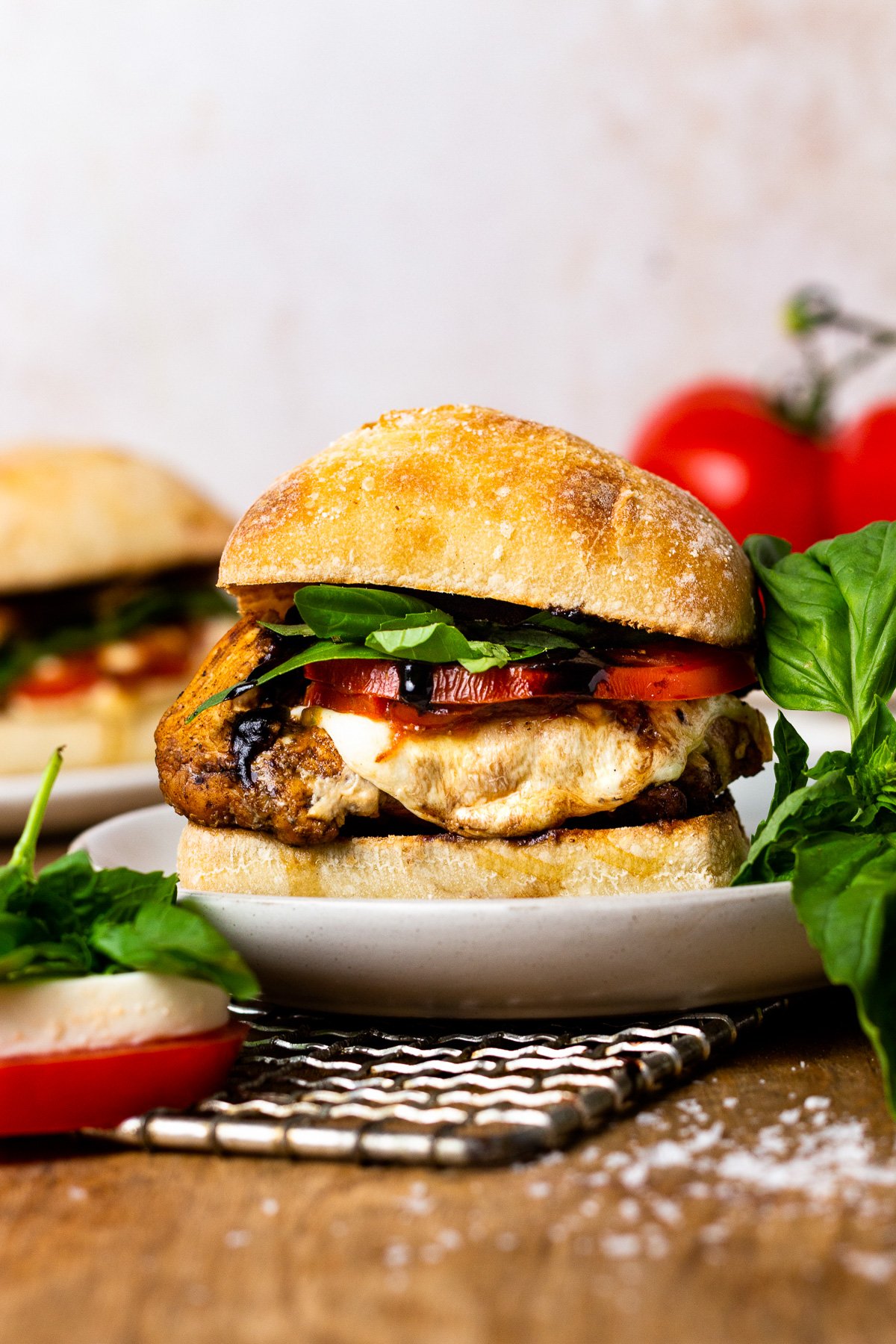 How to Store and Reheat
Store leftover stuffed chicken caprese sandwiches in an airtight container in the refrigerator for up to 3 days. Reheat in a 350°F oven for 10-15 minutes, or until warmed through.
What to Serve with a Balsamic Chicken Caprese Sandwich
These stuffed chicken caprese sandwiches are great served on traditional hamburger buns or on rosemary focaccia. Top them with pesto, garlic aioli, or more balsamic glaze. Add some caramelized onions for a richer flavor.
Serve them with a whole host of sides, from salad to French fries to grilled vegetables. I love mine with garlic parmesan fries and crispy roasted asparagus!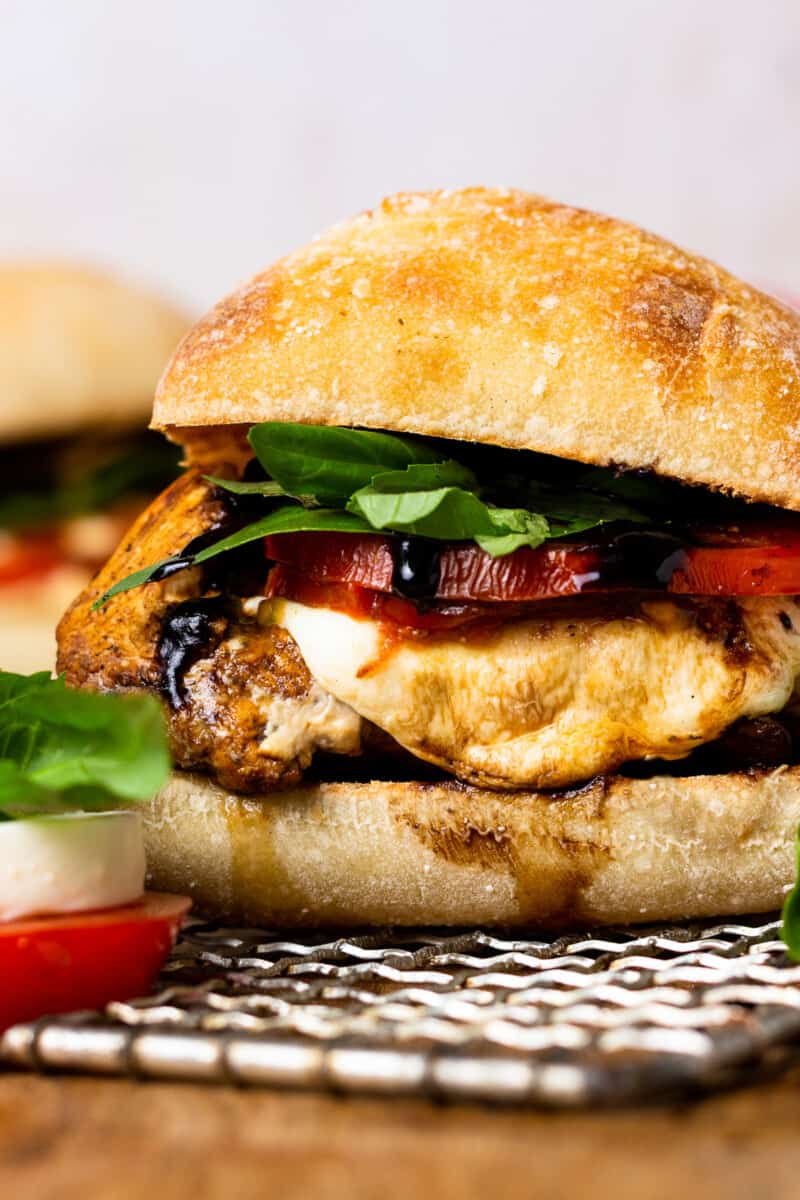 More Chicken Sandwiches
More Caprese Recipes We Love