CREAMY SCALLOPED POTATOES are one of our favorite holiday side dishes! These cheese garlic herb potatoes are made creamy with a secret ingredient that you'll never skip again. This is the BEST scalloped potatoes recipe I've ever had, perfect for Thanksgiving!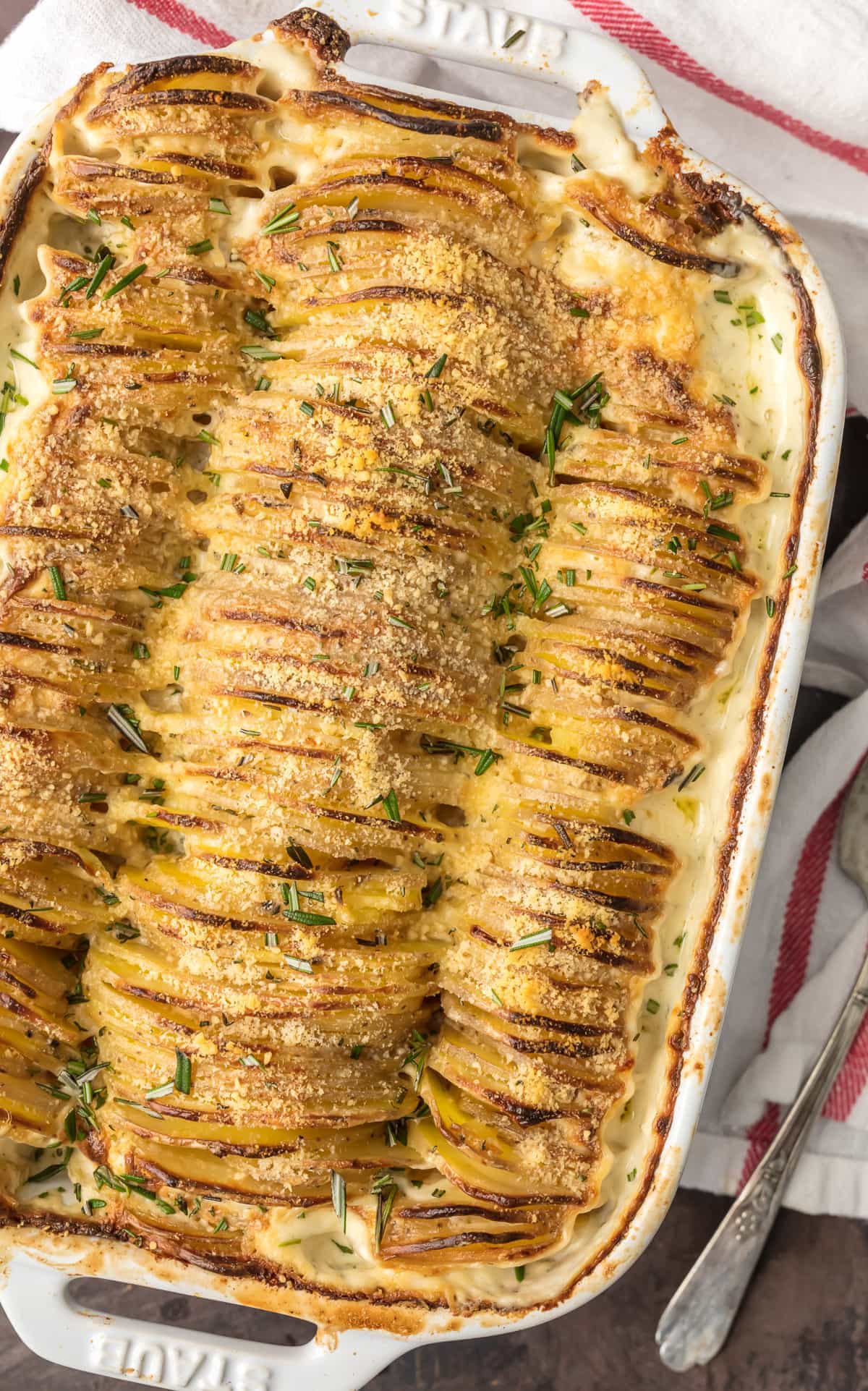 Creamy Scalloped Potatoes
Creamy scalloped potatoes are so cheesy and delicious. Boursin Cheese gives them the perfect garlic herb flavor!
Welcome to the BEST SCALLOPED POTATOES recipe! It's an updated version of our family favorite, Boursin Potatoes Gratin, and I know you're going to just love it. I recruited Mom to help me make them even creamier, add even more garlic, and to just take the overall recipe up a notch. The result are these creamy scalloped potatoes, and we are so happy with them!
The secret ingredients to make these homemade scalloped potatoes super creamy? Boursin Cheese! I love Boursin so much, I've even made my own recipe for it. The mix of soft cheese with garlic and herbs is just so yummy, and it is exactly what this potato recipe needed.
I guarantee these CHEESY GARLIC HERB CREAMY SCALLOPED POTATOES will be on our holiday tables every year and I hope you love it as much as we do. It just simply doesn't get any better than this, folks. Thanksgiving isn't going to know what hit it!
This creamy scalloped potatoes recipe is the BEST scalloped potatoes recipe ever. Cheesy, creamy, and full of garlic and herb flavor. Yum!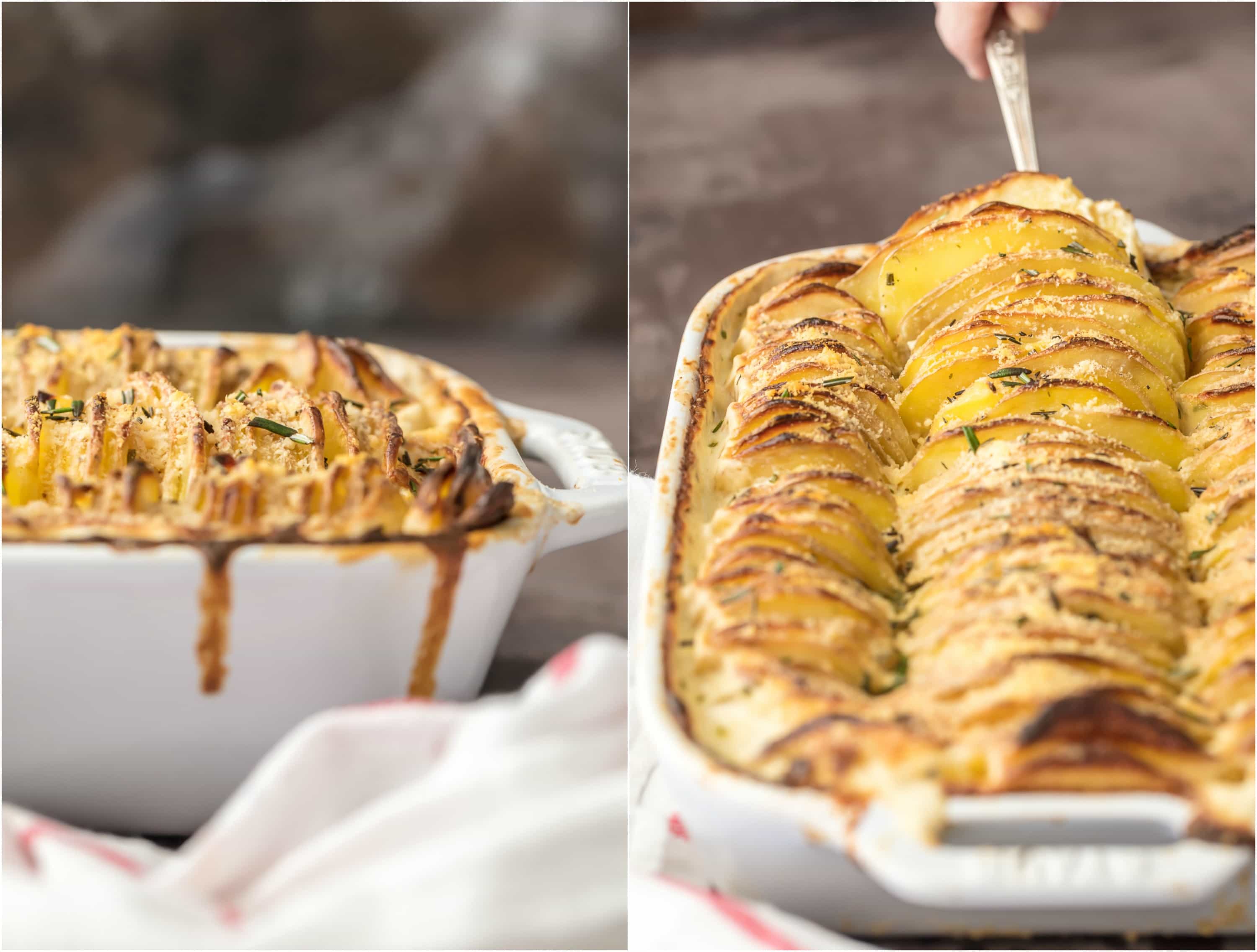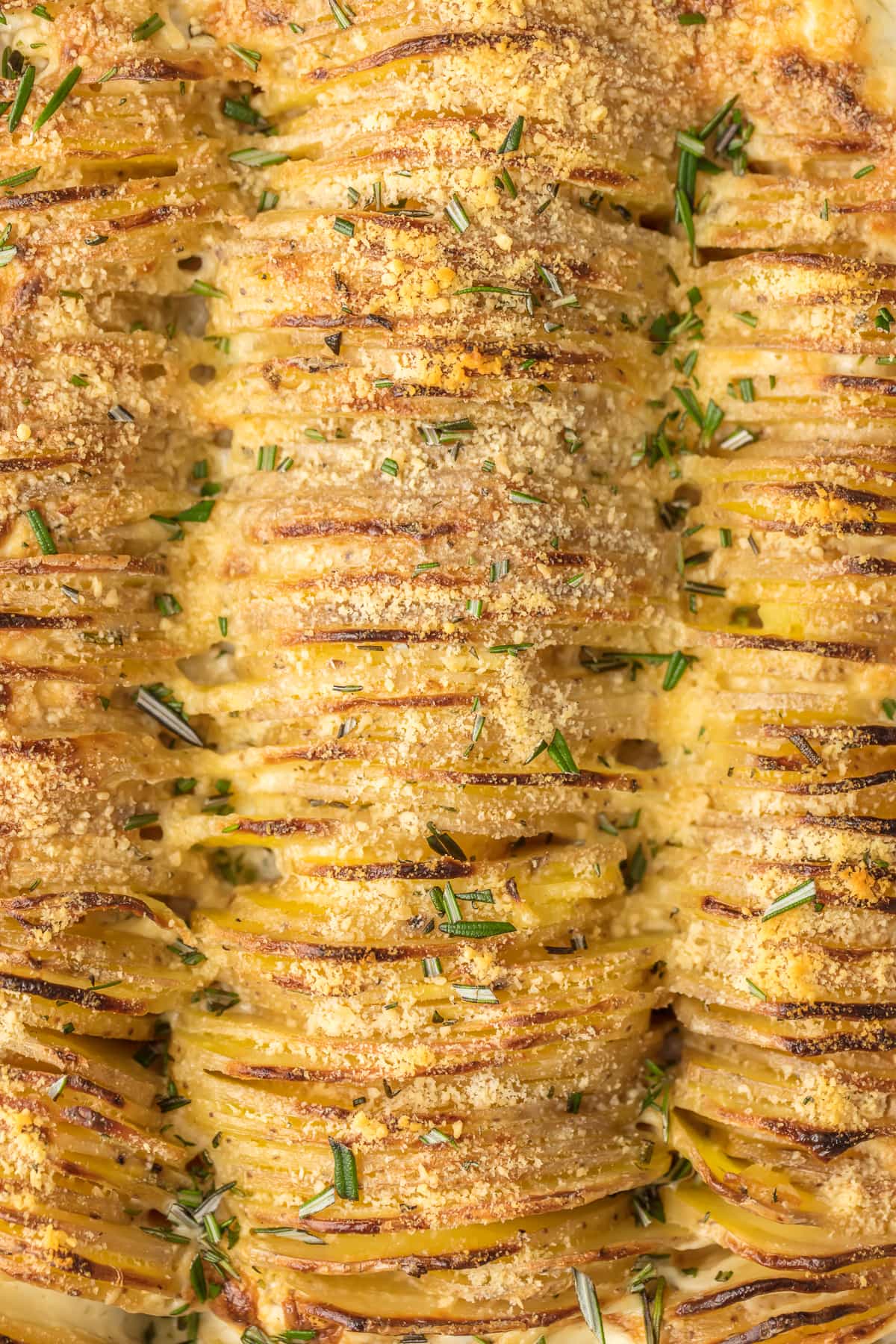 Best Scalloped Potatoes Recipe
We decided to make this creamy scalloped potatoes recipe more like hasselback potatoes, upright with the creamy goodness poured over (and each piece of potato individually dipped because MORE CHEESE PLEASE). We thought it looked so beautiful for Thanksgiving and Christmas. But you could also make them layered/stacked, like traditional scalloped potatoes.
Both versions are delicious and pretty, but they will have slightly different cooking times. If you choose to make them layered, you can cook them about 30 minutes less than this Hasselback version. Totally up to you and your aesthetic! You can't go wrong. (Details on cooking differences are in the recipe card below)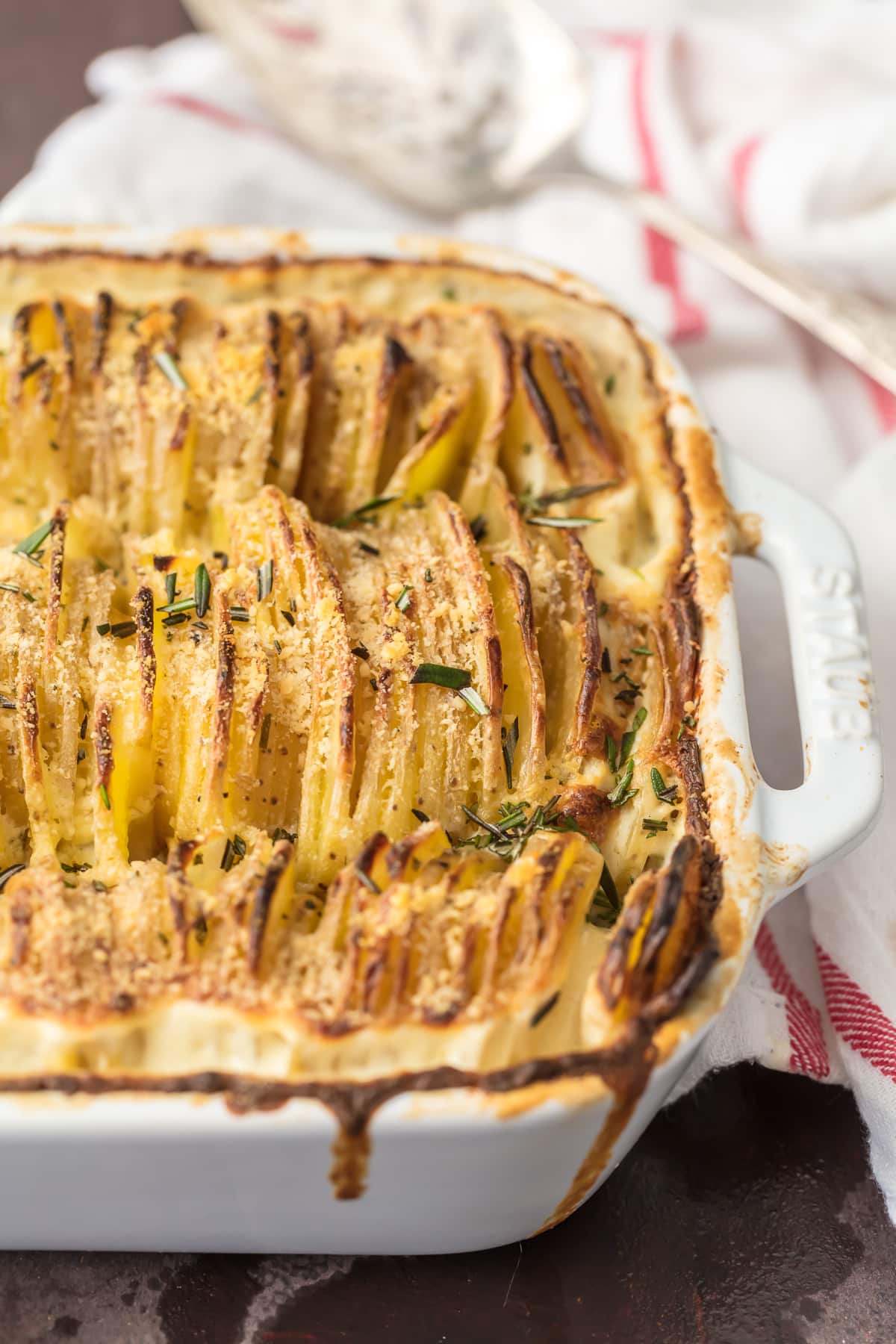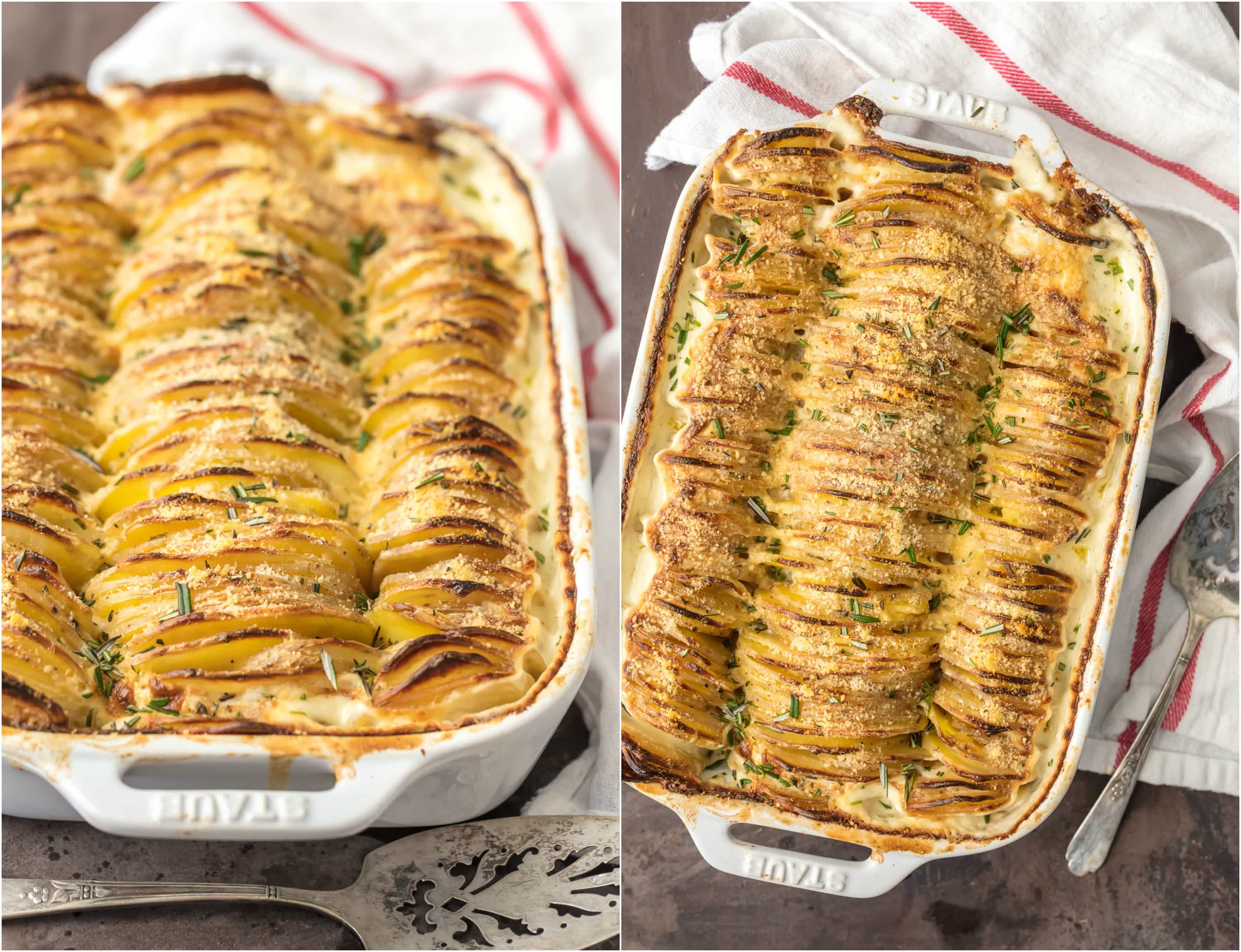 How to Make Scalloped Potatoes Creamy
The secret to these CREAMY scalloped potatoes is the Boursin Cheese. If you haven't used boursin before, don't be scared! It's just a creamy cheese with herbs, similar to cream cheese in consistency. It can be found at any grocery store, usually in the specialty cheese section, and it's typically in a tube or tub. It is SO GOOD and you're sure to be addicted in no time. I use it in my Skillet Basil Cream Chicken recipe too and people go crazy for it.
I also have a Homemade Boursin Cheese recipe that is super easy and delicious!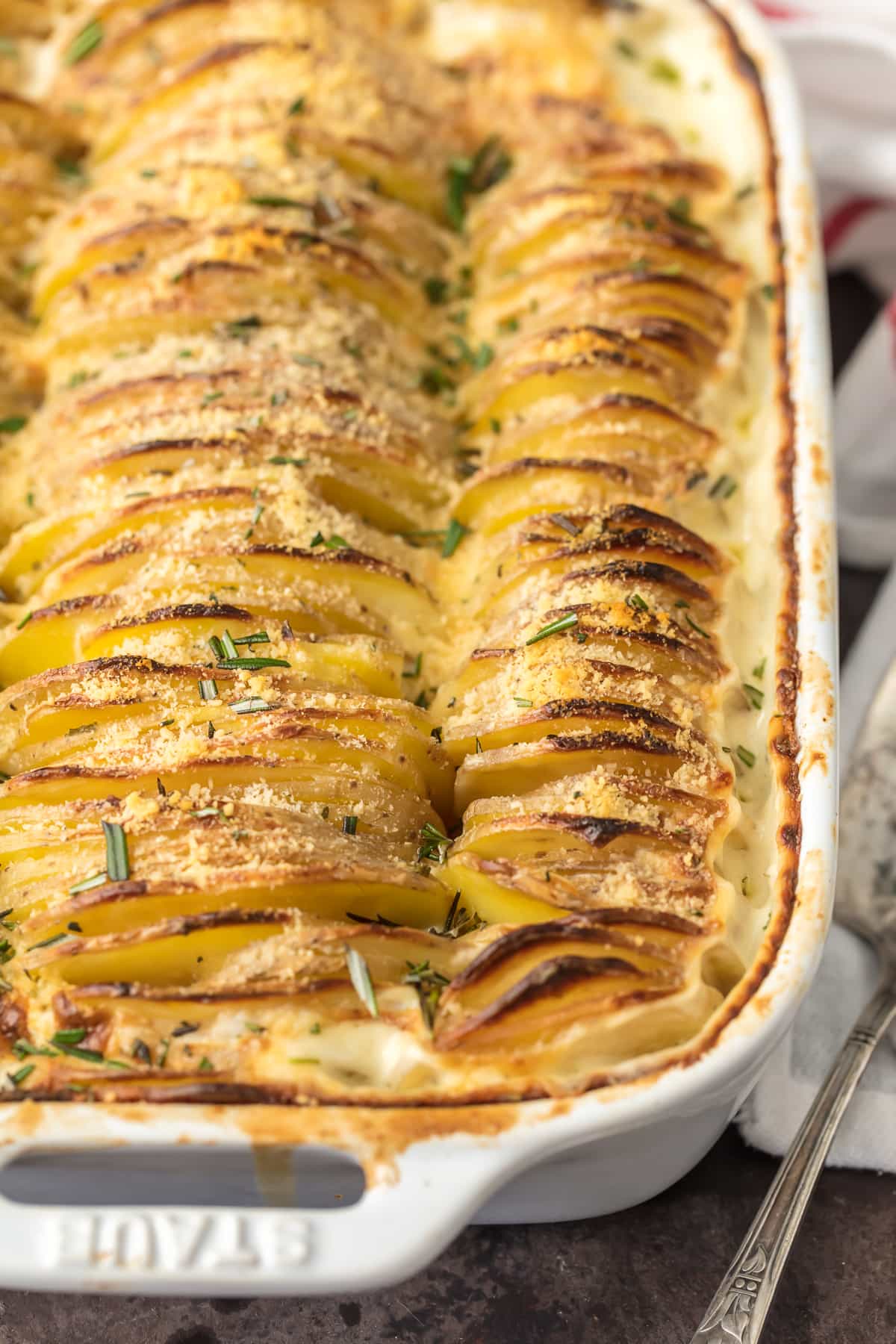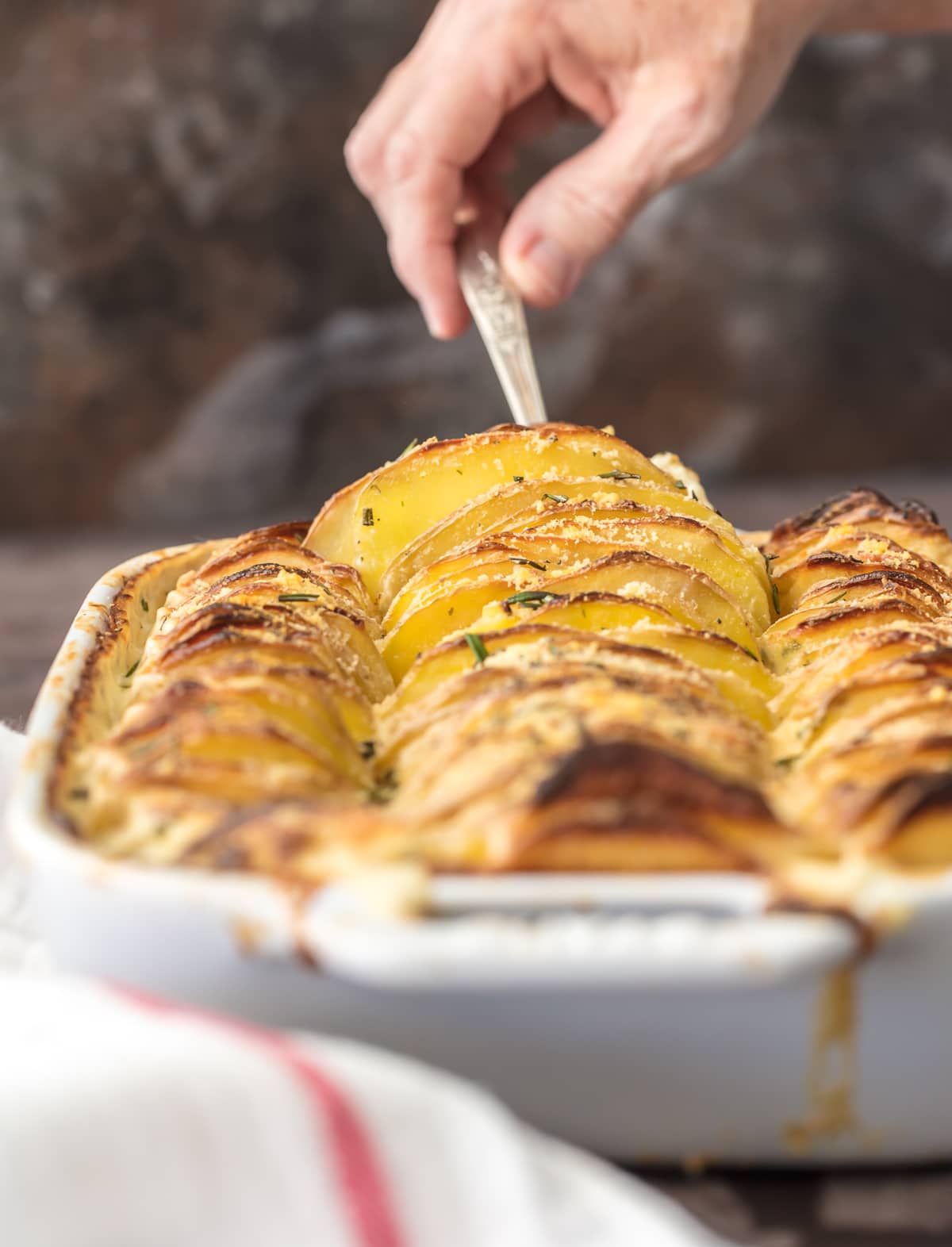 These CHEESY GARLIC HERB SCALLOPED POTATOES are a must make for Thanksgiving, Christmas, Easter, or any day in between. I always wonder why I think of these all year and then only make them on holidays. That's about to change. Theses creamy scalloped potatoes are too good not to make more often!
See the recipe card below for details on how to make Creamy Scalloped Potatoes. Enjoy!
If you like this recipe, try some other favorite side dish recipes: