This CREAMY SCALLOPED POTATOES recipe is one of our favorite holiday side dishes! These cheese garlic herb potatoes are made creamy with a secret ingredient that you'll never skip again. This is the BEST scalloped potatoes recipe I've ever had, perfect for Thanksgiving!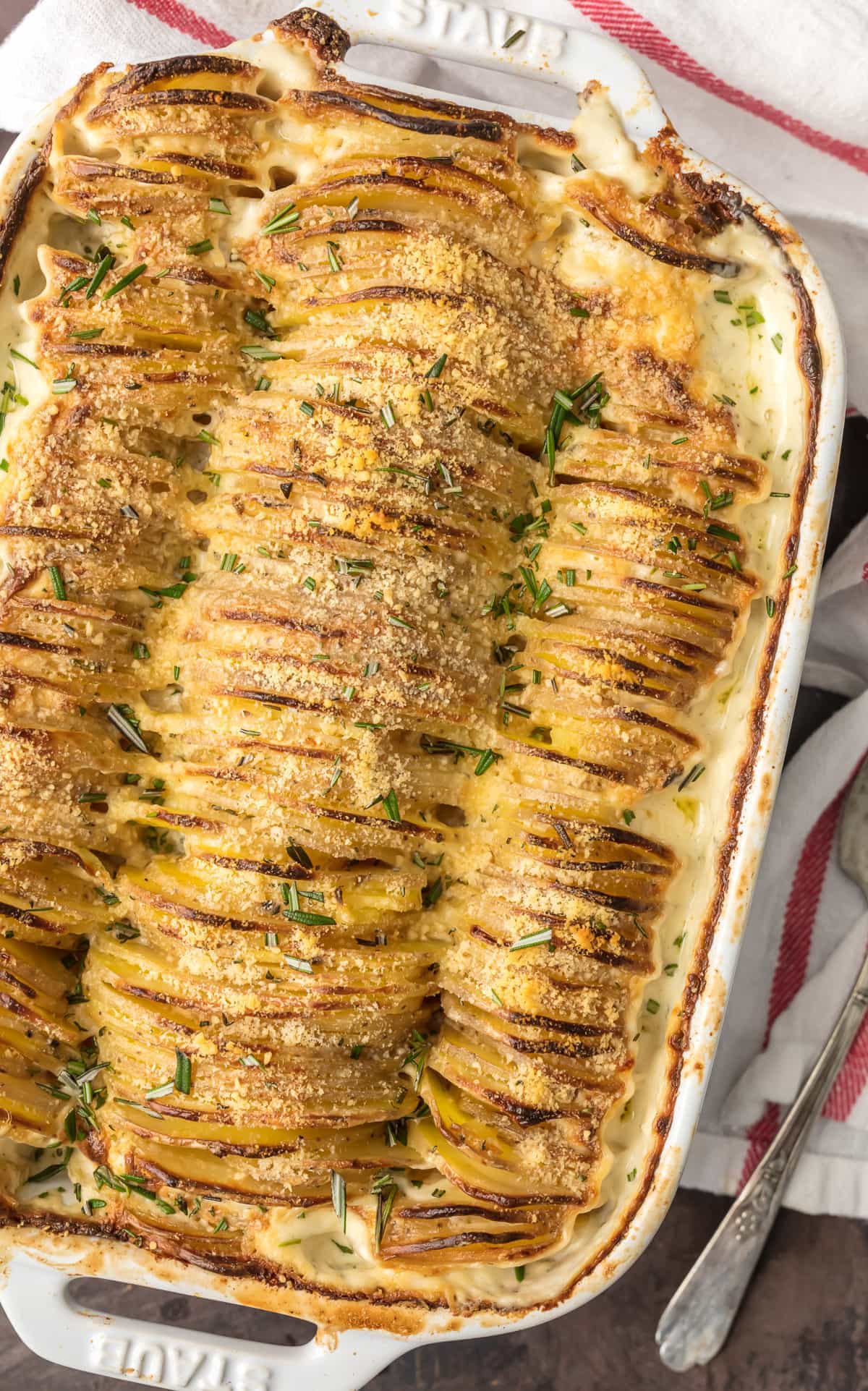 Creamy Scalloped Potatoes Recipe
These creamy scalloped potatoes are so cheesy and delicious. Boursin Cheese gives them the perfect garlic herb flavor!
Welcome to the BEST SCALLOPED POTATOES recipe! It's an updated version of our family favorite, Boursin Potatoes Gratin, and I know you're going to just love it. I recruited Mom to help me make them even creamier, add even more garlic, and to just take the overall recipe up a notch. The result is this creamy scalloped potatoes recipe, and we are so happy with them!
The secret ingredients to make these homemade scalloped potatoes super creamy? Boursin Cheese! I love Boursin so much, I've even made my own recipe for it. The mix of soft cheese with garlic and herbs is just so yummy, and it is exactly what this potato recipe needed.
I guarantee these CHEESY GARLIC HERB SCALLOPED POTATOES will be on our holiday tables every year and I hope you love it as much as we do. It just simply doesn't get any better than this, folks. Thanksgiving isn't going to know what hit it!
This cream scalloped potatoes recipe is the BEST scalloped potatoes recipe ever. Cheesy, creamy, and full of garlic and herb flavor. Yum!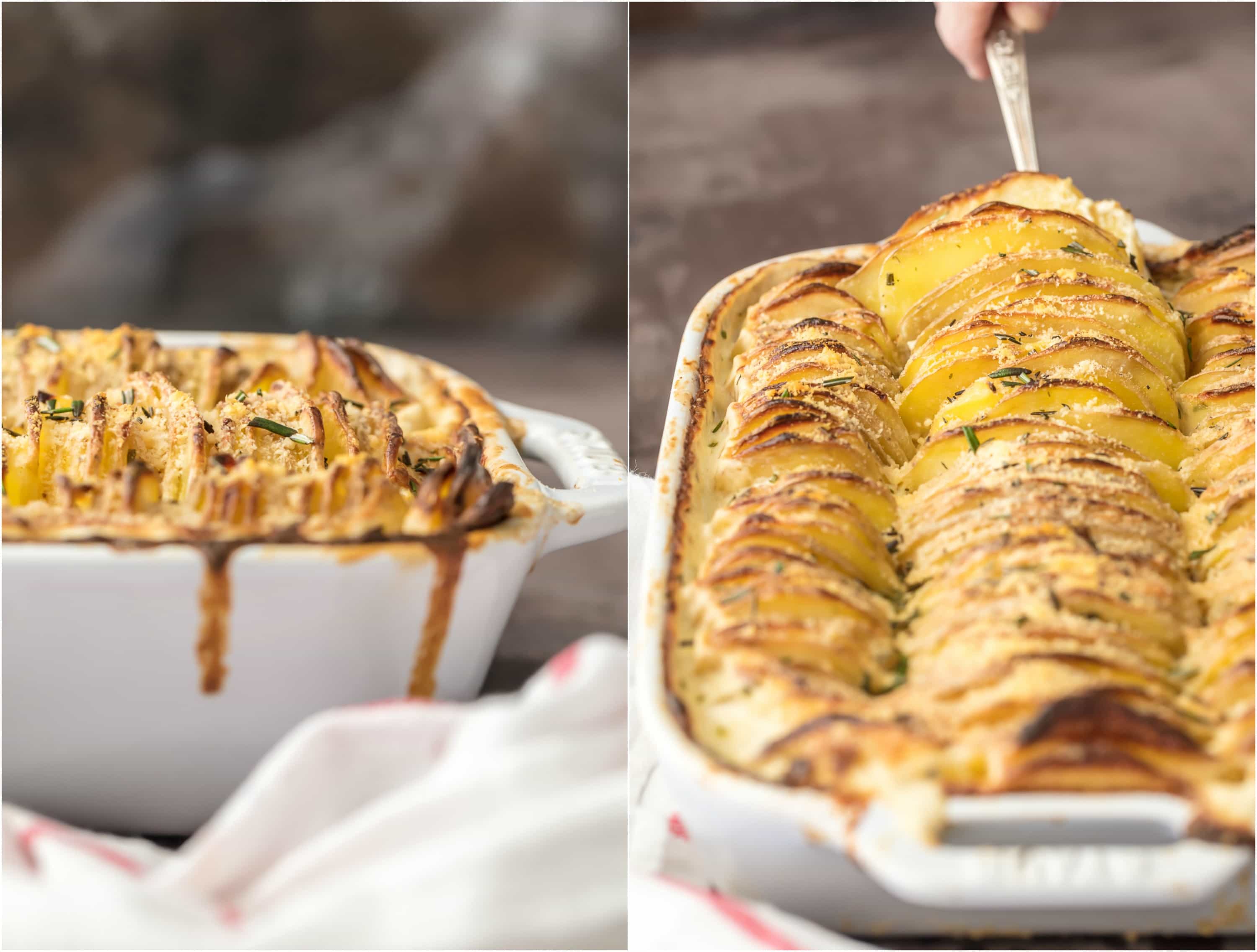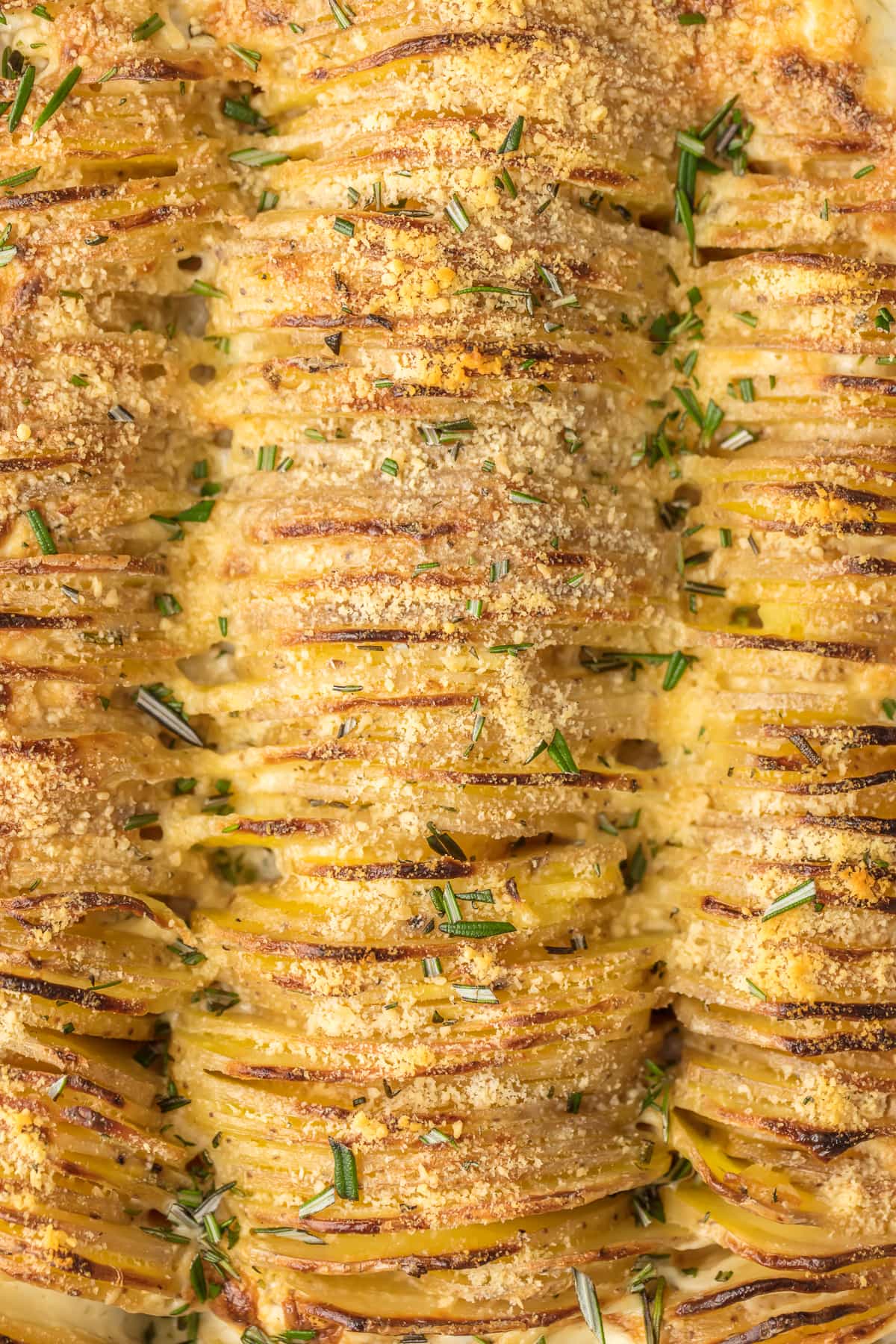 Best Scalloped Potatoes Recipe
We decided to make this creamy scalloped potatoes recipe more like hasselback potatoes, upright with the creamy goodness poured over (and each piece of potato individually dipped because MORE CHEESE PLEASE). We thought it looked so beautiful for Thanksgiving and Christmas. But you could also make them layered/stacked, like traditional scalloped potatoes.
Both versions are delicious and pretty, but they will have slightly different cooking times. If you choose to make them layered, you can cook them about 30 minutes less than this Hasselback version. Totally up to you and your aesthetic! You can't go wrong. (Details on cooking differences are in the recipe card below)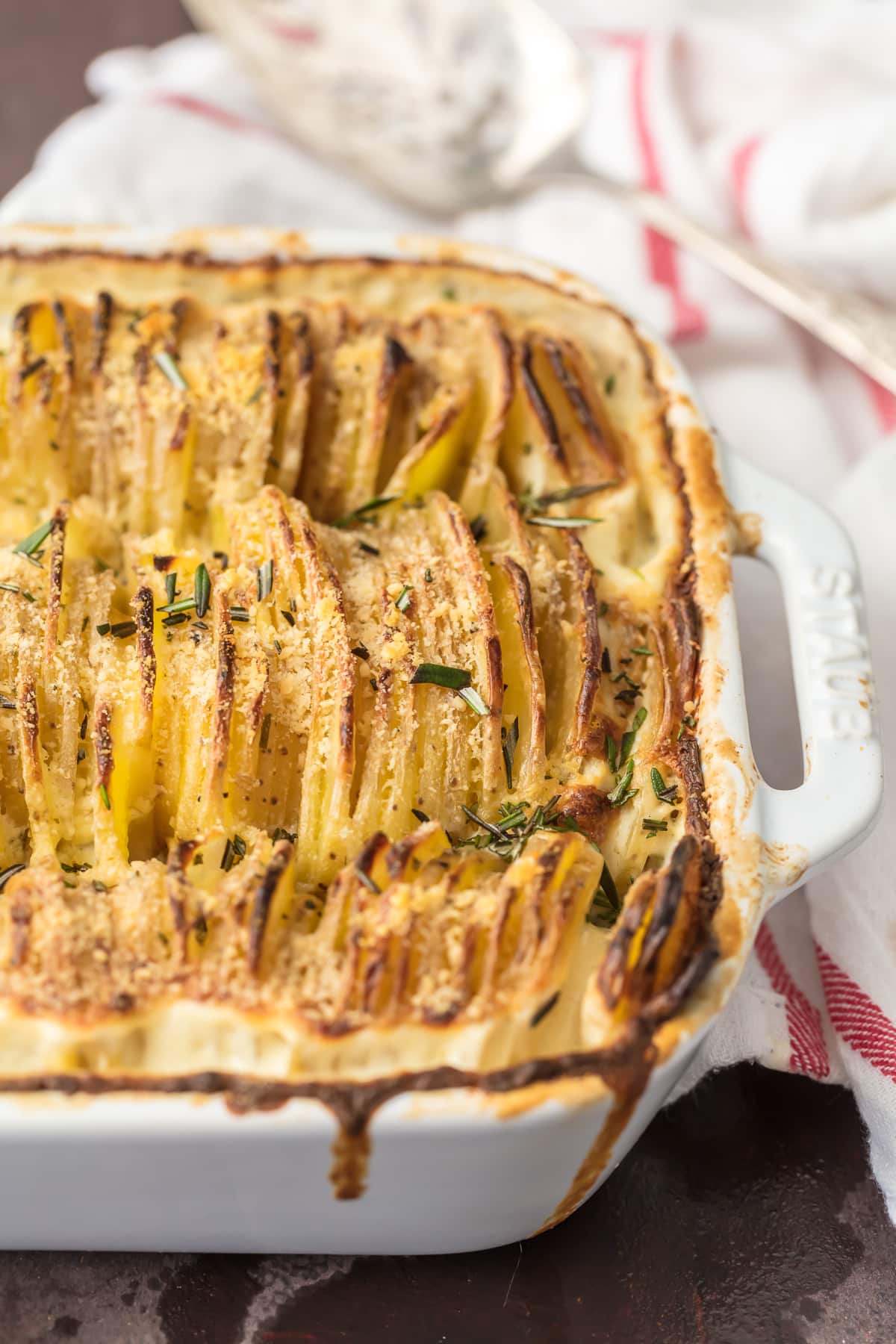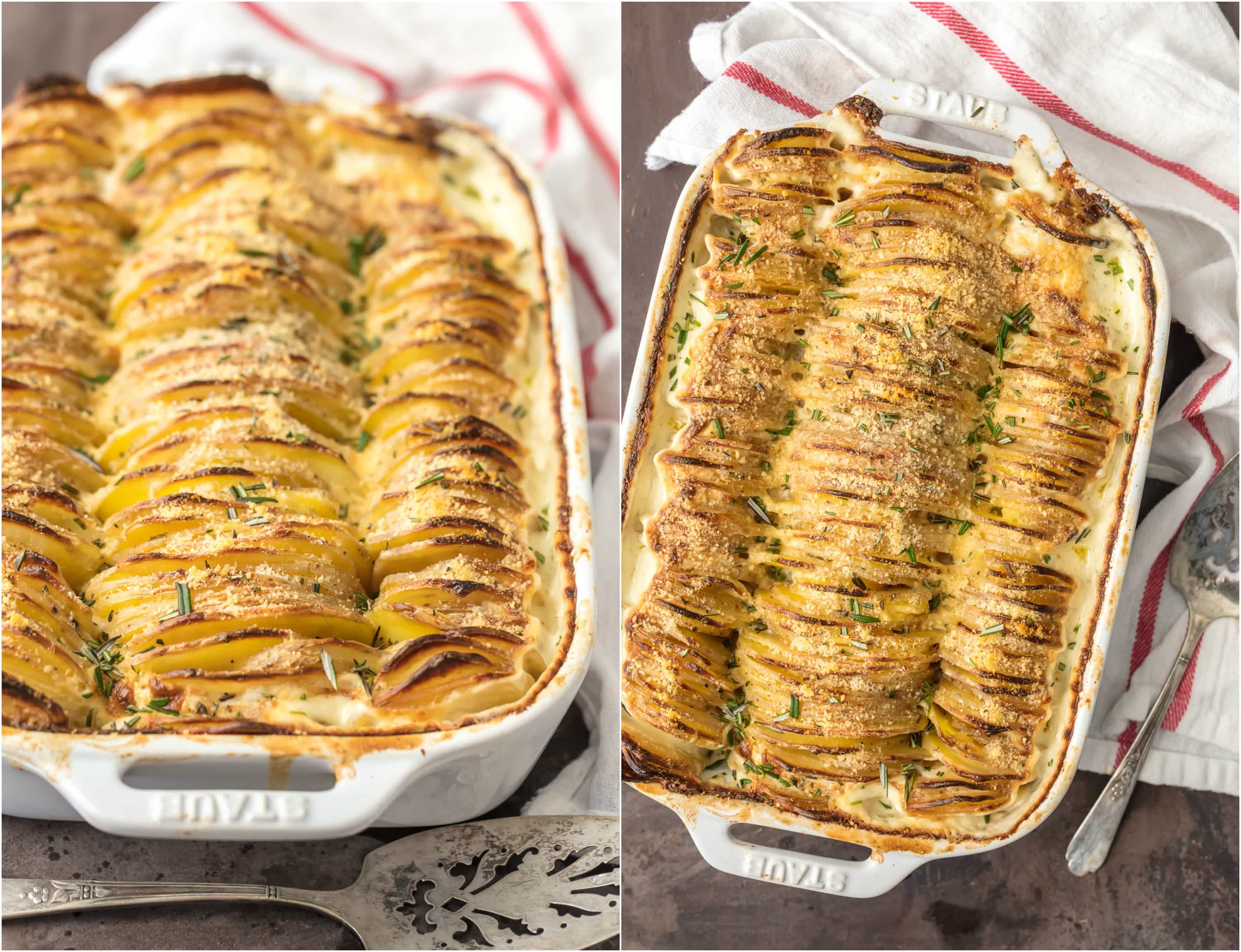 How to Make Scalloped Potatoes Creamy
The secret to these CREAMY scalloped potatoes is the Boursin Cheese. If you haven't used boursin before, don't be scared! It's just a creamy cheese with herbs, similar to cream cheese in consistency. It can be found at any grocery store, usually in the specialty cheese section, and it's typically in a tube or tub. It is SO GOOD and you're sure to be addicted in no time. I use it in my Skillet Basil Cream Chicken recipe too and people go crazy for it.
I also have a Homemade Boursin Cheese recipe that is super easy and delicious!
Recommended Products to make this Creamy Scalloped Potatoes Recipe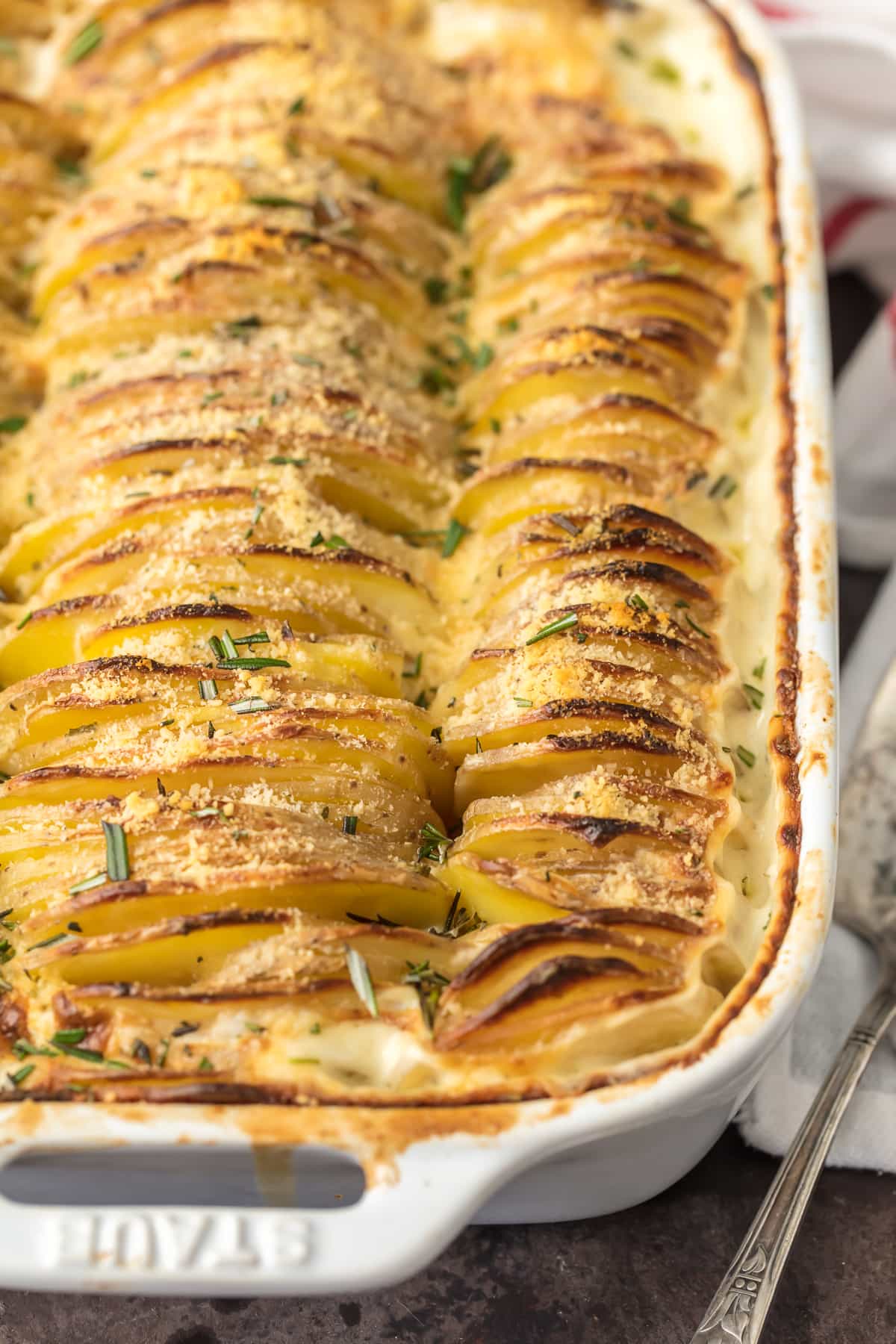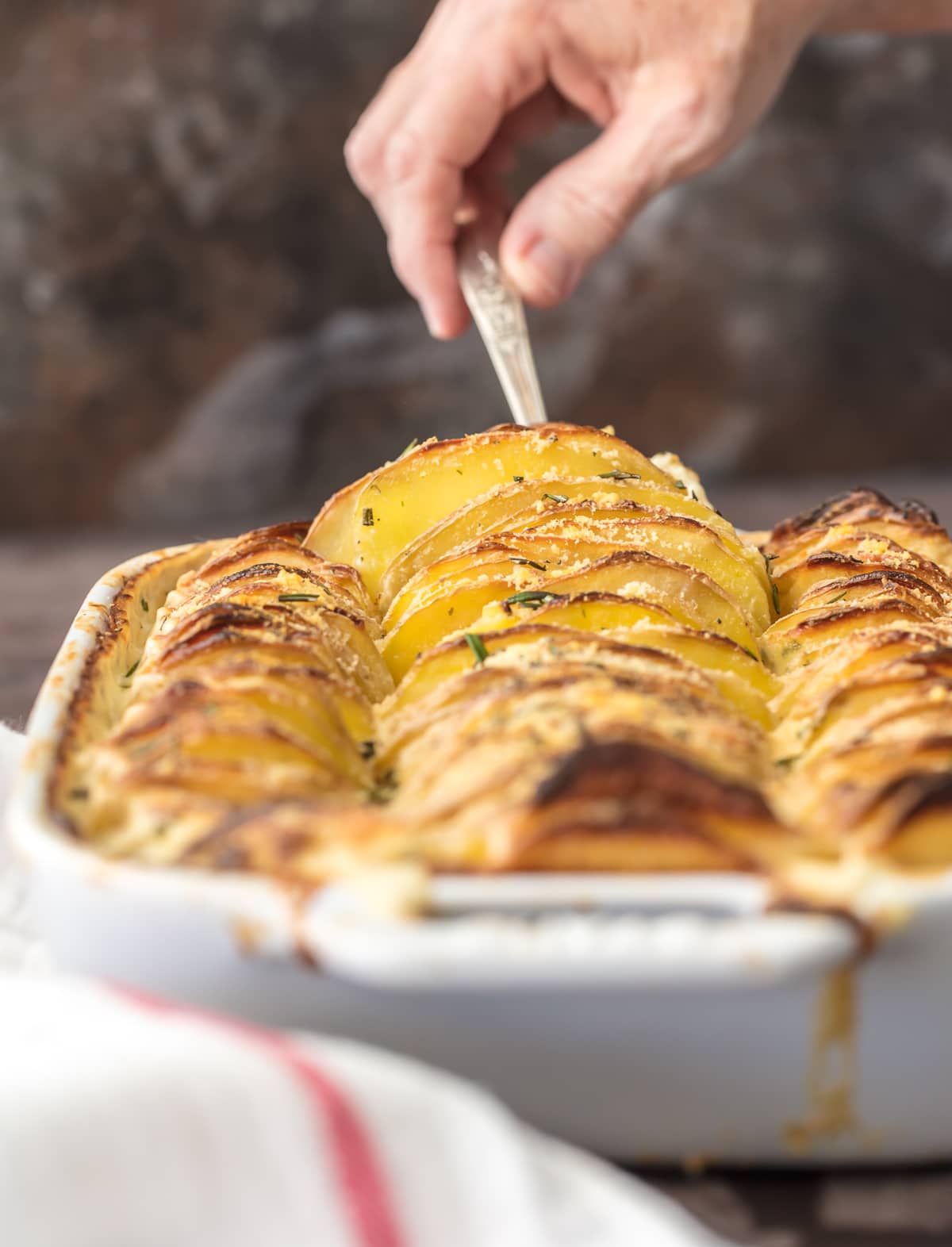 These CHEESY GARLIC HERB SCALLOPED POTATOES are a must make for Thanksgiving, Christmas, Easter, or any day in between. I always wonder why I think of these all year and then only make them on holidays. That's about to change. Theses creamy scalloped potatoes are too good not to make more often!
See the recipe card below for details on how to make Creamy Scalloped Potatoes. Enjoy!
If you like this recipe, try some other favorite side dish recipes: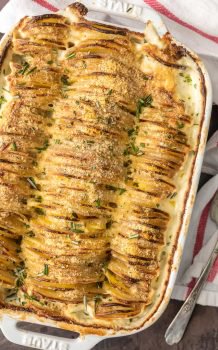 Creamy Scalloped Potatoes Recipe
This CREAMY SCALLOPED POTATOES recipe is one of our favorite holiday side dishes! These cheese garlic herb potatoes are made creamy with a secret ingredient that you'll never skip again. This is the BEST scalloped potatoes recipe I've ever had, perfect for Thanksgiving!
Print
Ingredients
2

tablespoons

butter

5

lbs

Yukon Gold Potatoes

scrubbed and partially cooked in the microwave 4-6 minutes (this will shorten the cooking time in the oven.

2

cups

heavy cream

2

5.6 oz. ea. packages Boursin Cheese, garlic & herb

¾

teaspoon

kosher salt

½

teaspoon

ground black pepper

Grated Parmesan for garnish
Instructions
Preheat oven to 400 degree F.

Spray an 8 x 11 inch casserole dish with non-stick spray and dot the bottom with butter. Place it in the oven until butter melts then remove the pan from the oven.

In a medium saucepan, heat heavy cream, Boursin cheese, salt and pepper over medium-low heat just until the cheese melts and stir until mixture is smooth. Set mixture aside until ready to use.

Slice the partially cooked potatoes with a mandolin (if available) into 3/16" slices. Place the sliced potatoes in a large bowl and pour the cheese/cream mixture over all them.

(This next step is messy, but I don't know any other way to do it.)

Pick up several potato slices and place them in the casserole dish. Organize the slices into a small stack then place them vertically along the side of the dish. Repeat with all the potato slices, placing them where needed. The potatoes should be tightly packed.

Pour the excess cheese/cream mixture over the potatoes until the mixture comes up almost to the top.

Cover the dish with foil and place it on a foil-lined baking sheet pan. Place the dish in the preheated oven and bake 30 minutes. Remove the foil covering from the dish and bake another 30 minutes then sprinkle grated Parmesan over the potatoes. Bake 15-30 more minutes until the top is golden brown, the middle is bubbly and potatoes are cooked through. Total cook time is 75-90 minutes.

Remove potatoes from the oven, all to rest 5-10 minutes before serving.

Enjoy!

**We have made these potatoes both the "Hasselback" way and the traditional way (layering). Both variations are delicious. The potatoes look prettier made the Hasselback way. The traditional way is less messy, easier and, in my opinion, creamier.

If you want to make them the traditional way, cook them in a 9x13 inch casserole dish, use 3 lbs. of potatoes and 1 package of Boursin cheese. Layer half the potatoes then half the cheese/cream mixture. Repeat. Follow the same cooking instructions. The potatoes will probably cook more quickly – 45-70 minutes instead of 90. Cook at 350 degrees F.
Nutrition Facts
Creamy Scalloped Potatoes Recipe
Amount Per Serving
Calories 722
Calories from Fat 477
% Daily Value*
Total Fat 53g 82%
Cholesterol 167mg 56%
Sodium 685mg 29%
Potassium 1620mg 46%
Total Carbohydrates 50g 17%
Protein 14g 28%
* Percent Daily Values are based on a 2000 calorie diet.