These fresh-baked Apple Cinnamon Rolls are made with a warm apple pie filling and topped with cream cheese frosting for the most delicious breakfast. The filling is a mix of brown sugar, real apples, and cinnamon, and the rolls are baked until delightfully hot and gooey. The whole family is going to love these!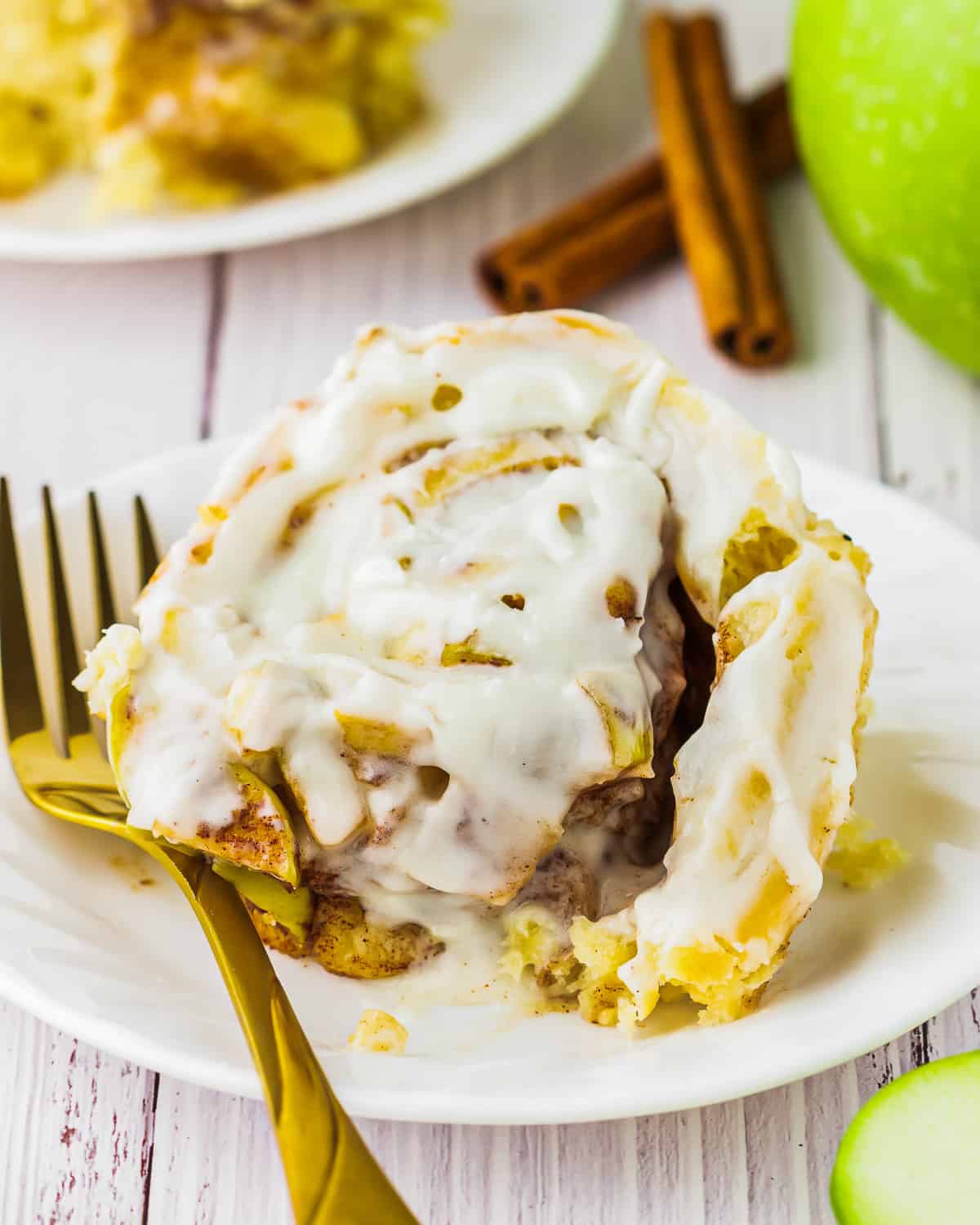 What's in Cinnamon Rolls with Apple Pie Filling?
Fall is just around the corner, and there's no better way to celebrate than making homemade cinnamon rolls with a warm filling that tastes just like apple pie!
Warm Water: Activates the yeast and hydrates the dough.
Granulated Sugar: Feeds the yeast and sweetens the dough!
Active Dry Yeast: Helps the dough rise.
All-Purpose Flour: Gives the dough structure.
Kosher Salt: Enhances the flavor of the dough and helps to offset the sweet filling and icing.
Unsalted Butter: Adds richness to the dough and forms the base of the filling and frosting.
Eggs: Give the dough structure and add richness.
Vanilla Extract: Adds a warm, sweet flavor to the dough.
Warm Milk: Hydrates the dough and makes it tender.
Brown Sugar: Sweetens the filling, giving it a caramelly taste.
Cinnamon + Nutmeg: Add a warm, spicy flavor to the filling that perfectly complements the apples.
Apples: The star of the apple pie inspired filling. I like using Granny Smith for a crisp texture and strong apple flavor.
Cream Cheese: Adds tanginess to the frosting and makes it super creamy.
Powdered Sugar: Sweetens the frosting without making it gritty.
Pro Tip: Make the sure water and milk are warmed to 105-110 degrees F to activate the yeast.
Variations on Apple Pie Cinnamon Rolls
You can change up the filling for these cinnamon rolls to include dried fruits, chopped nuts, or even chocolate chips! You can also add a bit of caramel sauce or some cinnamon and nutmeg to the frosting to make it even more flavorful!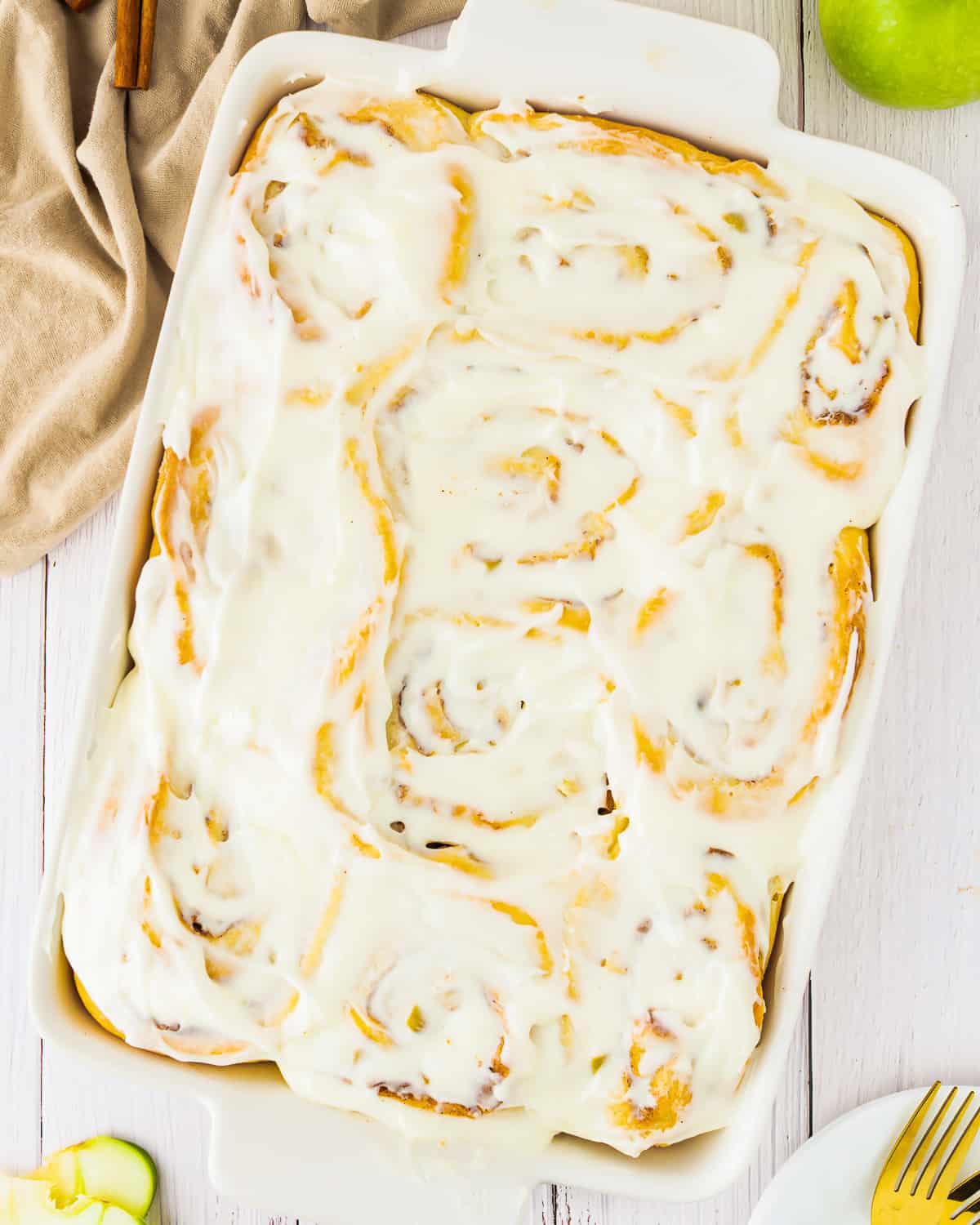 What is the difference between a sweet roll and a cinnamon roll?
A sweet roll may contain just about any filling; whereas cinnamon rolls always contain cinnamon!
Why isn't my yeast frothy?
If your yeast does not froth after standing for 5 minutes, it may be dead or the milk may have been too hot and killed the yeast. To test the temperature of the milk without a thermometer, stick a clean pinky finger halfway into the milk. If you are not able to leave your finger in the milk for at least 5-8 seconds, it is too hot and will kill the yeast.
Why do you put brown sugar in cinnamon rolls?
Brown sugar has a great caramelly flavor that pairs perfectly with warming cinnamon! You can use regular granulated sugar, but I think brown sugar gives it that extra something!
Should you roll cinnamon rolls tight?
No! You don't want to roll the dough too tight; otherwise, you risk the filling bursting out of the rolls as they bake. This could also lead to dense cinnamon rolls since the dough itself won't have enough room to expand!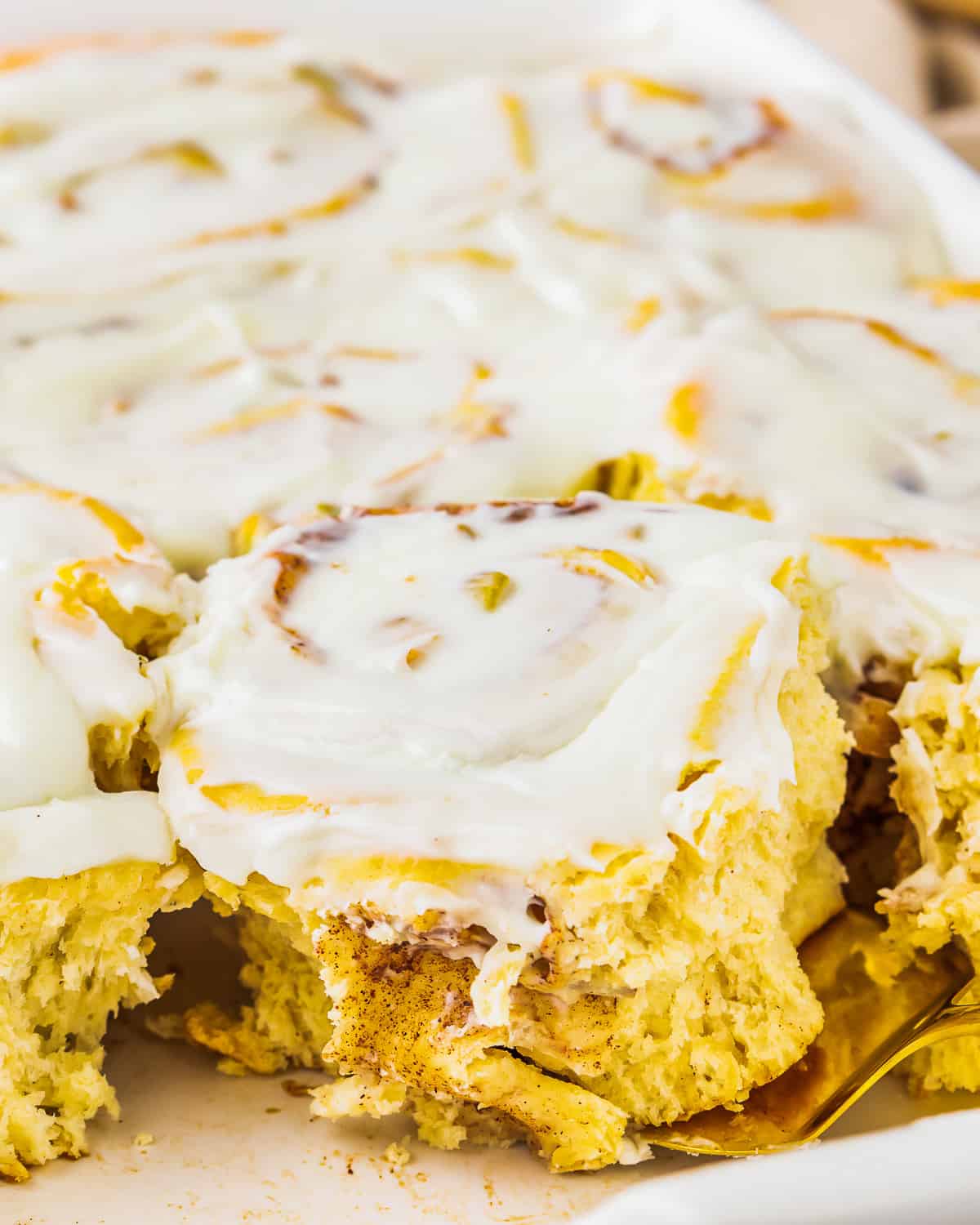 How to Store
Store leftover apple cinnamon rolls in an airtight container at room temperature for up to 2 days or in the refrigerator for up to 1 week. Enjoy at room temperature or gently reheated in the microwave.
How to Freeze
These apple pie cinnamon rolls freeze beautifully! For best results, individually wrap unfrosted rolls in plastic wrap and place into an airtight container. Freeze for up to 3 months. Thaw in the refrigerator and heat before icing and serving.
Serving Suggestions
These rolls are one of my favorite fall apple recipes, perfect brunch or breakfast. For a little something extra, drizzle some warm caramel sauce over these cinnamon rolls just before serving alongside a piping hot cup of salted caramel eggnog or caramel apple cider. Or go for a frosty caramel macchiato or apple crisp macchiato.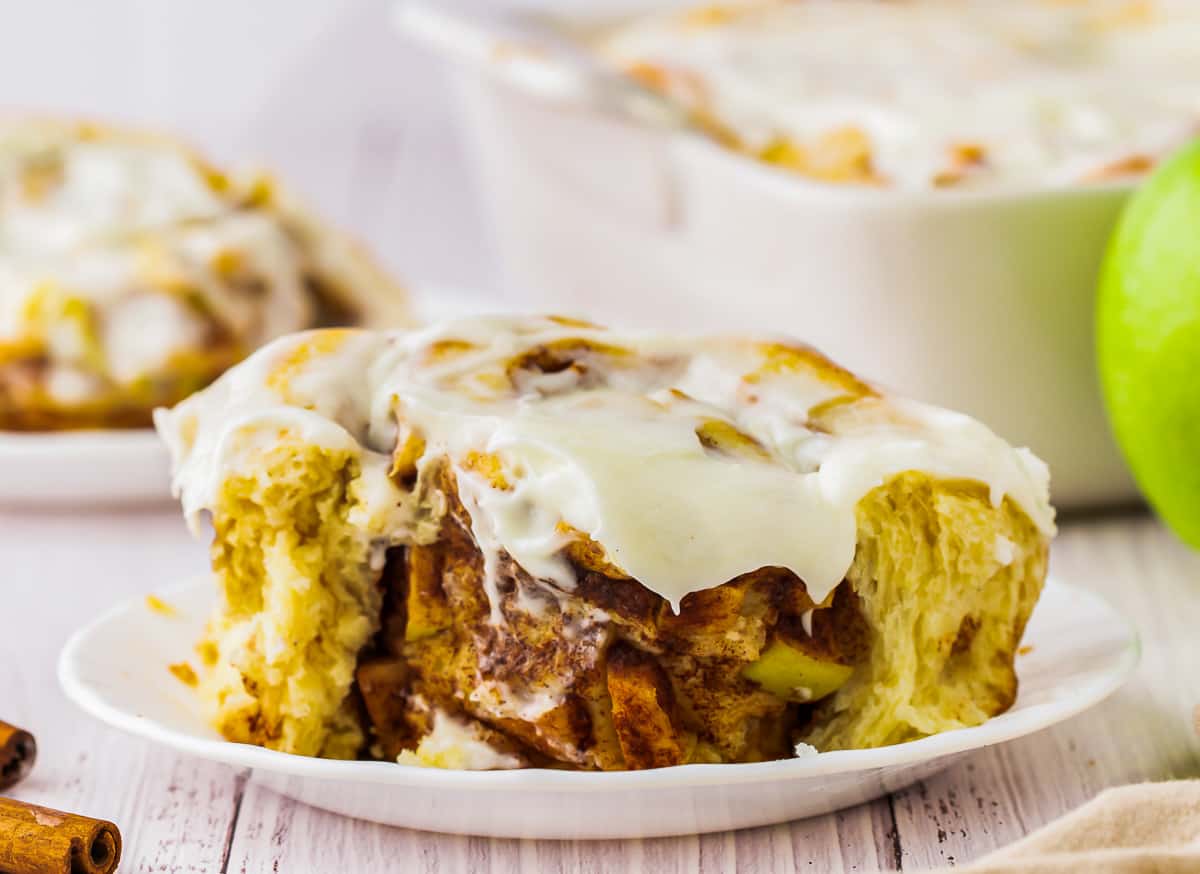 More Breakfast Roll Recipes We Love