This is the BEST EASY CHILI RECIPE! Our Lazy Day 6 Ingredient Chili is one of our favorite recipes to make for a crowd. It's such an easy recipe to make and it's so flavorful! Since it only contains 6 ingredients, you most likely already have this stuff in your pantry. It's perfect for game day and absolutely fool-proof.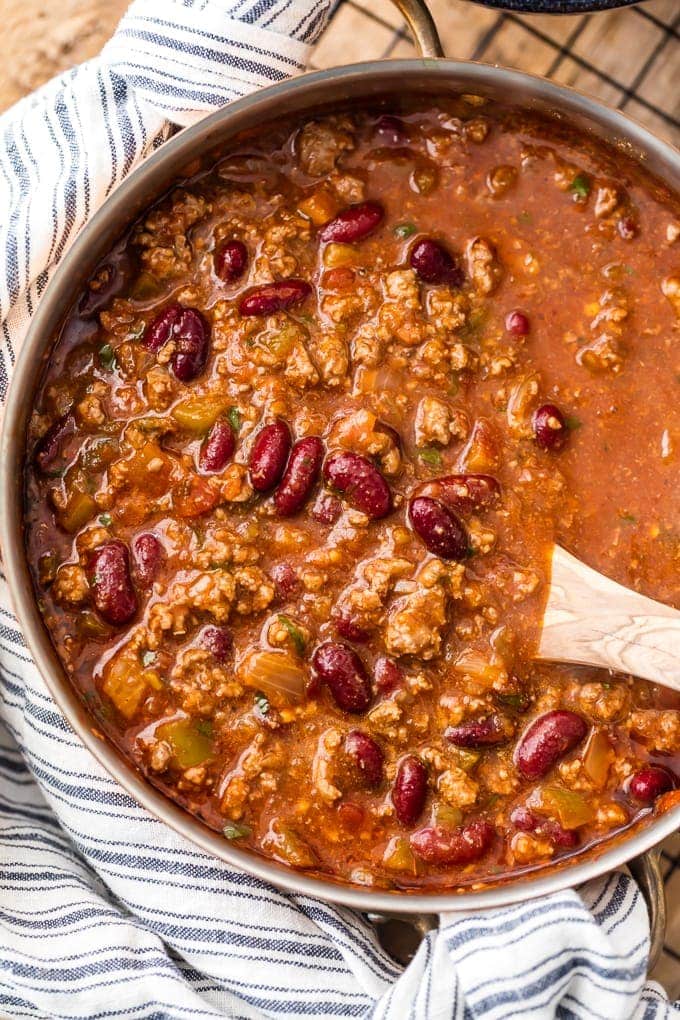 Easy Chili Recipe (6 Ingredients!)
The Easy Chili Recipe is finally here! If you guys follow along on my Instagram stories than you've probably been waiting for this recipe–the BEST Easy Chili Recipe. I promised a couple people I would post this week so HERE IT IS! I'm proud of myself for this easy recipe and for getting it up only a couple days after making it. Usually its weeks HA!
This Lazy Day 6 Ingredient Chili literally knocked my socks off when I made it and I loved it so much that I wanted it up before the Super Bowl. You NEED to make this Easy Chili Recipe and you NEED to make it now! You likely already have all of the ingredients in your pantry, so what are you waiting for??
This 6 Ingredient Chili may just be the Best Easy Chili Recipe!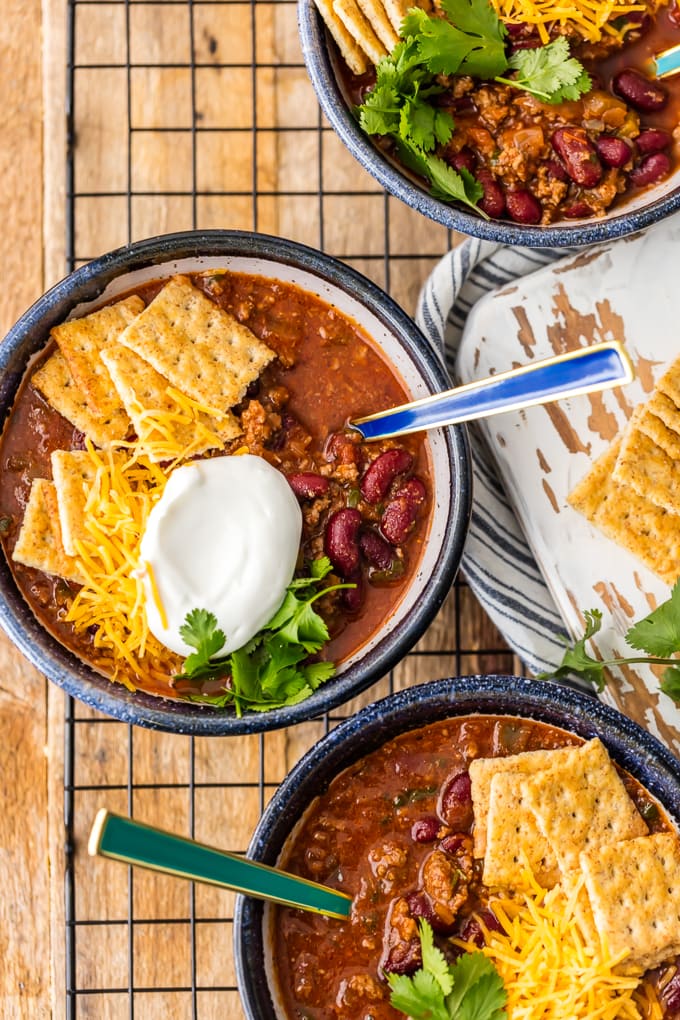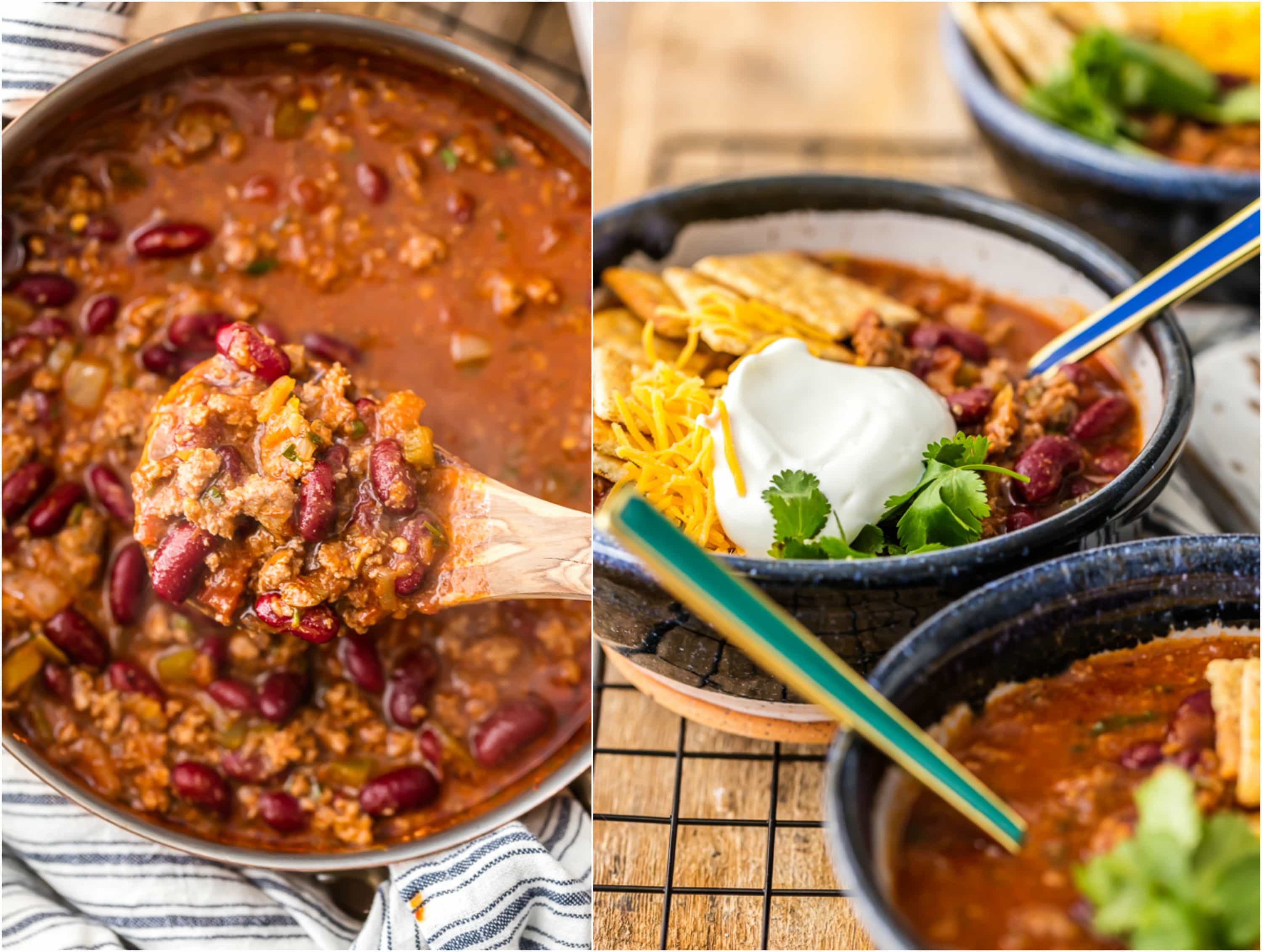 Lazy Day Chili
This chili is exactly the type of easy recipe I wanted to specialize in when I started The Cookie Rookie. It's something that literally ANYONE can make and EVERYONE will love. When I first started cooking, I had no idea that making a delicious meal for your family could be this darn easy.
I mean, it only uses 6 ingredients…are you kidding me?! It doesn't get easier than that! Even with so few ingredients, this easy chili recipe still has an amazing depth of flavor and it's plenty hearty, so don't you worry about that.
This would be the perfect chili for quick chili dogs, or just for a chilly (see what I did that) night at home in front of a fire. It's made in under 30 minutes and freezes like a dream. Is this heaven? NO it's just the best easy chili recipe!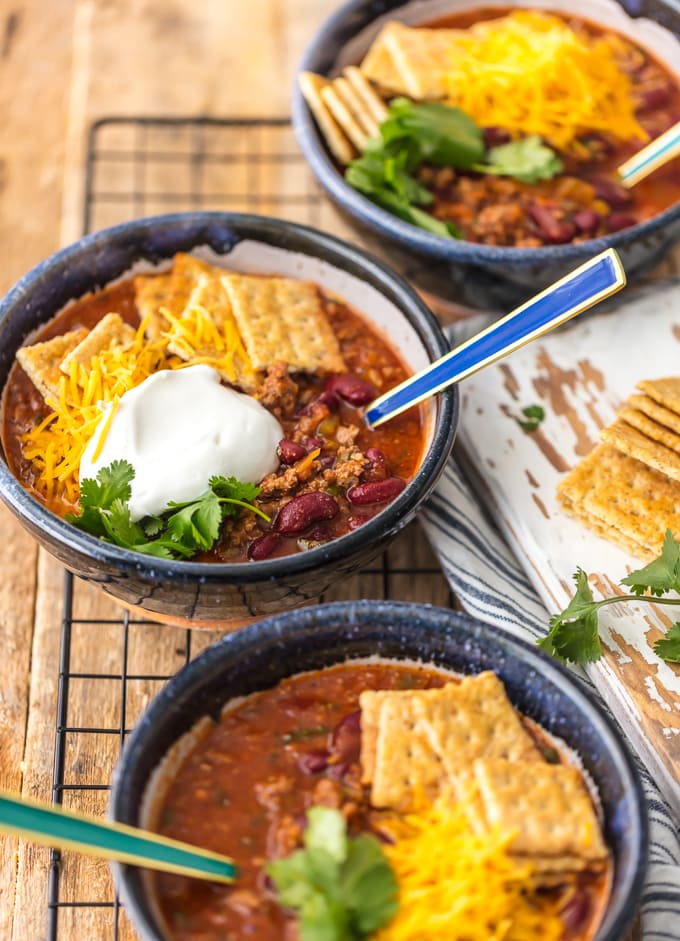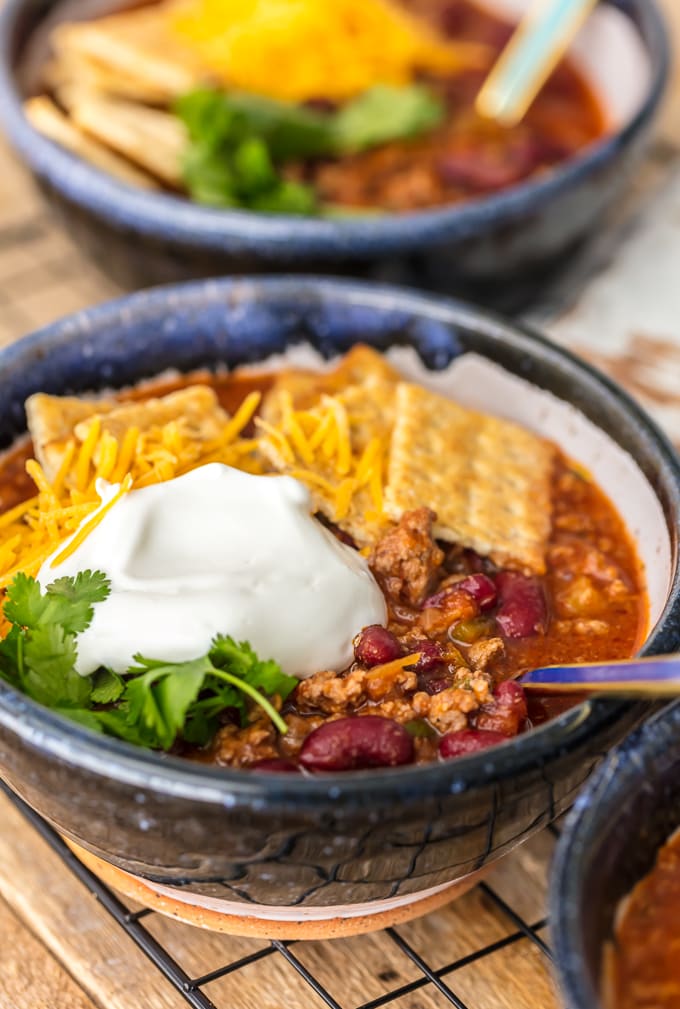 6 Ingredient Recipe
I adapted this easy chili recipe from an amazing new cookbook I just discovered, 6 Ingredient Solutions by America's Test Kitchen. I recommend this cookbook to literally anyone and everyone. What's great about America's Test Kitchen is they test these recipes up down and sideways to make sure they're top notch. You can trust that they've put in the work so that we don't have to! That's my kind of situation.
This is a great meal prep recipe. Make a big batch and portion it out for dinner throughout the week, or even freeze it for later.
How do you make Homemade Chili?
Making homemade chili might seem daunting at first, but it doesn't have to be hard. This easy chili recipe is so simple to make on your own at home. You only need 6 ingredients and half an hour to make this delicious homemade chili!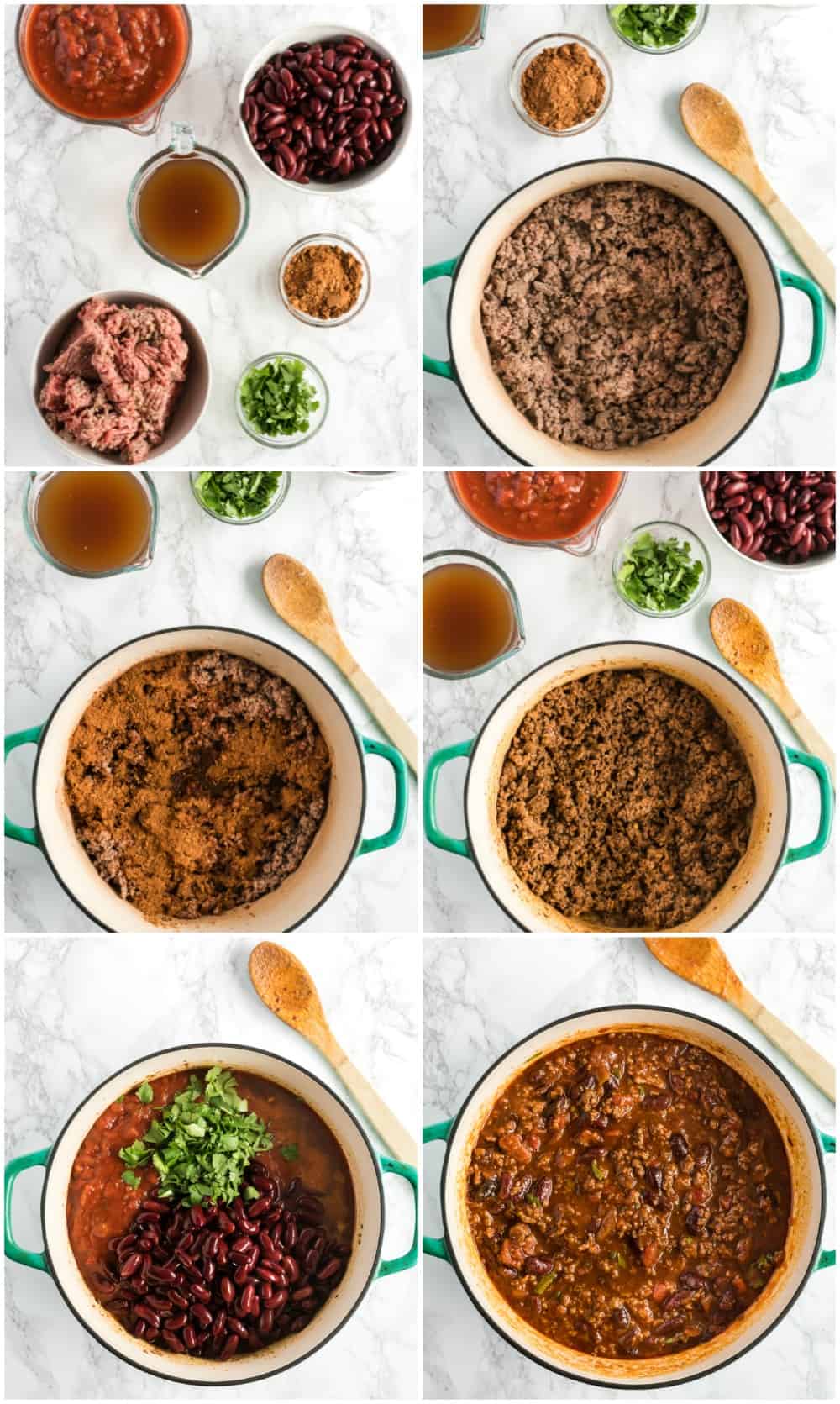 What spices do you use in chili?
Typical chili spices include things like chili powder, garlic and onion powder, cayenne pepper, ground cumin, and oregano.
To make it extra easy, you can just simplify all of your chili spices into one ingredient by making your own homemade chili spice mix. You get all of the same great chili flavor without having to buy each spice individually.
How do I make Chili con Carne?
Chili con Carne simply means "chili with meat". Most people are probably used to having some meat in their chili, although it's not necessary. With this easy chili recipe, we have included ground beef as one of the 6 ingredients. This adds a hearty, savory flavor to the chili. Just follow the recipe as is to make chili con carne.
You can also switch out the ground beef for another type of meat, like chicken or sausage. Or if you prefer a meatless chili, try this vegan chili recipe.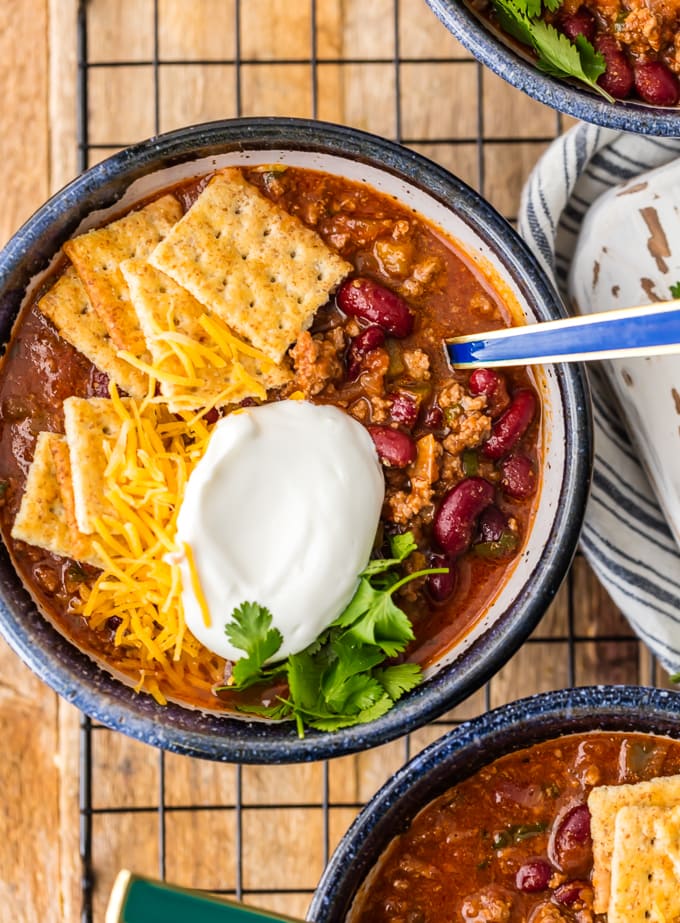 While you're here, check out our how to recipe video! You'll see just how simple it is to make homemade chili when you don't have a lot of time.
If you LOVED this recipe, don't forget to try some of these other chili recipes as well:
See the recipe card below for details on how to make this 6 Ingredient Chili. Enjoy!