This Easy Chili Recipe is quick, simple, and delicious! You only need 6 ingredients, including ground beef, beans, chili seasoning, broth, and salsa (my secret ingredient for convenience). This flavorful homemade chili is always a hit, and a cozy dinner will be on the table in just 30 minutes!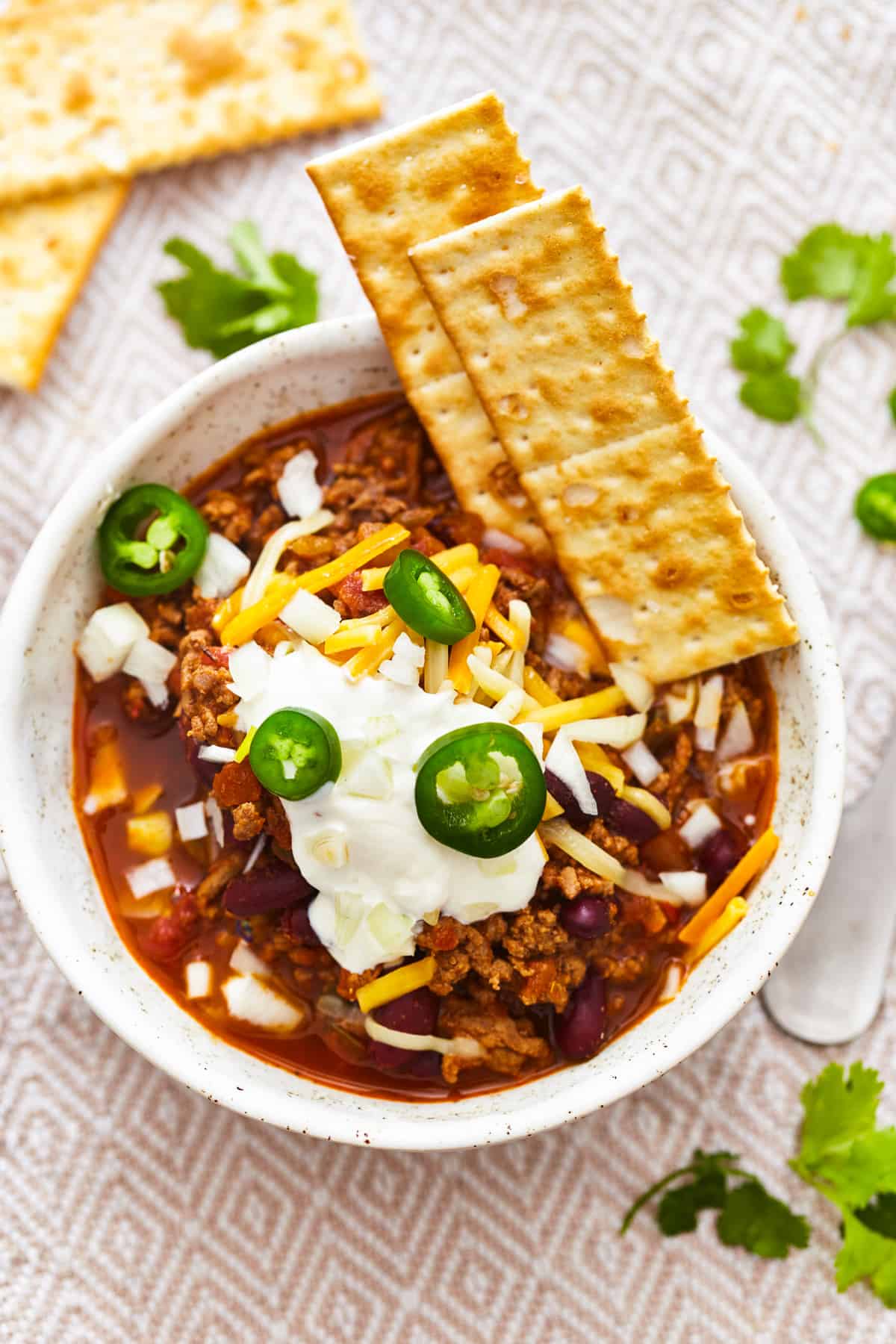 What's in this 6-Ingredient Chili
You only need a handful of ingredients, one pot, and 30 minutes to make this super easy chili recipe. It's the perfect recipe for beginners because it's totally foolproof!
Ground Beef: Use ground beef, or swap it with ground chicken or ground turkey.
Chili Seasoning: I use my homemade chili seasoning, but you can use your favorite.
Beans: A can of kidney beans is quick and convenient. You can use your favorite type of bean if you prefer.
Salsa: A jar of chunky salsa adds all the flavor and texture you'd usually need multiple ingredients for. Try a spicy salsa if you want to add some heat.
Broth: I use low-sodium beef broth for the best flavor.
Cilantro: Cilantro is definitely optional, so if you don't like like it, skip it!
What are the best toppings for easy chili?
I love to load up every bowl of homemade chili with lots of toppings, and you can really add whatever you want. Here are some favorites.
Shredded Cheese
Sour Cream
Crackers
Green Onions
Sliced Jalapenos
Cilantro
Hot Sauce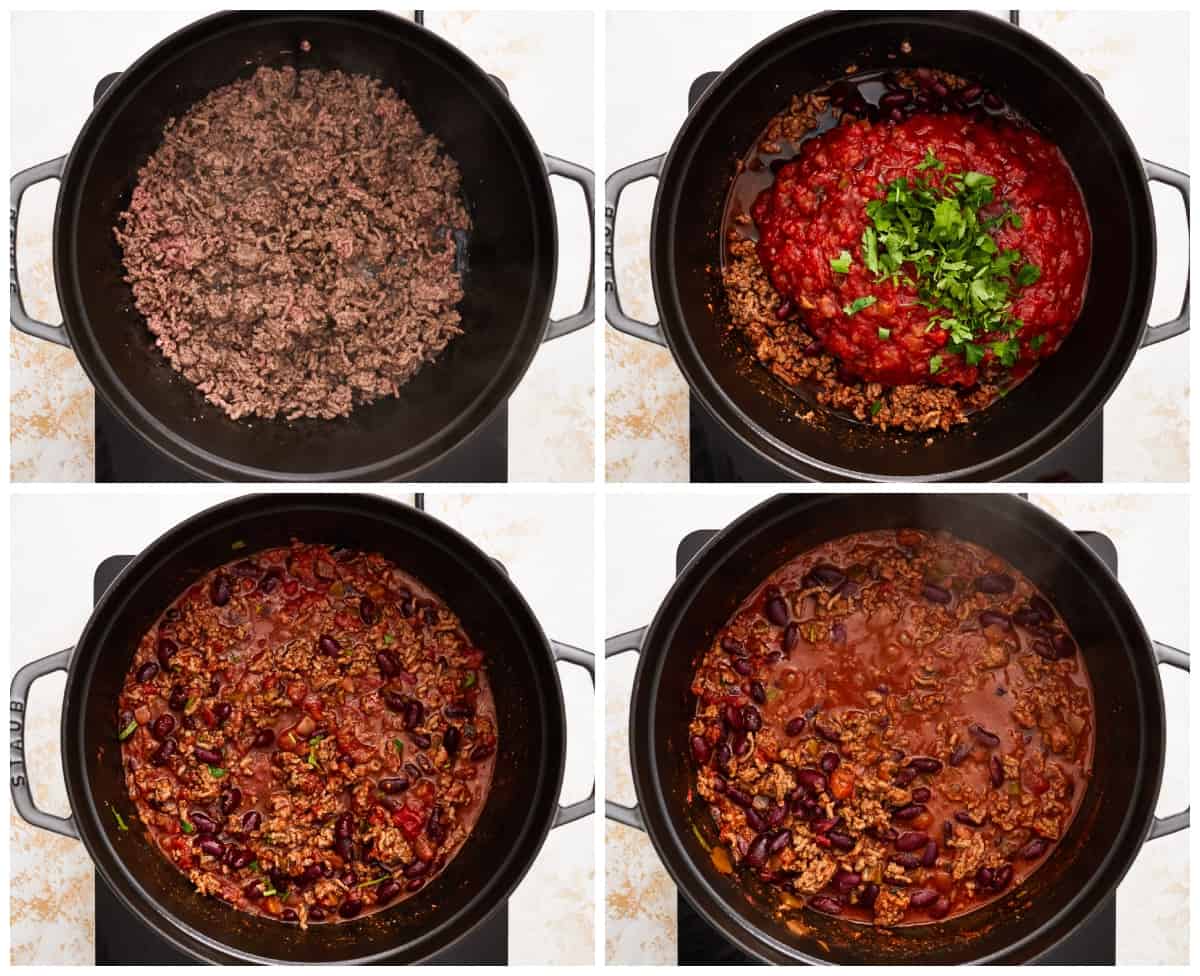 What spices do you use in chili?
Typical chili spices include things like chili pepper and chili powder, garlic and onion powder, cayenne pepper, ground cumin, paprika, and oregano. Using a chili seasoning blend brings everything together, so it's much easier and quicker.
How long should you let chili simmer on the stove?
This quick chili recipe only needs about 15-20 minutes to simmer on the stove. If you have the time, feel free to let it simmer a little longer to continue deepening the flavor.
Do you have to cook ground beef before adding it to chili?
Yes, you need to cook the ground beef until it's no longer pink, Then you can add the rest of the ingredients to make the chili.
Can I make this chili without meat?
Yes, if you prefer a meatless chili, simply skip the first steps with the ground beef. Add all ingredients to the pot and simmer together. You could also use a plant-based meat crumble, in place of the beef, following the same instructions.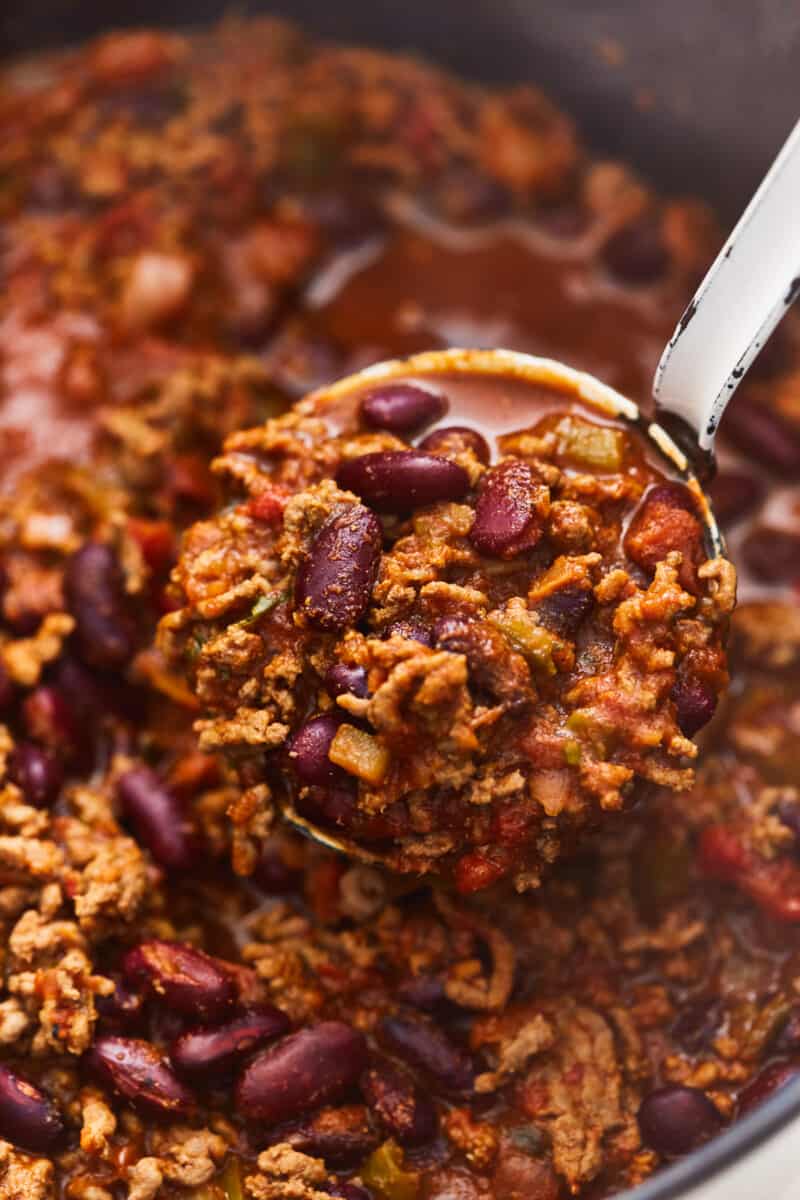 How to Store and Reheat Easy Chili
Store leftover chili in an airtight container, and keep it in the refrigerator up to 4 days. It's quick and easy to reheat in the microwave in 30-second intervals, stirring between. You can also reheat it on the stovetop, gently simmering and stirring until warmed through.
This is a great make ahead recipe, because the flavor only gets better while it sits in the fridge.
How to Freeze Quick and Easy Chili
Let it cool to room temperature, then store beef chili in freezer-safe containers or resealable bags (to freeze flat). Freeze for up to 3 months. Thaw overnight in the fridge before reheating.
What to Serve with Homemade Chili
This flavorful, easy chili recipe makes for the best comfort meal. I always serve cornbread or another hearty bread with it (like beer bread or rosemary focaccia), and Air Fryer baked potatoes make a good side dish too. It also makes a great topping for chili dogs. And this recipe is a gameday favorite that pairs well with meatball subs, cheese fries, and Instant Pot Pulled Pork.