New York Style Pizza features a thin and crispy homemade crust topped with robust pizza sauce, that's also made from scratch, and plenty of gooey mozzarella cheese! Next time you're craving pizza, skip the local chain delivery place and treat yourself to the best NY pizza outside of the big apple.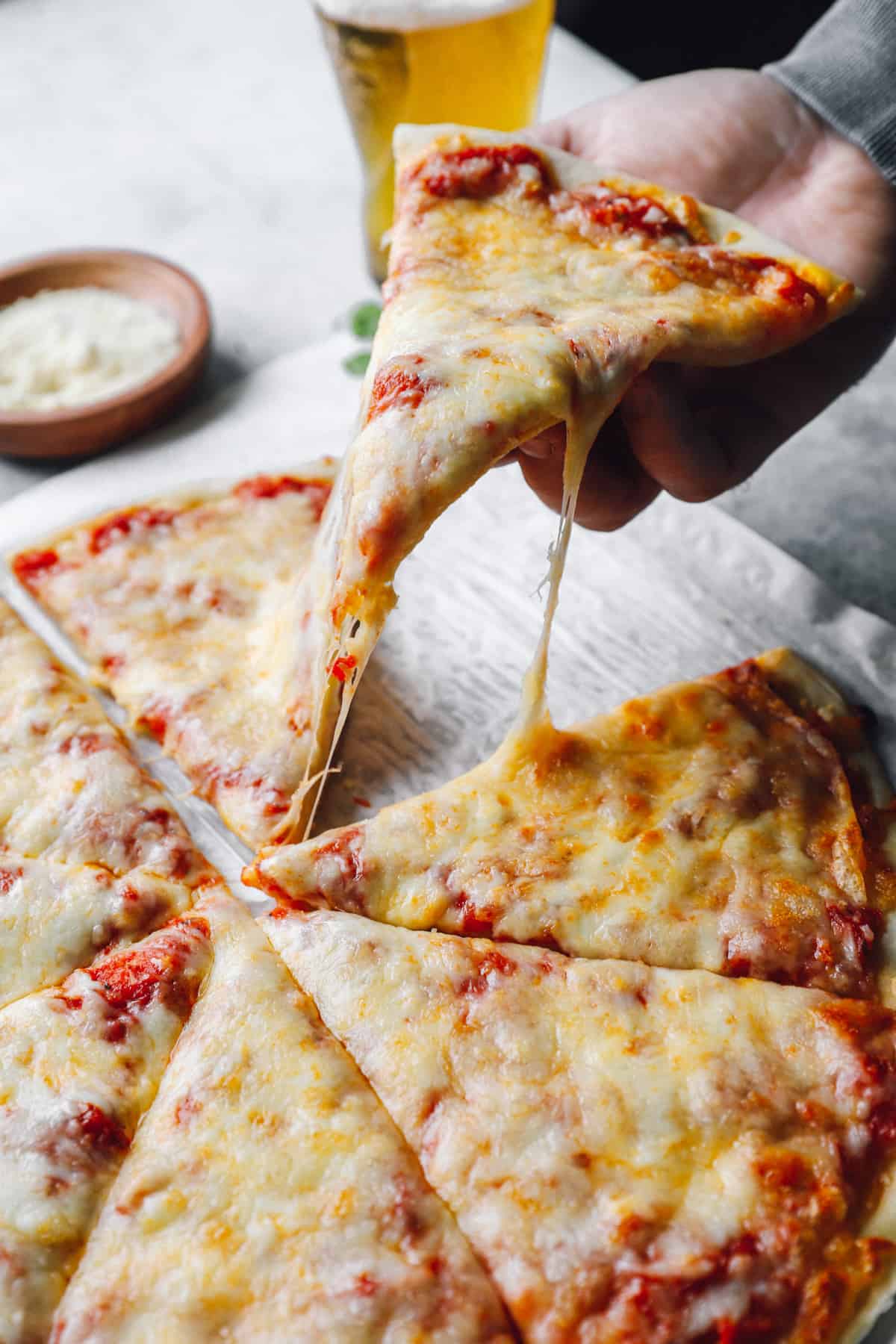 What's in this New York Pizza recipe?
There's no denying that a slice of New York style pizza is downright delicious. Thin, crispy crust is topped with a layer of pizza sauce and gooey mozzarella cheese. You'll find no frills here, only the classic pizza flavors that you know and love!
Water: Warm water adds moisture to the dough and provides an ideal environment for the yeast to bloom, allowing the dough to rise.
Sugar: Granulated sugar feeds the yeast so that it becomes active and creates the best rise. It also adds a bit of sweetness to the sauce to cut the acidity.
Yeast: Active dry yeast allows the dough to rise. You can also use instant yeast.
Flour: All-purpose flour creates the base of the pizza dough. For chewier dough, use bread flour instead.
Salt: Kosher salt enhances the flavor of the dough and the sauce. If using a finer-grain salt, like sea salt, reduce the amount by half.
Oil: Olive oil provides moisture and flavor to the dough and adds flavor to the sauce.
Tomatoes: Whole peeled tomatoes are the best choice for this sauce. They have a rich flavor and allow you to change the consistency of the sauce to suit your tastes.
Onion: Onion adds a rich depth of flavor to the sauce.
Seasonings: Oregano and basil are classic Italian seasonings.
Garlic: Adds delicious garlicky flavor to the sauce.
Cheese: Mozzarella cheese is the classic choice for any pizza. I recommend shredding it yourself for the best melt.
Pro Tip: Weigh the dough ingredients using a kitchen scale or measure using the spoon-and-level method to avoid a dense dough.
NY Pizza Toppings
There are so many ways to change up this New York pizza recipe. Try some of these classic flavor variations and toppings, straight from some of the most famous shops in New York:
Supreme: top with pepperoni, sausage, mushroom, and onion.
Meat Lover: top with pepperoni, sausage, and meatball.
Veggie: top with bell pepper, onion, mushroom, and olive.
Margherita: add freshly sliced mozzarella and fresh basil.
White: skip the sauce, and add freshly sliced mozzarella cheese (and other cheeses, if desired).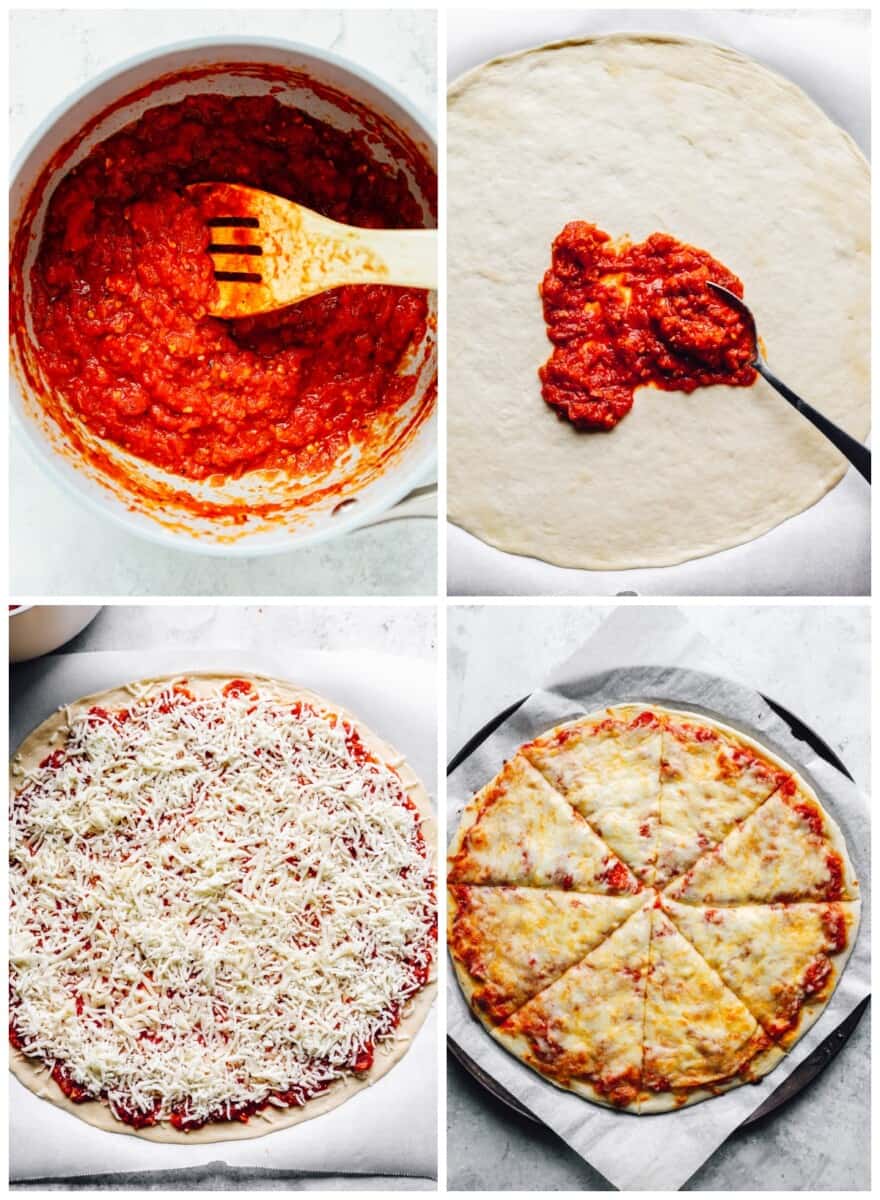 What is New York style pizza?
New York pizza is a regional style of pizza where the crust is exceptionally thin and large due to how it is tossed. The crust is thick only along the edge, and it is pliable enough to be folded in half to eat.
What's the difference between New York style pizza and Chicago thin crust pizza?
New York style pizza is unique in its size and foldability. Chicago thin crust pizza, on the other hand, is much smaller and has a thin, crisp, cracker-like crust. The dough for Chicago thin crust pizza is rolled rather than tossed, and it is cooked for much longer, making it impossible to fold.
How do I ensure I get a crispy crust on my New York style pizza?
The key to a good New York style pizza is a thick outer edge and a thin center. I'm no expert pizza maker, so I don't dare toss my crust, but you can achieve the thicker outer edge by turning the pizza 90° each time you roll it and rolling from the center outward. This will help to evenly thin out the middle and concentrate thicker areas of dough around the outside. The key to getting the crust perfectly cooked is to preheat your pan in a hot oven!
How do I eat New York style pizza?
The classic way to eat this pizza is to grab a slice with two hands and fold it in half at the center of the crust, creating a long, thin, hot dog bun-shaped slice. See the image above the recipe card for a visual!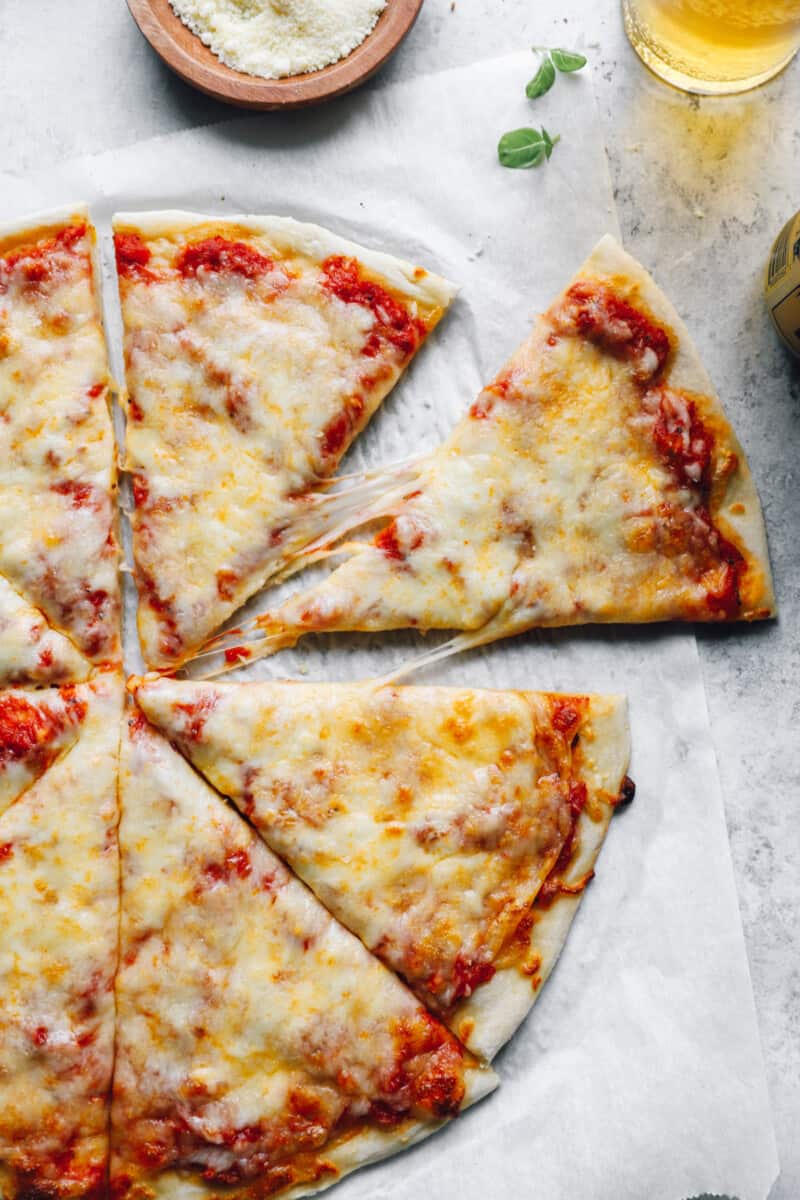 How to Store and Reheat New York Style Pizza
Store leftover pizza slices in an airtight container, resealable bag, or wrapped tightly in aluminum foil. Keep it in the refrigerator for up to 5 days. Reheat slices in a 350°F oven for 5-7 minutes or in a covered dry skillet with 1 teaspoon of water until warmed through.
How to Freeze Thin Crust Pizza
Freeze New York style pizza slices in a single layer on a lined baking sheet until solid, about 1-2 hours. Transfer to an airtight container or resealable bag to store for up to 3 months. Let thaw overnight in the refrigerator before reheating.
What to Serve with NYC Pizza
You can't have a real pizza night at home without these quintessential side dishes! I love it paired with garlic knots or a classic caesar salad. It's also delicious with mozzarella sticks, pesto pasta salad, or Buffalo wings!
For the adults, pizza is absolutely delicious paired with a glass of wine, sangria, or a beer margarita!