This post is sponsored by Bob's Red Mill. All opinions are my own.
This hot chocolate bundt cake tastes just like your favorite cup of hot cocoa. It's rich, chocolatey, and topped with marshmallows! Everyone will love the taste (and the look) of this beautiful hot chocolate cake. It's the perfect dessert to perk up your winter!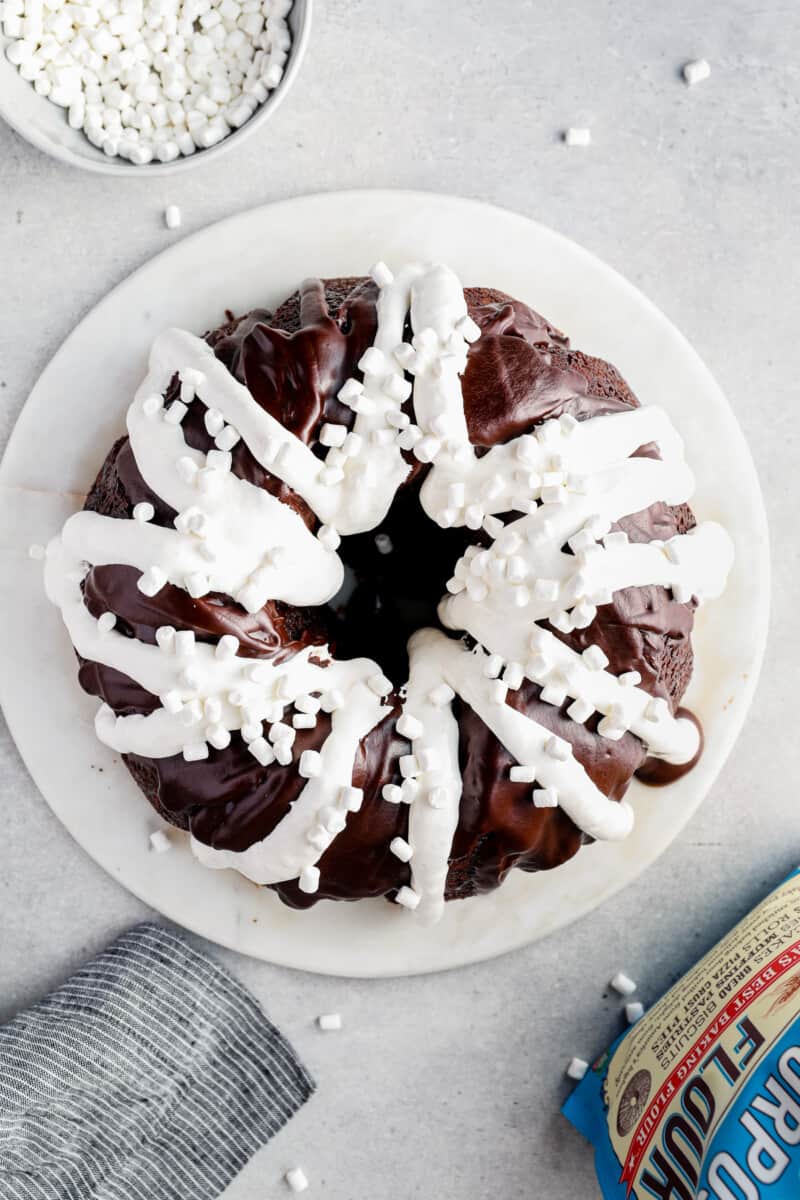 Hot Chocolate Cake
This hot chocolate bundt cake recipe will be every chocolate lover's new favorite dessert. It tastes just as good as it looks, which is unbelievably amazing!
This marshmallow hot chocolate cake is topped with chocolate ganache, marshmallow creme, and more mini marshmallows. It's so fun to look at, which means it's perfect for holidays and special occasions. Kids and adults alike will devour this cake!
Why You'll Love this Chocolate Bundt Cake Recipe:
Chocolatey: There's no skimping on the chocolate here. This cake is rich, chocolatey, and so delicious!
Festive: This hot chocolate bundt cake makes the best dessert for winter holidays!
Cozy: A cup of hot chocolate is the coziest treat in the midst of winter, so just imagine how perfectly cozy this cake will be!
If you like this cake, you'll love this slow cooker peppermint hot chocolate and this frozen caramel hot chocolate!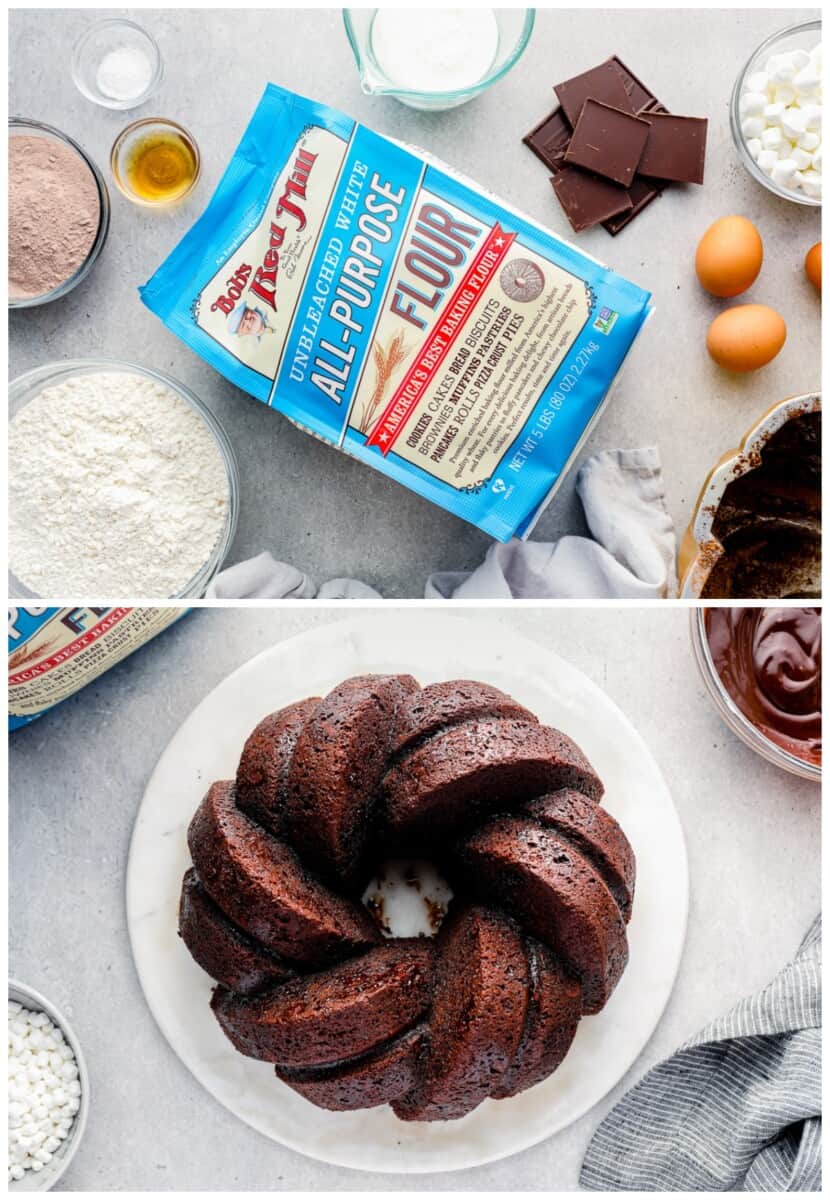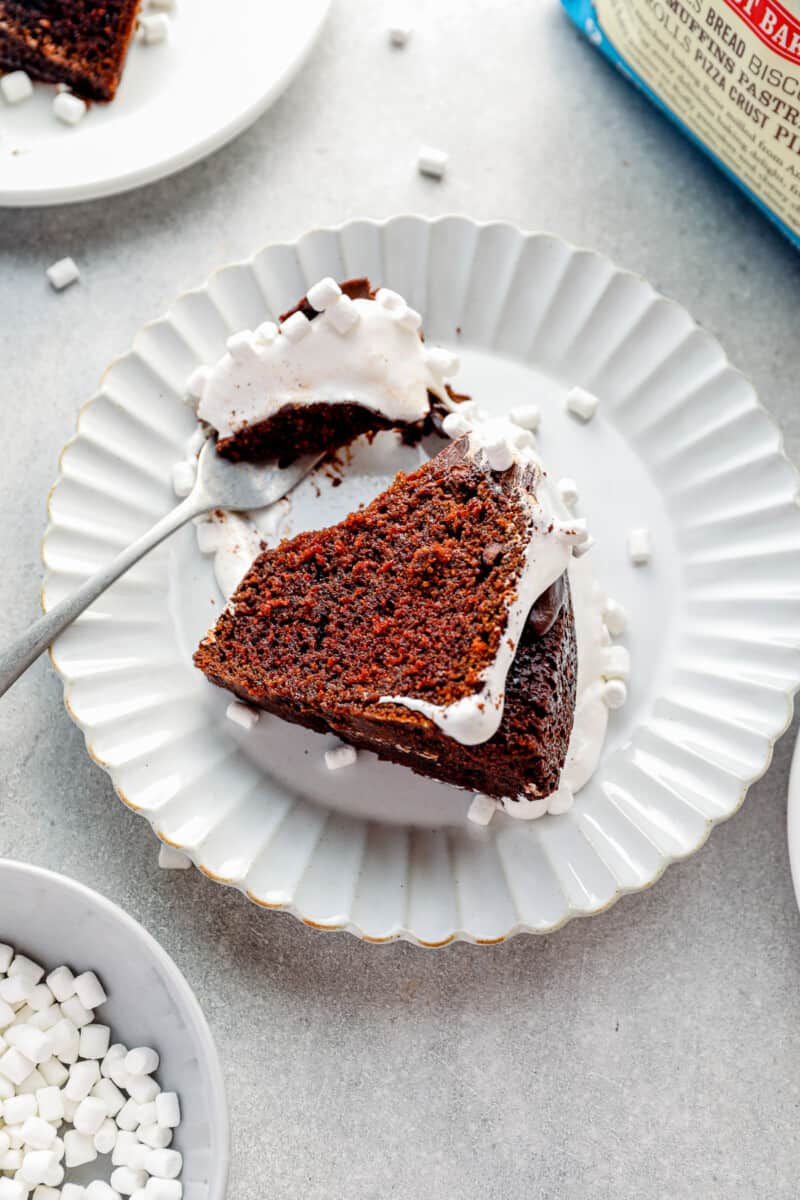 What's the best flour to use for baking?
For this recipe, I used Bob's Red Mill's Unbleached White All-Purpose Flour. We have huge packages all around our house during holiday baking. To me, it's the best on the market.
If you're looking for a Gluten Free Flour that is amazing, their 1:1 Gluten Free Baking Flour is absolutely second to none.
I've used Bob's for years. Here are some other recipes I've made using their line of amazing baking products:
How to Make Hot Chocolate Bundt Cake
You can jump to the recipe card for full ingredients & instructions!
Melt the baking chocolate in a saucepan, and combine the ingredients to make the chocolate mixture. Then set it aside to let it cool.
In a separate bowl, combine dry ingredients.
Pour cooled chocolate into a stand mixer, and beat in the eggs, one at a time.
Add in the other ingredients, one at a time, to combine. Then gently fold in chocolate chips and marshmallows.
Pour the batter into the greased bundt cake pan, then bake for 45 minutes at 350°F.
Let the cake cool, and make the chocolate ganache.
Top the finished hot chocolate cake with marshmallow creme, ganache, and mini marshmallows.
Slice, serve, and enjoy!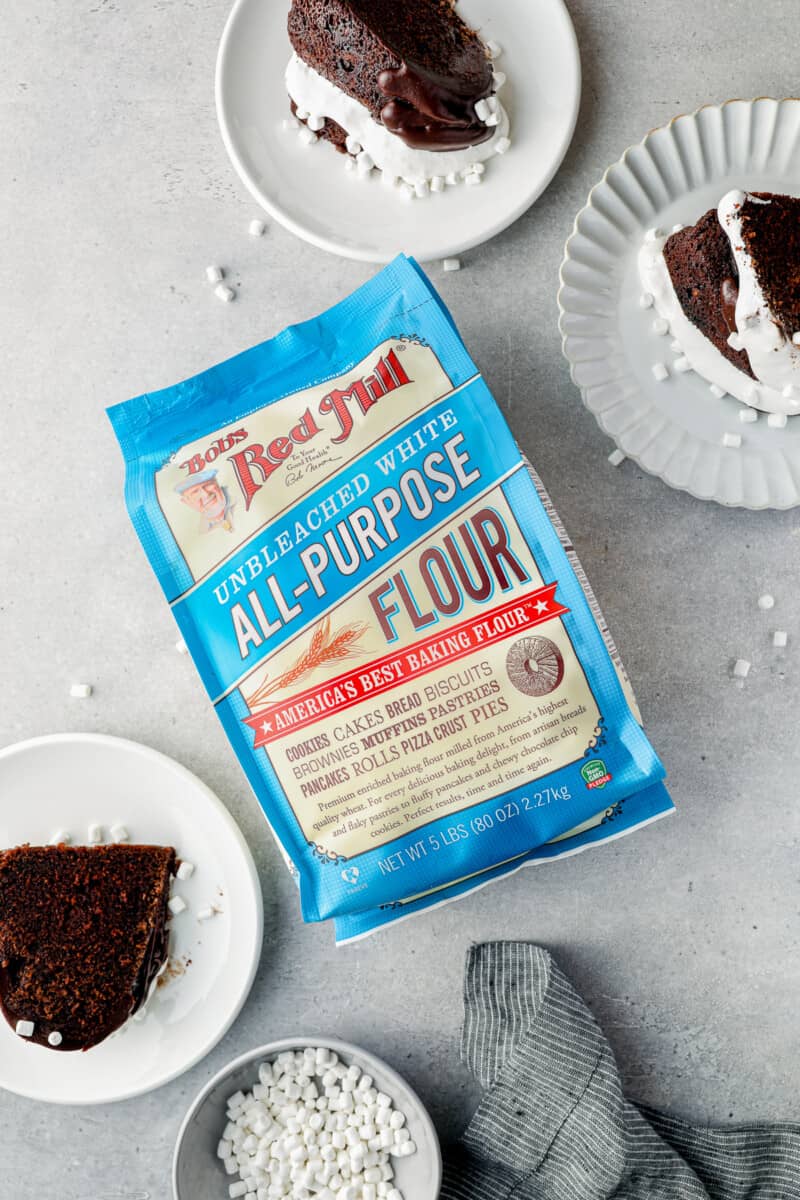 Do I use hot chocolate powder or liquid hot chocolate?
We are adding dry hot cocoa mix into this cake, so no need to make a cup of hot chocolate (although you might want to sip on one while baking).
Can I use homemade hot chocolate mix in this recipe?
You can use any hot cocoa powder here, store-bought or homemade. You can use this hot chocolate mix recipe, without the malted milk powder.
What size bundt pan should I use?
Use a standard 10-inch bundt cake pan for this recipe.
Can I freeze this bundt cake?
Yes! If you're making this ahead of time and plan to freeze it whole, I recommend freezing it without the ganache or creme. You can make that when you're ready to thaw and serve the cake at a later date. It will be best within 2-3 months.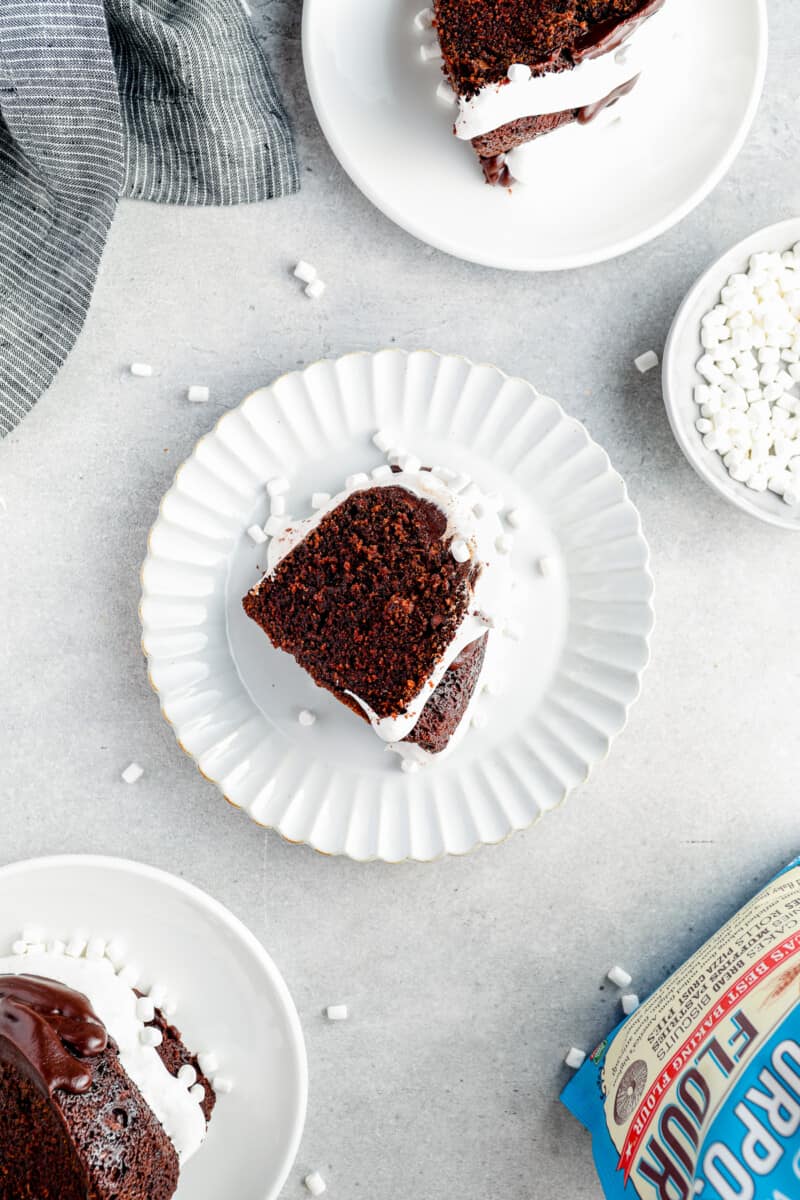 If you love chocolate, you're going to love this hot chocolate cake! It's so rich, sweet, and flavorful. So cozy up and indulge in this tasty dessert!
Tips!
Grease the bundt cake pan and sprinkle it with cocoa powder. This will help prevent sticking so that it comes straight out of the pan in the perfect shape.
Stir chocolate consistently until it's fully melted.
To check for doneness, stick a toothpick into the cake. If it comes out clean, it's done. If there's liquid batter, it needs to bake longer.
Let the cake cool slightly before removing it from the pan, then let it finish cooling on a rack.
When making the ganache, microwave in 30-second intervals, until fully melted.
Use a Ziplock/resealable plastic bag to make your own icing bag. Cut a small tip off the corner, and you'll be able to squeeze out the marshmallow creme.
Store leftover cake in an airtight container (or in a cake cloche) at room temperature for up to 2 days.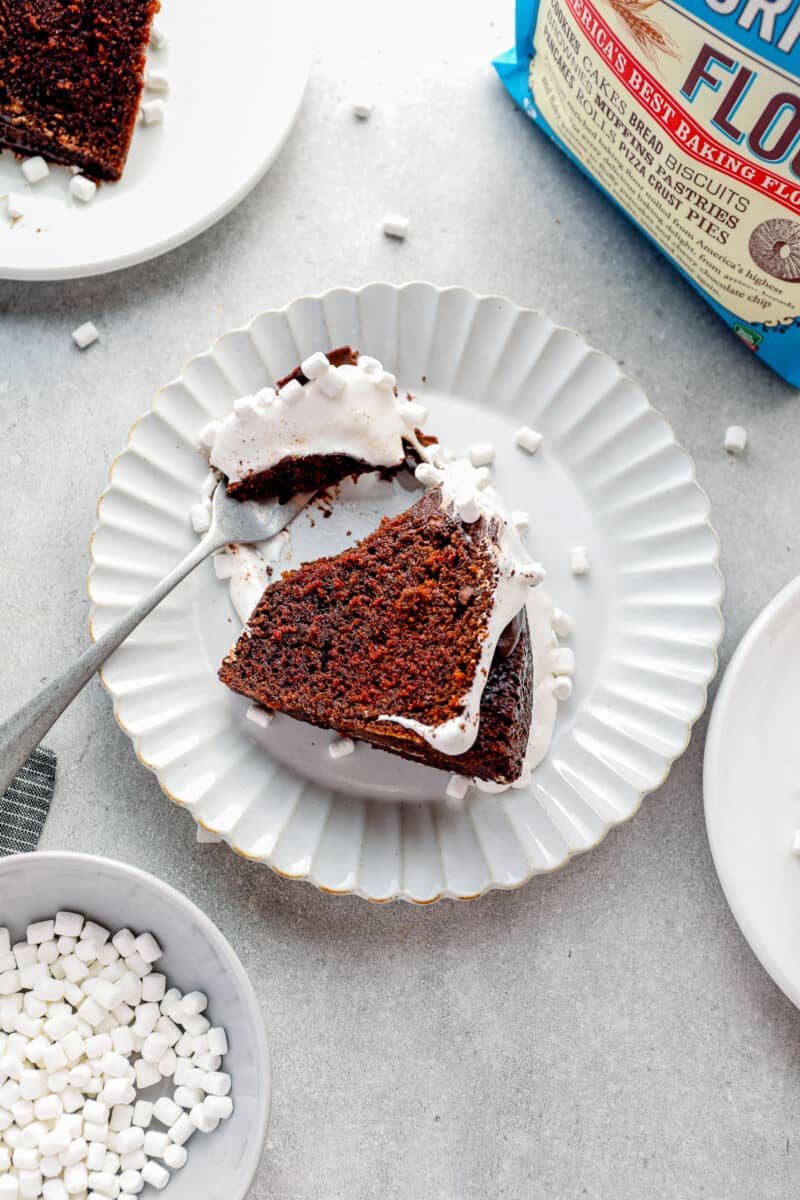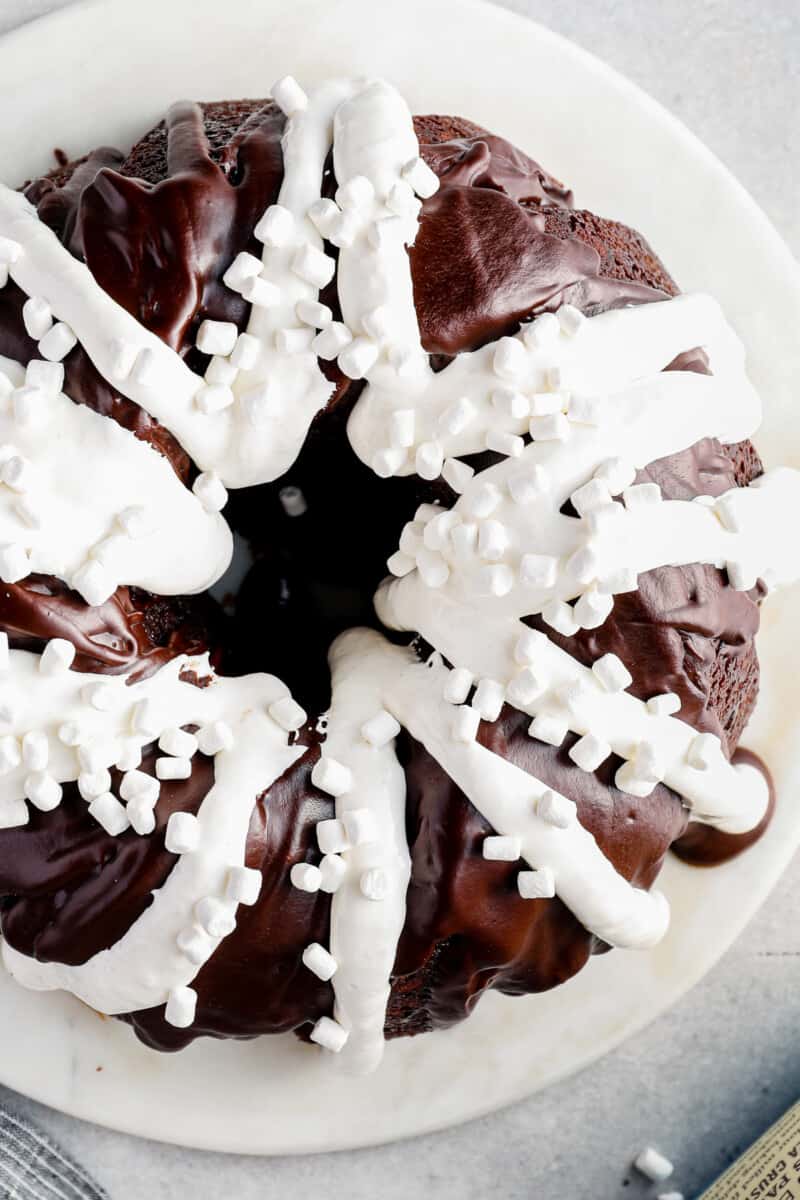 Is this chocolate cake light or dense?
This cake comes out so moist, and perfectly dense. The texture is a little bit lighter than a pound cake, and still quite fluffy.
What kind of baking chocolate is best?
Use a semisweet baking chocolate for this hot chocolate bundt cake recipe. It's a little less intense than bitter/unsweetened chocolate.
What other toppings go well with this cake?
This cake is topped with chocolate ganache, marshmallow creme, and mini marshmallows. But you can add more/different toppings if you prefer. Try peppermints/candy cane bits, caramel drizzle, powdered sugar, or cocoa powder. Basically, anything you might add to a cup of hot chocolate would be perfect on top of this bundt cake!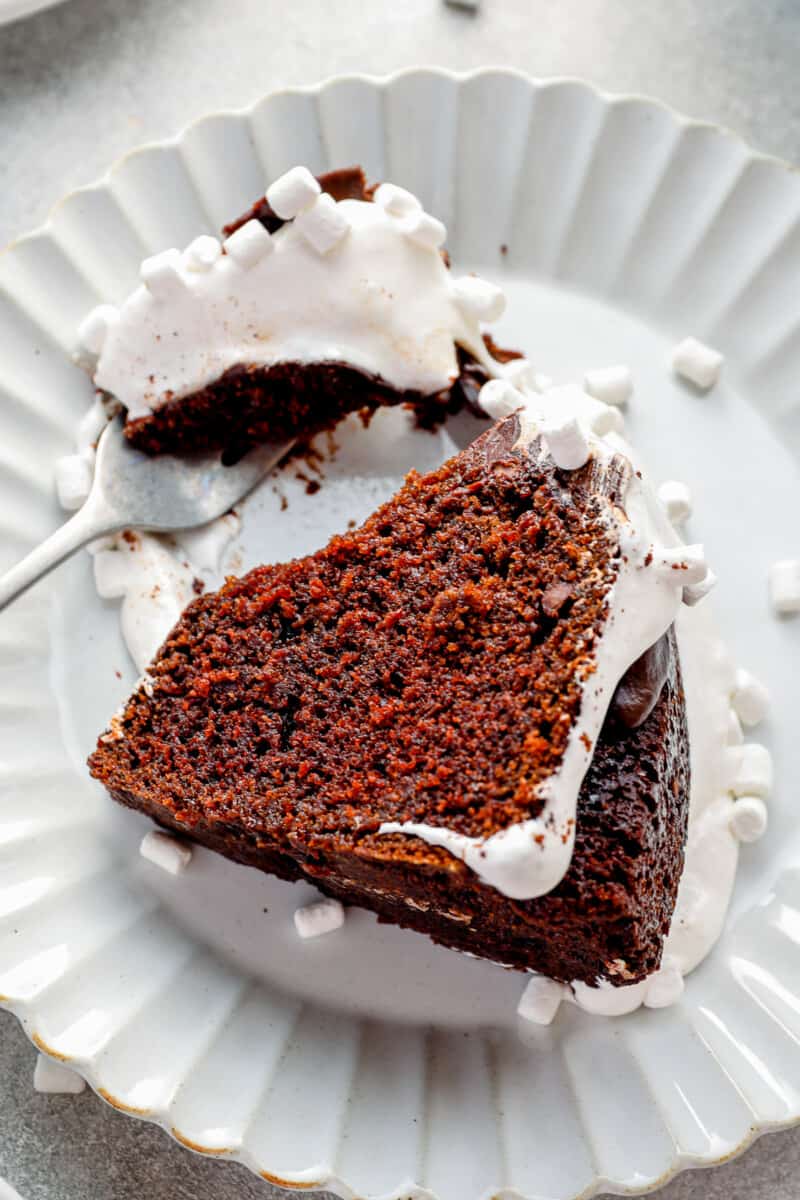 This hot chocolate bundt cake is sure to be a favorite! I think it's the perfect cake to serve during the holiday season, but of course, it tastes just as good any time of year.
If you make this recipe be sure to upload a photo in the comment section below or leave a rating. Enjoy! You can also jump to recipe.