Chocolate Thumbprint Cookies make a great holiday cookie and they're so easy to make! With this recipe, you get to choose from two flavors: Salted Caramel or White Chocolate Peppermint. Make both so everyone can choose their favorite!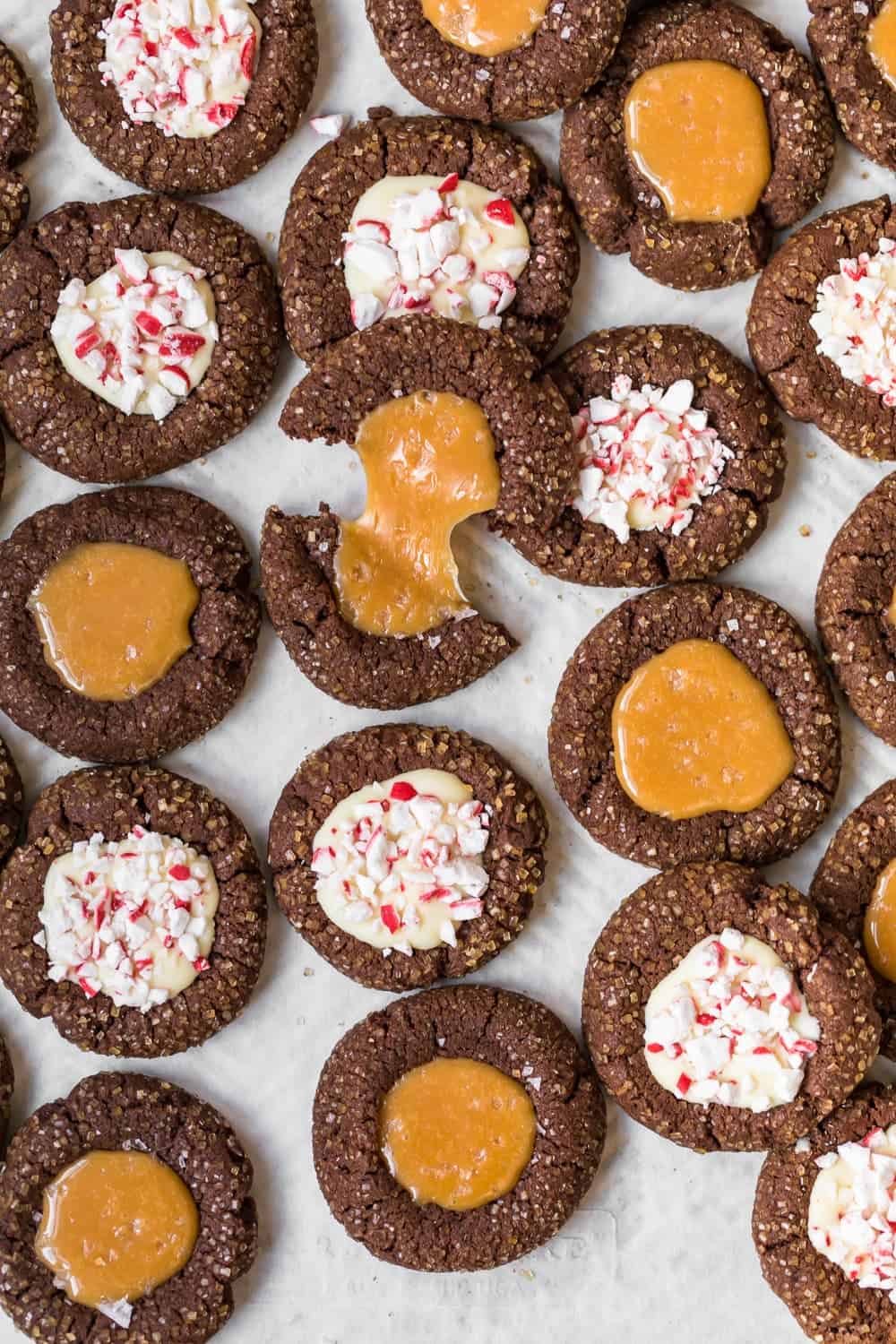 Chocolate Thumbprint Cookies
Make these chocolate thumbprint cookies with peppermint or caramel for the perfect holiday cookie!
I'm always looking for easy cookie recipes to make during the holiday season, because you can just never have enough! I make them for holiday parties, for dessert after the feast, as simple homemade gifts, and just for fun.
There's just nothing like gathering your family to bake cookies together this time of year! It's so much fun and it results in something delicious to eat. Yum!
I love these easy chocolate thumbprint cookies, especially since I've got two flavors to choose from. The salted caramel filling is delectably sweet and smooth, while the white chocolate peppermint just TASTES like Christmas. (If you want a third flavor, try our chocolate mint thumbprint cookies!)
Of course you don't actually have to choose between the two. Make both flavors and eat one (or two) of each!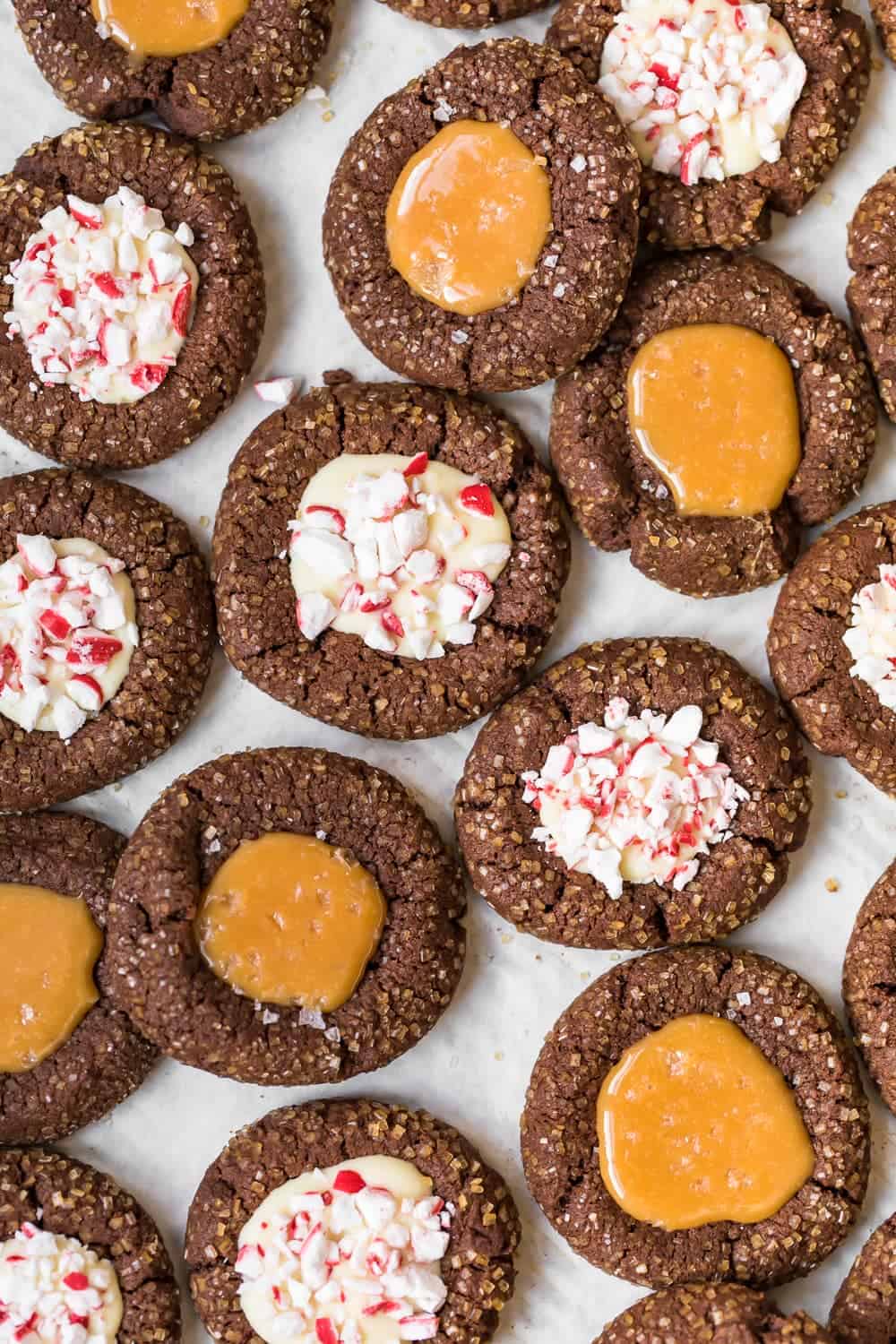 Choose Your Favorite Flavor
When I come up with a recipe, I like to get as much use out of it as possible. So I came up with two amazing filling flavors for these chocolate thumbprint cookies instead of just one. The more the merrier!
Cookies are such an easy thing to change up by adding different toppings, fillings, and flavors. These are especially easy to change, since you're really just changing the little bit on top. Just bake a big batch of cookies, then fill each one with your preferred flavor.
Salted Caramel Cookies
Chocolate thumbprint cookies with caramel filling is like heaven in your mouth. The mix of the salted caramel with the chocolate is DELICIOUS.
Ingredients:
Caramel
Heavy Cream
Flake Sea Salt
White Chocolate Peppermint Cookies
White chocolate always makes me think of winter, and peppermint definitely makes me think of Christmas. It's the perfect flavor for a festive Christmas cookie!
Ingredients:
White Chocolate Chips
Crushed Peppermint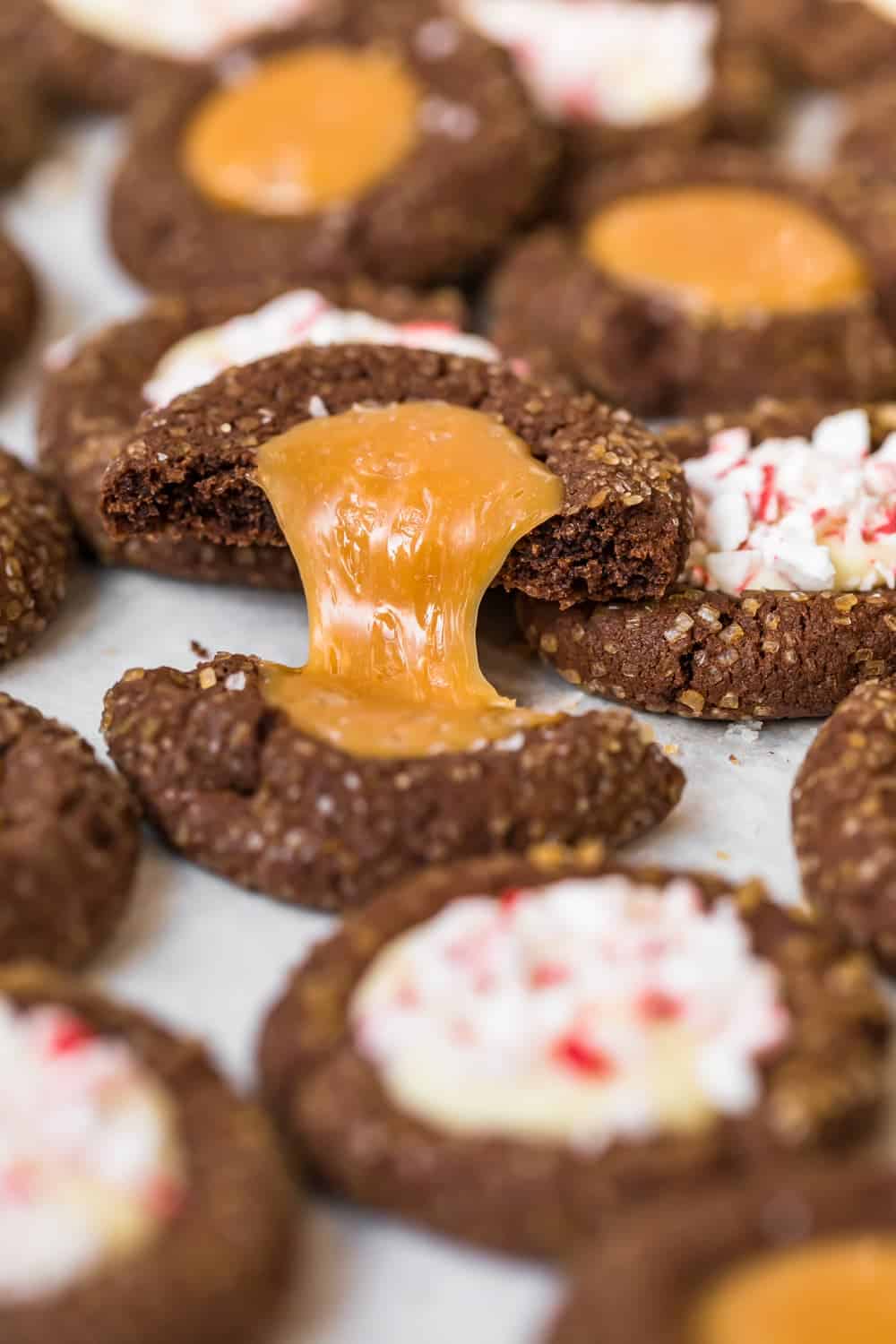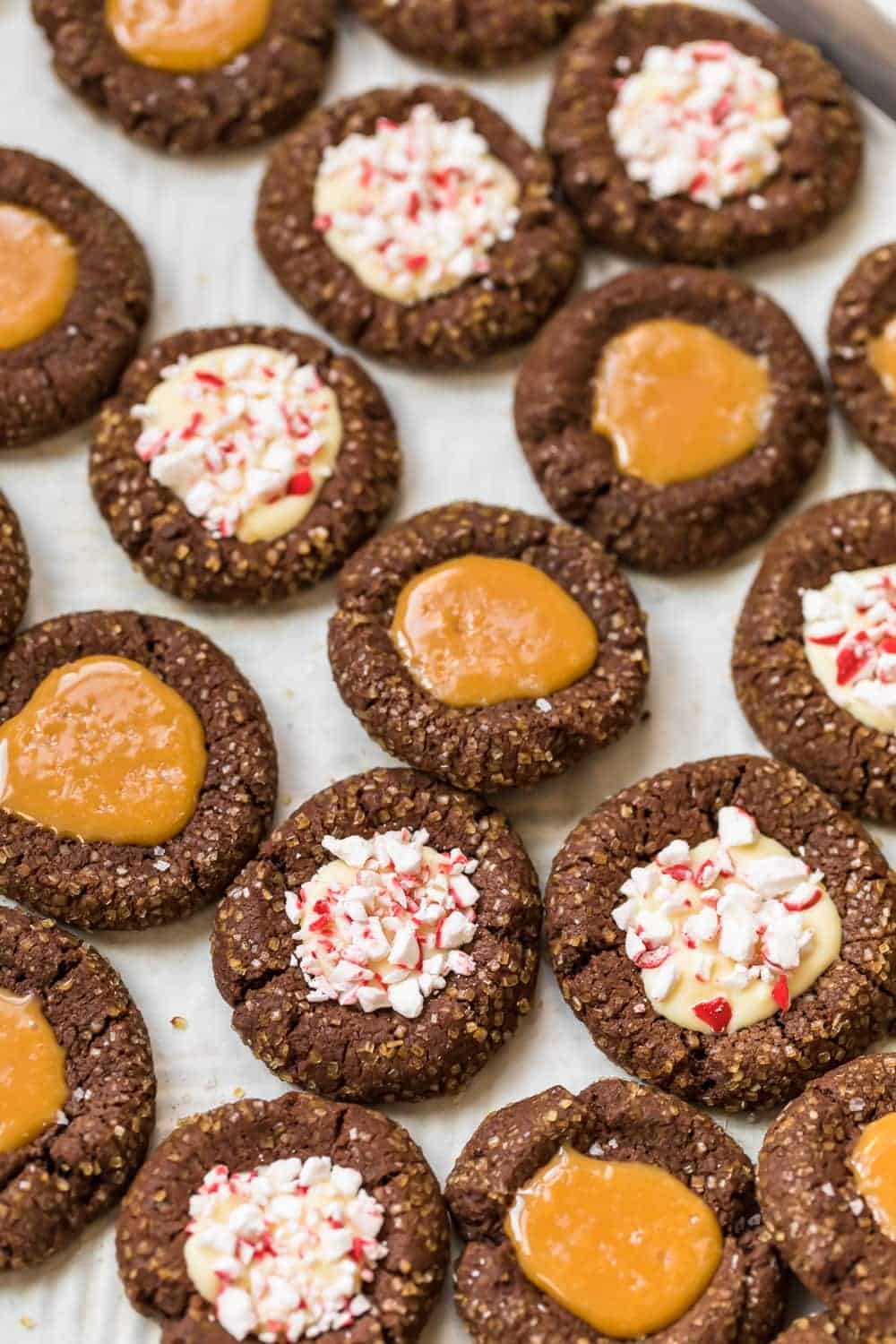 How to Make Chocolate Thumbprint Cookies
These chocolate cookies are so easy to make, and I just living filling them with the different flavors at the end. Pouring the caramel on top or pressing in the crushed peppermint is so satisfying, and of course they taste amazing!
The full recipe card is below, but here are a few quick tips:
Start by making the cookie dough and getting them in the oven to bake. Then you can quickly prepare the filling to add after cookies are done.
Adding that little bit of espresso powder into the dough gives these cookies a deeper, richer flavor. So good!
Use a greased 1/2 teaspoon measuring spoon to make the "thumbprint" indentation in each cookie. Gently press it into the center of each ball of dough before baking.
If you bake both sheets of cookies at the same time, be sure to switch them about halfway through baking so they cook evenly.
Let the cookies cool completely before adding the fillings.
To Store: Keep these cookies in an airtight container and save up to 3 days.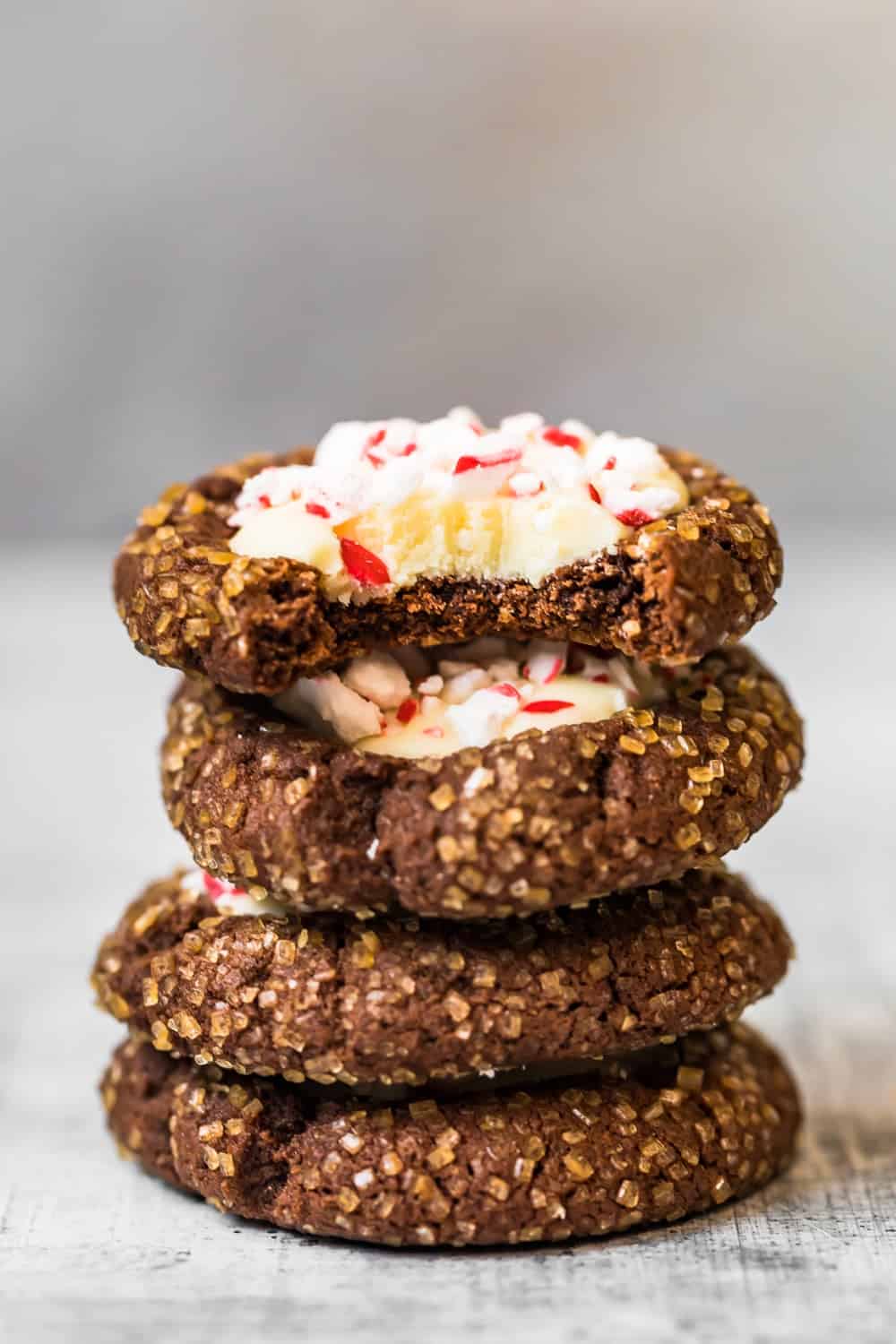 Christmas Cookies
It doesn't matter how many Christmas cookie recipes I have, I always want more! Sometimes you want the classics, sometimes you want to try something totally new. These thumbprint cookies with peppermint or caramel fit right in with the holiday spirit, so I highly recommend giving them a try.
Here are some of my other favorites to bake this time of year: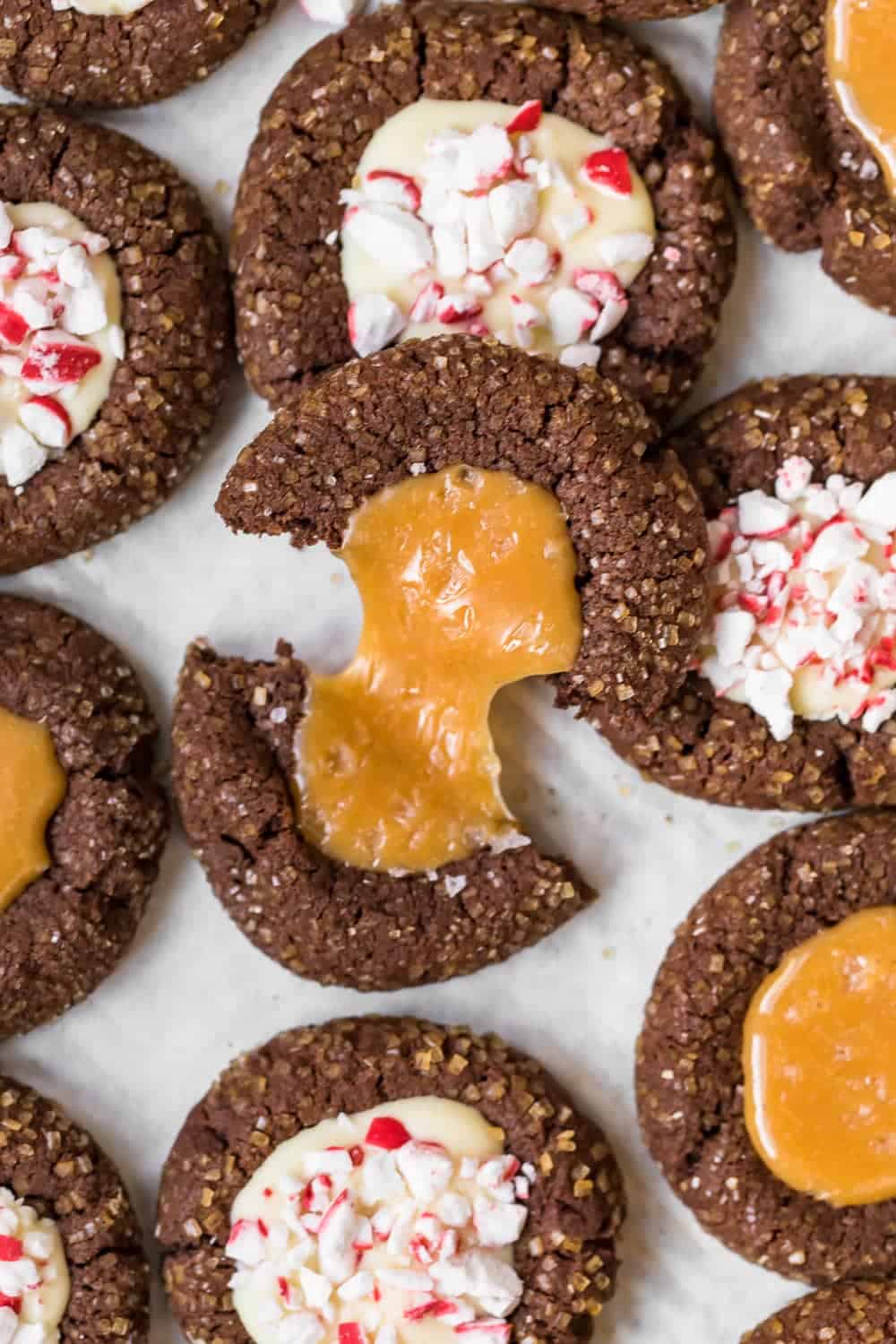 Get to baking with these tasty cookies! Everyone will love these. I'd love to hear which flavor is your favorite. Happy Holidays!
Check the recipe card below for full details on how to make chocolate thumbprint cookies. Enjoy!
Still need more cookie recipes? I've got you covered!