GREEN CHILE CHICKEN ENCHILADAS DIP is the ultimate party food, loaded with chicken, green chiles, cream cheese, sour cream, and so much more. It will be gone in minutes from any get together, especially Cinco de Mayo!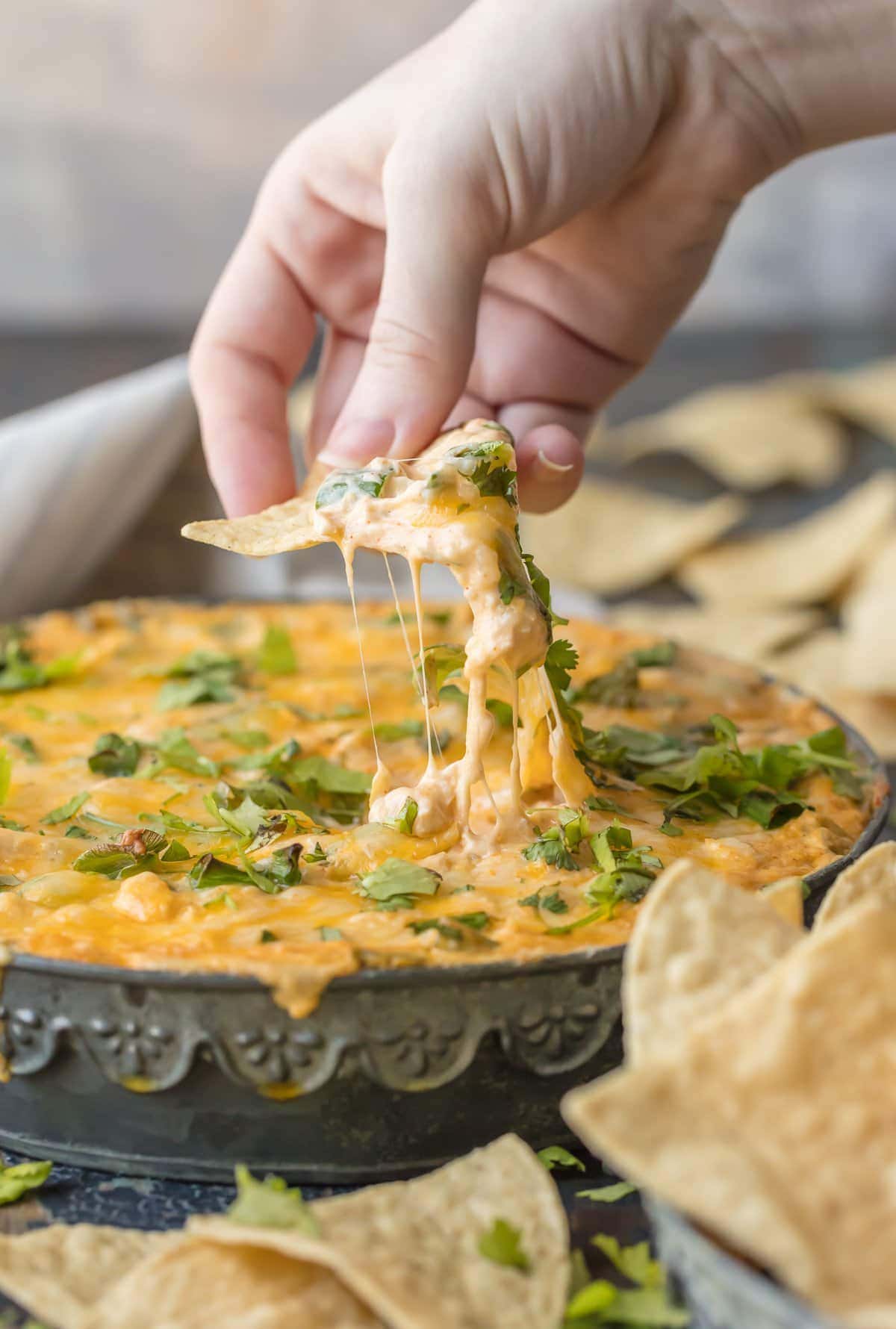 Easy Chicken Enchiladas Dip Recipe
This green chile chicken enchiladas dip is filled with green chiles, chicken, and so much cheese! It's the perfect party dip for Cinco de Mayo, game day, or taco night.
With Cinco De Mayo right around the corner, I'm starting to get more and more excited about all the food (and MARGARITAS) headed my way in just a few short days. It's my favorite food holiday for a reason, and this super easy (and cheesy…) GREEN CHILE CHICKEN ENCHILADAS DIP is upping the ante this year.
I ate it all while recipe testing, and I plan to eat it all again on May 5th. Once you taste it you won't blame me! It's loaded with everything you love about good Green Chile Chicken Enchiladas, in dip form. And you guys know I prefer all my foods in dip form!
This easy hot dip is filled with shredded chicken, sour cream, cream cheese, green chiles, enchilada sauce, lots of cheese, and more. It bakes into the cheesiest, most flavorful party dip. This green chile dip is a must make!
Make this cheesy Green Chile Chicken Enchiladas Dip for Cinco de Mayo, game day, or any taco night feast!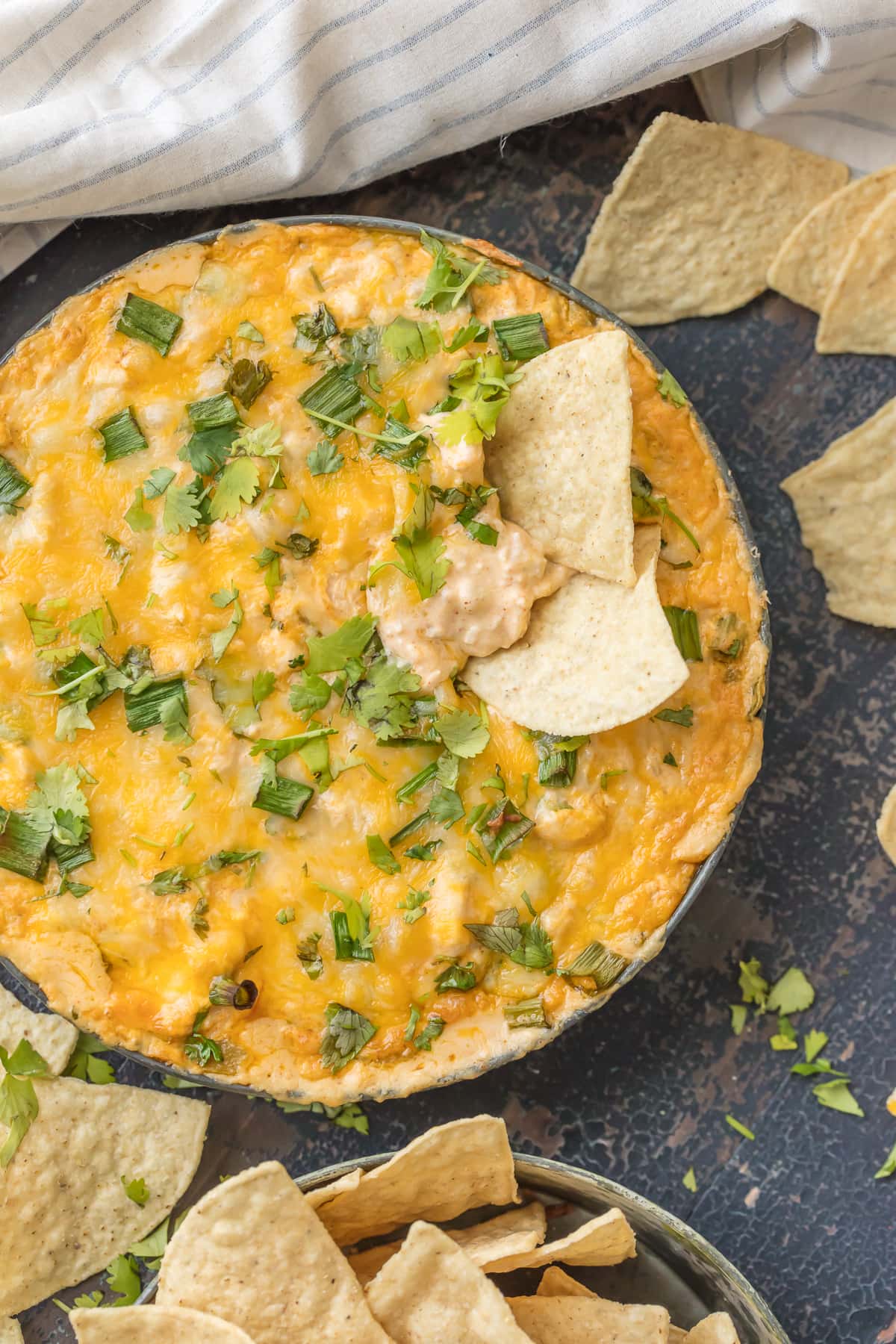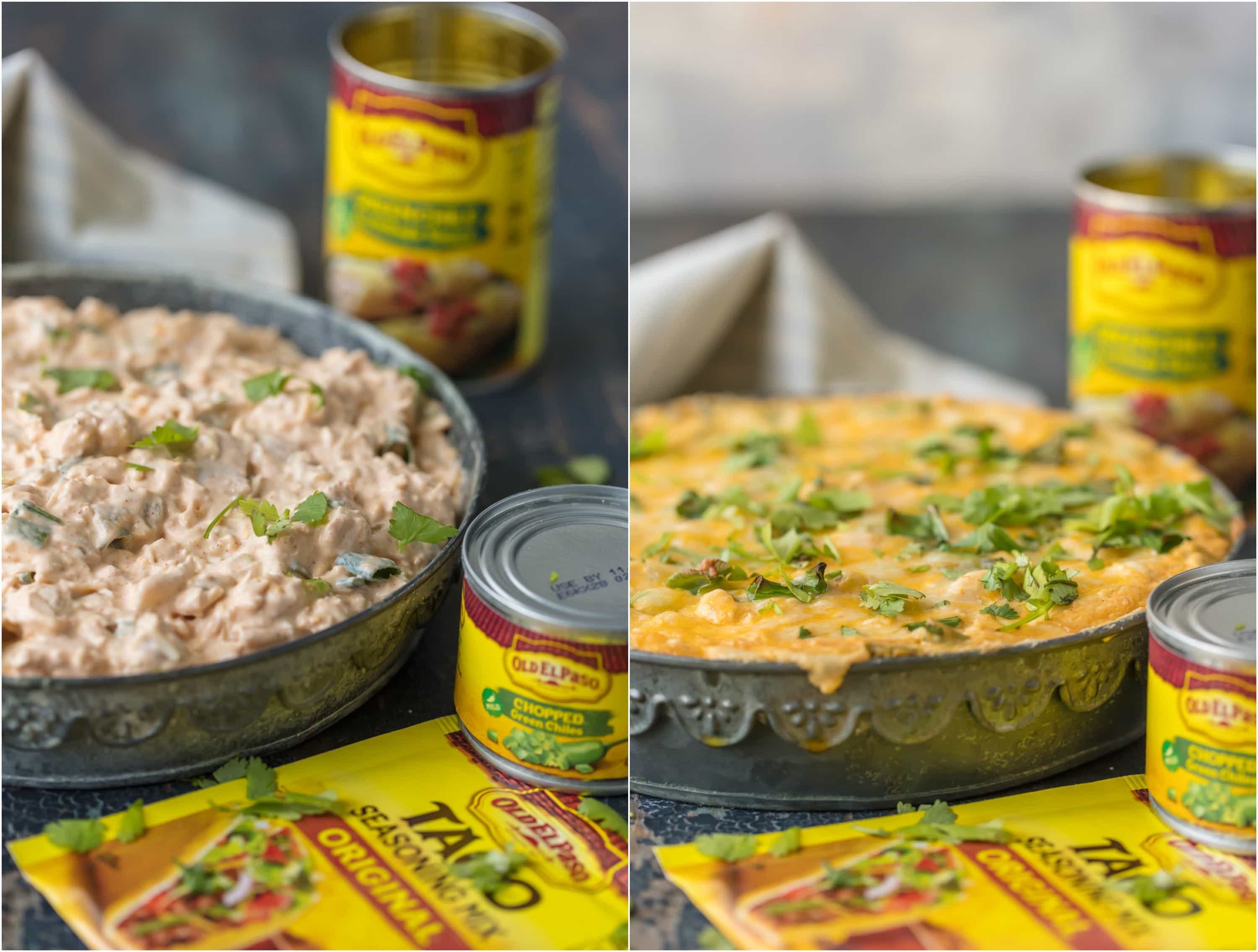 Green Chile Chicken Enchiladas Dip Ingredients
I love dips and it seems I can never make enough of them! I also love green chiles, which is why I put them in just about every Mexican inspired recipe ever. It's all the ingredients you'd find in green chile chicken enchiladas.
This dip is filled with all the best ingredients:
Green chiles
Shredded chicken
Cream cheese
Sour cream
Green onion
Green chile enchilada sauce
Cilantro
Shredded cheese
Best Dips for Cinco de Mayo & Taco Night
This Green Chile Chicken Enchiladas Dip is up there with some of my very favorite dips I've made on The Cookie Rookie. Sure I love a good queso recipe, but sometimes a loaded dip is just what you need. SO DELICIOUS AND CHEESY! This enchilada dip is perfect for Cinco de Mayo celebrations, game day, or Taco Night.
Here are some more favorite dip recipes: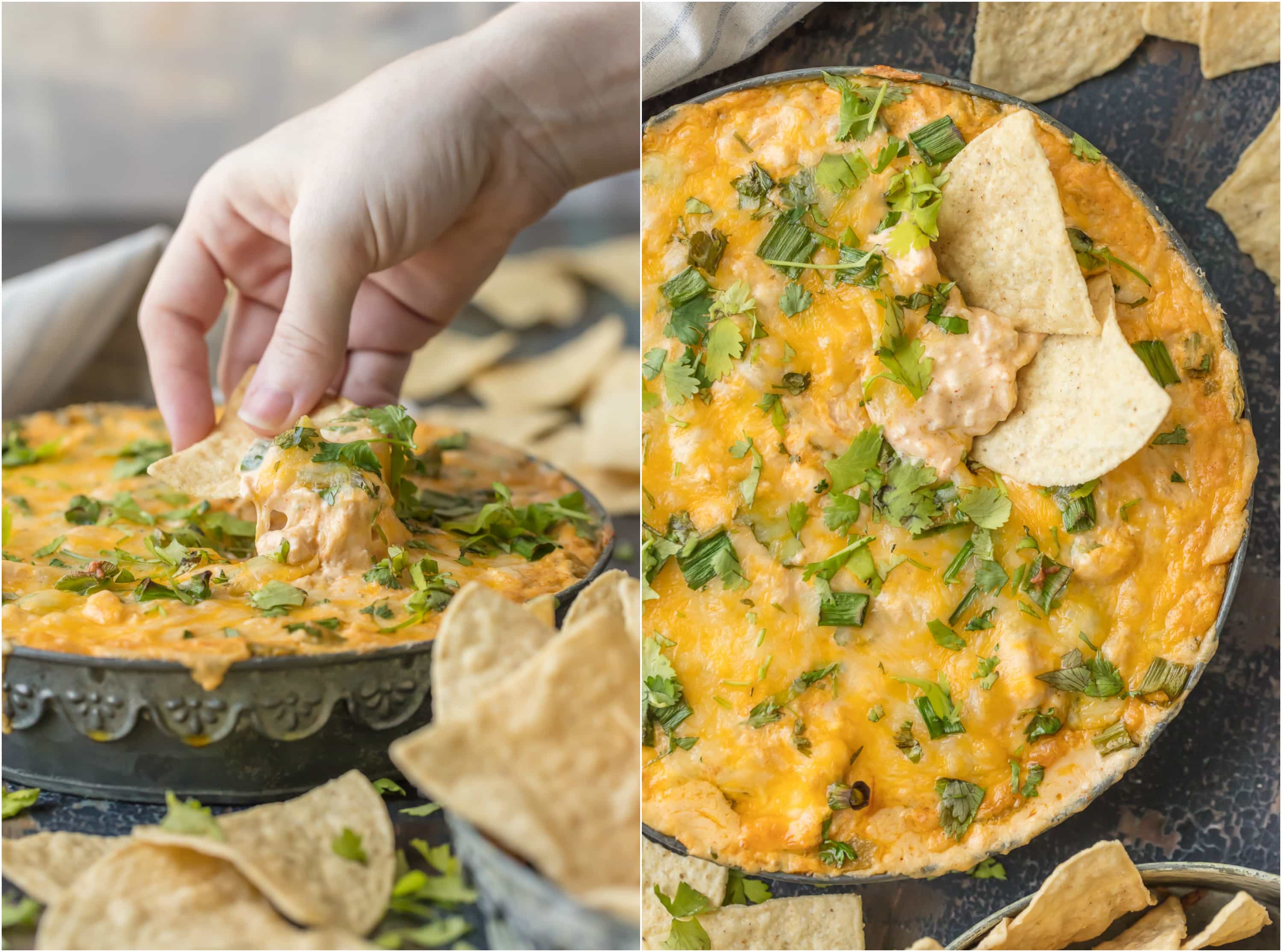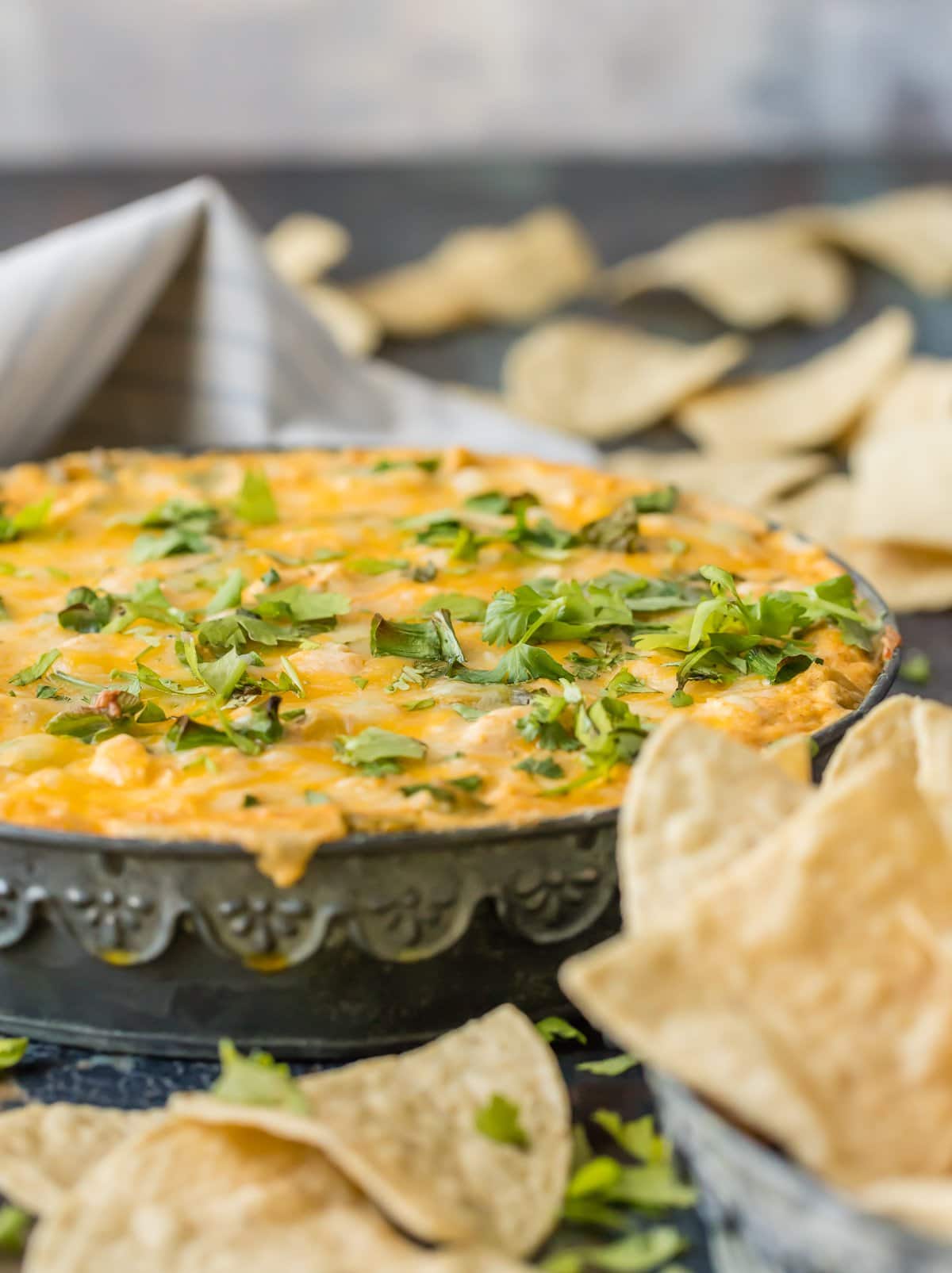 How to Make Spicy Chicken Enchiladas Dip
This recipe is inspired by green chile chicken enchiladas. It's got all the same amazing ingredients converted into dip form! These flavor mix so well to create one super delicious, cheesy party dip!
Combine all ingredients (except the shredded cheese) and mix
Now stir in the shredded cheese, but leave about 1/4 cup out for the topping
Sprinkle the rest of the cheese on top
Bake the dip in the oven at 350°F for 20-25 minutes
Serve with homemade tortilla chips!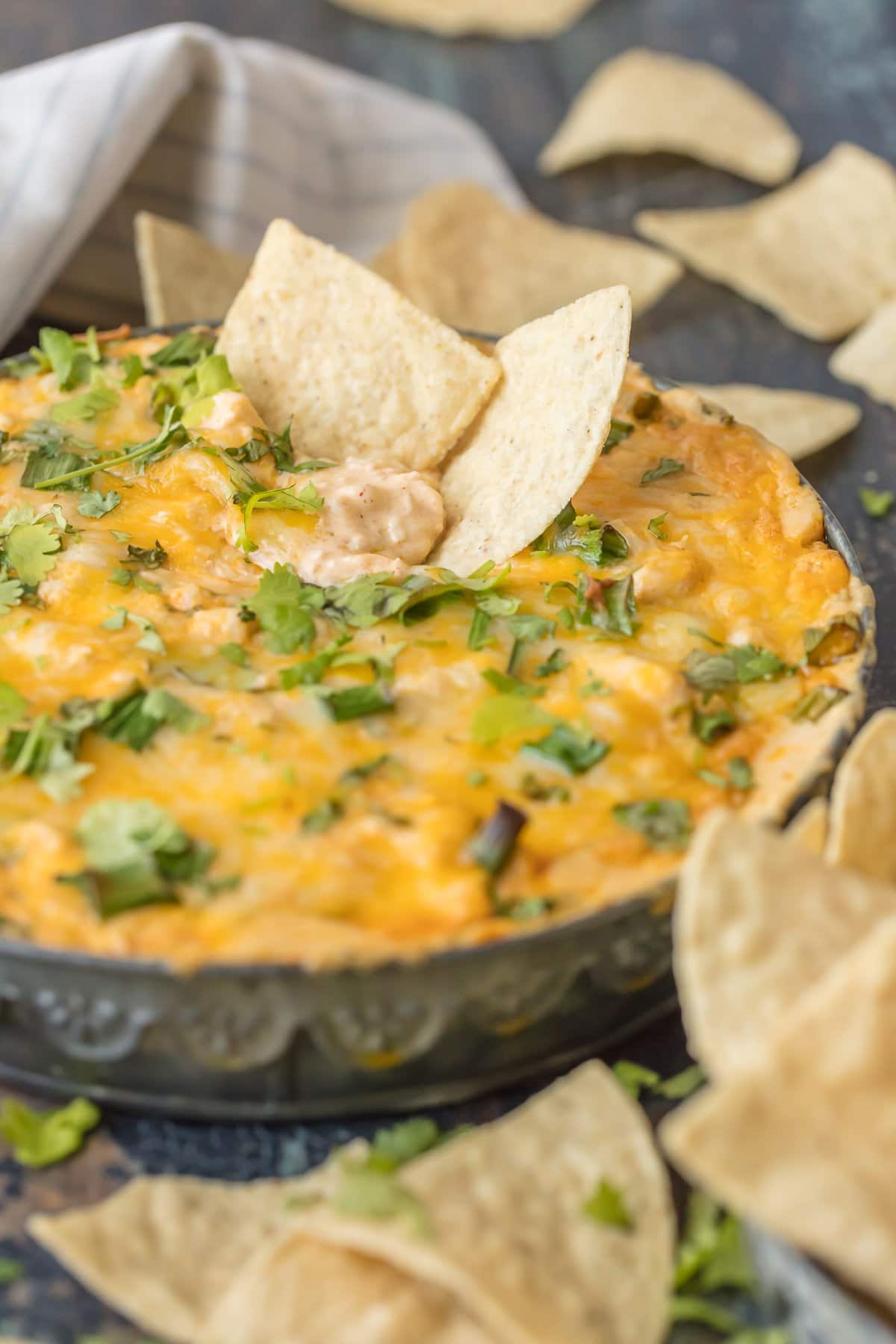 I can't get enough of this cheesy dip! It tastes just like green chile chicken enchiladas right on a chip. It's absolutely delicious and perfect for serving on Cinco de Mayo or game day. Everyone will dig on with chips and eat it all up. I hope you love it as much as I do!
See the recipe card below for details on how to make Green Chile Chicken Enchiladas Dip. Enjoy!
If you like this recipe, you'll love these recipes too: